Hardy was abused and tortured for weeks before he was found wandering around.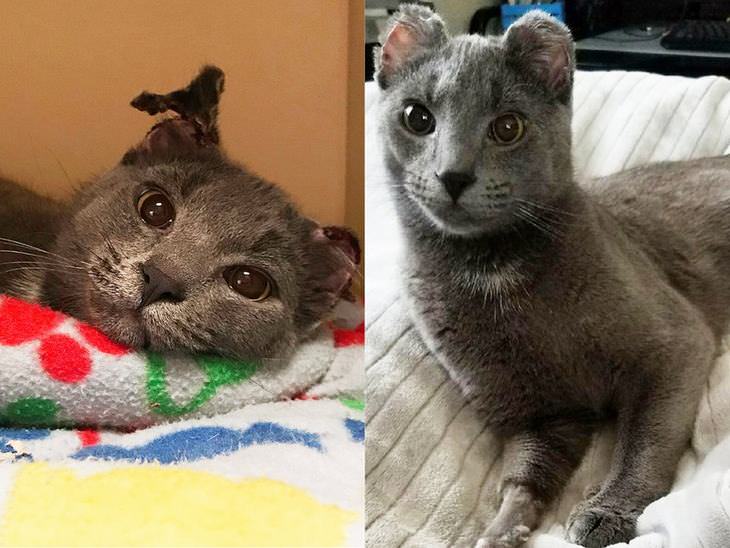 He was saved by Alley Cat Rescue Inc. and was rehabilitated at their facility. He now lives with a couple who are both veterinarians.
Poor Lefty has a goopy eye and an autoimmune disorder that causes his paw pads to become swollen.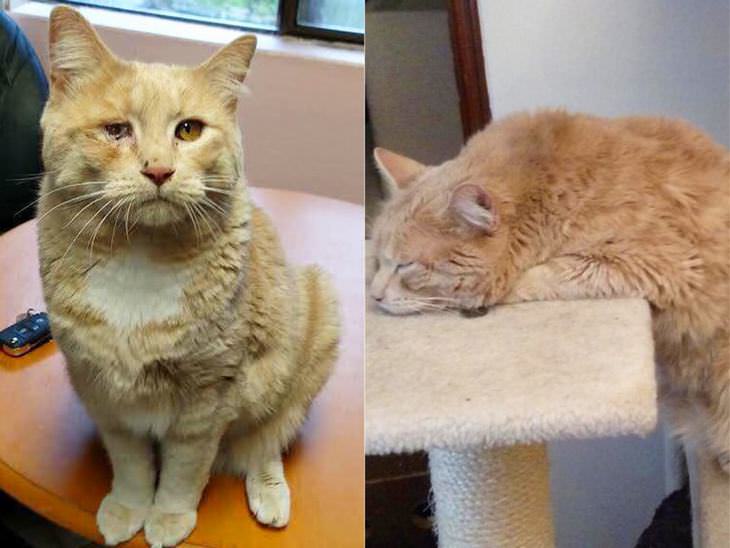 He was adopted by two volunteers at Purrfect Pals Cat Sanctuary in January 2016 that are the perfect caretakers for him.
Lady was utterly terrified when first adopted last year. She spent two weeks hiding under her new owners' bathroom sink.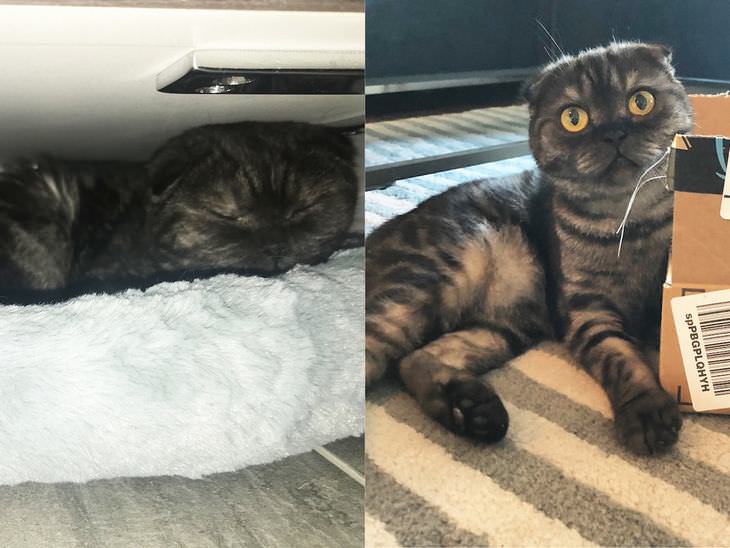 She's now said to be happy and confident.
Purrfect Pals though that Rhododendron would be at the shelter for life.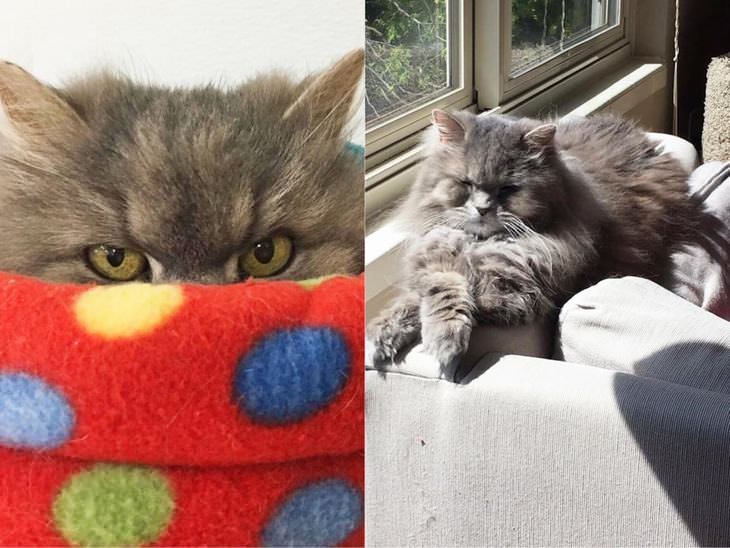 She was actually adopted twice in the space of a year after she was found, but was returned to the shelter due to her inconsistent bathroom habits. She found an owner who was willing to overlook this in March 2017.
Evie was found on a trip to Austin by her current owners.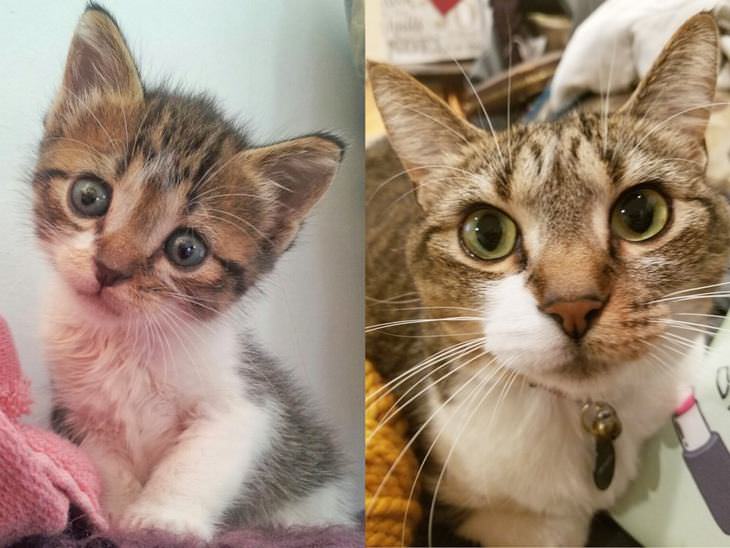 She was in a box of disheveled but cute kittens that were in a man's hands. He said that no shelter was willing to take them. Evie was taken all the way back to New Jersey and was full of fleas, as well as being very skittish. She's grown to be loving and affectionate, if not a little bit of a diva!
Butter was already at the grand old age of 16 when she was discovered in a sorry state at the end of last year.
She was vomiting and had blood in her urine. Nevertheless, her carers helped her battle through her issues, and she's now a healthy (albeit old) cat.
Ratsie was just being fostered by his current owners, but he won them over.
They decided to keep the big, feline goofball, and apparently, his meow sounds like a cow's moo.
Paulie is described by his owners as outgoing and affectionate.
He was adopted by them as a kitten and grew into a beautiful cat. He apparently loves his owners very much.
Arugula had a rough life before being adopted by her foster family in 2014.
She was just a year old when brought into Purrfect Pals, but she was already pregnant. After giving birth to and raising her kittens, she was moved to an adoption store. Sadly, she stopped eating, so she spent two months at a clinic on a feeding tube. After she was nursed back to health, Arugula was placed into foster care with the family that ended up adopting her.
Bongo was founded wandering the halls of an apartment complex when a kind soul came to the rescue.
He was taken to Alley Cat Rescue before having surgery for hip injuries, but he's doing great now.
Ming was given up by her previous owners, who moved overseas.
She's thought to have lived in multiple homes prior to that, some of which are suspected to have been abusive. Ming was fortunate enough to be adopted by a couple looking for a cat that needed that extra special bit of care.
Betty's road to adoption was long. She spent a year under an owner's sink before being put up for adoption once again.
That wasn't the last time she adopted and returned - it happened to her another two times. She finally found the right home in August 2015.
Rascal was taken into Purrfect Pals unneutered and sick with parasites.
The playful fellow was nursed back to health by foster carers before finding his forever home in April 2015.
Mistletoe was a mess when he was brought in to Alley Cat Rescue.
He was living on the streets and had a severely infected eye. The gorgeous American Bobtail has since been adopted.
Martha was a stray when she arrived at a local shelter, but she soon found a home.
Her owners say she enjoys running down the halls, napping on people's feet and being very talkative.
Charlie was already 13 by the time he arrived at the Purrfect Pals shelter.
Luckily, his adopters were sympathetic to his plight and quickly took him in. He shares his home was another cat and is said to be very happy.
Skitters was just a kitten when he was first adopted from Purrfect Pals, but he was to return later in life.
Aged 12, his family could no longer care for him, so he was returned to the shelter. He also lost his sister, so he was re-homed with a pet shop volunteer and another senior cat that she had at home already.