Do you have a favorite meal that you and your family love to eat? Although we always want to eat well and cook tasty food for the ones we love, it can be difficult to constantly come up with fresh recipes that are both tasty and easy to make. On the other hand, sometimes the issue is that we simply don't have enough variety in our dinner menus and we start making the same trusty recipes over and over again. In either case, we have the perfect recipe for you to add to your repertoire today.
Since chicken is a good source of protein, it's a popular choice for a variety of recipes. Still, baked chicken can get a bit boring, but not this one. Today, we're going to make garlic herb chicken with asparagus in less than 30 minutes. To make things even better, we're only going to use one pan to do so. So let's get started, shall we?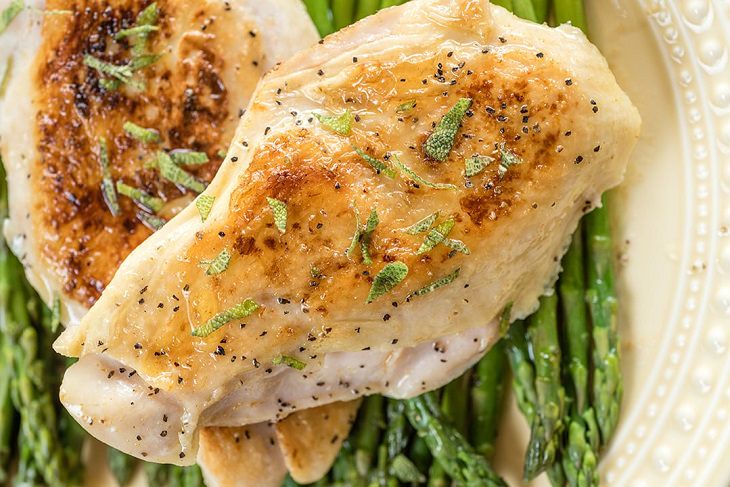 Here's what You'll Need
• 3-6 chicken thighs or boneless chicken breast
• 1 pound trimmed asparagus
• 3 tablespoons butter, divided
• ½ teaspoon dried basil
• ½ teaspoon dried oregano
• ½ teaspoon dried thyme
• ½ teaspoon onion powder
• Salt and pepper
• Fresh herbs to garnish (optional)
Here's What You Do
1. Peel the skin off your chicken if there is any. If you're using chicken breasts, be sure to pound them down to about ½ an inch thick before carrying on with the recipe. When they're ready, season your chicken with salt and pepper on both sides and melt two tablespoons of butter in a skillet over medium-high heat. Stir in the minced garlic and herbs and cook until fragrant.
2. Turn the heat down to medium and add your chicken to the pan. Cook each side for about 5-7 minutes. After you've seared both sides, the chicken should be almost cooked all the way through, but not quite.
3. Move the chicken over to one side of the pan and add the remaining tablespoon of butter. When it melts, throw in your asparagus. Add salt and pepper to your liking and keep cooking the asparagus, moving them around in the butter for about 4-6 minutes (and until the chicken is cooked all the way through).
4. When you're finished, serve everything immediately and garnish with fresh black pepper and your freshly chopped herbs.
Source: sweetandsavory