For many of us, the festive period isn't complete until we've indulged ourselves with a delicious Christmas pudding. This Christmas pudding with brandy butter will ensure that you and your guests will be full of Christmas cheer.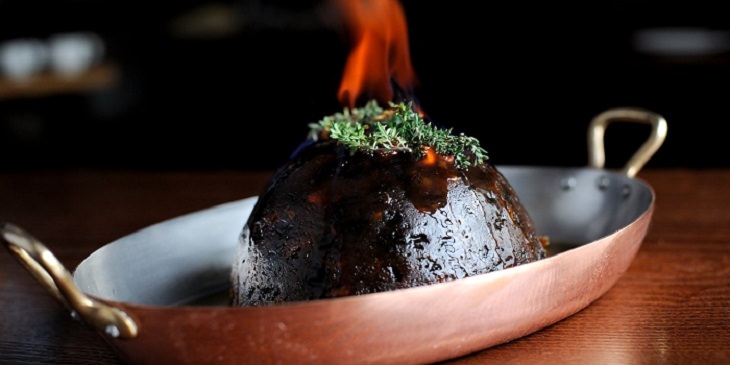 Christmas Pudding with Brandy Butter
Ingredients
Christmas Pudding
• 4 1/16 oz of self-raising flour
• 4 oz white breadcrumbs
• 4 oz suet
• 8 ¾ oz of soft brown sugar
• ½ teaspoon ground mixed spice
• ¼ teaspoon nutmeg, grated
• ¼ teaspoon cinnamon
• 1 ¾ oz nibbed almonds
• 3 ¼ oz dates, stones removed
• 4 ½ oz raisins
• 4 ½ oz sultanas
• 4 ½ oz currants
• 1 oz mixed peel
• 1 apple, peeled and grated
• 1 orange, juiced and zested
• 1 lemon, juiced and zested
• 3 eggs
• 2 ½ fl oz rum
• 2 ½ fl oz brandy
• 2 ½ fl oz Guinness
• 3 ½ oz golden syrup
Brandy Butter
• Brandy to taste
• 3 ½ oz unsalted butter, softened
• 8 oz icing sugar
Directions
1. To prepare the pudding mixture, sift the flour into a bowl and combine with the breadcrumbs, almonds, suet, sugar, and spices.
2. Remove the stones from the dates, chop the flesh, and combine with the remaining fruits. Add to the flour mixture and mix well.
3. Whisk the eggs together and add to the pudding mixture alongside the brandy, Guinness, and golden syrup. Stir to combine.
4. Leave the mixture in the fridge for a week to develop its flavor. During this time, taste the mixture occasionally – more spices or alcohol can be added if needed.
5. To cook the pudding, butter and flour a pudding basin, then fill it ¾ of the way up the side with the mixture. Place a circle of parchment paper on top of the mixture, cover the basin with tin foil, and seal tightly.
6. Place in a steamer and steam the pudding for four hours. Once cooked, allow to cool, and store tightly wrapped in the fridge or a cool place until required. If you don't have a steamer, you can use a large saucepan with a saucer in the bottom (to protect your pudding from the heat). The water should be simmering, not boiling. To reheat the pudding, return to steamer or saucepan and steam for an additional 2 hours.
7. To make the brandy butter, add the butter to a large bowl and allow to soften. Once soft enough to beat, whisk the butter until light and creamy.
8. Add the icing sugar, and beat again until all the sugar is mixed in. Next, whisk in the brandy, tasting to achieve the right balance of sweetness and alcohol. Store in the fridge until required.
9. Serve the reheated Christmas pudding with a good dollop of brandy butter or some cream.
Source: greatbritishchefs