Smooth and silky butternut squash soup is a must-have for cold weather. The secret to making the best butternut squash soup you have ever had is to roast the squash until deeply browned and caramelized in the oven, then purée it with a base of browned butter and sautéed onions. A dollop of sour cream, cinnamon, nutmeg-spiced whipped cream, and frizzled sage makes this a wintertime classic.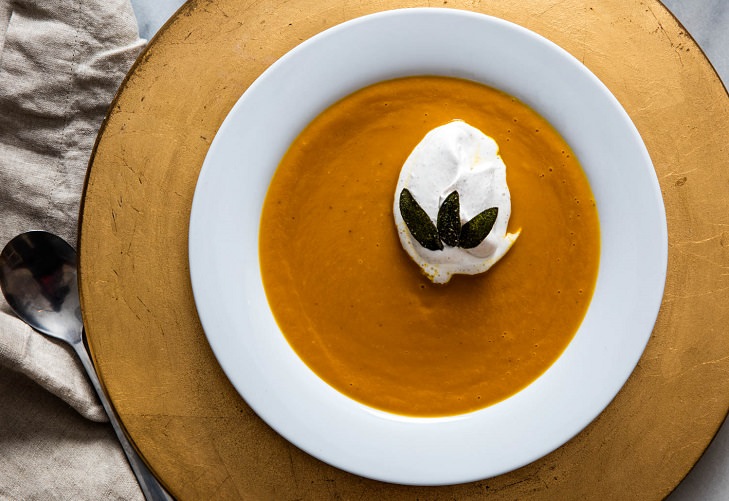 Butternut Squash Soup (Serves 6)
Ingredients
• 1 (2 ½ pound) butternut squash, peeled, seeded, and cut into 1-inch cubes
• 1 large (8-ounce) carrot, peeled, and cut into 1-inch chunks
• 2 tablespoons extra-virgin olive oil
• 2 tablespoons unsalted butter, divided (7 if using sage leaves)
• 1 large (8-ounce) yellow onion, thinly sliced
• 4 medium cloves garlic, thinly sliced
• 4 cups (1 liter) low-sodium chicken or vegetable stock
• 2 sprigs fresh thyme
• 1 bay leaf
• Salt and freshly ground black pepper
• ¾ cup heavy whipping cream
• ¼ cup sour cream
• Pinch ground cinnamon
• Pinch nutmeg
• 20 fresh sage leaves (optional)
Directions
1. Preheat the oven to 425F (230C).
2. Toss the squash and carrot with olive oil and arrange on two rimmed baking sheets, being sure not to overcrowd the sheets. Roast until the squash and carrot are well-browned on a couple of sides, about 40 minutes. Set aside.
3. In a large saucepan, melt 2 tablespoons butter over a medium-high heat until it starts to brown. Add the onion and garlic, lower the heat to medium, and cook, stirring, until soft and lightly golden, about 10 minutes.
4. Add the squash and carrot to the saucepan and remove from the heat. Pour ½ cup stock into each baking sheet and scrape up any browned bits, then pour into a saucepan. Add the remaining stock, thyme sprigs, and bay leaf and return to a medium-high heat. Bring to a simmer, then lower the heat and simmer until vegetables are very soft, about 10 minutes. Discard the thyme sprigs and bay leaf.
5. Using a blender or stick blender, blend the soup until it's completely smooth. Season with salt and pepper. Return soup to the saucepan and thin, if necessary, with additional stock until the desired consistency is reached. Keep warm.
6. Meanwhile, in a stand mixer, or using a handheld whisk, beat cream and sour cream with cinnamon, nutmeg, and a pinch of salt until stiff. Set aside.
7. If using sage leaves, melt the remaining 5 tablespoons of butter in a small skillet over a medium-high heat, swirling gently, until foamy and just beginning to brown. Add the sage leaves, swirling to submerge, and cook until frizzled, about 15 seconds. Using a slotted spoon, transfer the sage leaves to a paper towel to drain. Sprinkle lightly with salt.
8. Ladle the soup into warm bowls, spoon dollops of spiced whipped cream into each one and top with frizzled sage.
Source: seriouseats