Rembrandt Harmenszoon van Rijn (1606 – 1669) was a 17th Century Dutch artist, who was renowned as a master of shadow and light. The majority of his paintings depict exceptional realism, and he is widely regarded as one of the greatest self-portrait artists who ever lived. Apart from his many portraits, he is also famous for depicting scenes from the Bible and from mythology, a selection of which can be seen below.
Here are 10 of Rembrandt's greatest works:
1. The Night Watch (1642)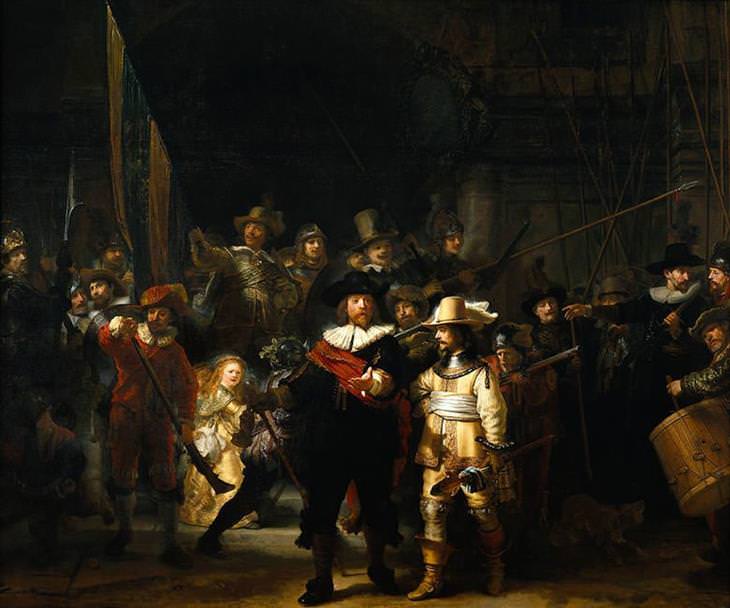 Commissioned by Captain Frans Banninck Cocq and 17 members of his civil guards, this masterpiece shows the company in motion towards the viewer. Its fame rests on several factors, including its realism, its gigantic size (11.91 ft × 14.34 ft), its expert use of shadows and light, as well as the illusion that the figures are about to walk off the canvas and into our world. The Night Watch is the most renowned group portrait ever created, and is also the most famous painting of the whole Dutch Golden Age.
2. The Storm on the Sea of Galilee (1633)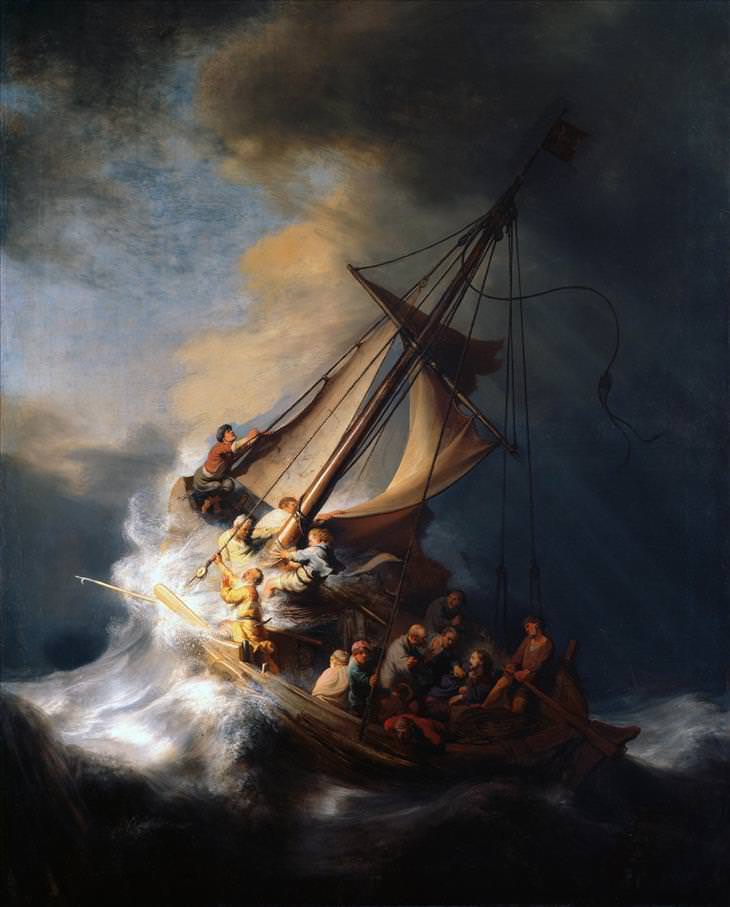 In this masterpiece, Rembrandt depicts the Biblical miracle of Jesus calming the sea of Galilee during a storm. Painted during his First Amsterdam Period (1631-1635), it is renowned for being the only seascape he ever painted, as well as for the fact that it has been successfully stolen. Considered the greatest art theft in America's history, this crime remains unsolved.
3. Danaë (1636)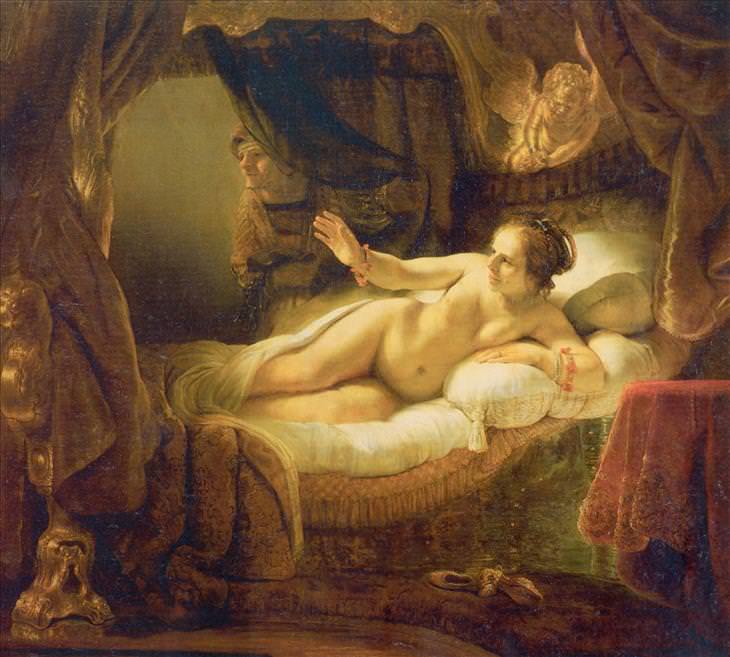 In Greek mythology, Danaë was a princess who was imprisoned in a bronze chamber by her father, Acrisius, after he heard a prophecy that foretold of her son murdering him. However, Zeus greatly desired her, so one night he accessed her chamber in the form of golden rain and impregnated her. When painting this masterpiece, Rembrandt chose to focus on Danaë's passionate emotional state, instead of idealizing her physical appearance. Interestingly, Rembrandt's wife was the original model for Danaë, but he changed her face to that of his mistress ten years later.
4. The Return of the Prodigal Son (1669)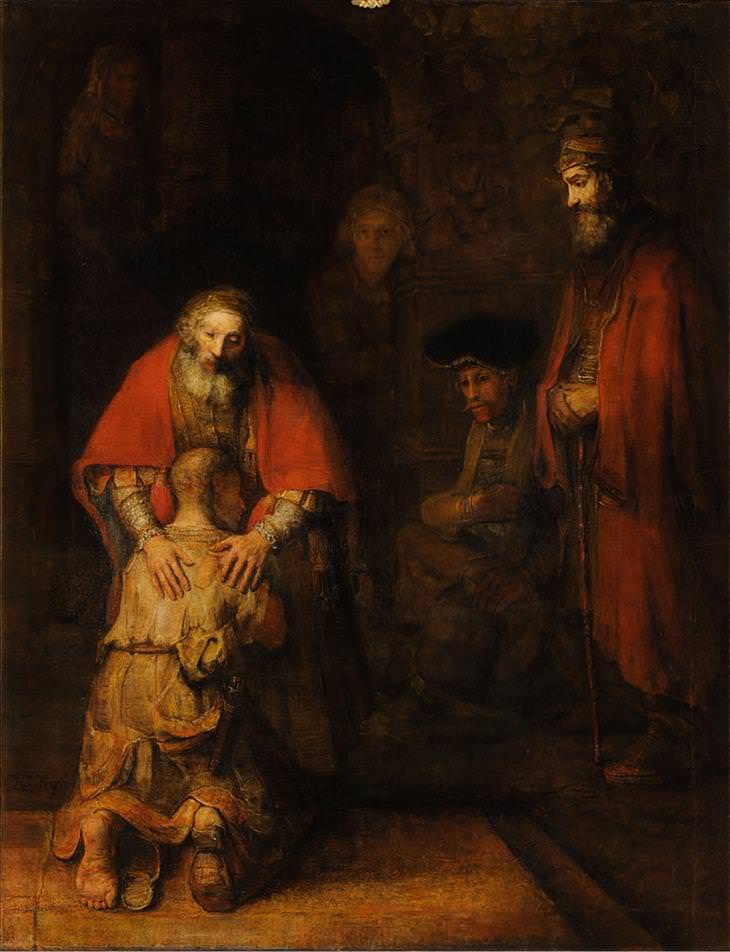 This Biblical painting shows a father welcoming his son with open arms, after he has returned home in a wretched state, having wasted his entire inheritance in advance. The touching scene of forgiveness in the foreground is juxtaposed by the look of jealousy and resentment on his brother's face in the background. Painted towards the end of Rembrandt's career, this artwork displays his true mastery of expressive lighting and coloring. Unsurprisingly, it is regarded by many critics as a monumental achievement in Baroque art, and as Rembrandt's greatest masterpiece.
5. Portrait of Jan Six (1662)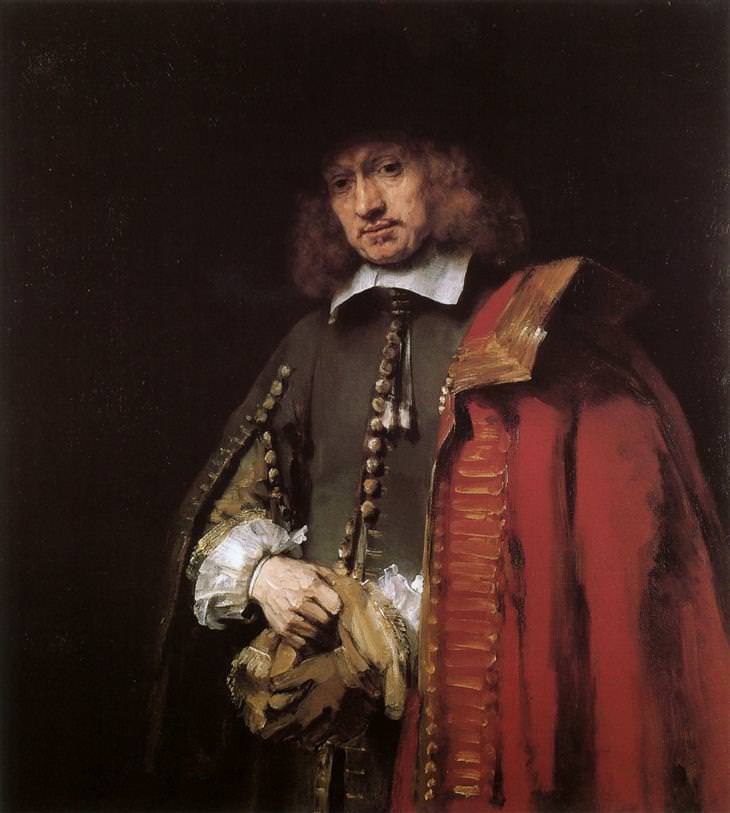 Jan Six was a rich merchant, who was also a highly prominent cultural figure throughout the Dutch Golden Age. More importantly, he was actually one of Rembrandt's closest friends. Here, he is captured putting on his gloves, as he prepares to exit his home. Rembrandt makes use of powerful strokes to expertly display the hands, gloves, and cloak. However, what stands out most is Six's face, which Rembrandt is said to have reworked multiple times, since it adeptly captures a genuine expression of momentary abstraction. Alongside 'Bathsheba at Her Bath,' this is one of Rembrandt's most famous works from his Third Amsterdam Period (1643–58).
6. Bathsheba at Her Bath (1654)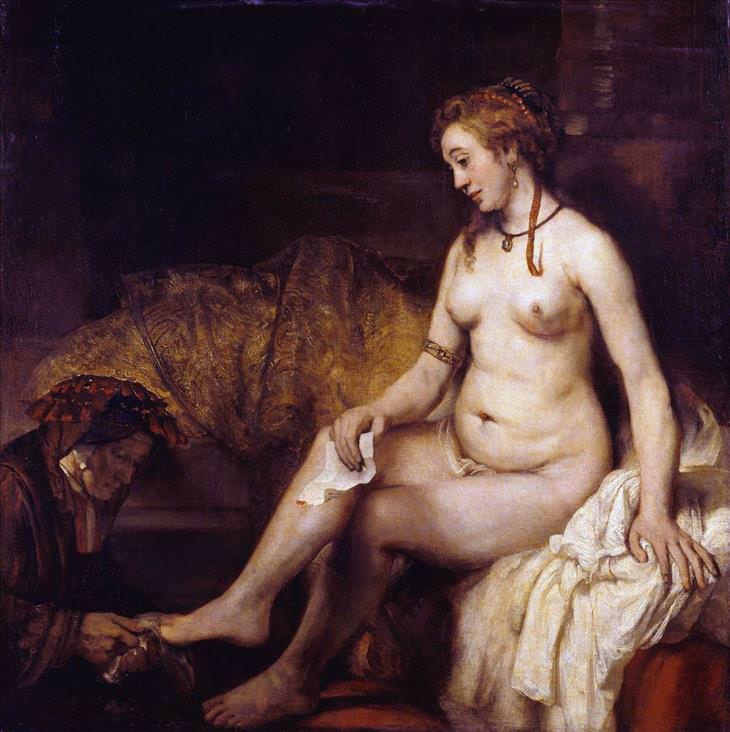 Bathsheba was the wife of a soldier in King David's army. When David stumbled across her bathing, he was mesmerized, and ended up seducing and impregnating her. He then sent her husband off to battle, in the hope that he would be killed, leaving Bathsheba free to remarry. In Rembrandt's depiction of this Biblical event, Bathsheba can be seen holding a letter from David, and her facial expression expertly captures the moral dilemma that she must have been going through. It is considered to be one of the greatest nudes ever painted.
7. Self-Portrait with Beret and Turned-Up Collar (1659)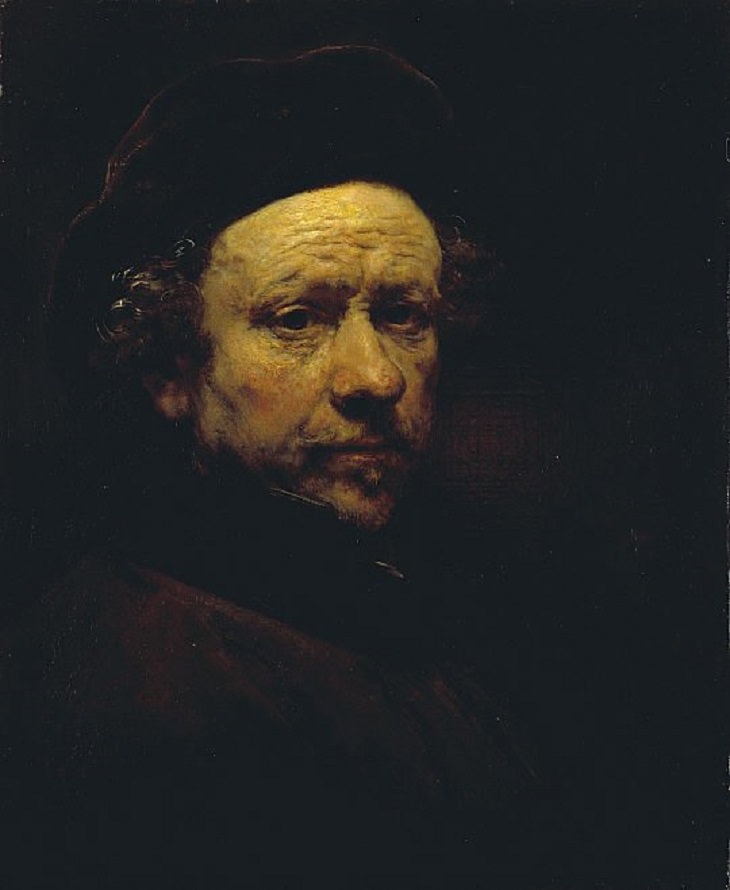 Considered by many art critics to be the greatest self-portrait ever painted, this work is said to be inspired by Raphael's portrait of Balthasar Castiglione. Rembrandt's self-portraits are famous for being ruthlessly unmerciful, so this work can be taken to be a sincere depiction of the artist himself. In his face, one can see the stress brought about by a life of creative triumphs mixed with personal and financial strains.
8. Syndics of the Drapers' Guild (1662)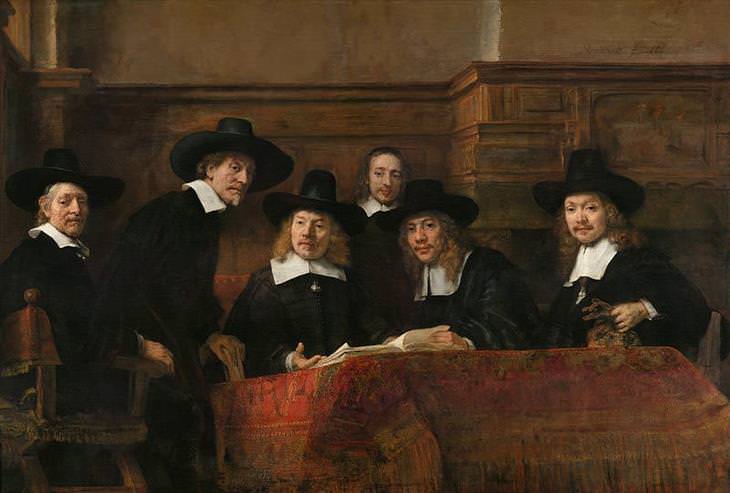 Here you can observe a group of Drapers' Guild officials, who were Amsterdam's controllers of cloth samples, and were tasked with regulating the quality of cloth sold there. This painting perfectly captures Rembrandt's attention to detail, since he manages to provide them with individual personalities by varying their facial expressions. At the same time, he also manages to instill a sense of togetherness by utilizing various compositional devices.
9. The Anatomy Lesson of Dr. Nicolaes Tulp (1632)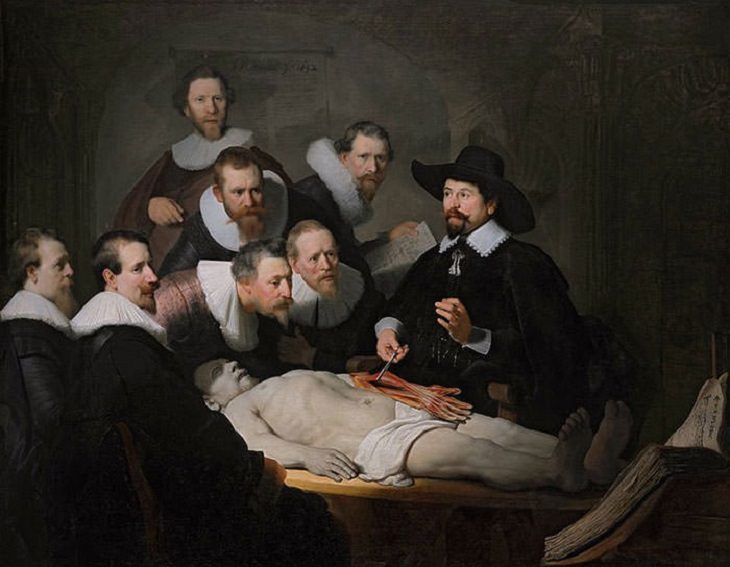 Here you can see the official City Anatomist of the Amsterdam Guild of Surgeons giving an anatomy lecture to various doctors, many of whom actually paid to be included in the painting. The corpse belongs to Aris Kindt who was executed by hanging for armed robbery. This painting was Rembrandt's first major commission in Amsterdam, and is important because he broke genre conventions by placing the corpse in the center of the painting.
10. The Jewish Bride (1667)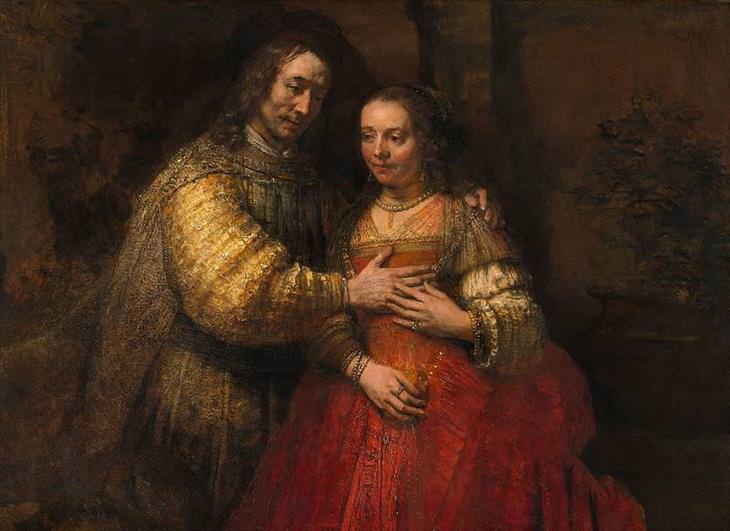 Despite being commonly known as 'The Jewish Bride,' many critics are divided between multiple interpretations of this painting. Some believe it depicts a Jewish father giving his daughter a gift on her wedding day. Others think that it might depict lovers, a married couple, or more specifically, the Biblical Isaac and his wife.