Sunny Thailand is known as 'the land of smiles', thanks to its beautiful beaches, terrific weather, and friendly locals. Yet, one of the most important parts of this proud Asian nation, is its adherence to the Eastern mystical religion Buddhism. This faith can be seen in some absolutely gorgeous temples, many of which are ancient, and many brand-spanking new, but all utterly beautiful.
Here are 10 of the most stunning Buddhist temples in Thailand.
1. The Sanctuary of Truth
No mortal can fail to be impressed by the dazzling intricacy of this splendid temple. The wood structure is almost totally carved with beautiful figures and both Buddhist and Hindu decorations. Surprisingly, this temple is still unfinished, since its building only began in 1981 and is due to be completed in 2050.
2. Wat Phra That Lampang Luang
A single strand of Buddha's hair is the most important relic belonging to one of Thailand's most sacred temples, Wat Phra That Lampang Luang. This structure dates from the 13th century and is renowned for its conical spire which stands 125 feet high. The temple has lately been restored to match its original appearance.
3. Temple of a Million Bottles
I bet you never thought you'd see this: a sacred Buddhist temple composed entirely of beer bottles and caps. The entire complex known as The Temple of a Million Bottles (Wat Pa Maha Chedi Kaew) is actually a site of 20 buildings, all of which are made with used Heineken and Chang empties, and bottle cap mosaics.
4. Temple of the Emerald Buddha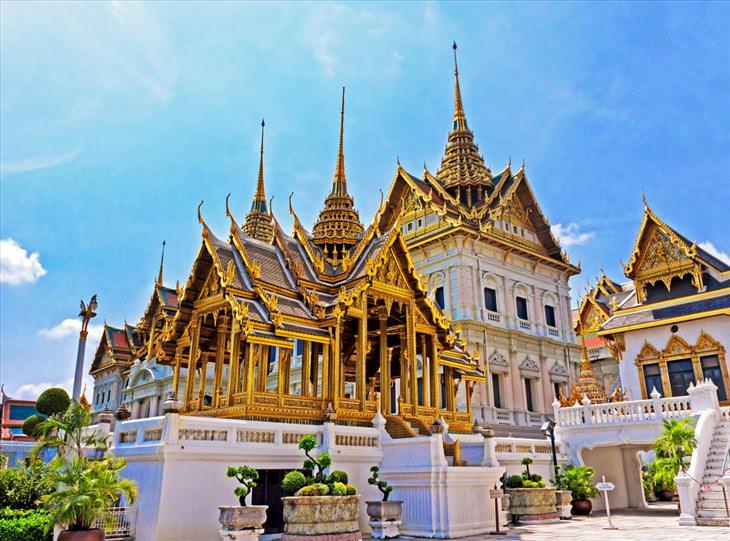 Courtesy of Depositphotos
These grand palatial grounds are home to a 26-inch-tall green Buddha - which is not actually made of Emerald. The statue was considered so precious and holy that it spent its first 300 years in various temples across Thailand until 1784, when it was finally settled here in this breathtaking Bangkok temple.
5. Wat Mahathat, Sukhothai
Wat Mahathat is an ancient temple situated in Sukhothai Historical Park, Thailand, which is home to many other temples. Though this, otherwise known as Temple of the Great Relic, is the most important. Its main 'stupa', which is surrounded by 168 sculptures of Buddhist disciples, houses various holy relics associated with Buddha himself.
Wat Arun, or Temple of Dawn, situated by Bangkok's Chao Phraya river, glistens beautifully as the morning sun rises. Its Khmer-esque tower is decorated with porcelain, while the neighboring structures are covered with both porcelain and seashells, making for a truly magnificent sight at any time of day.
Another famous temple situated by the Chao Phraya river is to be found in Ayutthaya, which is the former capital city of Thailand. It was originally built to honor a former king's dear mother, which is quite a tribute, as you can see. The 17th century Buddhist architecture is meant to illustrate the mountains, nations and seas which encircle mankind.
8. Wat Phra That Doi Suthep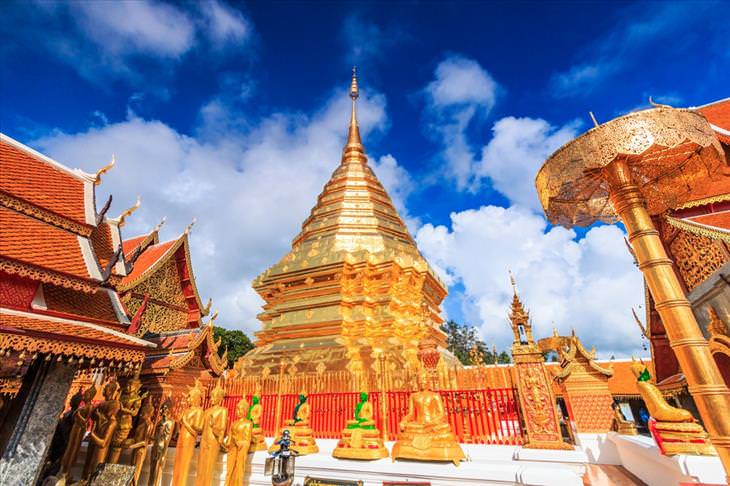 Courtesy of Depositphotos
Wat Phra That Doi Suthep, is a 14th century temple situated upon a mountain in the northern part of Thailand. The central temple has a golden spire, with a multitude of murals and shrines surrounding it. The site, a working Buddhist monastery, is found some 10 miles from Chiang Mai.
9. Temple of the Reclining Buddha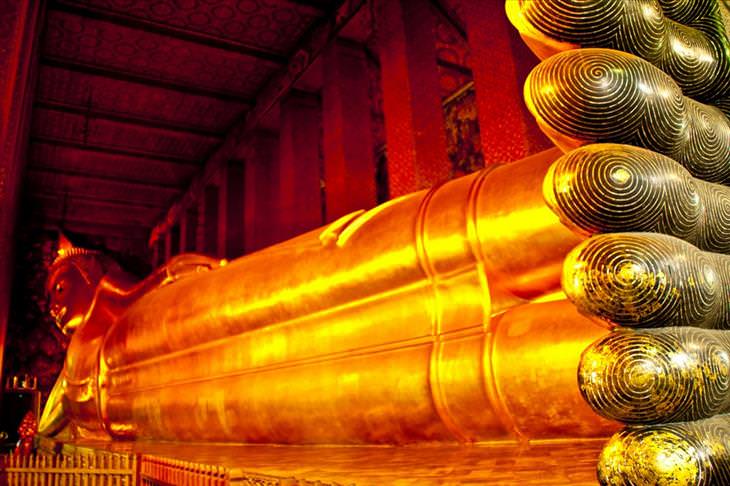 Wat Pho, aside from containing more than 1,000 images, is thought to be the temple from where Thai massage originated. The Bangkok temple has more Buddhas than anywhere else in the country, among which is the 150 foot long reclining Buddha, pictured above.
This absolutely stunning White Temple, locally known as Wat Rong Khun, was only built in 1997. It's snow colored, fairy tale appearance, has everyone falling in love with it. Unfortunately, however, the temple is privately owned, so you will have to make do with these magnificent exterior views.