Don't you just hate it when the new neighbor decides to go and paint his house in a strange color, or build some unsightly addition to his house? If that's the case, you can consider yourself lucky; These 24 buildings are strange, I'm finding it hard to decide whether these are acts of genius or stupidity.
House in the Clouds (Thorpeness, Suffolk)
Originally built as a water tower, House in the Clouds was converted into a home in 1978, with 5 bedrooms and 3 bathrooms.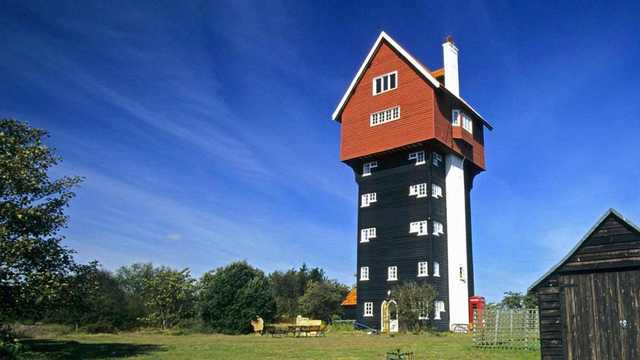 mg1.tebyan.net
Mushroom House (Cincinnati, Ohio, USA)
Built by the architect Terry Brown between 1996 and 2006, this house is one of Cincinnati's most famous landmarks.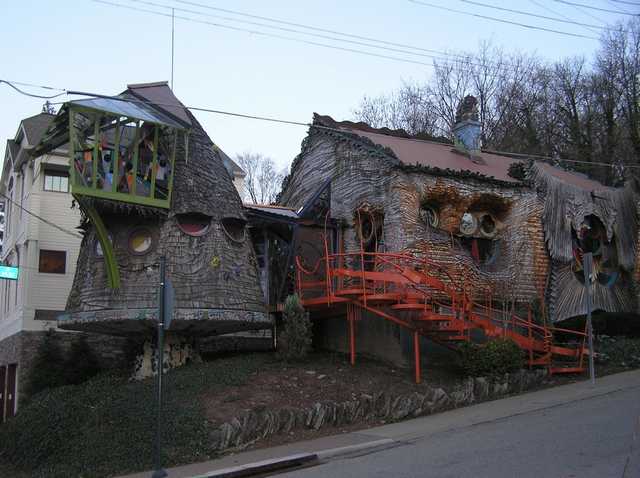 laughtroller.com
Wat Ananda Metyarama (Singapore)
The new wing of the Wat Ananda Metyarama Buddhist temple in Singapore was opened on January 2014.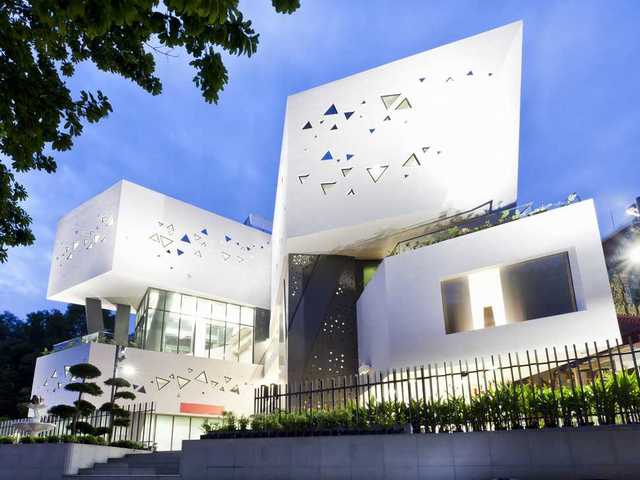 static.businessinsider.com
Futuroscope (Poitiers, France)
The "Born to be Wild" building in the Futuroscope theme park contains a screen the size of a tennis court, showing the amazing story of Dr Biruté Mary Galdikas and Dr Daphne Sheldrick as they travel between Kenya and Borneo.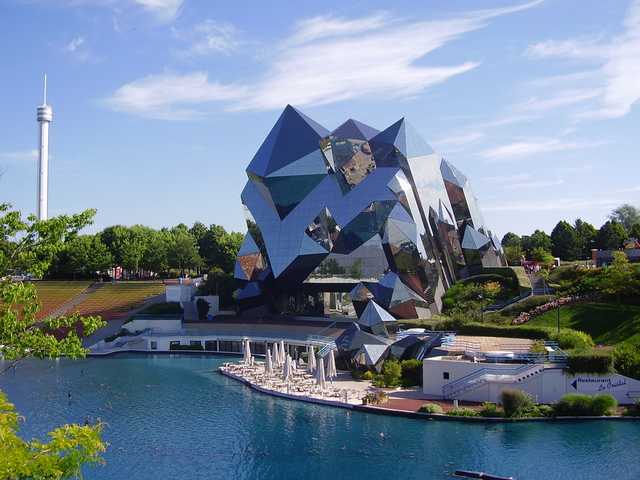 2.bp.blogspot.com
Lotus Temple (Delhi, India)
The main house of worship for members of the Baha'i faith in India. The Baha'i are a religious group that believe in the spiritual unity of all humankind.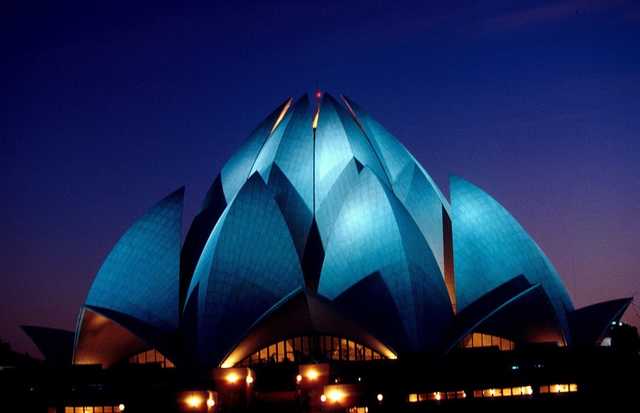 www.globeimages.net
Edificio Torres Blancas (Madrid, Spain)
Built in 1968, this is actually one building, designed by Francisco Javier Sáenz de Oiza, meant to display the Spanish avant-garde of the 60's and 70's.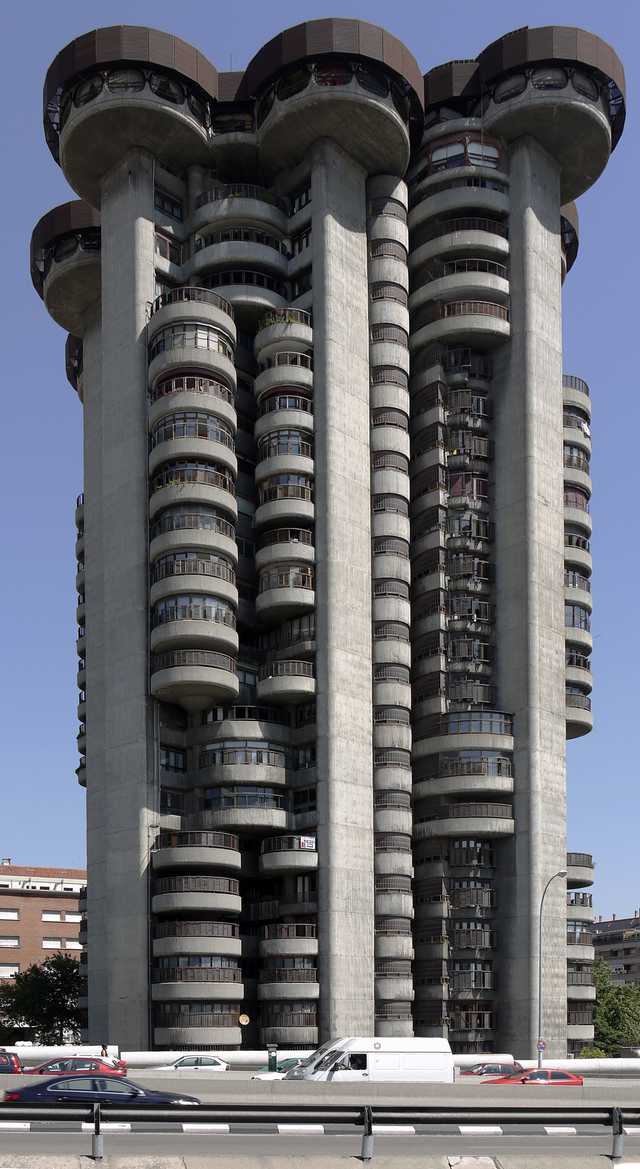 upload.wikimedia.org
Nord LB building (Hannover, Germany)
The head office of the Norddeutsche Landesbank, built to minimize energy use for cooling, heating and lighting. It features a fantastic main courtyard that is open to the public and contains shops, restaurants and reflecting pools, to name a few.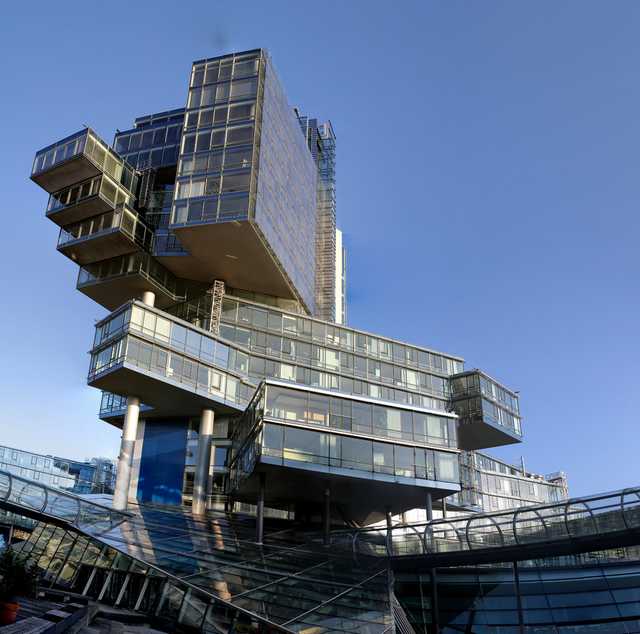 edgecast.metatube-files.buscafs.com
Atomium (Brussels, Belgium)
Built in 1958, the Atomium building was constructed for the Expo 58 world fair. Each of the 8 spheres are accessible via escalators or lift, and each contains an exhibit hall and public spaces.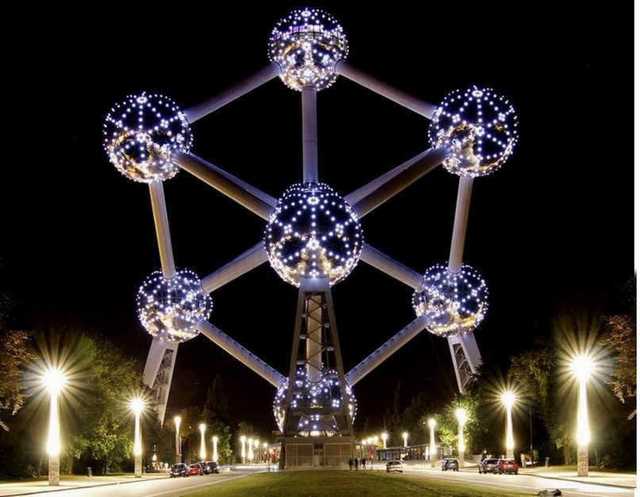 www.eugeneandtex.com
Wonderworks (Orlando, FL, USA)
Wonderworks is a company that creates entertainment centers located in the USA. It contains interactive, educational exhibits, as well as fun games like Laser Tag.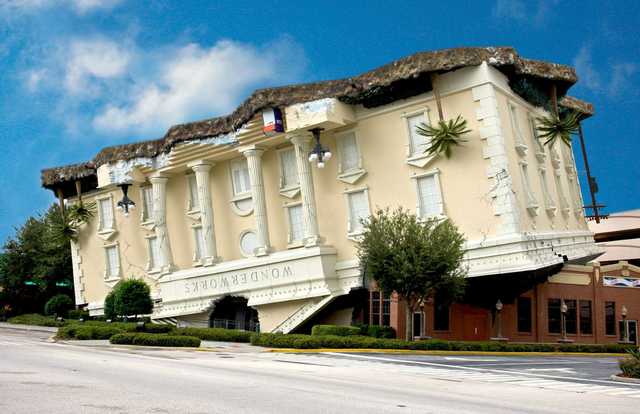 c767204.r4.cf2.rackcdn.com/d32de08a-8853-4024-8675-25393475e192.jpg
Nordpark Cable Railway (Innsbruck, Austria)
Winner of the World Architecture Festival in 2008, the Nordpark Cable Railway was designed with the flow of ice in mind.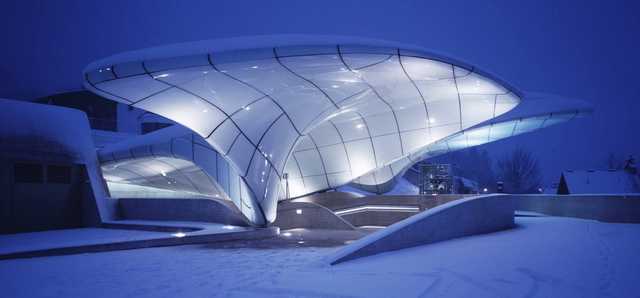 ricardosaslavsky.files.wordpress.com
Infosys Building (Hinjewadi, Pune, India)
This is the Infosys headquarters in India. The locals say that the building resembles a descending spacecraft...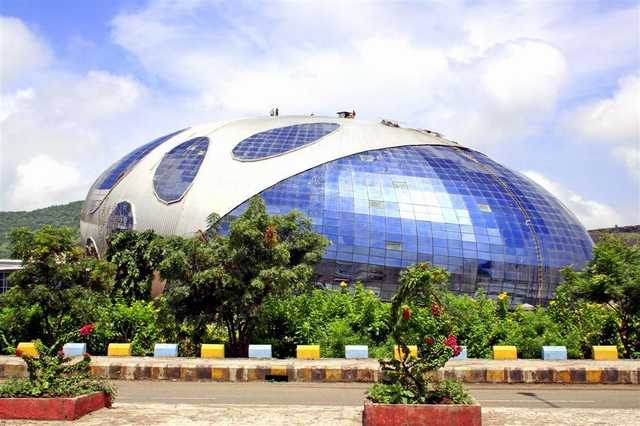 upload.wikimedia.org
Jockey Club Innovation Tower (Hong Kong)
Home of the Hong Kong Polytechnic University, the Innovation Tower was designed to be "a beacon structure symbolizing and driving the development of Hong Kong as a design hub in Asia."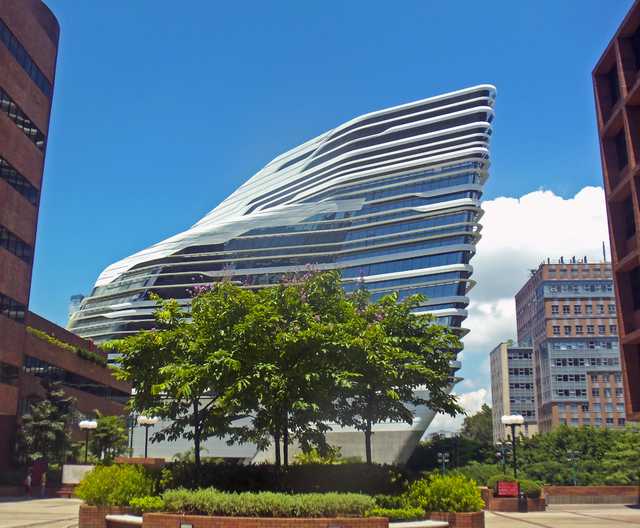 upload.wikimedia.org
Esplanade Theater (Singapore)
Taking its name from the Esplanade waterfront, the theater also contains a concert hall and serves as the center of performing arts in Singapore.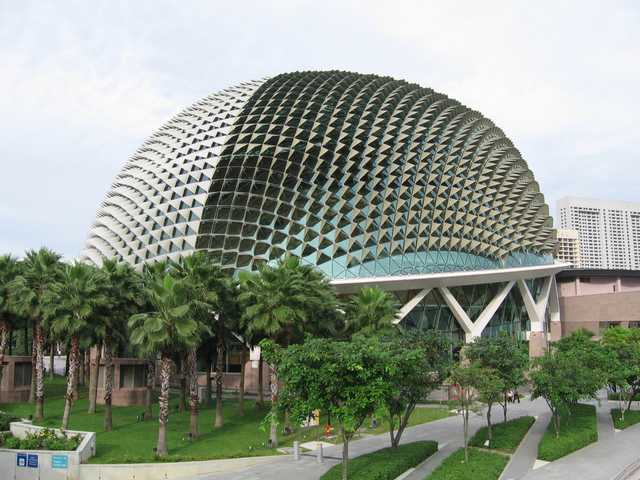 upload.wikimedia.org
Beijing National Stadium (Beijing, China)
Also known as "The Bird's Nest", the National Stadium was constructer for the 2008 Summer Olympics and Paralympics. It's comprised of 110,000 tons of steel.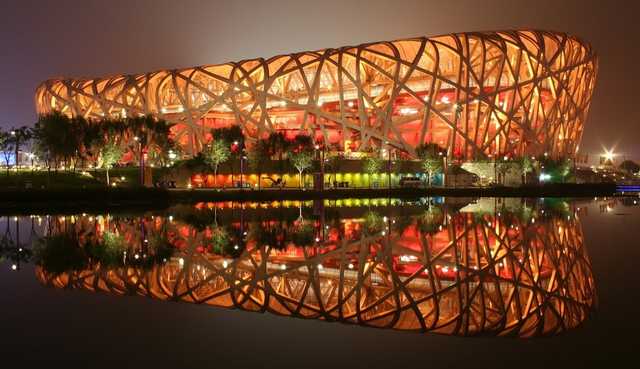 upload.wikimedia.org
Montreal Biosphère (Canada)
The Biosphere is a museum, dedicated to preserving the environment. During its construction in 1967 until 1976, the dome had acrylic panels covering the dome. In 1976, a fire burnt away the panels, but the steel structure survived.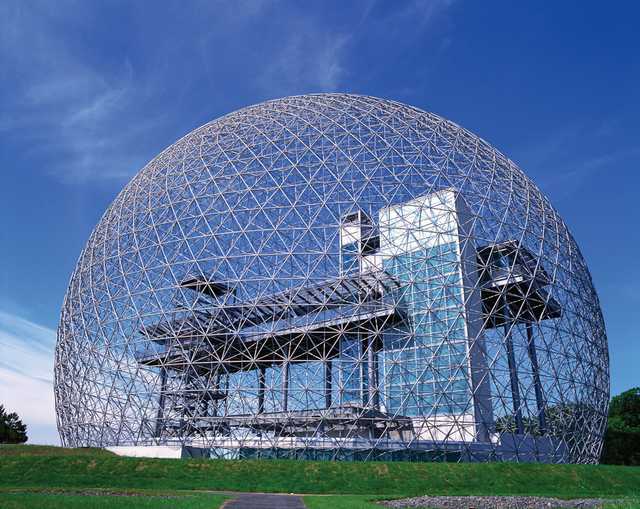 c1038.r38.cf3.rackcdn.com
Hotel Marques De Riscal (Elciego, Spain)
The building is made of warped titanium, painted pink, gold and silver, made to remind you of the color of wine and the famous Marques De Riscal wine bottles.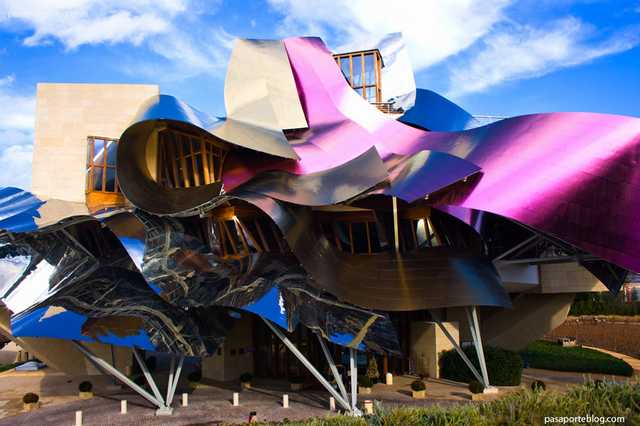 inbasque.com
Air Force Academy Chapel (Colorado, USA)
Featuring Catholic and Protestant churches, as well as a Jewish chapel and an all-faiths room, it was built in 1962, and is made of 100 identical tetrahedrons, each 75 feet (23 m) long, weighing five tons, and enclosed with clear aluminum panels.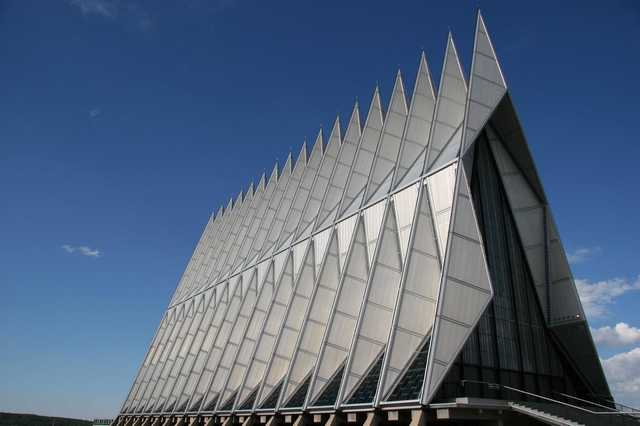 www.qmagazineatyale.com
Kunsthaus (Graz, Austria)
Built in a unique "Blob Architecture", this art house is nicknamed by the locals "The Friendly Alien" and is the hub for most contemporary art in Austria.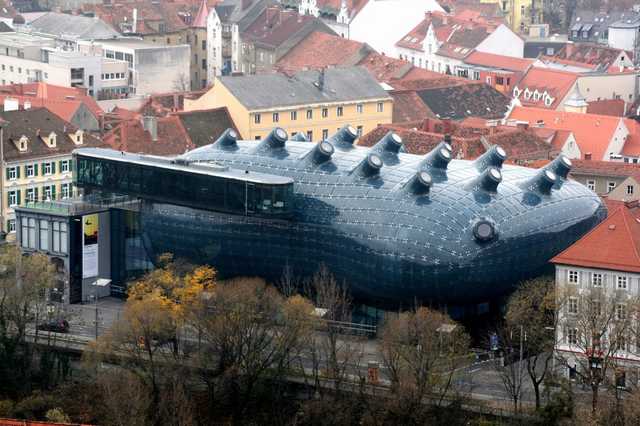 upload.wikimedia.org
Forest Spiral Building (Darmstadt, Germany)
This unique residential building contains over 1000 glass windows, yet none are the same. The same goes for all the door and window handles! All wall edges are rounded as the designer was against using straight lines...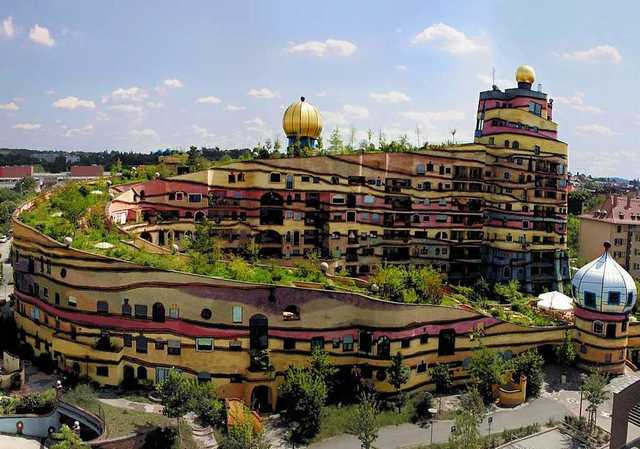 www.emlii.com
Ryugyong Hotel (Pyongyang, North Korea)
This pyramid monstrosity is a hotel with 105 stories. Its construction began in 1987 but was halted in 1992 with the fall of the Soviet Union. Construction resumed in 2008 and the building has yet to have been completed.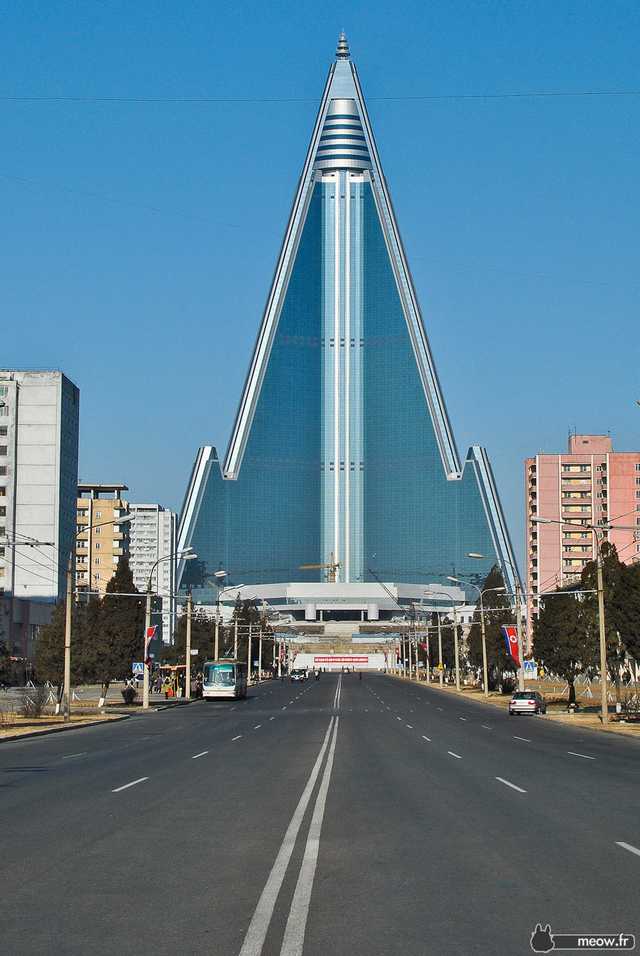 cdn.totorotimes.com
School of Design OCAD Building (Toronto, Canada)
The Sharp Centre for Design was completed in 2004. It is designed as a box, four stories off the ground, which are supported by a series of multi-coloured pillars at different angles.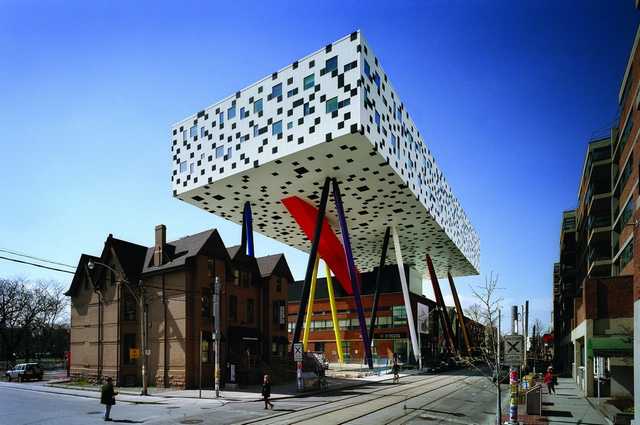 www.archello.com
Gas Natural headquarters (Barcelona, Spain)
The new headquarters for the Gas Natural Group is made to look like a series of buildings that mixed together at odd angles.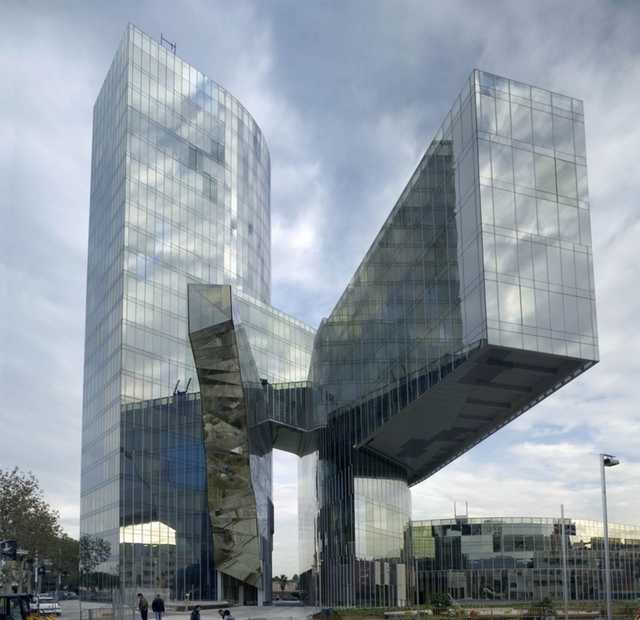 news.spainhouses.net
The National Library (Minsk, Belarus)
Believe it or not, this is a library. Belarus' National Library's new building, completed in 2006, houses the largest collection of Belarussian printed material and the 3rd largest collection of Russian writings. It is also the central cultural and information building in the country.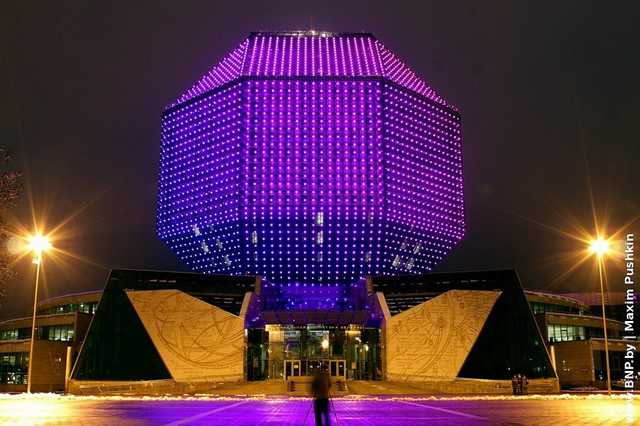 cs9815.userapi.com
Walt Disney Concert Hall (Los Angeles, California, USA)
With a parking garage that cost $110 million, the entire project is estimated to have cost upwards of $274 million. The designer, Yasuhisa Toyota, constructed the building to achieve the best possible acoustic conditions.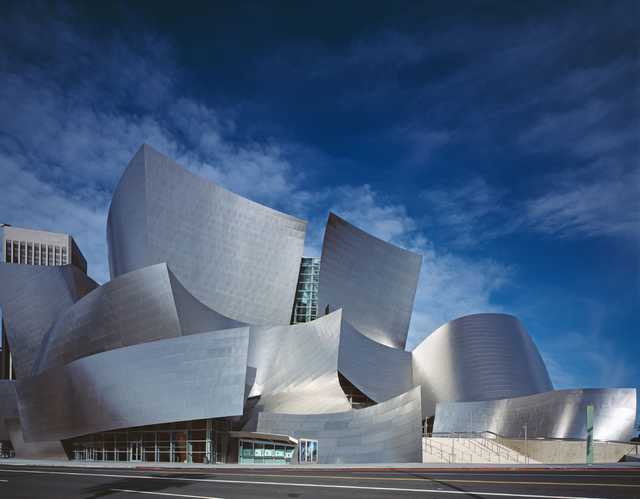 upload.wikimedia.org