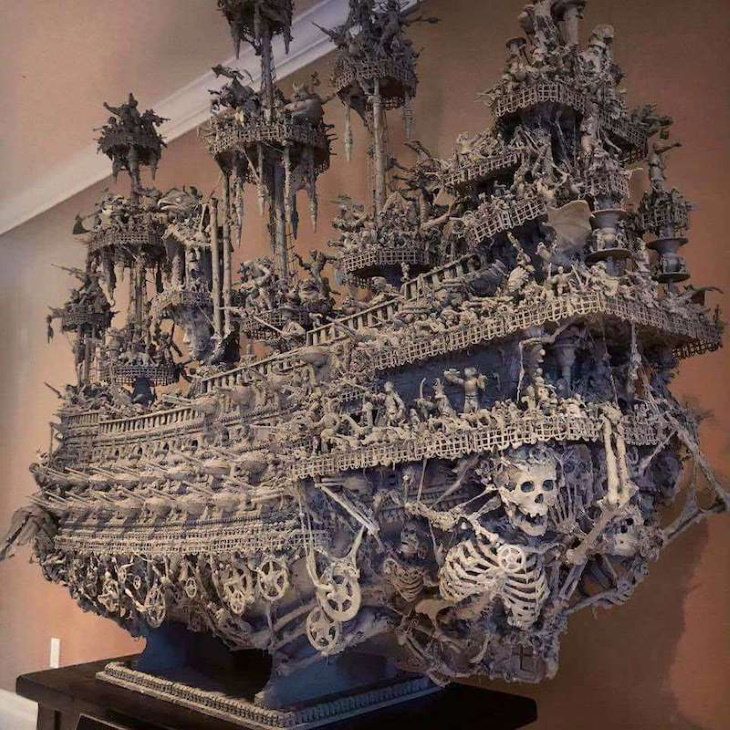 Sieva practices an art form called assemblage, which is similar to collage, but three-dimensional. The art form involves collecting and assembling various objects in order to create a new piece of art. For Jason Stieva, assemblage is his hobby of choice for over two decades, but this work is by far the biggest of them all.
Each artwork takes a long time because Stieva mixes found and thrifted objects in his works, which can take quite a lot of time to source. After collecting each object, one by one, Stieva adjusts, redesigns, and assembles all objects in the perfect way before finally gluing and painting them all together. This tedious process explains why this ghost ship, for example, took 15 months of work to complete.
But the results are very much worth the extra work, as the resulting ghostly ship is filled with immense spine-chilling details anywhere you look. The ship is 8 feet high, 7.5 feet long, and 2.5 feet wide, and it was inspired by a model of a Tall-ship Stieva saw in a store he frequently visits.
"Overall it was the most daunting project I've ever worked on and will probably ever create. There is a lot of extremely tedious detail from front to back, top to bottom," the artist shared with My Modern Met. Knowing how much work went into this art piece definitely makes us appreciate it even more! Scroll down to see two more close-up shots of the masterpiece.
See Jason Stieva's latest creations and other art pieces by visiting his Instagram Page.
Share this unique artwork with those who like all things spooky!