Portrait of an Artist (Pool With Two Figures), 1972
/
Source
As a measure of Hockney's fame, here are some interesting facts about the artist:
⁃ Hockney's most comprehensive exhibition at the Tate Museum in 2017 became the most visited exposition at that venue.
⁃ The following year, he sold the "Portrait of an Artist (Pool With Two Figures)" at an auction for over $90 million.
⁃ For a period of time, he held the world record for the most expensive painting ever sold by a living artist.
⁃ "Portrait of an Artist" is Hockney's most expensive painting to date.
⁃ In 2012, Hockney was appointed by Queen Elizabeth II to the order of merit – a group of no more than 24 members who have all stood out with extraordinary achievements in the fields of literature, science, art, or public service.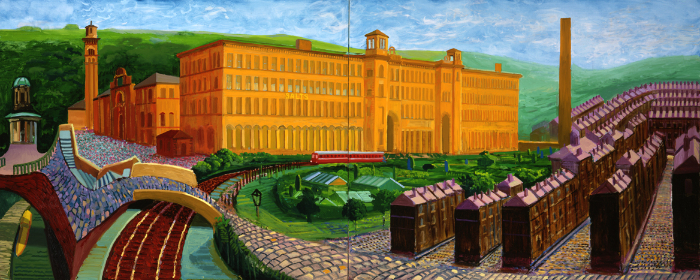 Salts Mill, Saltaire, Yorkshire, 1997/Source
Hockney studied at the Bradford College of Art (1953-1957) and the Royal College of Art in London (1959-1962). The artist speaks enthusiastically of his years at school, stating that he enjoyed spending most of his time there.
Hockney taught at the universities of Iowa, Colorado, and California. After several years of traveling back and forth between the US and the UK, he finally settled in Los Angeles in 1978. He was drawn to the sharp contrast between light and shadow, the comfortable climate, the serene atmosphere, and the vivid colors of the city. Throughout his career, you can observe the artist's preoccupation with light and how it affects color, as well as the influence of pop art and photography in his works.

George Lawson and Wayne Sleep, 1972-1975/
Source
The majority of Hockney's early works were autobiographical; he deals with such subjects as his sexuality and portraits of his loved ones. This period is characterized by prominent lines and a humble color palette. His work boasts thick lines and visible brushstrokes reminiscent of the Impressionists. Hockney experiments with portraits, landscape painting, and abstract painting. Before the 1960s, Hockney uses strictly oil paints. You can see the influence of the British weather on his color palette, which creates a classic dark, cold, wet, and heavy atmosphere.
Moving on into the 1960s, Hockney expands his artistic palette. This decade shaped much of his future career and marks his big burst as a recognized artist. The year 1964 marks his first visit to California. The influence this trip made on Hockney is visible through every means of artistic expression: color palette, choice of medium, and technique. His style becomes much brighter. The atmosphere is clean, lit, sleek, and pleasant. He creates satisfying, harmonious, serene compositions that are very pleasing to the eye.
He starts exploring the movement of water and how it affects light and shadow by drawing swimming pools, the theme he is associated with the most. During this decade, Hockney enjoys creating double portraits of his loved ones (he rarely accepted commissions). Most of his works from this era are figurative, and the subjects are very plastic and three-dimensional, conveying a sober and still realism. Yet, we can still see some abstract works laced with ancient Egyptian influences from his trip to ancient Egyptian tombs.
When painting architecture during this decade, Hockney uses a color-blocking technique with acrylics. At that time, acrylic paint was a new medium for artists. Hockney found it to be a much better fit than oil paint since it dries quicker. He was one of the first artists to use this medium.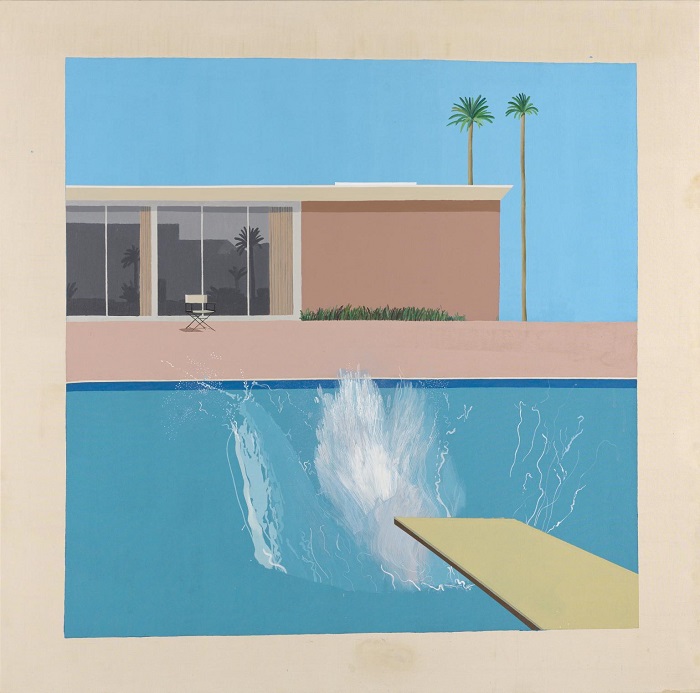 As stated, one of the subjects David Hockney is closely associated with is swimming pools. Between 1964 and 1971, he made a series of pool paintings, exploring the movement and transparency of water. In each new pool painting, Hockney attempted a different method of portraying the water, ranging in style from graphic lines to subtle realistic brushstrokes.
Some of his most famous works are from this era, including "Portrait of an Artist" and "A Bigger Splash" - his most famous piece.
At eight square feet, "A Bigger Splash" is the largest in the series of three splash paintings: "The Splash," "A Little Splash," and "A Bigger Splash." The first two were completed in 1966, and the latter was finished in 1967 while Hockney was teaching at the University of California.
Of the three splash paintings, "A Bigger Splash" is the only one that does not show a person but only hints at their presence through the splash itself. According to Hockney, the real subject of the painting is the split second of the splash, frozen forever on the canvas.
Hockney chose to use acrylic paint for the splash series. He was one of the first artists to make extensive use of this medium, which fits perfectly with his workflow: he would first layer big flat color blocks to portray the architectural background and then add details with a smaller brush on top.
The idea of a fleeting movement frozen in time fascinates Hockney. The contradiction between a real-life splash lasting a split second and the two weeks it took to paint it is what makes "A Bigger Splash" such an interesting artwork. Hockney used fine brushes and countless brushstrokes to create the splash itself, which is the brightest object in the painting.
The painting's vast measurements make it almost life-sized. Standing in front of it, we can almost imagine we are the next to jump into the pool. It is full of light and radiates the signature 1960s glamorous leisure. Also of note is the fact that the image is partly derived from a photograph Hockney discovered in a book about swimming pools. This marks the beginning of Hockney's fascination with photography, which will grow and manifest in his works during the 1980s.

My Parents, 1977/Source
During the 1970s, Hockney's color palette continues to expand. It is dominated by warm and vivid tones. The most dominant color is blue with warm undertones. He continues his use of acrylics to create dynamic yet balanced compositions. During this time, Hockney deepens his exploration of transparent materials, such as glass and water, as well as a newfound interest in the textures of fabric. He starts experimenting with surrealism, depicting imagined subjects in a fantastic style.
This decade is all about portraits, culminating in one of his most famous double portraits- "My Parents" (1977).
In this portrait, David's mother, Laura Hockney, is portrayed as poised and graceful yet a bit reserved, while his father, who had a difficult time sitting for very long, is hunched over a copy of Erin Scharf's "Art and Photography," hinting at Hockney's two greatest passions. In the mirror between the two subjects are reflected two works of art: one of Hockney's works and a Renaissance painting, a salute to one of Hockney's greatest sources of inspiration. The mirror is his way of inserting his presence into the portrait.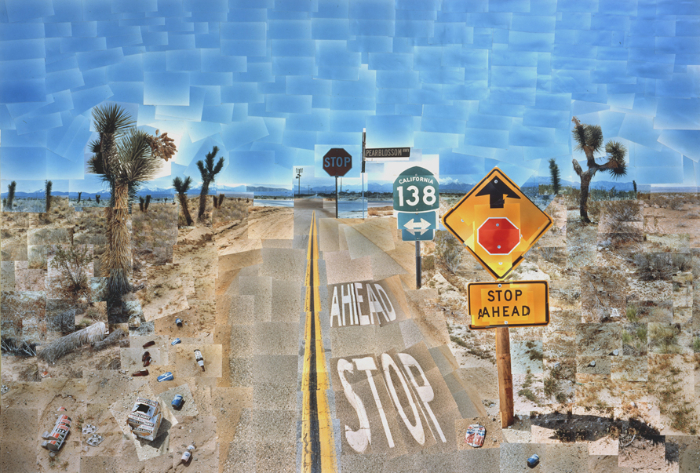 Pearblossom Hwy., 11-18th April 1986/Source
The 1980s mark the decade of photography exploration in Hockney's career. The artist has been using photographs very early on in his career, but mainly as references. Going deeper into his artistic pursuit, he started using photography as a means of creating collages that explore multiple viewpoints and perspectives in an attempt to capture and mimic human eyesight.
During this decade, all realism in Hockney's art is left behind in favor of warped perspectives and a dreamlike perception of space with dynamic compositions. His subjects are people and architecture, and you can see the influences of Picasso and Van Gogh in Hockney's use of cubism and wavy brushstrokes. When it comes to paintings of this decade, Hockney returns to oil paint.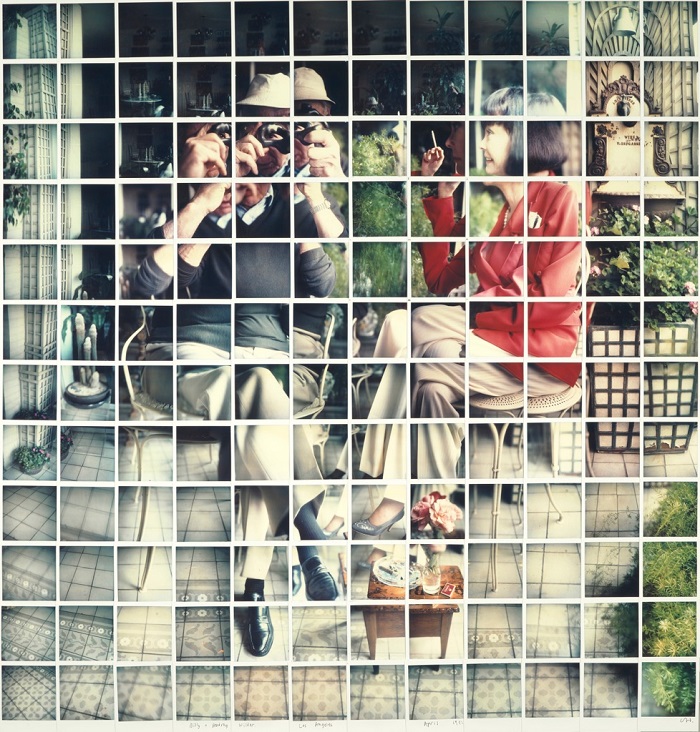 Billie + Audrey Wilder, Los Angeles, April 1982/Source
Hockney's method of unifying cubism and photography involves creating Polaroid collages, or joiners, as he called them. The artwork "Billie + Audrey Wilder" demonstrates Hockney's interpretation of cubism perfectly: each Polaroid offers a different perspective, while together, they create one picture albeit a bit disoriented. Hockney explains, "The Joiners were much closer to the way we actually look at things, closer to the truth of experience." (Source)
Another famous photo collage of this decade is "Pearblossom Hwy." which is made of no fewer than 850 shots. Each object was shot directly at eye level and then arranged into perspective.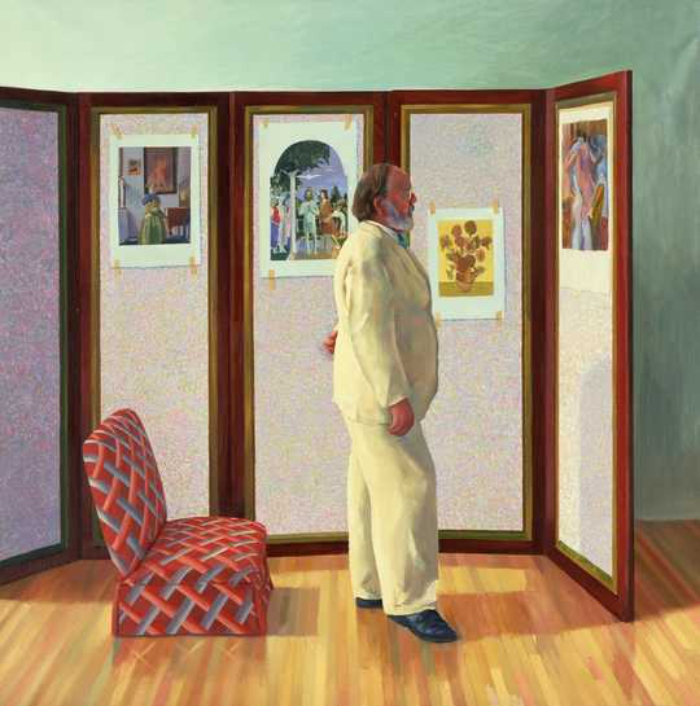 Looking at Pictures on a Screen, 1977
/
Source
During the 1990s and the early 2000s, Hockney gradually dimmed down his color palette, experimenting with abstract panoramas and a few still-life studies, until he rebalanced into mainly painting impressionist outdoor nature scenes. He explored different movements with a paintbrush to depict how the light changes during the daytime and the changing of the seasons.
Hockney slowly expands his paintings to a monumental size. Many of his works from this time are divided into sheets of four or six canvases. The year 2007 marks the creation of "Bigger Trees Near Warter," his largest work to date, measuring nearly 15x40 feet. This painting is made up of 50 canvases joined together in a manner reminiscent of his 1980s joiners. The subject is the changing of the seasons in his native town.

Bigger Trees Near Warter, 2007-2011/Source
These two decades can be defined as the birth canal toward digital art. In 2010, Hockney began creating digital art on his iPhone and iPad. His iPhone creations are mainly quick sketches, studies of light, and some portraits. The general style is characterized by graphic lines.
Creations he made on his iPad go a little bit deeper, and the style correlates well with creations he made on canvas during this decade. In both mediums, we can see a widening of the color palette and the use of warm colors again. Red and blue are the dominant tones. The main subjects during the 2010s are architecture and nature. He uses canvases in the shape of hexagons to create unrealistic perspectives. Each canvas is an extravaganza of color. The brushstrokes are thick and visible.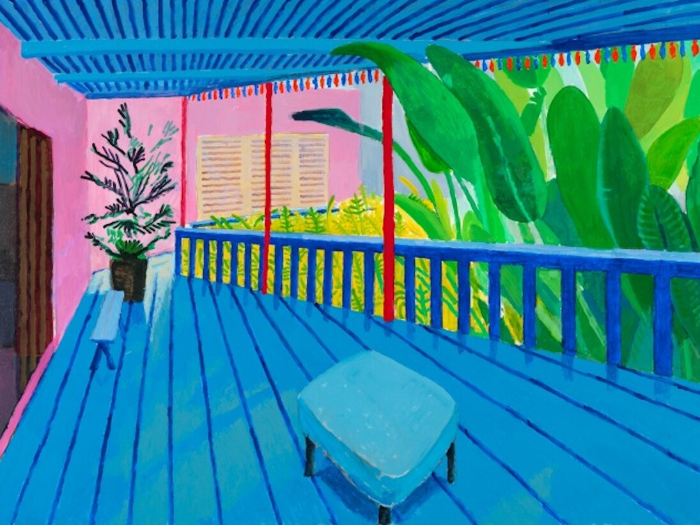 Garden With Blue Terrace, 2015
/
Source
Hockney's iPad art evolves mainly around portraits and the study of light, transparency, and reflective surfaces. He explores every aspect of this newfound medium, using different brushstrokes. Dots, smooth and rough lines, and thick and thin brushes all come together to create exceptionally dynamic paintings. We can also see an exploration of texture through digital art. Hockney creates very plastic and realistic textures, proving that the medium does not matter as long as the artist is skilled enough.
He works the same way he does when using acrylics, first laying color blocks and then placing the details with finer brushes on top. The main difference between his acrylic and digital works is Hockney's choice of "brush." In his digital works, he shows a bit more graphic lines than he does on the canvas.
The iPad as an artistic medium fits Hockney's workflow like a glove. It is easily portable, matching well with his nomadic lifestyle. Just as he was one of the first artists to embrace acrylic paint, he is now again at the forefront of artistic exploration, becoming one of the first older-generation artists to embrace and create digital art.
Spending the first year of COVID-19 in Normandie, he created a multi-panel digital work that was shown the following year in an exhibition in Paris. You can see a detail of it here:



Detail from "A Year in Normandie" 2020-2021/Source
Sources: Tate, Britannica, Tate kids, Hockney.com