Volcanoes are essentially ruptures in the surface of the Earth that cause lava, heat and resultant ash and gas to escape from magma chambers within the Earth's core. North America is home to over 250 volcanoes, more than half of which are spread across the United States of America.
These eruptions can create some truly breathtaking physical formations, many of which are still active, some which have even recently erupted, and others which have remained dormant for millions of years. They are home to a variety of unique ecosystems and wildlife, and many are even the ultimate vacation spots depending on whether you're looking for a picturesque view or an adventure.
Here are 25 volcanoes you can find across various states in America, many of which make excellent destinations for trekking, and a few of which are best enjoyed through these photographs.
1. Mount Akutan, Alaska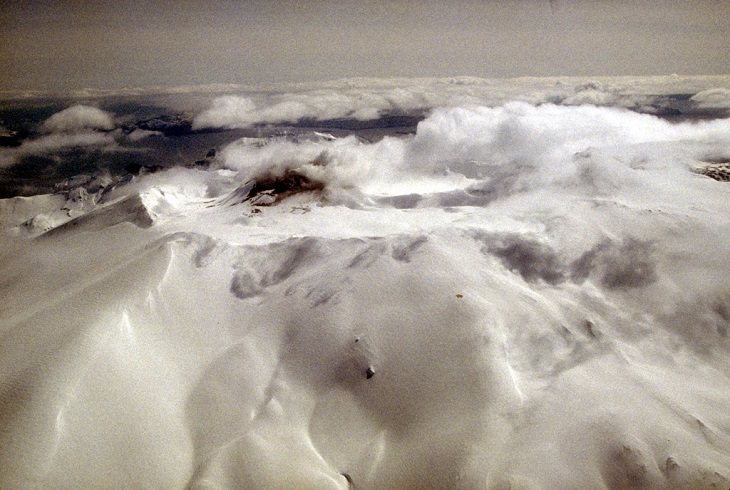 (Aerial view of Akutan volcano that forms the west part of Akutan Island, Wikimedia Commons)
This volcano is one among many in Alaska and has a 2 km caldera (which are the craters that form after a volcanic eruption after the magma chambers have emptied completely). This crater was caused by a massive explosion that occurred nearly 2000 years ago.
It has since experienced lava flows and eruptions as recently as 1992. It continues to experience periodic steam and gas emissions. Its highest peak stands at 4,275 feet.

2. Amak Volcano, Alaska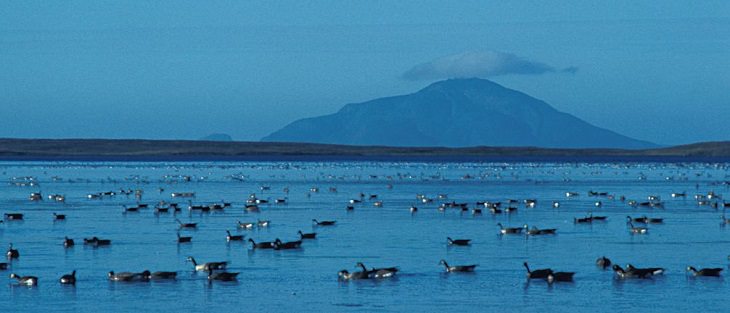 (By Chris Dau, U.S. Fish & Wildlife Service, Wikimedia Commons)
Here is another volcano that is a part of the Aleutian Islands, found more specifically on Amak Island. It has an elevation of 1600 feet and is the source of many unique minerals and elements. It last erupted in 1796, which created the crater that is currently there.
Amak Island is uninhabitable but can be visited after receiving permission from the United States Fish and Wildlife Service. As planes are not allowed on Amak Island, the island can be reached by boat from Cold Bay, the nearest city.

3. Mount Aniakchak, Alaska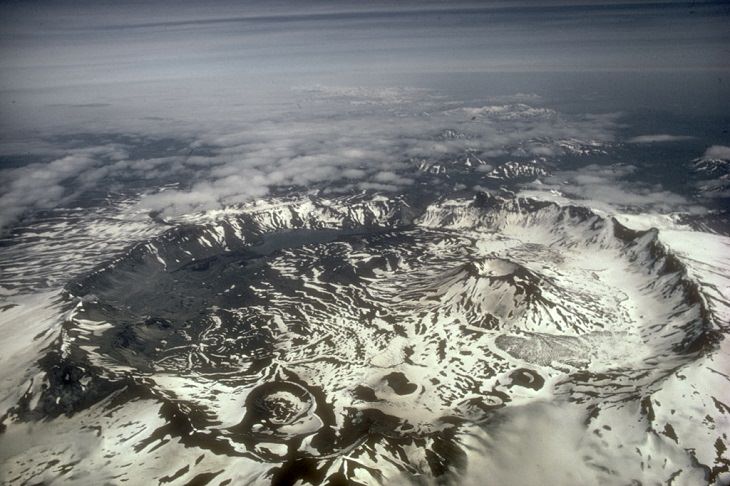 (By M. Williams, National Park Service, Wikimedia Commons)
Mount Aniakchak was formed a little under 4000 years ago, and is now in a protected area called Aniakchak National Monument and Preserve. The initial eruption that caused the largest craters of this volcano occurred approximately 2000 years ago. However, the most recent eruption recorded occurred in 1931, which caused further minor craters to form.
Within these craters is Surprise Lake, the source of Aniakchak River. In 1967, this natural wonder was designated by the National Park Service a National Natural Landmark.
4. Bogoslof Island, Alaska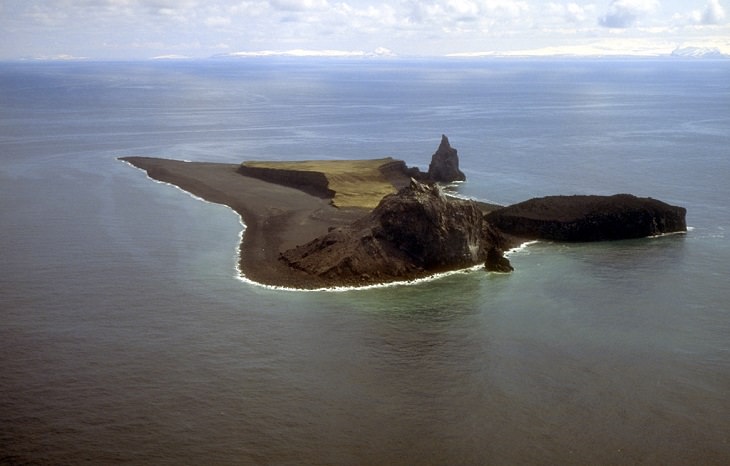 (By T. Keith, U.S. Geological Survey, Wikimedia Commons)
This island is home to a stratovolcano, the majority of which is located under the seabed and below the island. The volcano itself stands at 6000 feet, but it is only the summit that is found on the island and has an elevation of a little under 500 feet.
Most of the island is believed to have been formed more recently, after a series of eruptions in the early 20th century, though the initial land formation occurred due to underwater eruptions in 1796. It has also been declared a National Natural Landmark, and in 1909, was declared a sanctuary for nesting marine birds and sea lions, by President Theodore Roosevelt.
5. Devils Desk, Alaska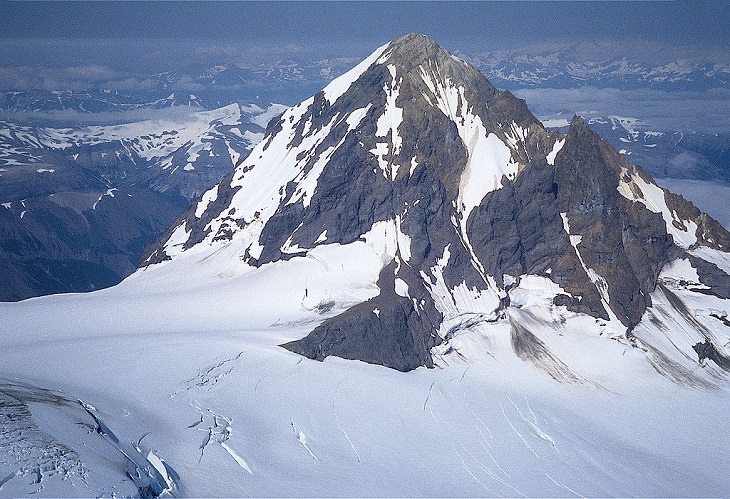 (By J. E. Fierstein, Alaska Volcano Observatory, Wikimedia Commons)
Devils Desk is a stratovolcano that stands approximately 5800 feet above sea level. However, the peak of the summit stands at an estimated 6400 feet. This volcano is believed to have been formed approximately 250,000 years ago, but the date has not been conclusively determined.
The edifice of this mountain is solely the neck of what used to be a much larger volcano that was severely affected by glacial erosion, creating the Devils Desk that is there today.

6. Fourpeaked, Alaska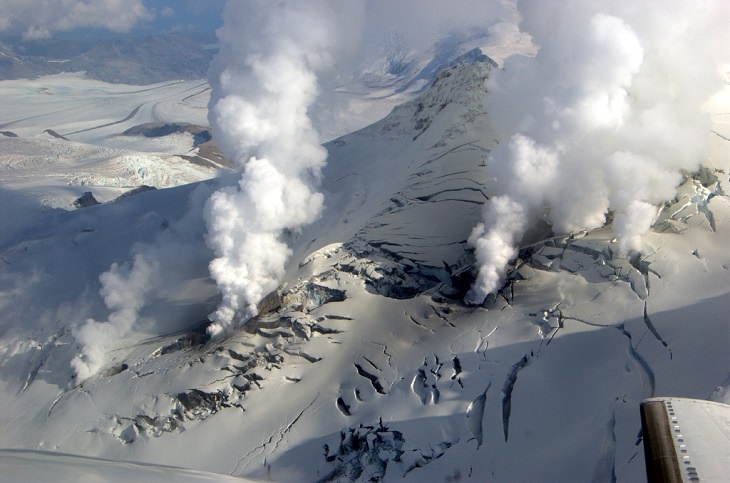 (By Cyrus Read, USGS, Wikimedia Commons)
Fourpeaked is an active volcano found in the Fourpeaked Glacier of Alaska, that is carefully watched by the Alaska Volcano Observatory. After 10,000 years of dormancy, in September 2006, Fourpeaked experienced a series of fumaroles, fissures in the mountain from which volcanic gases are released (as seen in the photograph).
This seismic activity was eventually classified as an explosive eruption and resulted in further smaller explosions that continued until March 2007. The classification of the volcanic activity at Fourpeaked has since been lowered to normal.
7. Mauna Loa, Hawaii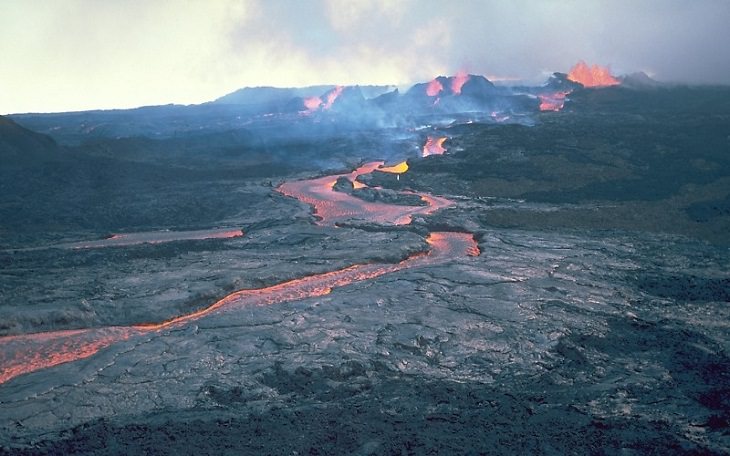 (By R.W. Decker, Wikimedia Commons).
Mauna Loa is one of the 5 volcanoes forming the island of Hawaii and is one of the largest volcanoes in the world in both volume and mass. It is one of the few active volcanoes present in the world and has been erupting for over 700,000 years, and since a final rumble in 1984, has largely returned to dormancy.
These eruptions are largely non-explosive and involve multiple lava flows, which caused the summit to rise above the seabed around 400,000 years ago.
For the experienced hiker, there are trails that have been built through the Hawaii Volcanoes National Park, where Mauna Lao is located.

8. Kilauea, Hawaii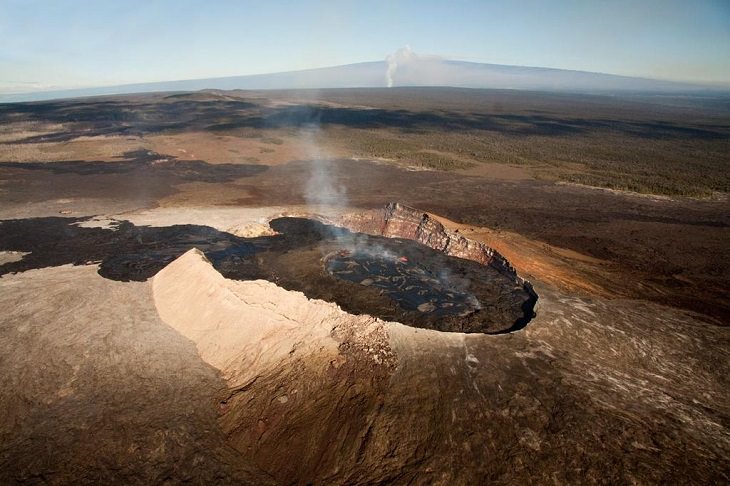 (By Puu_Oo_looking_up_Kilauea, Wikimedia Commons)
This is the most active of the 5 major volcanoes of Hawaii and has been continuously erupting from the early 1980s to as recently as 2018. The eruption in 2018 caused much destruction to the nearby towns of Kapoho and Vacationland Hawaii.
Access to the mountain for tourists, which has been open since as early as 1840, was briefly restricted but has since been reopened. Numerous hiking trails and guided ranger tours are available, and in the neighboring town of Kalapana, a Lava Viewing Area has been opened.
9. Lassen Peak, California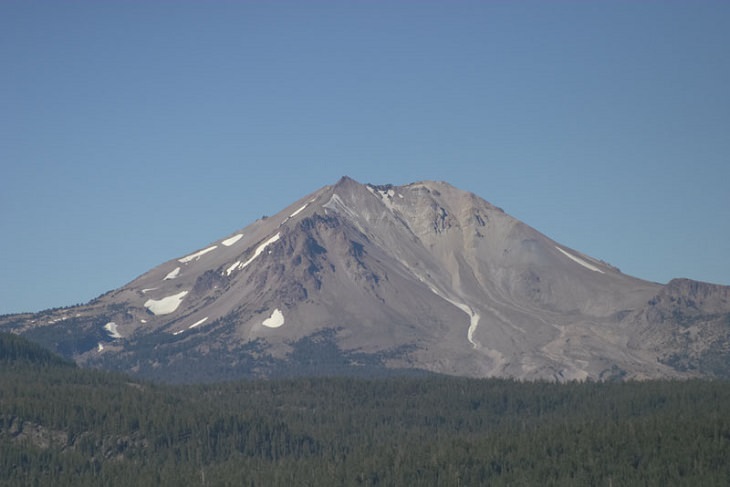 This peak stands high above Sacramento Valley, with an elevation of approximately 10,400 feet. It is located in Lassen Volcanic National Park, a 100,000-acre space dedicated to preserving, observing and studying the areas most affected by eruptions.
This research is ongoing as the volcano is still active, and continues to create minor lava flows and induce mudslides. However, the surrounding area along with nearby Lassen National Forest, are popular destinations for numerous fun activities like backpacking, hiking, kayaking, and skiing.
10. Taum Sauk Caldera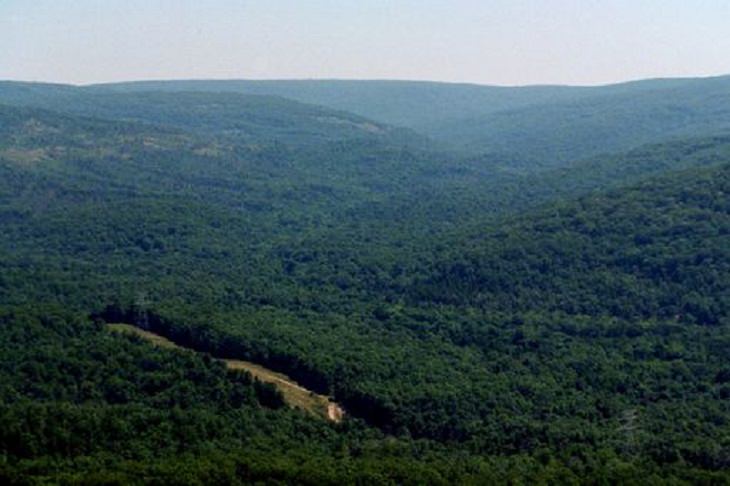 (By Kbh3rd, Wikimedia Commons)
This volcano is older than imaginable and last erupted nearly 1 and a half billion years ago. It is the highest mountain in Missouri, with a relatively low elevation level of approximately 1500 feet.
Due to the long dormancy period, the area surrounding this dormant volcano became the Taum Sauk Mountain State Park. This park, along with neighboring parks like Bell Mountain Wilderness Area, are excellent destinations for campers and hikers.
11. Capulin Volcano National Monument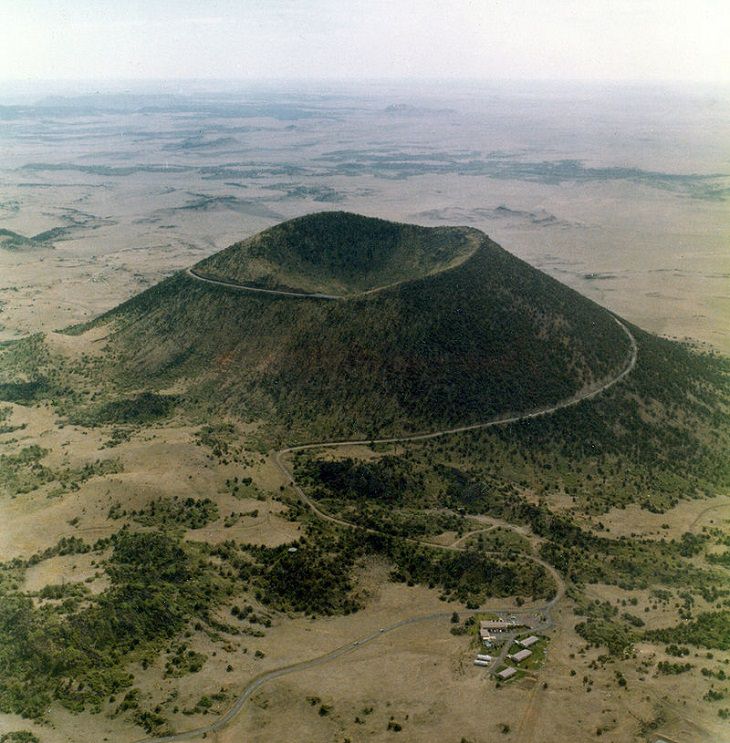 (By R.D. Miller, USGS - U.S. Geological Survey Photographic Library, Wikimedia Commons)
Located in the Northeastern part of New Mexico, this volcano has been dubbed an official U.S. National Monument, since 1916. It last erupted over 50,000 years ago, making this mountain an extinct cinder cone, located in the Raton-Clayton Volcanic Field.
It is an excellent place for a hike, with both a 2-mile hiking trail and a paved spiral road that leads directly to the rim of this long-dormant hill, along with a variety of other trails located in the park.

12. Mount Taylor, New Mexico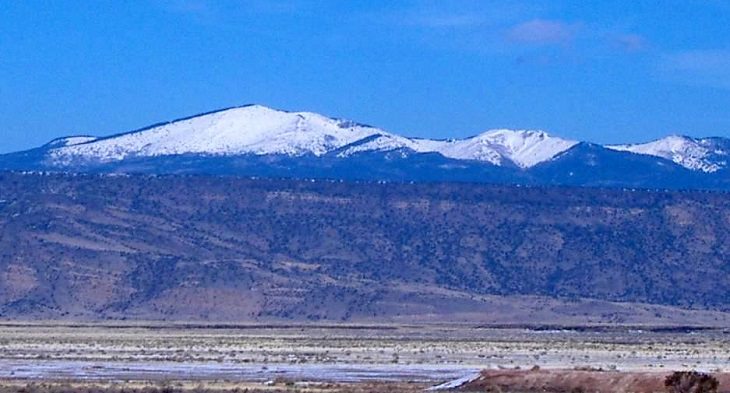 (By ANNAfoxlover, Wikimedia Commons)
Mount Taylor is another dead volcano, that experienced its last eruption over one and a half million years ago.
It is the highest point of Cibola National Forest, in New Mexico, and was named after President Zachary Taylor in 1849.
Mount Taylor also happens to be the location of an annual endurance event called the Mount Taylor Winter Quadrathlon, which includes 43 miles of running, cross country skiing, bicycling and snowshoeing. Other activities include hiking, trekking, and a 31-mile run.
13. Shiprock, New Mexico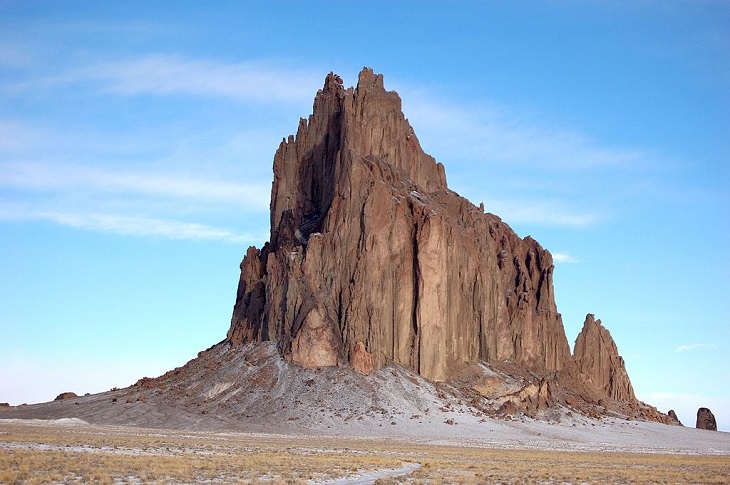 (By Bowie Snodgrass - Shiprock, Wikimedia Commons)
This rock is governed by the Navajo Nation, and with a name that means "winged rock", this formation has played a significant role in Navajo history an culture. It is a monadnock formed from volcanic breccia, a result of a volcanic eruption that occurred over 27 million years ago.
As the formation is in a Navajo Religious site, and due to falls and injuries that occurred while hiking Shiprock in the past, this rock has been cordoned off from public access.
14. Sierra Blanca, New Mexico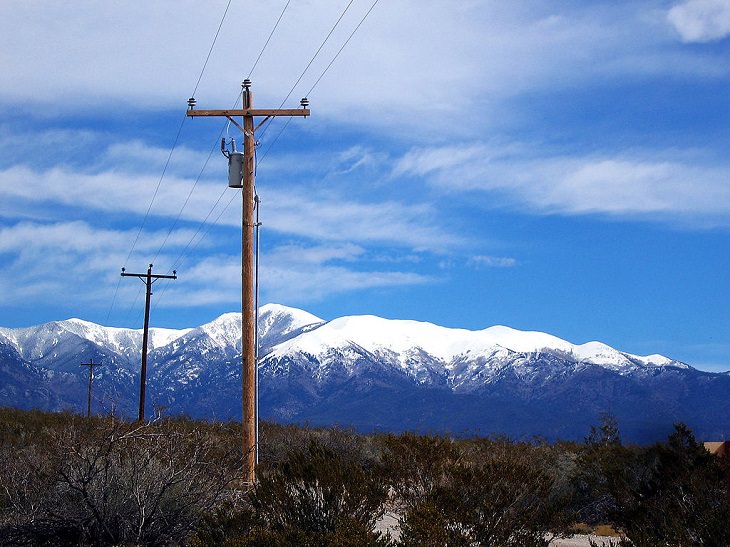 (By Dusty Matthews from Keller, United States, Wikimedia Commons)
Sierra Blanca peak, at 5,500 feet, is amongst the highest in southern New Mexico, and is one of the largest mountain ranges of New Mexico, stretching across 12,000 feet.
Much like Shiprock, this mountain range has been extinct for nearly 26 million years. This peak is situated in the middle of the Mescalero Apache Indian Reservation. It is located beside the Lincoln National Forest, which is home to one of the largest ski resorts in southern North America.
15. Farallon de Pajaros, Commonwealth of the Northern Mariana Islands (CNMI)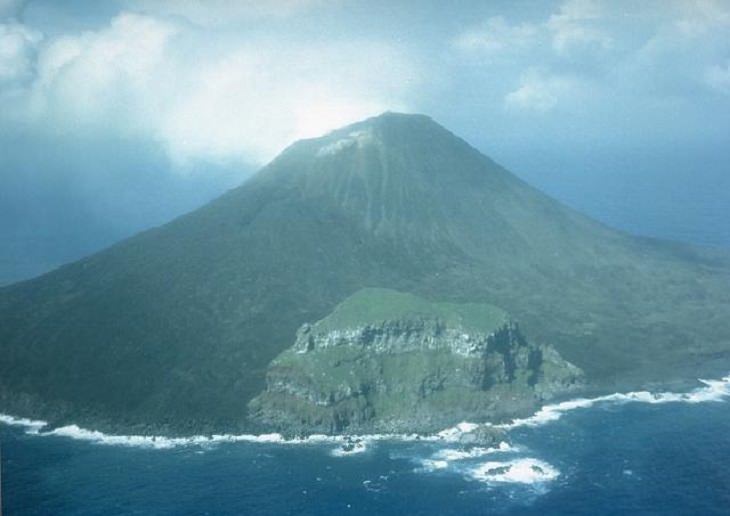 (By Winfrey, US NAVY, Wikimedia Commons)
The Farallon de Pajaros is one of 14 islands located in the Commonwealth of the Northern Mariana Islands and is the northernmost island. It is the top of an active stratovolcano and is intertwined with two other submerged volcanoes. These volcanoes have been associated with eruptions in 1979 and 2001.
It was previously inhabited but since 1985, has been designated a protected wilderness area to conserve natural resources. Since 2009, it has been designated a part of the United States Marianas Trench Marine National Monument

16. Alamagan, Commonwealth of the Northern Mariana Islands (CNMI)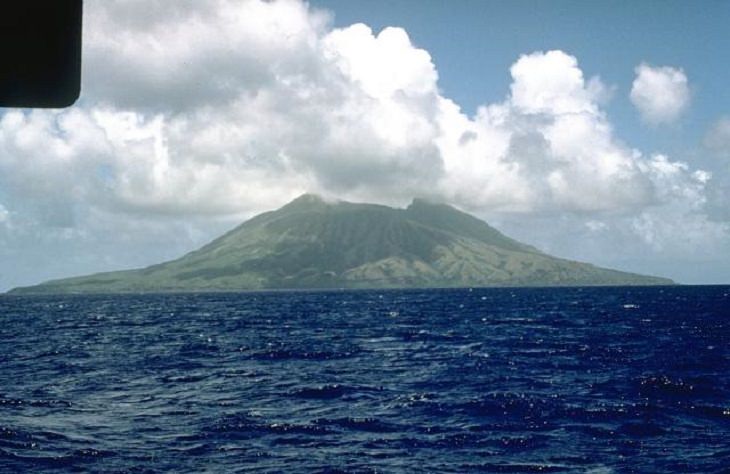 (By Norm Banks, U.S. Geological Survey, Wikimedia Commons)
Alamagan stretches across 4.8 km and has a peak that stands at 13,000 feet. Eruptions are believed to have occurred on this island from as early as 1500 years ago, to as recently as 1887.
The eruptions have since ceased, though there is still some fumaric activity detected on the island from time to time. The island was scarcely populated over the last century but according to a 2010 consensus, is now completely uninhabited.

17. Anatahan, Commonwealth of the Northern Mariana Islands (CNMI)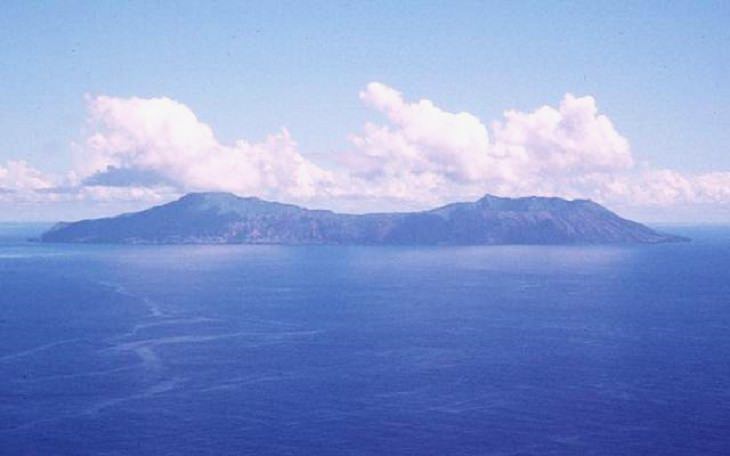 (By U.S. Geological Survey, Wikimedia Commons)
This island is home to the most active of the volcanoes in the archipelago of the Mariana Islands. It was infrequently populated through the 20th century, but all inhabitants were evacuated due to earthquakes and fumarole gas emissions that were believed to be signs of an impending eruption that never occurred.
In 1992, a similar scare occurred, but the first true eruption occurred in May 2003, which led to the formation of a new crater in the eastern part of the island. The last eruption began in 2007 and lasted an entire year.

18. Pagan (island), Commonwealth of the Northern Mariana Islands (CNMI)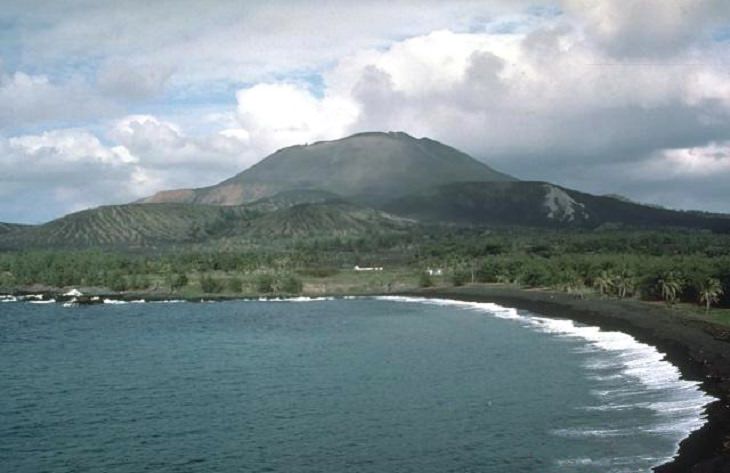 (By Norm Banks, U.S. Geological Survey, Wikimedia Commons)
This volcanic island is located approximately 2 miles from the main island of the Northern Mariana Islands. Pagan is a stretch of land consisting of 2 volcanoes, connected by a narrow ridge. The southern volcano was last active in 1864, while the northern volcano has experienced eruptions periodically from 1820 until 1985, with further outbursts occurring as recently as in 2012.
When a more severe eruption occurred in 1981, the island's 300 residents were evacuated to Saipan, the main island, and efforts are still being made to restore these inhabitants to their homeland.
19. Mount Bachelor, Oregon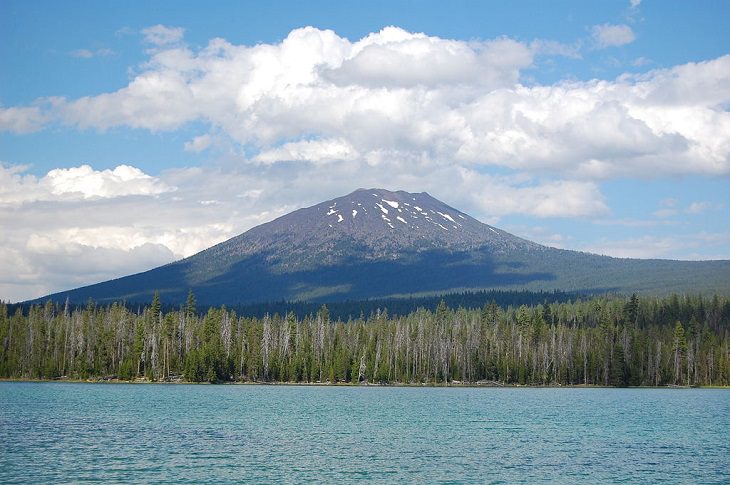 (By Amateria1121, Wikimedia Commons)
Mount Bachelor is a volcano that is part of the Cascade Range of mountains that can be found in Central Oregon. It's last known eruptions occurred nearly 10,000 years ago. However, minor concerns have been raised as to whether the volcano is extinct or simply inactive.
Since 1958, the Mount Bachelor ski area has been operational, which offers many fun activities, like dog sledding, snowshoeing and even snow tubing. Visitors can also enjoy a climb to the summit of the volcano via a climbing trail.
20. Mount Bailey, Oregon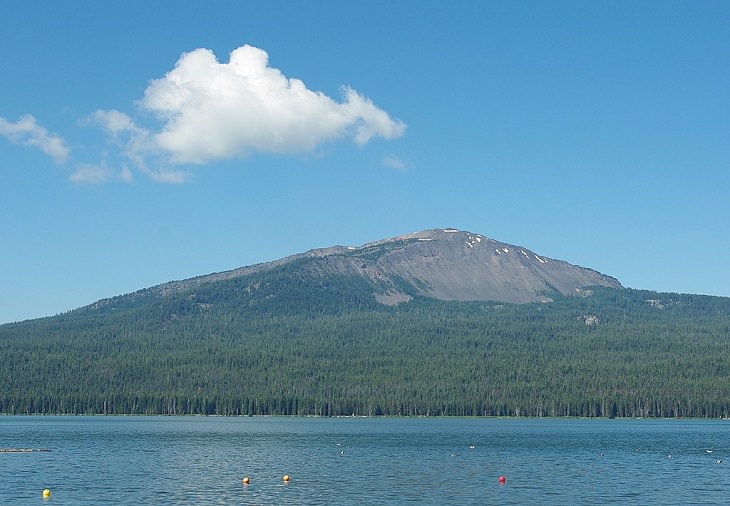 (By M.O. Stevens, Wikimedia Commons)
Another member of the Cascade Range, this mountain stands alongside the edge of Diamond Lake. The last eruption is estimated to have occurred approximately 100,000 years ago, making this volcano a quiet place.
While Native Americans were the first to ascend Mount Bailey, it is now an extremely popular destination for winter recreational activities, like skiing and is also a hiker's dream.

21. Belknap Crater, Oregon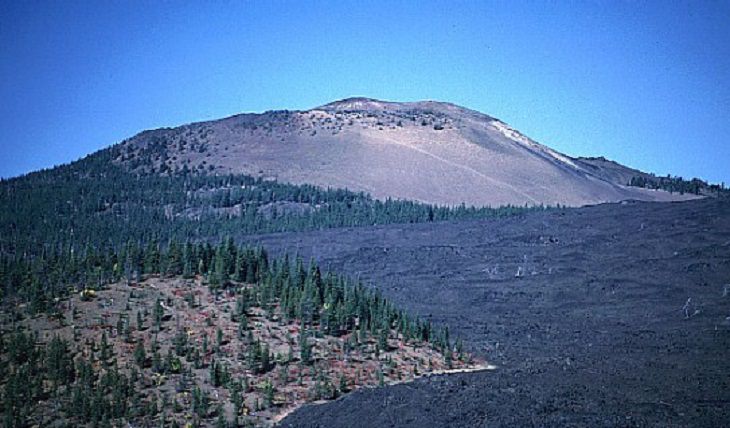 (By USGS Photo by Lyn Topinka - Cascades Volcano Observatory, Wikimedia Commons)
This stunning landscape can be found in Linn Country, Oregon. It last erupted over 1500 years ago, and has since been largely dormant, and is home to numerous lava fields. These fields are largely without vegetation and have minimal wildlife, but form a part of the Mount Washington Wilderness.
There are numerous hiking trails in and around the lava flows of Belknap Crater, and the Dee Wright Observatory, made from lava blocks from the crater, gives a great view of the surrounding volcanoes.
22. Black Butte, Oregon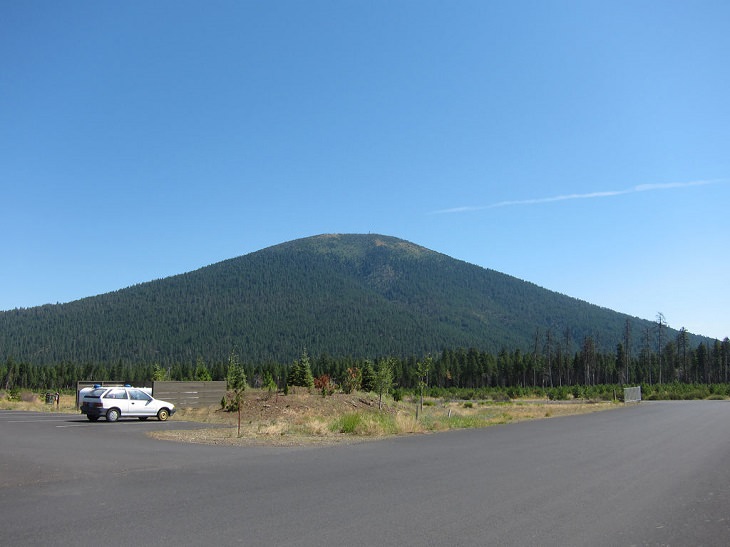 (By Aselfcallednowhere, Wikimedia Commons)
In Jefferson County, Oregon, lies Black Butte, an extinct volcano that can be found in Deschutes National Forest. It is believed to have last erupted approximately a million years ago.
Nearby the Black Butte lies a resort colony and recreation area that goes by the name Black Butte Ranch. One of the activities is a 2-mile hike up the butte, while others include biking, horseback riding, fishing, canoeing, and kayaking, among many others.
23. Blue Lake Crater, Oregon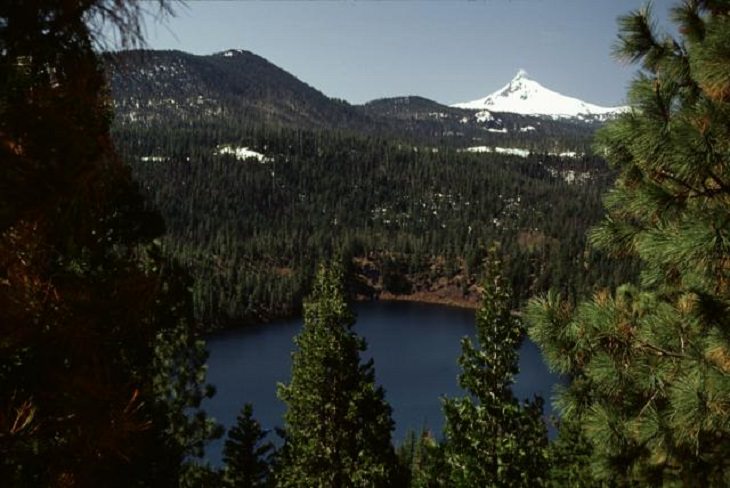 (By Lee Siebert, Smithsonian Institution, Wikimedia Commons)
Amid the Metolius River basin lies Blue Lake Crater, an inactive volcano that is home to a plethora of wildlife. The River basin is largely maintained by not-for-profit organizations, and an Oregon legislation preventing any wide-scale development from being carried out in the basin.
There are a number of campgrounds around the crater for visitors looking to enjoy a nice hike or even go horseback riding.

24. Mount Mazama, Oregon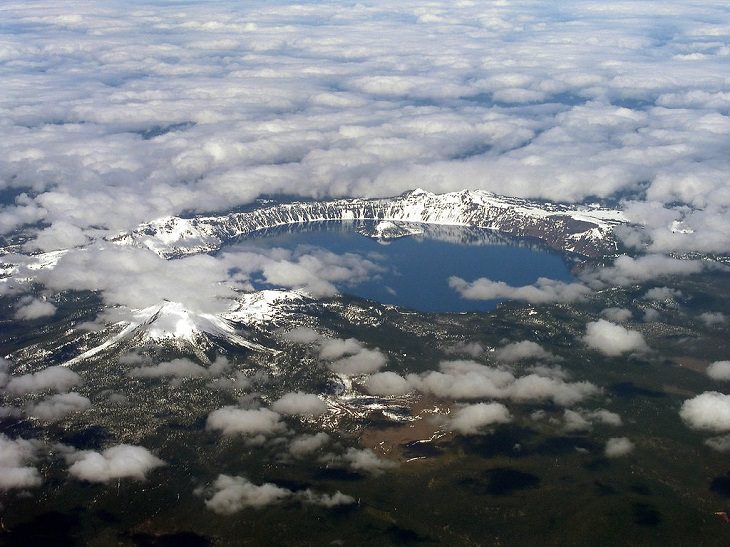 (By Semionk at the English language, Wikimedia Commons)
Jumping back to the Cascade Range in Oregon, Mount Mazama is truly a wonderful place to visit.
The crater of this volcano, caused by an eruption that occurred around 7700 years ago, has long since collapsed and is now the beautiful Crater Lake, the most popular feature of Crater Lake National Park.
Crater Lake has two small islands located within that make the lake a popular destination for boat rides. Crater Lake National Park is also a great place to enjoy fishing, bicycling, skiing and snowshoeing.
25. Mount McLoughlin, Oregon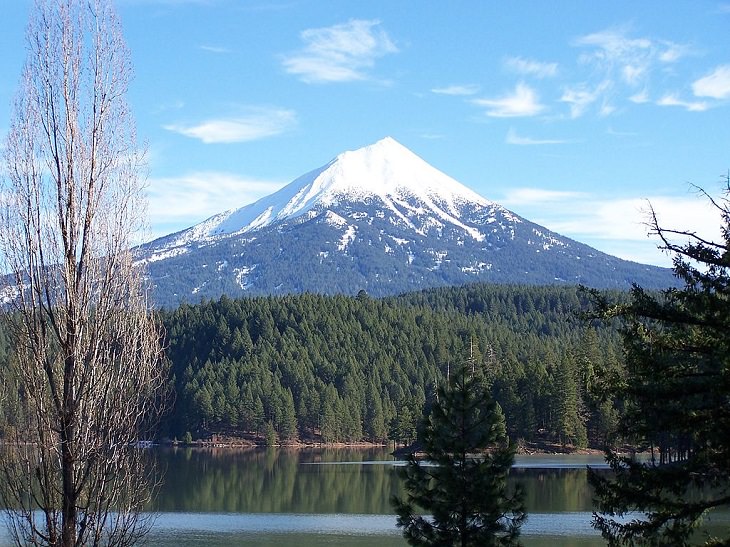 (By Little Mountain, Wikimedia Commons)
As long as you're still in the Cascade range, you can also make a stop at this quiet volcano, that erupted last over 30,000 years ago. Mount McLoughlin has a 4000-foot summit, and a 6-mile trail to reach it.
The trail to the summit can be reached from the road, and can be climbed on horseback and with leashed dogs. The climb is best left for experienced hikers, and at certain times can be a great place for skiing and snowboarding.