I, much like the next person, patiently await the weekends and any other excusable occasion to gorge myself on some of the instant delicacies this world has to offer, usually things that are fried and bathed in cheese. Thanks to not only overly-indulgent people like me but some truly entrepreneurial spirits working toward the American Dream, there are a few fast food chains that have grown exponentially over the last two decades.
So whether or not you want to take a whiff of the Colonel's Secret Recipe, you will still most definitely enjoy his rocket ride to stardom, along with these other famous fast food counterparts.
1. Pizza Hut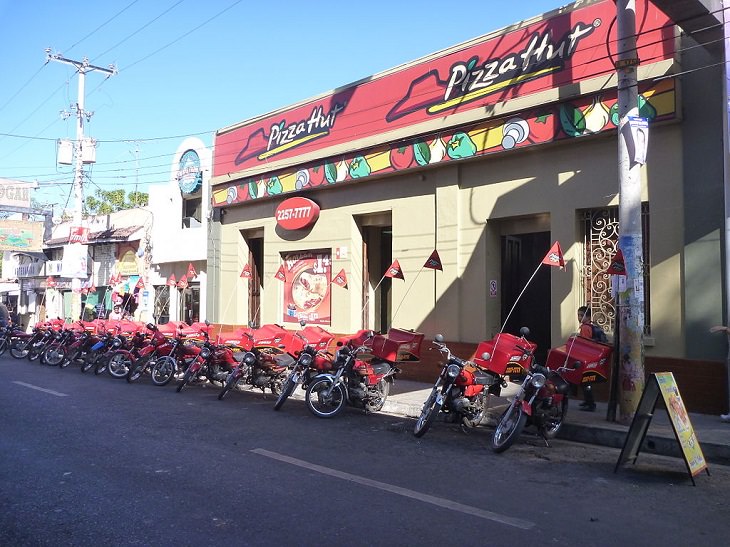 (By Ppdiaporama, Wikimedia Commons)
This now iconic pizzeria franchise began its story in 1958, when the Carney brothers, Dan and Frank, took a friend's suggestion to heart to open up a pizza parlor. Back then, pizza was not the popular food then it is today, and pizza parlors were even rarer to find. The brothers decided it would be a success, borrowed some money from their mother to buy secondhand pizza making equipment, and opened up the first Pizza Hut in Wichita, Kansas, their hometown.
In a fun twist, and with some preexisting entrepreneurial insight, they even gave pizza away for free on their opening night to bring in more business later. And whatever they did worked because just a year later, they opened their first franchise in Topeka, Kansas.
Over the next few years, the chain began to gain considerable popularity and by 1966, there were 145 branches established across the country, coordinating, of course, with their headquarters in Wichita. Business really boomed for Pizza Hut in the 1970s.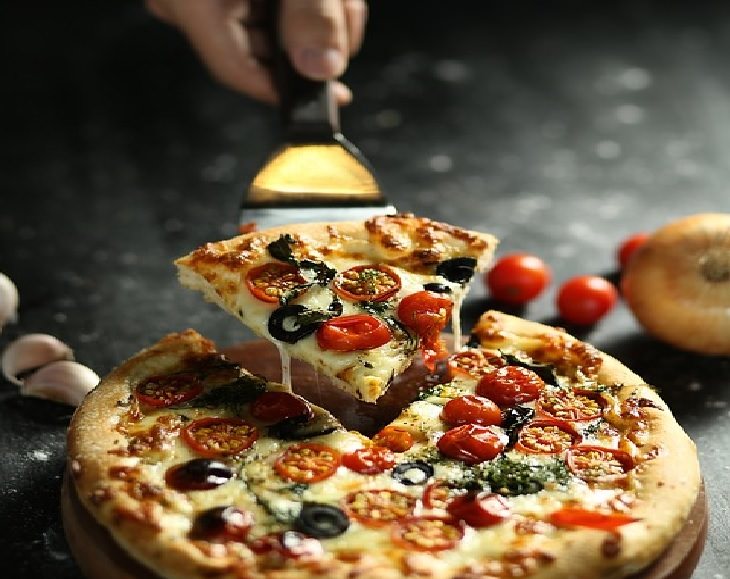 When the company went public, it began to grow almost uncontrollably to the point where the Carney brothers realized they needed to delve into proper planning and business management. Over the next few years, they expanded their operation to Germany and Australia, and by 1971, they became the world's largest pizza chain, with over 1.000 outlets open.
By 1976, they had 2.000 outlets and had also purchased 3 other restaurant businesses. It was this business acumen that would lead to the merging of Pizza Hut and PepsiCo, increasing the international reach of the pizza chain.
Despite the rise in competitors and major declines in profit over the next 2 decades, the business is now valued at approximately $30 billion, and has over 18.000 outlets opened worldwide.
2. McDonald's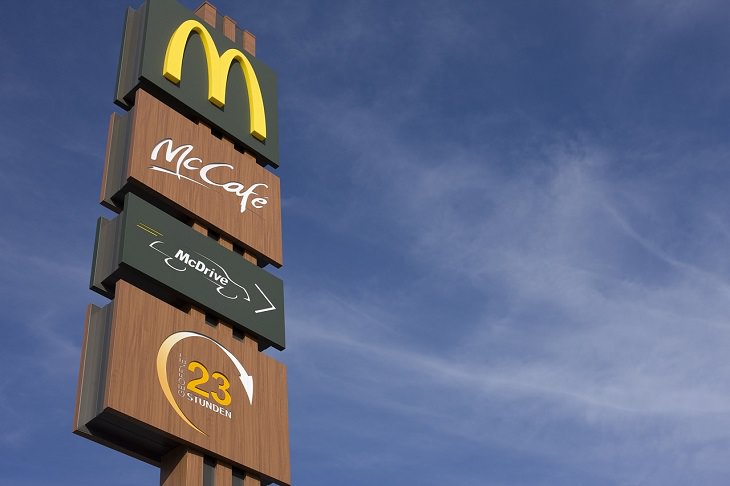 Here's one super-sized super-Franchise, known world over for revolutionizing the fast food industry. What would one day become McDonald's Corporation, one of the largest growing fast food chains in the world, began very simply in 1948, as a single restaurant in San Bernardino, California, started by the McDonald brothers, Mac (Maurice) and Richard.
Their shakes and burgers became quick favorites due to their speedy and consistent service. The expansion of the business came about when Ray Kroc, the salesman from whom they bought appliances for their restaurant, became curious to find out how this small burger joint was able to sell their food at a lower price than all the reigning competitors, but still make a profit.
The McDonald's brothers had realized that a self-serving counter cut down any added costs that would have been spent on servers. Also, by cooking the burgers ahead of time, and keeping them warm under heat lamps, more customers could be served in a shorter time. That kind of smart thinking got Kroc to open the very first franchise of McDonald's in 1955, in Des Plaines, Illinois. which 'till today remains the headquarters of the company. He simultaneously opened the McDonald's Corporation together with the brothers.
In 1961, he acquired both Mac and Dick's entire interest in the company, and by 1965, started publicly trading the stock of the company, having expanded the business to nearly 1.000 outlets. At this point, Ronald McDonald, the gloriously striped fictitious clown, had become the easily recognizable face of the Company, and the M logo had also become equally, if not more iconic.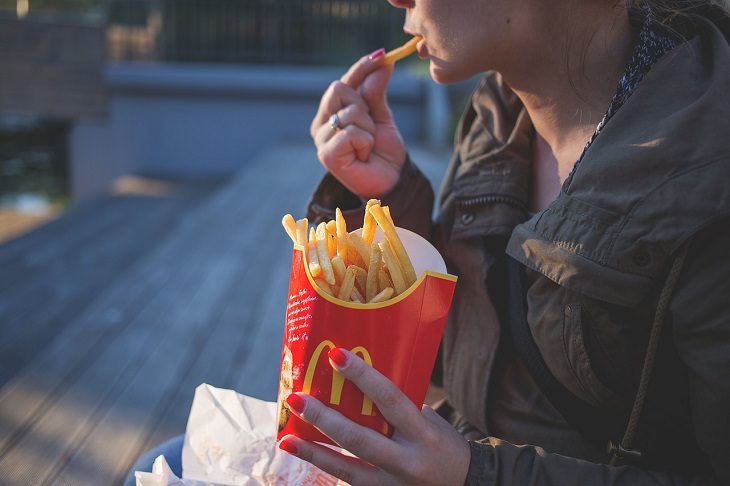 Appreciating that the public eye was on them, McDonald's spent the next 2 decades moving toward rapid expansion, both nationally and internationally, starting with Canada in the late 1960s before moving across the seas. By the end of the '80s, there were over 10.000 outlets open worldwide, and at the beginning of the 21st century, this number had increased to a whopping 35.000. With all this growth, the McDonald's Corporation decided to try their hand outside the Hamburger industry, but these acquisitions were short lived.
Given the numerous concerns that were raised regarding the lack of healthy options offered by the chain, the business owners took a step back from expansion to focus on rebranding and revitalizing the business. Efforts were made to make the menus more health-conscious, though these efforts were largely ineffective.
Perhaps the most effective efforts of the McDonald Corporation have been in philanthropy. The company contributes majorly to the support of numerous charities, especially for children suffering from leukemia. To assist in these altruistic endeavors, a number of Ronald McDonald Houses have been set up all around the world, to house families of patients and other charities.
McDonald's currently has over 37.000 branches operational worldwide and is valued at approximately $100 billion dollars.
3. Taco Bell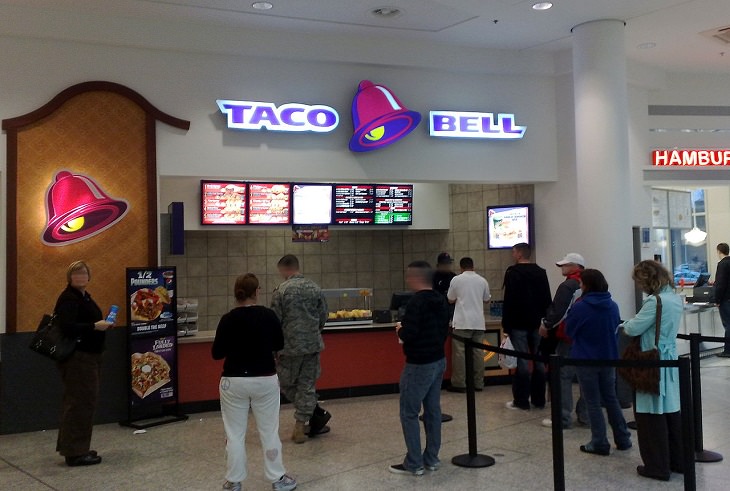 (By DXPG, Wikimedia Commons)
Here's another restaurant that started off in San Bernardino, California. Glen Bell opened the very first Taco Bell restaurant in 1962, though it was not his first foray into the restaurant biz. In the 1950's he tried his hand at various other food-based business ventures, like Bell's Drive-in and Taco Tia.
While most were not immensely successful, these initial trials would contribute to one of the leading Mexican restaurant chains across the world. When Glen first opened Taco Bell, he was serving what his customers referred to as "Tay-ko's", but what set Glen's restaurant apart were his hard shell tacos, a then novel invention in the Mexican fast food industry.
After selling his stakes in numerous other restaurants owned and run by him, Glen became the sole proprietor of Taco Bell.
With business expanding quickly, Taco Bell began to gain quite a reputation, and in 1964, the first franchise of this restaurant was open in Torrance, California. It was run by franchisee, Kermit Becky, a retired policeman from Los Angeles.
Three years later, Taco Bell opened its 100th restaurant in Anaheim, California, marking its incomprehensible growth.
By 1970, when the company went public, there were over 300 restaurants across the west coast of the USA open and fully operational.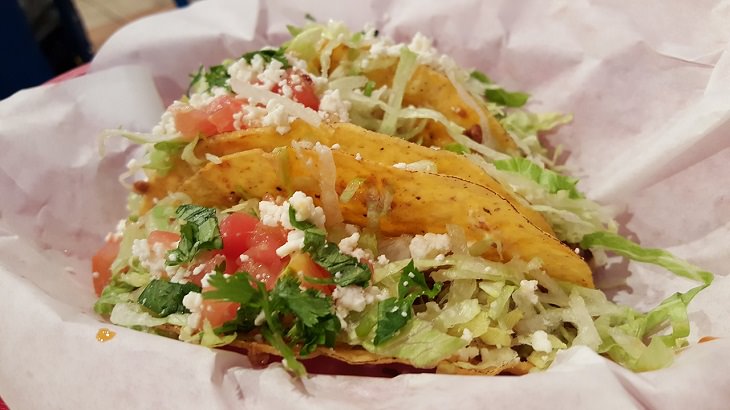 It would be only eight years later that Taco Bell would make the shift from regional to national. The main catalyst for this expansion was the purchase of nearly 900 Taco Bell branches by PepsiCo in 1978.
Over the '80s and '90s, with the help of PepsiCo's resources, Taco Bell launched a series of promotional campaigns partnering up with movie launches, sports events, and other public themes. In 1995, after breaking away from PepsiCo, it became a branding partner of KFC and one of the subsidiaries of Tricon Global Restaurants, now known as Yum! Brands.
This Mexican chain's popularity continued to rise, and in 2009, it replaced McDonald's as the official fast-food partner of the NBA (national basketball association). Its fingers stretched across the borders as well, and there are now over 300 locations in 25 different countries across the globe, though, with 7.000 Restaurants open at home, the US continues to be its major place of operations. The company's net worth now stands at $15 billion.
4. Burger King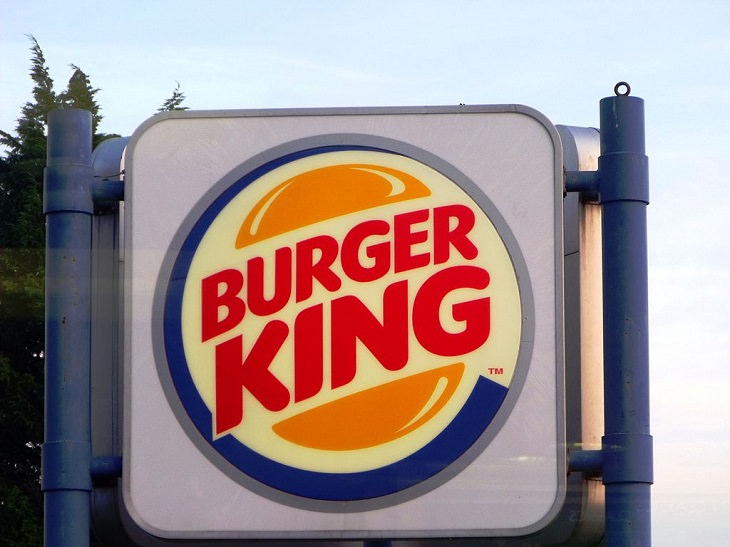 (By grassrootsgroundswell, Wikimedia Commons)
This whopper of a fast food restaurant is the second largest burger chain in the United States and was started by James W. McLamore and David Edgerton in Miami in 1954. However, rumor has it, the origin of this now-massive corporation began with a business started in 1953 by Keith Kramer and Matthew Burns called Insta-Burger King, but this has not been conclusively confirmed.
Either way, by 1959, the first few franchises of Burger King had been sold cross-state, making the chain a national brand. In 1963, the company made its first foray into international territory by opening a franchise in Puerto Rico. Unfortunately, this did not give Burger King the leg up it needed to compete with the sales margins of McDonald's, the largest burger franchise world over.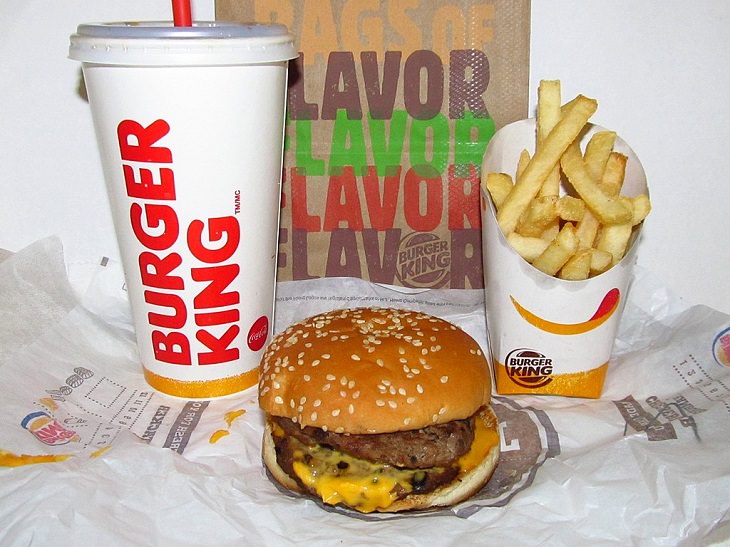 (By Willis Lam, Wikimedia Commons)
Realizing a change in management could make a world of difference (pun intended), in 1967, the Pillsbury Company purchased Burger King. A former McDonald's executive was then appointed to revamp the Burger King chain. While Burger King was still hugely successful, the desired profit ratio still couldn't be met.
So the company was purchased and sold multiple times following that, including a number of private equity companies and individuals, a Brazilian billionaire, beer conglomerate Guinness PLC, and Canadian fast-food chain, Tim Hortons.
With 17.000 branches owned and operated by Burger King all across the planet, this company is now valued at $3.3 billion.
5. KFC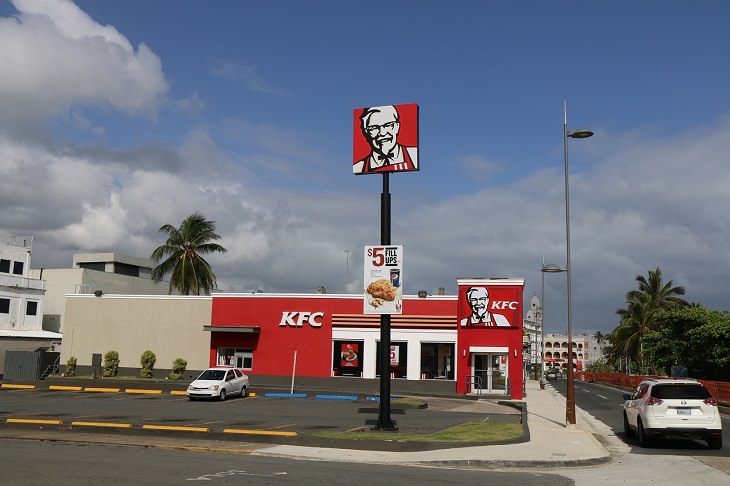 Unlike Ronald McDonald, the famous Colonel of Kentucky Fried Chicken was a real living person. Born in 1890 as Harland David Sanders, he grew up on a farm in Indiana with a lot of siblings and his mom. Being the main caretaker at home while his mom worked to bring in the money, Sanders started cooking at the age of 7.
He and his siblings were then dispersed to different places by his less than pleasant stepfather, and finding himself working on a farm, he decided to drop out of school at grade 7 and stick to the working life. The next few decades of his life were filled with numerous odd jobs, from a traveling salesman to a ferry boat operator, which would give him the skills, knowledge and drive he needed to pursue his dream.
In 1930, a stroke of luck allowed him to acquire a gas station, where he also began making and serving some classic southern dishes. Eventually, he did away with the gas pump and made the spot into the restaurant where he would finally discover his 11 herbs and spices recipe in 1939.
The popularity of his legendary chicken rose, and over 10 years later, he was given the title of "Colonel" by the governor of Kentucky. Shortly thereafter, he made deals with numerous restaurants to sell his chicken for a small fee per piece. His fame would have continued had the construction of an interstate bypass through his restaurant's location not forced him to sell it at a loss in 1956.
He then, at age 66, became completely dependent on his social security check. Unable to just sit back and accept defeat, he and his wife went on the road with their signature spices, some pressure cookers for frying, and his good ol' fashioned charm and dedication.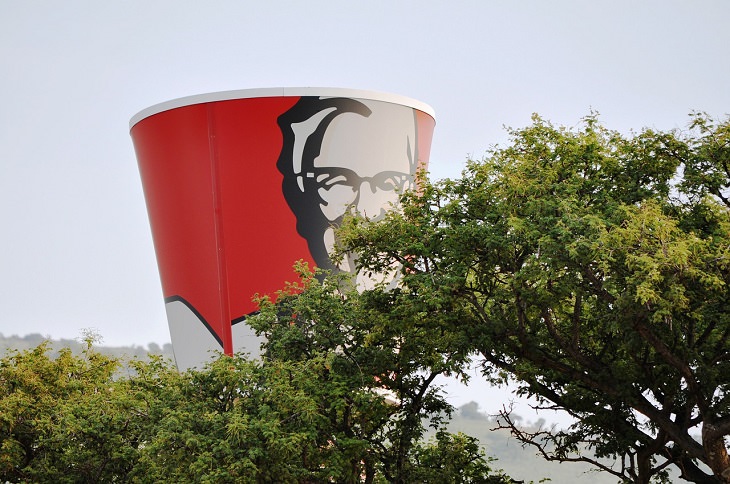 They drove across the country, from restaurant to restaurant, making the Colonel's chicken on the spot and making a deal with any restaurant willing to buy the chicken. Legend has it, he received 1009 no's before finally receiving his first yes. That's ultimate perseverance.
All that leg work paid off, and eventually, the Colonel had deals with over 600 restaurants. Despite being approached by numerous people to sell the franchise rights, it was finally a young lawyer, John Y Brown and Jack C Massey, a venture capitalist, who convinced him to sell the rights in 1965.
The contract was made as per the Colonel's request, granting him a lifetime salary, and more importantly, a guarantee that the original recipe would never be compromised. He was offered stock and an opportunity to negotiate his salary, both of which he turned down. But the Colonel was still not ready for full-fledged retirement.
He spent the next few years traveling all across the country on a yearly basis promoting the brand and visiting the various locations to make sure they were maintaining the high standard he had set. As said by a KFC executive, "With the Colonel, it isn't money that counts, it's artistic talent."
When the Colonel passed away in 1980, he left behind an incredible legacy, with over 22.000 branches protecting the Colonel's secret recipe, and a company now valued at nearly $15 billion.
Related Articles:
A Brief History of the East India Company
Inspiring Stories of Garage Start-Ups
12 Famous Creations That Were Stolen