The additional A at the end of the Swahili word "Kwanzaa" makes it a 7-letter word. The number 7 carries a mystical and symbolic meaning in many religions and traditions, and Kwanzaa is no different. This holiday is celebrated for 7 days, one for each holiday principle: unity, self-determination, collective work, cooperative economics, purpose, creativity, and faith.
These principles are meant to uplift and strengthen a community and its individuals.
Kwanzaa is celebrated annually in the week between December 26th and January 1st. One of the most well-known symbols of Kwanzaa is the kinara, a candelabra for 7 candles. Each day celebrators light a candle on the kinara - a black one in the middle and then they alternate between red ones on the left and green ones on the right.
The colors hold a symbolic meaning: black represents the people, red stands for ancestral blood, and the green represents life.
The kinara is placed on a straw mat, along with other holiday symbols like corn and corn ears, which symbolize fertility.
Each day, after lighting the candles, there is a discussion about the day's holiday principle. Families' elders teach their children what these principles mean.
Traditionally, a big feast is held on the 31st of December, where it is customary to drink from the unity cup - a cup blessed by the family's elder and passed around for everyone to share a drink. This is a symbol of unity.
The last day of Kwanzaa is usually gift day. Gifts given on Kwanzaa are usually homemade to avoid the commercialization of the holiday. Each gift holds significant value since each hand-made gift is unique.
Commonly Asked Questions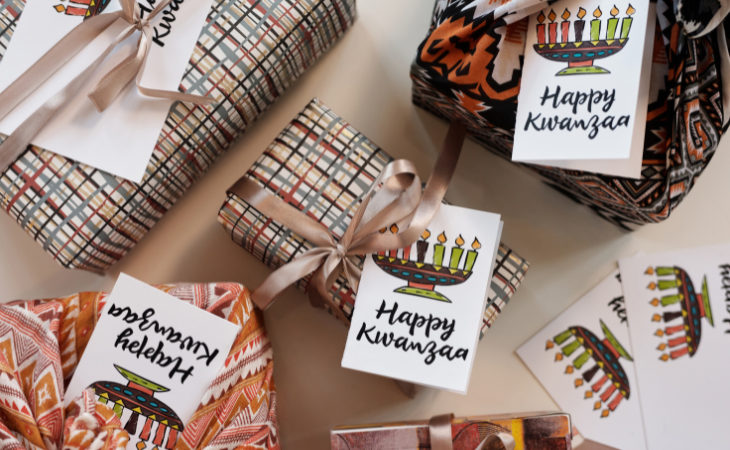 What is Kwanzaa and why is it celebrated?
Kwanzaa, in a nutshell, is a cultural holiday meant to commemorate African heritage. It was founded in the mid-1960s and its goal is to strengthen the community.
What religion is Kwanzaa?
Kwanzaa belongs to no religion and has no ancient roots. Celebrating it can go along with celebrating other religious winter holidays, such as Christmas and Hanukkah.
Is Kwanzaa African or American?
Kwanzaa was established by an African American who was born and raised in America. However, it is celebrated today by some in Africa as well.
What do the 7 days of Kwanzaa mean?
Each day is dedicated to one of seven principles: unity, self-determination, collective work, cooperative economics, purpose, creativity, and faith.
Looking for more information? Check out this educational video: