As summer begins to wane and autumn rears her multicolored head in our direction, we are left with little time to enjoy the sun in the proper spirit of the season. Nothing is more refreshing in these heat-filled quarantined months than our dreams of regattas and water parks. And you can add to the fun by throwing in a little hint of the wild and wacky. Take your next fantasy summer activity to the max with these absolutely out-of-this-world bizarre watercraft. From eco-friendly ships and flying pods to boats that make you hungry, this baffling yet incredible assortment of water vehicles will have your imagination running wild!
1. The Cosmic Muffin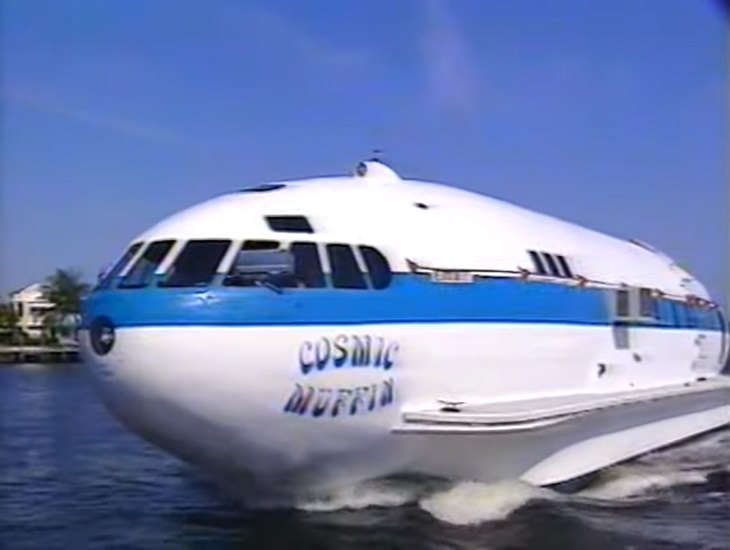 (Youtube)
The Cosmic Muffin may look like a submarine out of water but it has a much richer history than the average submarine. It began its life as an airplane and the prized possession of eccentric tycoon and aviator Howard Hughes. Though he hoped to set records with the plane, he ended up turning it into a penthouse sweet, decked with luxury furniture. Eventually, this beauty was purchased by Dave Drimmer, from Florida, who turned it into his fast-moving and head-turning house-boat, named the Cosmic Muffin.
2. The 'Hot Tug' Hot Tub Boat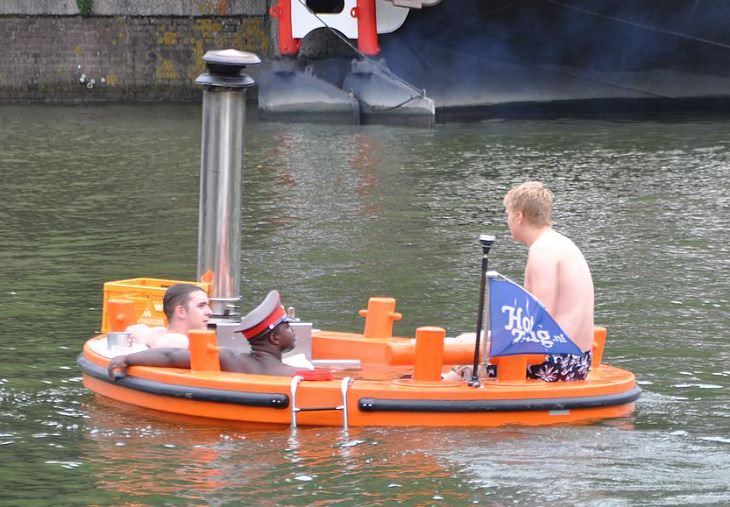 (By © S.J. de Waard, Wikimedia Commons)
Everything about this boat, from its name to whatever is happening in this picture, is just sheer genius. This clever design gives you a hot tub you can sail like a tugboat and was engineered by a Swedish company. It was constructed with wood and reinforced with glass fiber polyester so you and 5 of your closest friends can enjoy a nice soak while sailing along the harbor.
3. The Exbury Egg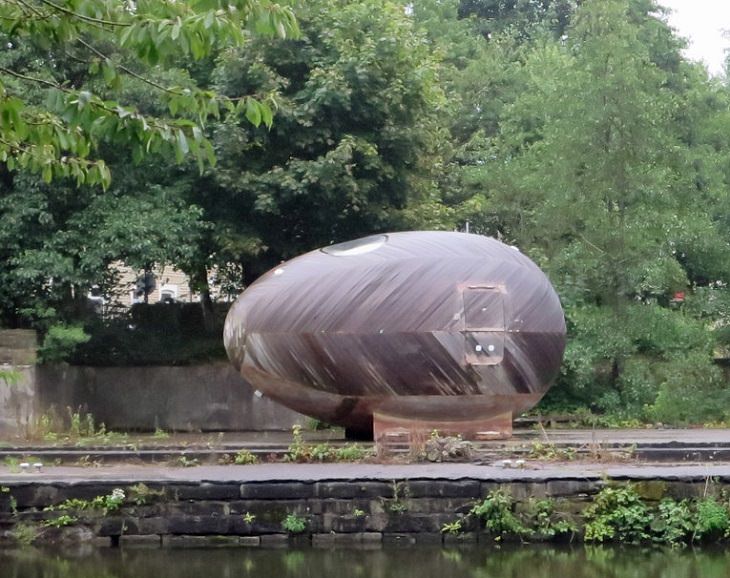 Floating off the coast of the Beaulieu River is the fully equipped workspace and functional boat, the Exbury Egg. Living and working in the boat is its creator, artist Stephen Turner, who was inspired to design this marvel by nesting seabirds found along the river. Turner spent a year living off-grid in this egg-shaped boat so he could observe the local environment and ecosystem, and create splendid works of art.
4. Origami Paper Boat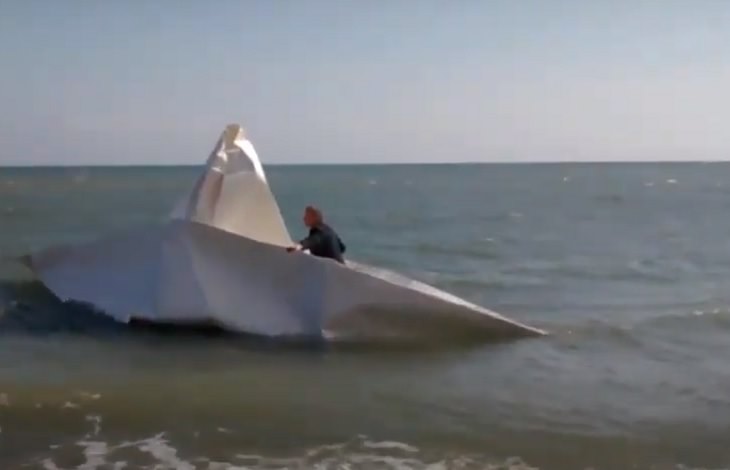 (Youtube)
This 30 feet long paper vessel was the brainchild of 37-year-old German artist Frank Boelter and was constructed using empty milk cartons sponsored by the company Tetrapack. In fact, this 55-pound beast is made up of approximately 1800 square feet of Tetrapack paper. Despite the delicate material used, the artist boldly sailed it up the Elbe, for as long as it would hold.
5. '67 Corvette Stingray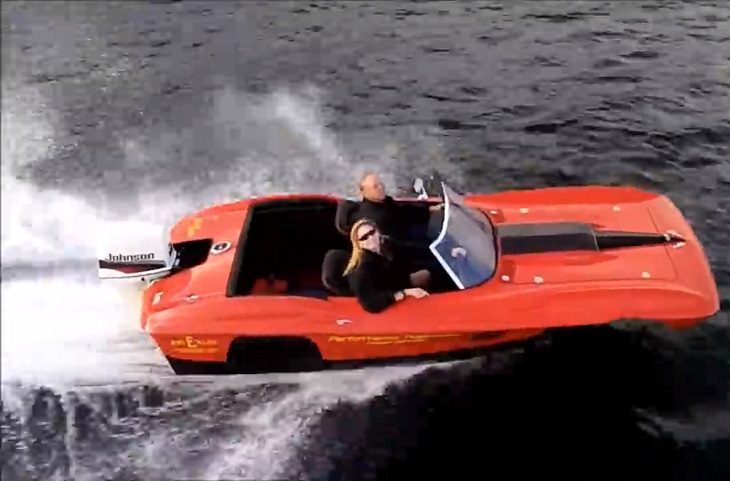 (Youtube)
There isn't a lot that's known for sure about this vehicle with respect to where it came from, though pictures of this mystery machine floated across the internet baffling people everywhere. Some theorize that it was built decades ago as a home project using a wrecked Corvette and an old boat. Whatever its origin story, this sports car / super boat lets you zip across the water at high speeds and in style.
6. The Planet Solar Boat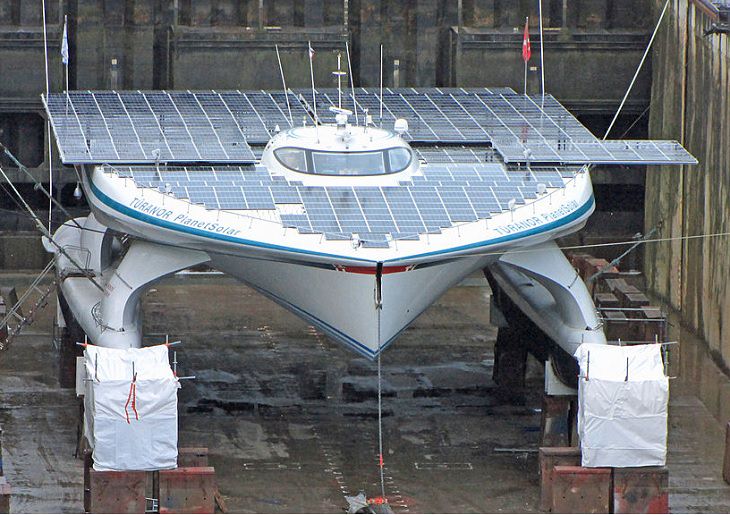 (By Julien1978, Wikimedia Commons)
Unlike the Stingray Jet Boat, the Planet Solar Boat has received exceptional recognition. Conceived by Swiss explorer Raphaël Domjan, the MS Tûranor PlanetSolar holds the title of the world's largest solar-powered boat. Designed specifically for the purpose of raising awareness on the complexities of climate change, this vehicular masterpiece became the first solar electric vehicle to make its way across the globe.
7. The Jet Capsule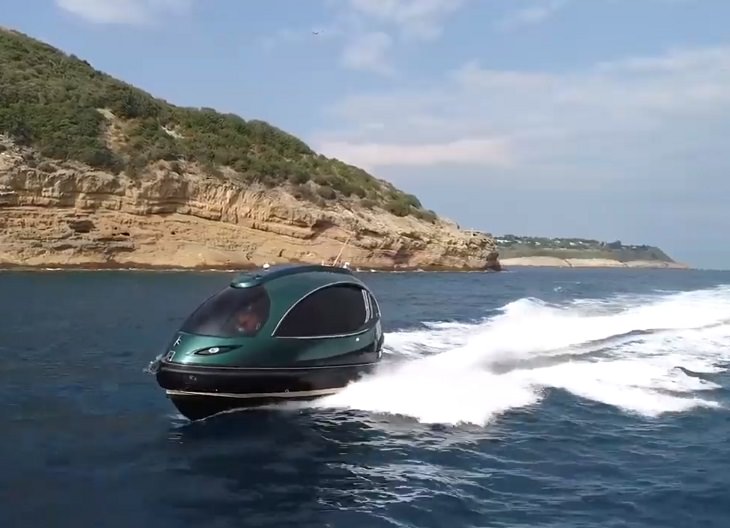 (Youtube)
The Jet Capsule may look like a tiny oddball, but this gorgeous lightweight egg is 24 feet of absolute luxury coupled with a unique and powerful jet hydro propulsion system that gives you a speed of 40 miles per hour. It is a compact yacht with a fully customized cabin, which comes with a kitchen, bathroom, beds, and even a sun deck on request. What's better than moving fast? Moving fast in total comfort.
8. The Proteus Catamaran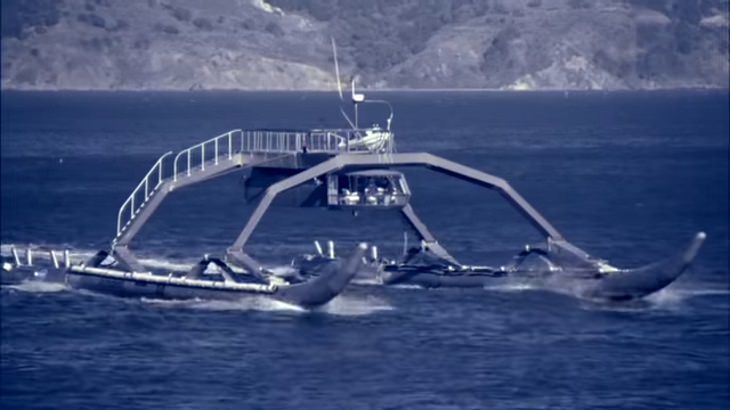 (Youtube)
This strange multi-limbed monstrosity is a catamaran like no other and is from a totally new class of watercraft. Engineered by the brilliant minds at Marine Advanced Research in California, the WAM-V (Wave Adaptive Module Vehicle) was designed to create a different seafaring experience. Its modular structure allows for multifunctional use in a variety of different missions and projects. With a range of 5000 miles and top speeds of 70 mph, this two-crew vessel is revolutionizing sea exploration.
9. Earth Race Bio-Diesel Boat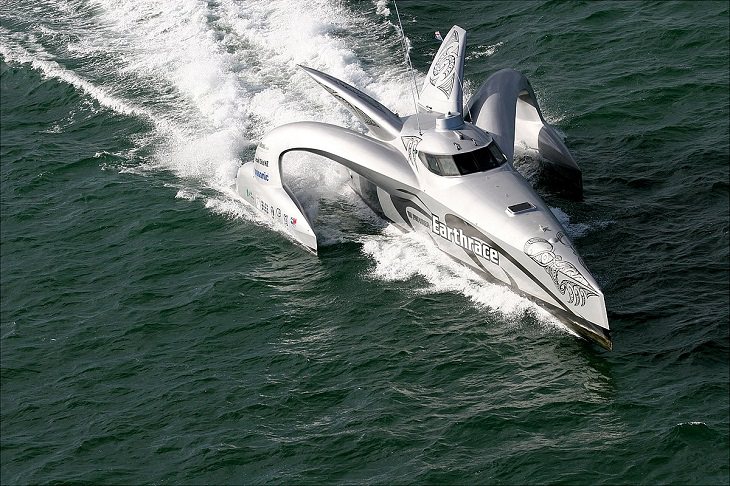 (By Petebethune, Wikimedia Commons)
Here's another record-setting piece of machinery and brilliance, that was commissioned for the purpose of breaking the record for a powerboat circumnavigated around the world. It finally achieved its intended purpose on its second attempt in 2008, after the first attempt resulted in numerous collisions and technical error. The vehicle was then named MY Ady Gil and used for whaling operations until it sustained heavy damage during an expedition.
10. The Quadrofoil
(Youtube)
A uniquely designed electricity-run hydrofoil water vehicle, the Quadrofoil Q2 Electric is an eco-friendly battery-powered boat designed to combine sailing with flying and Formula One speeds. Reaching top speeds of 40 mph, every thrilling ride on this vehicle will have you airborne, feeling as if you are soaring through the air. This energy-efficient vehicle has an anti-collision system that enables it to absorb shock and avoid sinking. The luxurious cabin has space for two passengers to ride in comfort.
11. Hot Dog Boat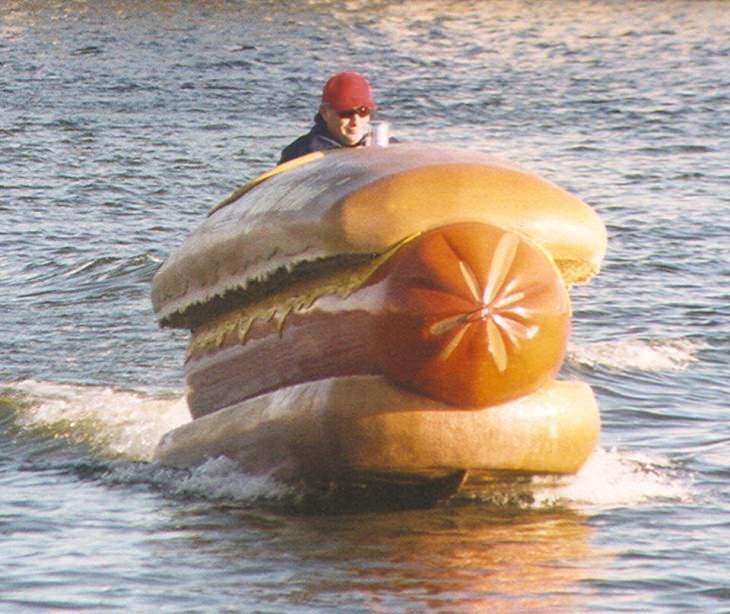 (Reddit)
Much like the Corvette Jet Boat, little to no information is available on this unique watercraft. We don't know where it came from or where it is now. But we can say that it is a highly effective way of creating cravings and advertising hot dogs. Or even unique and bizarre boats!
Be sure to share this with all your seafaring friends!