Tea is one of those rare exceptionally beneficial plants that made its way from natural forests to endless farms and into almost every single household. Teas come in a wide variety of flavors and types, each having its own list of uses and health benefits. Many types of teas also play a major role in the cultural heritage of numerous countries and are imbibed into the local traditions and customs, like the Tea Ceremony often seen in Chinese and Japanese weddings. Korean culture has also enjoyed similar ceremonies and has a myriad of traditional teas, the recipes for which have been preserved over centuries. One such tea is Sujeonggwa, a cold-brewed tea that packs a punch both in terms of flavor and health benefits.
Health Benefits of Sujeonggwa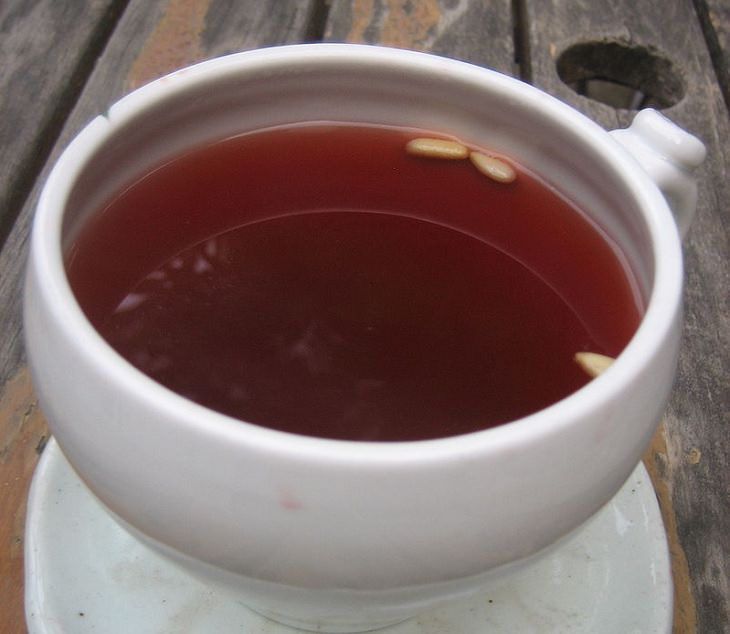 (By gliuoo, Wikimedia Commons)
This delicious tea is commonly served cold and enjoyed post-meals as a dessert because it has properties that aid in digestion. The original recipe makes use of cinnamon, ginger, persimmon, and pine nuts.
Cinnamon is known for its anti-microbial and anti-inflammatory properties. It can also reduce the risk of contracting cardiovascular disease and colonic cancer, and even plays a role in boosting cognitive function. Ginger comes with its own wide array of benefits and has been used for medicinal purposes for ages. It is highly effective in protecting the gastrointestinal tract and helps reduce feelings of nausea.
Persimmon and pine nuts are ingredients that have to be used based on availability. Persimmon has a heavy content of iron and Vitamin C, two important minerals that help boost our immunity against colds and anemia. Pine nuts are full of unsaturated fats, what we call the good fat, which can help improve cholesterol levels and prevent hypertension.
Recipe for Sujeonggwa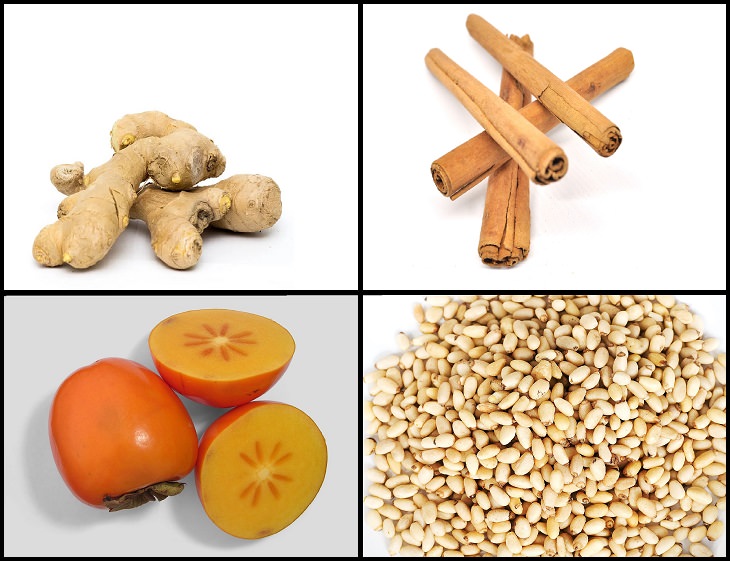 (Ginger: Pixabay, Cinnamon: Équinoxe Madagascar, Wikimedia Commons, Persimmon: Wikimedia Commons, Pine nuts: Flickr)
This recipe has four main ingredients, though use of persimmon is subject to availability and pine nuts, subject to preference. Variants of this tea have also been made with added pumpkin, pears, or selective fruits. All in all, this easy-to-make tea is chock full of all the good things our bodies needs and all the delicious flavors our tongues crave.
Ingredients:
900 ml of water

90 grams of sugar

30 grams of fresh ginger (peeled)

2 Cinnamon sticks

2 dried persimmons (if available)

12 pine nuts (for garnish)
Preparation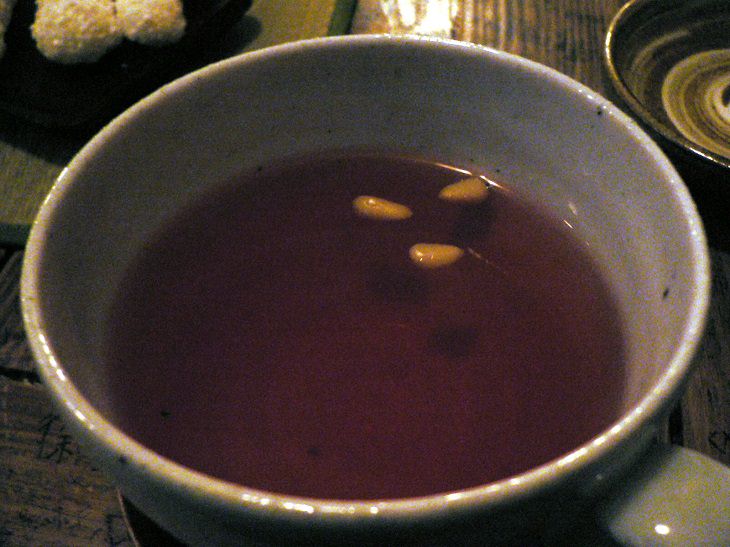 (Flickr)
Step 1: Cut the peeled ginger into thin strips. Boil the strips of ginger and cinnamon sticks in the water at a medium-to-high flame.
Step 2: Once the water has boiled, lower the heat to a simmer and let the solution cook for another 40 minutes until it becomes a dark reddish-orange color.
Step 3: Strain the base tea to remove the ginger and cinnamon. Add the sugar and mix it in until it has fully dissolved.
Step 4: Chop dried persimmon (if available) and add to the tea. Chopping the persimmon makes its easier to eat. Allow it to cool for 15-20 minutes, and when it is slightly warm, refrigerate it.
Step 5: Refrigerate the tea overnight before drinking and serve cold in small bowls, ensuring that each bowl has sufficient persimmon. Top each bowl with pine nuts as a garnish and prepare to gorge yourself on this delicious digestive aid!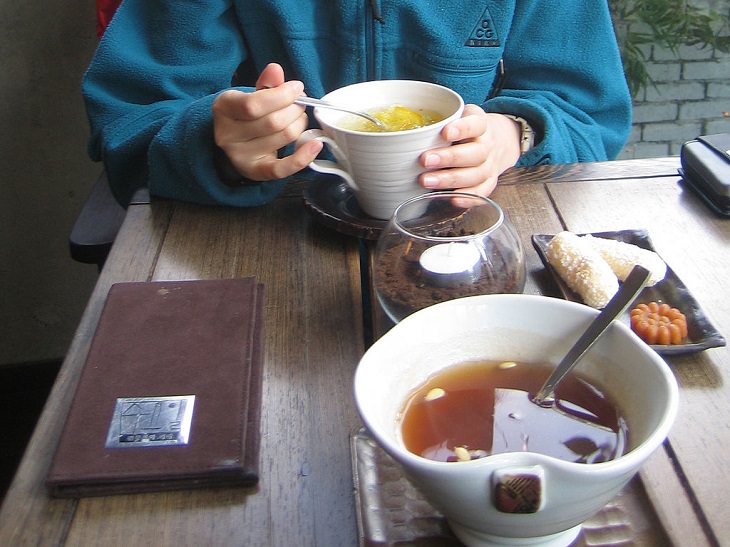 (By Bernat, Wikimedia Commons)
There are numerous other ways to add flavor to this healthy Korean fruit punch. However, this core recipe is still absolutely scrumptious and a thoroughly refreshing post-meal treat. Though it takes a while to prep, you can make a big batch and keep it in the fridge for a few days, so you can enjoy this sweet soupy treat after every dinner.
Share the recipe with family and friends