Bedrooms are our place to rest. A clean, clutter-free bedroom goes a long way in ensuring that we have restful sleep every night. However, try as we might, our bedrooms tend to get messy and disorganized. So many people are so wrapped up in their daily lives that they don't have the time to maintain and declutter the bedroom, even though the sight of a disorderly room makes them uncomfortable.
You would be surprised to know, however, that you can organize and declutter your bedroom by following a few simple and useful tips. Once you start following these tips regularly you will notice a marked difference and it will make you realize that you can comfortably achieve a clutter-free, neat, and orderly bedroom. Let's take a look at 8 of such ideas.
1. Don't keep more than three pillows on your bed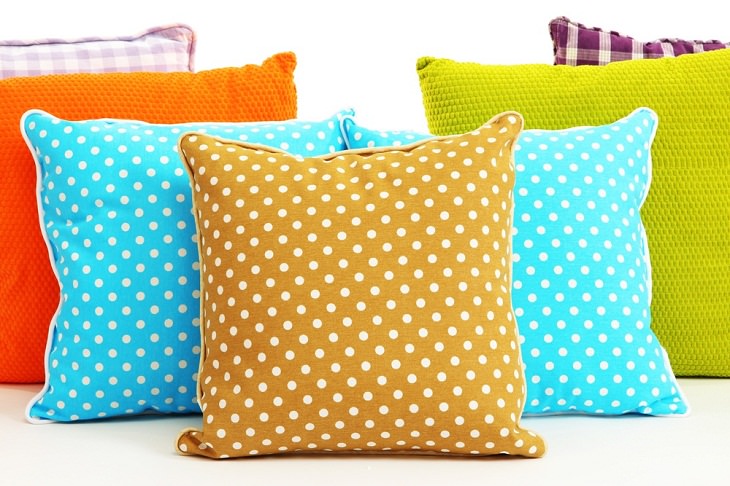 Yes, colorful pillows can add a lot of dimension and vibrancy to your bed. However, some people tend to go overboard with pillows on the bed in the hopes that it will add texture to the room. Interior designers are of the view that too many pillows add to the clutter in your bedroom. Also, it is worth remembering that the more pillows you have, the more time it will take for you to arrange your bed.
Your bed should be well-decorated but that decoration should also be practical. Thus, even if a pillow is extremely attractive to look at, try and keep just two or three on your bed to create an appealing balance.
2. Remove the extra plants that are congesting your bedroom's windowsills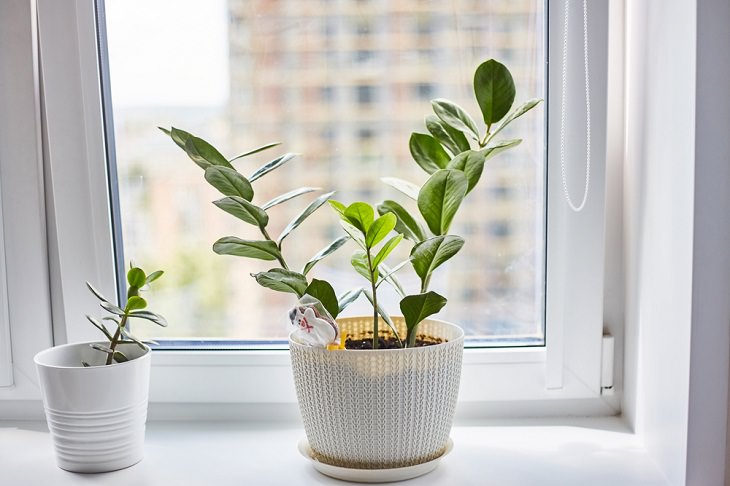 Plants are great additions to any house. However, having too many of them inside your bedroom harms its aesthetics, according to experts. Windowsills can get cluttered very quickly and too many small plants on them won't do your bedroom's look any favors. If you must keep plants inside your room, then it is better to hang small plants from the ceiling in a macrame swing. Also, try and keep just two small plants or one large statement. This will give your room more space and also fulfill your desire to have plants inside.
3. Don't go overboard with bedroom wall decoration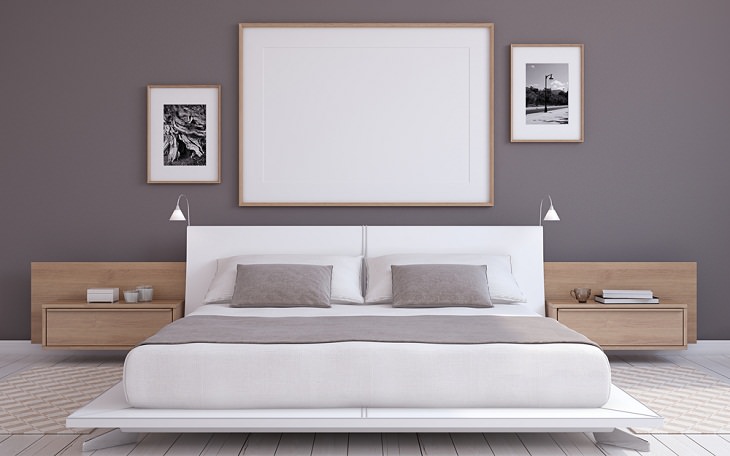 We all love to decorate the walls of our bedroom with a variety of things such as photo frames, posters, wall clocks, and ornamental wall accents. You may feel happy about adding a bunch of posters with cool quotes on the wall above the bed or frames with kitschy themes, but they are only congesting your bedroom.
Experts say that when you have too many posters and frames on your wall with quotes or phrases, your brain can become overwhelmed with reading information. This, in turn, draws away your focus from the more essential motifs in your home.
Hence, the best thing is to keep your bedroom walls clean and simple. Hang a few nice photos or mirrors, maybe. You can even add some items of sentimental value to enhance the look.
4. Get rid of dishes and midnight snacks from the bed straight away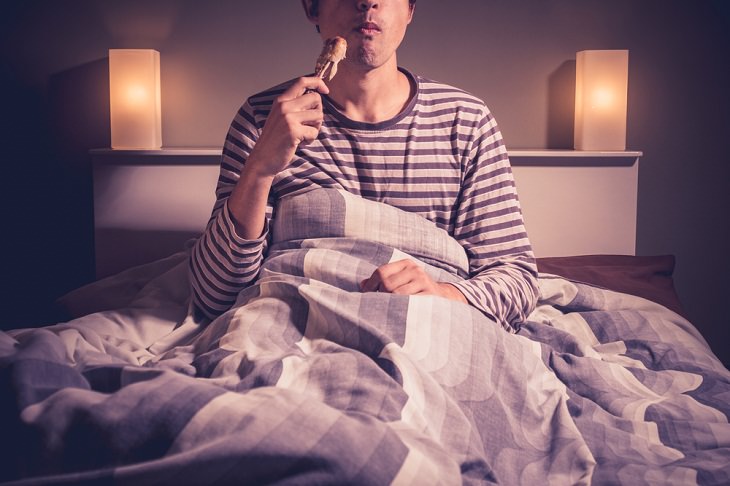 We are all guilty of having that midnight snack on our bed, aren't we? While watching that late movie or TV show, we tend to nibble on our favorite snacks and then leave a pile of old dishes, food wrappers, and plastic bottles on the bedside, nightstand, or even the dresser. While we can't always stop ourselves from wolfing down those food items at night, we can certainly get rid of the dishes and leftover midnight snacks from our bedroom straight away without allowing them to mess up the space.
Traces of food lead to bad odor and different health hazards. Moreover, making a habit of leaving food wrappers and plastic bottles in the bedroom gives it a very untidy and unwelcoming look.
5. If you can, don't keep your workspace inside your bedroom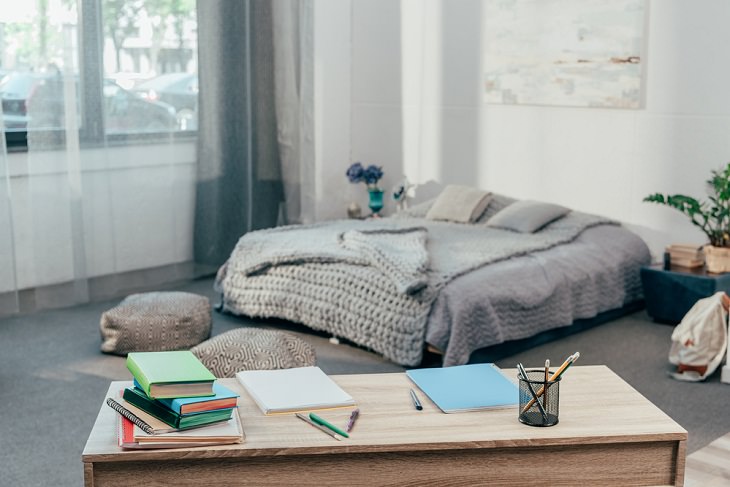 Having your work station inside your bedroom can be quite convenient. After all, you can simply finish your work, get off the chair, and plant yourself on the bed whenever you want. However, you must remember that the bedroom is a space to relax, recharge, and unwind. Having piles of work papers, reports, folders, and to-do lists on the desk in your bedroom won't help you get a good night's rest. This is because looking at your work desk from your bedside is likely to remind you of the unfinished work or the things that you need to do the next day. Moreover, the work station only takes extra space in your bedroom and can hinder you to move about freely.
If you cannot avoid having a workspace in the bedroom, try and minimize the clutter you tend to keep on top of the desk. Make use of drawers, bins, and other storage solutions to neatly store things like folders, notepads, papers, and other stationery.
6. Throw out the pile of receipts and loose papers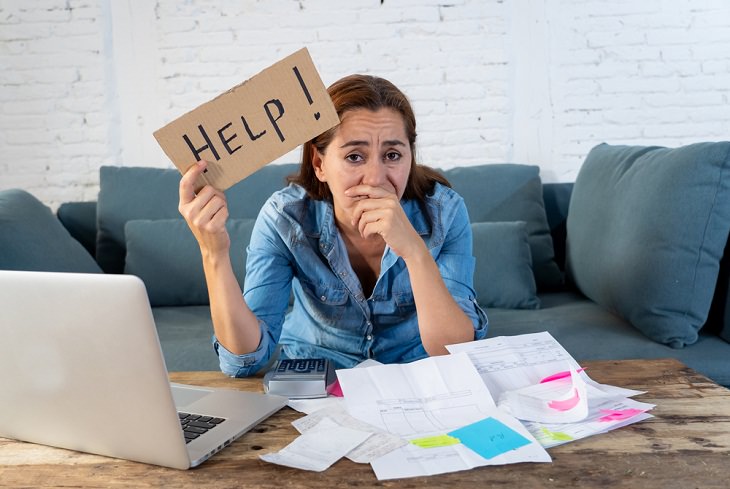 Many bedrooms have that familiar sight of receipts, mail, newspapers, and other stacks of paper lying strewn all over the place. When we don't get rid of all this clutter every day, it becomes a habit and then the aesthetics of the bedroom slowly transforms for the worse. For many of us, it might not be possible to do away with different kinds of paper every day in our room. If that is the case, then you should at least store them out of sight.
You should assign a space inside the room just to store receipts or stray papers. A storage bin or a drawer would work fine for this as it will allow you to keep a tidy space without adding any extra stress to your room's design.
7. Get rid of all the clutter from your nightstand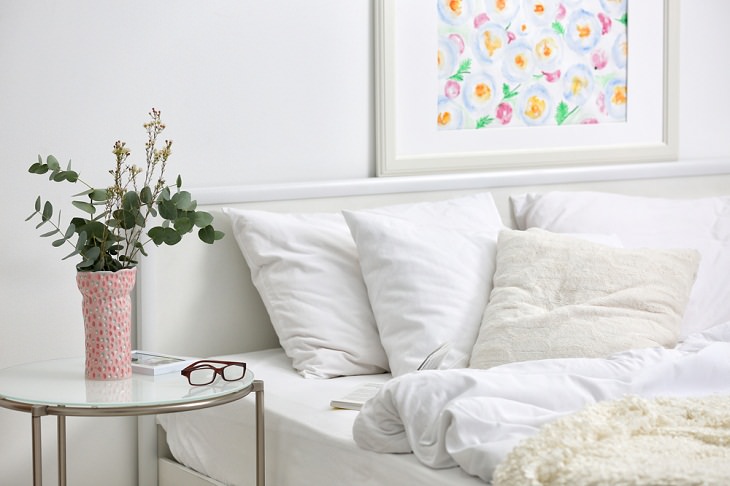 The next time you go to sleep, just take note of all the items you have kept on your nightstand. You are likely to find it to be cluttered with mobile phones, chargers, books, bottles, watches, spectacles, and even some food. If you think about it, you will notice that the majority of the items on the nightstand are only taking up space and making a mess. The truth is that almost all of us are guilty of doing this; albeit unknowingly most of the time. But if you want to make your bedroom have a serene look, then you must get rid of all the mess from your nightstand first and keep it neat.
Experts recommend sticking only to the essentials - a glass of water, a tissue box, and chapstick. To free up even more space on your nightstand, you can replace the table lamps there with wall sconces or hanging lights.
8. Try and keep the television in the living room instead of the bedroom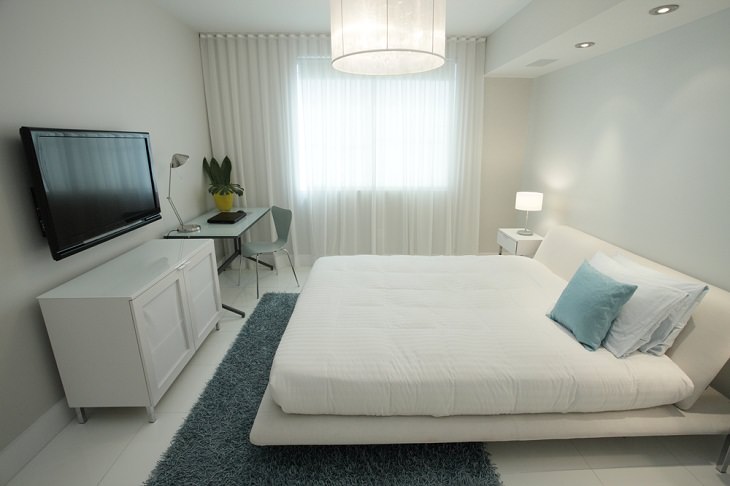 For a lot of us, watching television from bed at night has almost become a way of life. Not only is that unhealthy for your sleeping cycles, a television or entertainment system in your bedroom also adds to the clutter. The wires, stands, speakers, and the monitor take up a considerable amount of space even if you have a large bedroom. Add to it the fact that so many people these days want large-screen televisions. While there's nothing wrong with it, it only eats away precious space in your bedroom that can be utilized better. Televisions should hence be kept in the living room, if possible.
Liked this post? Please share it with others...