There are few sights more captivating to the eye than seeing a bulky steam-powered locomotive in motion. Their slick design, tremendous structure, and mind-boggling hauling power make them truly incredible machines. The first man to put steam engines on rails was Richard Trevithick of Cornwall, England, who built his "Penydarren tramroad engine" for a line in South Wales. That steam engine was launched way back on February 21, 1804, and managed to haul 10 tons (907 kg) of iron and 70 men for nearly 10 miles (16 km) at a speed of five miles-per-hour (8.04 k/ph). It thus became the first engine to pull a load on a railway. That invention changed the world of transport in so many ways.
Steam-powered locomotives ushered in a new industrialized era as they provided a much more effective method of hauling cargo and passenger travel. Many of these vehicles were amazingly sturdy and have stood the test of time in terms of performance.
While Trevithick's vehicle was of decent size, the ones that came in the following decades gradually increased their lengths in all dimensions. Throughout history, there have been some impressive and massive locomotive steam engines. The size of a railway locomotive can be determined by various factors, but perhaps the most significant one is its weight. Here, we will look at some of the largest steam locomotives ever built across history.
1. Pennsylvania Railroad class S2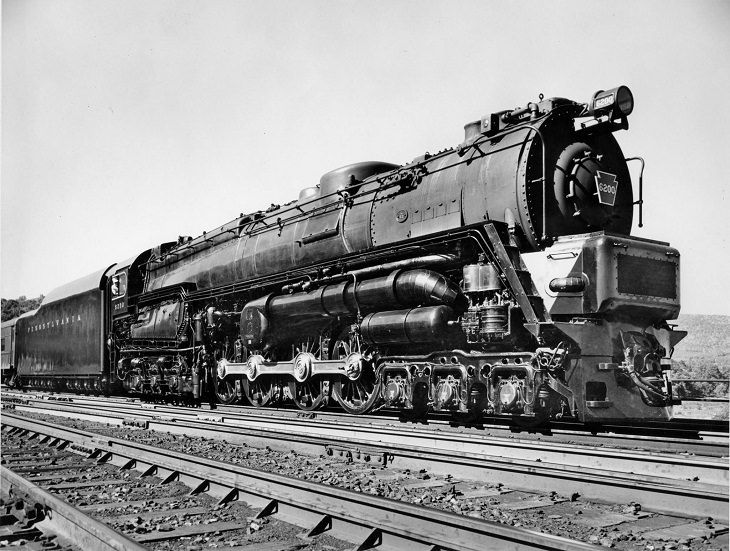 Image source - Wikimedia Commons
The Pennsylvania Railroad's class S2 was a steam turbine locomotive built in the year 1944. Weighing 518 short tons (469,922 kg), the PRR S2 was actually intended to be much lighter. However, because of World War II, there were restrictions on light steel alloy during the time. This eventually increased its weight, and as a result, six-wheel leading and trailing trucks were needed to assist it with extra pushing power.
Despite its massive weight, the Pennsylvania Railroad's class S2 was able to successfully reach 97% mechanical efficiency. This means that just 3% of the steam power was lost during propulsion.
The large locomotive wasn't just sturdy, it was also more than capable, as it was easy on the track and enabled more power at the rail. Its maximum speed was at least 100 mph (161 km/h). One drawback of the vehicle was that it used too much steam and fuel. Eventually, the PRR S2 was withdrawn from service in 1949 and scrapped in 1953.
2. Union Pacific Challenger No. 3985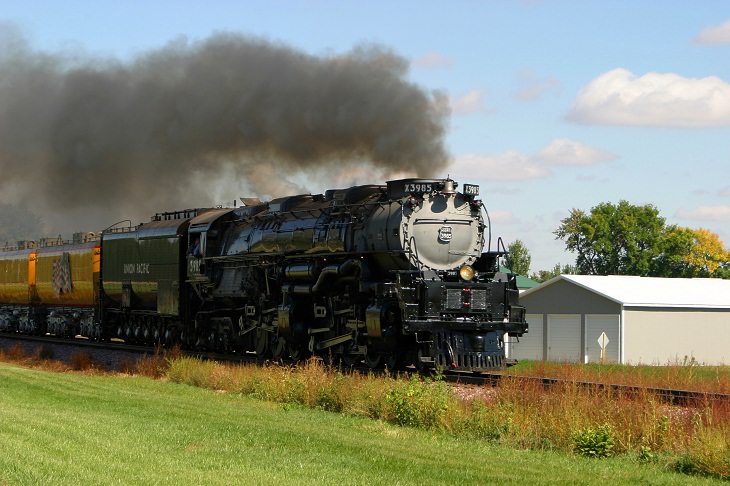 Image source - Wikimedia Commons
Built in 1943 by the American Locomotive Company, the Union Pacific Challenger No. 3985 was in its time the largest and most powerful operating steam locomotive. Between 1936 and 1943 as many as 105 Challengers were built for the Union Pacific, one of the biggest railroads in America, but it was No. 3985 which found great prominence. With a weight of 535 short tons (485,343 kg), a 14-wheel build, and the capacity to carry 25,000 gallons (94,635 liters) of water, this rail transport vehicle was the only operating engine of its class in the world in those years.
The locomotive was originally designed to burn coal and pull a tender with a 32-ton (29,030 kg) capacity, but it was later converted to use No. 5 fuel oil. The top speed of the Union Pacific Challenger No. 3985 is 70 miles (112.6 km/h) an hour. No. 3985 was retired in 1962. However, a group of Union Pacific employees restored the train to running condition in 1981. Today, only two Union Pacific Challengers remain intact, one of which is No. 3985.
3. Pennsylvania Railroad class S1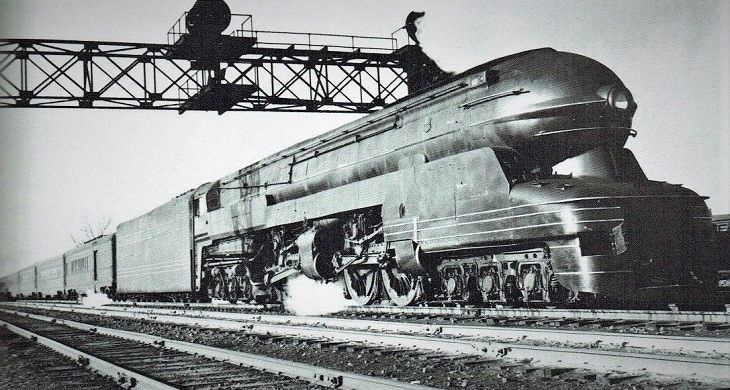 Image source - Wikimedia Commons
Nicknamed "The Big Engine", the Pennsylvania Railroad class S1 was a single experimental locomotive that was known for its unique and sleek design. The Art Deco -style outer shell of the machine was designed by French-American industrial designer Raymond Loewy and received a lot of praise.
The PRR S1 was completed on January 31, 1939, and was over 140 feet (42.74 m) in length while weighing 537 short tons (487,158 kg). It was the longest reciprocating steam locomotive ever, and it was too big for many railroad curves. Eventually, the production of these models was halted, and the locomotive made its last run in December 1945. The engine was scrapped in 1949, but the model of the Pennsylvania Railroad class S1 can be admired even today.
4. Erie Class P-1

Image source - Wikimedia Commons
Built with a 2-8-8-8-2 wheel arrangement (two leading wheels, three sets of eight driving wheels, and two trailing wheels), the Erie Triplex steam locomotive was designed by the Baldwin Locomotive Works' George R. Henderson in 1914. The idea behind this design was that it would offer incredible tractive effort in a slow, drag service. Henderson had envisioned a Mallet-type and saddletank-like design for the engine. It weighed 585 short tons (530,703 kg) and was truly a bulky vehicle.
However, the locomotive was afflicted with several design flaws and couldn't prove to be as successful as the designer had envisioned it to be. It was unable to generate enough steam, as both the boiler and the grate were far too small. Only two railroads tested the Triplex, and before 1930, all the models had been retired.
5. Allegheny

Image source - Wikimedia Commons
The Allegheny locomotive was among the largest and most powerful steam locomotives ever built. The name of the locomotive comes from its original task of hauling heavy trains over the steep grades of the Allegheny Mountains, particularly the route between Hinton, West Virginia, and Clifton Forge, Virginia. The rail transport vehicle was built in 1941 by Lima Locomotive Works and weighed about 600 short tons (544,310 kg). From 1941-1948, as many as 60 Alleghenies were made for the Chesapeake & Ohio Railway.
The Allegheny was an impressive-looking locomotive and could pull 160 coal cars having a 60-ton (54,431 kg) load. It had impressive dimensions: 125-feet long (38.1 meters), 11-ft 2-inches wide (3.41 meters), 16-feet 5 ½- inches (5.02 meters) tall. The locomotive could run at a speed of 60 mph (96.5 km/h) if it was only pulling passenger cars.
The Allegheny was retired in 1956 and currently, there are only two surviving models.
6. Union Pacific Big Boy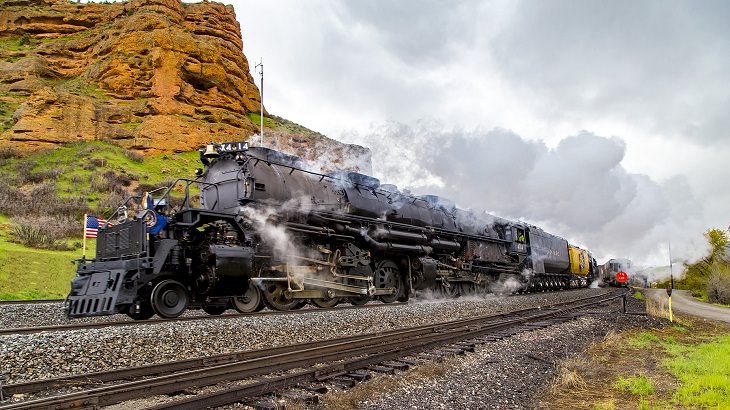 Image source - Wikimedia Commons
The Union Pacific Big Boy was the largest and most powerful engine ever created. The enormous vehicle was built to handle heavy freight traffic in the Wasatch Mountains, as the trains on that route encountered a regular grade of 1.55 percent on a stretch of track east of Ogden, Utah.
A Big Boy locomotive weighed about 604 tons (547,939 kg) and measured more than 132 feet (40 meters) in length. The bulky vehicle could haul a 3,600-ton (3,265,865 kg) train with assistance up the Wasatch Mountain grade. On a level track, the locomotive could attain a speed of 70 miles (112 km) per hour.
The Union Pacific purchased 25 of the Big Boys between 1941 and 1944, and the vehicles functioned mostly in the mountainous region between Cheyenne, Wyoming, and Ogden. Diesel-electric locomotives gradually replaced the Big Boys, and the last model was retired in 1962. Railroad museums have preserved a few Big Boy models and they still inspire awe in people for their sheer magnificence.
7. Yellowstone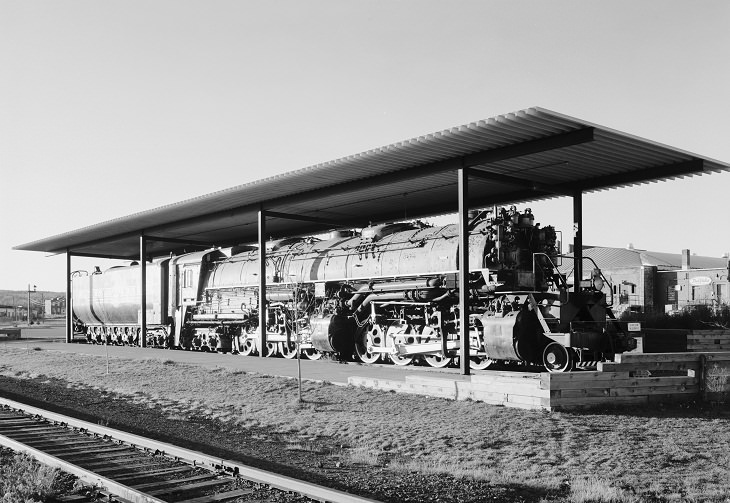 Image source - Wikimedia Commons
The largest steam locomotive ever built was the Yellowstone. While the Big Boy had the largest operating steam locomotive, Yellowstone bettered it in terms of weight. At 624 short tons (566,083 kg), this was an incredibly mammoth steam locomotive. Built in the year 1928 by the Baldwin Locomotive Works, the engine had two leading wheels, two sets of eight driving wheels, and a four-wheel trailing truck. The locomotive was named by the Northern Pacific Railway, who were the first to own these gigantic machines. The name was in reference to their railway lines that crossed the Yellowstone National Park.
In total, there were just 72 of these massive Yellowstones built in five different classes with each class having a different design. Curiously, though, the locomotive had an extremely short lifespan and was retired barely 10 years after being used actively. Today, only three models of these majestic locomotives remain.