Probably the main tourist attraction in Europe is its unique architecture, and cathedrals were always the culmination of European architectural genius, so much so that many of these works of art took centuries to complete.
To be brief, in Europe, cathedrals are a big deal because of their historical and cultural heritage, no matter what your religion is. That's why, on your next trip to Europe, make sure to drop by these top 10 outstanding cathedrals, or at least read through our article about them.
Notre-Dame de Paris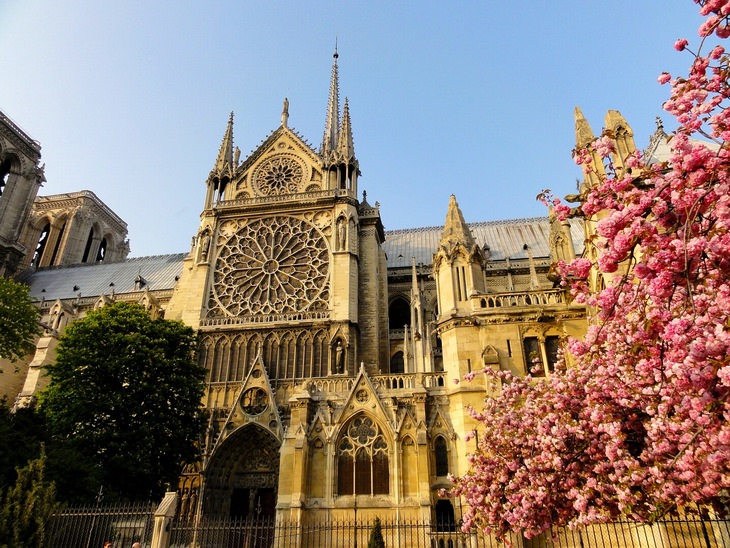 No other European cathedral can boast of being as famous as Notre-Dame. Completed almost 7 centuries ago, this gothic cathedral had hosted numerous historical events and was featured in countless books and movies, so we just had to start our list with it.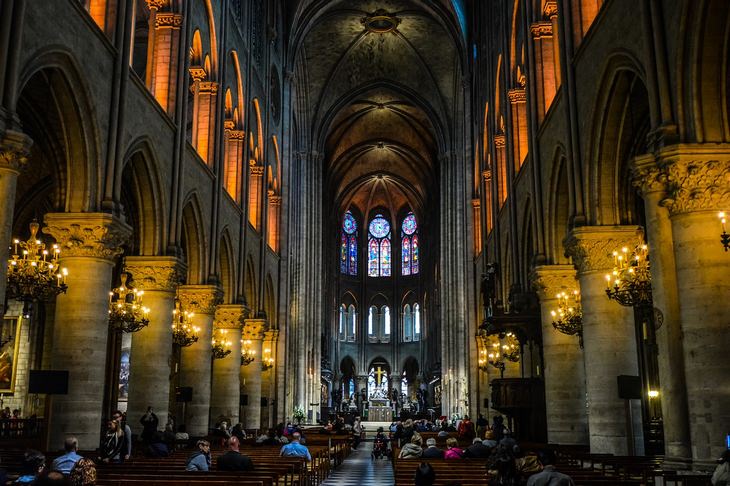 The cathedral is open to the public nowadays and you can admire a beautiful vista of the city from the famous Notre-Dame bell tower while you're in Paris.
Hallgrimskirkja, Iceland

This cathedral is located in the capital of Iceland, Reykjavík, and it's quite new, completed only in 1986. It is, however, one of a kind in terms of the architectural design.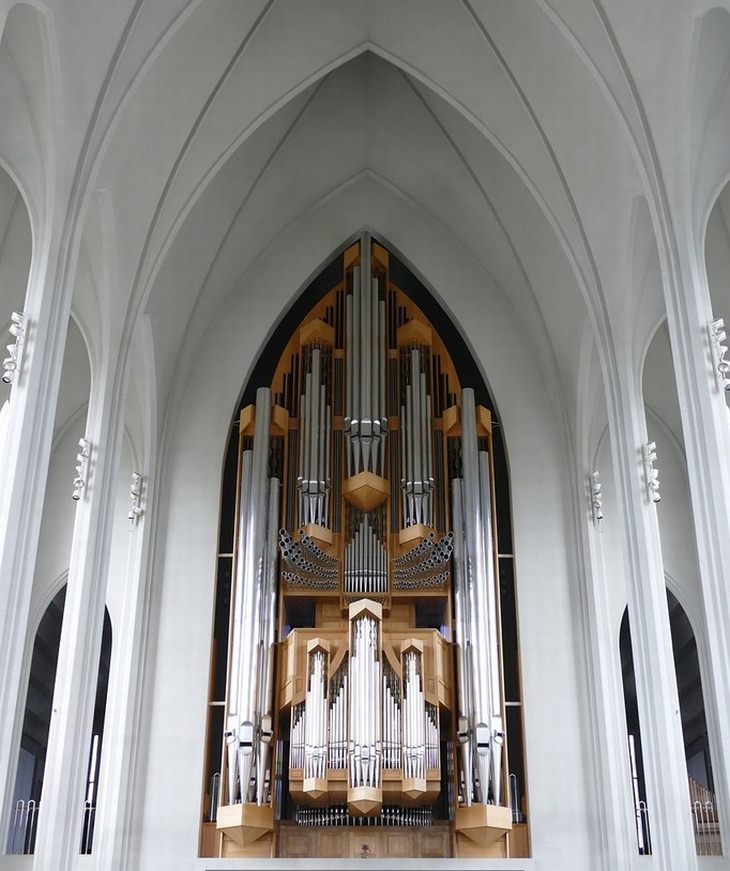 The architect, Guðjón Samúelsson, was inspired by Icelandic landscapes, particularly by the way lava cools down when designing the cathedral. The building is almost 75 meters tall, which makes it the tallest church in Iceland and one of the tallest buildings there.
Kamppi Chapel, Finland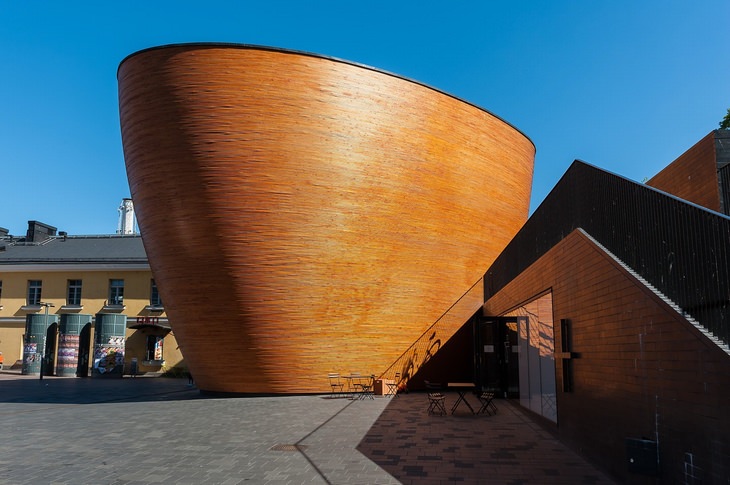 Isn't this the weirdest church you've ever seen? The wooden building is shaped like a funnel, it has no windows and is completely soundproof. The Kamppi chapel is located in Helsinki, in one of the busiest neighborhoods of the city, and its particular design serves a purpose.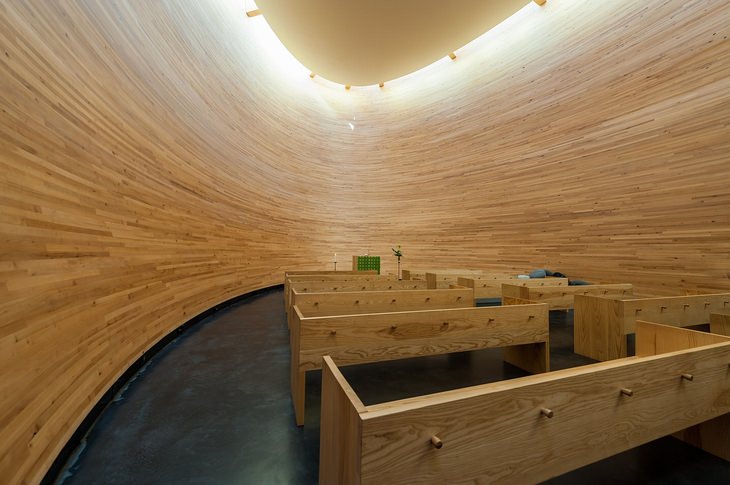 It is intended to be a place to calm down and take a breather right in the middle of the busiest area in Finland, for which the chapel earned the nickname the Chapel of Silence.
St.Vitus Cathedral, Czech Republic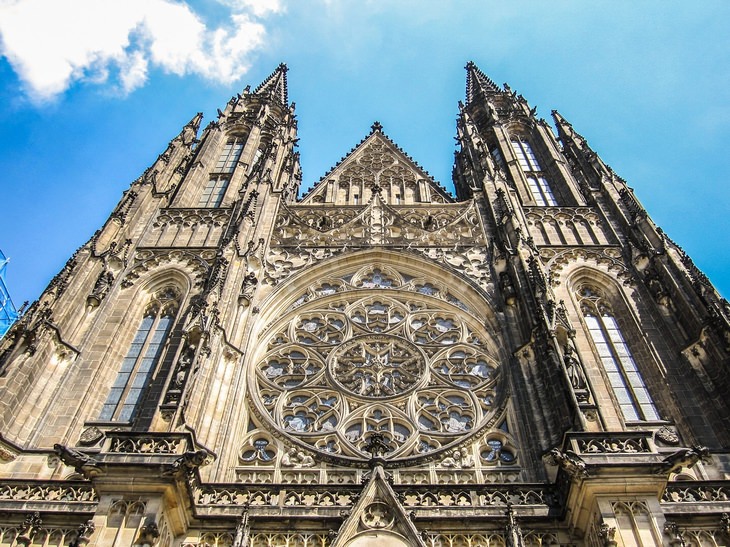 This is the most important church in the Czech Republic and the location of coronations and the burial grounds for the Bohemian kings. But don't be fooled by its Gothic exterior, as this cathedral was built much later than most European Gothic churches, construction started in the 14th century.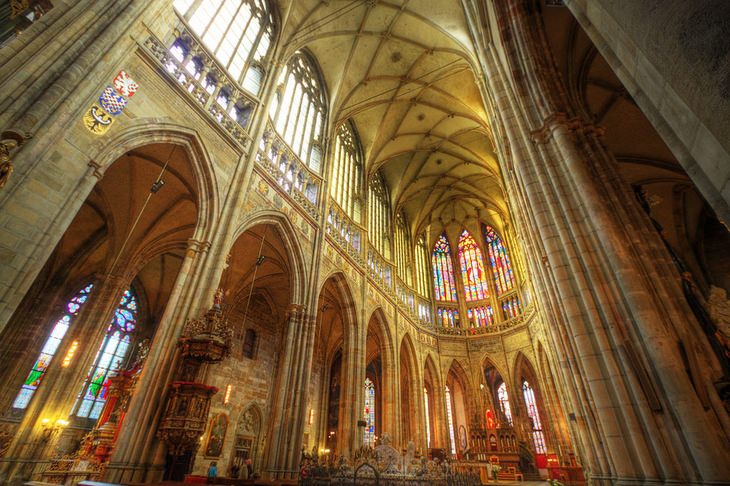 Finished only in 1929, this beauty is still very impressive and a must-see destination in Prague.
St. John's-Co-Cathedral, Malta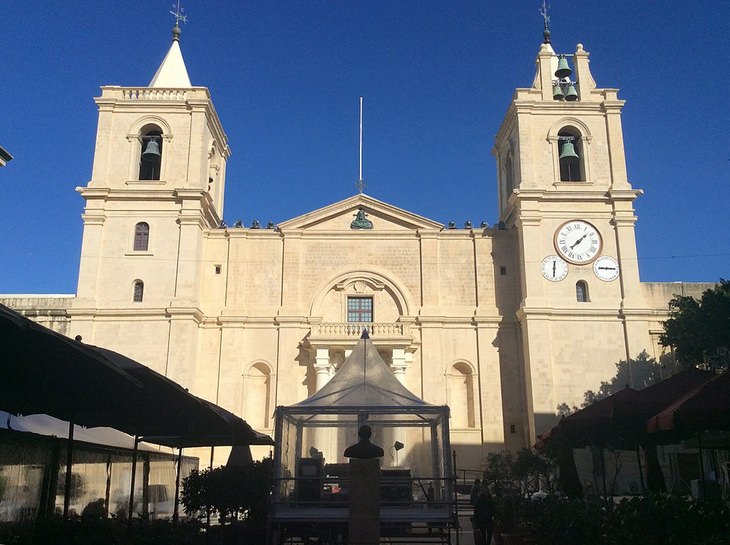 You could probably miss this pretty everyday-looking church during a walk through Valletta, but don't make this grave mistake, as there is a grand surprise inside. The interior of this church is one of the finest examples of Baroque architecture in Europe and a must-see for everyone.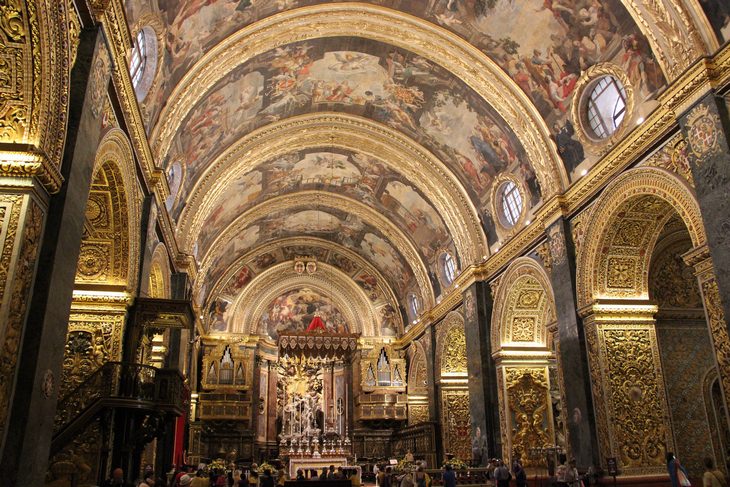 The abundance of golden detailing and ornate facades will make your jaw drop. At the same time, this is the burial place for many knights of Malta, with their tombstones incorporated in the tile floor.
St. Alexander Nevsky Cathedral, Bulgaria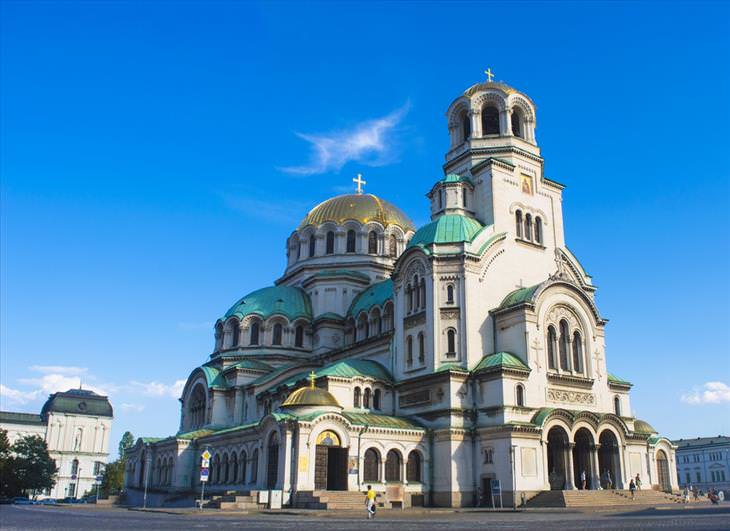 This cathedral is located in the capital of Bulgaria, Sofia, and it displays a very different type of architecture, the neo-Byzantine style. Though it might look just like a cute wedding cake to some, this landmark is one of the largest cathedrals executed in this style, and it combines the work and craftsmanship of a number of European masters.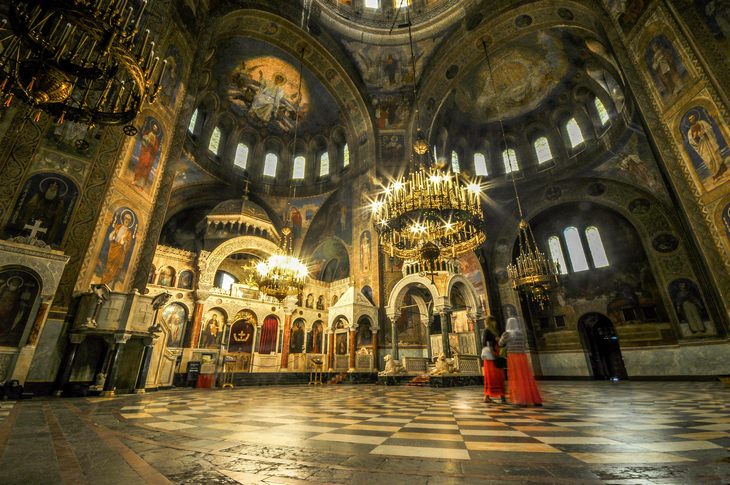 St. Alexander Nevsky Cathedral is one of the largest Eastern Orthodox cathedrals in the world.
Mont-Saint-Michel, France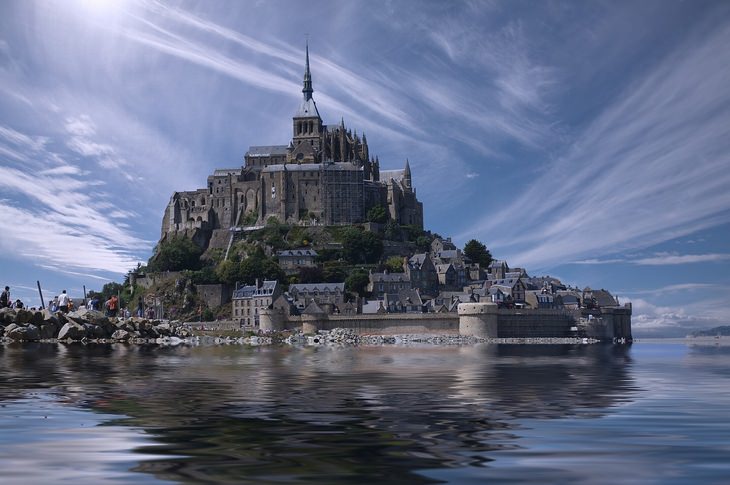 Yet another special place, the Mont-Saint-Michel is a cathedral-island in Normandy, France. Around 460, an Irish hermit founded a Catholic community on the island, which gradually grew into an entire monastery. The characteristic Norman castle you can see today was built around 1066 and expanded on with time.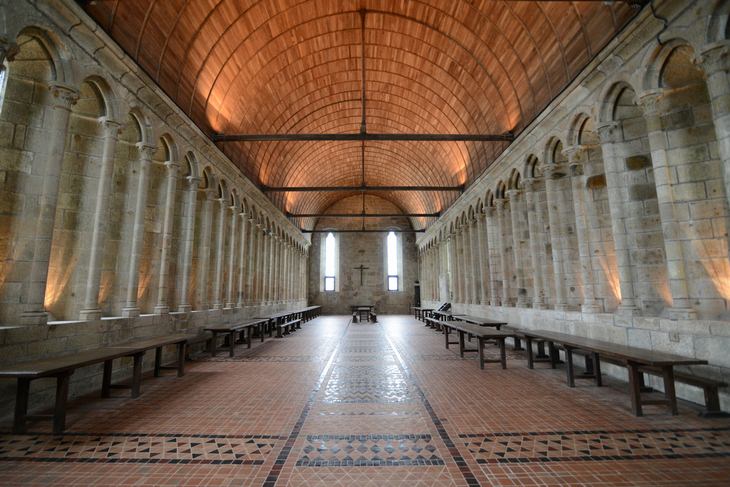 Another remarkable feature of this cathedral is its location: it used to be inaccessible from land on high tide (now there's a bridge), as seen in the picture above.
Sainte-Chapelle, France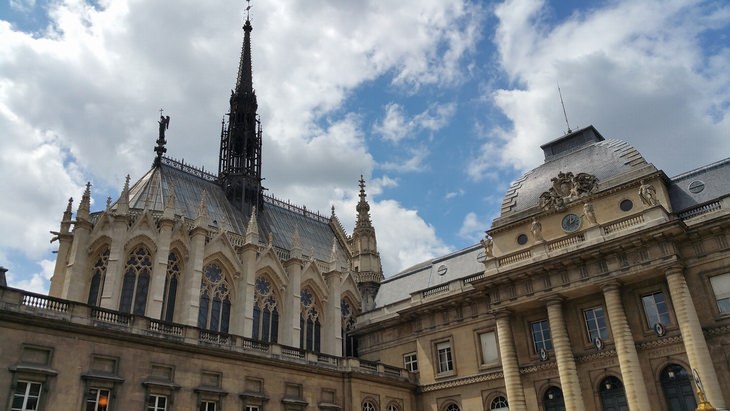 Yet another French landmark, the Sainte-Chapelle was built for the French royal family as a personal chapel in 1248. Like many other buildings on this list, this cathedral is a UNESCO World Heritage site that contains 550 square meters of one-of-a-kind stained-glass windows, the most famous feature of the chapel.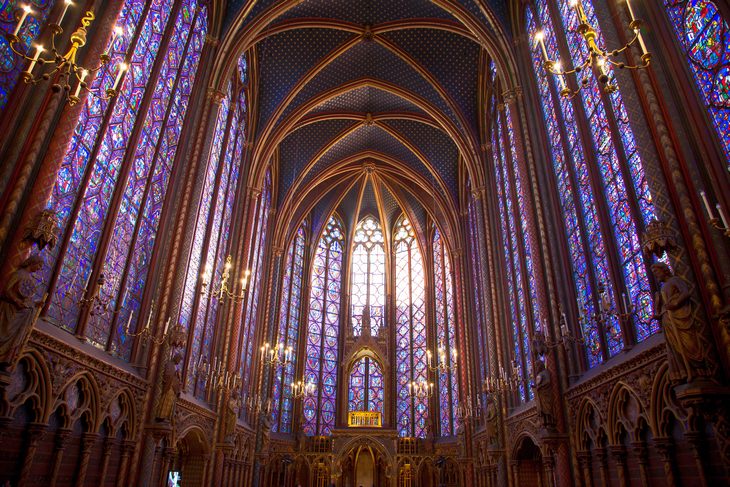 The modern look of the interior of the chapel is actually an extremely accurate 19th-century reconstruction after the interior was destroyed during the French Revolution, and experts suggest that the original stained-glass windows looked even more vibrant than the reconstruction.
La Sagrada Familia, Spain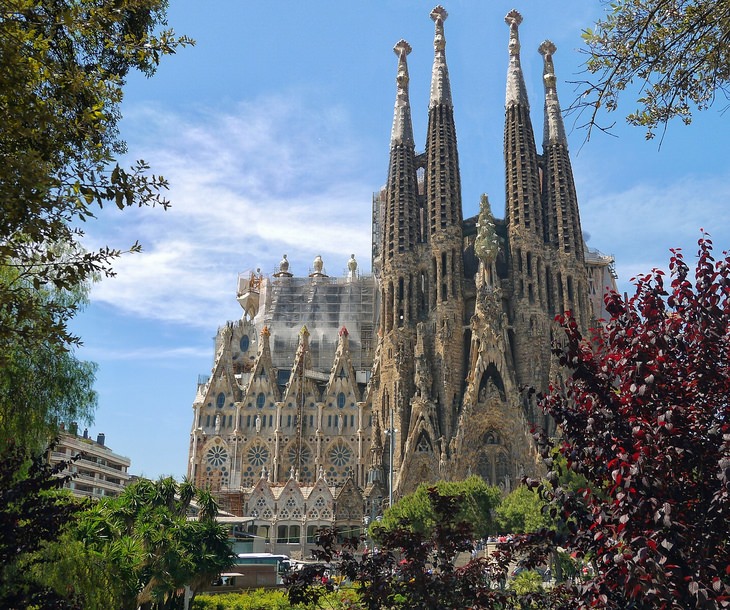 Who said that monumental cathedrals were being built in Europe only in Medieval times? This Barcelonian gem begs to differ, as it will continue being under construction until 2026, which is 136 years after construction first began.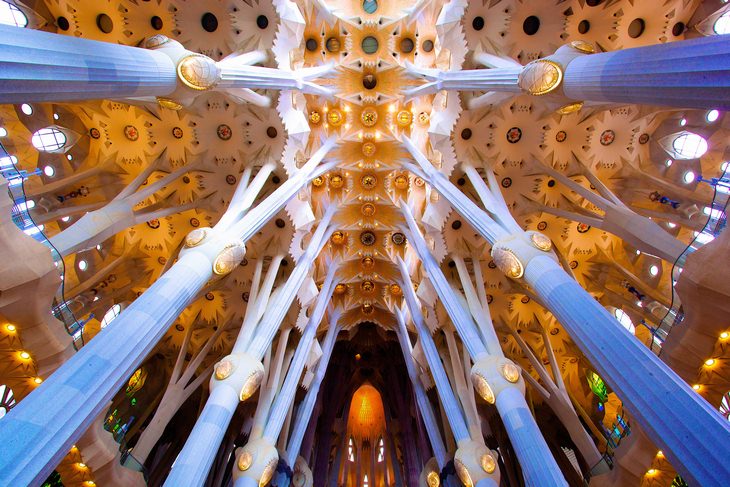 The cathedral was designed by Antoni Gaudí, one of the greatest if not the greatest 19th-century architect, who imitated the shapes of plants and animals as he was sketching out this very unusual-looking building.
Cologne Cathedral, Germany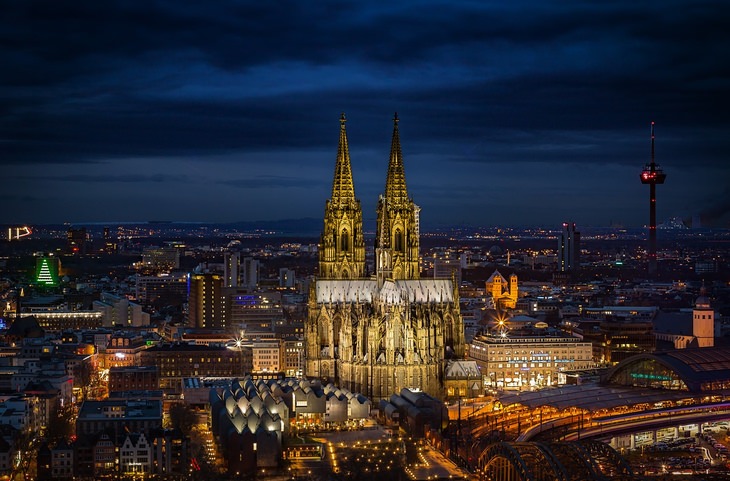 Did you ever want to see the largest Medieval church in existence? Well, here it is. The construction of this astounding building started in 1248, and it took 500 years to complete. Beautiful in and out, full of history and meaning, this is a must-see destination in Europe. In fact, it is so popular among the tourists that it is the number 1 attraction in Germany with around 20,000 people visiting it every day.