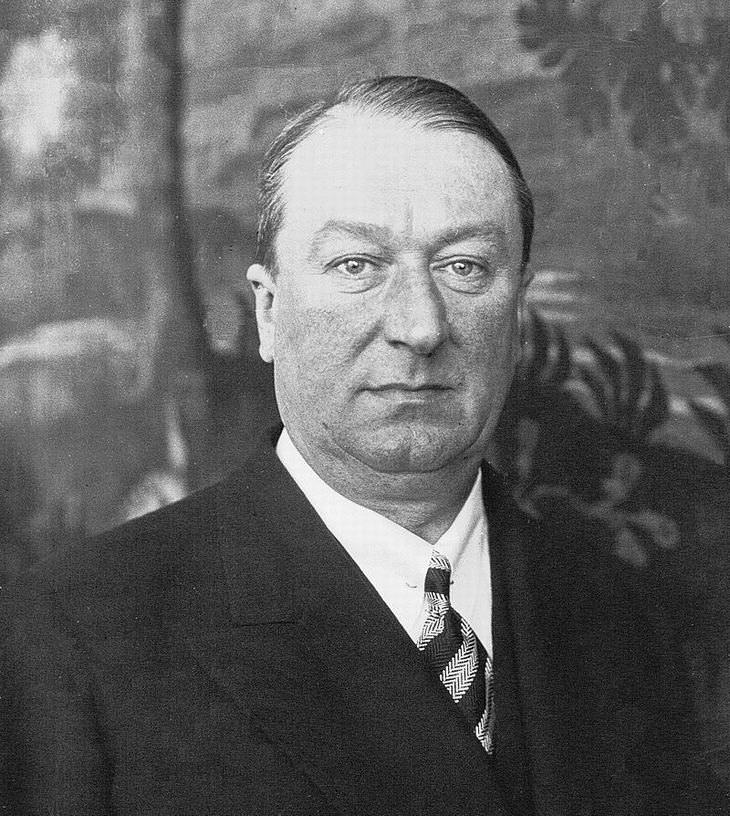 Ettore Bugatti photographed in 1932
Ettore Bugatti was born into an artistic family in Milan, Italy on September 15th, 1881. His father was Carlo Bugatti, an Art Nouveau furniture importer and jewelry designer, and his younger brother, Rembrandt, was a renowned animal sculptor who sadly passed away at a very young age. In addition, his paternal grandfather, Giovanni Luigi Bugatti, was an architect and sculptor.
Although his father encouraged him to follow a conventional apprenticeship with one of the Milanese tricycle or quadricycle manufacturers, Ettore quickly demonstrated an intrinsic understanding of many different aspects of motor vehicle construction, and he was just 17 years old when he designed his first car, the Type 1, in 1898. It had four engines mounted, with two mounted on either side of the rear axle.

1901-1909: The Early Days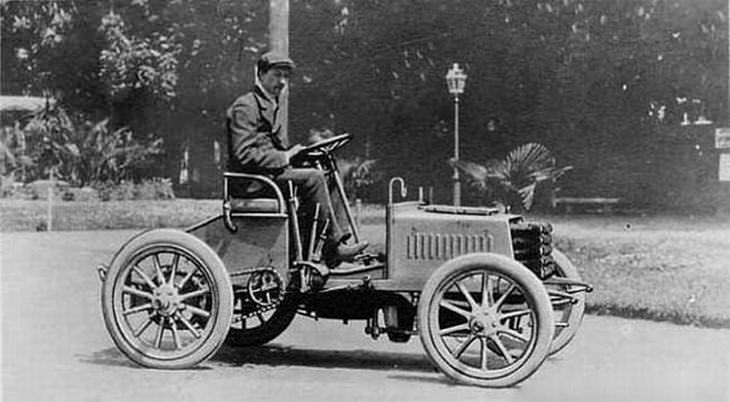 Bugatti Type 2
Next up was the Type 2, which was bankrolled by Ettore's father and became a prize-winning exhibit at the Milan Trade Fair in 1901. The wealthy baron, de Dietrich, was captivated by the vehicle and offered Ettore the opportunity to design cars at his factory in the commune of Niederbronn (which was still part of Germany at the time).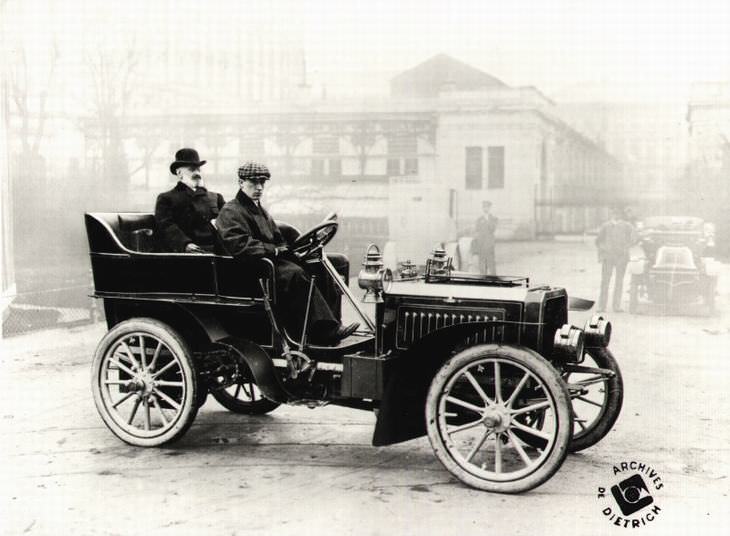 De-Dietrich Bugatti
Ettore immediately got to work, resulting in Type 3, 4, 5, 6 and 7 designs. These cars were all badged as De Dietrich Bugattis, and all were created in just two years between 1902 and 1904. Ettore soon severed his ties with Baron de Dietrich after meeting Emile Mathis, a French businessman, who partnered with Ettore to design and build cars of their own.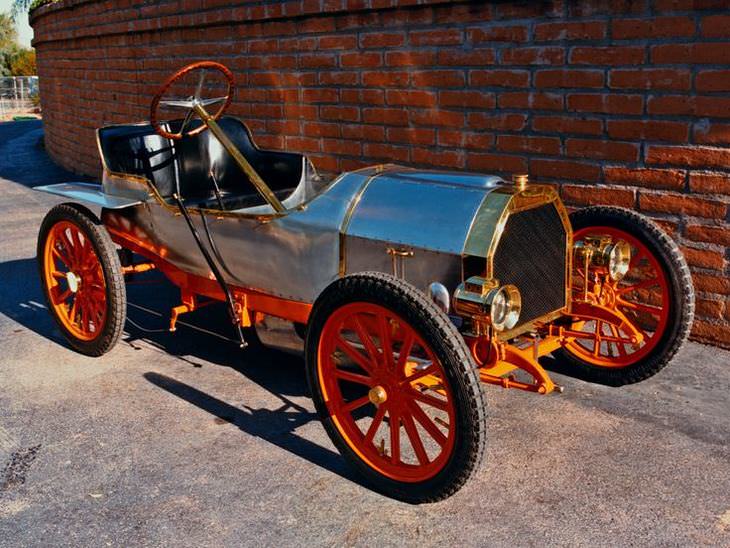 Bugatti Type 10
This business arrangement lasted for two years before the partners parted ways and Ettore set up a research center in what is now a suburb of the French city of Strasbourg. He produced several prototype cars at the research center during 1907 before being appointed Production Director at Deutz, where he designed the Type 8 and Type 9. In the meantime, Ettore was also designing the Type 10 in the basement of his home.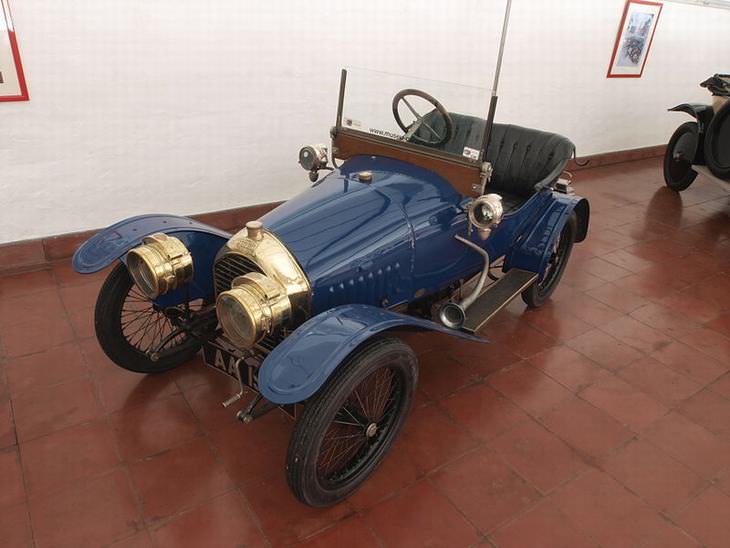 Peugeot Type 19 Bebe
He also designed a small car for Peugeot in 1913 named the Type 19 Bebe, which became the first production Peugeot to sell more than 3,000 units.


1909: Automobiles E. Bugatti and the factory at Molsheim
Although he was born in Italy, Ettore Bugatti set up his eponymous factory in Molsheim, Alsace, which was then part of Germany. Automobiles E. Bugatti became known for building some of the fastest, most luxurious and technologically advanced vehicles of their day, with Bugattis being very successful competing in early Grand Prix motor racing.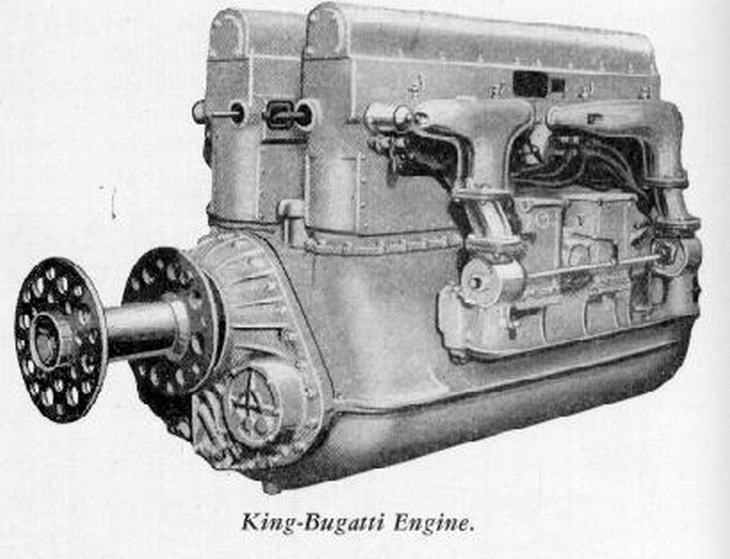 Bugatti-designed U-16 airplane engine
When World War I broke out, Ettore had to leave Alsace, first returning to Milan before moving to Paris. He designed airplane engines during this time, and most notably the U-16, which was only ever installed in a very limited number of aircraft. He also designed a successful motorized railcar named the Autorail Bugatti.

1918-1939: Bugatti's work during the interwar period
After World War I came to its conclusion, Alsace was transferred to France from Germany less than four months after the signing of the Treaty of Versailles, so Ettore returned home to his beloved factory. He also managed to get himself a stand at the 1919 edition of the Paris Motor Show, and exhibited three light cars, one of which was the Type 13.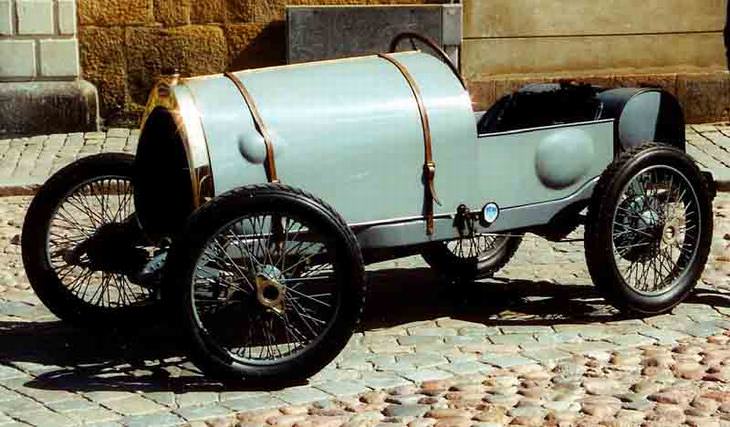 Bugatti Type 13 Brescia
The car is widely considered to be the first "true" Bugatti, taking 1st, 2nd, 3rd and 4th places at the Brescia Grand Prix of 1921. Orders for the car poured in, injecting some much-needed cash into the company. Ettore also capitalized on the Type 13's racing success at Brescia by creating the Type 23 Brescia Tourer, which was a fully-fledged production variant of the Type 13. Some 2,000 Type 23 Brescia Tourers were built between 1920 and 1926.
Other notable racing successes that Bugatti had during the interwar period include a victory at the first-ever Monaco Grand Prix, which was held in 1929, and two victories at the 24 Hours of Le Mans, in 1937 and 1939 respectively. The latter victory is particularly remarkable because Bugatti raced with just a single car and a minimal amount of spare parts.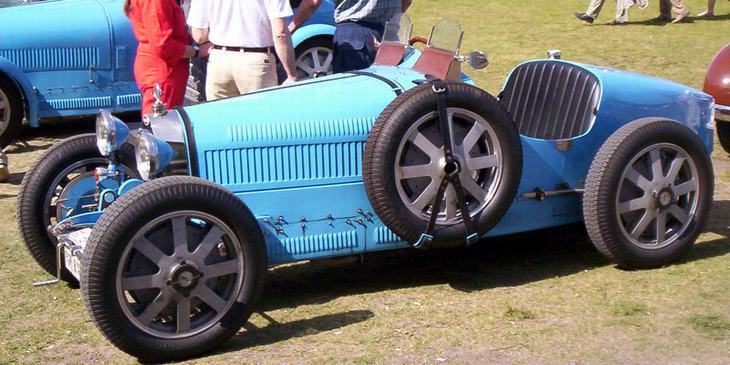 Bugatti Type 37A racing car
The Bugatti Type 35, a model which began to be built in 1924, is arguably the most successful racing car of all time, having won more than 1,000 races in various guises between the mid-1920s and mid-1930s. The 1930s saw Ettore becoming involved in a project to design and build a racing airplane, known as the Model 100, but it never flew due to the outbreak of World War II.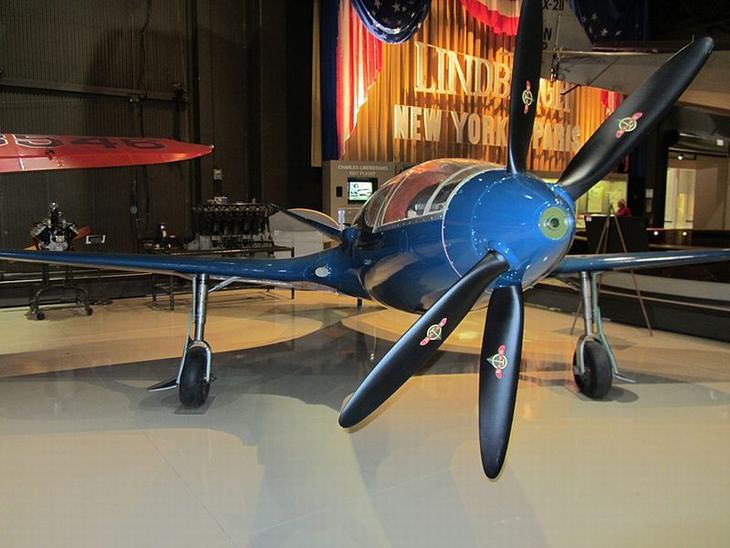 Bugatti Model 100 airplane

1939-1952: The death of Jean Bugatti and company decline
By the end of the interwar period, the factory at Molsheim had produced many different cars, but they numbered less than 8,000 in total. Ettore Bugatti's son, Jean, who was responsible for designing the legendary Type 57 model, actually died in a tank-bodied variant that had just won the 1939 24 Hours of Le Mans a few months prior. He was testing the car near the village of Duppigheim when he lost control, hit a cyclist and crashed into a tree.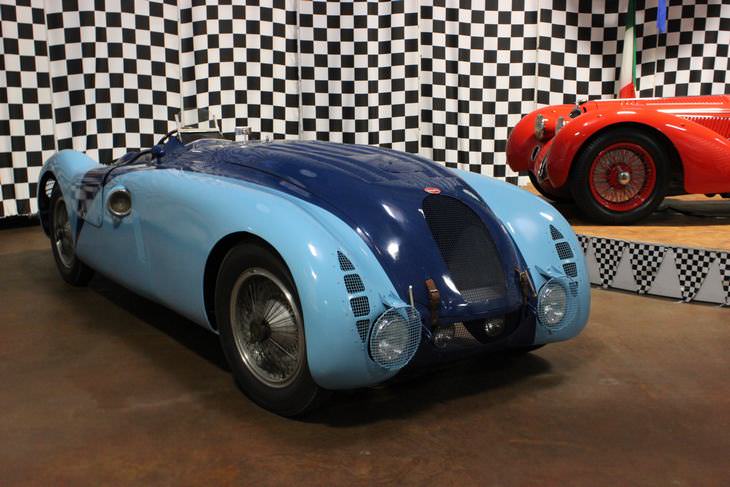 Bugatti Type 57G "Tank"
This development meant that there was no obvious successor to take over operations at the Molsheim factory – not that there was much left of a factory to take over after the end of World War II. The war left it in ruins, and the company actually lost control of the property. Although there was a new factory in the pipeline during the war, the plan never materialized.
Only one more model would be made by the original Bugatti company, and this was the Type 73. Road and race versions of the model were planned, but just five of them were ever built prior to Ettore Bugatti's death in 1947. At the time, Ettore was designing a 375cc supercharged car, but its development was stopped following his death.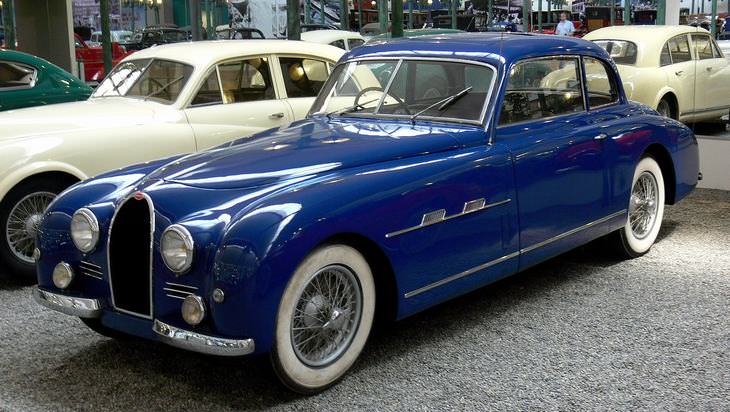 Bugatti Type 101
The last "true" Bugatti is considered to be the Type 101. Only eight of them were ever made. Business continued to decline, and the original incarnation of Bugatti closed its doors in 1952.

1955-1965: Failed attempts at a revival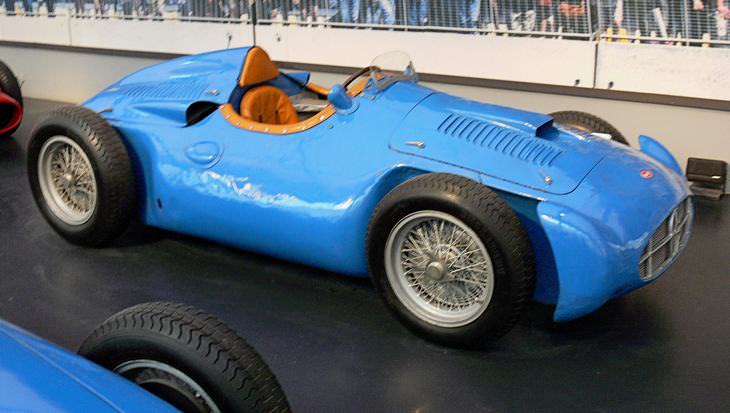 Bugatti Type 251
Another of Ettore Bugatti's three sons, Roland, attempted a comeback with the mid-engined Type 251 of 1955. It was designed with the help of Gioacchino Colombo, the designer of Ferrari fame. Sadly, the car failed to perform to expectations, and this meant that production never got off the ground.
In 1965, the American designer, Virgil Exner, designed a show version of a Type 101, built on the last (ninth) chassis ever made. Its body was built by Ghia, and the car was shown at that year's Turin Motor Show. The car didn't garner any significant interest, meaning that Exner turned his attention elsewhere.
During the postwar period up until 1963, Bugatti had continued manufacturing airplane parts, but that operation was sold off to Hispano-Suiza, which also happened to be a former car maker turned aircraft supplier.

1987-1995: Bugatti Automobili S.p.A.
An Italian entrepreneur by the name of Romano Artioli acquired the Bugatti brand in 1987, and a brand-new factory was built at Campogalliano, Modena, Italy. In 1989, the plans for the first model after the revival of the Bugatti brand were unveiled.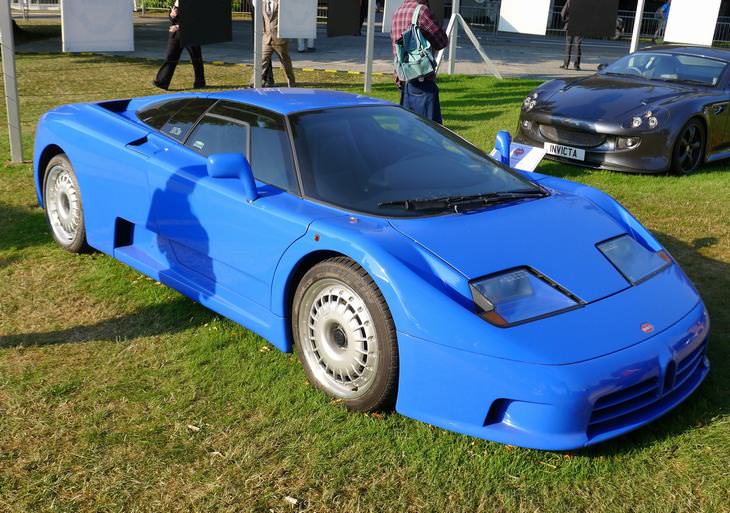 Bugatti EB110 GT
The Bugatti EB110 GT was designed by Paolo Stanzani and Marcello Gandini, the men behind Lamborghini's iconic Miura and Countach models. Among its numerous outlandish features, the new supercar had a carbon fiber-reinforced polymer chassis, four-wheel drive, a six-speed gearbox and a mighty 3.5-liter, quad-turbocharged, 60-valve V12 engine.
Some 139 EB 110s were produced, with some of these being Super Sport models that were lighter, more powerful and had minor styling differences to the base EB110 GT. The EB110 GT could reach a top speed of 209 mph, whereas the EB110 SS could reach 216 mph.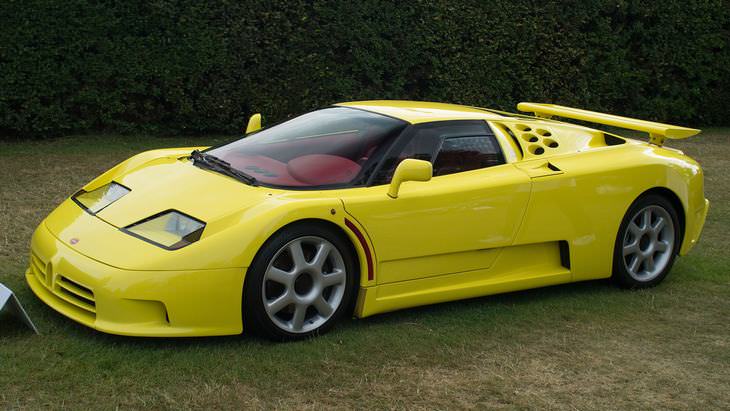 The car didn't sell in very high numbers due to the economic recessions in Europe and North America that greatly afflicted the supercar market in the early 1990s. Perhaps the most famous EB110 SS of all is a yellow example owned by none other than Michael Schumacher, the seven-time Formula 1 world champion.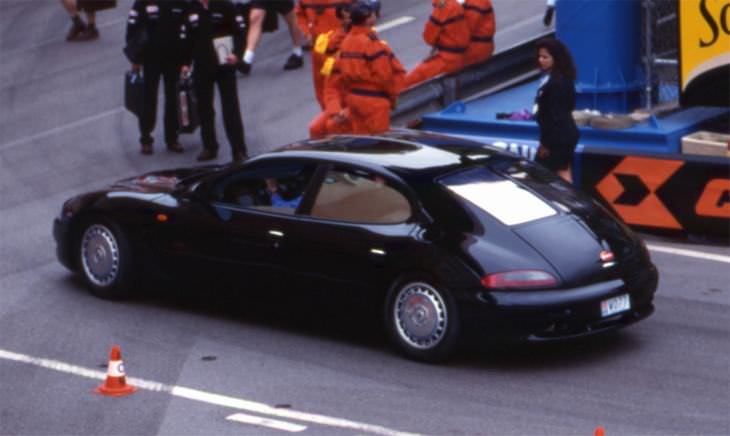 Bugatti EB112
During 1993, the renewed Bugatti brand exhibited the EB112, with styling by Giorgetto Giugiaro of ItalDesign. The car featured a 450 horsepower V12 engine and permanent four-wheel drive, but it was never put into production due to the company struggling to sell examples of its EB110 model. At least two EB112s were built, but photos recently emerged online of an alleged third.
Poor economic conditions resulted in the company closing its doors for the second time in September 1995. The magnificent Campogalliano factory, which is said to have been light years ahead of its time, remains abandoned to this day.

1998-1999: Bugatti Automobiles S.A.S.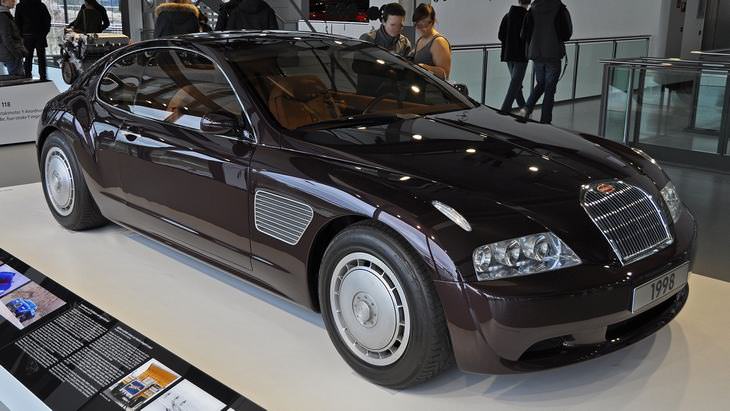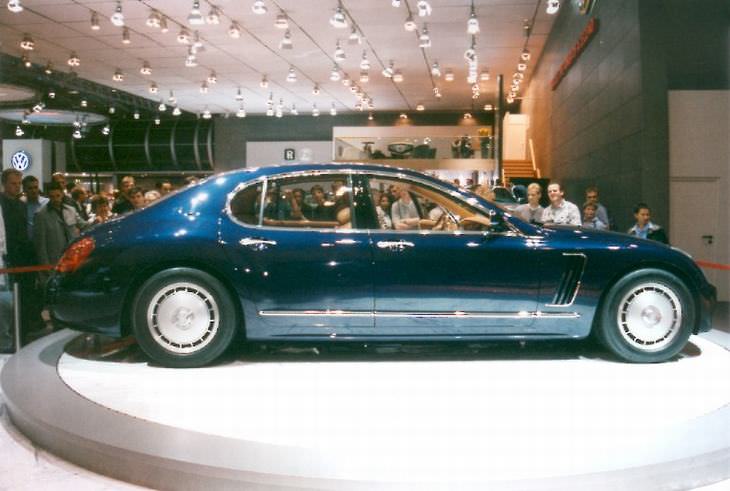 Bugatti EB218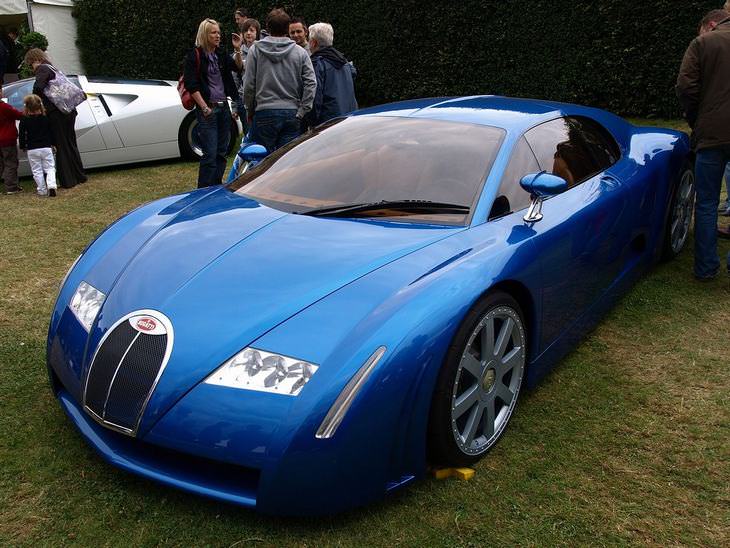 Bugatti EB 18/3 Chiron

1999-2005: Bugatti EB 18/4 Veyron, EB 16/4 Veyron concepts
The all-conquering Bugatti Veyron that gearheads know and love today can trace its origins back to the fourth Volkswagen-sanction Bugatti concept car, which was shown at the Tokyo Motor Show in October 1999.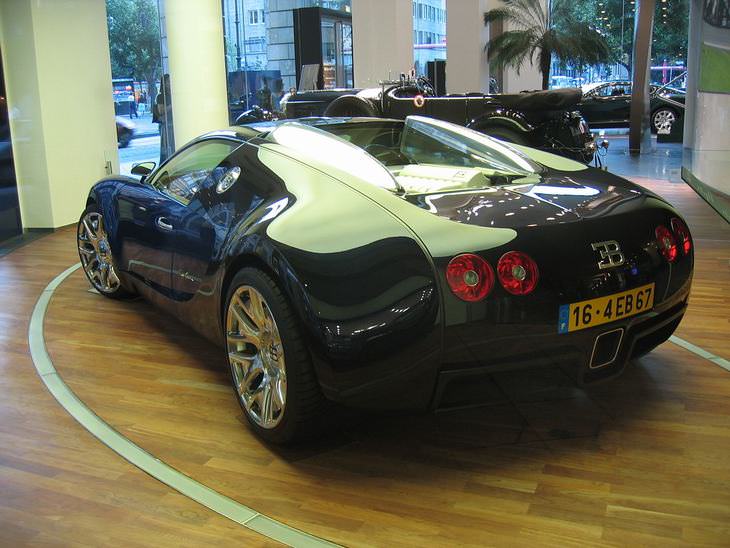 Bugatti EB 16/4 Veyron Concept
The EB 18/4 Veyron was styled in-house, as opposed to being styled by ItalDesign, and featured the same W18 engine as the previous three concept cars. A modified and updated version of the concept car, known as the EB 16/4 Veyron, was displayed at the Detroit, Geneva and Paris motor shows during the year 2000.
The latter concept car featured the engine architecture that would go on to be installed in every example of the production version of the Bugatti Veyron, and the development of the production car would go on for five solid years before it actually went to market in 2005.

2005-2015: The Veyron era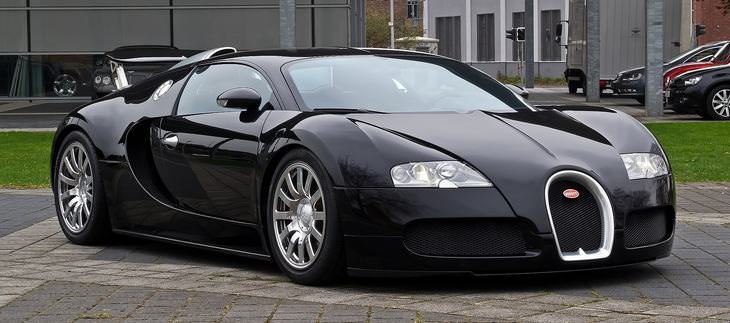 Bugatti Veyron
Commencement of production on the Veyron meant that the Bugatti brand got to return to its roots. A brand-new facility at Molsheim started building Veyrons in very limited numbers at a base price of $1.1 million each. For that money, lucky owners received an 8.0-liter, quad-turbocharged W16 engine capable of producing 987 horsepower and reaching 253 mph.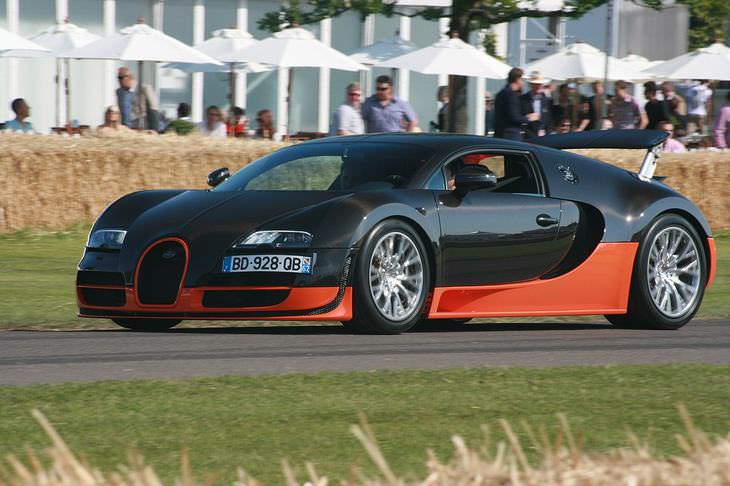 Bugatti Veyron Super Sport
More powerful versions of the car were produced in the form of Super Sport and Grand Sport Vitesse models, which have an eye-watering 1,184 horsepower on tap. A Super Sport is recognized as being the fastest street-legal production car in the world, having reached a top speed of 268 mph in 2010.
By the time production came to an end in 2015, just 450 Veyrons had been built over the previous 10 years, with many special editions, such as the Pur Sang, San Noir, and Nocturne.

2016-present: The Chiron era
Before the Veyron's successor, the Chiron went into production, 200 of the 500 that will ever be built were already sold. It might have been hard to envisage a car to eclipse the Veyron, but this one certainly did. The engine was carried over from the Veyron but greatly updated to produce a monumental 1,479 horsepower.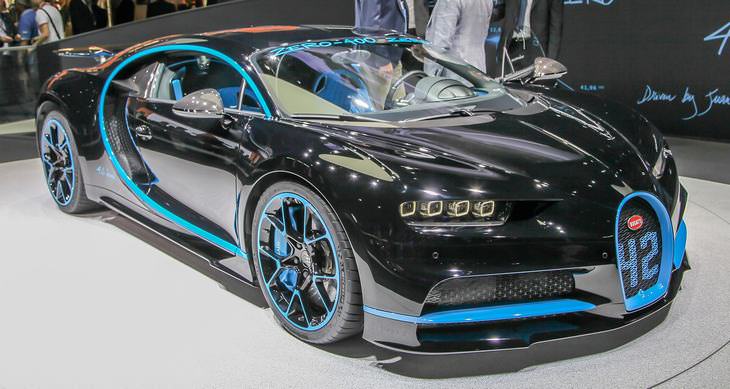 Bugatti Chiron
The $2.7 million Chiron, which is named after the Monegasque racing driver who drove various Bugattis to victory in the 1930s, can accelerate to 60 mph in 2.4 seconds, reach 261 mph in electronically-limited production form (the car is believed to be capable of 288 mph), and holds the world record for the 0-250 mph run (32.6 seconds).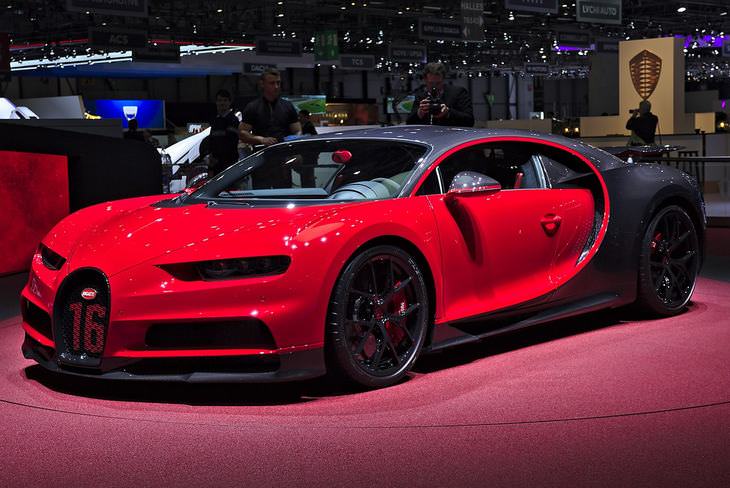 Bugatti Chiron Sport
At the 2018 Geneva Motor Show, Bugatti debuted a track-focused iteration of the Chiron called the Chiron Sport. For a $400,000 premium over the base Chiron, you get a car that's 40 lbs lighter, has a stiffer suspension, a new torque vectoring system, and numerous other tweaks. It'll be a while before the Chiron's production run is over, but let's wait to see where this iconic marque will go next…