The buildings in our cities give them their unique character, and all over the world governments try to enhance their cities' appearance with special distinct structures which can't be found anywhere else. It wasn't easy reducing the list of the most impactful architecture of 2017 to only 11, but there are just a few buildings which can't be ignored as they cannot be found anywhere else in the world.
Some of them were designed by famous and renowned architects, while others were special projects of more modest and less known architects, but what is certain is that the 11 buildings in this next article will definitely affect the nature of construction in the coming years...
1. The Lego House - Billund, Denmark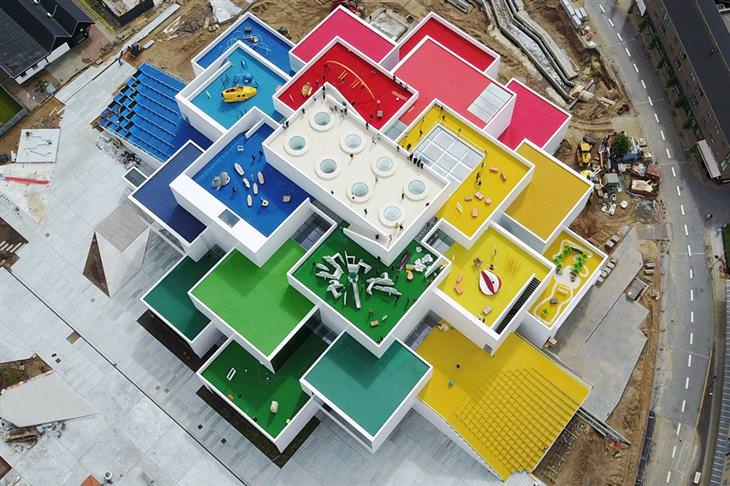 The Lego house was built in the city Lego originated from, which is a dream come true for Bjarke Ingels, the architect who created it and loved to play with Lego as a kid. In order to build a model of this complex structure, Bjarke used simple Lego bricks, thus proving to the world that even child's play could eventually become a particularly impressive architectural work. The building is open to the public all year round and has more than 25 million Lego blocks which make up various exhibits. The purpose of these displays is to encourage creativity among those who observe them.
2. Binhai Cultural Center Library - Tianjin, China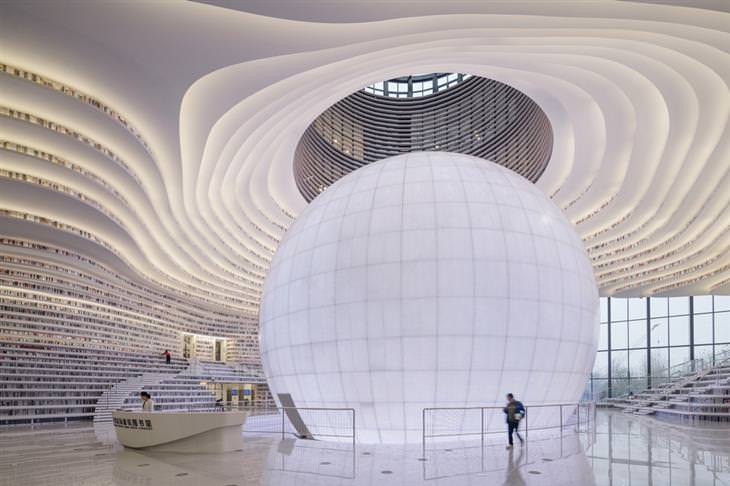 No matter how much you search around the world, you will not find a library comparable to that of the Binhai Cultural Center in Tianjin. It was designed by the architecture company MVRDV, which belongs to the postmodernism of architecture. The building is all white and looks more like a cathedral than a library. The whole library is built in the shape of waves, which are also used as bookshelves, and in the center of the building, sits a large ball in which you can browse through books peacefully.
3. Chaoyang Park Square - Beijing, China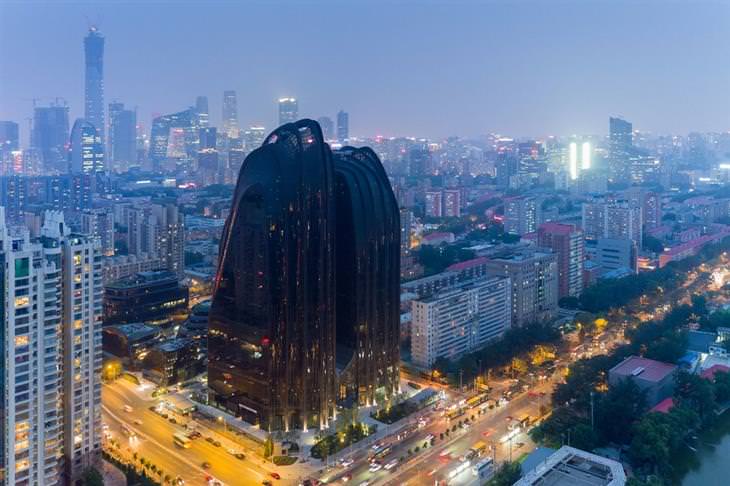 This structure was designed by Ma Yansong - an architect and artist who has won 16 awards throughout his extensive career. This building is located at the edge of Chao Yang Park and has a rounded shape reminiscent of a traditional and older building style of the Orient. This round shape is a symbol of urban buildings and nature being inseparable, and they have to complement each other instead of damaging one another's appearance.
4. Louvre Abu Dhabi - Abu Dhabi, United Arab Emirates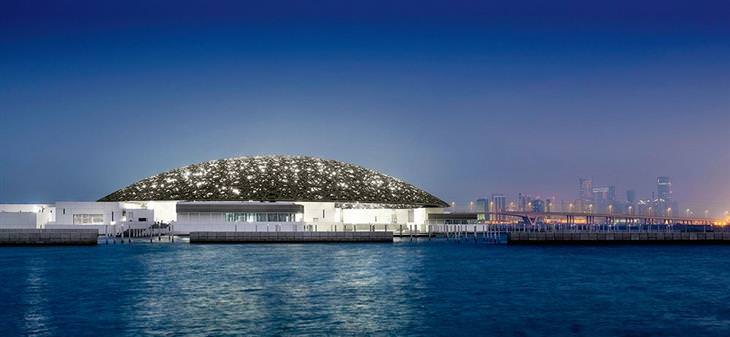 Jean Nouvel, one of the most prominent architects working today, has conceived some of the most impressive buildings in the world of architecture since the 1970s. Jean draws inspiration from everywhere he visits in the world, which can be seen in his new work - the Louvre Museum in Abu Dhabi. The museum is located on Saadiyat Island, and its structure strengthens the connection between the sun, sea, art, and architecture.
The dome of the building attracts great attention, and it provides an especially light feeling in relation to this vast structure, but, this dome, which may seem weightless actually weighs 7,500 tons. During the day, the sun's rays penetrate through geometric shapes and illuminate the museum. At night, however, the ceiling is decorated with 7,850 bright, sparkling stars.
5. Lascaux IV - Montignac, France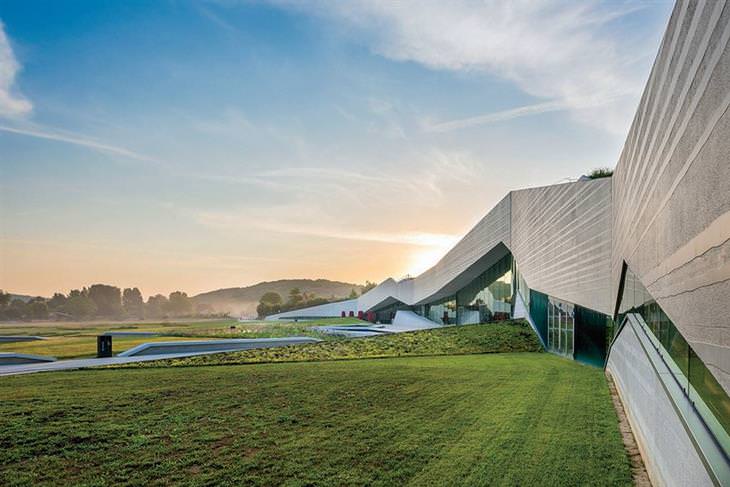 In south-central France, a huge building was built that looks amazing alongside the surrounding nature. This is a museum designed by the Norwegian architecture company Snoop, which invites the world to see cave paintings in impressive displays. The museum is in Vézère valley, and it looks as though it is a natural part of the landscape, providing a natural and wonderful feeling for anyone who enters it, leaves it or simply looks at it from the outside.
6. The Museum of Contemporary African Art - Cape Town, Africa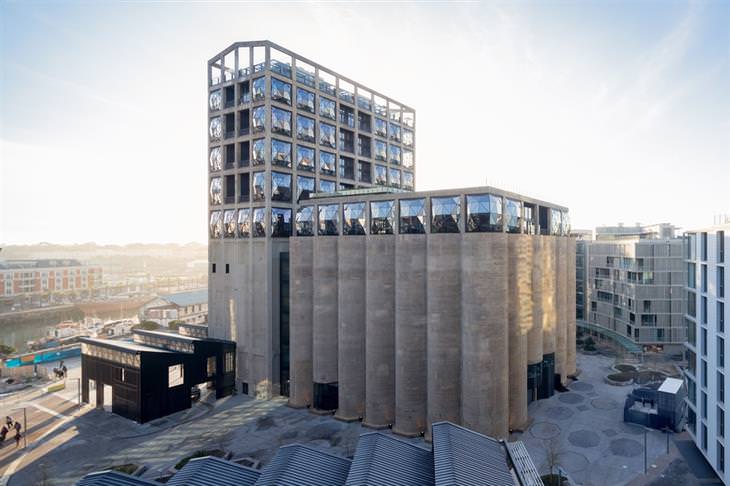 The building of this museum was conceived by Thomas Harvey, a well-known and respected British architect. To create this museum he converted 1920s silos into different exhibition buildings. The biggest challenge in designing this museum was to encourage South Africans to visit it, since museum culture is not so central in their area, so instead of destroying the silos, they decided to build around them and allow history to become part of the museum's design.
From the top of the museum, visitors can see Robben Island, the island where Nelson Mandela was held for 18 out of the 27 years he spent in prison.
7. Yves Saint-Laurent Museum - Marrakech, Morocco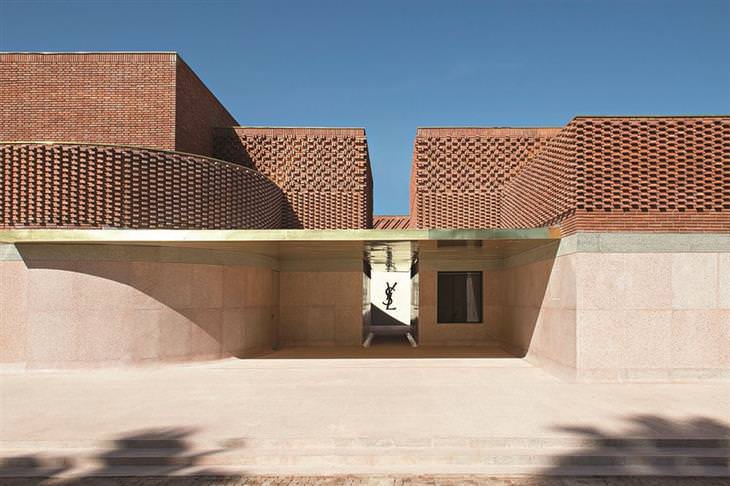 This museum is dedicated to the well-known Algerian fashion designer, Yves Andre-Dona Dave Matthew-Saint-Laurent, designed by KO Studio, a modest British company. The museum is located right next to the Majorelle Garden, in the area where the famous fashion designer lived, and much like his designs, the building also contains a combination of delicate and protruding lines along its length, giving it a minimalist and impressive aesthetic look at the same time.
The façade of the building (pictured) was built of terracotta bricks made in Morocco, and its exterior appearance generally fits well into the desert landscape. The museum has about 5,000 items of clothing and about 15,000 different pieces of jewelry, all designed by Yves Saint-Laurent.
8. Victoria and Albert Museum - London, England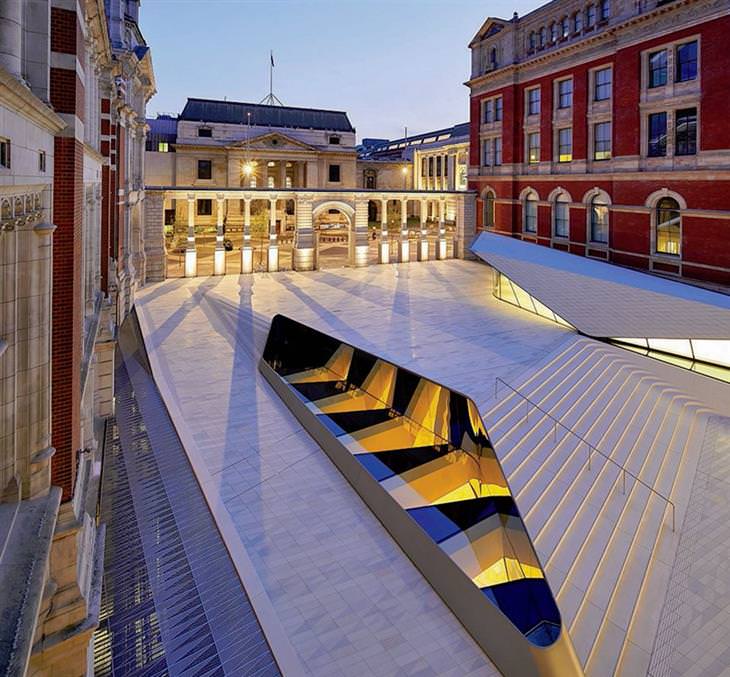 Since the summer of 2017, a large number of visitors have visited the Victoria and Albert Museum, which has welcomed a new entrance exhibition designed by Amanda Levete, an award-winning architect from London. Levete's goal was simple: to add a bold new design to the old museum while making visible an invisible part of the structure. Sounds complicated? Not for Levete, who has managed to accomplish her mission with a sharp, angular design that includes more than 10,000 porcelain tiles.
9. Apple Park - California, USA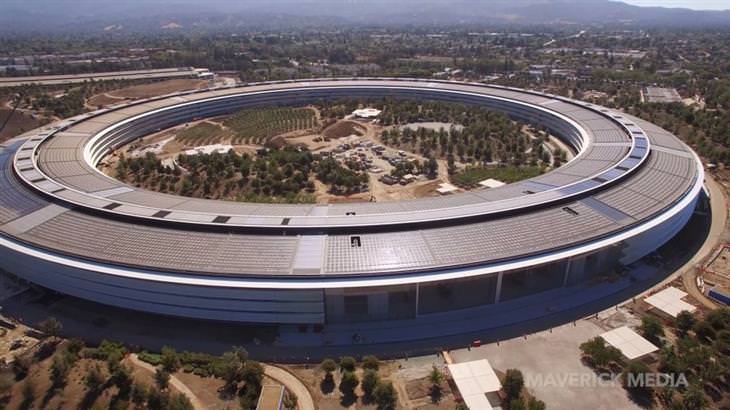 "We've come up with a design that puts 12,000 people in one building," said Steve Jobs in 2011 about his plans for Apple's new headquarters, "We've seen these office parks with lots of buildings, and they get pretty boring pretty fast. . . . So we're going to do something different from that. To fulfill this bold vision, Apple chose architect Norman Foster, who is responsible for some of the most innovative buildings in the world.
Jobs wanted to build a campus where buildings and nature would mesh, and Foster did so successfully on a large scale, even its ventilation is completely natural (Jobs was not a fan of air conditioners). So inside this structure, you can feel the wind as if you were sitting outside it, and using special sensors, the structure keeps the temperature constant by controlling the amount of air coming in and out of it.
10. Maggie's Center - London, England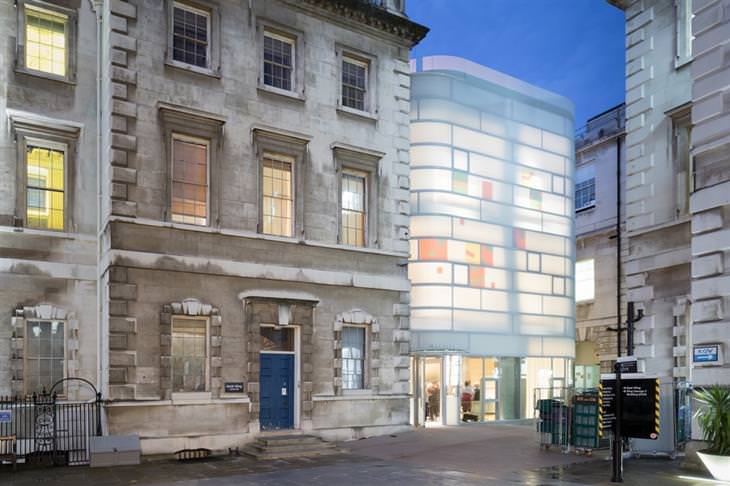 Architect Stephen Hall's buildings are not at all ordinary. His wonderful designs are being produced all over the world, and it is quite clear that the main inspirations for his architectural works are lamps and light sources. Unlike other architects, Hall uses watercolors when he designs structures (instead of a pen or pencil), and thus determines at the planning stage which colors will dominate his work. Maggie's Center, which treats cancer patients in London, was designed in the form of a glass structure of various colors that "dance" along the walls and create music for the eyes.
11. Beirut Balconies - Beirut, Lebanon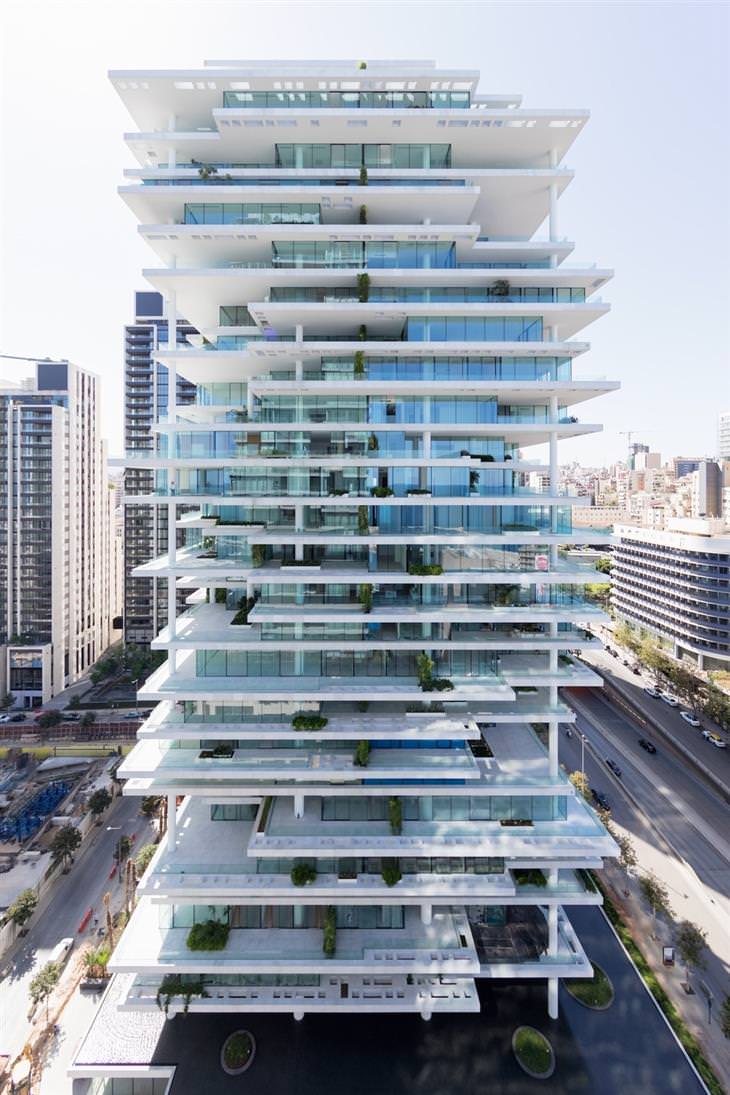 This impressive building, designed and planned by the Swiss firm Herzog and de Maron, proves that skyscrapers do not have to be dull and monotonous structures. The impressive design of the Beirut balconies creates peace and tranquility in a crowded area since Beirut is one of the most vibrant and active cities in the entire Middle East.
On every floor of the building there is an open balcony that allows the owner of the apartment to enjoy the view without interruption, but what is most impressive is not necessarily the landscape, but the fact that architects have managed to create such an impressive vertical design that isn't often seen.