1. Boeing 757 – Donald Trump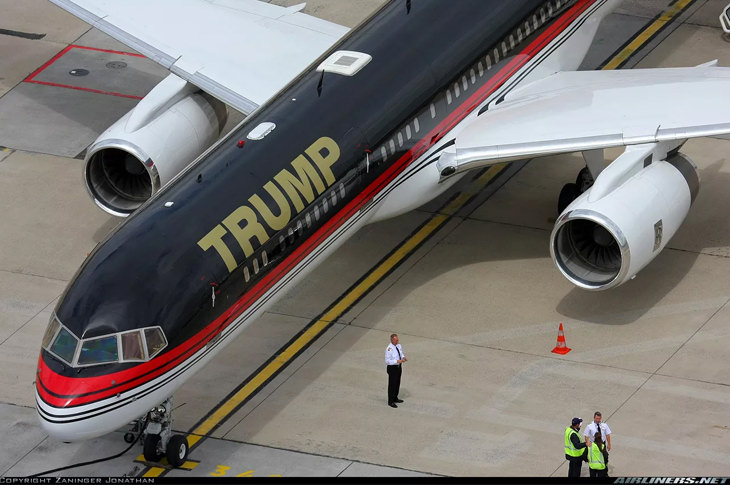 Owner occupation: President of the United States, real estate tycoon
Owner net worth: $3.5 billion
Estimated jet price: $100 million
Donald Trump's private plane, also known as Trump Force One, is a converted Boeing 757 that first took to the skies back in 1991 when it was used as a commercial airliner. Microsoft co-founder, Paul Allen, bought the airplane in 1995 and used it for the next 20 years before it was acquired by President Trump. He had it completely refitted at great expense, including 24-karat gold fixtures everywhere you look. The plane also boasts two Rolls-Royce RB211 turbofan engines.
2. Airbus A380 – Prince Al-Waleed bin Talal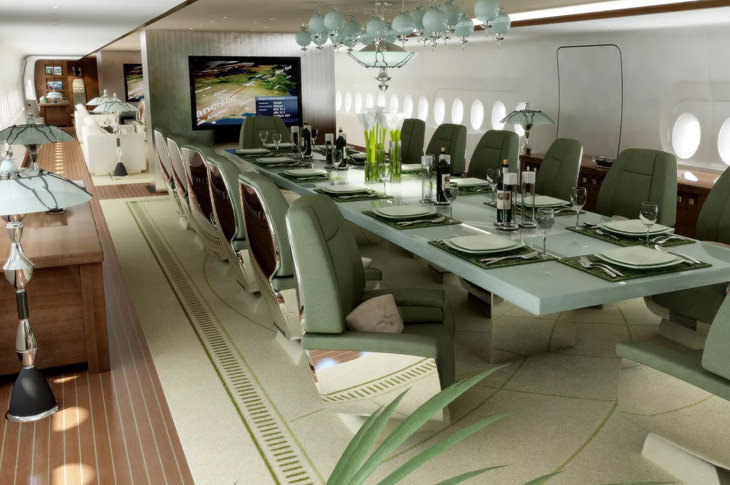 Owner occupation: Businessman, investor, Saudi royal family member
Owner net worth: $17.3 billion
Estimated jet price: $500 million
The Airbus A380 is the world's largest airliner, designed to seat no less than 600 people over two decks. This meant that it was the obvious choice for billionaire Saudi royal, Prince Al-Waleed, to turn into his own private plane! In addition to the $200 million asking price he paid to purchase the A380, he then spent close to another $300 million to add such specifications as an onboard parking space for his Rolls-Royce, a concert hall with a grand piano, five master bedrooms and no less than 20 smaller private rooms for his guests. It's no wonder that they call this unique A380 the "Flying Palace" with those kinds of ridiculously opulent things on board!
3. Embraer Legacy 650 – Jackie Chan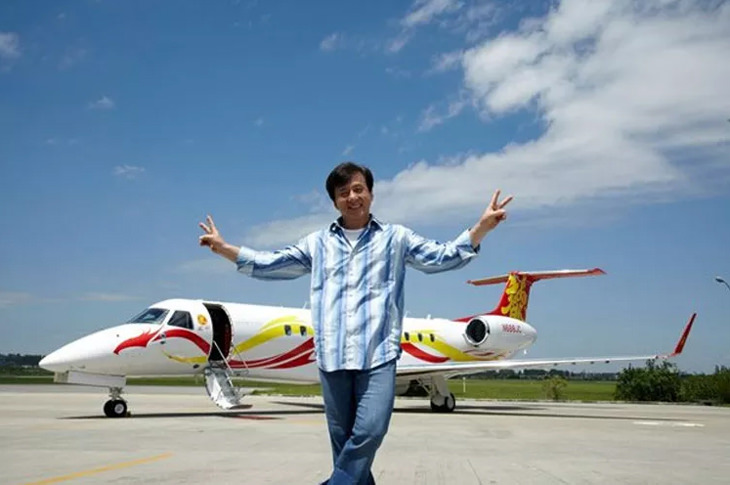 Owner occupation: Martial artist, actor, stuntman
Owner net worth: $395 million
Estimated jet price: $20-30 million
When he's not throwing himself off of buildings for his latest comedic action flick, Hong Kong treasure Jackie Chan can be seen flying through the skies in his dragon-themed Embraer. He had it customized in such a way to give a nod to his deep Chinese roots, with flashes of red and yellow painted down the length of its fuselage. The tail-fin also features his personal logo on it. Jackie is so happy with his personal jet that he actually became an Embraer brand ambassador.
4. Bombardier BD-700 – Bill Gates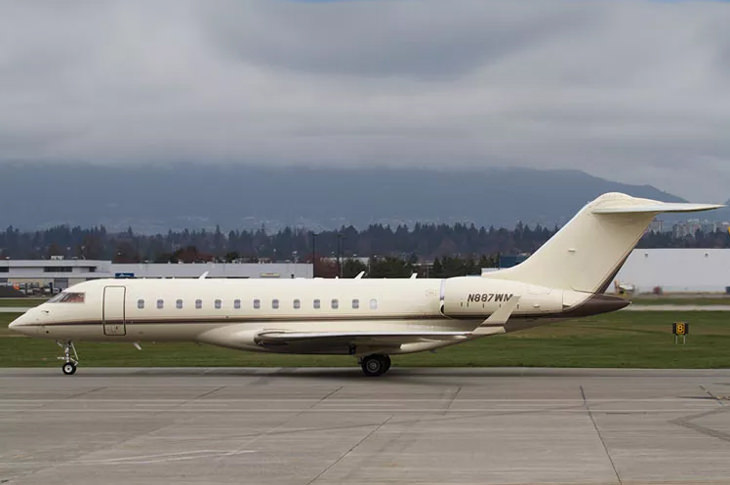 Owner occupation: Co-founder of Microsoft
Owner net worth: $89.9 billion
Estimated jet price: $45 million
Bill Gates is one of the world's richest men, so it's no surprise that he has his very own private jet. This Bombardier BD-700 is primarily used for philanthropic activities pertaining to the Bill and Melinda Gates Foundation, which gives away massive amounts of funding to charitable causes around the world. The principal characteristic that makes this jet ideal for this kind of work is its ability to fly some 6,500 miles without stopping. That's the equivalent of flying non-stop from Tokyo to New York, or Los Angeles to Moscow. Pretty impressive!
5. Gulfstream G550 – Mark Cuban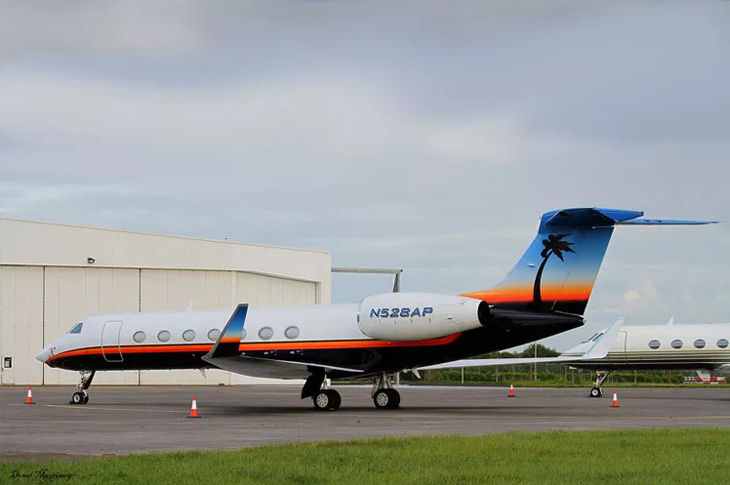 Owner occupation: Owner of Dallas Mavericks, businessman, investor
Owner net worth: $3.4 billion
Estimated jet price: $41 million
This striking private plane has ferried members of reality TV's first family, the Kardashians, at various points in time. Dallas Mavericks owner, Mark Cuban, has owned it for a number of years. It has been joined by a Boeing 757 for ferrying members of his NBA team around, as well as a Boeing 767 that he charters from time to time. The Gulfstream G550 was first launched in 2004 and can travel at 0.8 times the speed of sound. Mark's own plane features gold cup-holders to complement the garish exterior.
6. Gulfstream IV – Tom Cruise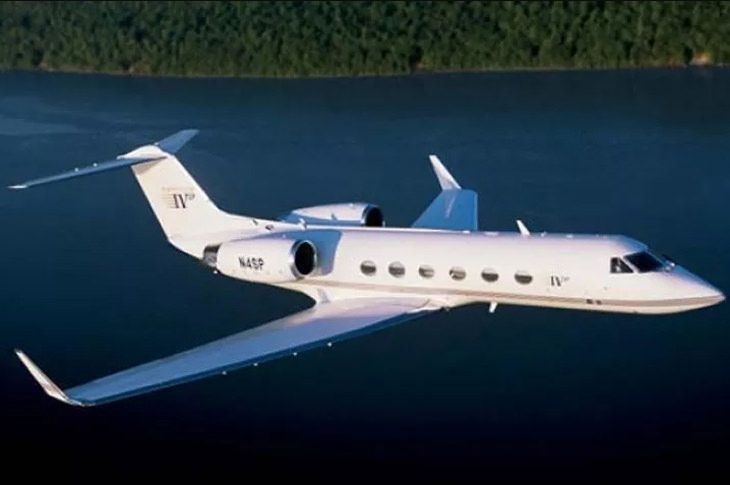 Owner occupation: Actor
Owner net worth: $550 million
Estimated jet price: $36 million
Hollywood heavyweight Tom Cruise is no stranger to taking to the skies - he has held a pilot's license for over 20 years, and even left the controls of one while in mid-air as part of a recent stunt for his latest movie! When he's not working, however, he jets around the world in his Gulfstream IV, which can carry 19 passengers in total comfort at an altitude of 45,000 feet.
7. Bombardier Challenger 850 - Beyoncé and Jay Z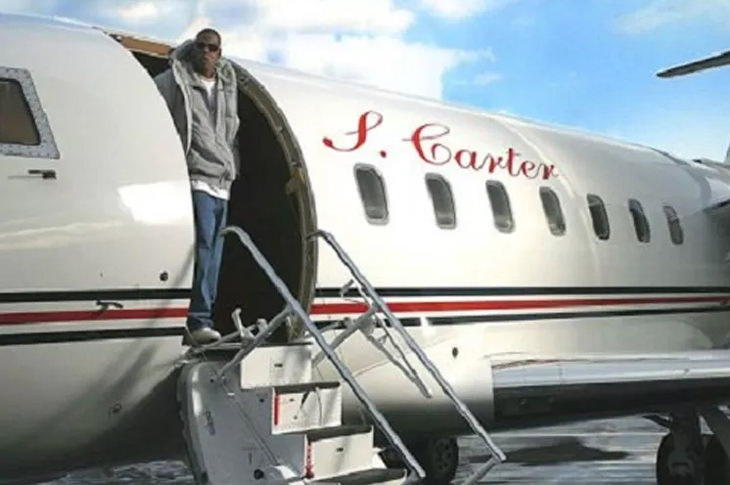 Owner occupation: Hollywood power couple
Owner net worth: $1.16 billion (combined)
Estimated jet price: $40 million
This has to be one of the most extravagant Father's Day gifts given since the holiday began to be celebrated in the Middle Ages. Multiple Grammy Award-winning singer, Beyoncé, gave her husband, rapper Jay-Z, this $40 million Bombardier private jet following the birth of their first daughter, Blue Ivy. It's emblazoned with Jay-Z's real name (Shawn Carter) down both sides of the fuselage, and features a full kitchen, bedroom, two bathrooms and cream leather seats to seat 15 people.
8. Boeing Business Jet – Rupert Murdoch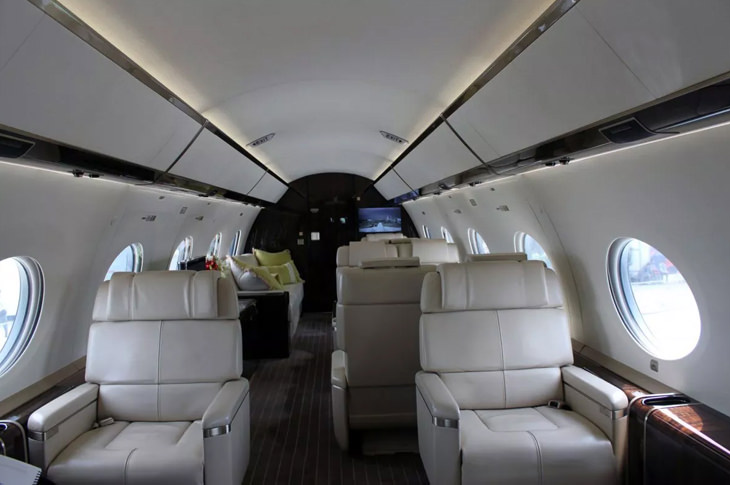 Owner occupation: Media mogul
Owner net worth: $13.1 billion
Estimated jet price: $80 million
The chairman of 21st Century Fox and Fox News, as well as several other media companies, flies around the world in what is essentially a Boeing 737-800 air-frame that has been specified for private use. The so-called Boeing Business Jet can accommodate up to 50 people and features a master bedroom, a conference area, a living area, and a washroom.
9. Gulfstream V – Jim Carrey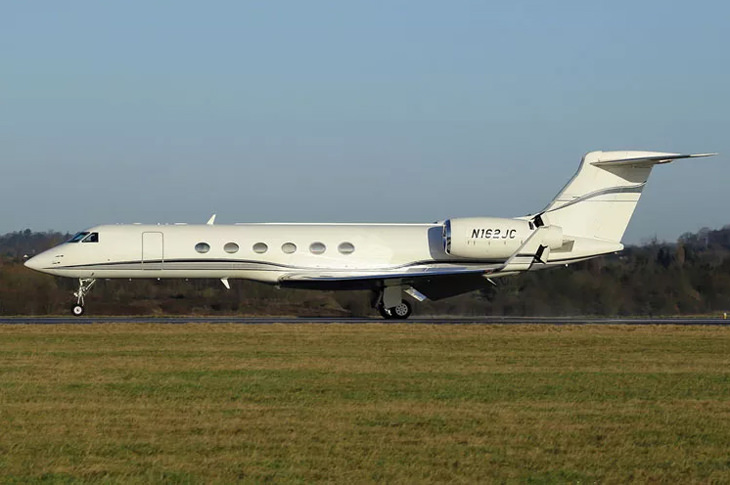 Owner occupation: Actor, comedian
Owner net worth: $150 million
Estimated jet price: $59 million
Having the ability to make audiences laugh is undoubtedly box office gold, so no-one can blame Jim Carrey spending his hard-earned money on a gorgeous Gulfstream V jet. There are only 193 of these private jets in the whole world, and a number of them are in use with various military forces. Jim's jet can seat 16 passengers in total comfort, and also happens to be one of the fastest jets in the air today.
10. Bombardier Global Express XRS – Steven Spielberg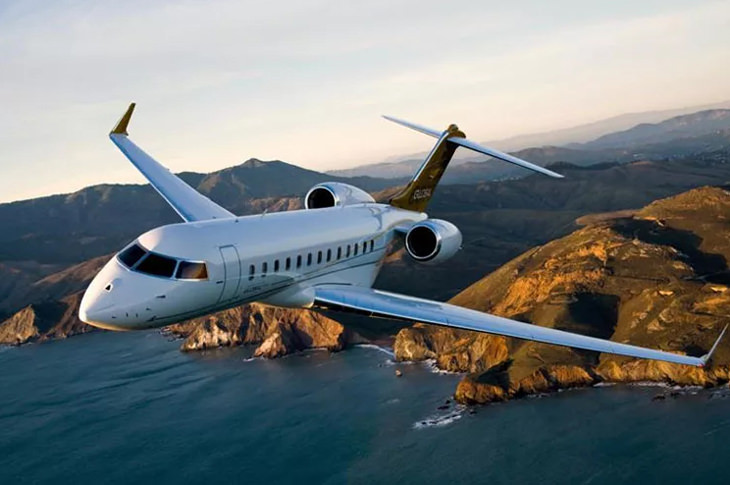 Owner occupation: Director, producer, screenwriter
Owner net worth: $3.7 billion
Estimated jet price: $45 million
The world's most acclaimed movie director can practically make it across the world in a single sitting. The Bombardier Global Express XRS, also known as the Global Express 6000, can fly for up to 16 hours without needing to refuel. It can seat 14 passengers and is also the private jet choice for the likes of Oprah Winfrey and Celine Dion.
11. Gulfstream III – Tyler Perry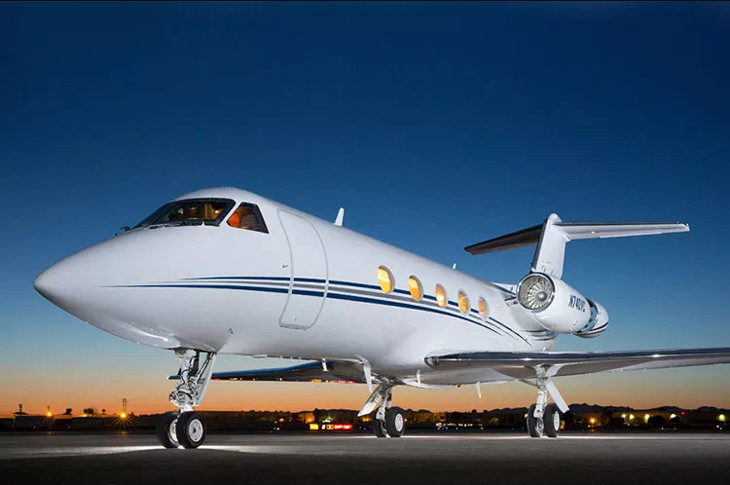 Owner occupation: Actor, comedian, filmmaker
Owner net worth: $600 million
Estimated jet price: $125 million
This household name in the US, with many a string to his bow, flies around the world in a Gulfstream III equipped with a screening room containing a 42-inch LCD screen and Satellite TV. Tyler spent more than $50 million over the jet's base price in customization, which is perhaps most famous for flying Whitney Houston's body from the West to the East coast following her untimely and shocking death back in 2012.
12. Grumman HU-16 Albatross – Jimmy Buffett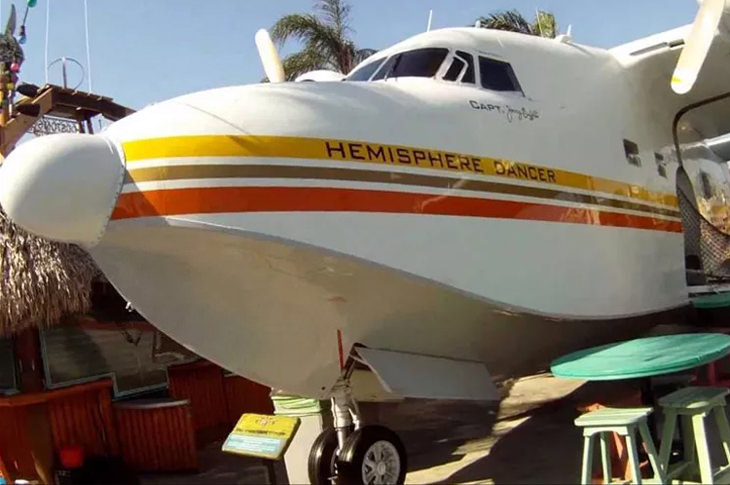 Owner occupation: Musician
Owner net worth: $550 million
Estimated jet price: Unknown (ex-military)
In addition to being famous for his music career, Jimmy Buffett owns not one, but two US restaurant chains. His private plane is undoubtedly the most unusual on this list - it's an ex-military flying boat capable of landing on both land or water. Back in 1996, he fled Jamaica in the plane after being shot at by Jamaican authorities. Apparently they (erroneously) believed he was carrying illicit substances on board.
13. Boeing 767-33A – Roman Abramovich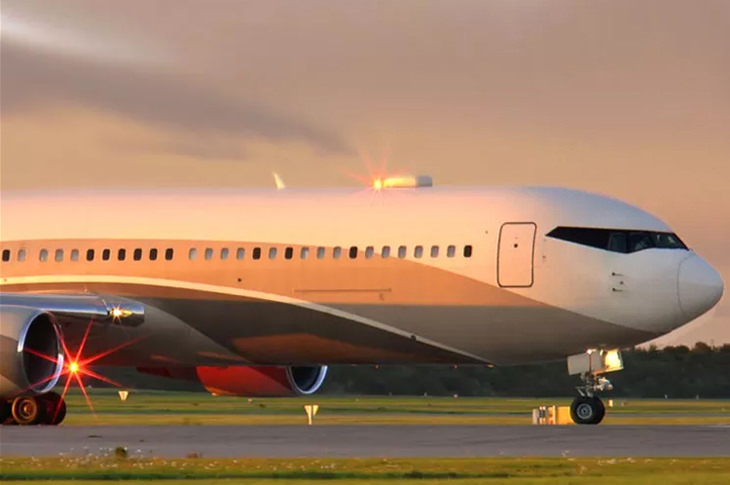 Owner occupation: Businessman, owner of Chelsea Football Club
Owner net worth: $9.1 billion
Estimated jet price: $120-170 million
Russian billionaire businessman, Roman Abramovich, figured that just any old private jet simply wouldn't do, so he bought a full-sized airliner tailored for private use. Nicknamed "the Bandit" thanks to the paint detail around its cockpit windows, this 767 reportedly has a chestnut interior and gold fixtures galore. Other details on the jet are scant because Abramovich is an incredibly private man, however, he is known to fly members of the Chelsea soccer team to away games in it.
14. Boeing 747-430 – The Sultan of Brunei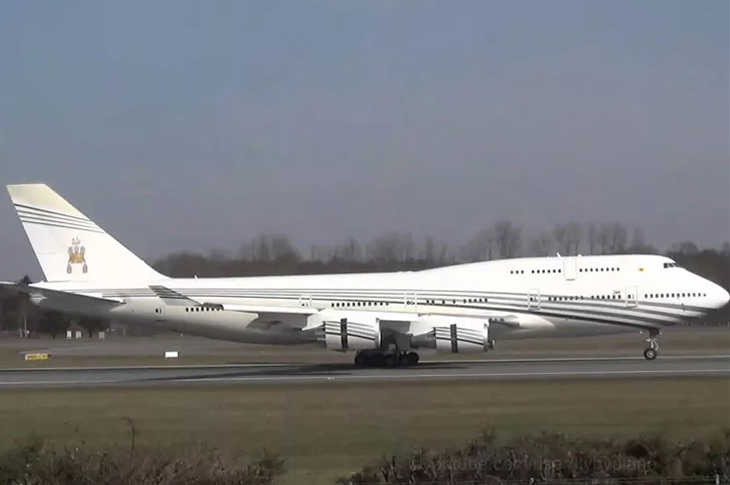 Owner occupation: Absolute ruler of Brunei
Owner net worth: $20-40 billion
Estimated jet price: $230 million
The Sultan of Brunei is so rich that he actually has his own jumbo jet to fly around in! This amazing aircraft is furnished with gold-plated furniture and Lalique crystal embellishments. A luxurious bedroom can be found onboard, as can living and dining areas and a gold bathroom. The plane's exterior features the royal family crest and stripes running down the length of the fuselage.
15. Gulfstream G550 – Tiger Woods