When it comes down to your dinner are you looking to spice things up? Well, this Mexican Stuffed Chicken recipe not only delivers a spicy flavor, but it also spices things up when it comes to variety. This is definitely not your average chicken dinner. With the help of some delicious Old El Paso ingredients, this recipe transforms 4 chicken breasts into a meal that'll excite the entire family.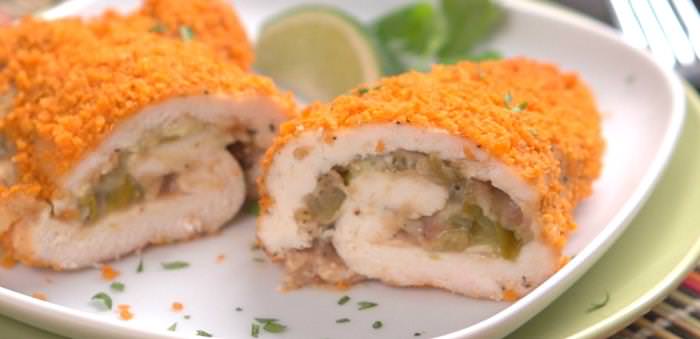 Mexican Stuffed Chicken
Ingredients
• 4 chicken breasts – butterflied and pounded thin
• 1 5.4 oz package of Old El Paso Nacho Cheese-Flavored Taco Shells
• 1 cup Old El Paso refried beans
• 1 1/3 cup shredded pepper Jack cheese
• 1 4.5 oz Old El Paso chopped green chilies – well drained
• Salt and pepper
Method
1. Preheat the oven to 350F. In a food processor, pulse the taco shells into a fine crumb. Place into a shallow dish and set aside.
2. Butterfly each chicken breast open, cover in plastic wrap and pound thin. Season both sides with salt and pepper, and spread ¼ cup refried beans over the cut side of each breast. Place 1/3 cup cheese on top of the beans and spoon a tablespoon of the drained green chilies on top of each.
3. Roll each breast tightly away from you, and secure with 2-3 toothpicks. Bread the prepared chicken in the taco crumbs, pressing evenly on all sides.
4. Place the chicken on a baking rack placed over a sheet pan, and bake for 35-45 minutes, or until the chicken reaches an internal temperature of 165F. Allow to rest for 5-10 minutes before serving.
Source: tiphero