Radio Garden is a fantastic site that allows you to explore live internet streams of radio stations across the world simply by navigating a Google Earth-style interface. If you happen not to like the song you're listening to, or you just fancy a change of music, just give the globe another spin and see where you land next!
On top of the live music streams, you can also change the settings on the site so that the green dots turn into yellow dots for 'stories' (short clips of people talking about their listening experiences), red dots for 'history', tapping into some of the key moments in broadcasting history around the globe, or blue dots for 'jingles', those tunes by which stations identify themselves by.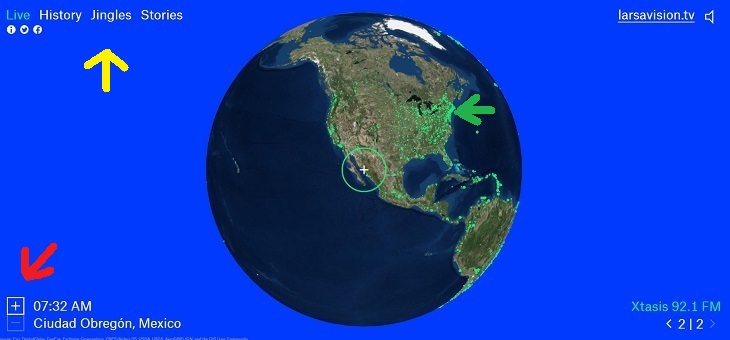 1. Spin the globe by clicking on it with the left mouse button. Stop when you have reached your desired destination.
2. Zoom in on your chosen destination by using the + button (see the red arrow in the picture above) . The bright green dots (see the green arrow in the picture above) represent the available live radio stations. Simply click on the green dot with your mouse and your music will follow. If you get bored, and would like to change locations, zoom out using the - button and repeat step number 1. It's really that simple.

For History, Jingles, or Stories:
If you would like to listen to some history, jingles or stories, just click on what you fancy (see the yellow arrow in the picture above), and follow the same instructions as above.