Whether gracing a party platter, a picnic, or simply stuffed into your mouth as a delicious quick snack, sausage rolls are a guilty pleasure for so many people. Like the humble scotch egg, the sausage roll has enjoyed a renaissance recently, and experimental flavors can often be found on the menus of many gastropubs and restaurants. Whether they are sprinkled with fennel seeds, packed with unusual fillings or made without meat altogether, the fundamentals of a sausage roll will always be the same - a juicy, well-flavored filling encased in glorious golden pastry. If you happen to be looking for a delicious vegan sausage roll, you've come to the right place.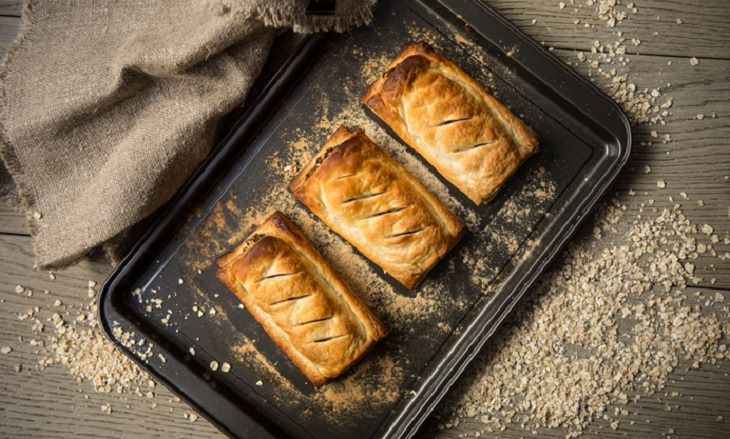 Spicy Vegan Sausage Roll (Makes 6)
Ingredients
• 1 tbsp. of rapeseed oil, plus extra for brushing the pastry
• 1 onion, chopped
• 7 1/16 oz. of vegan mince, frozen
• 2 carrots, grated
• 3 tsp. ground cumin
• 3 tsp. onion granules
• 3 tsp. chili powder
• 2 tsp. ground coriander
• 1 tsp. garlic salt
• 2/3 pint of vegetable stock
• 3 1/2 oz. of cashew nuts, chopped
• freshly ground black pepper
• 3 1/2 oz. of porridge oats
• 2 sheets of puff pastry, ready-rolled, vegan friendly
Method
1. Preheat the oven to 428°F/gas mark 7.
2. Sauté the onion in a large pan until it has turned soft and translucent. Add the mince, carrots, spices, and mix well.
3. Add the stock and gently cook for 10-15 minutes (until it has thickened).
4. Add the nuts and mix well. Blend the mixture in a food processor until smooth. Empty into a bowl and stir in the oats.
5. Unroll the pastry sheet and leave it on the blue paper. Fold it over from top to bottom to find the middle fold and cut.
6. On the top half, lay 3 long sausages of mixture down the length of the pastry. Making sure to leave a gap in between.
7. Brush around the sausages with some water and place the other piece of pastry on top and press firmly around the sausage to seal, then cut in between each one.
8. Brush each Sausage roll with some rapeseed oil, then cut diagonal spits down each one so that the steam is able to escape during the process of cooking.
9. Place on 2 floured baking trays and place in the oven for 20-25 minutes until golden.
Source: greatbritishchefs