Simple dishes, high quality ingredients and food made with passion are what make a heavenly Italian meal. Let's take a look at six delicious Italian dishes - from soup, to pasta, to pizza, sides and meat. These are our favorite ways to prepare, savor and enjoy the best of Italian food.
Spinach-Ricotta Gnocchi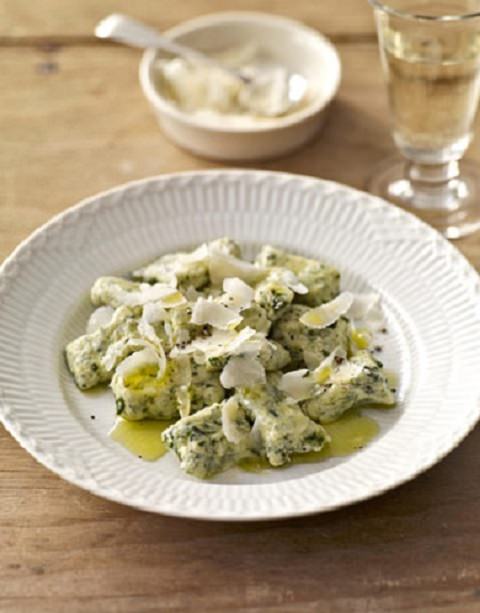 These classic Italian dumplings are packed with nutrients thanks to one of their main ingredients - their vitamin-rich spinach filling.
Ingredients (Serves 8)
1 package frozen, chopped spinach

2 eggs

2 egg yolks

16 oz. ricotta cheese

½ tbsp. sea salt

¼ tbsp. freshly-ground pepper

¼ tbsp. nutmeg

1 cup grated Parmigiano Reggiano

1 cup flour

Extra virgin olive oil

Handful Parmigiano Reggiano shavings
Directions
1. Combine the spinach with the eggs, the egg yolks, ricotta cheese, sea salt, pepper, nutmeg, grated Parmigiano Reggiano and flour, then work into a very soft dough.
2. On a lightly-floured surface, shape the dough into 1/2-inch-thick ropes and cut into 1-inch pieces.
3. In a large pot of boiling, salted water, cook in batches for four minutes and serve, drizzled with extra virgin olive oil and shaved Parmigiano-Reggiano.
Cauliflower alla Parmigiana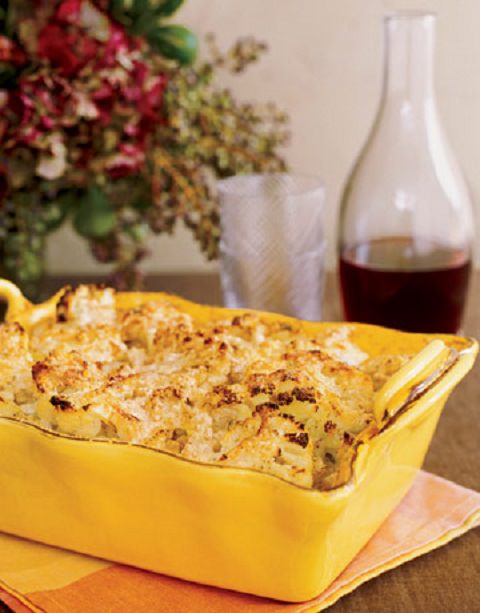 This dish is exquisitely simple. To save time, you may use frozen cauliflower and skip the second step.
Ingredients (Serves 4)
1 head cauliflower

¼ tbsp. sea salt

¼ tbsp. ground black pepper

2½ tbsp. butter

⅓ cup freshly-grated parmesan cheese
Directions
1. Preheat the oven to 435 degrees Fahrenheit. Meanwhile, butter an 8x10" baking dish.
2. Bring a large pot of water containing three teaspoons salt to the boil and add the cauliflower until soft (about 4 minutes).
3. Drain well and let it cool slightly. Slice the stems lengthwise to about 1/4" thickness and place the slices, overlapping each one tightly in the baking dish. Season with some salt and pepper and dot with some butter.
4. Sprinkle with cheese and bake until browned (about 30 minutes). Serve hot.
Lamb Chops with Mint Gremolata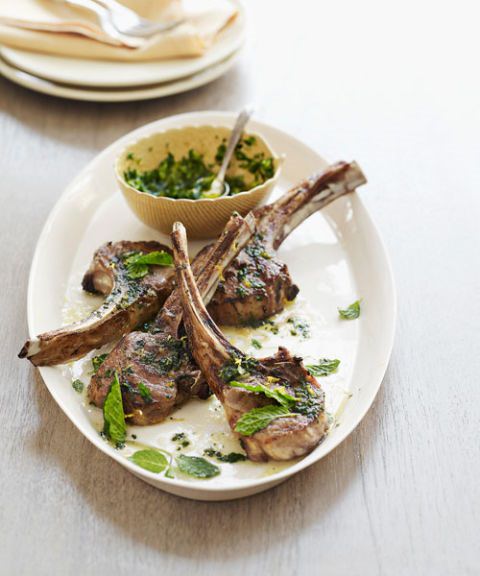 With just five ingredients, you can serve up this appetizing Italian meal for two.
Ingredients (Serves 2)
Lamb Chops:
Gremolata:
Directions
1. In a sealed plastic bag, place the lamb chops, olive oil, mint, garlic and pepper and toss to coat. Marinate in the refrigerator for two hours.
2. Remove the chops and wipe off any excess marinade. Season. On high heat, broil the chops until medium rare (about 3 minutes each side), remove and let rest for 5 minutes.
3. To make the gremolata, crush the garlic, lemon zest and salt into a paste. In a small bowl, stir the garlic paste and mint leaves with olive oil.
4. Transfer the chops to a serving plate, drizzle with the mint gremolata and garnish with fresh mint.
Wild Mushroom and Taleggio Pizza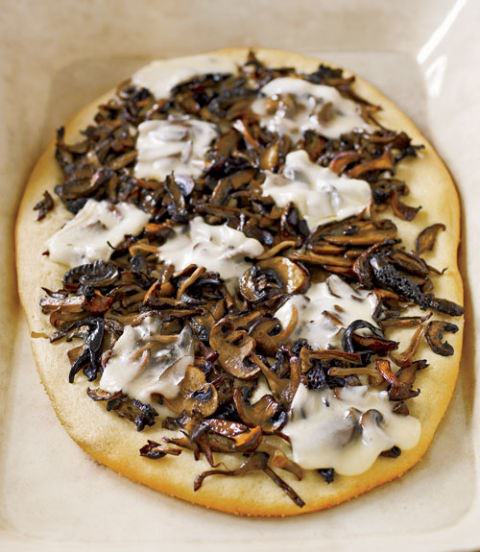 Earthy wild mushrooms and full-flavored Taleggio cheese make this a heavenly Italian dish.
Ingredients (Serves 8)
For the filling
2 tbsp. cornmeal

¾ lb. mixed wild mushrooms

2 tbsp. butter

¼ tbsp. sea salt

Pinch ground black pepper

Thin crust pizza dough (see below)

8 oz. Taleggio cheese
For the dough
Directions
To prepare the dough:
1. Combine the yeast, sugar and six tablespoons of warm water. Leave the mixture to set for 5 minutes. Meanwhile, pulse the flour and salt in a food processor and add the yeast mixture and the oil, pulsing until the dough is formed.
2. Transfer to a floured surface and knead the dough for 5 minutes. The dough should appear elastic. Put the dough in a large, oiled bowl, cover with a dampened towel and allow it to rise in a warm area. This should take an hour and it should roughly double in volume. Punch the dough to deflate, cover and let rise for a further 30 minutes. Proceed with the recipe.
To prepare the pizza: 1. Preheat the oven to 500 degrees F, sprinkle cornmeal over two baking pans.
2. Roughly chop the mushrooms (about 3/4" pieces) and melt the butter in a medium skillet over medium-high heat. Add the mushrooms and cook, stirring occasionally for 3 minutes. Add the salt and pepper and cook for a further minute.
3. Divide the dough in half, shaping into two balls. Roll on a floured surface into 12-inch rounds, transferring to the pans. Add the mushrooms and bake until golden brown (about 15 minutes). Add the cheese and heat for another minute. Serve hot.
Herbed Meatball Soup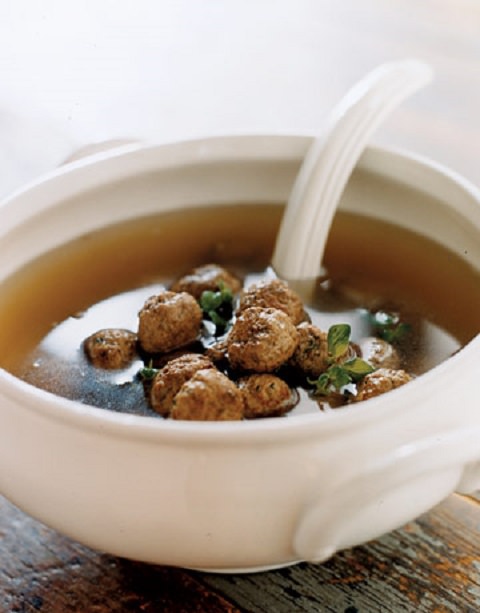 This soup is both delicious and comforting - great for a weeknight dinner or to freeze for a future meal.
Ingredients (Serves 7)
Directions
1. Combine the ground beef and the ground pork, 1/4 cup onion, half of the garlic, tapioca, zest, sugar, salt, 1/4 teaspoon crushed red pepper and a tablespoon of water in a large bowl. Cover and refrigerate for one hour.
2. Meanwhile, heat one tablespoon of olive oil in a small stockpot over low heat. Next, add the remaining 3/4 cup chopped onions and two garlic cloves, stirring occasionally for five to seven minutes until they have softened.
3. To make the broth, add three cups of water, 1/4 teaspoon crushed red pepper and the oregano and parsley sprigs to the onion and garlic. Bring to a boil, then reduce the heat to low, simmering for 20 minutes. Strain, and keep warm.
4. Now for the meat mixture. Add to a food processor and blend until smooth (should roughly take about 20 seconds). Then, shape into 1-inch meatballs and set aside.
5. Heat the remaining olive oil (about two tablespoons) in a large pan over medium-high heat and cook the meatballs until browned.
6. Meanwhile, bring the broth to a simmer over medium-low heat and add the meatballs until they are cooked through (this should take about 3 minutes). Serve hot.
Bolognese Sauce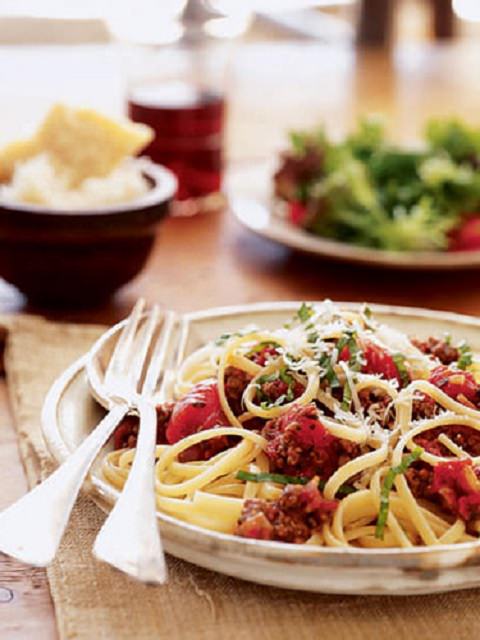 Once you use a slow cooker to prepare this familiar classic, complete with fresh herbs, red wine, onions and garlic, you definitely won't want to go back to its pot-cooked alternative.
Ingredients (Yield - nine cups)
5 strips quality bacon

2 tbsp. fresh basil

1½ tbsp. fresh thyme

1½ tbsp. fresh rosemary

¾ cup chopped onion

1½ lb. ground chuck steak

1 cup dry red wine

1 can whole peeled tomatoes

2 tbsp. garlic

2 tbsp. sugar

1 bay leaf

1 tbsp. salt

½ tbsp. ground pepper
Directions
1. Over medium-high heat, cook the bacon until soft - for about four minutes. Then, add the onions and continue to cook until they are golden brown. Add the chuck steak to the mix, stirring occasionally until browned.
2. Add the wine and bring the sauce to a simmer. Transfer the sauce to a slow cooker, adding all remaining ingredients. Set at a high temperature and cook for five to six hours.
3. Once done, serve your sauce over some hot pasta and store in an airtight container in the refrigerator. The sauce will keep for up to three days.
Source