A copy of John James Audubon's Birds of America was sold at an auction in London for £7.3 million ($11.5 million), and thus became the most expensive book ever sold. The auction was a rare chance to own one of the best-preserved editions of the 19th- century masterpiece, with its 435 hand-colored illustrations. The winning bid was placed by London-based art dealer Michael Tollemache, who outbid three others during the auction.

Don't miss the video of the book at the bottom!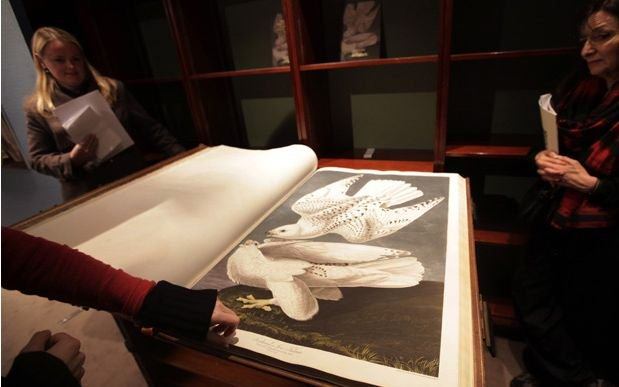 Only 120 complete sets of Audubon's 435 hand-colored, life-sized engravings of America's birds are believed to exist today, with the majority (107) owned by institutions. The last full edition of The Birds of America, which went up for auction in 2010, sold for £7.3m at Sotheby's, breaking the world record for a single book.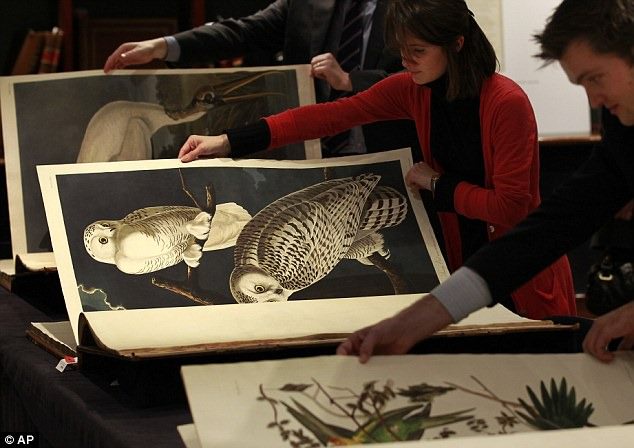 "Birds of America is most significant for its sheer beauty. It's a masterpiece of illustration," the words of Richard Davies, a rare and used books specialist. "Aside from being famous in the rare book world, Birds of America also has immense historical and ornithological importance. Some of the birds John James Audubon painted are extinct, and he also discovered new species."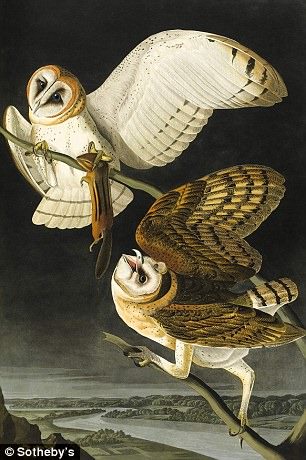 Measuring over three feet in height and running to four volumes, The Birds of America was created by Audubon between 1827 and 1838. The illegitimate son of a French sea captain and his creole mistress, Audubon was an itinerant artist who traveled America's wilderness drawing the birds he loved. He was insistent that The Birds of America was made up of life-size illustrations and that it showed all the known species of north America, making the finished volume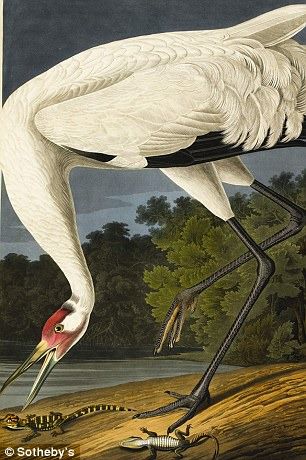 Each of the printed books were colored by hand, and it was an extremely laborious process. Even by today's standards, the vividness of its illustrations of birds is extraordinary but when it was being released in the 1830s it was mindboggling. Audubon employed a rather shocking technique to produce the book. He hunted the birds down and shot them before propping them up on wires to paint. Each drawing would take about 60 hours to complete. Ironically, many of his beautifully rendered subjects are now extinct, such as the Carolina Parakeet, Passenger Pigeon, Labrador Duck, Great Auk, Esquimaux Curlew, and Pinnated Grouse.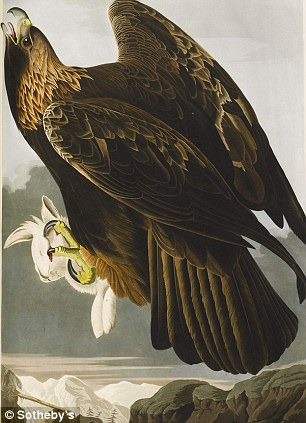 Picking up a copy of the "book" is a two-person job, said the dealer, who examined an edition at Sotheby's once prior to the auction. "The (very nervous) resident expert and I (gingerly) turned the pages together, him at the top and me at the bottom, and peeled them back (respectfully) into just the right conjunction with the rest of the plates," said Gekoski. "You have to be careful how you handle a gargantuan book worth more than 10 million dollars."