The art of crochet has taken over the internet, and we couldn't be happier. We love crochet! The possibilities are endless- you really could crochet anything and everything, creating both real-world crocheted figures and imaginary soft sculptures. In this article, we'd like to introduce you to 3 different crochet artists who took their craft to the next level.
Looking through the photos below, you may find it difficult to believe that everything you're about to see is made from yarn (and sometimes beads and sequins for a little pizzazz). The buffet is open!
Normalynn Ablao
This California-based crafter will introduce the first course. If you look from far enough, her works look like the real thing! Can you imagine the patience it takes to crochet each piece of pasta individually? Her goal in the creative process is to raise funds for non-profit organizations and help other crafters. She also provides free knitting patterns on her website!
Kate Jenkins
The resemblance to reality in Jenkins's works is striking. She renders every last detail down to the poppy seed. The British artist based in Brighton learned to crochet as a little girl. She's also a trained artist and has worked as a knitwear designer in the fashion world.
King prawns freshly sequined- she's got some humor!
These loaves are incredible but sadly not edible.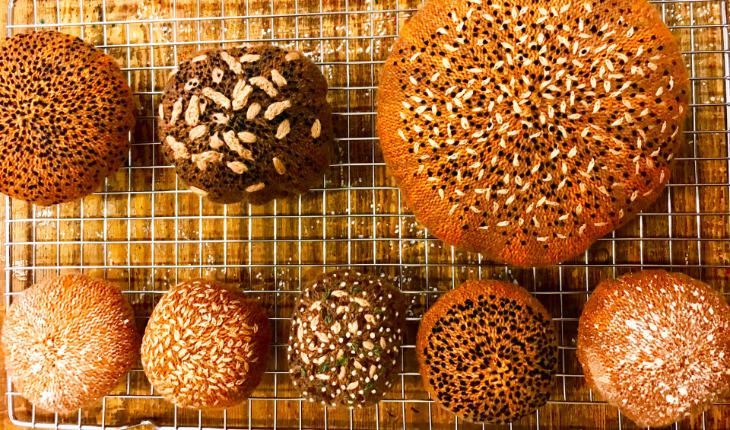 Source
Trevor Smith
Smith is the only creator on this list who isn't a full-time artist. This crafter has a day job as a local council worker in Victoria, Australia. Apart from crocheted foods, Smith creates electrical home appliances, such as toasters and hair dryers out of yarn. To give them a firm structure, he uses stiff foam. His talented mother was his inspiration to dive into the world of crafts. Smith has a degree in Visual Arts and has worked as a curator of public art collections for the past 30 years.