For generation after generation, folk and fairy tales have been passed from parent to child, not only as entertainment, but as inspiration, as lessons and as a cultural heritage. Many fairy tales, even hundreds of years old, are still a big part of modern culture, and have been immortalized in music, films, theater and also works of art, like these statues inspired by these magical tales...
The Little Mermaid,
Copenhagen, Denmark.
Found at the Langelinie promenade in Copenhagen, Denmark, the life size bronze statue sits on a rock by the water. This art piece is of course based on the famous 1837 fairy tale by Hans Christian Andersen. The statue has become an icon of Copenhagen, and has attracted visitors since 1913.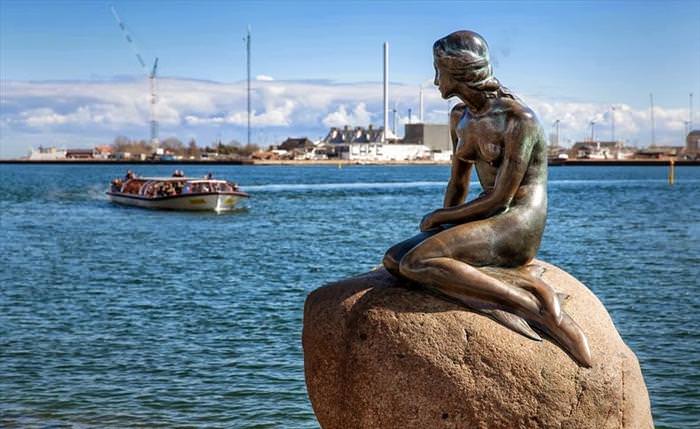 It has survived many attempts at vandalism, including having been decapitated (3 times), right arm amputated and even pushed off the rock. Fortunately, it was restored and fixed every time, and will continue to serve as an iconic location.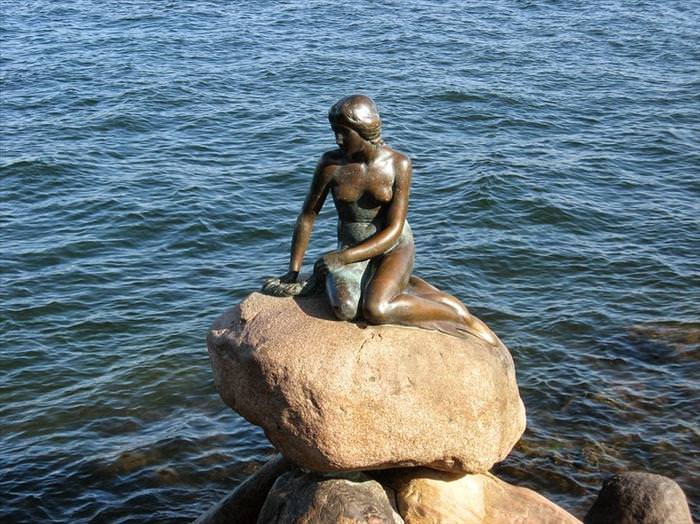 Fremond Troll
, Seattle, USA
This is a huge, 18 feet concrete statue that can be found under the North end of the George Washington Memorial Bridge. In its hands, it holds an actual car - a Volkswagen Beetle, as if it has just stolen it. This statue owes its origins to a Scandinavian folk tale called "The Three Billy Goats Gruff", which tells the story of three billy goats and how they outsmarted a terrible troll. Visitors are encouraged to climb on the troll and poke out his one good eye.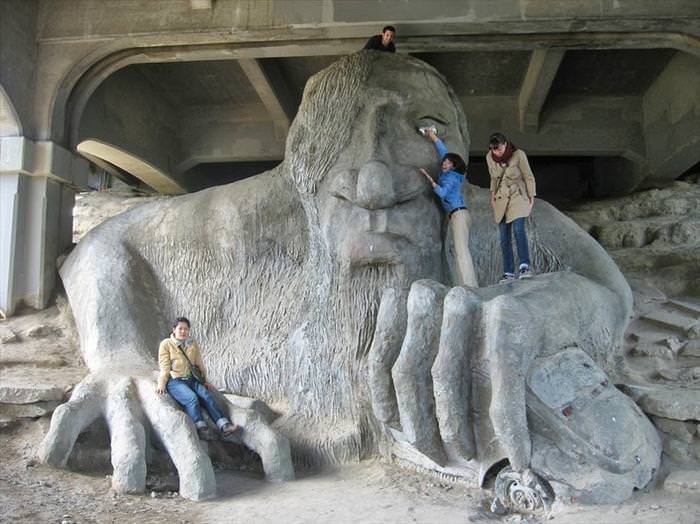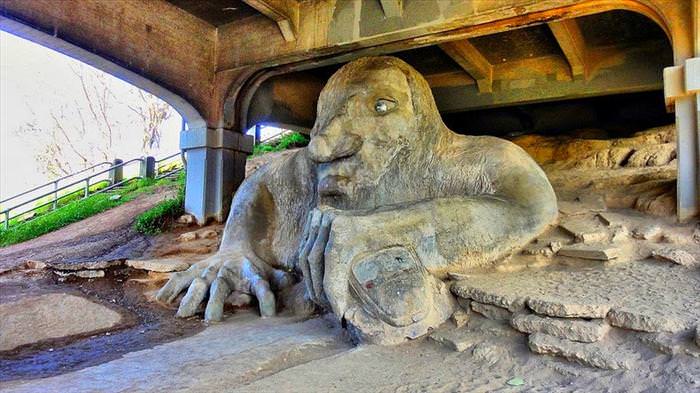 Peter Pan
, London, England
Located in Kensington Gardens, this bronze statue of Peter Pan, the magical child that never grows up, is located exactly where Peter Pan's author, J.M. Barrie, decided it would be.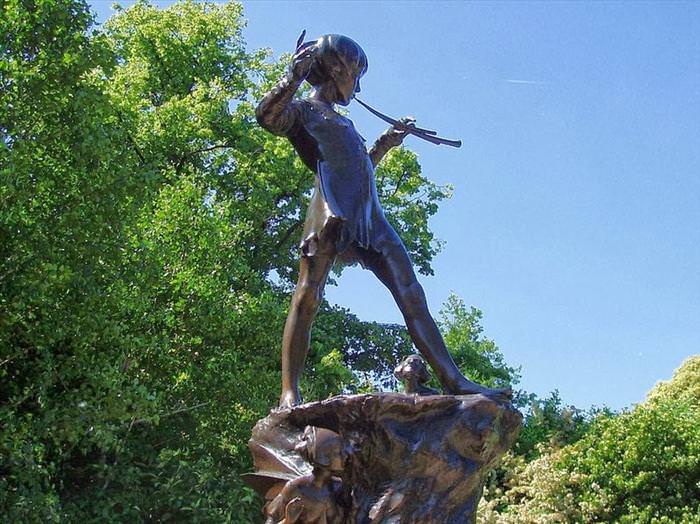 The famous author lived close to the gardens and published the first Peter Pan story in 1902. The park used to inspire him, and indeed is even featured briefly in the book. Barrie began planning the statue in 1906 and it was ready by 1912.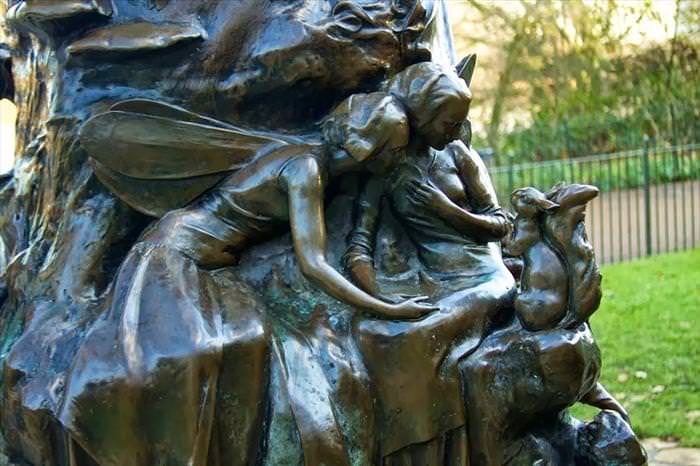 Alice in Wonderland
, Central Park, New York
Arguably the most popular statue in central park. This statue displays a group of characters from the 1865 classic story of Alice's Adventures in Wonderland, written by Lewis Carroll. The statue drew inspiration from the original illustrations (by John Tenniel) that were used in the book's very first edition.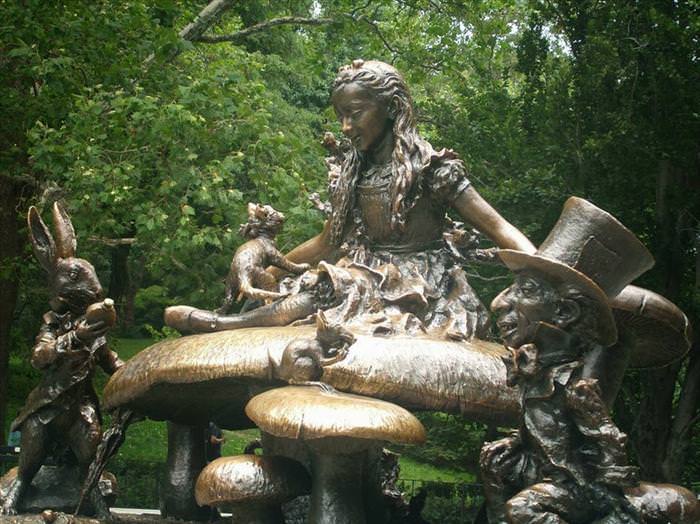 The main heroine, Alice, is sitting on a giant mushroom as she reaches for the white rabbit's pocket watch. Over her shoulder, we can see the Cheshire Cat peekiing through, as well as some other characters from the famous story - the mad hatter, Alice's cat etc. The statue stands at 11 feet tall and is usually found surrounded by kids and admirers.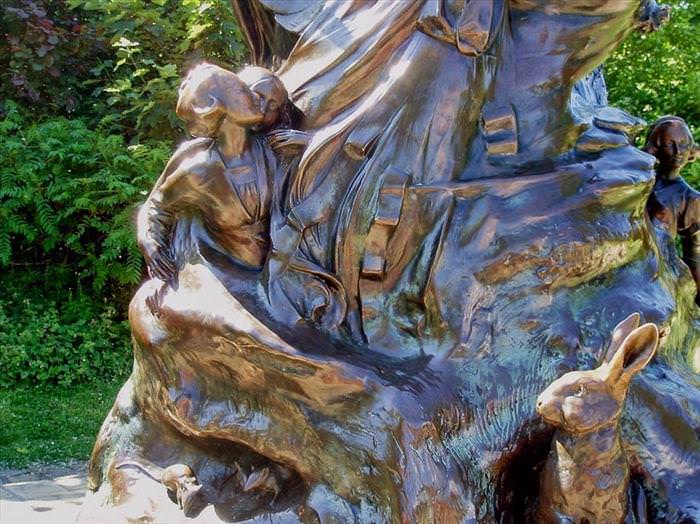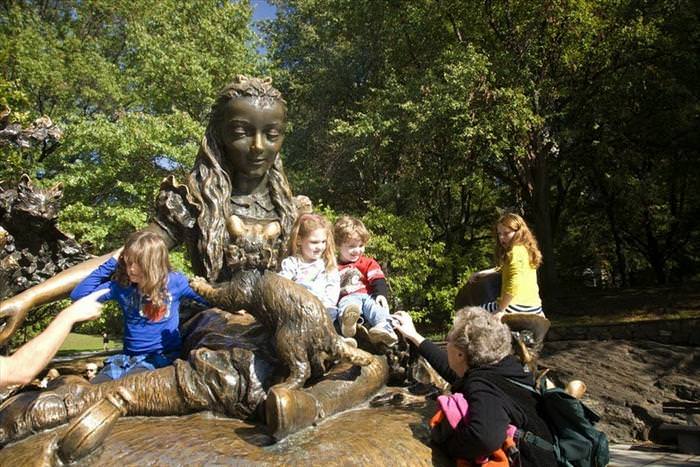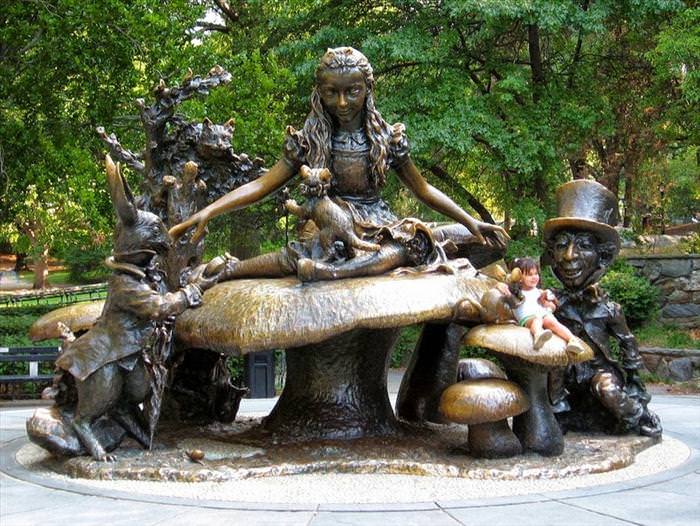 Make Way for Ducklings
, Boston, USA.
This series of statues depict Mrs. Mallard as she leads her famous group of 8 little ducklings. The statues are based on a popular children's story by Rober McCloskey, published in 1941, about a pair of ducks who have chosen an island in the Boston Public Gardens to make a home for themselves and raise a family.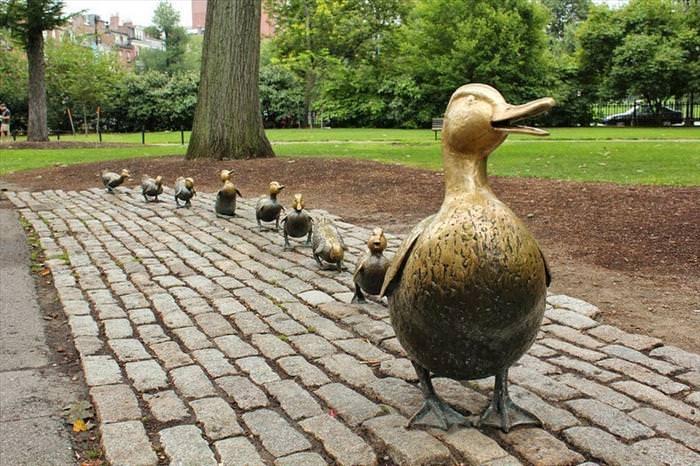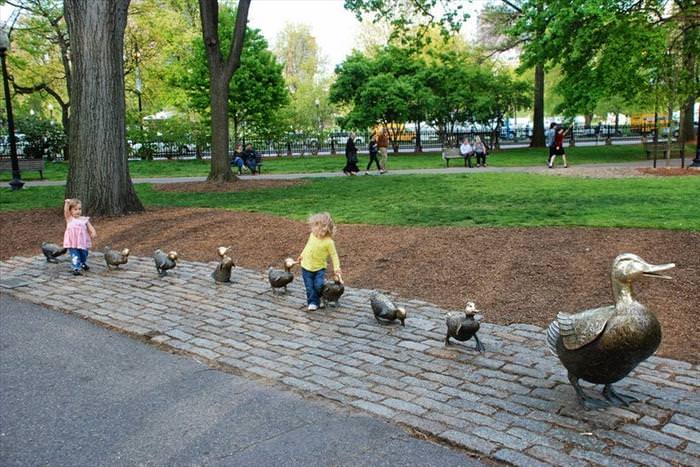 Town Musicians of Bremen
, Bremen, Germany.
No list like this is complete without at least one reference to the Brothers Grimm, and indeed this statue comes from a Brothers Grimm fairy tale about a group of animals that leave their masters for a life of freedom. On their way, they drive away robbers that have taken over a cottage. The statue shows the animals standing on each other's back, just like they did in the story in order to scare away the robbers.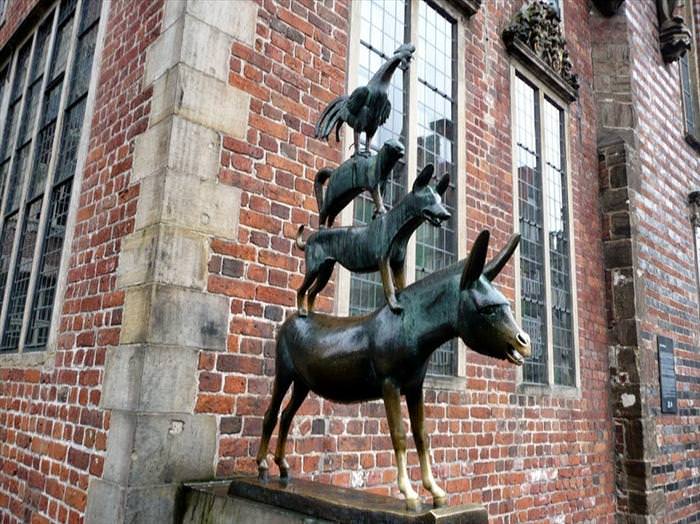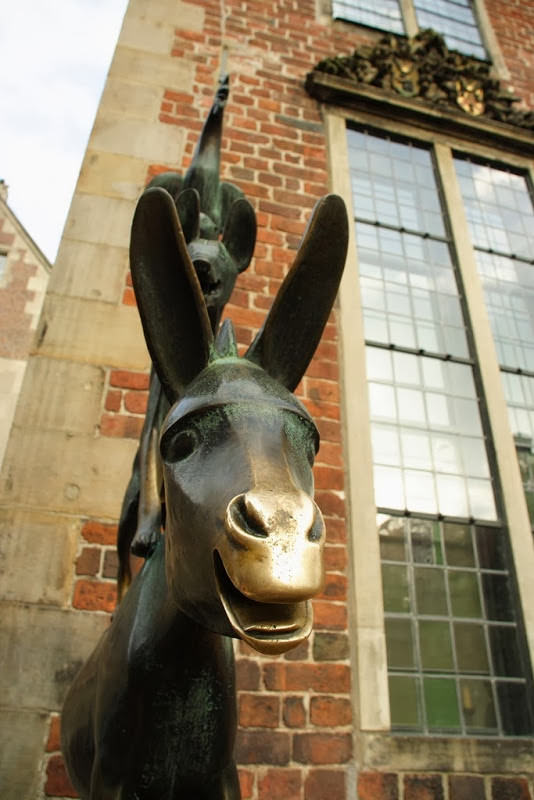 The Pied Piper of Hamelin
, Hamelin, Germany.
Did you know that there was an actual Hamelin? Well there is, and the little town was made quite popular in Germany following the famous story, which harks back to the middle ages.
Acccording to the story, in 1284 the town has an terrible infestation of rats. A mysterious man in colorful clothes appeared and agreed to get rid of the rats for gold. He used his pipe to hypnotize the rats and lead them to water so they drowned. After he did so, the mayor refused to pay him his due, and so the man swore revenge, and he did, hypnotizing the children of Hamelin and leading them away with him, never to be seen again.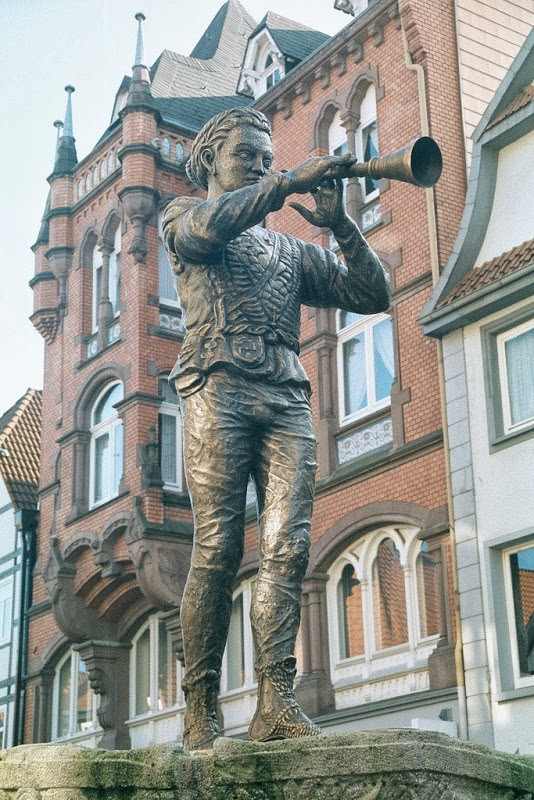 All around the little town, visitors can find sculptures, logos and signs of rats and Pipers alluding to the famous tale.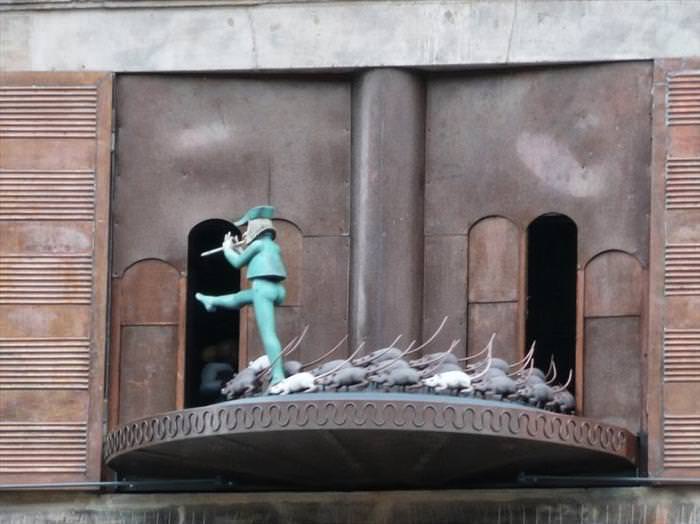 Submitted by user: Jamie D.