Welcome one and all to the Librairie Mollat, one of the independent bookstores and libraries where many still congregate in France. With over 300,000 books stacked on their shelves, Librairie Mollat has a book for everyone! In addition to movie screenings and book readings, this store is known for one particularly fun activity. Each customer is matched with a book cover that combines well with them, so the customers get a chance to become a real part of these books! Just take a look for yourself, and dive into the fun!
1. When your hair matches her face!

2. They say I have a face made for drawing

3. There's always time for a fruity snack

4. I told them I wanted to look younger. This might be too young!

5. And according to this book, To the Youth Folly!

6. My resemblance to Brad Pitt is uncanny!

7. Her eyes look so very sad

8. I took my red curls with me into the past!

9. It's a perfect match!

10. How do you say, "I am the Queen" in French?

11. What really goes on in this man's mind

12. The young lady seems so very demure and coy

13. And this one seems to be lost in thought!

14. The power of braids!

15. My beard is one-size-fits-all

16. Don't think too much! We're trying to brainwash you!

17. That glorious mustache completes this image perfectly

18. A beret for any occasion!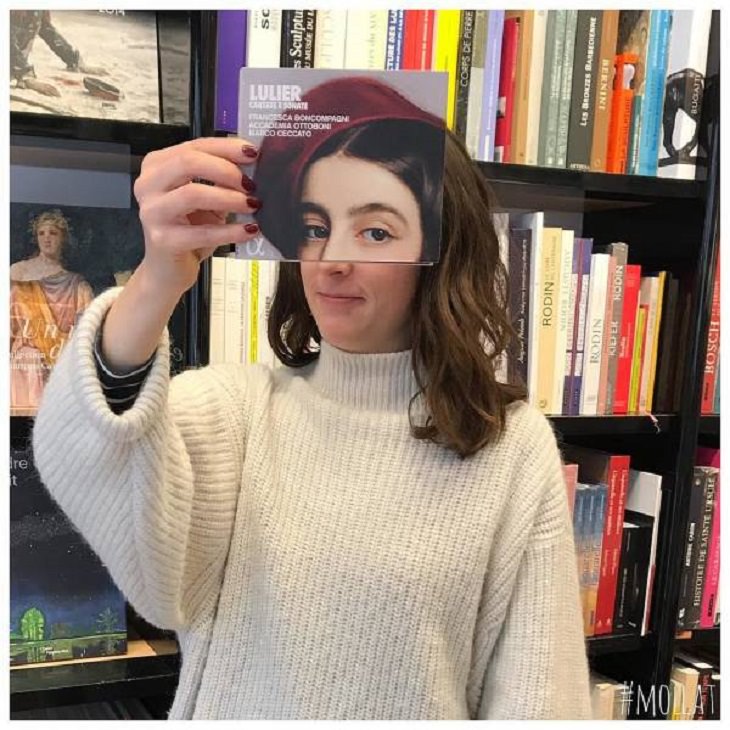 19. The similarity is absolutely undeniable!

20. Hiding behind her hand