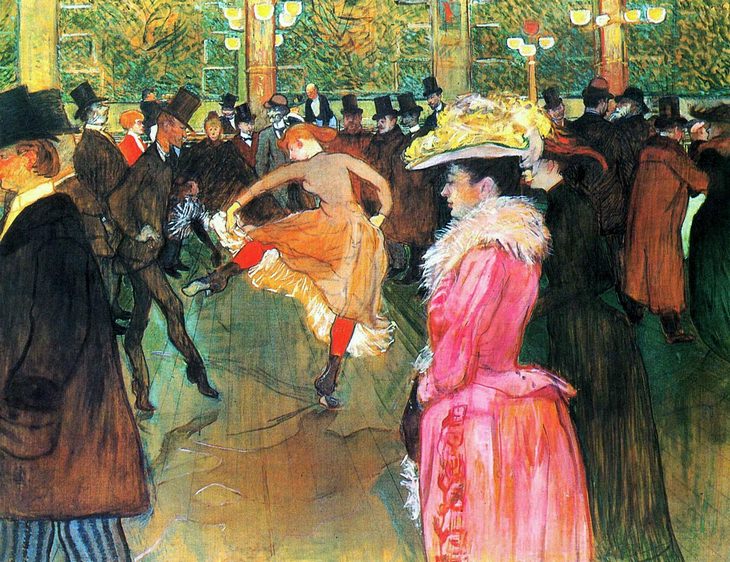 At the Moulin Rouge, The Dance, oil on canvas, 1890
Early Life
Henri Marie Raymond de Toulouse-Lautrec-Monfa was born on the 4th of November, 1864, to an aristocratic family. His childhood and later adult ailments are attributed to the history of inbreeding in the family, a common occurrence in aristocratic families at the time – Toulouse-Lautrec's parents were first cousins, meaning his grandmothers were sisters.
After breaking both femurs in his teens, his legs never healed properly and consequently stopped growing. When he matured, he was five feet tall with the legs of a child and a torso of a grown man. While his father was absent for most of his life, his mother was always his biggest supporter.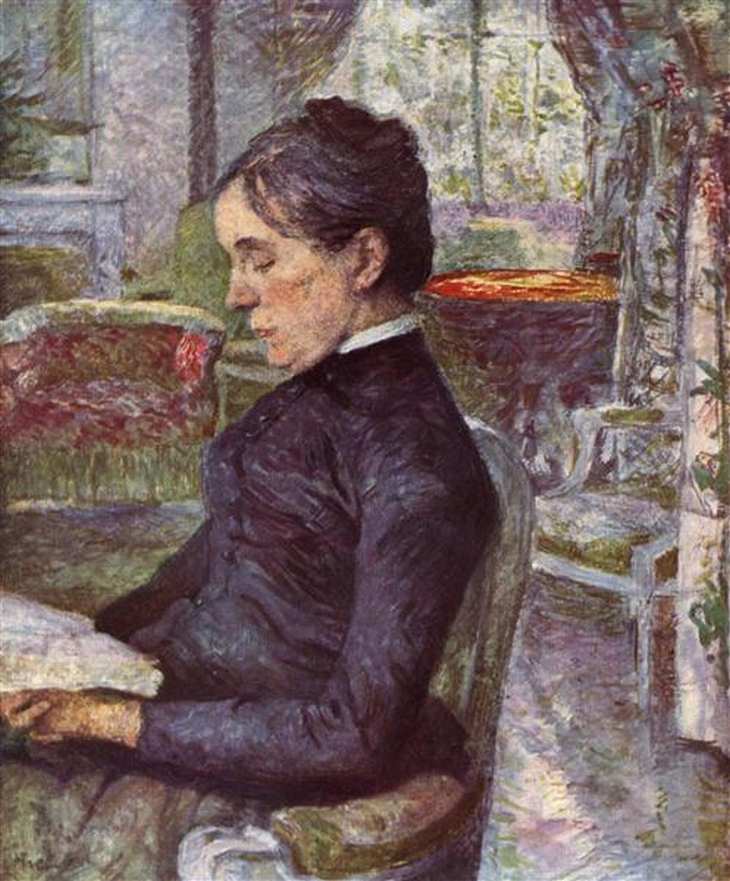 Portrait of Countess A. de Toulouse-Lautrec, oil on canvas, 1886
He started painting as a child, while an illness kept him bedridden at the family estate in Albi in southern France. His favorite subject as a child was horses, probably inspired by his first teacher Rene Princeteau, a close family friend who painted fashionable sporting pictures.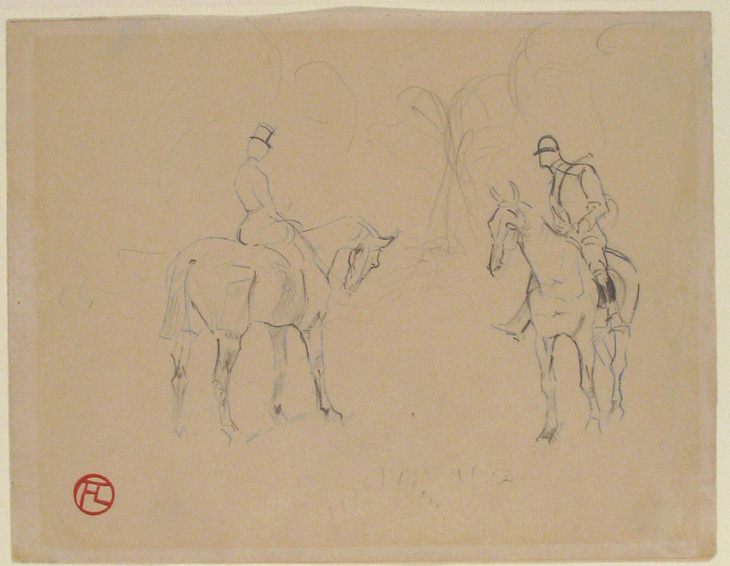 A Woman and a Man on Horseback, graphite drawing, 1879
His fascination with horses remained throughout all of his career.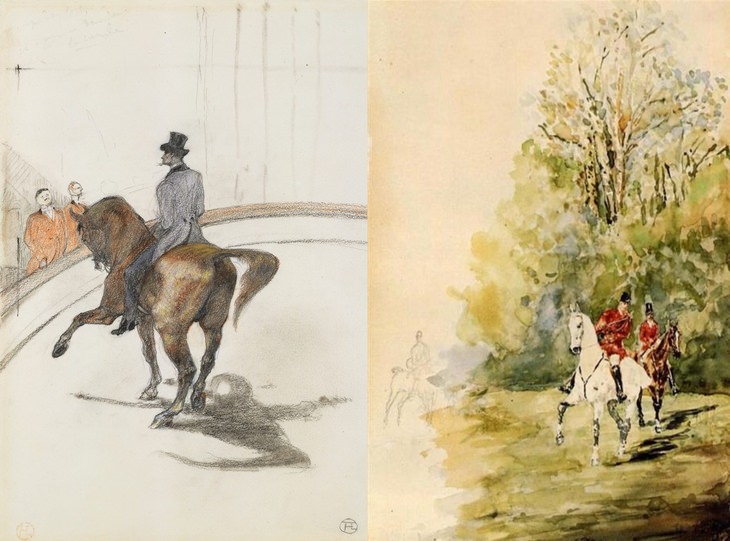 Left: At the Circus: A Spanish Walk 1899, Right: Hunting 1880
Related Article: Artist Profile: O.G. Rejlander, the Founder Of Fine Art Photography
The Years in Paris
When he was 18 years old, Lautrec moved to the bohemian Montmartre district in Paris. Despite being born an aristocrat, he mainly socialized with those considered in the margins of society – prostitutes, acrobats, and crooners. He considered them family, and they affectionately called him 'the Coffeepot' in reference to his stature.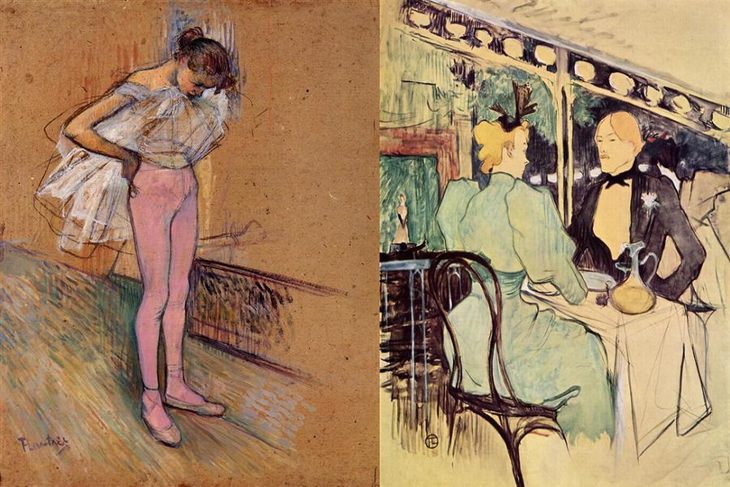 Left: Dancer Adjusting her Tights, oil on board, 1890, Right: The Ambassadors, People Chics 1893
Toulouse-Lautrec rejected the prestigious Ecole des Beaux-Arts due to its academic and traditional methods. Instead, he took lessons in the studio of painter Leon Bonnat, and later he studied with painter Fernand Cormon. The latter was less strict and encouraged his students to explore their surroundings and find subjects for painting on their own. One of Lautrec's favorite models during those days was a prostitute nicknamed La Casque d'Or (Golden Helmet)
.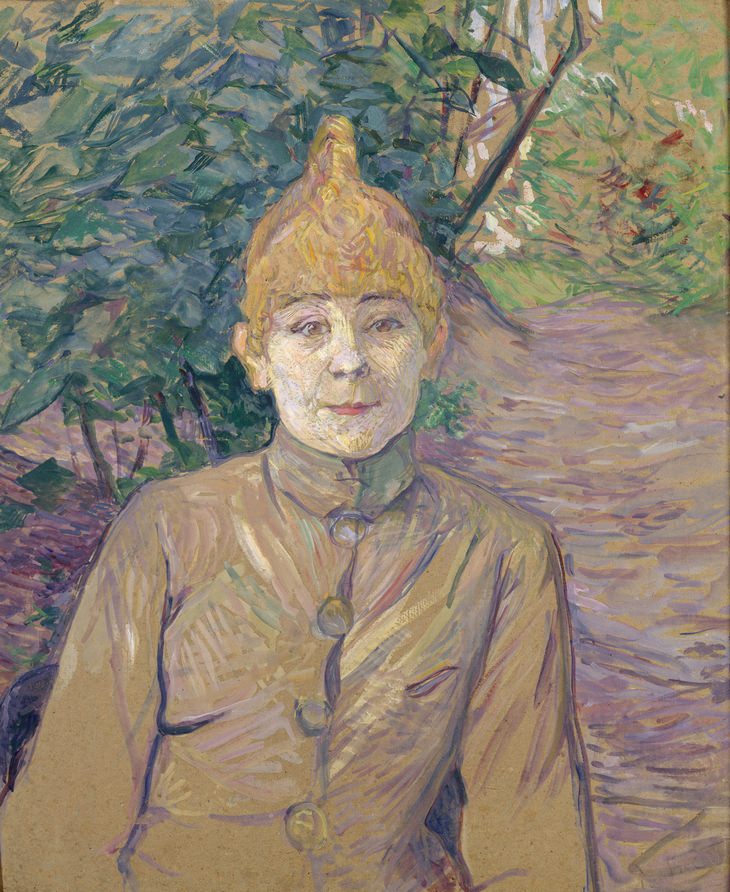 The Streetwalker (also known as Casque d'Or), oil on cardboard, 1891
Toulouse-Lautrec was known to be kind, generous and sympathetic to his friends and art models. Later in his career, he created a whole series of prints dedicated to life inside brothels called 'Elles'. He humanized sex workers and focused on their feelings of isolation, sadness, joy, and friendship.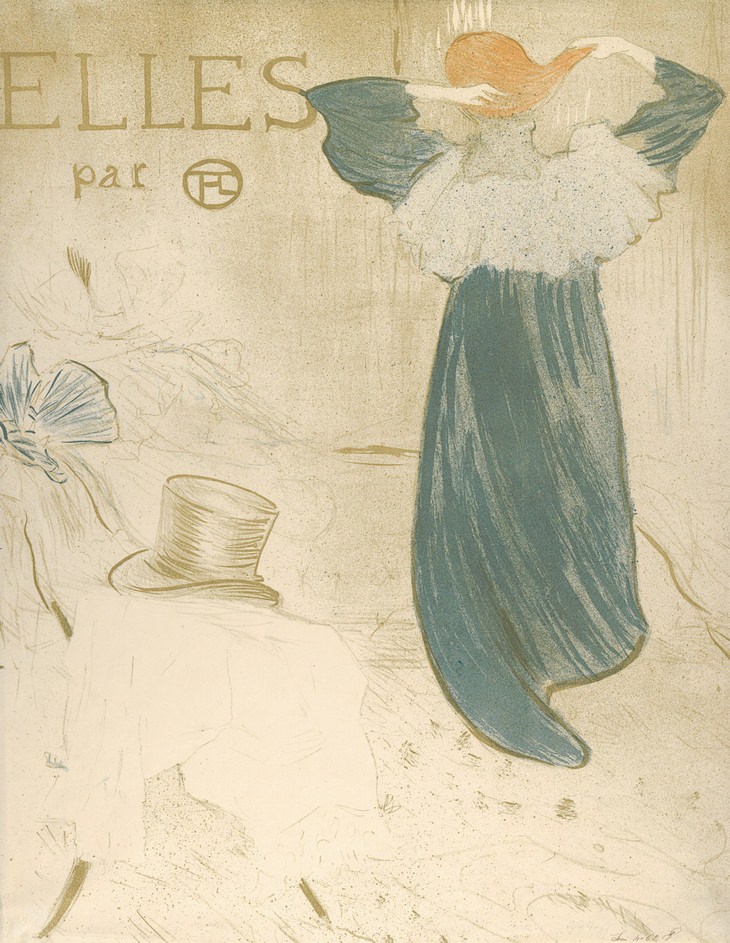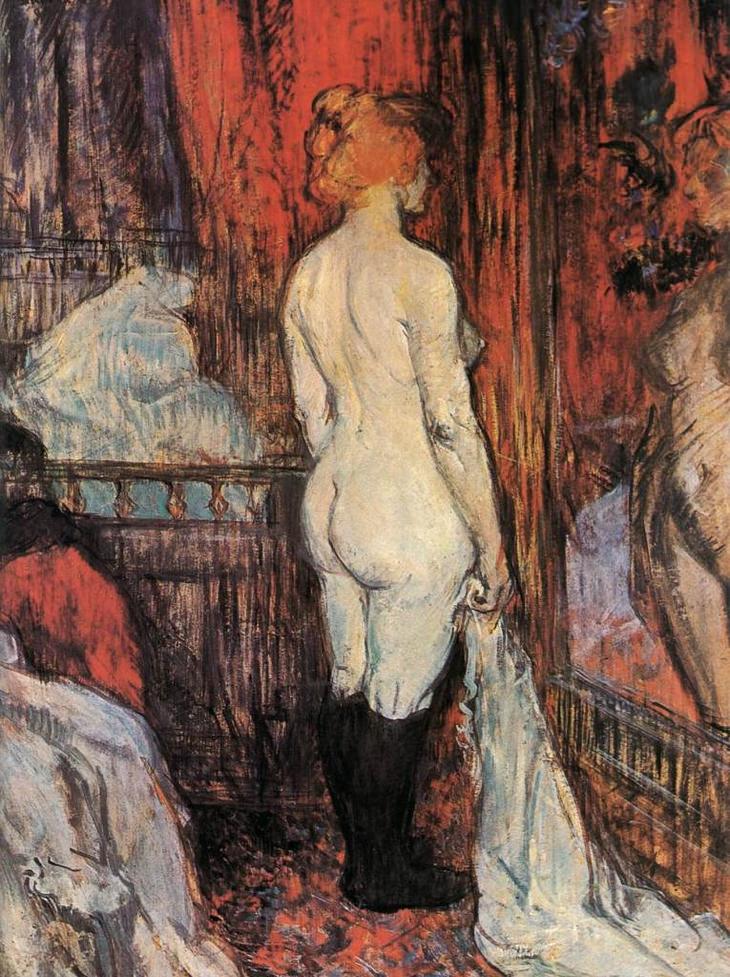 Nude Standing Before a Mirror, oil on cardboard, 1897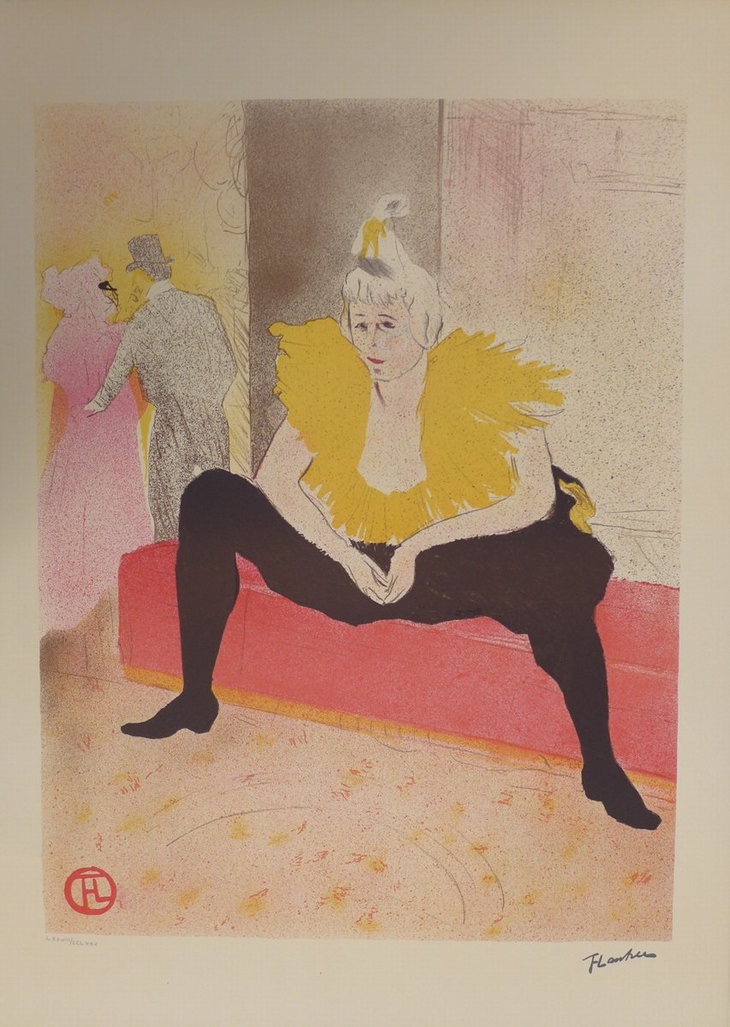 They Cha U Kao, Chinese Clown, Seated 1896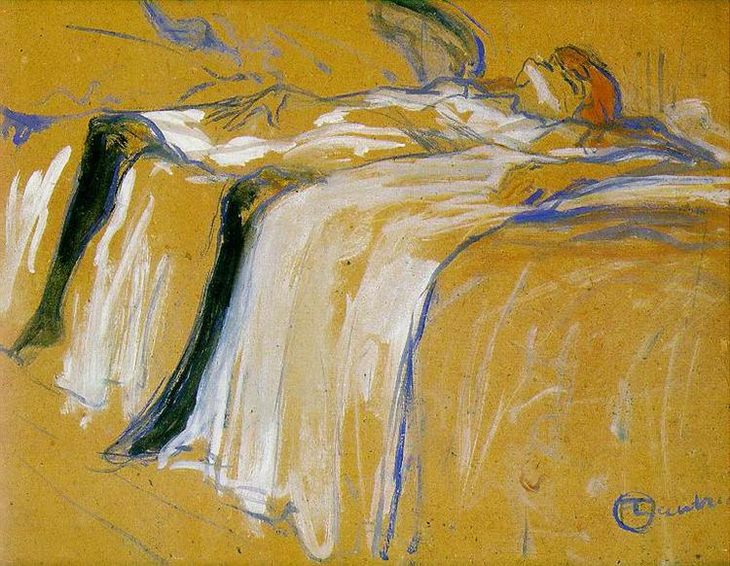 Alone, oil on cardboard, 1896
The Posters
While being an undoubtedly talented post-impressionist painter, Toulouse-Lautrec's innovations lie in his prints and posters. The technique of lithography (the process of printing an image drawn with oil or wax onto a flat smooth surface) allowed him to create larger prints with bolder colors and textures. He tweaked the method and came up with a few unique printing techniques of his own, and was the first and most successful artist to utilize the medium of advertising to make fine art.
The posters he created for the Moulin Rouge were so popular, some people collected them during his lifetime.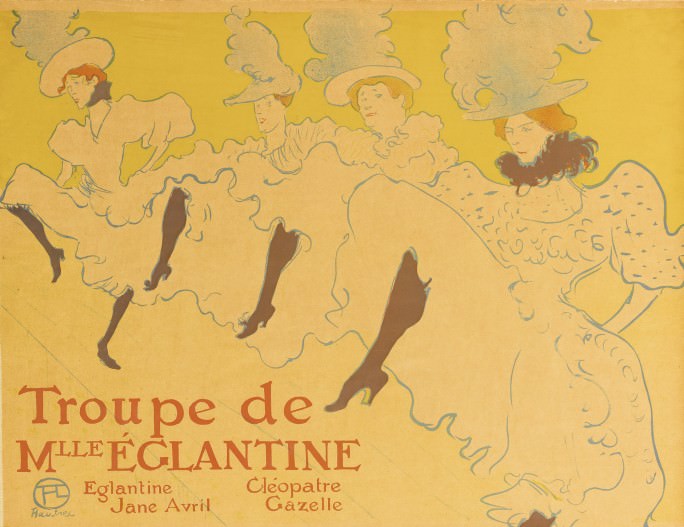 Troupe de Mlle Elegantine, poster, 1896
Divan Japonais features two of Lautrec's favorite Montmartre stars - Yvette Guilbert and Jane Avril. Avril is the spectator, easily recognizable by her hat - she was a fan of extravagant hats and was rarely seen without one. On stage, is the headless body of Guilbert, with her lean physique and trademark black gloves. Lautrec was known for being able to capture the essence of peoples' personalities, which also made him a talented caricaturist.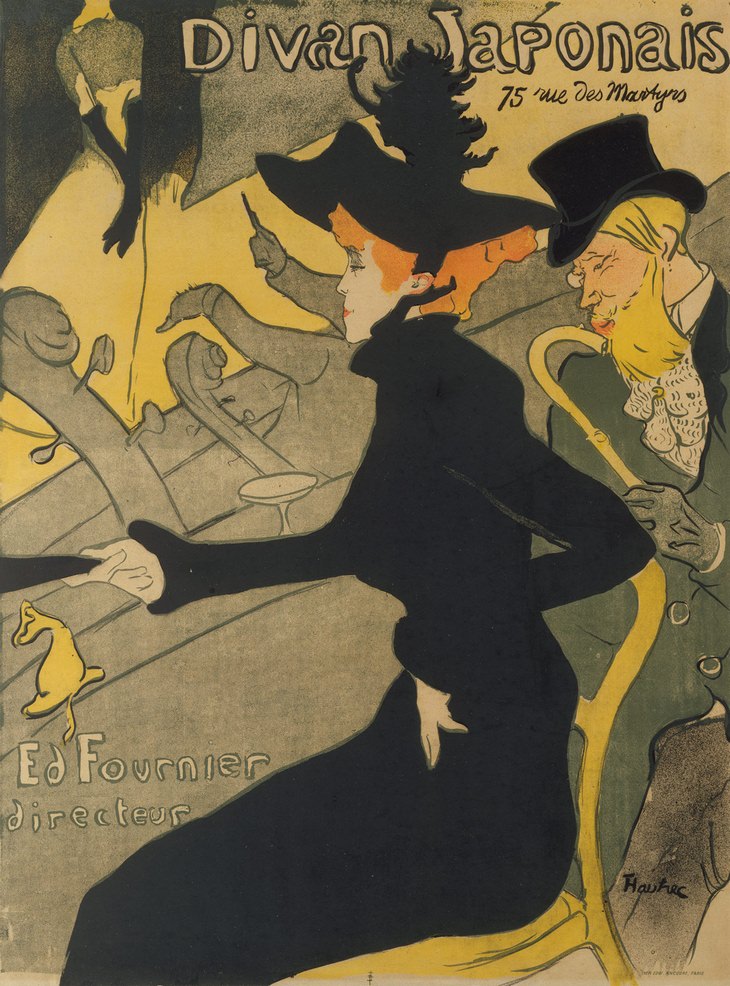 Divan Japonais, poster, 1893
This print depicts the dancer Louise Weber, nicknamed La Goulue (the glutton). She is credited with inventing the French cancan.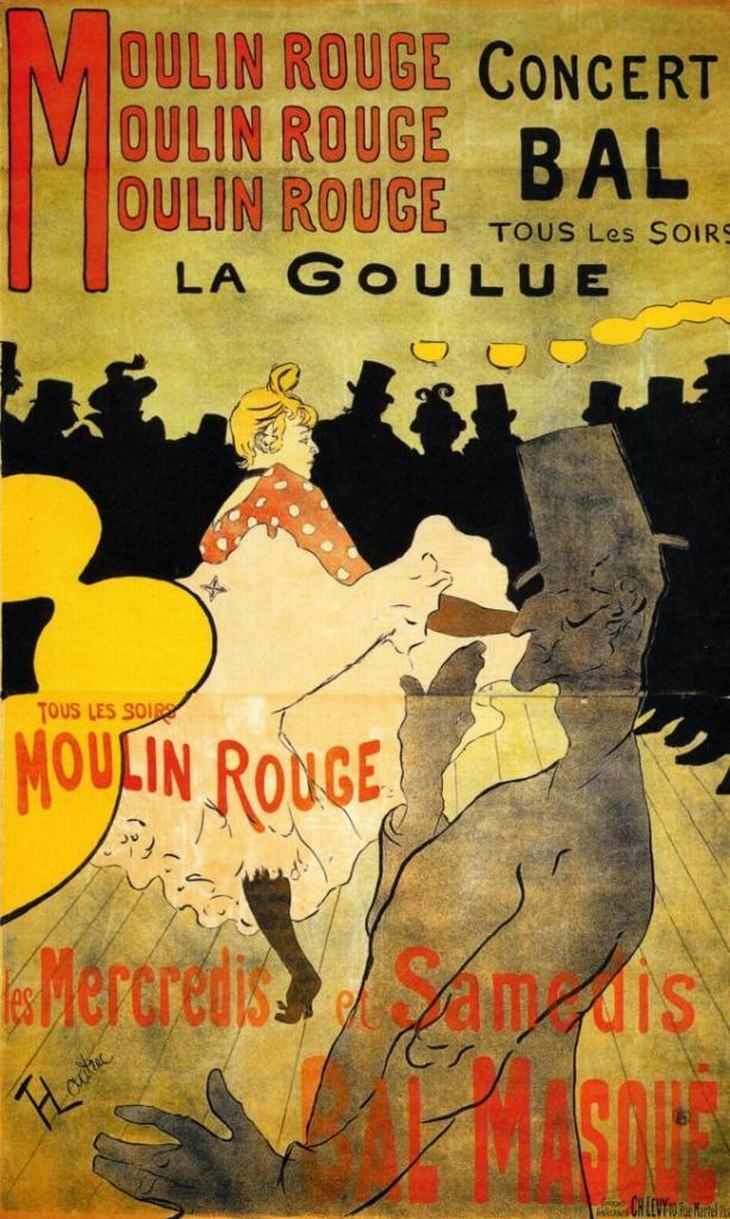 Moulin Rouge La Goulue, poster, 1891
The Final Years
Toulouse-Lautrec became close with Oscar Wilde while working in London during the 1890s. He remained a vocal supporter when Wilde was charged and tried for gross indecency in 1895. He completed this portrait from memory a night before the trial itself, as Wilde was too anxious to sit for it.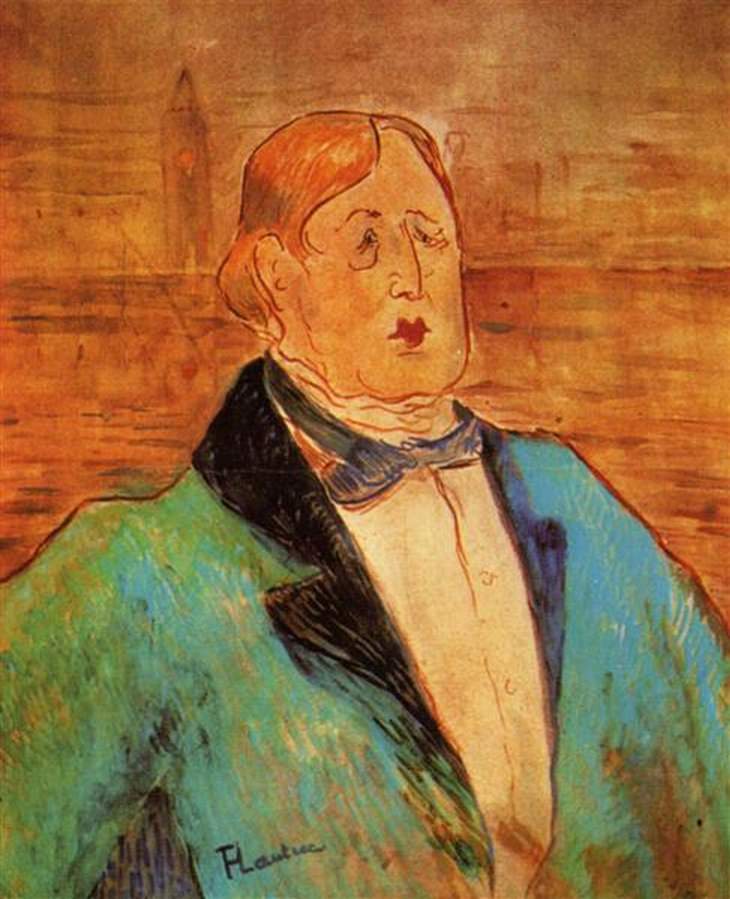 Portrait of Oscar Wilde, 1895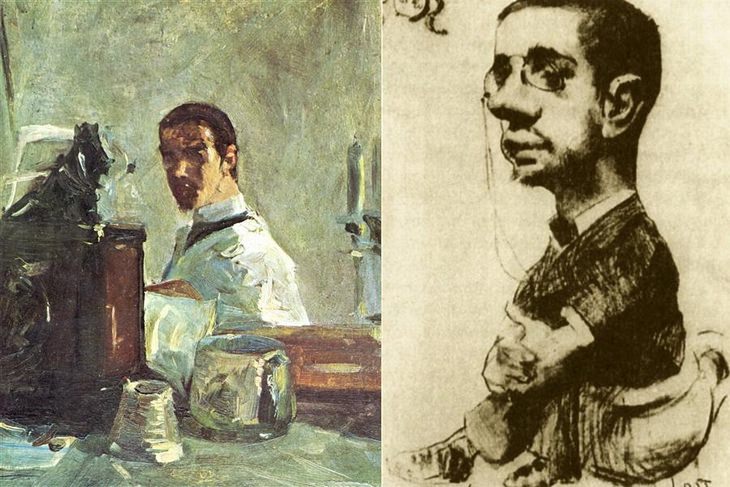 Left: Self-portrait in front of a mirror 1883, Right: Self Portrait, 1882
Lautrec died on September 9th of a stroke caused by complications of his ailments. It was said that his father, who did not approve of his son's lifestyle and essentially disinherited him, arrived at Lautrec's bedside shortly before his death. Upon seeing him, Lautrec remarked, "I knew, father, that you wouldn't miss the killing!" After his father did not respond Lautrec uttered "the old fool!". Those were reportedly his last words.
His mother continued to promote his art after his death and created a museum of his works in his birthplace of Albi. It still exists today and houses the largest public collection in the world of Lautrec's work.