All-Terrain Vehicles (ATV's), as the name would suggest, are vehicles designed to handle a wide variety of terrains, and are also known by the names quad, quadricycle, four-wheeler, four-track and in some cases, three-wheeler. These incredible vehicles let you go wherever you want, whenever you want and are designed to let the adventurer in you come out. Whether you're looking to pack up endless amounts of gear for a trek or traverse across endless swampy lands, your choice of ATV can help you reach that goal. These 15 ATV's on the market come with their own unique upsides and can make even the most hostile terrains a piece of cake to cross.
1. BVS10 BEOWULF ALL-TERRAIN TRACKED VEHICLE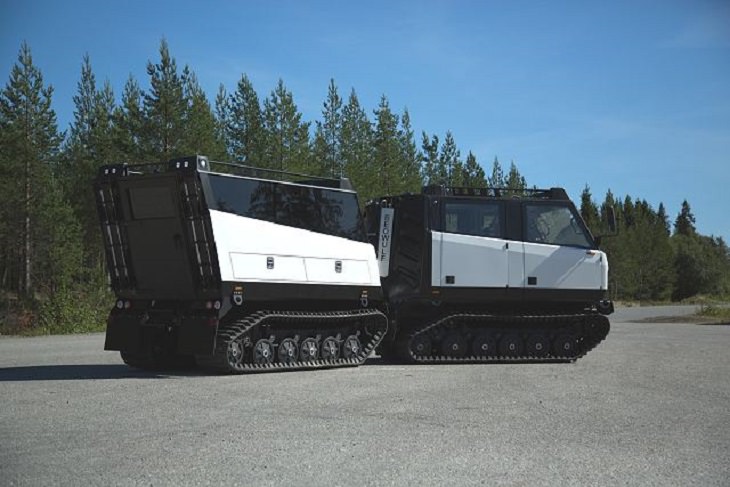 Image Source: (www.armyrecognition.com)
This Swedish ATV was designed for enhanced tactical and strategic mobility. It's highly ergonomic yet spacious, providing optimum crew comfort as well as easy transport over long distances by air or sea. The Swedish Army purchased 10 of these vehicles for the hefty price of $14 million.
2. RIPSAW EV2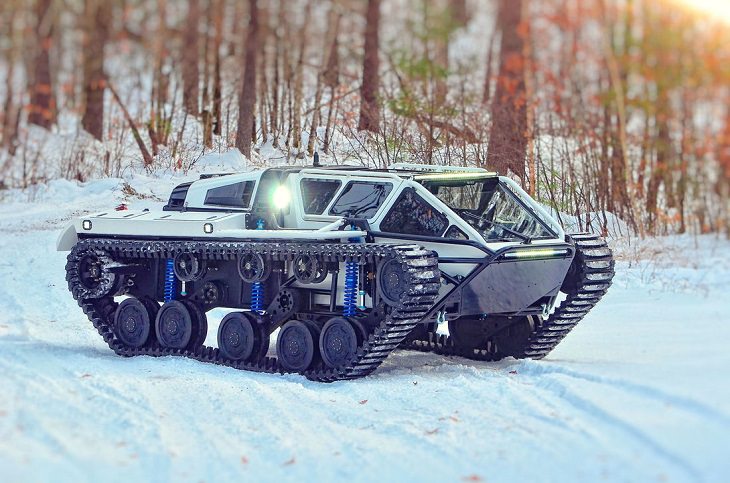 Image Source and Cover Image: (www.ripsawtank.com/)
This ATV was designed for extreme off-road travel and is quite possibly the fastest dual tracked vehicle currently on the market. This vehicle has a military-grade based platform and has been known to reach speeds upwards of 60 mph. This light vehicle has a starting cost of $400,000
3. SHAMAN 8 WHEEL ALL-TERRAIN VEHICLE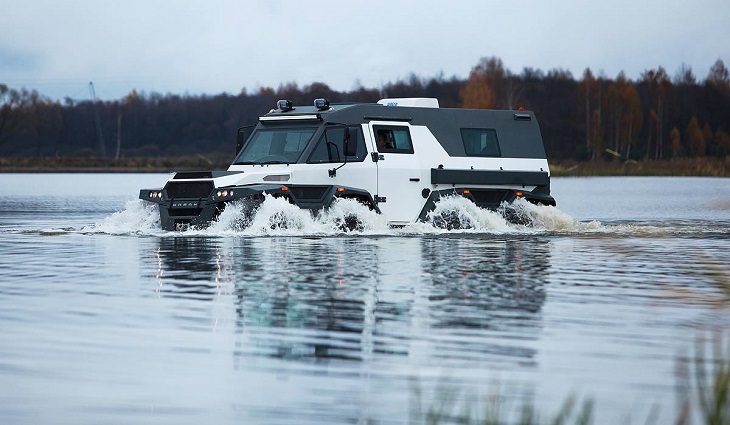 Image Source: (avtoros.info)
This 8 wheel drive is an amphibious vehicle and perfect for the more challenging adventures. The Shaman has a variety of different modes that allow it to do everything from climbing and rolling to floating. In water, its top speed is 1.3 mph and 44 mph on land. The base rate for this vehicle is $200,000.

4. SHERP ATV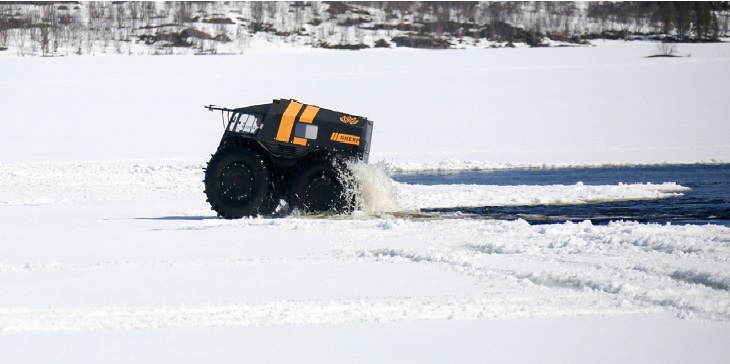 Image Source: (sherpatv.com/)
The SHERP ATV is off-track and for even the most difficult terrain. What makes this vehicle perfect for long trips and more adventurous journeys is that it's designed to be easily repaired with a few tools, and only minimal knowledge required. The running price for this vehicle is $65,000.
5. GIBBS TERRAQUAD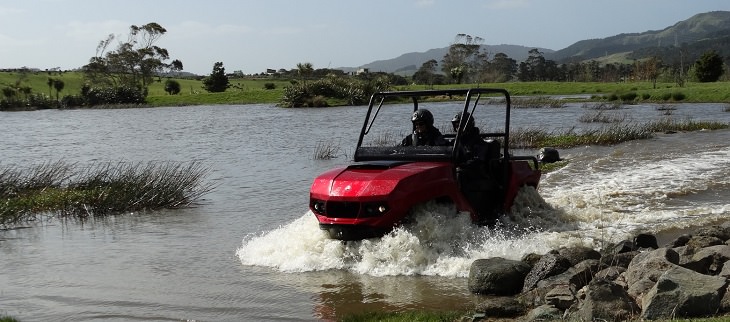 Image Source: (gibbssports.com)
Here's an ATV that is a beast on land and water. On land, it can reach speeds of approximately 50 mph. However, it is most impressive in the water. It is equipped with a waterjet that propels the vehicle forward in the water at high speeds of 45 mph. It provides seating for two people, as well as a small bed. It can be purchased for the high price of $40,000.
6. TINGER TRACK S500 ATV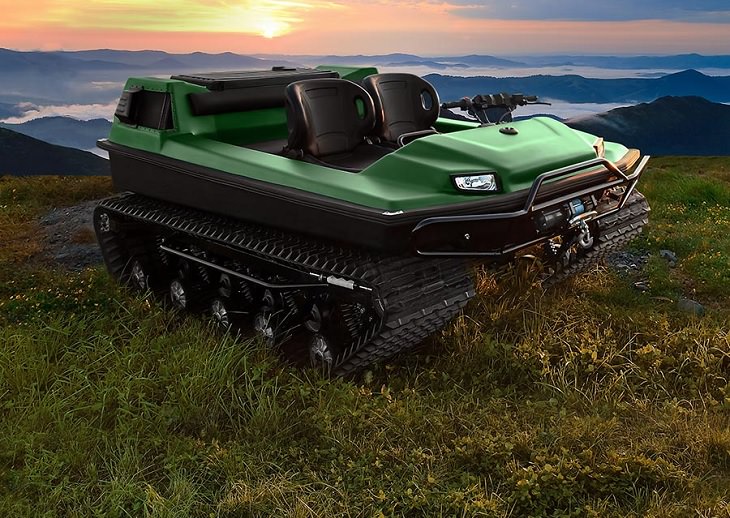 Image Source: (tingeratv.com)
This vehicle is a multifunctional super ATV, that has a combination of transport and work functionality, toughness for rough terrains, snow-resistance for icy areas, amphibious properties and finally the steadiness of a swamp buggy to endure passage through swampy areas. This ultimate adventuring vehicle is perfect for the professional traveler and sells at only $22,000.
7. CAN-AM COMMANDER MAX LIMITED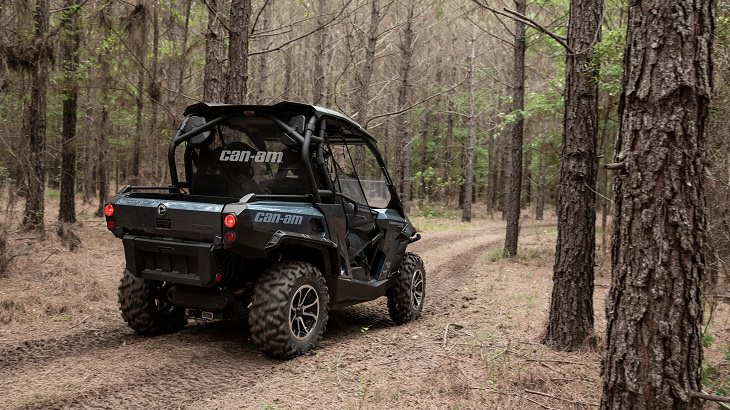 Image Source: (can-am.brp.com)
The Can-Am Commander is the perfect luxury ATV and is ideal for group trips as well as family outings. It's large enough to comfortably fit 4 people and up to 5, and also comes with an in-built 4 speaker sound system. This ATV will give you one of the smoothest rides of your life and is sold at $21,700.
8. FRONTIER 750 SCOUT 8×8 BY ARGO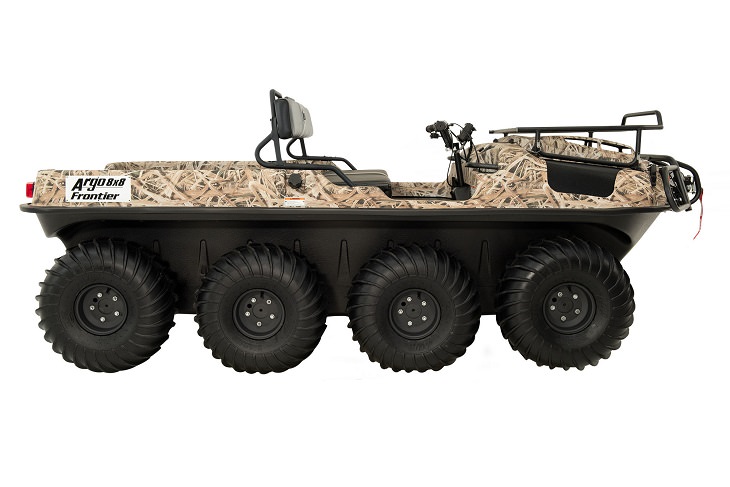 Image Source: (argoxtv.com)
Unlike the Can-Am Commander, the Frontier Scout brought to you by ARGO, does not have a sedan-like feel to it. However, it offers instead clean and dependable power along with easy maneuverability. It is also designed to propel itself through water, making this $20,000 ATV perfect for even the harshest terrains.
9. ARCTIC CAT WILDCAT X EPS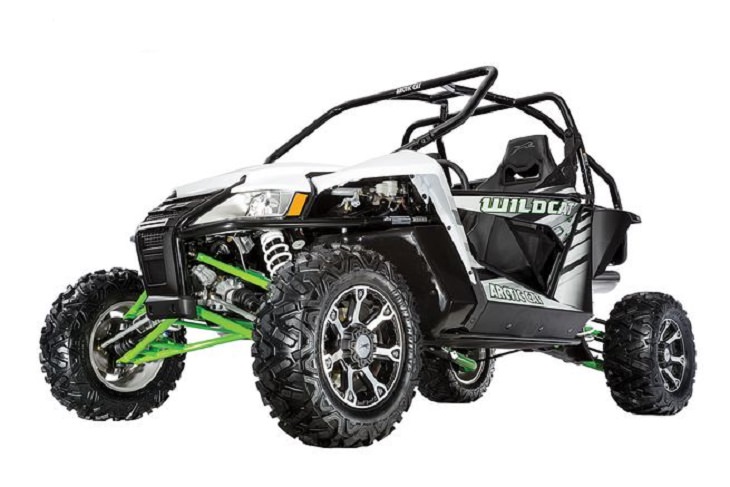 Image Source: (www.utvdriver.com)
This beefy ATV comes in a wide variety of colors and is specifically designed for carrying heavy loads of hostile terrains. The tires have been fitted with a 1-inch space, which allows up to 300 pounds to be fitted in the trunk of the vehicle. For $18,800 you can pack every inch of this ride with gear before starting your journey.
10. JOHN DEERE RSX HIGH-PERFORMANCE GATOR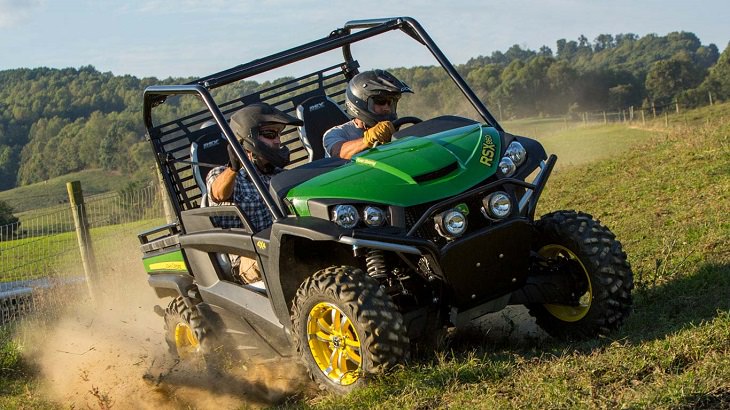 Image Source: (www.deere.com)
This utility ATV is another innovation of John Deere and is designed for speed, maneuverability, and heavy loads. Its towing capacity is approximately 1200 pounds and it can reach top speeds of 53 mph, while still making it around tight corners. At $14,000, this ATV is a high-class adventurers best purchase.
11. GRIZZLY EPS SE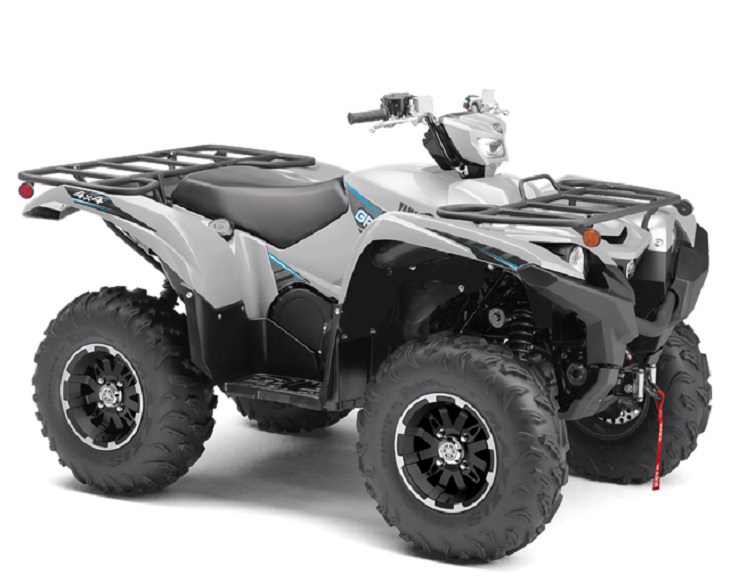 Image Source: (www.yamahamotorsports.com)
This ride comes with the ultimate ultramatic transmission, with a gated shift, dual-range drive, and reverse gear, optimizing its performance. It is designed for ideal balance on rough terrains and with 14-inch aluminum wheels, can make it across any landscape. For $11,000, this highly responsive vehicle will make you the conqueror of all the off-road experiences.
12. KINGQUAD 750AXI POWER STEERING SE+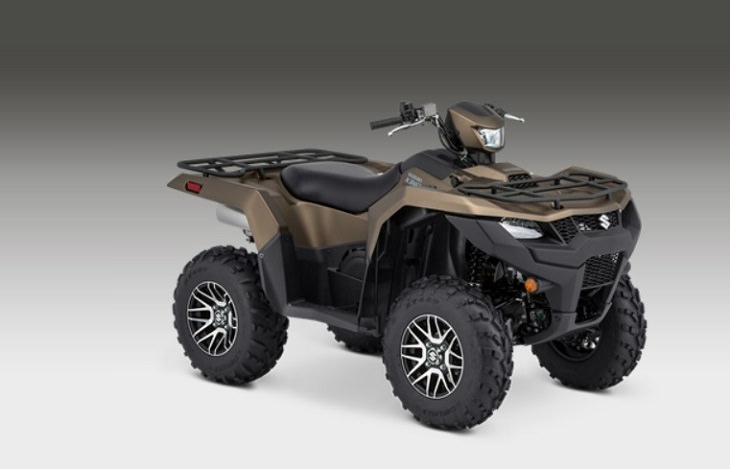 Image Source: (www.suzukicycles.com)
Here's another utility vehicle designed for both performance and aesthetic with edge matte-finish bodywork and a smooth accelerator. It comes with an emissions-compliant, fuel-injected engine and a unique transmission system. This $11,000 vehicle lets you take 1300 pounds in tow on virtually any terrain.
13. KAWASAKI BRUTE FORCE 750 4X4I EPS CAMO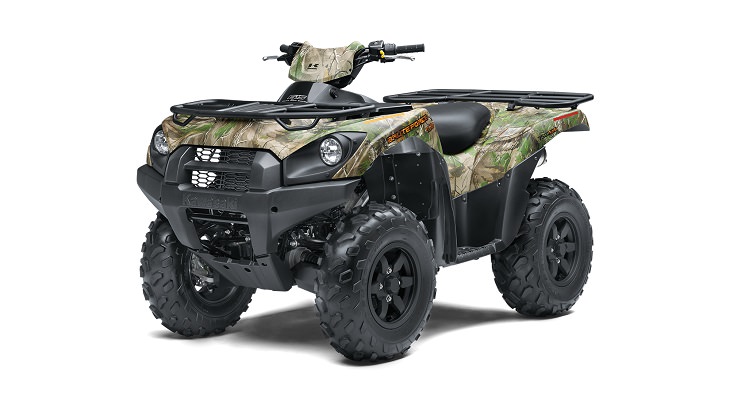 Image Source: (www.kawasaki.com)
The name Brute Force aptly suits this vehicle, which is equipped with a twin-engine. This engine, along with the chassis control, allow for great torque, full-day use, and the ride even comes with electronic power steering. It is designed for high-performance off-track traveling. This ATV is a steal at $11,000.
14. ARCTIC CAT DIESEL 700 SUPER DUTY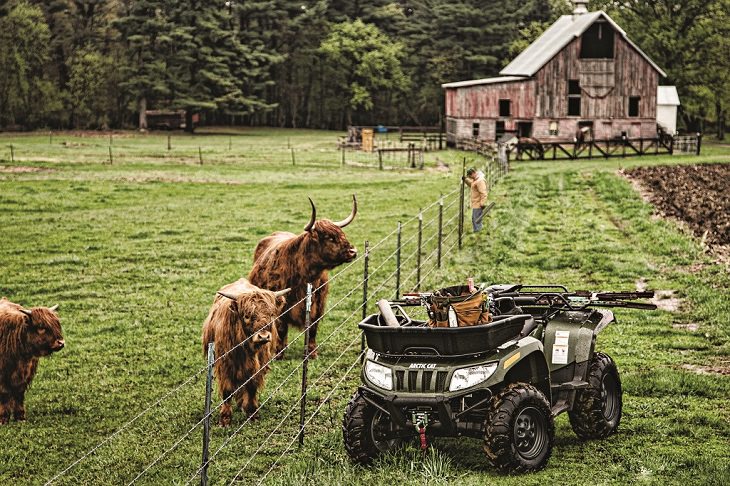 Image Source: (rocksandruts.com)
Here is another heavy lifter, built for towing a minimum of 1000 pounds of cargo across any terrain. This vehicle also has an electronic 2/4 wheel drive that comes with a differential lock. That combined with its 2-stroke engine also gives it some solid torque. This ATV is both a climber and a smooth rider. It sells at approximately $11,000.
15. HUNTVE SWITCHBACK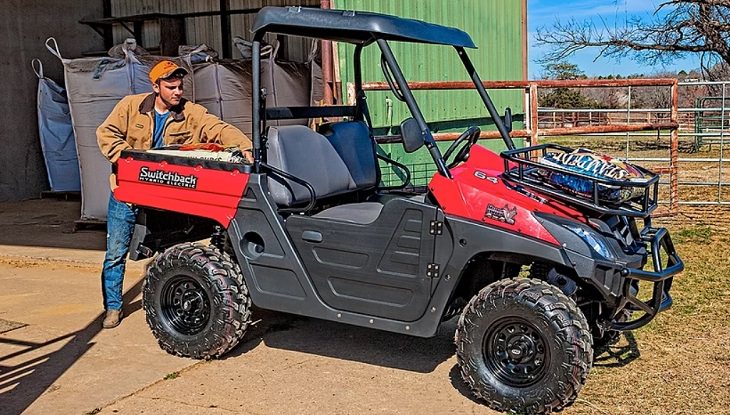 Image Source: (www.huntve.com)
This beautiful beast is a hybrid vehicle designed for silent travel as well as out-of-bounds hill-climbing. It makes use of a gasoline engine, which is completely backed up by an electric generator, which makes for a far more environmentally friendly vehicle. This vehicle burns fewer fossil fuels even in full 4 wheel drive mode, and in electric mode, offers silence and stealth. You can purchase this ATV for $9,600.