In this fast-paced modernizing world, houses are being made closer together, peeping toms are becoming increasingly bold, and we've got drones swerving around every corner and social media displacing our information across the oceans in a heartbeat. So naturally, it is becoming increasingly difficult to maintain your privacy. Have no fear, you don't need to build eyesores like fences and walls to keep prying eyes out of your home. Just pick a few of these 8 popular and fast-growing privacy bushes, that will add green to your garden and peace to your mind.
1. Camellia (Sasanqua camellia)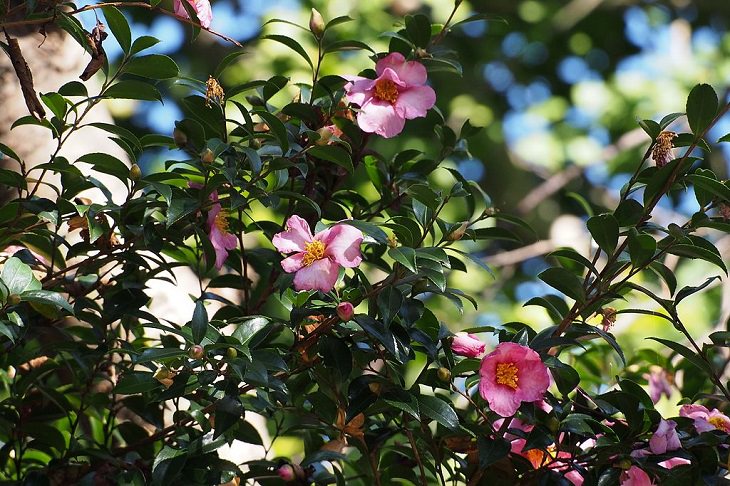 (By harum.koh, Wikimedia Commons)
Camellia is an excellent addition to your yard, your vision and sense of security, and has numerous fast-growing varieties in the US. It is one of the most popular privacy plants due to its colorful foliage and flowers and has been recognized as the official state flower of Alabama.
The blooms of this plant come in a variety of smaller sizes, from 1 inch to 5 inches, though the full shrubs can grow as large as 12 feet in both height and width. They are well known for the pink, orange, and red flowers that blossom.
Camellia shrubs are easy to maintain and only need to be trimmed after the flowers have blossomed. The flowers bloom faster in warmer climates and usually start blooming towards the end of summer. The plant will continue to bloom well into fall, and in some cases even through winter. The shrub itself is evergreen.
2. Red Twig Dogwood (Cornus sericea)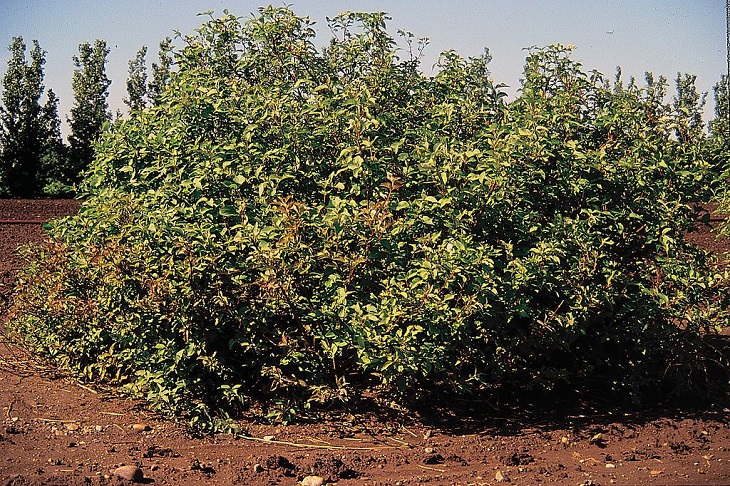 (By USDA-NRCS PLANTS Database, Wikimedia Commons)
These shrubs provide color and life all year long, with white berries blooming in the summer and fall, and the wintertime being dominated by the stunning red branches that add color to the white season and give this plant its name. They require moist soil conditions and grow best in partial sun.
Red twig dogwood plants are the ideal plants for privacy, growing eight feet in both length and width. They are best placed lining the perimeter of your home and provide not only natural color but natural cover from prying eyes.
Red twig dogwoods are not to be confused with other types of dogwood trees and require less maintenance. As they grow year-round, they require only occasional pruning during the winter, to get rid of twigs dulling in color.

3. Dwarf Pink Almond (Prunus glandulosa)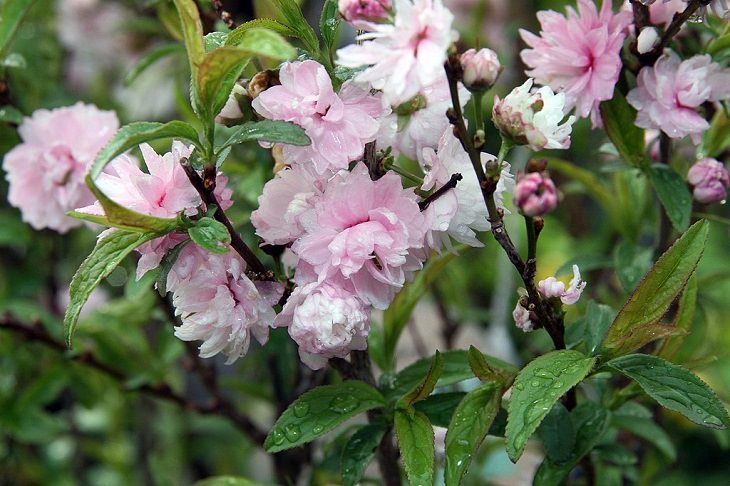 (By David J. Stang, Wikimedia Commons)
Here's another colorful addition to the greenery surrounding us. With a name like "dwarf pink almond", one might question its use in protecting your privacy. However, this shrub tends to grow between 3 to 5 feet, and upward.
Unlike the red twig dogwood, this precious plant needs well-drained soil and lots of sun. Dwarf pink almond plants can survive droughts well and grow effectively using artificial irrigation systems.
This plant has pink and occasionally white flowers that blossom during the spring. They require pruning only once a year, which is immediately after the blooming season ends. This will ensure the best growth of the larger shrub which requires older wood to grow.

4. Emerald Green Arborvitae (Thuja occidentalis)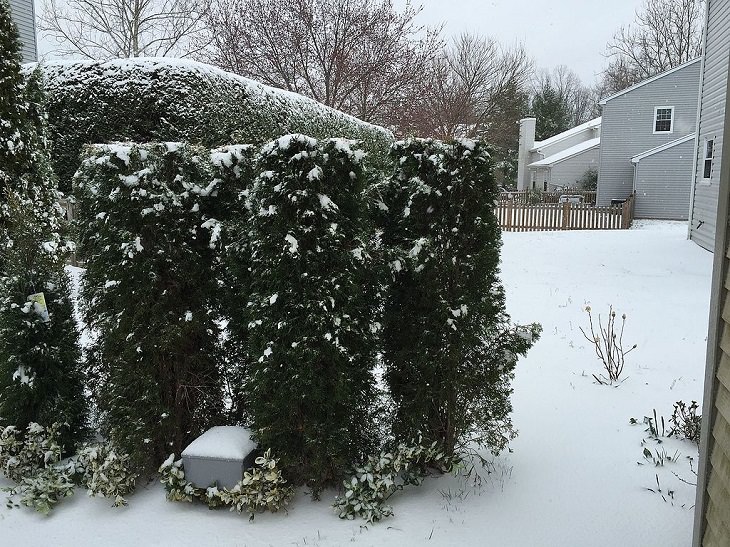 (By Famartin, Wikimedia Commons)
The name Arborvitae was assigned to this plant as a nickname in the 1600s, translating to "tree of life". This was due to the discovery that the leaves of this plant could be brewed into a tea that could treat scurvy.
This emerald green joy has a color that stays strong and vibrant even during the cold and white winter months. It is among the kings of the privacy shrubs, growing up to 15 feet in height in a very short time, and 3 feet in width.
It is an evergreen tree that continues to shine throughout the winter and requires well-drained soil to grow and full sun to reach its maximum potential. It needs to be watered only every 3-5 days and pruned in the early days of spring.
5. Lemongrass (Cymbopogon)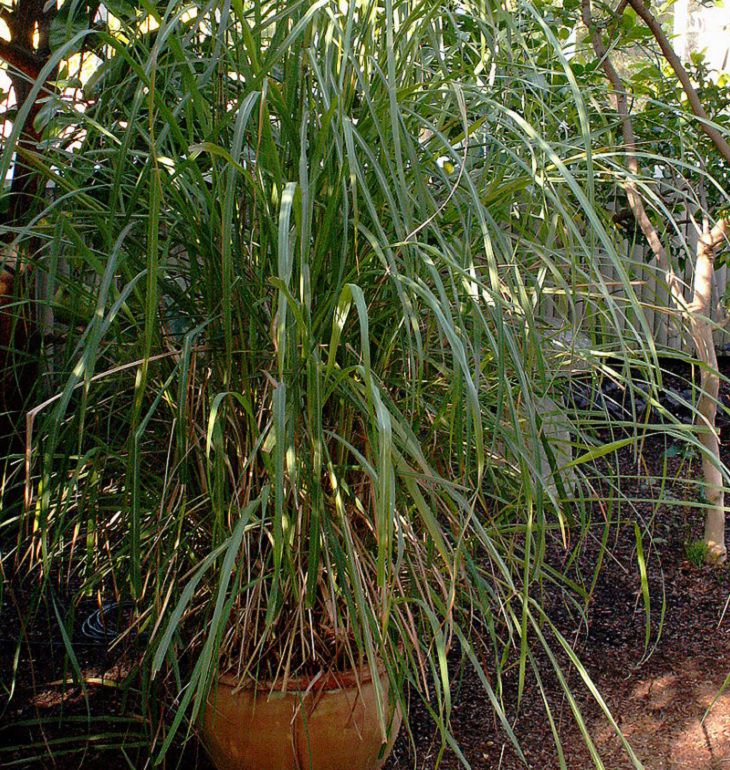 (By Cbaile19, Wikimedia Commons)
Lemongrass plants are comparatively smaller than the emerald green Arborvitae, but at 5 feet in height, remain an effective privacy bush. The major bonus of growing this plant is that it offers numerous other benefits.
To begin with, lemongrass emits a pleasant citrus scent that people can enjoy but animals tend to find pungent, thus keeping stray cats and mice away. Its leaves can also be used to make teas and oils which can improve the strength of the digestive system.
It also acts as an effective insect repellent, keeping mosquitoes and other smaller bugs at bay. It is best grown in soils with minimal moist, and can easily survive in hot and humid climates. Pruning is required only in early spring to maintain the size of the plant.
6. Beauty Bush (Kolkwitzia amabilis)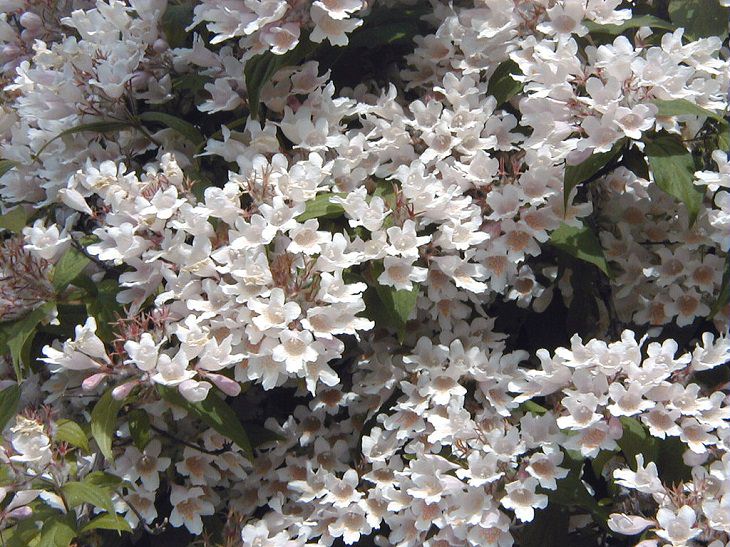 (By Cillas, Wikimedia Commons)
With this plant, you can enjoy a variety of colors for 3 out of 4 seasons. Beauty bushes grow relatively fast, sprouting up to 2 feet in height and width every year, and reaching a maximum size of 10 feet in both dimensions,
These plants also have an extremely enjoyable aroma and bloom pink and purple flowers in late spring and summer. In Fall, the color keeps coming, as the green leaves turn to a variety of shades of red and yellow.
As a relative of the honeysuckle plant, this bush is highly resilient and requires low maintenance. They can survive with less water and thrive under full sun exposure. The shrub needs to be pruned immediately after blooming.
7. Burning Bush (Euonymus alata)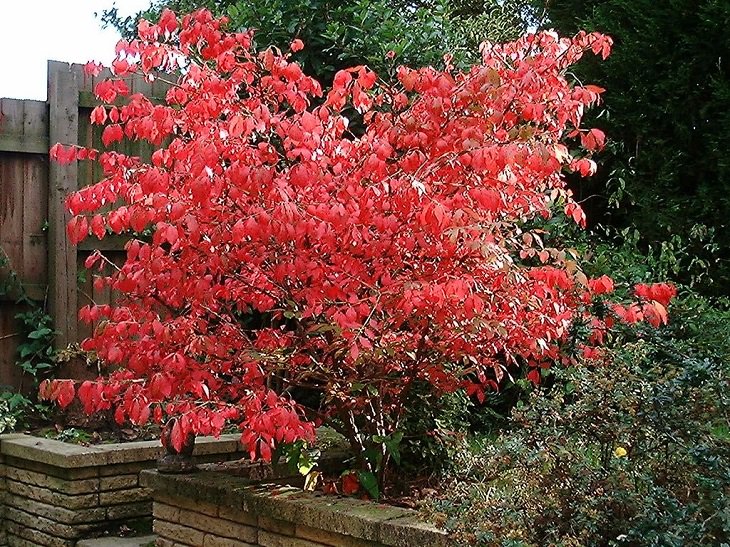 (By Chris Barton, Wikimedia Commons)
This bush gets its name from the bright colors of its foliage as well as the berries that grow on it during the Fall. In addition to its bright hues, this plant can grow 9 to 15 feet in both length and width.
Its size and color make it an ideal shrub for blocking any outsiders a view into your home. It can grow comfortably in any type of soil, though ideal conditions require low moisture and proper drainage.
The burning bush requires only minimal pruning and removal of broken branches and twigs. However, one problem that will have to be dealt with when growing this particular plant is pests and fungal diseases. This can be easily treated with neem oil or any requisite horticultural sprays.
Here's a guide on how to protect your plants from pests.
8. Nikko Blue (Hydrangea macrophylla)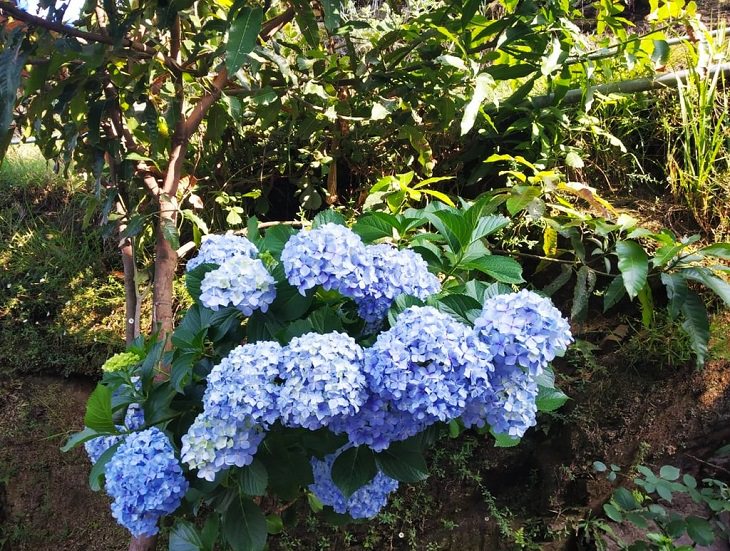 (By Sunita Bhatt, Wikimedia Commons)
An absolutely gorgeous plant that grows exponentially in width and height, Nikko Blue is a fast-growing shrub that can light up any garden. Shrubs of this variety grow between 6 and 12 feet in both dimensions, obstructing any unwanted gaze.
They are especially attractive to keep because of the large tufts of blue flowers that blossom across the branches of the bush, in addition to the gorgeous green leaves that grow year-round. They continue to flower through the summer.
They are easily grown and cared for, and the colors of the plants change in accordance with the soil used. In alkaline soils, the flowers are pink, while acidic soil allows blue beauties to grow. Pruning is required shortly after flowering and in early spring.