1. Recycle Old PVC Pipes to Organize Your Garden Equipment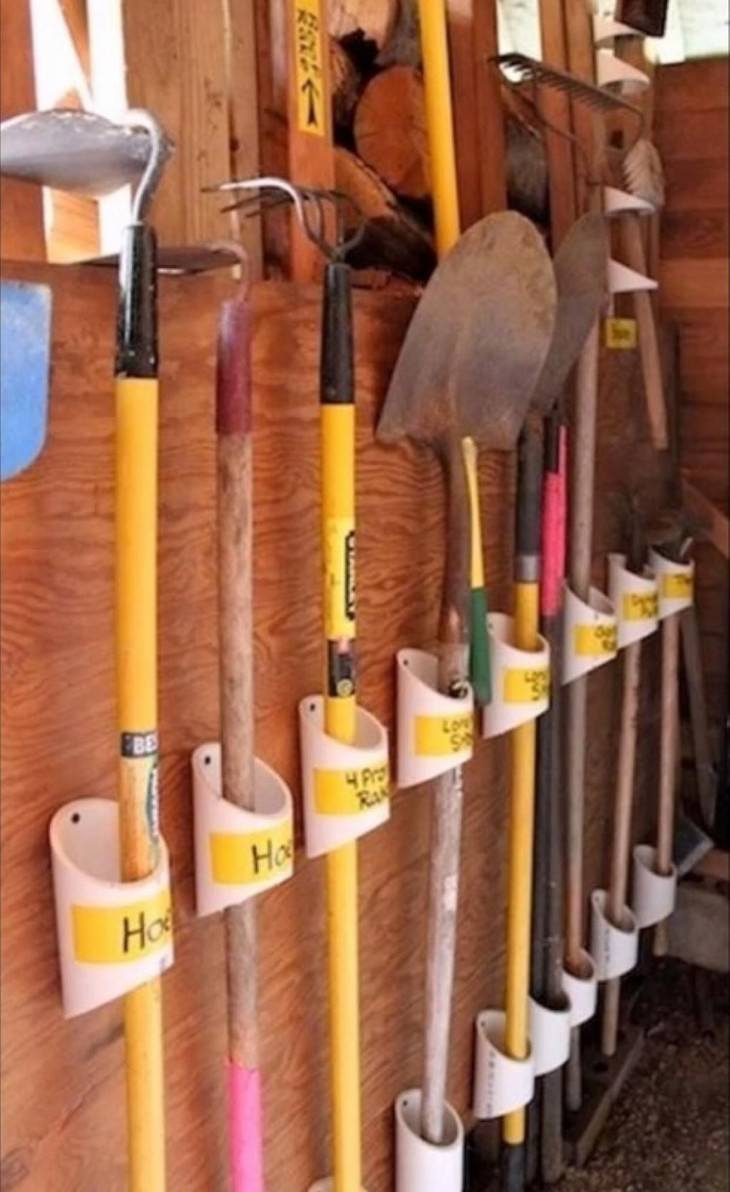 2. Any Light Metal Objects Can Be Organized Using Magnetic Strips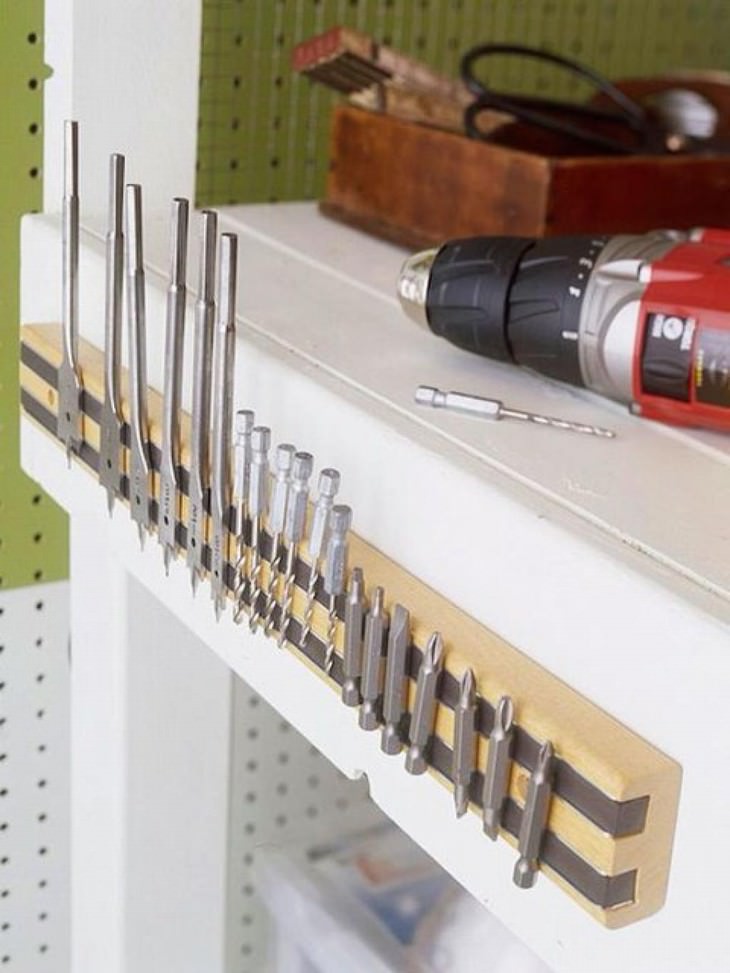 Better Homes and Gardens
Magnetic strips are readily available at most hardware stores or online, and they can be used to organize any metal tools. Simply attach them to a wall or cabinet, et voila, your tools are more accessible than ever, plus a lot of valuable drawer space is saved. I must admit that I even use magnetic strips the same way to store knives in the kitchen.
3. Use Transparent Baskets Like These to Always Know What's Inside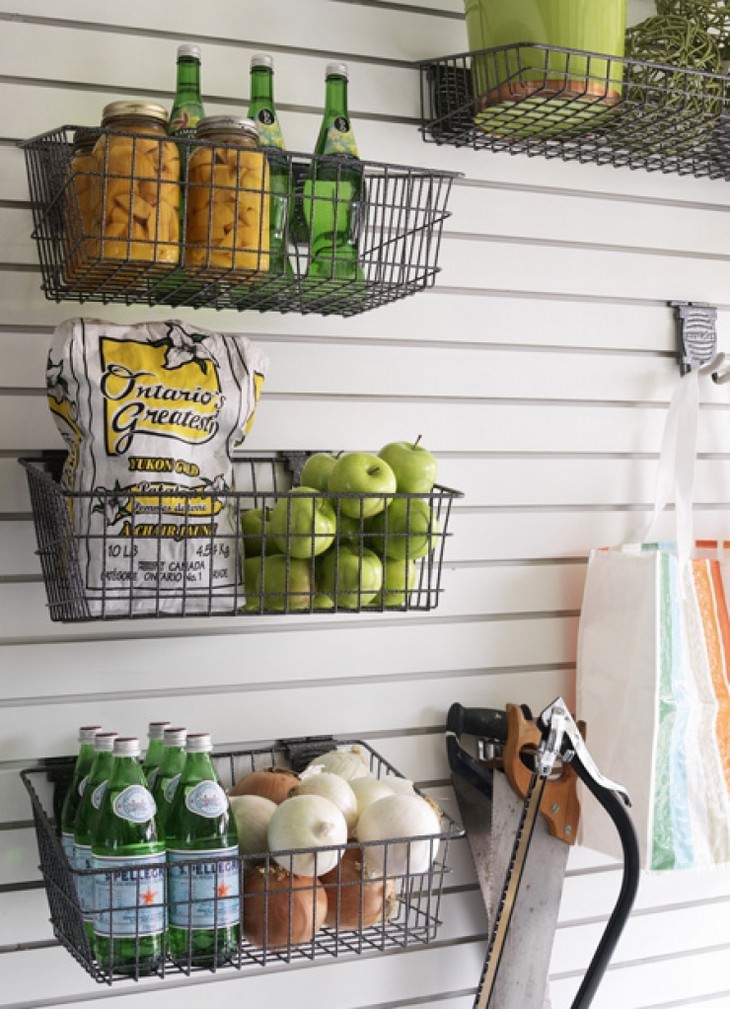 House & Home
Wire baskets like these are very sturdy and help you find and get everything you need in no time. These are sold in hardware stores in the shelving section together with the proper whiteboard.
4. Don't Throw Away Old Plastic Jars, Use Them to Store Fasteners Instead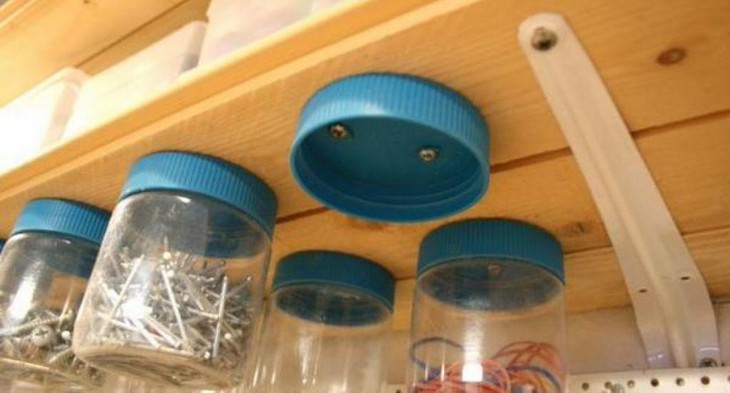 Chez Larsson
Simply screw the lids of a few plastic jars to a wooden shelf, install the shelf and screw in the previously-filled plastic jars. This way you gain some storage space on the shelf and have a nifty and organized collection of rubber bands, screws, bolts or what have you.
5. Hang on to Empty Tin Cans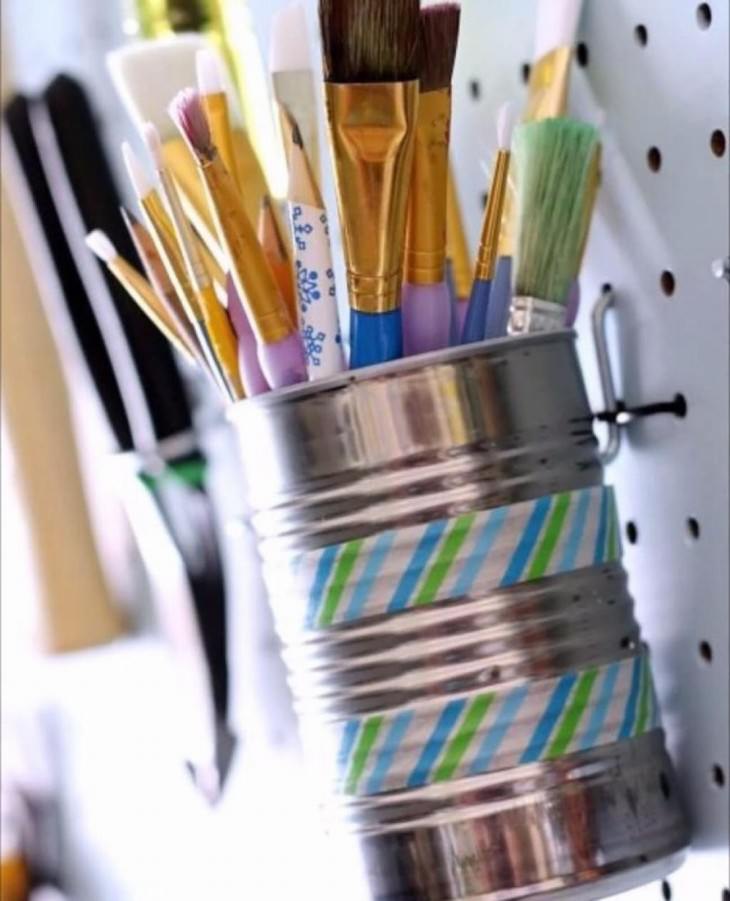 hi sugarplum
There is no need to invest in special storage boxes or brush holders, old tin cans can do the same job, but for free. They can be used to store all kinds of equipment, such as brushes, rulers, writing instruments and screwdrivers, as long as they're not particularly heavy.
6. Label Everything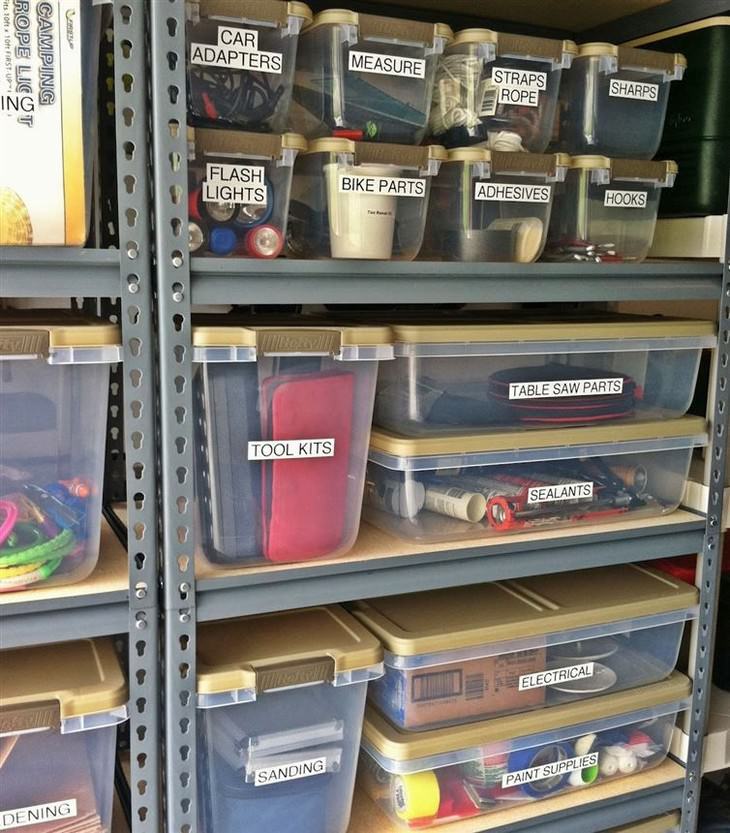 A Bowl Full of Lemons
One of the main sources of frustration in a garage is the inability to locate what you need immediately, be it Christmas decorations, tools or any other items. That's why it's always useful to either use transparent storage or to clearly label each box. In the photo above they did both, but as long as you follow at least one of these guidelines you should be able to find what you need quite fast.
7. Store Ladders on the Ceiling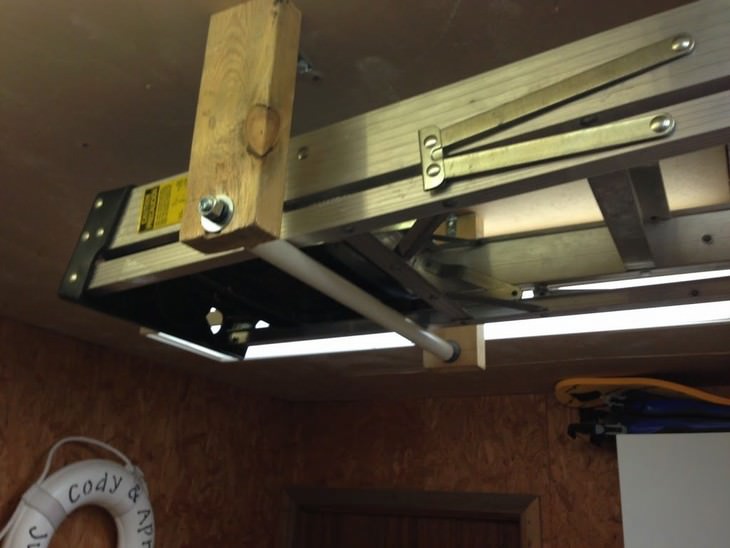 Wilker Do's
Ladder storage is another painful subject, as ladders, though essential, take up so much space. The best solution we've found is to attach ceiling brackets and storing your ladder overhead, here is a step by step video that will show you how to complete this project in less than an hour.
8. Store Your Recycling in Convenient Detachable Bins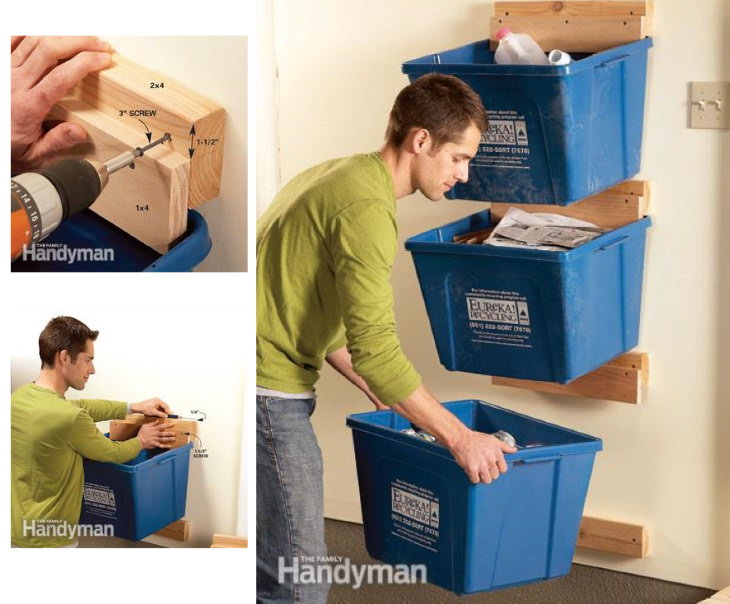 Recycling is essential, but the numerous recycling bins can take up way too much space on your garage floor. Follow this tutorial to create stackable hanging recycling containers that can be easily removed when need be.
9. Plastic Divider Trays are a Handy Investment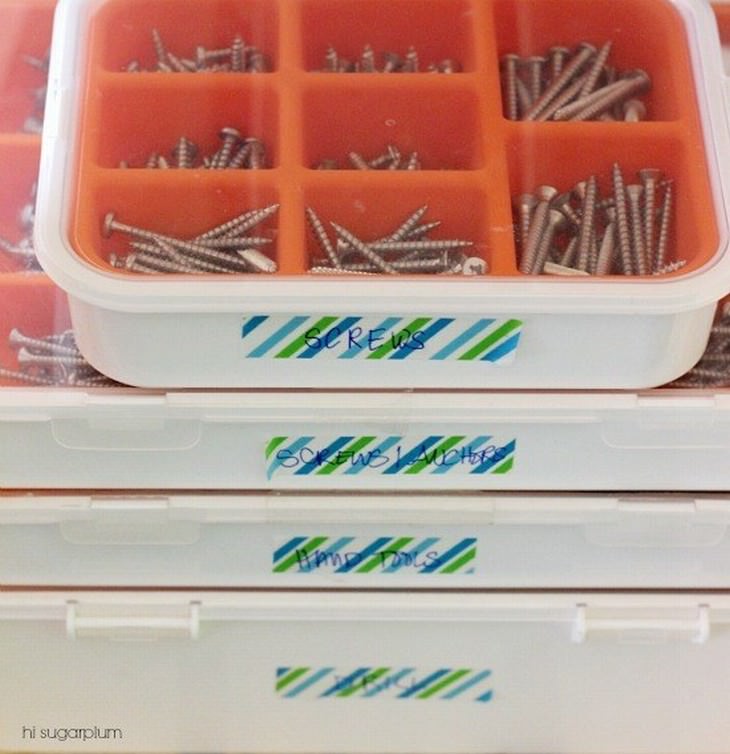 hi sugarplum
You can reuse old jars and plastic containers to store fasteners, but they can be difficult to transport if your current project is not in your garage. For this purpose, we recommend buying plastic divider trays you can purchase at most hardware stores. They are very convenient, as one box will fit several varieties of screws and nails.
10. Hang Bikes and Strollers on Hooks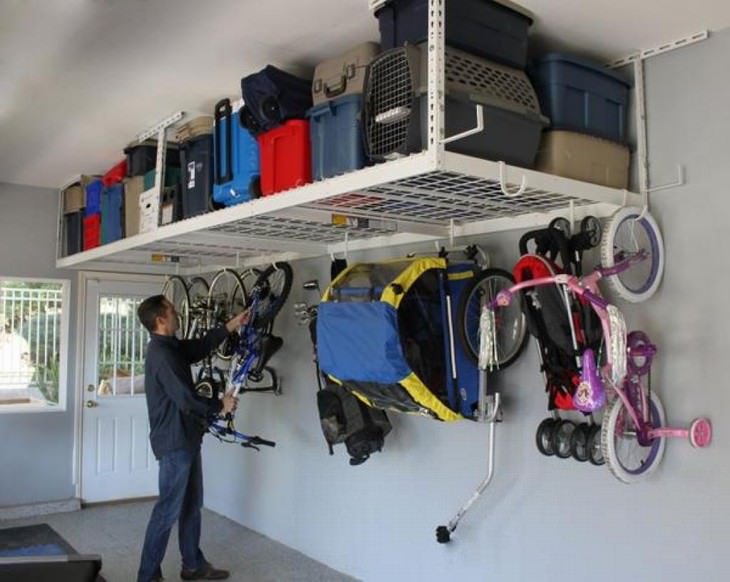 Like ladders, bikes and strollers can be a hassle to store in the garage, so the best way you can make them fit into a limited space is by hanging them on a wall, or, like in the picture below, by hanging them from a sturdy shelf using hooks.
11. Who Said a Paper Towel Dispenser Can be Used Only for Paper Towels?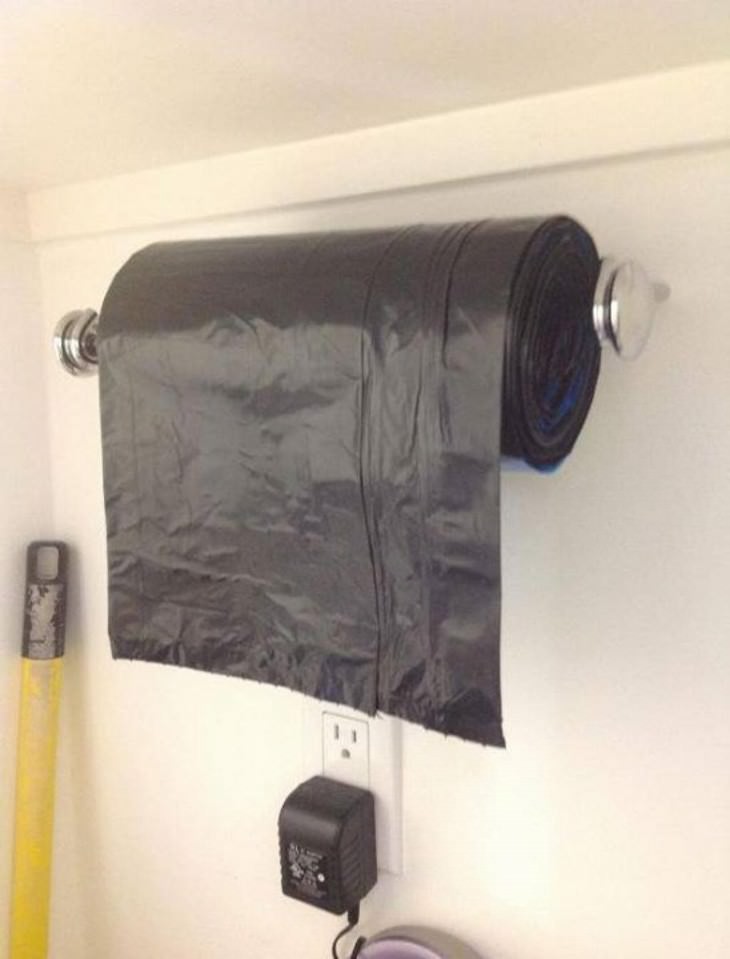 lifehacker
This handy trick ensures that you will never lose trash bags again.
12. Invest In a Peg Board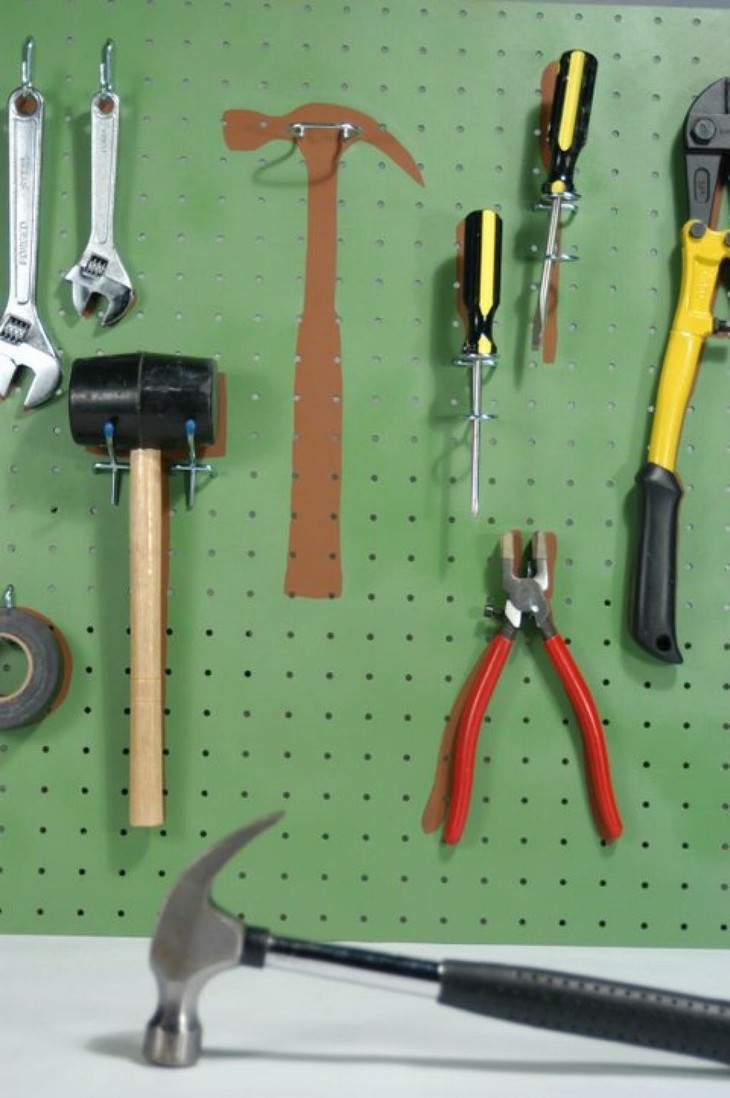 Pegboards are a garage organization staple for good reason, as you can use and customize them to hold the majority of your tools in an easily-accessible manner.
13. DIY Tape Dispensers Like This One Can Be Quite Handy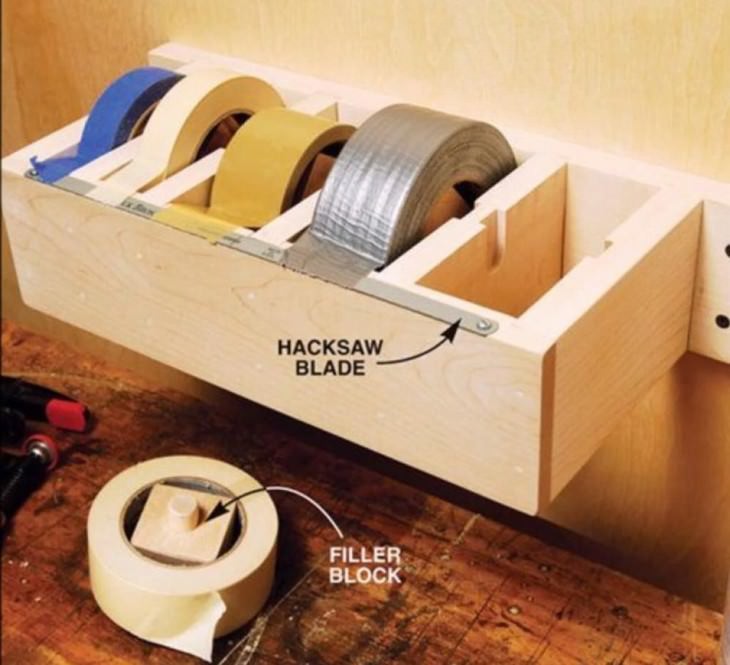 Popular Woodworking
I wish I knew about this one before last Christmas, as it would have made packing presents so much easier. But any project, really, could benefit from something like this.
14. The Ultimate Garage Organization Project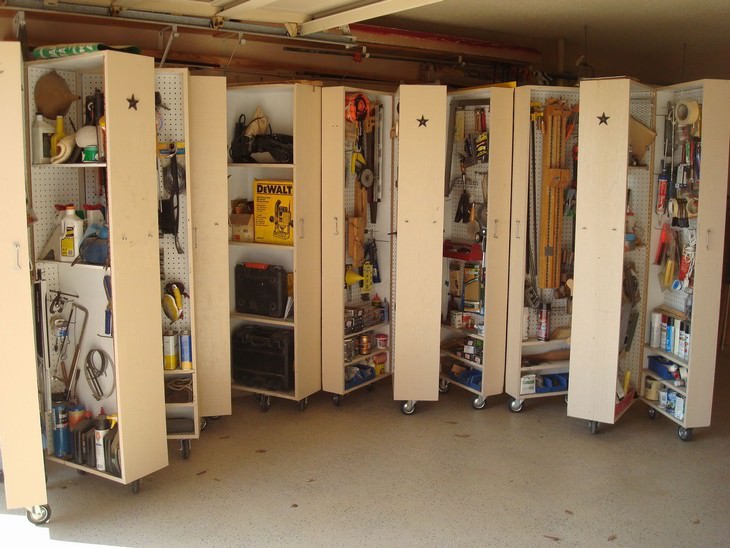 hometalk
Cabinets on wheels? Now that's just genius! Even the tiniest, most cluttered garage could be transformed with these, but it's quite a big project, we must admit.
15. Use Bungee Cords as Storage Aids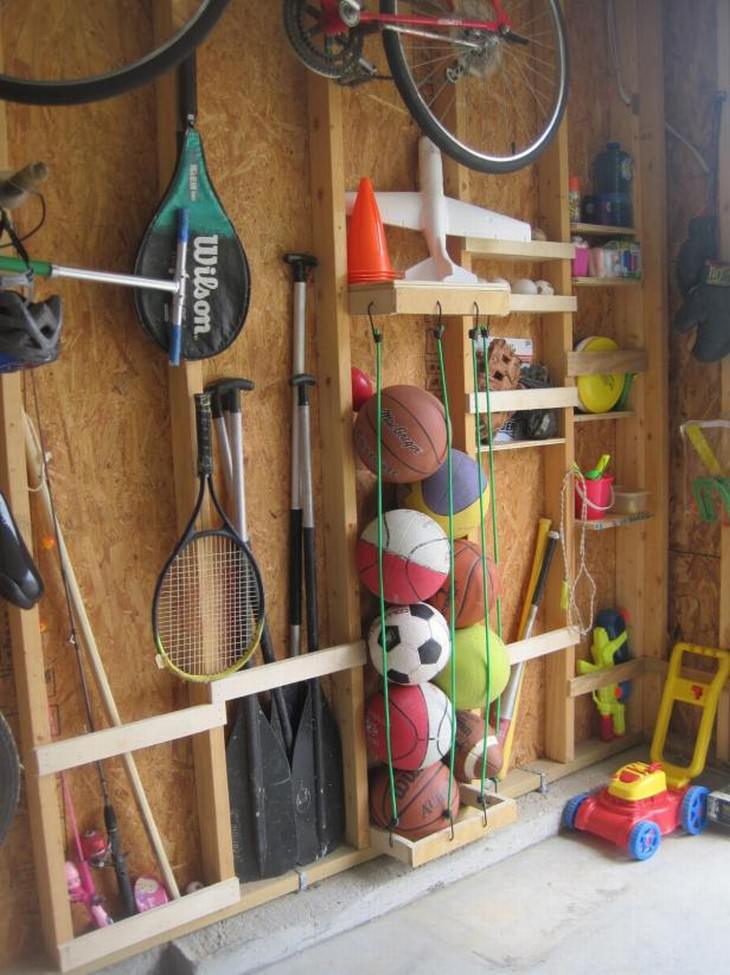 Finally, a common culprit that gets everywhere (under the car, under your feet or behind a door) are balls. The easiest way to secure them is to stretch a few bungee cords over the balls, which is not only super cheap but also makes for easy storage.