if you've ever found yourself bored with regular scrambled or fried eggs, we have just the recipe for you. Breakfast won't be the same with this new delicious twice-baked potato breakfast. All you need is some potatoes, eggs, and cheese and you're halfway there!
Time: 20 minutes
Servings: 4
Difficulty: easy
Ingredients:
2 large potatoes

1 medium onion, diced

4 cloves of garlic, diced

2 tbsp. olive oil (or 1 tbsp. butter)

100 grams mozzarella cheese, grated

Fresh chives, chopped

4 eggs

Salt and pepper to taste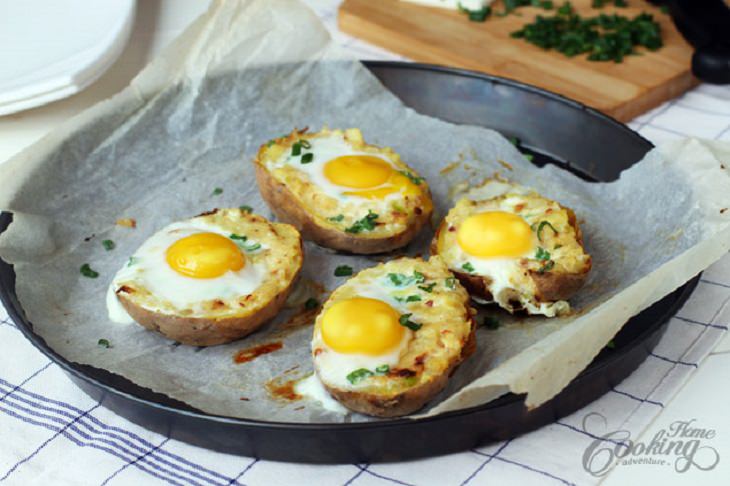 1. Pre-heat your ov
en to 400 degrees F (200 degrees C). During this time, wash the potatoes with soap and water, pierce them with a fork and place them in the oven for 30-40 minutes until they soften.
2. Once the potatoes are ready, heat the oil or butter over medium heat in a medium skillet. Add the chopped onion and garlic and fry for 5 minutes until softened.
3. At this time, cut the potatoes lengthwise into two halves and empty them with a spoon so that you will have four "boats," as seen in the video.
4.
Add the contents of the potatoes to the pan, along with the grated cheese, salt, and pepper to taste, and mix them well until the cheese is completely melted.
5. Then, fill the potato boats with the filling that you made and use a spoon to create a little well in the middle (for your egg).
6. Arrange the potatoes in a baking pan and carefully break an egg into each one. Place the pan in your 400-degree F (200-degree C) oven and cook for 15 minutes until the egg is ready.
7. Remove from the oven, sprinkle some fresh chives on top and serve hot.