Children are in the developmental stages during their childhood, and there are certain systems that don't function at the peak of their ability until they grow older. This causes children to be particularly susceptible to infections, and their immune system can react severely when exposed to different substances they have not yet come in contact with.
Sometimes the immune system doesn't respond adequately, and the results can be seen on the child's skin in the form of rashes. In order for you to differentiate between different types of rashes and how to treat them, it is important that you become familiar with the following 8 rashes and whether you need to go to the doctor if they appear.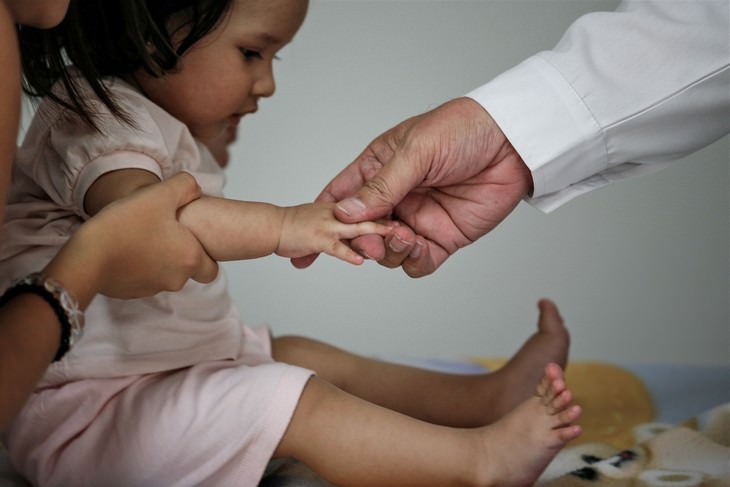 1. Contact Dermatitis
Symptoms
Small blisters with flaking in the irritated area (common areas are neck, waist, groin, and any place in the body that comes in direct contact with any substance)

In some cases, pustules are formed that store fluid and may be burdensome (in both cases the inflammation isn't contagious, but is specific to the child and the area that is inflamed on their body)
Causes
As can be seen from its name, contact dermatitis is created after prolonged contact with a substance that causes skin irritations, such as a garment label, bracelets, creams, etc. In infant's, contact dermatitis appears when they drool a lot, causing irritation of the chin and the appearance of blisters with dry skin.
Prevention and treatment
To prevent contact dermatitis, try to prevent contact between your child's skin and irritating items. Remove clothing labels, coat metal jewelry with a protective material, and apply face cream to your child's chin so that there is no direct contact between their drool and their skin. If you are not aware of any allergies to this substance, you may apply 1% hydrocortisone, which doesn't require a prescription or any other ointment recommended by their pediatrician after being checked.
2. Coxsackievirus/hand foot and mouth disease
Symptoms
High fever

Red and painful rash on the fingers and toes (not itchy)

Sores on tongue, throat and inner cheeks

In severe cases, complications can be caused by the virus due to viral meningitis, which is also manifested in headaches and neck stiffness

Decreased appetite

Difficulty in swallowing due to the formation of blisters
Causes
Coxsackievirus is caused by exposure to it by physical contact, sneezing, or exposure to fecal particles in public areas. Because this virus has several strains, a child can be infected several times, with children under the age of five at a particularly high risk of this. However, children over these ages and adults won't exhibit symptoms. The spread of the Coxsackievirus is particularly high during hot days, so it is best to keep your hygiene especially during the spring and summer months.
Prevention and treatment
As with most viruses, there is no medication for this disease other than rest and plenty of fluids. In order to reduce the fever, you can give your child medicine and make sure they drink to avoid dehydration. Maintaining proper hygiene and washing hands after contact with people or substances is important to prevent this disease.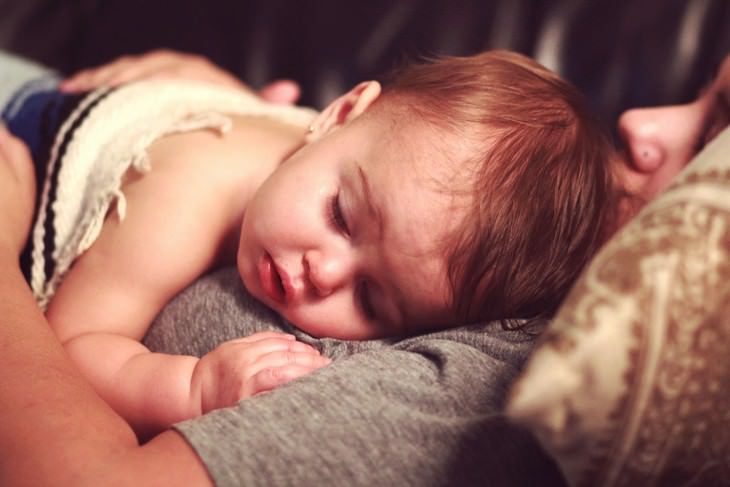 3. Eczema
Symptoms
Patches of red, dry and itchy skin with small bumps that appear first on the face or scalp (these patches can spread to other areas like the elbows, arms, wrists, and legs)

Itching in areas that are inflamed on the skin
Causes
Doctors are unsure about the specific causes of eczema, but it is known to accelerate or appear when inherited, during seasonal allergies, external fever, or stress.
Prevention and treatment
Unfortunately, eczema can't be prevented, but its symptoms can be treated along with the annoying itch that accompanies it. To do this, it is important to avoid contact with ingredients and items that cause sensitivity and breakouts of the inflamed areas. Most of these substances are perfumed soaps and creams, fragrances (especially those containing alcohol), mold, animal fur, flowers, dust, rough fabrics and certain foods (egg protein is the most common component that causes the phenomenon). Dry winter air can also cause an outbreak of eczema, so it is important to keep the skin hydrated by using special creams and washing with mild soap that doesn't irritate or dry the skin. Doctors usually prescribe corticosteroids to treat eczema, and it is important to consult with them when you have an outbreak
4. Fifth disease
Symptoms
Low fever accompanied by symptoms of a cold

When the fever begins to pass after a few days, their cheeks become red (as if the child had been slapped).

After the redness in the face begins to pass, it spreads to other areas of the body such as the limbs

In older children, the disease sometimes comes with joint pain
Causes
Fifth disease is a viral disease caused by being infected with the B19 virus that is common at the end of winter and spring. Children aged 5-15 are particularly sensitive to this virus and are the ones who tend to develop the symptoms characteristic of the disease.
Prevention and treatment
You can prevent the Fifth disease by frequently washing your hands with soap and water or hand sanitizer when necessary. If the child is ill, the stage of the initial cold-like symptoms is contagious, and it is recommended that other children be kept away. When the cheek rash appears, the child moves to the non-contagious stage, but it is still advisable to be extra careful if there are other children around. Children who have contracted the fifth disease will usually not contract it again.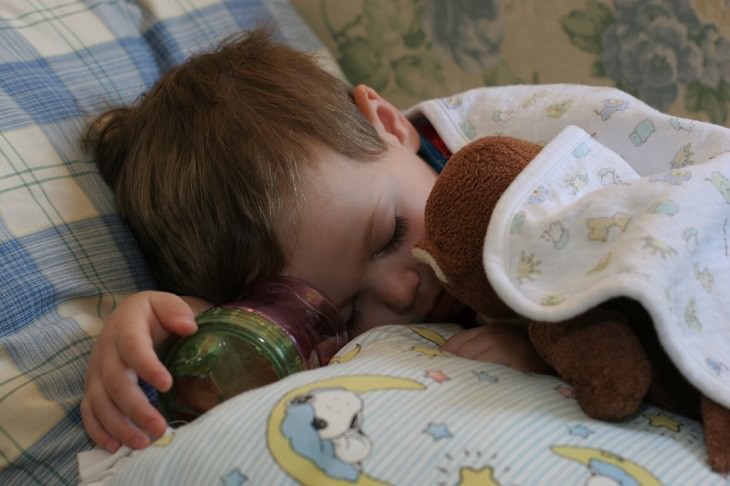 5. Impetigo
Symptoms
Red and painful bumps (initial phase)

Blisters with yellow-brown membrane (advanced stage)

Itching
Causes
The disease is caused by exposure to Staphylococcus or Streptococcus bacteria and is common in children aged 2-6. The bacteria usually penetrate through wounds or cuts and cause unpleasant symptoms, and the disease is most common in the hot summer months.

Prevention and treatment
Also in the case of impetigo, the best way to prevent it is to maintain good hygiene. If your child is injured, clean the wound as quickly as possible to prevent bacteria from entering the skin. When the disease breaks out, doctors prescribe antibiotic drugs depending on the severity of the condition, with creams that are meant for small infected areas, and liquid medicines or pills to treat more severe conditions.
6. Petechiae
Symptoms
A rash of tiny dots on the skin in red/purple/brown that appears on the buttocks, limbs and upper trunk

Pain in joints including swelling and tenderness in inflamed areas

Swelling in soft areas like testicles and palms
Causes
An explosion of tiny blood vessels under the skin that may occur after periods of a severe cough or similar conditions. In severe cases where the rash is found in large areas, it is caused by a blood clotting issue brought on by a viral infection (idiopathic thrombocytopenia purpura (ITP)) or by a bacterial infection of the meningococcus family which causes, among other things, meningitis.
Prevention and treatment
It is possible to prevent meningitis in children by giving them the Hib vaccine, but there is no way to prevent the other causes of Petechiae symptoms. The rash usually goes away by itself, but it is important to consult your doctor about ways to relieve the symptoms that cause it, such as a heavy cough, and also ask for a test to find out if there is a more serious problem hiding beneath the surface which requires treatment.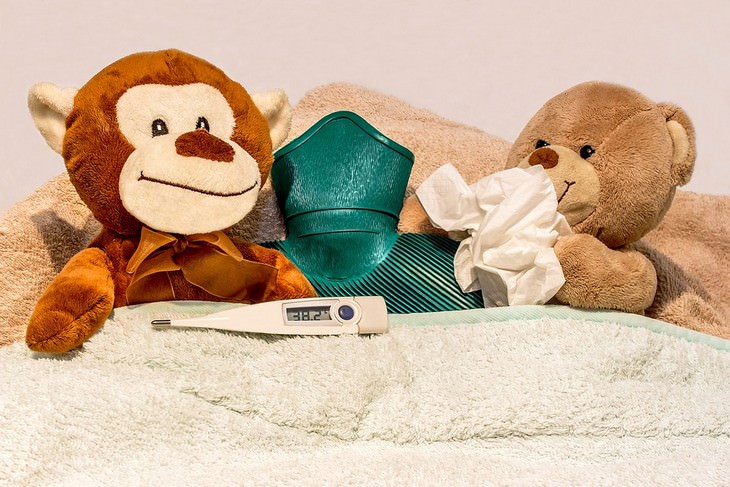 7. Psoriasis
Symptoms
Protruding red spots on the skin

The merging of the dots into a patch on the skin, with a silvery gray top, that is thick and sheds skin (usually on the elbows and knees)

In severe cases: patches on the navel, scalp, genitals, and buttocks

Nails with faded grooves (sometimes the nails fall off as a result of the disease)
Causes
It is now known that heredity plays a major role in cases of psoriasis, and if one of the parents has the disease, there is a chance that their children will also get it. However, there is no information about the exact cause of this autoimmune disease that causes the production of skin cells at a faster rate than normal, resulting in the formation of scales.

Prevention and treatment
Half of the cases of psoriasis in children are caused by infection, mainly throat infections, so it is important to avoid dirty places or contact with sick children. Hygiene, as always, is very important, and it is recommended to wash your hands or use a hand sanitizer after coming in contact with strangers or other children. Regarding treatment, when it comes to cases of psoriasis caused by infection, doctors will often prescribe antibiotics. In other cases, they will prescribe corticosteroids to relieve the symptoms and irritation of the skin, but today there is no drug that completely eliminates the disease.
8. Roseola
Symptoms
High fever

Symptoms reminiscent of colds

Decreased appetite

Restlessness

A pinkish-red rash that doesn't itch, on the upper body that may spread to the face and limbs (occurs after fever goes down)

About 15 percent of children with roseola have a seizure from the high fever. The seizure lasts about 2 minutes and doesn't endanger the child, but it is important to consult your doctor if this happens to your child
Causes
Roseola is caused by exposure to the virus that spreads through a cough. It is common in children between the ages of 6 months and 2 years and usually does not recur afterward. After exposure to the virus, it is incubated in the body for two weeks until symptoms appear.

Prevention and treatment
If you know that a child in your child's environment is sick with roseola, avoid contact between them and try to prevent the sharing of food or drink in these cases. Keep your children's hands clean and make sure they don't put them in their mouth if they are exposed to the virus. Because roseola is caused by a virus, there is no antibiotic or medication for it, and doctors will recommend medicine to reduce the fever until the rash disappears.
image source: Alex Proimos, Kourtlyn Lott, Bob Reck