1. Andaz Mayakoba Resort, Mexico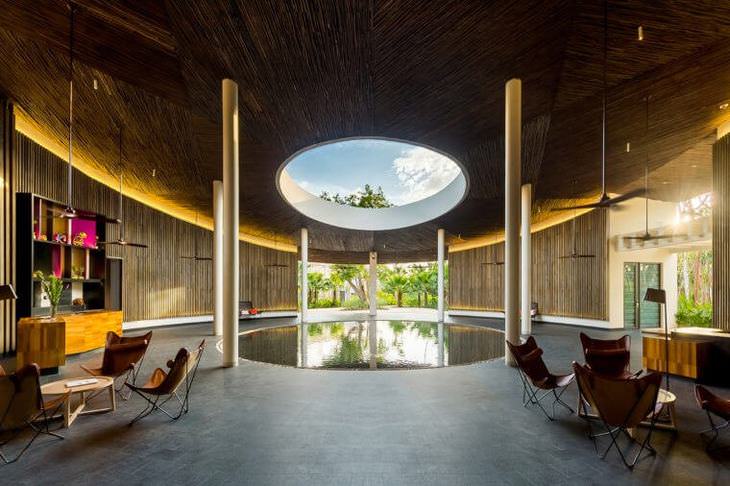 Located in the eastern area of the Yucatan Peninsula, this exotic Mexican resort is surrounded by white-sand beaches and ancient ruins. Although those things are impressive in themselves, your jaw will drop as soon as you set foot in the resort's lobby. It was designed by Costa Rican native Ronald Zurcher and contains a water feature at its center that's topped off with an oculus. It pays homage to cenotes, which are mystical underground reservoirs that are found in the region.
2. Burj Al Arab Jumeirah, Dubai, UAE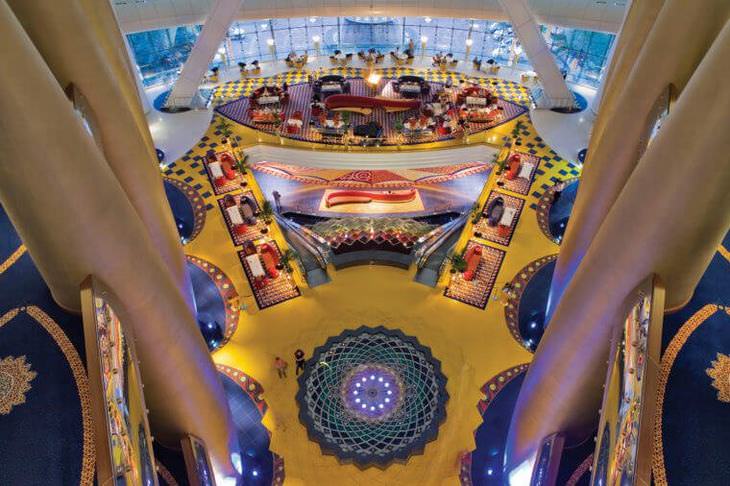 The Burj Al Arab Jumeirah Hotel is instantly recognizable as a symbol of Dubai, but the 1,000-foot-high hotel has an interior that's just as striking. It's laden with 24-carat gold leaf, features a coral-filled aquarium and is adorned with kaleidoscopic fountains. The floral display is tended to by no less than 16 florists that are tasked with sourcing blooms from all over the world.
3. Hotel El Palace, Barcelona, Spain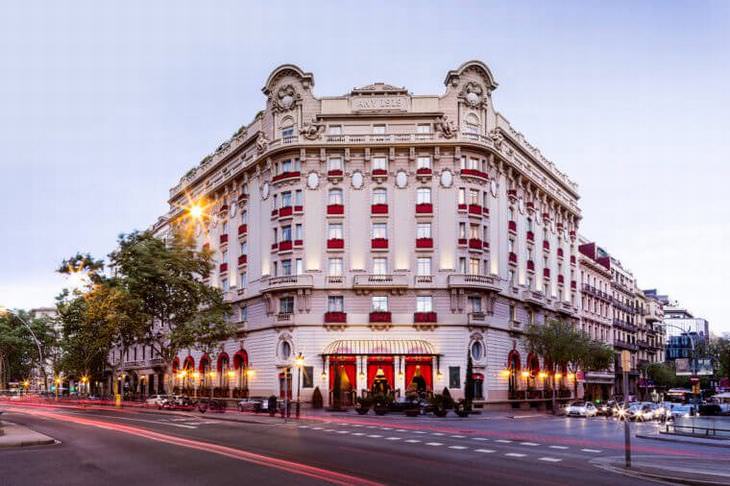 One of the oldest Ritz Carltons in the world, which opened in 1918, exudes classic glamor and sophistication. The lobby features a pearl-encrusted crystal chandelier and a pair of cascading, wraparound staircases.
4. The Sanchaya, Bintan Island, Indonesia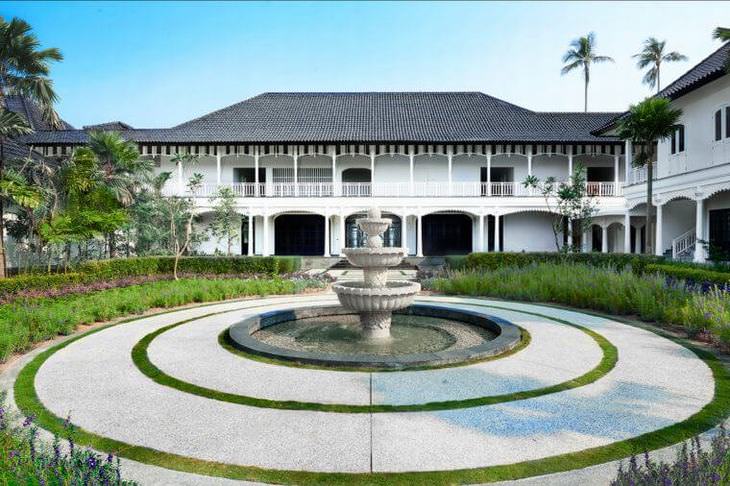 Newly-opened on the Indonesian island of Bintan, the Sanchaya has two distinct entrances. The first is a VIP lounge that was built to welcome guests arriving by ferry or private yacht so that they enjoy a seamless arrival and departure experience, and the second is the main entrance itself, which comprises formal gardens that lead into the resort's main building. The Great House, a two-story beachfront manor, contains the reception area and offers stunning views out over the ocean.
5. The Hermitage Hotel, Nashville, Tennessee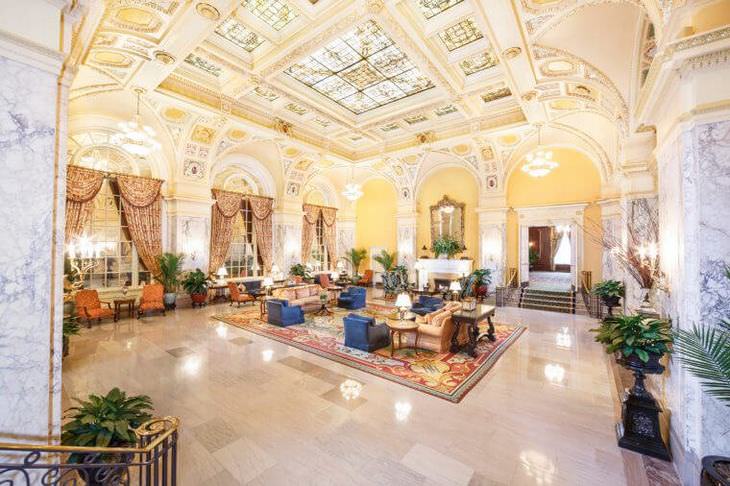 The lobby of the Hermitage Hotel in downtown Nashville, Tennessee is fit for royalty. The hotel was constructed in 1908 and has been updated throughout the years to exude glamor and class. Italian and French Renaissance features are apparent throughout, and its floors are fashioned out of Tennessee marble. The lobby's crown jewel, however, is undoubtedly its beautifully-painted glass skylight at its center.
6. ITC Maurya, New Delhi, India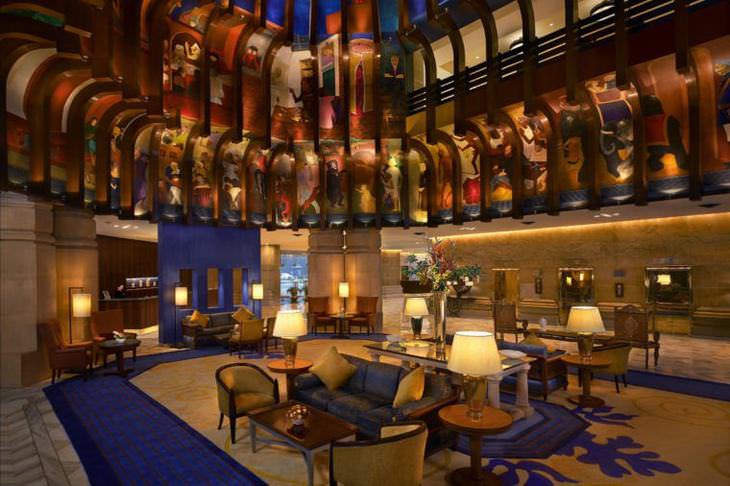 Located right in the heart of bustling New Delhi, the ITC Morya's lobby boasts one of India's most prized art collections. The hotel is actually ITC's flagship property and was built in tribute to the Golden Age of the Mauryan Empire. In fact, it's actually one of just two authentic examples of Mauryan architectural design in the whole world. The lobby's ceiling is adorned with a stunning mural titled "The Procession of Life", which was painted by Indian artist, Krishen Kanna.
7. The Art Hotel, Denver, Colorado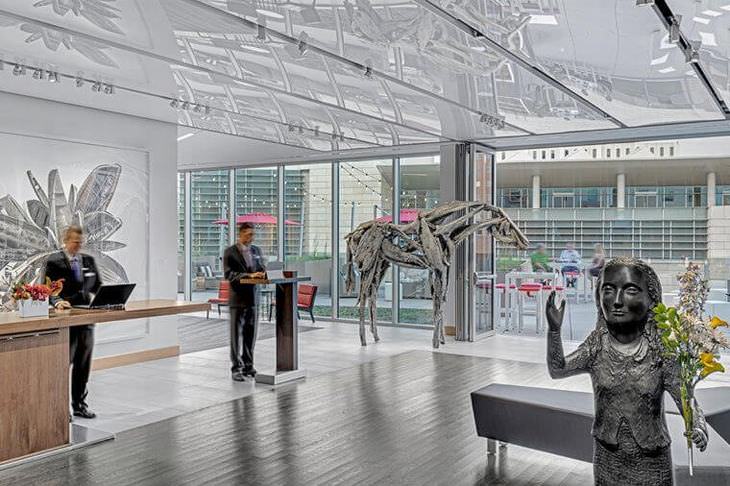 Contemporary is the most apparent buzzword when experiencing this mirror-clad, ultra-modern hotel located in Denver's Museum District. Its lobby is full of incredible pieces of art, and also contains an LED light bulb installation that contains no less than 22,000 bulbs. In addition, there's the hotel's Portico Gallery, which houses works by the former Denver Art Museum's curator, Dianne Vanderlip. Even more, art is located on the hotel's fourth floor, with modern art pieces such as Ed Ruscha's "Industrial Strength Sleep" on display.
8. Marquis Los Cabos, Los Cabos, Mexico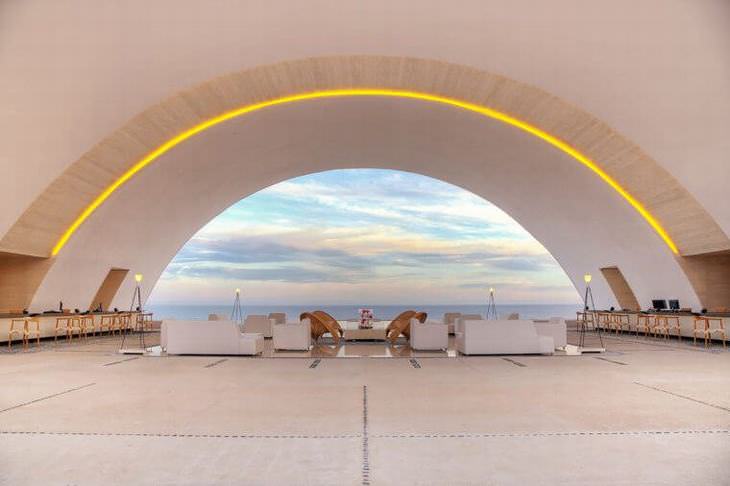 The arched entranceway at this amazing resort frames a stunning view of the Sea of Cortes, which lies just beyond three large swimming pools. The front and concierge desks are fashioned from reclaimed tree trunks, and guests are greeted with a welcome cocktail and chilled towel before being invited to sit on the beautiful white and wicker furniture in the center of the lobby. If that isn't enough to wow you, there's also a 40-foot waterfall and blue-glass fire pits to take in, as well as live music at most hours of the day.
9. The Anam, Cam Ranh, Vietnam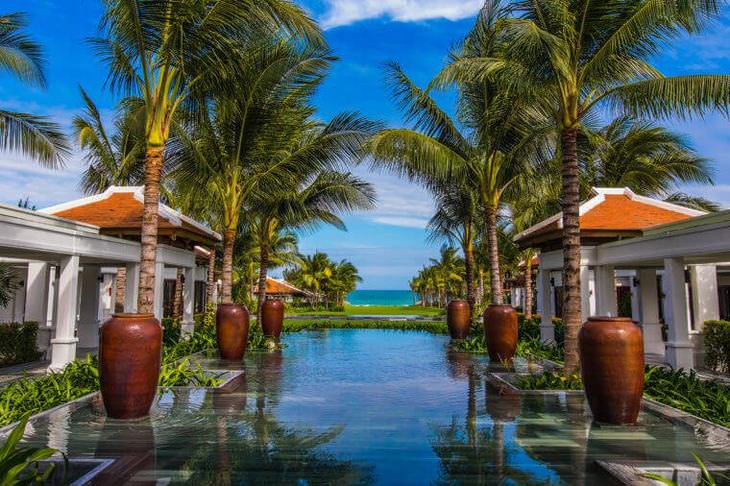 Can Ramh's Anam resort features an open-air lobby inspired by Vietnam's Indochinese era and takes advantage of the more than 300 days a year of sunshine that the area receives. In addition, the 12-hectare property is shaded by an unbelievable 3,000 coconut trees. It sits atop the white sands and turquoise waters of Long Beach. When looking out to the ocean, guests are able to see sampans (traditional wooden boots) dotted about on the water, as well as a series if picture-perfect Vietnamese islands just offshore.
10. Fairmont Copley Plaza, Boston, Massachusetts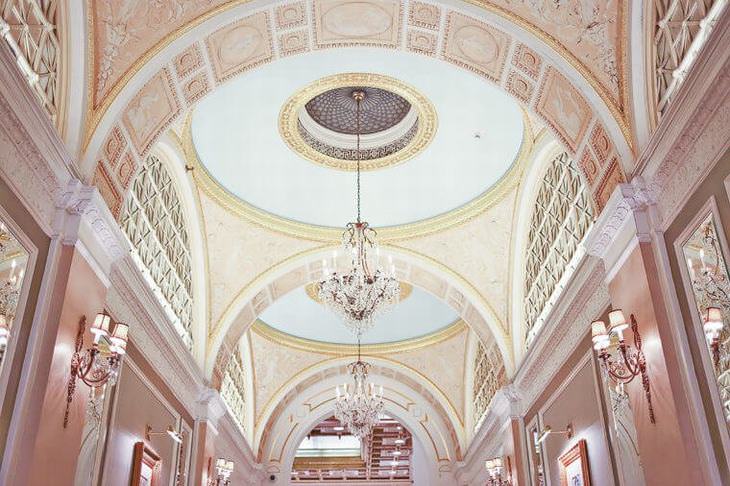 This Boston landmark is a potent symbol of the city's rich history, and was built all the way back in 1912. Its grand entrance has been referred to as Peacock Alley since the 1920s, and this is because the stream of well-dressed Bostonians strolling through it never seems to end. Peacock Alley is tiled with original mosaics, and the main lobby features a 21-foot-high ceiling replete with stunning crystal chandeliers. The hotel's walls are also adorned with masterpieces by Pablo Picasso and Salvador Dali, to name but a few.
11. The Ritz-Carlton, Philadelphia, Pennsylvania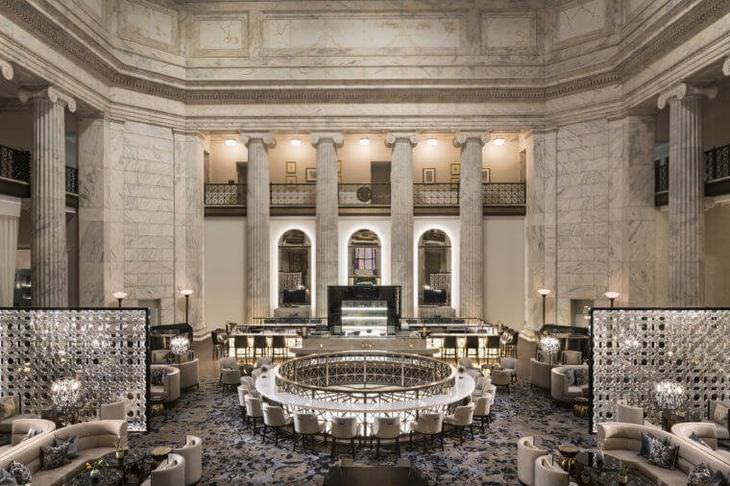 Philadelphia's Ritz Carlton is a column-lined contemporary masterpiece that was designed by Handel Architects of New York City, the same firm that designed the World Trade Center Memorial. The hotel started off life as a bank back in 1908, and was built in the neoclassical architectural style. Spectacular domed marble, imported from Italy's world-famous Carrera quarry, serves as this hotel lobby's stunning centerpiece.
12. Andaz Maui at Wailea Resort, Maui, Hawaii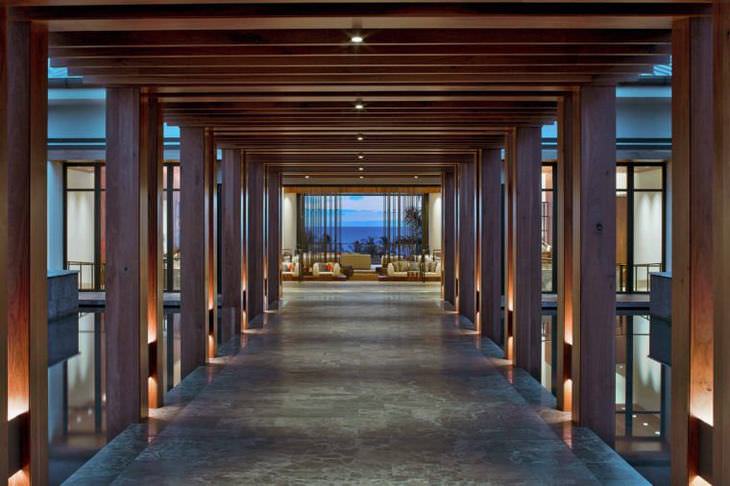 Situated along Mokapu Beach, a portion of Maui's premier southwestern coastline, the 15-acre beachfront Andaz Maui at Wailea Resort make guests' jaws drop thanks to its Ambrato marble bridge lined that they must walk across to reach the lobby. The open-air lobby was designed to reflect the humility and simplicity of Hawaiian hospitality. There are also stunning views of the infinity swimming pool, saltwater lagoon and ocean beyond that can be taken in through slacked doors.