1. The Elephant Man (1980, David Lynch)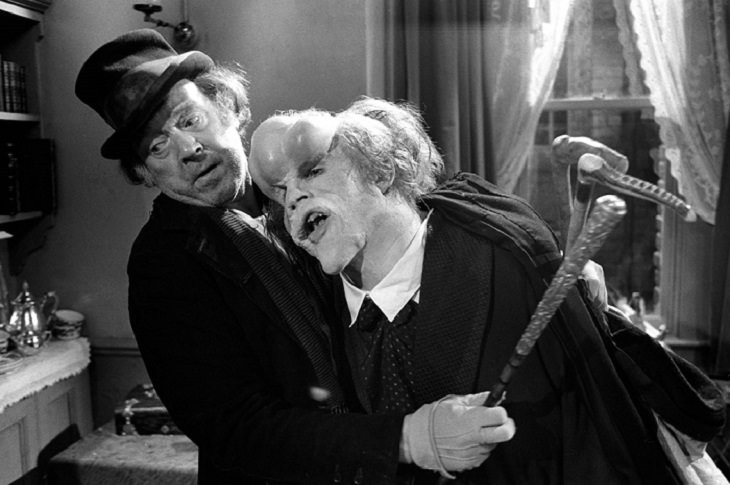 Based on the life of the deformed Joseph Merrick
Depicting the life of the severely deformed Joseph Merrick (incorrectly called John Merrick in the film) as he struggles to live a peaceful life, David Lynch's "The Elephant Man" is a truly captivating and timeless study of the nature of prejudice.
The film follows London Hospital surgeon Frederick Treves (Anthony Hopkins) as he finds Joseph/John being terribly mistreated in a Victorian freak show in London. We quickly understand that he is being kept at the freak show against his will by his "owner", the vicious Mr. Bytes (Freddie Jones), ever since he was abandoned by his mother as an infant.
When Treves realizes what is occurring, he pays Mr. Bytes to let Merrick go to the hospital for some tests, but later decides to keep Merrick at the hospital against Bytes' will. Before long, Treves and Merrick develop a close bond as Treves tries to cure Merrick and bring happiness to his life.
Throughout the film, Treves and the audience begin to see Merrick's interior beauty which lies beneath his disfigured exterior. This is just one of the reasons that "The Elephant Man" can be viewed as Lynch's most humanist work to date and it's a masterpiece in emotional filmmaking. Perhaps this is why it is Lynch's most commercial film, earning him 5 times the amount it cost him to make.
Mentioning "The Elephant Man" without mentioning John Hurt's superb performance as Merrick would be ludicrous. The film stands or falls by his performance and fortunately, he delivers what many consider to be a performance of a lifetime. Not for one second do you think that there's an actor under all that make-up. Hurt is able to make the viewers feel his agony and frustrations.
Upon studying the material on which this film is based, you'll learn that several characters have been portrayed misleadingly in the film. For example, Treves acted much more selfishly than he does in the film. Nevertheless, this shouldn't be seen as a flaw. By dramatizing Merrick's life, Lynch not only manages to convincingly depict the struggles Merrick went through in his life, but he manages to humanize him, creating a tour-de-force of pure emotional film-making.
2. Napoleon (1927, Abel Gance)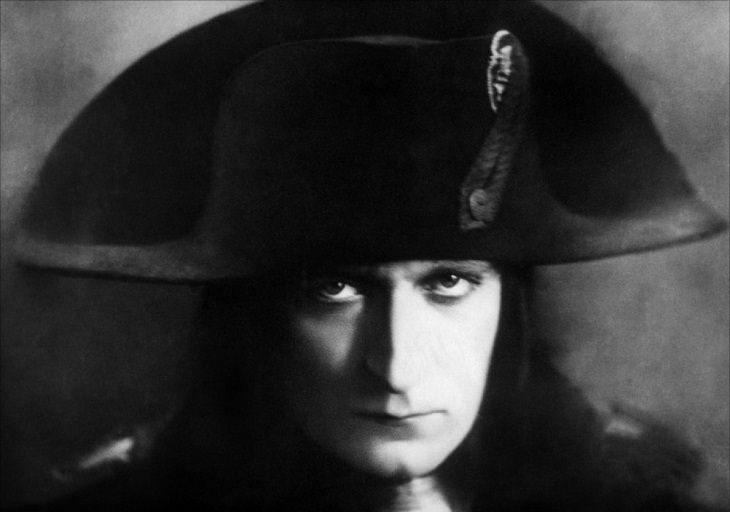 Based on the life of military leader Napoleon Bonaparte
Abel Gance's Napoleon is one of the most aesthetically and visually pleasing films ever exposed to celluloid, and is perhaps one of the most groundbreaking masterpieces in the history of cinema.
In this film, Gance uses many innovative techniques to enhance his portrayal of Napoleon's life, some for the very first time. Some of the techniques that he uses include multiple-camera setups, a wide variety of hand-held camera shots, mosaic shots, split screens, and underwater camera. The reason this film is awesome isn't because he used these techniques, but because of the way he was able to integrate these advanced techniques into his storytelling.
The film chronologically follows Napoleon's life from early childhood when he attended military school to the early stage of his military career. During his adolescence, in one fantastic scene, he is seen managing a snowball fight like a military campaign. A decade later, we find Napoleon (Albert Dieudonné) as a young army lieutenant during the French Revolution. He returns home to visit his family in Corsica, but as politics have shifted against him, he suddenly finds himself in danger. Therefore, he decides to flee, taking his family back to France where he becomes Officer of the artillery in the Siege of Toulon.
Many biographical films portraying the lives of historical people usually end with the death of the protagonist, yet, "Napoleon" ends many years before. The reason for this rather abrupt ending is that Gance originally planned for this to be the first of six films portraying Napoleon's life and career. However, as Gance spent the entire budget on this first film, he realized that the costs involved would make the full project impossible.
This film is a masterpiece and the triptych climax of the film, which alternates widescreen panoramas with complex multi-image montages project simultaneously on three screens, is one of the best and most awe-inspiring moments in cinema history.
3. My Darling Clementine (1946, John Ford)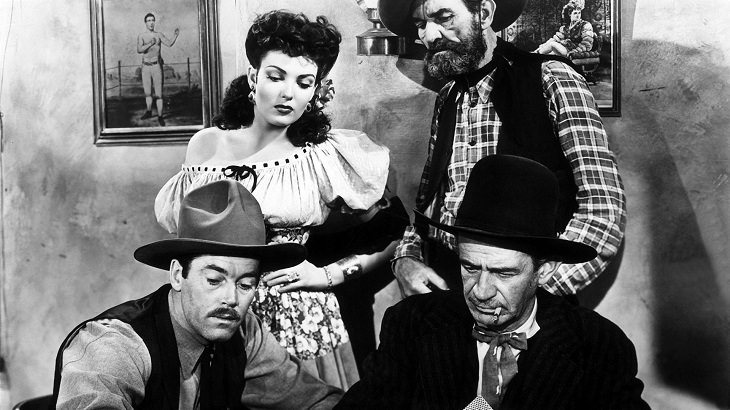 Based on the life of frontier marshal Wyatt Earp
Few Westerns are as sweet and good-hearted as "My Darling Clementine." It's one of the greatest films of the 20th century, poetically depicting a couple of days in the life of Wyatt Earp along with his involvement in the gunfight at the OK Corral in Tombstone, Arizona. This famous gunfight has been depicted in many movies, but never like Ford did it in this film.
Usually, the showdown is the cornerstone of the film, leaving the rest of the film merely trivial, but Ford doesn't emphasize the melodrama of the showdown, it's simply a result of what has happened earlier in the film. Thus, Ford makes us realize that it's what lead to the gunfight that is significant.
We follow the story through Wyatt Earp (Henry Fonda), a good-hearted former town marshal who believes in rules and regulations. We first meet him as he and his brothers are driving cattle to Kansas. In need of some rest, Wyatt and his siblings leave their youngest brother James in charge of the herd. When they reach town, they find out that Tombstone has become a lawless town without a marshal, driven by anarchy. They quickly return to their camp, but it's too late – the cattle have been stolen and James has been murdered.
At this stage, one could be forgiven for thinking that the story will turn into a revenge story, but it doesn't. Wyatt does seek to avenge his brother's death, but he isn't blinded by hate. He wants revenge, but he wants it legally. Therefore, he takes on the much-needed job of town marshal in Tombstone and vows to stay there until his brother's killers are found.
For most viewers, "My Darling Clementine" is a story of the gunfight at the OK Corral and while this isn't untrue, it's just as much a story about the end of the Old West and the arrival of civilization. This is one of the greatest films ever made and an absolute must-see for any fan of Westerns or biographical films.
4. Lawrence of Arabia (1962, David Lean)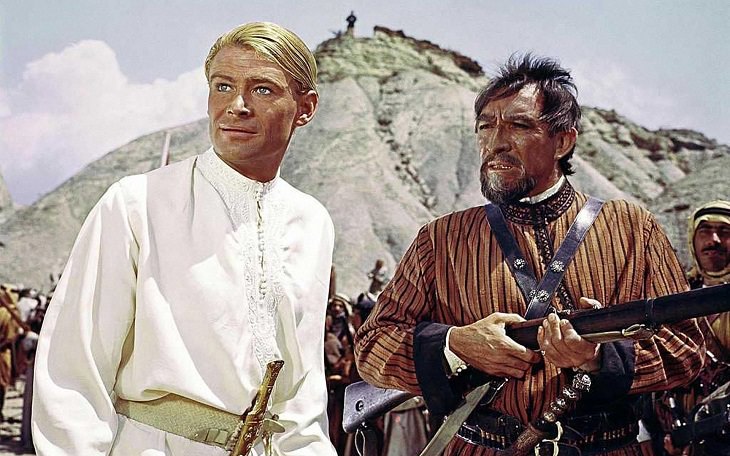 Based on the life of British military leader T. E. Lawrence
"Lawrence of Arabia" is simply the embodiment of an out-and out perfect biographical film. The film opens in 1935, the year of Lawrence's fatal motorbike accident. As the credits are being shown, we see Lawrence (Peter O'Toole), in one long, static shot, shown from above, preparing for his fateful motorcycle ride.
The sequence ends with death followed by the memorial service in his honor at St. Paul's Cathedral. We see a reporter trying to gain insight into the life of the enigmatic military officer. He gets vague answers, but ultimately remains unsuccessful in his quest.
Therefore, this film successfully establishes the mystery that is T. E. Lawrence's life, before the story of his life has even begun. This also represents one of the many geniuses of "Lawrence of Arabia," that by having the death of the protagonist right at the start, the film succeeds in eliminating the audience's ability to predict the ending.
Since its release, the film continues to be loved by audiences and critics alike. This film cemented Lean's name in the list of greatest filmmakers of all time. It was nominated for ten Academy Awards and won seven of them.
In 1999, "Lawrence of Arabia" was named the 3rd greatest film in British History by the British Film Institute. It could easily have been named the greatest. Epic in scope, stunning visuals, and magnificent in portrayal of the remarkable military leader, this film remains an absolute masterpiece.
5. The Passion of Joan of Arc (1928, Carl Theodor Dreyer)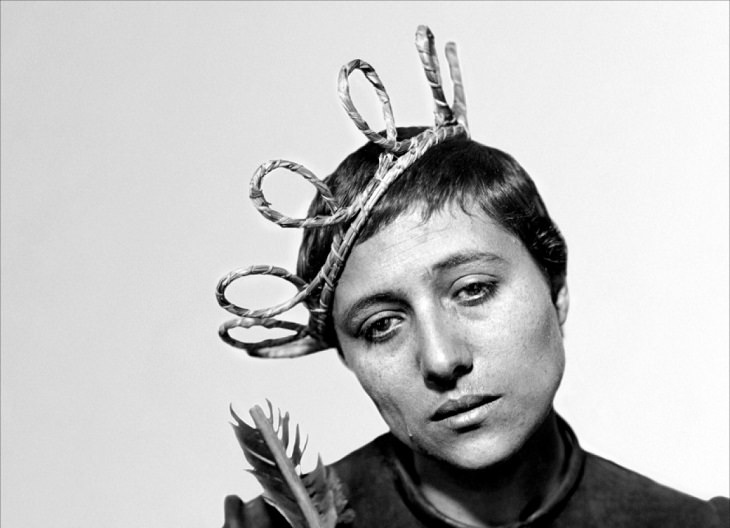 Based on the life of the famous French heroine Joan of Arc
In Carl Dreyer's "The Passion of the Arc", Renee Maria Falconetti delivers one of the most iconic, heartbreaking, and timeless performances in silent cinema history as she portrays the final hours of Joan of Arc's life.
This film tells the famous story of the French heroine Joan, who, after having led a number of battles against the English, has been captured and is about to stand trial. Perhaps the most idiosyncratic silent film of all time, this movie is filmed entirely in medium shots and close-ups – we don't even get to see the room that the trial takes place in. By using this unique style, Dreyer's images seem to penetrate right into our souls, making the story seem timeless.
One of the reasons why this film continues to be popular could be that it transcends time and place. The film simply appears as "a historical document from an era in which the cinema didn't exist," as French director Jean Cocteau famously stated (this is perhaps truer today than it was back then). "The Passion of Joan of Arc" is a major filming achievement and is a must-see for anyone who thinks they're a serious film buff.
6. Andrei Rublev (1966, Andrei Tarkovsky)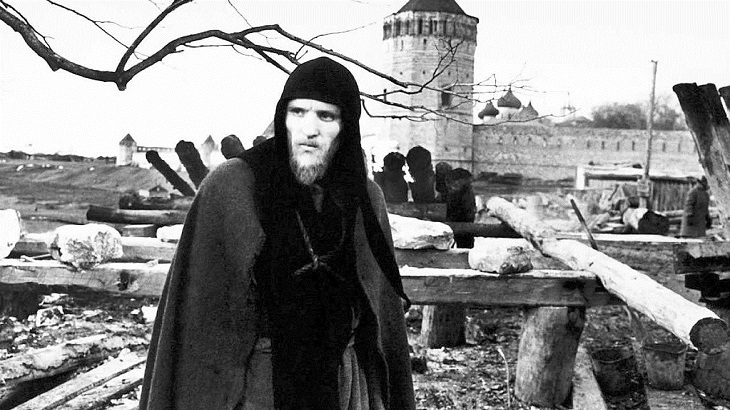 Based on the life of medieval Russian icon painter Andrei Rublev
Andrei Tarkovsky, for a long time now, has been recognized as the definitive embodiment of the art-house director, and his greatest film, "Andrei Ruble," remains among the greatest art-house biopics ever made.
Loosely based on the life of the great iconographer, this film depicts the bleak 15th-century Russia as we follow the almost Christ-like Andrei Rublev on his journey through the beautifully filmed Russian landscape.
Divided into eight chapters, which can also be watched as eight individual mini-stories, with a prologue and an epilogue loosely related to the rest of the plot. This film is more than three hours long, but we would be missing the point if we moaned about its length. It has been mentioned that Tarkovsky uses length and depth to slow us down, to edge us out of the velocity of our lives, to enter a zone of meditation and reverie.
In the films stunning climax, the screen bursts into color as we, in several extreme close-ups, see Rublev's magnificent paintings, and now realize that his paintings are the sum of his epic journey.
To completely comprehend a film as complex as "Andrei Rublev" seems pretty impossible, but that doesn't mean that we cannot gaze at its aesthetic magnificence and poetic, visual grace.
7. Raging Bull (1980, Martin Scorsese)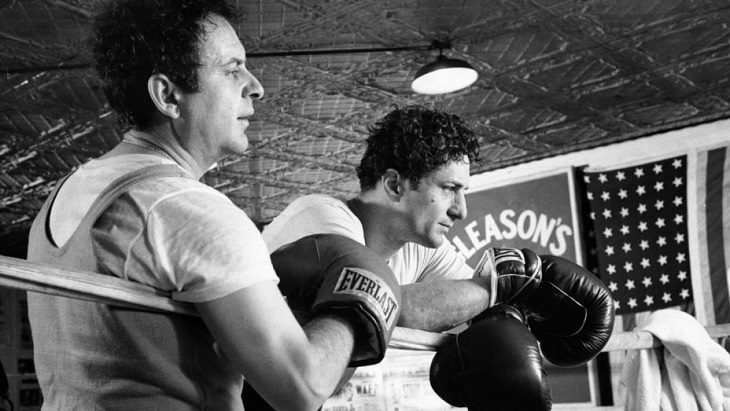 Based on the life of the former middleweight champion Jake LaMotta
"Raging Bull" is considered to be one of the supreme masterpieces of world cinema. This film catapulted Martin Scorsese to the forefront of American directors and into the ranks of the world's greatest filmmakers.
To this day, this film serves as a masterclass in direction, editing, and black and white cinematography. Special mention has to be given to Robert De Niro, who arguably delivers not only the finest performance in his career, but, perhaps, in the history of cinema.
The beginning of "Raging Bull" is one of the most iconic, beautiful, yet simplistic openings in American cinema, as we, in one long, unbroken shot, filmed in slow motion, see Jake (De Niro) practicing inside the boxing ring to the sound of Pietro Mascagni's beautiful Intermezzo Sinfonico. The following scene shows Jake at 42, overweight and out of shape, he's rehearsing a nightclub monologue.
The film then cuts to a major boxing fight, which took place 23 years earlier when Jake was in his prime. Already within the first two scenes, Scorsese has established a contrast between the young and the old Jake, and as in any good biographic film, we wonder to ourselves, "how did he get there?" That's the question that the film tries to answer, but it's much more than that.
Scorsese knows that it's not the plot points that the audience find interesting, but the lyrical spaces in between the plot points. That's why it has often been said that "Raging Bull" isn't really a film about boxing but about "a man's jealousy about a woman, made painful by his own impotence, and expressed through violence."
This film was nominated for eight Academy Awards, but ended up losing Best Picture to "Ordinary People," a film that most people don't even remember nowadays. Today, after almost 40 years, "Raging Bull" is still considered to be a truly superior work of cinema that is in a class of its own and continues to influence filmmakers all over the world.
Source: tasteofcinema