1. A Ferrari Dino 246 GTS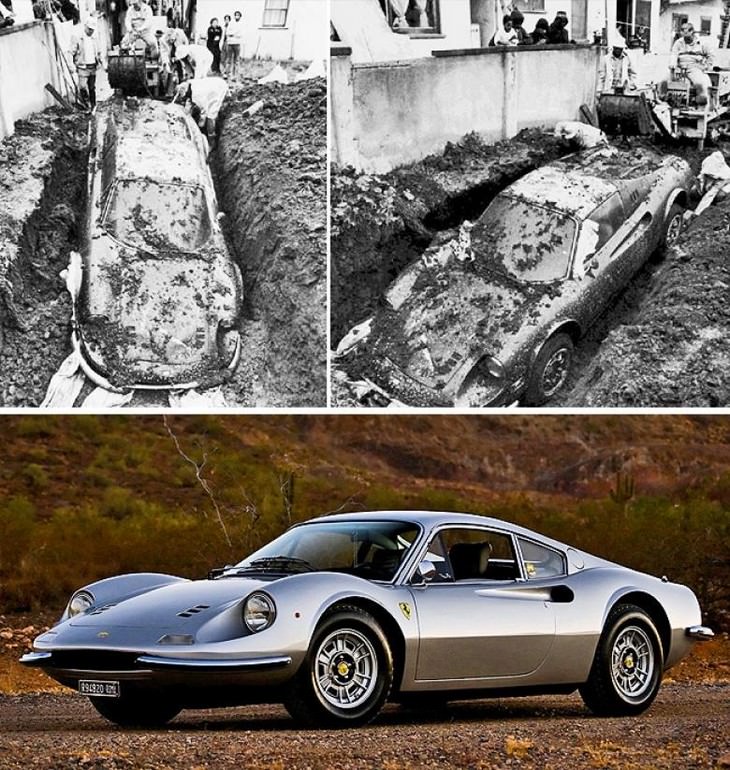 Back in 1978 one day, two children started digging up their garden. Yet, instead of being reprimanded by their parents, they became the talk of the town because of their shocking and unlikely discovery - after all, who would ever expect to find a Ferrari lying 6 feet under the garden? When the police investigated, they reasoned that the Ferrari had been stolen, surmising that the burial had been perpetrated as the result of an insurance scam. The car was returned to that insurance company, who sold the badly corroded vehicle at auction.
2. An Ancient Armadillo Shell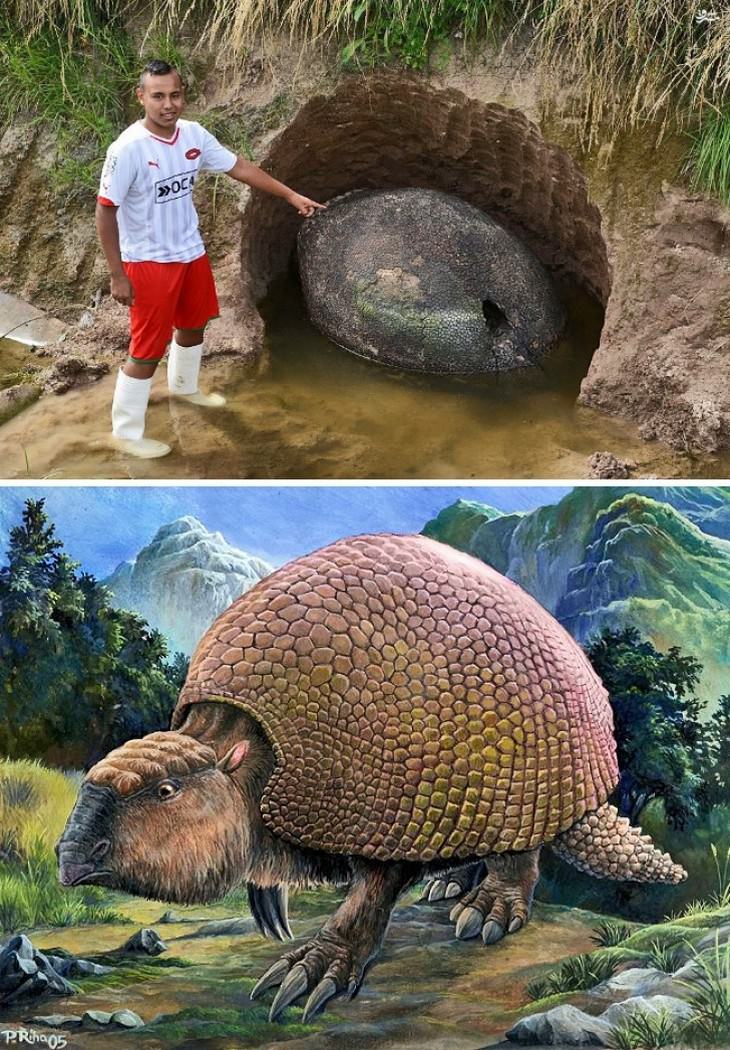 Working at his farm in Argentina one day, Jose Antonio Nievas came across a giant 'dinosaur egg', or so he thought. The 'egg' actually turned out to be another kind of prehistoric curiosity altogether. What Nievas had stumbled upon was the shell of a glyptodon, an extinct giant relative of the armadillo. The beast is estimated to have been as big as a Volkswagen Beetle. Scientists believe the puncture hole in the shell was caused during a fight with a rival glyptodon.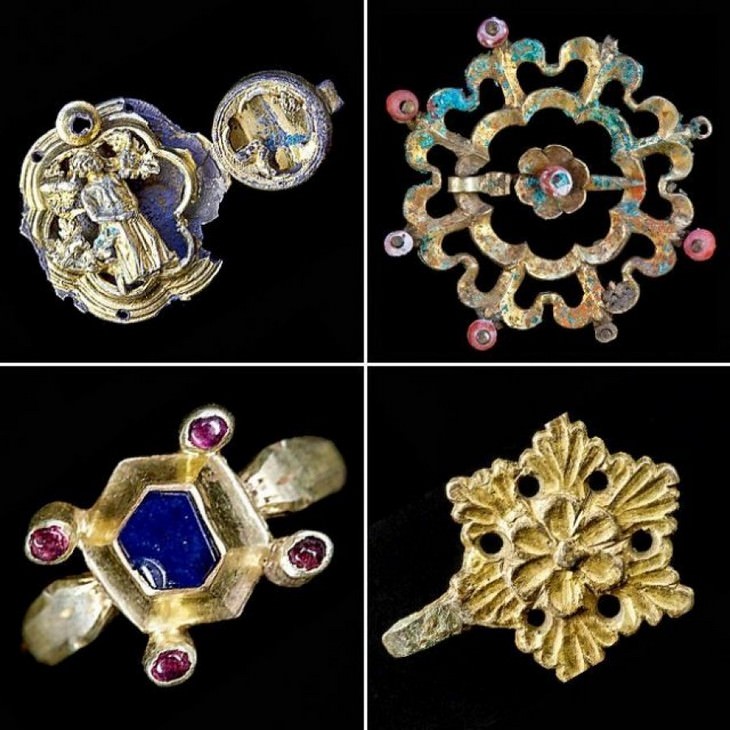 In true Antiques Roadshow style, in 2007 Austrian Andreas K. dug up a treasure box containing a wide variety of jewelry. There were 200 items in the haul, and they included silver platters, buckles, brooches, and rings. As is so often the case, Andreas put the find to one side and forgot about it for two whole years, until he moved house and remembered them. He ended up giving the treasure (said to be more than 600 years old) to his local museum as a gift.
4. Meteorites (on 6 Different Occasions!)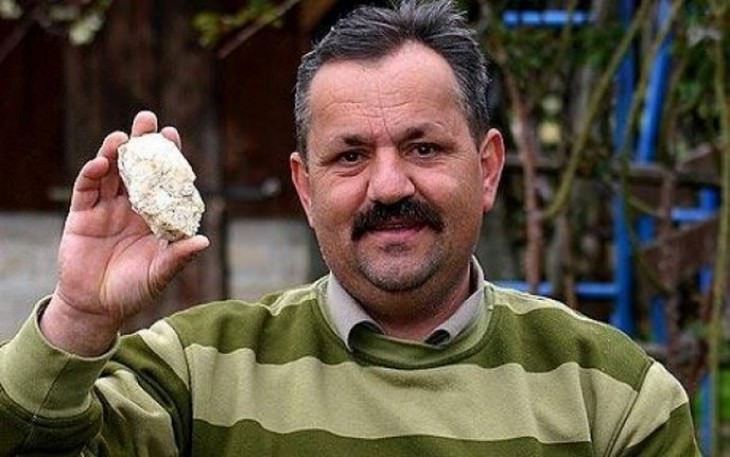 Most people have never seen or even heard about a meteorite falling in their local region, yet this Bosnian gentleman, Radivoje Lajic has had six (6!) meteorites fall into his garden. The University of Belgrade confirmed that they were space rocks, and have begun investigating how such a coincidence could occur. The thinking is that the electro-magnetic activity around his house could be drawing the meteorites to his abode. The unsurprisingly concerned Lajic has now reinforced his roof with steel bars.
5. A Cold War Bomb Shelter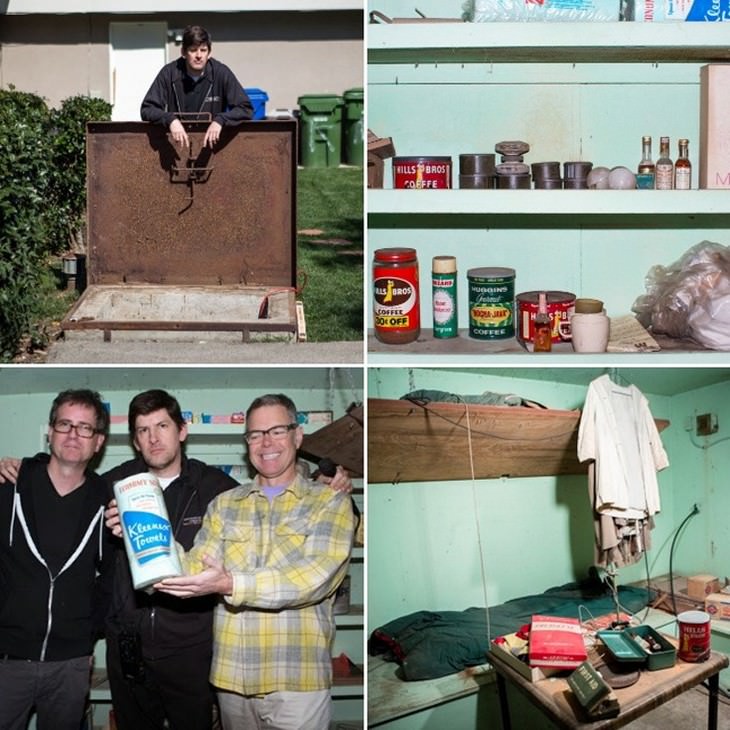 Colleen and Chis Otcasek bought their California house aware that the previous owner, an engineer, had built a bomb shelter in the yard, yet they had no idea it would still be left totally intact. Inside they were thrilled to find various household items from the 1950s and 1960s, including magazines, paper towels, coffee, and tinned food. It makes you wonder what the engineer's life would have been like if he did have to make use of it!
6. A Hidden Tunnel to the Great Pyramid of Cheops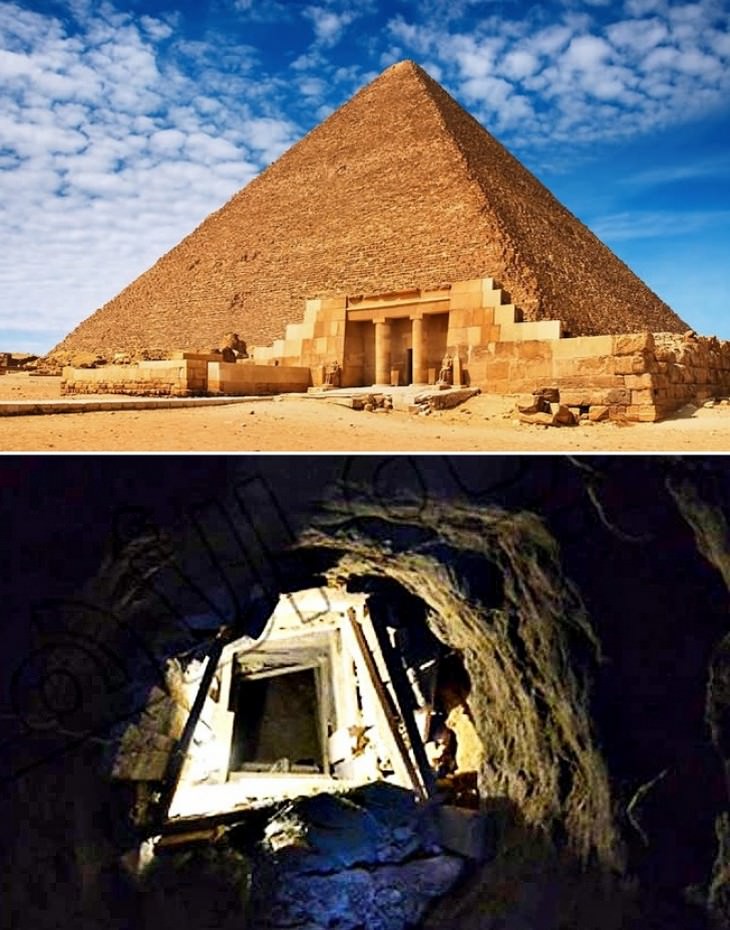 A villager of El Haraneya in Egypt was stunned to discover this mysterious tunnel in his backyard, which it has since been determined must have been the tunnel that leads to the Great Pyramid of Khufu in Giza, which was once written about by the legendary historian Herodotus. Has anyone ever come across anything more astonishing in their garden?
7. The 1,000-Year-Old Bones of a Native American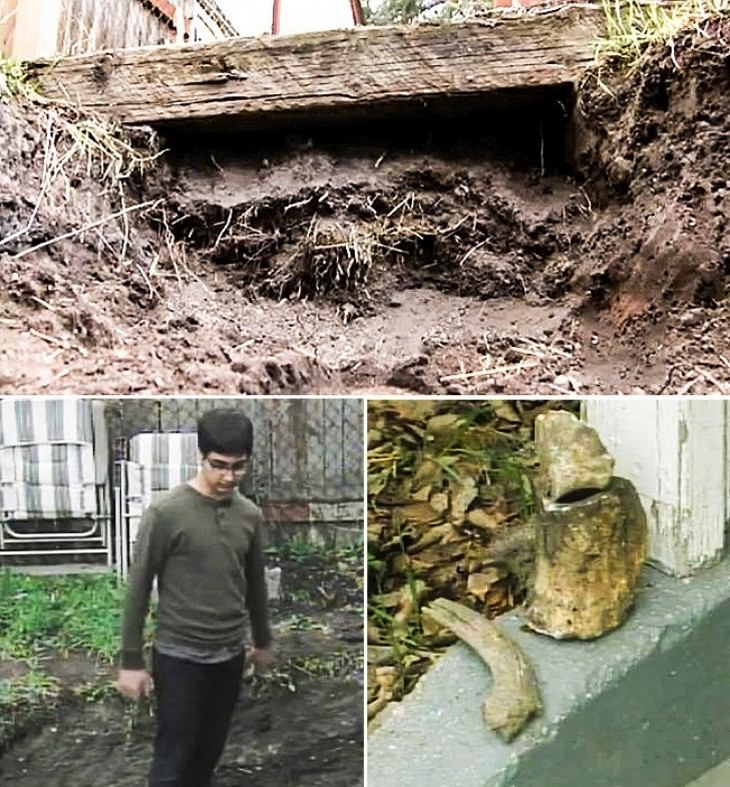 14-year-old boy Ali Erturk of Salt Lake City took it upon himself to dig in his garden as part of the family project to build a nice pond. Yet during his work he discovered human bones, which would be enough to give anyone the creeps. His dad called in the authorities, who sent the remains for the tests which determined them to have belonged to an American Indian who lived there a millennium before. It's now thought that this might be the site of an ancient burial ground. I wonder if the family decided to move out!
8. A Bag Filled with $175,000 of Illicit Marijuana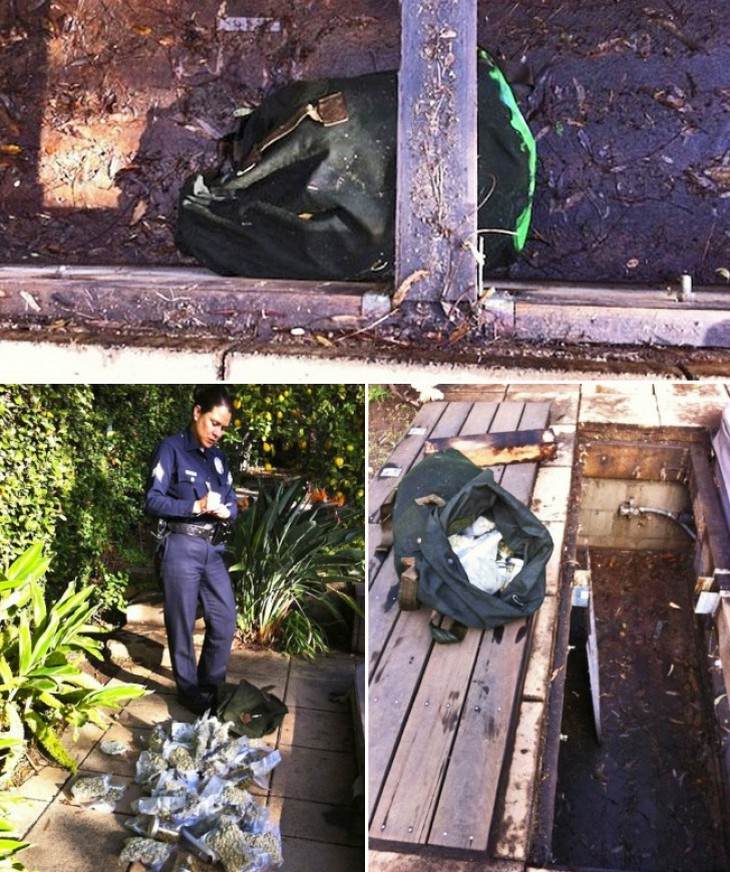 When Californian Mack Reed decided in 2012 to fit some solar panels to his roof, he went down to his rarely-visited cellar. What he found would scare any law-abiding citizen. In a bag which he did not recognize he found jars, packs, and envelopes of marijuana. The police informed him that the stash had probably been put there recently by a trespassing drug dealer wanting to hide his wicked haul. Reed then wrote a note in his cellar just in case the criminal came back, it read: "We've found the bag and called the police. They confiscated the drugs and put my house under surveillance. Sorry."
9. Boxes of Gold Coins (Valued at $10 Million)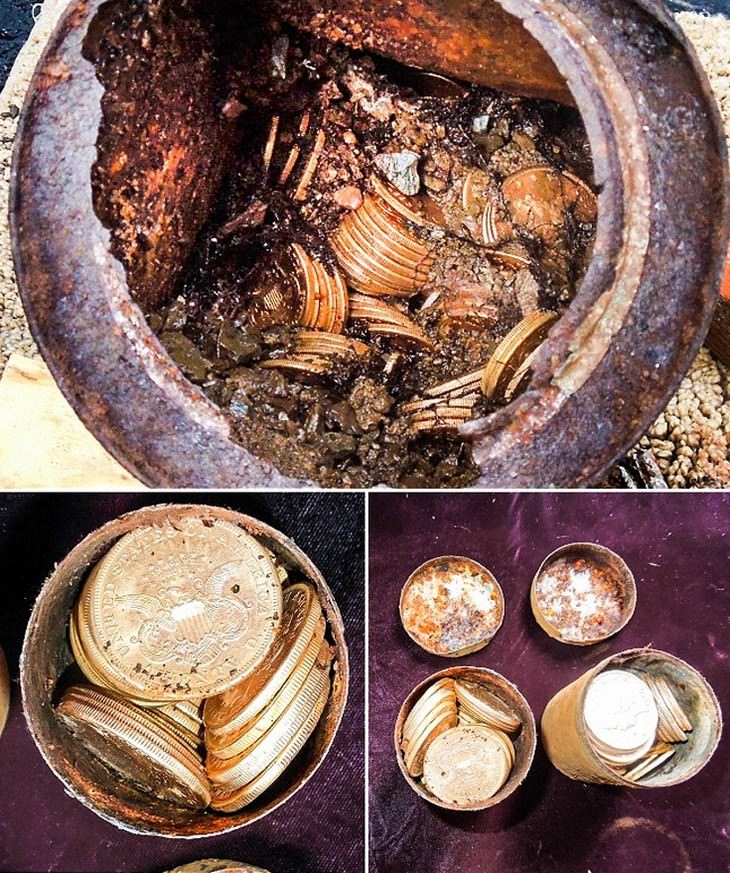 While playing with their pet dog in their back garden, a married couple noticed a rusty old box peeping out from the grass. When they dug it out and opened it, they were amazed to find it and eight more boxes were filled with gold coins, many of which had never been used. Most of the coins were then sold at auction for an eye-watering $10 million, but no one ever did find out how the 'Saddle Ridge Hoard' came to be buried in the first place.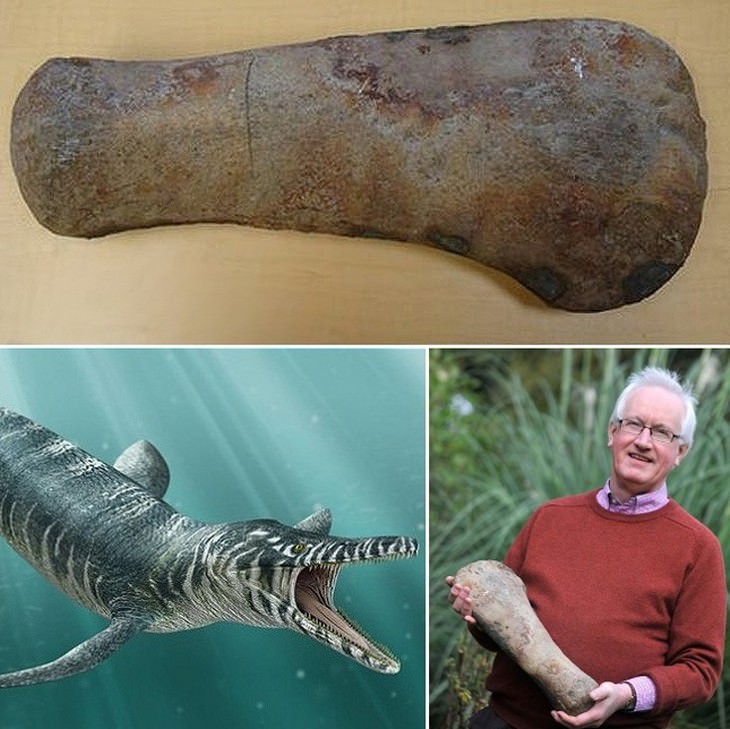 John Lambert of Ipswich in England, decided one day in 1997 to erect a fence around his home. As he was digging, his shovel came up against a hard object, which he took up and laid down in his barn. 16 years later he remembered the object and presented it to some experts who told him that it was the bone of a pliosaurus. The pliosaurus was a large sea-serpent that lived between 60 and 250 million years ago. What a rare find!