This contest drew the most talented photographers from all over the globe to demonstrate their most amazing shots, and we are the beneficiaries! These images each took first, second and third place in three distinct categories. Do you agree with the judges?
Travel 1st Prize: Basilica of Saint Francis of Assisi (Umbria, Italy)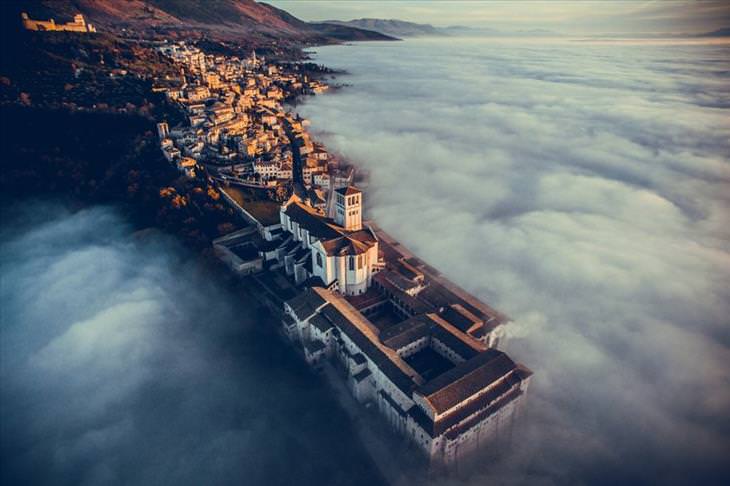 fcattuto
Assisi is world-renowned as the place of birth, and resting place, of St. Francis, founder of the Order of Friars Minor, and this basilica is actually the mother church of the same order. In this powerful image, the drone has managed to present a picture of heaven on earth. Is this what the 'city of God' is meant to look like?
Travel 2nd Prize: Cable Beach (Australia)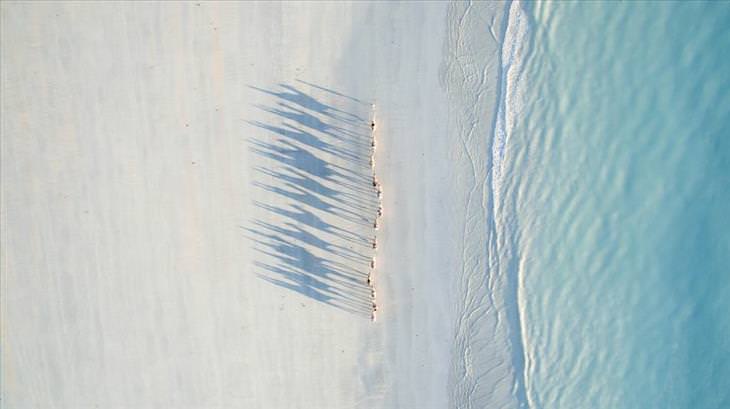 Todd Kennedy
Cable beach is a lengthy 14-mile stretch of gloriously white beach in Western Australia. Aside from being a dangerous location due to the abundance of box jellyfish, this beach is home to a great many camels, traveling in a linear caravan as you can see exquisitely pictured.
Travel 3rd Prize: Summer Camp (Gran Canaria, Canary Islands - Spain)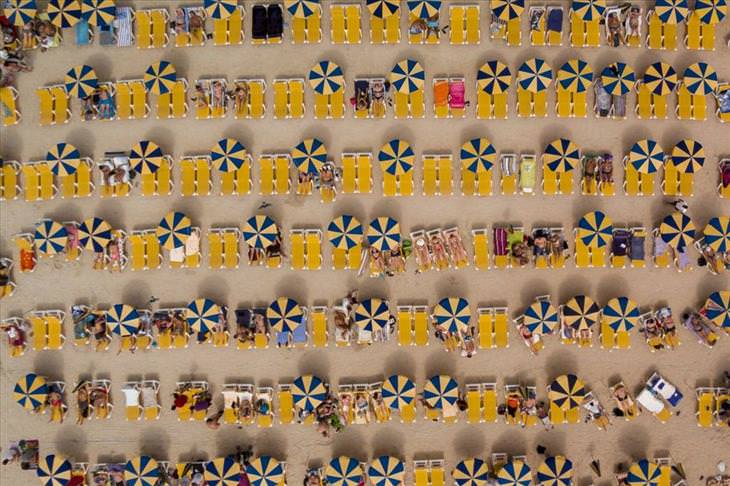 Karolis Janulis
Now a renowned tourist hot spot, Gran Canaria has a rich and turbulent story. Unlike anywhere else in the world, Canaria can claim to be a part of African (lying on 93 miles from the continent), European (it is a part of Spain) and even American history, since Christopher Columbus made a famous stop here on his first journey to the Americas.
Sports 1st Prize: Moab Rock Climbing (Utah, USA)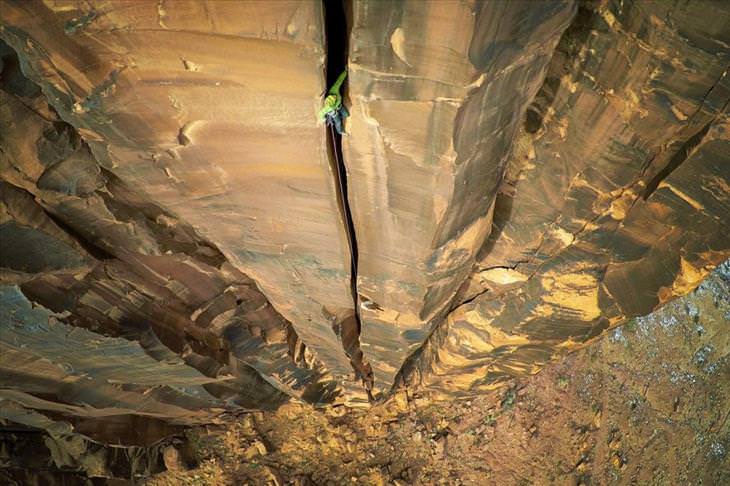 Maxseigal
For many enthusiasts, Moab is the world's capital city for rock climbing. And judging by this vertigo inducing photograph, you can see why extreme sportsmen love nothing better than testing their nerves (and their grip) among Moab's countless cliff faces.
Sports 2nd Prize: Complejo Acuático Norte (Santander, Spain)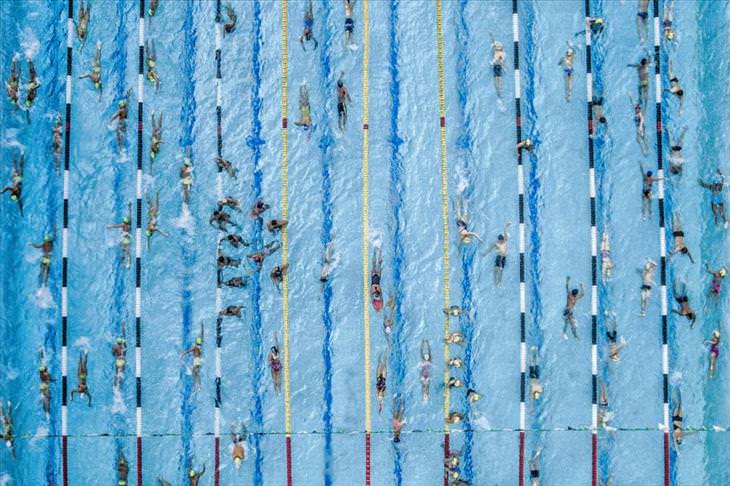 losmanesdeldrone
Another great historical site is Santander in Spain. But this shot isn't about history. Instead, it is a creative aquatic photo of dozens of swimmers in this great Olympic sized pool. This is at once a testimony to human sporting endeavor and the art of great photography.
Sports 3rd Prize: Chugach Mountain Range (Alaska, USA)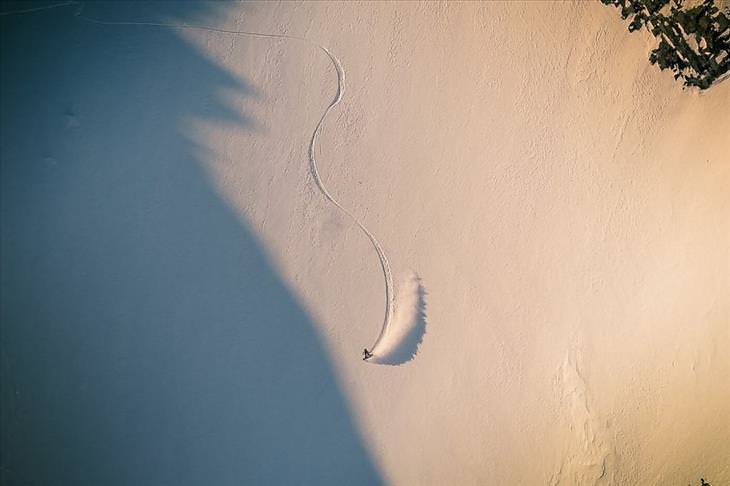 High Angle Shot
The Chugach Mountains in south Alaska cover an incredible 250 mile area. The snowy peaks of these gigantic structures create the perfect playground for the extreme athlete, like the one pictured here, and also fertile photographic opportunities for the visually-minded drone photographers.
Nature 1st Prize: Kalby Ris Forest (Denmark)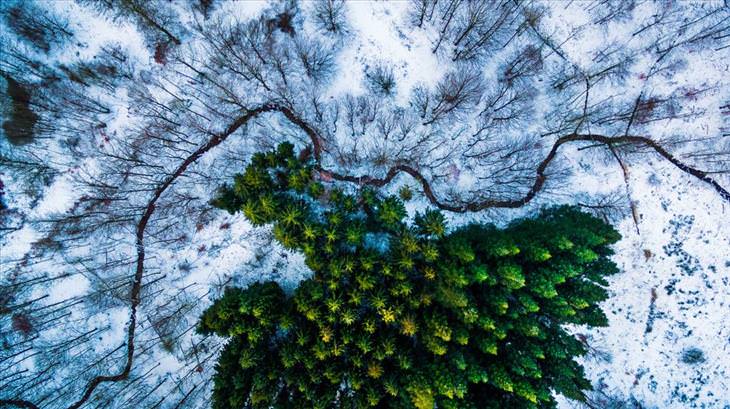 Mbernholdt
Kalby Ris is a forest in Denmark, about 40 miles from Copenhagen on the island of Zealand (Old Zealand, if you will). As you can see, it can be quite an unforgiving climate here, with temperatures staying below 18C on average. This mesmerizing image has so much going on - I'll let you peer into its deep wonders as I myself imagine ancient Norse warriors strolling about here, ax in hand.
Nature 2nd Prize: A Swarm of Sheep (Marpod, Romania)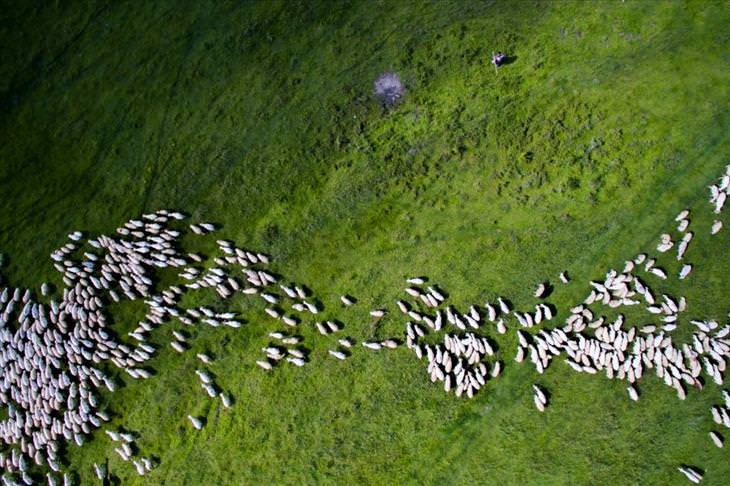 Szabolcs Ignacz
This pastoral scene is taken in a part of Romania, formerly known as Transylvania. Despite its eerie associations, this Latin name simply means across the forests, though there are not many trees in this region. You don't have to be a shepherd to appreciate the beauty and majesty of this simple yet elegant illustration of the rustic life.
Nature 3rd Prize: Piton de la fournaise, Volcano​ (Saint-Denis, Reunion - France)
Piton is one of the world's most active volcanoes. One recent eruption lasted from August right up until January! To date, it's most recent eruption occurred at the end of May 2016, so pictures like this are so precious. Few of us will ever venture to places like these - me included. There are very few photographs of such superb beauty that can at once show the surface and intestines of our planet. This one simply blew me away.