Since 1997, Gerry Judah has been making these fantastic sculptures especially for the Essex Goodwood Festival of Speed in England. His work has been recognized even by car manufacturers who started commissioning and sponsoring his sculptures in the recent years.
2009 - Audi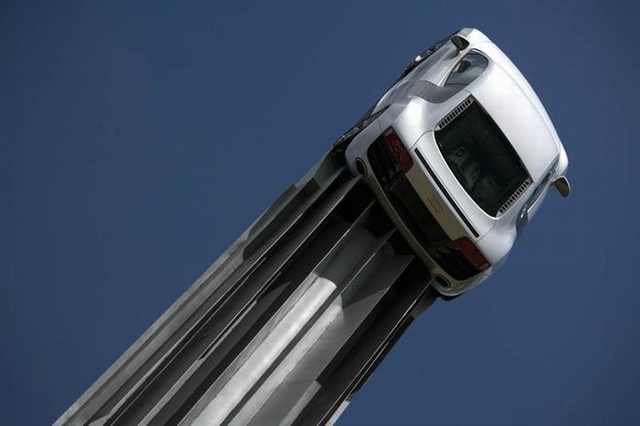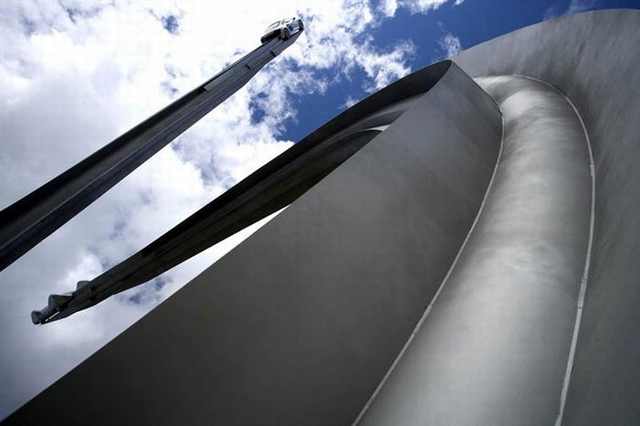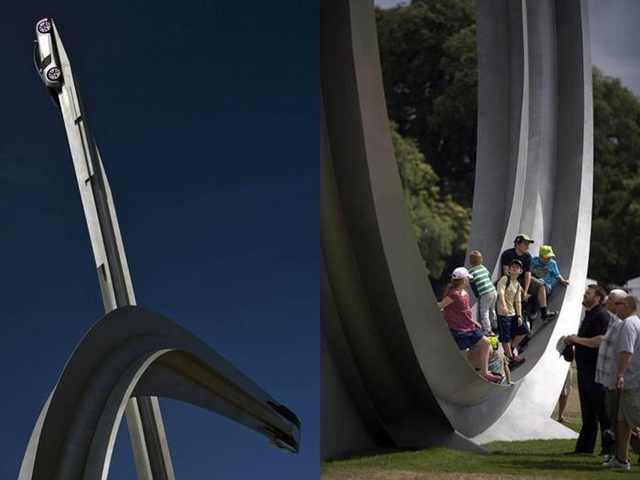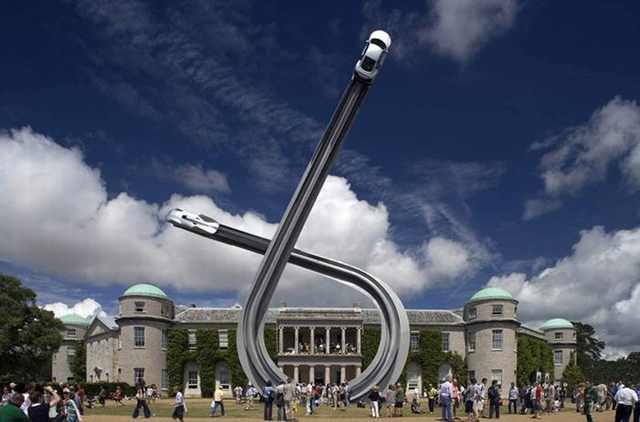 2010 - Alpha Romeo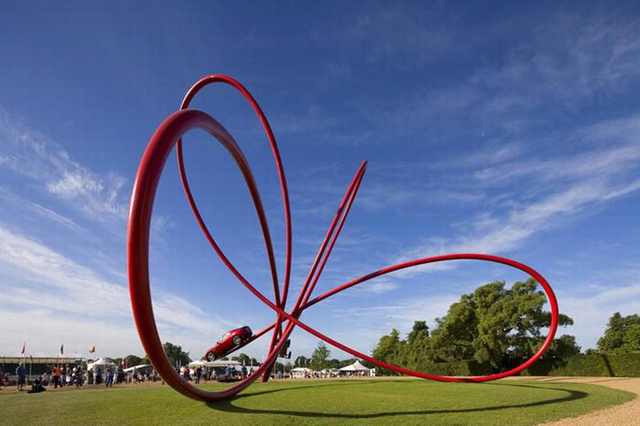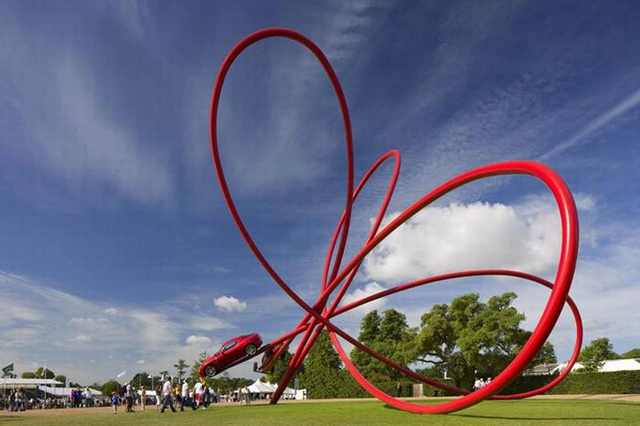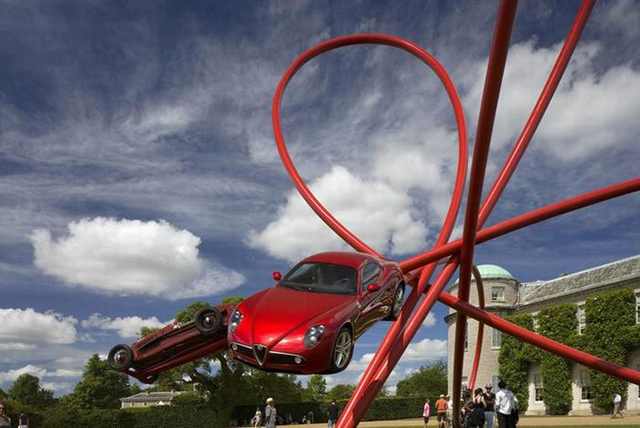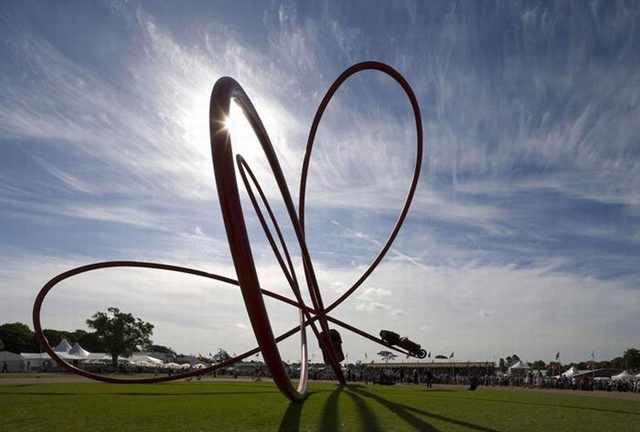 2011 - Jaguar
Designed by Malcolm Sayer, the Jaguar E-Type with its sensational design, 150 mph speeds and slew of victories made it an overnight sensation. Revealed at the Geneva Motor Show in 1961, our fascination with the E-Type is as strong today as it was 50 years ago and even Enzo Ferrari described it as "the most beautiful car ever made."
This sculpture was constructed from 500 meters of 1200mm diameter steel tube, itstands 28 meters tall and weighs over 175 tonnes – it was created to celebrate the 50th anniversary of the E-Type.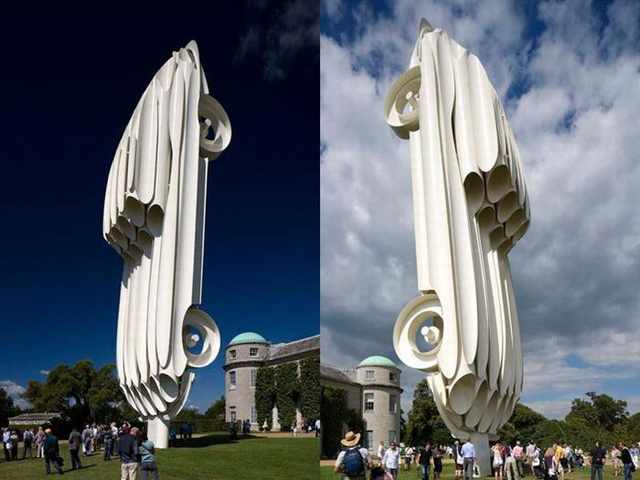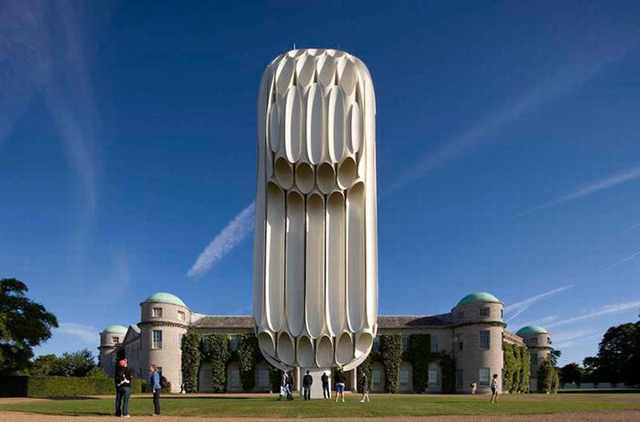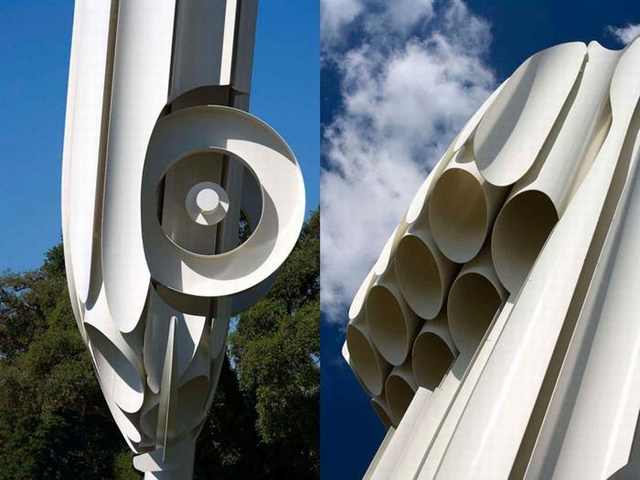 2012 - Lotus
The sculpture, displays six Lotus Formula One cars donated by Lotus Cars - Lotus 32B (Jim Clark 1965), Lotus 49B (Graham Hill 1968), Lotus 72E (Emerson Fittipaldi 1973), Lotus 79 (Mario Andretti 1978), Lotus 99T (Ayrton Senna 1987) and the latest Lotus F1 Team challenger. The road they "drive on" is 150 meters long, with the entire construction weighing 60 tonnes.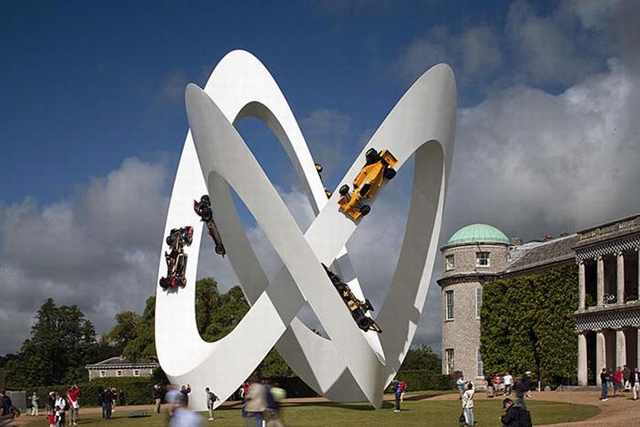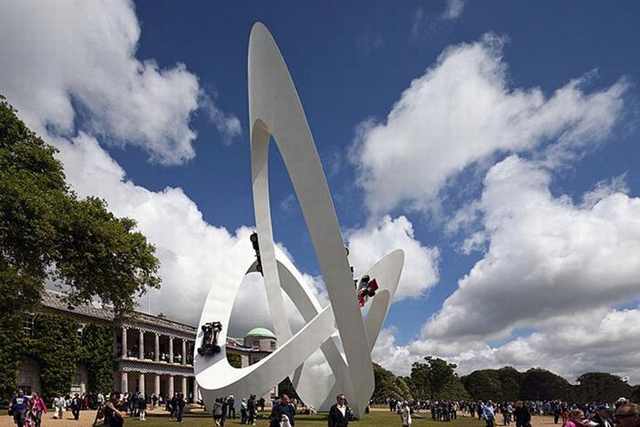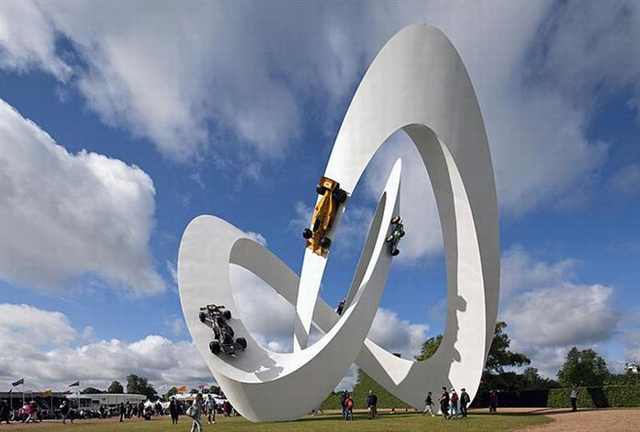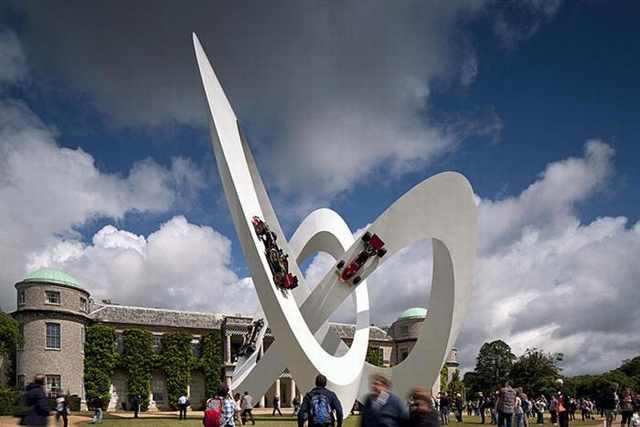 2013 - Porsche
Commissioned by Porsche GB to celebrate 50 years of the Porsche 911, this sculpture has three white steel 'arrows', with a 1963 Original 911, a 1973 911 Carrera RS 2.7 and a 2013 911 at the top. It is 35 meters tall and with a weight of over 22 tonnes.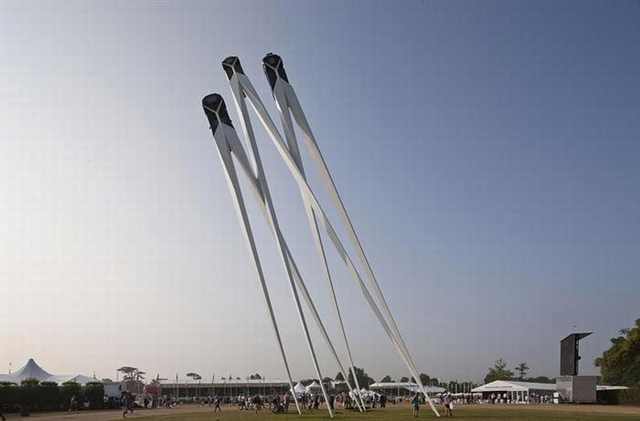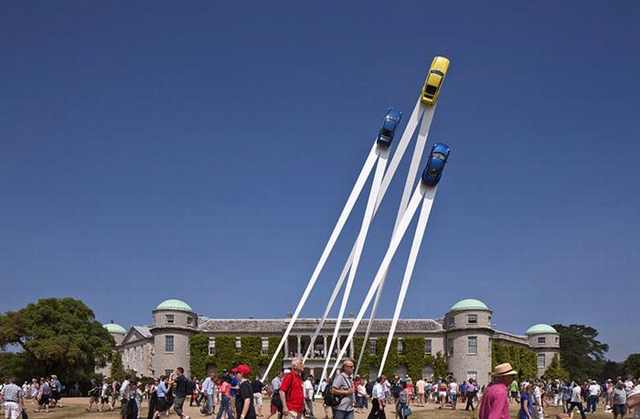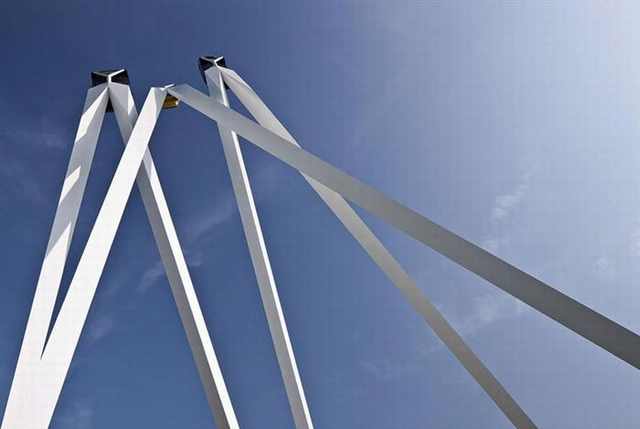 2014 - Mercedes-Benz
Representing Mercedes' span through the last thirteen decades, with a height of 26 meters, this 160-tonne steel sculpture is 90 meters long. The car with the number 04 on the chassis, was raced in 15 Grand Prix in 2013 by Lewis Hamilton.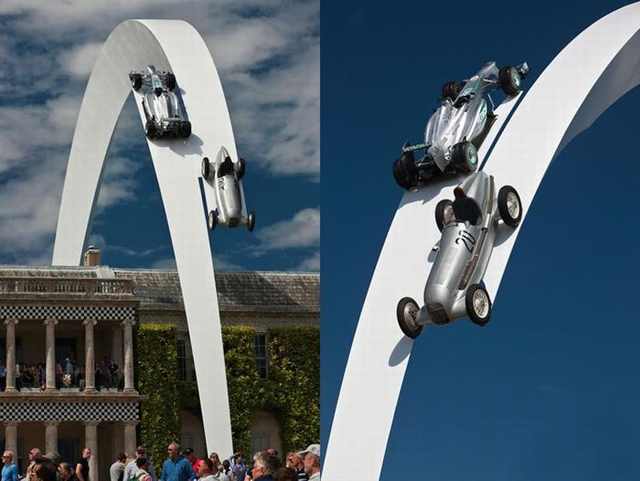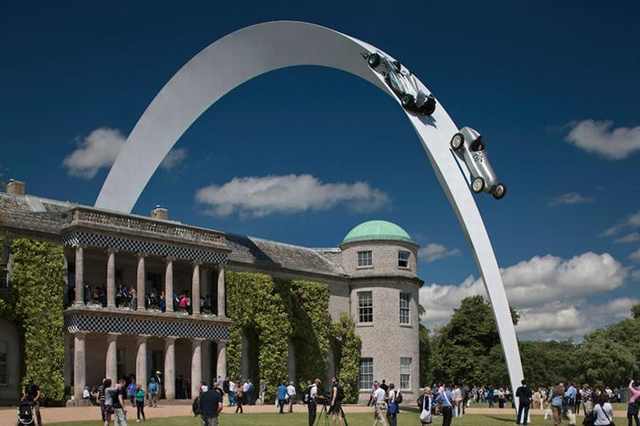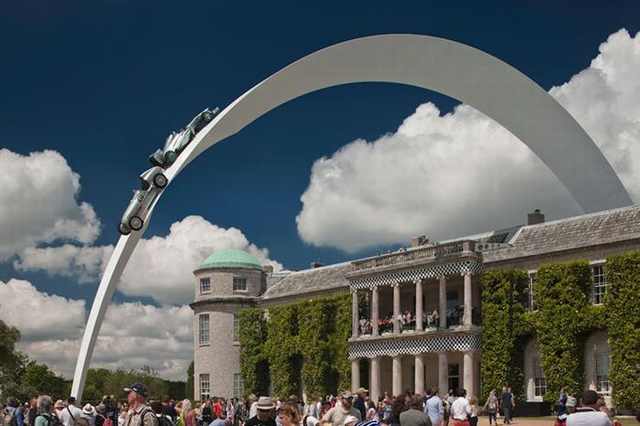 All art is the property of GERRY JUDAH