The end of the 19th and beginning of the 20th century was a revolutionary time in art history. It all began when the Impressionists rejected the traditions of the beaux-arts, abandoned the studio, and found inspiration in everyday life. But the next generation of painters, the Post-Impressionists, pushed the envelope even further.
A prominent style that emerged during this period was Pointillism. The revolutionary method was essentially developed by two artists – Georges Seurat and Paul Signac. Seurat is well known for his masterpiece titled A Sunday Afternoon on the Grande Jatte (1884-1886). However, his collaborator and fellow artist received far less acclaim, despite developing, popularizing, and working within the Pointillism method for decades. Let's examine the life and career of this underrated artist, and showcase some of his finest artworks.
Childhood and Early Career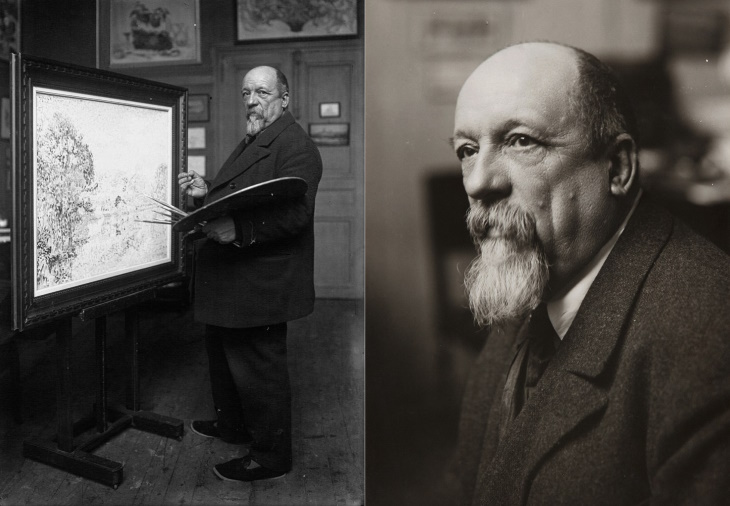 Portraits of Paul Signac (1923)
Paul Signac (Nov 11, 1863 - Aug 15, 1935) was fortunate to have been born in Paris in the 1860s. This was a time in the French capital's history when it was setting the tone for artistic innovation on a global scale. A few decades earlier, the City of Light brought forth Impressionism, and Modernism was already at the doorstep.
Early in Paul's youth, the family moved to Montmartre, the famous Parisian neighborhood of artists, writers, and other creatives. This gave young Signac the opportunity to grow up treading the same streets as Claude Monet and Edgar Degas, and be one of the first spectators of their new masterpieces.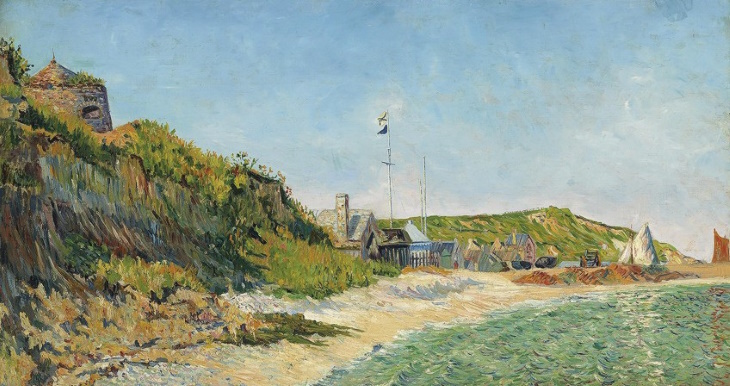 There's a funny story in Signac's early biography that wonderfully describes the spirit of his youth. When Paul was in his teens, he visited the sixth Impressionist exhibition. Captivated by one of Degas' paintings, he attempted to copy it but was kicked out by Paul Gauguin, who said, "One does not duplicate here, gentleman!" in a harsh and judgmental tone of voice.
After his father's passing in 1880, Signac's mother moved from Montmartre, but Paul continued to frequent artistic gatherings and literary societies. He was particularly fascinated by Monet's technique and the tradition of depicting common scenes. This inspired him to pick up the brush and paint his first painting when he was just eighteen. Signac briefly frequented the workshop of Emile Bin, a portraitist and historical painter, but he was mostly self-taught.
Above, you can see one of Signac's first paintings. It depicts Port-en-Bessin in 1883. Note the strong influence of Impressionism on the landscape.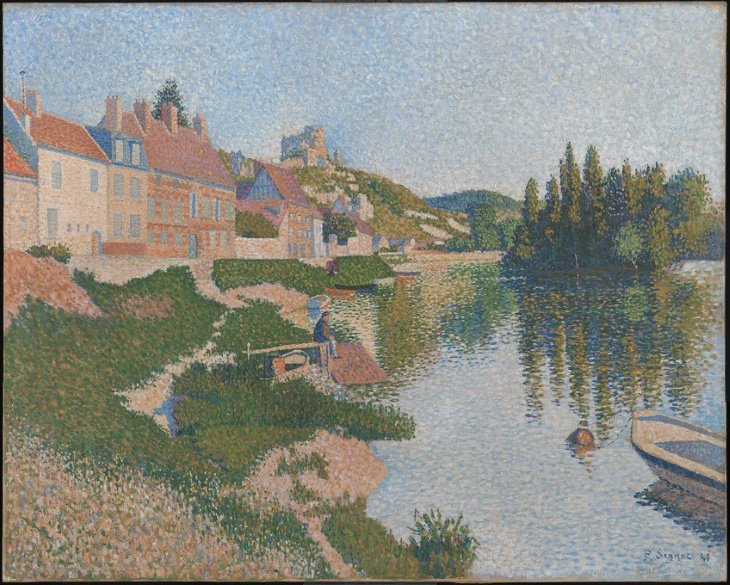 Les Andelys, the Riverbank (1886)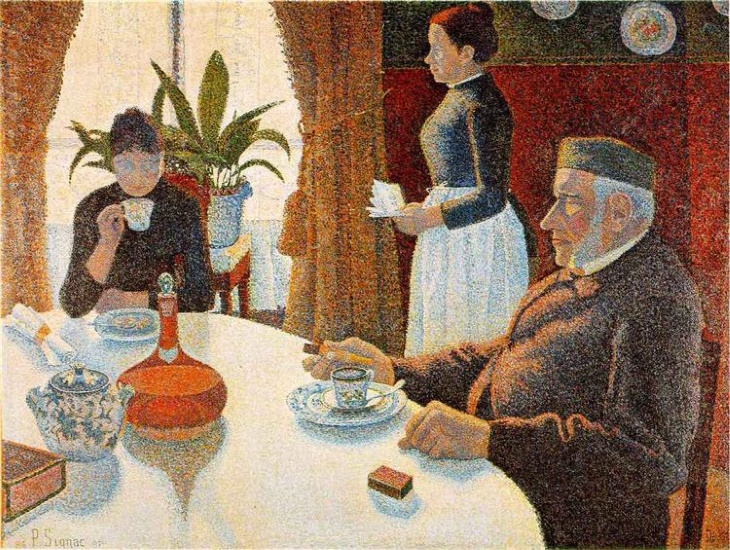 The Dining Room (c.1886-1887)
Artistic Breakthrough and the Beginning of Pointillism
Paul Signac was known for his friendly nature and collaborative spirit. By age 22, Signac along with two of his friends Albert Dubois-Pillet and Odilon Redon founded a new organization called Salon des Artistes Indépendants. Unlike the classic Parisian Salon, their gallery embraced creative freedom and supported budding avant-garde artists.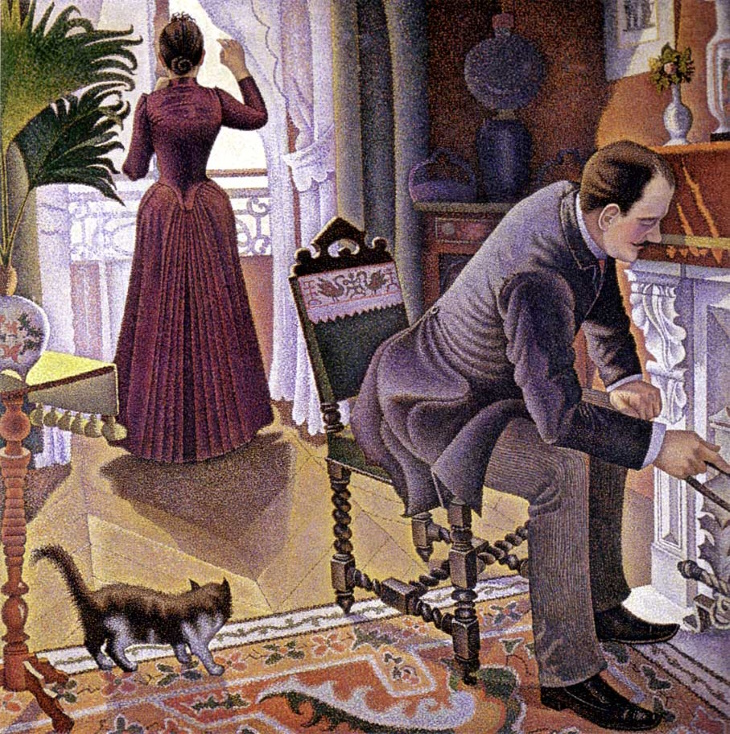 Through the Salon des Artistes Indépendants, Signac met Georges Seurat. The two artists bonded over a mutual curiosity about scientific breakthroughs in optics and color theory, and especially the way these advances could be used in the arts. The result of their collaboration was a brand new style called Neo-Impressionism (or pointillism) that took the rough brushstrokes of the Impressionists to a new level.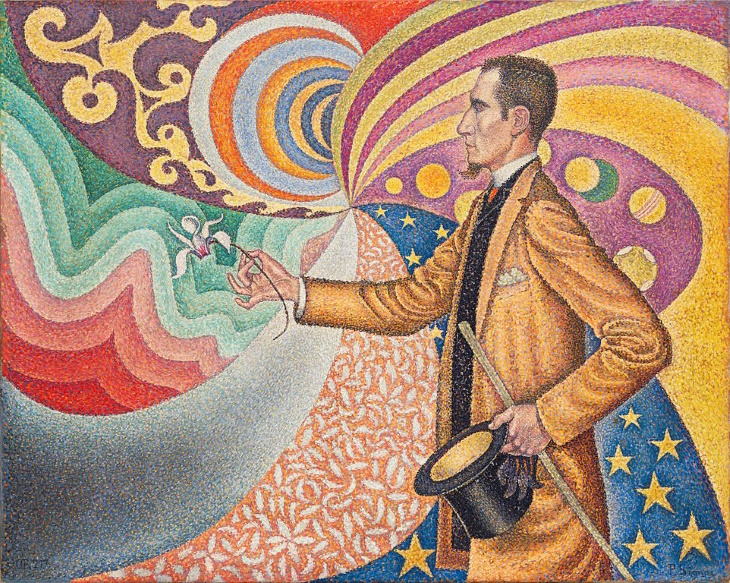 Opus 217. Portrait of M. Félix Fénéon (1890)
The new aesthetic debuted at the 8th and last Impressionist exhibition in 1885, where both Signac and Seurat presented their paintings. These artworks differed from all others on display. When examined up close, the paintings looked like tiny dots of color. However, take a few steps back and the points merge into nuanced images in front of your eyes.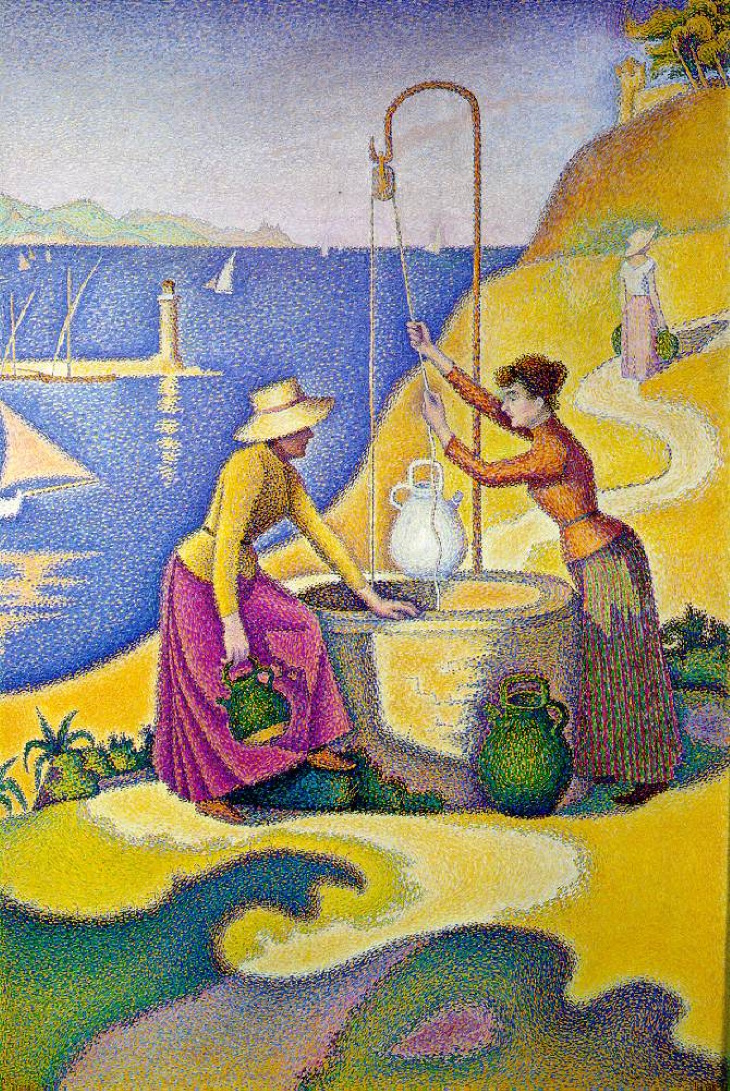 At a distance, the spectator's eyes no longer perceive each individual dot and mix the paint into nuanced hues. This approach applied the scientific discoveries of color theory and optical mechanics that Seurat and Signac regarded so highly. It's called melange optique, or "optical mixture."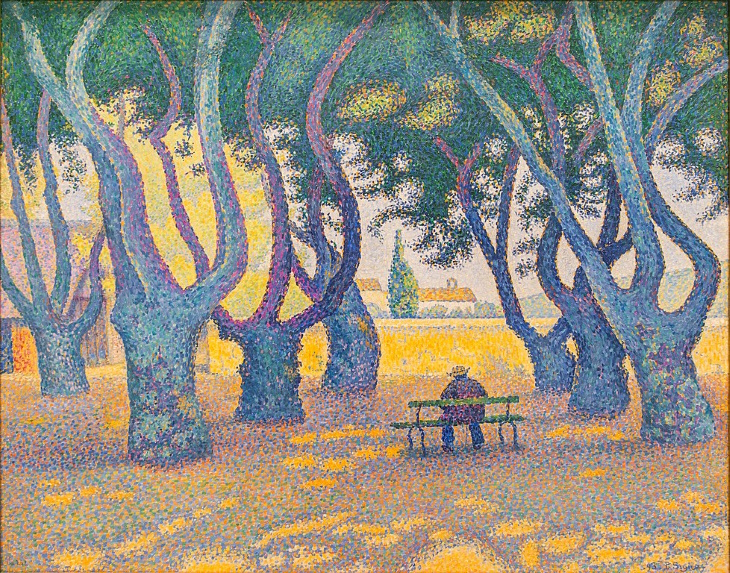 Place des Lices, St. Tropez (1893)
By distilling the image into dots of basic colors, the Neo-Impressionists opened the door to Modernism which continued breaking down images into primary components and pushing the limits of abstraction further and further. Seurat would never witness the revolution that began with pointillism because of his early passing in 1891 at age 31. Fortunately, Signac carried on his legacy and continued painting in the Neo-Impressionist style all his life.
Mature Style and Later Life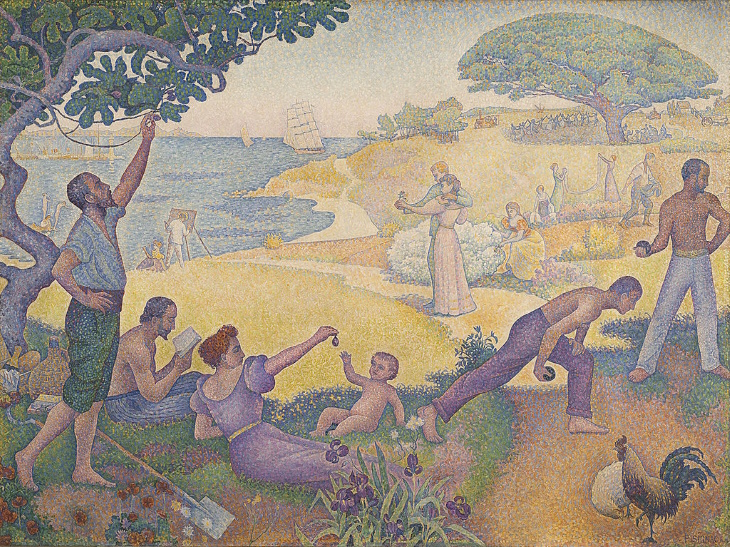 In the Time of Harmony. The Golden Age is not in the Past, it is in the Future (c. 1893-1895)
After Seurat's passing, Signac's personal style continued to evolve, and his brushstrokes became more translucent and loosely defined. The white canvas peeked through the thin layers of paint, creating a striking almost shimmering effect.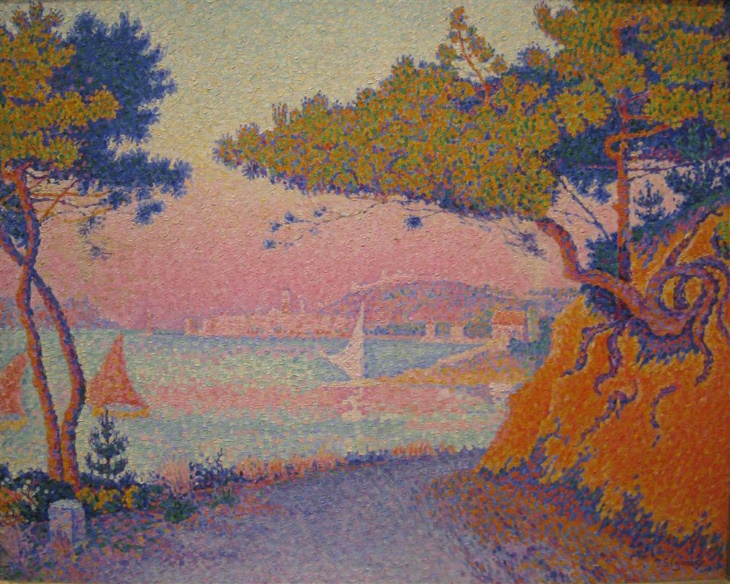 In 1892, Paul Signac married his long-standing partner Berthe Roblès, and the couple eventually moved from Paris to a mansion in Saint-Tropez. It is here that Signac created some of his most well-known paintings.
An avid sailor, Signac voyaged along the Mediterranean coast, painting the beautiful seascapes and landscapes across his path.
Throughout his lifetime, Signac remained a prolific painter. At the beginning of the 20th century, he continued to produce oil paintings, detailed sketches, and vibrant watercolors.
The celebrated artist passed away in 1935 and was buried in his home city, Paris, in the famous Pere Lachaise cemetery. Still, his works live on, and spectators can marvel at and appreciate them for years to come.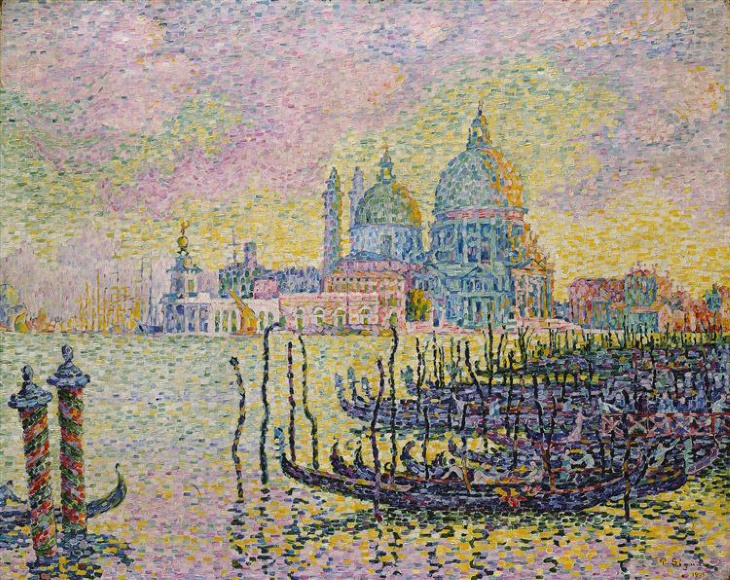 Grand Canal (Venice, 1905)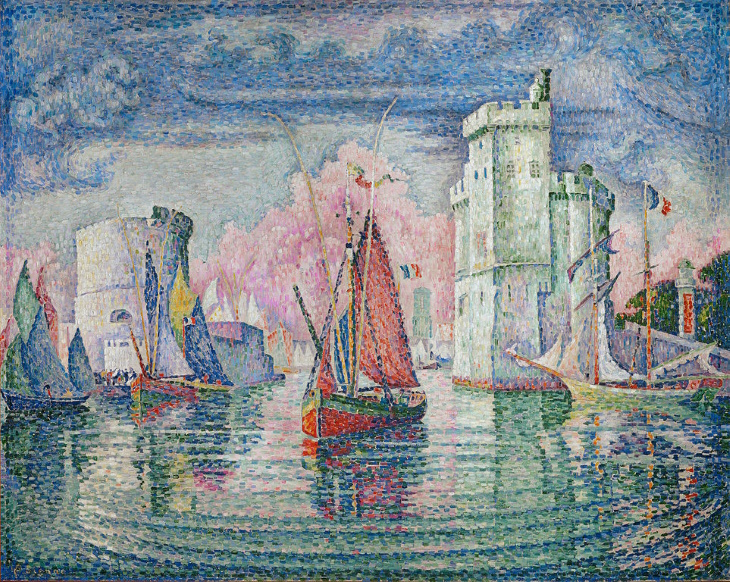 Entrée du port de la Rochelle (1921)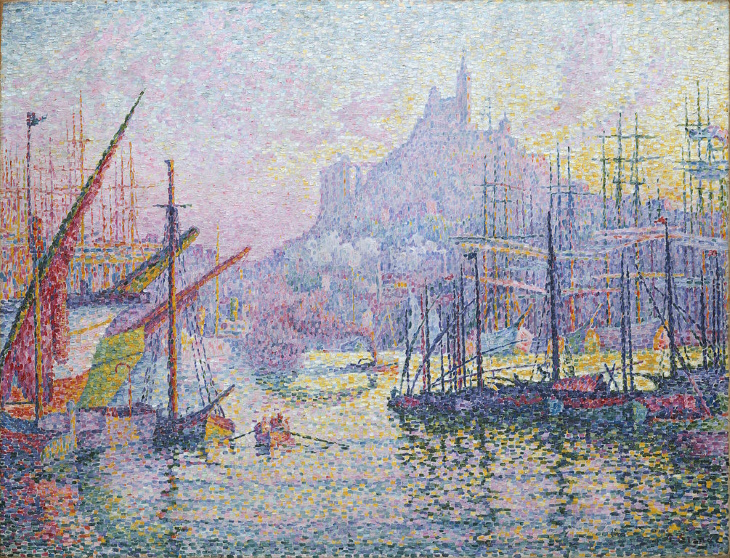 View of the Port of Marseilles (1905)
Paul Signac's Famous Paintings
The Milliners (1885-1886)
is Paul Signac's first famous scene depicting everyday life, following in the footsteps of the Impressionists. The painting features Berthe Roblès, his then-partner and future wife, on the left reaching for scissors.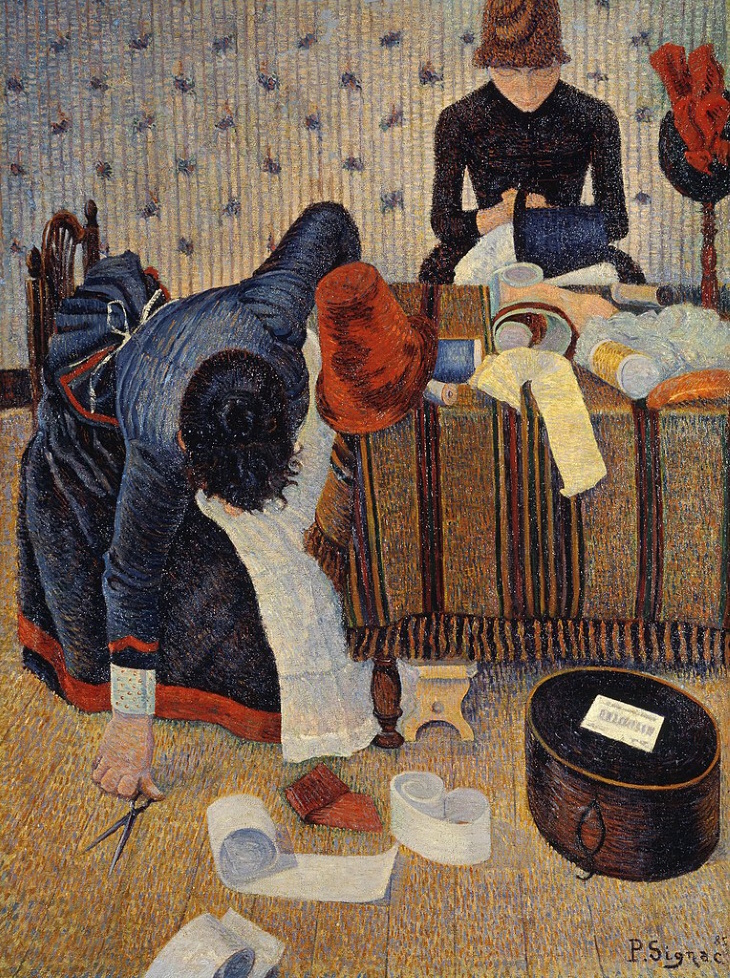 The Milliners (1885-1886)
Roblès was a milliner in the Sentier neighborhood of Paris, and she helped the artist accurately depict the scene. The confined space in the milliners' workshop is meant to accentuate the closeness and connection of the workers. This early piece lacks the transparency of Signac's later works.
This next piece titled The Pine Tree at Saint Tropez (1909) incorporates two key characteristics of Signac's art: a keen interest in nature and the use of bold colors. This is a much later painting that dates back to 1909, and it beautifully shows how, over time, Signac was no longer bound by realistic color schemes.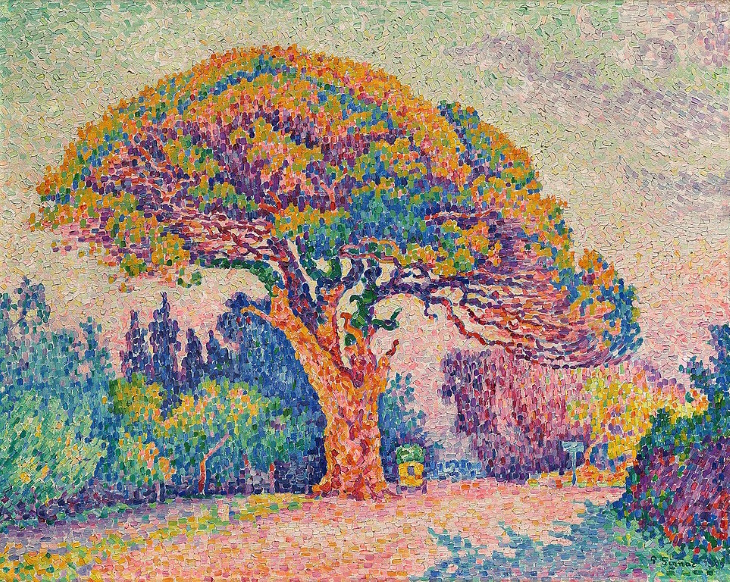 The Pine Tree at Saint Tropez (1909)
Instead, he preferred bold hues. The painting belongs to a time in the artist's life when he shifted to landscapes and seascapes of the Mediterranean sea almost entirely.
Woman with a Parasol (1893) is one of Signac's most famous portraits and a beautiful example of his early Neo-Impressionist style. The painting depicts Signac's future wife Berthe standing with an orange umbrella in her hands. In the portrait, Berthe is dreamily looking into the distance.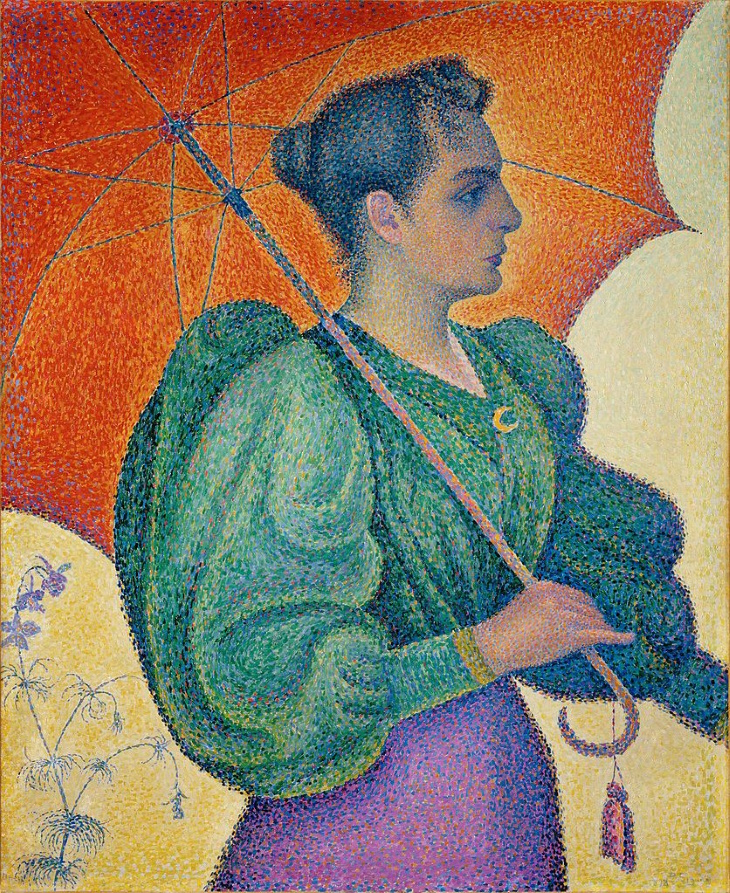 Woman with a Parasol (1893)
A short time after Signac created this vibrant portrait, the two got married.
We kept one fascinating fact from Signac's biography for last. He was one of the first to recognize Vincent van Gogh's genius. The painter was criminally underappreciated or even ridiculed in his lifetime, but Signac supported him ever since the two first met in Paris in 1886.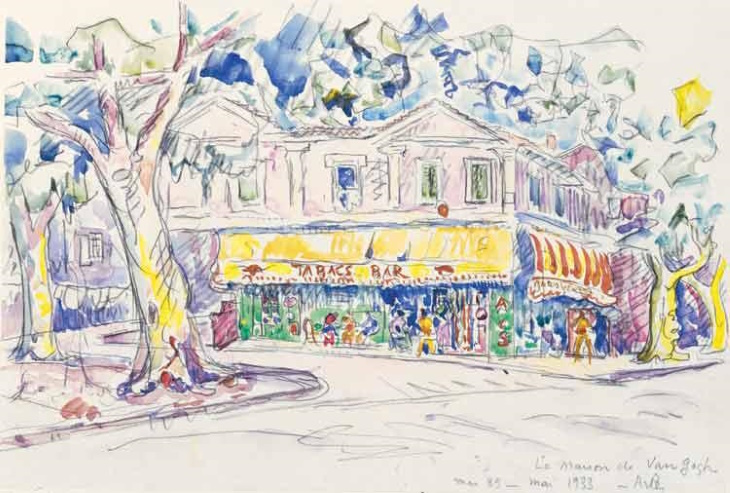 The House of Van Gogh (Arles, place Lamartine, 1933)
Signac and Vincent Van Gogh have stayed in touch ever since, occasionally painting together en plein air. At one point, Signac even traveled to Arles and visited Van Gogh. This last image depicts the famous Yellow House, where Van Gogh rented four rooms.