Cuba, the largest of the Caribbean islands, is located just 160 km off the southernmost point of Florida in the United States. This wonderful island has a rich culture, history, and a captivating mystique. Known for its cigars, vintage American cars, exquisite beaches, stunning coral reefs, lush countryside, superb diving and fishing, and rum distilleries, Cuba, as you're about to see, is a place that has a lot to offer visitors. Below you'll find 10 of the best places to visit in Cuba, and if this isn't enough to whet your appetite then there's a fantastic 4K Cuba travel guide video at the end.
1. Old Havana (Habana Vieja)
This UNESCO World Heritage site is a well-preserved slice of Cuban history. While strolling around its cobbled streets and gazing up at the grand Baroque and neoclassical buildings, you can get a great insight into what life was like in Cuba 200 years ago. Major attractions here include the Plaza de la Catedral, home to the Cuban Baroque Catedral de San Cristobal, the legendary restaurant Bodeguita del Medio, and the military fortress, Castillo de la Real Fuerza.
There's also Plaza Vieja, one of Havana's most vibrant gathering spots. The main building of interest here is the 18th-century Casa del Conde Jaruco with its beautiful stained-glass windows. Nearby, is the Camera Obscura which offers tourists fantastic views from its 35-meter tower. Visitors should spend a day exploring this fantastic old town.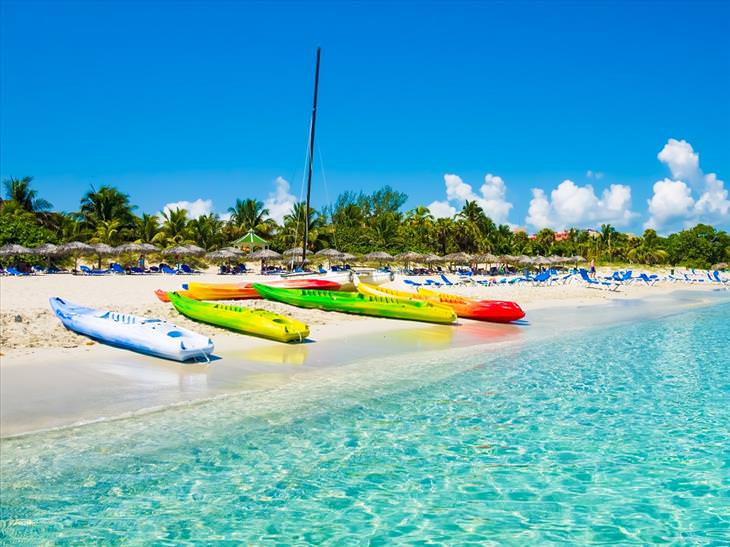 This is one of Cuba's most popular beach destinations. More than 50 hotels line this popular strip, and its magnificent white-sand beaches and stunning blue waters draw in visitors from all over the world. Highlights include the Parque Natural Punta Hicacos, a nature reserve with a beautiful beach and two caves that can be explored.
If you get fed up of the beaches, you can also take a trip to Parque Josone, a wonderful park that is home to botanical gardens and wildlife, a restaurant, and a small lake where you can go rowing. If you're into snorkeling or diving, northeast of Varadero is Cayo Piedra Underwater Park, a popular diving and snorkeling area with shipwrecks and an array of colorful fish. Besides this, Varadero offers great deep-sea fishing, skydiving, golf, and day trips to cultural attractions.
3. Parque Nacional Vinales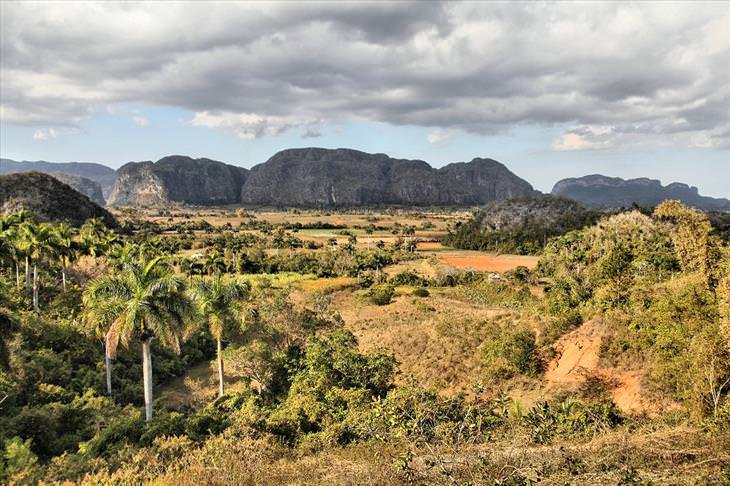 The Parque Nacional Vinales, a UNESCO World Heritage site, is a stunning valley in the Sierra de los Organos, north of Pinar del Rio. Steep limestone hills, known as mogotes, slice through the valleys creating a dramatic landscape, while the valley floors are agricultural areas where fruit, vegetables, and tobacco are grown. If you're an outdoor enthusiast, the park offers fantastic hiking and horseback riding in the hills. Tour companies offer day trips here from Havana.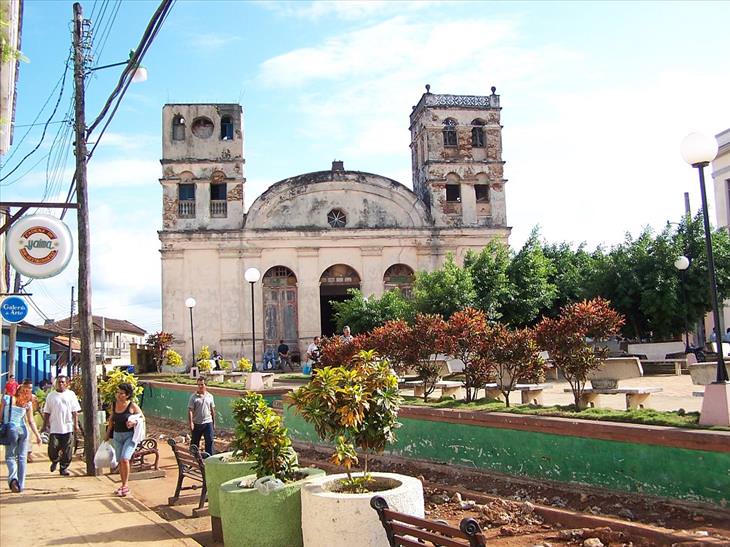 This is the oldest city in the country – it was founded in 1511 in the province of Guantanamo and construction began on the first church here around that period. This city was cut off from the outside world until the La Farola highway was built in the 1960s, but it still has a remote feel to it. Tourists come here for the charming colonial architecture and lavish countryside where waterfalls and beaches provide a nice contrast to the hot and steamy jungle.
To really appreciate the stunning scenery, visitors should take a trip down the winding La Farola highway, a 49-kilometer stretch of road from Baracoa over the mountains to Cajobabo. Roughly 20 kilometers northwest of Baracoa is one of the area's best beaches, Playa Maguana, the adventurous type can rent a bike in Baracoa and cycle here. Flights to Baracoa depart frequently from Havana.
5. The Malecon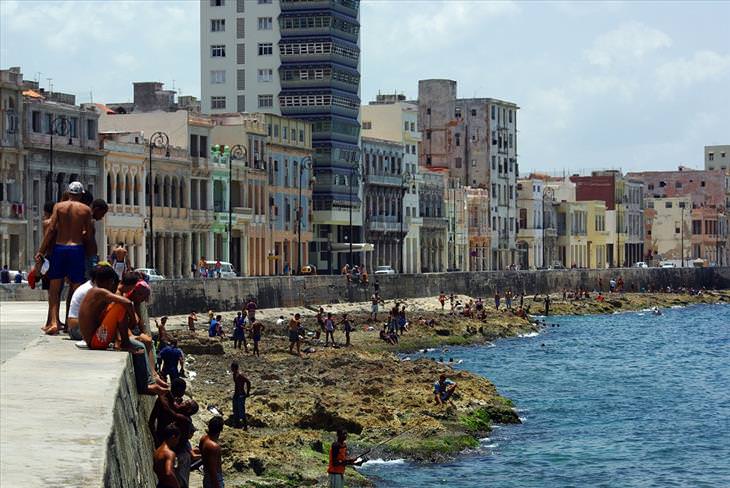 This is Havana's famous seafront promenade. Along this 7-kilometer-long promenade, visitors will find an assortment of well-preserved 20th-century buildings that represent a mixture of architectural styles such as Art Deco and Neo Moorish. Painted in yellows and pastel pinks, these buildings are a photographer's delight, especially at dusk. People watching is a favorite pastime here.
6. Santa Clara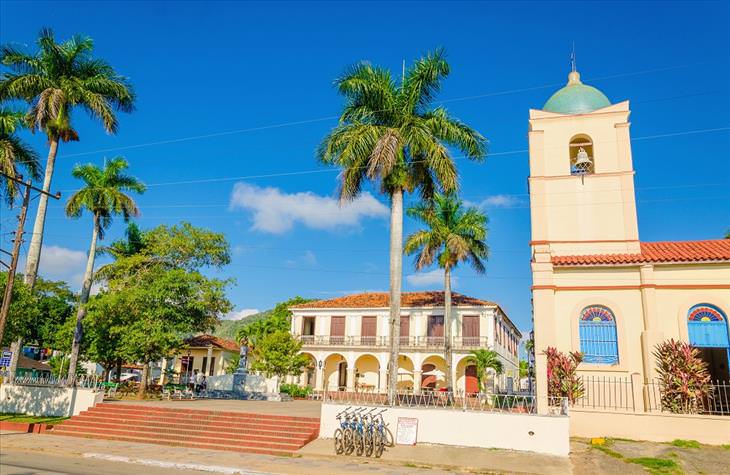 If beach towns all start to seem the same to you, Santa Clara, in the province of Villa Clara, will add some depth to your Cuban itinerary. Rich in cultural attractions, it's a vibrant university town and the site of the last guerrilla battle led by Che Guevara in 1958. He was buried here, and his mausoleum and monument, the Memorial Comandante Ernesto "Che" Guevara, are the town's big attractions. Next to the monument, the Museo Historico de la Revolucion displays some of Che's personal items.
Santa Clara is also home to the Teatro de la Caridad, one of the country's few surviving theaters. Despite some renovations, much of the original interior remains in its original condition.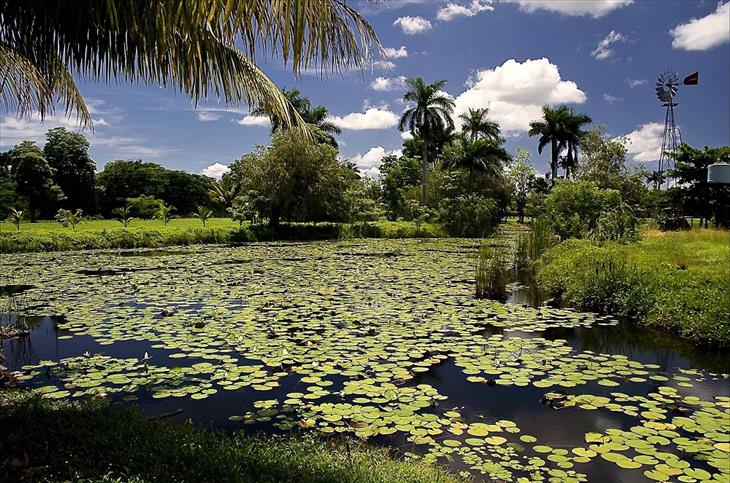 This remote, sparsely populated area of Cuba is a haven for birdwatchers and nature lovers. The Cienaga de Zapata, or the Zapata Swamp, is a UNESCO Biosphere Reserve that is home to around 150 different species of birds. Crocodiles are also very common.
At the mouth of the Bay of Pigs is Playa Giron, the famous site of the 1961 Bay of Pigs Invasion. Visitors can learn all about its fascinating history at the small Museo Giron. At the top of the Bay of Pigs, tourists can enjoy a beautiful long beach backed by lush vegetation. Those who like to dive can explore the underwater wildlife at numerous dive sites along the reef.
Boca de Guama is the peninsula's tourist center and its main attraction is the Criadero de Cocodrilos, a crocodile farm. Nearby, on Laguna del Tesoro is Villa Guama, a tourist resort that's only accessible by boat.
8. Trinidad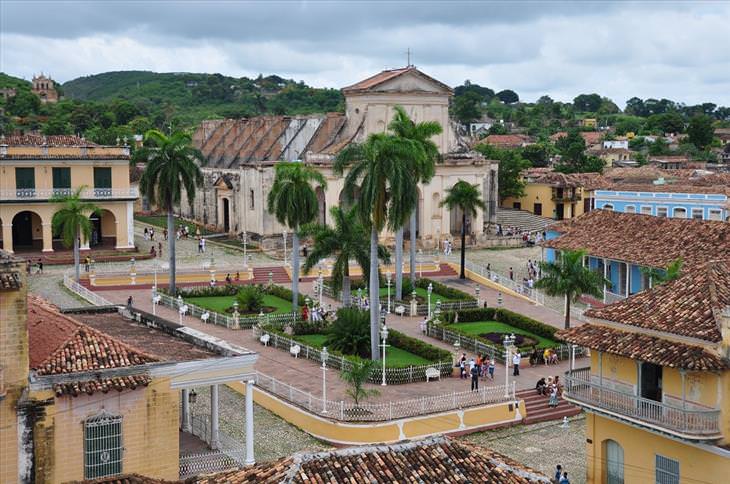 The cobblestone streets and beautifully restored buildings give this town a quaint colonial feel. Much of the town's architecture dates from the 17th to 19th century when Trinidad prospered from sugar and slave trades.
Nowadays. Trinidad is one of Cuba's most popular tourist towns and the streets are often full of foreigners. Tourists can soak up the lively ambiance of this charming town in the cobblestoned Plaza Mayor, the city's central square. Above the square is the Neoclassical Church of the Holy Trinity. Other popular attractions include the Church and Monastery of Saint Francis, the Museum of Colonial Architecture, the art gallery at the Case de Aldeman Ortiz, and the Palacio Brunet, a grand palace, built in 1812.
East of the town, on the way to Sancti Spiritus, the lush World Heritage-listed Valle de los Ingenios contains a number of relics and monuments from the 19th century when sugar cane plantations and mills flourished. It's also a great place to go horse-riding.
9. Maria la Gorda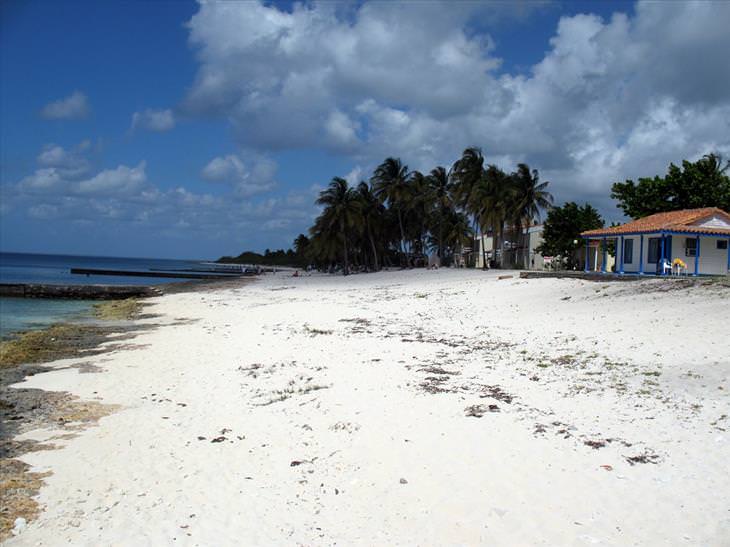 Located on the far western tip of Cuba is the small town of Maria la Gorda. While this town does not have a lot of infrastructure or tourist attractions, it still gets plenty of visitors throughout the year. This is because this small town is one of the best diving destinations in the Caribbean. If you're a diver, then head to the area for guided trips out to sea. The underwater marine life is wonderful, and there are regular trips from the marina. Many visitors to this place opt for an inclusive package that includes accommodation, dining and diving.
10. Cayo Largo del Sur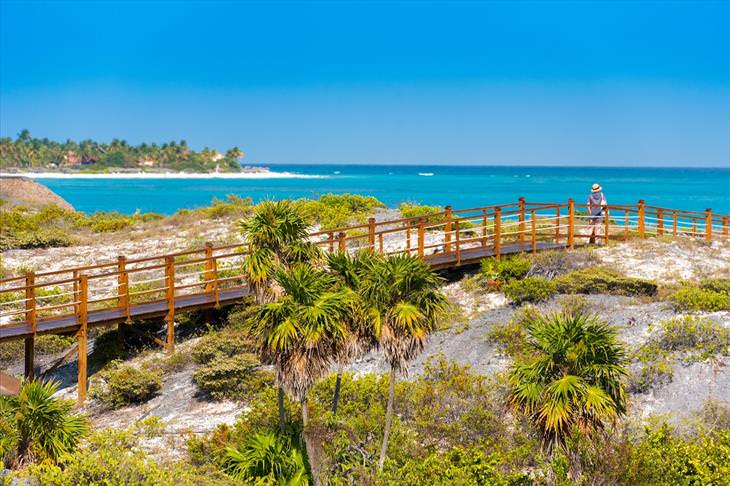 This is a small island off the mainland of Cuba. If you are visiting Cuba with the main aim of finding gorgeous, uncrowded beaches, then you really should visit the resort-like island of Cayo Largo. The most popular and largest beach on the island is Playa Sirena, the perfect location to unwind and soak up the sun. Other common activities include swimming, surfing, snorkeling, and kayaking. You will also find a fascinating sea turtle hatchery that offers regular tours to visitors.
Bonus Video: Cuba Vacation Travel Guide