1. Wrap Sculptural Wine Bottles in Your Decor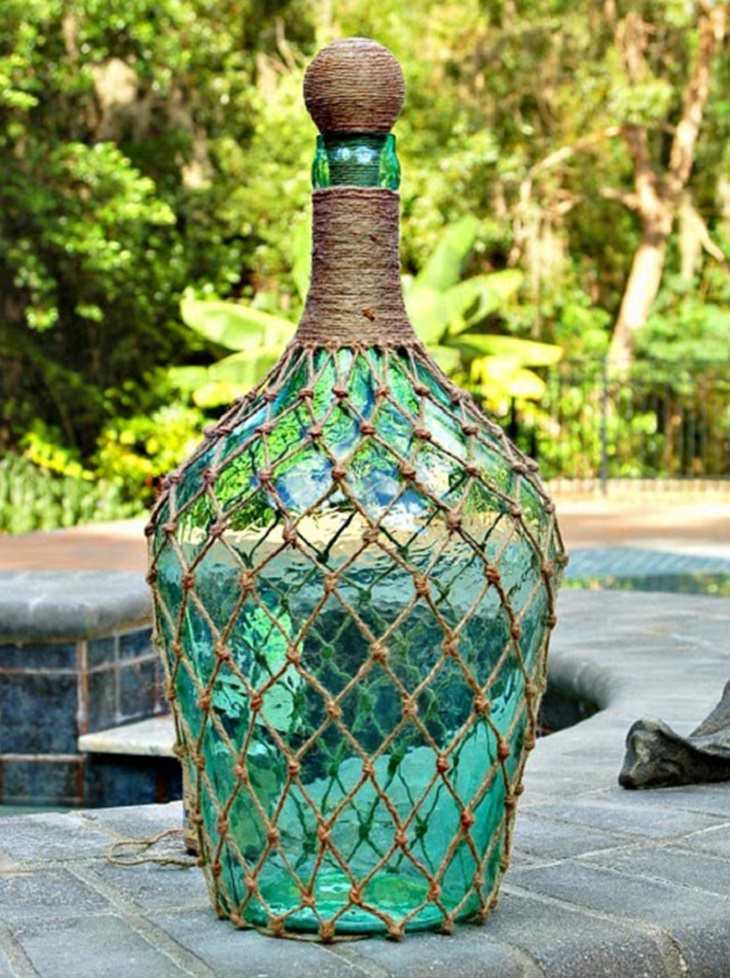 DIY Difficulty: Medium
Jute twine is used to create this look and it's pretty cost effective.
Here's How:
1. Wrap twine/jute around the neck. Tie a knot, or glue the two ends together.
2. Using the twine, measure the length from the top of your bottle to the bottom. Take that length and multiply it by four. So, if your bottle is 5" long, your cut length would need to be 20".
3. Cut 6 pieces of that required length. These strands of twine/jute will be used as a weave around your bottle. For a wide/large loose look netting, you would use less strands (six is ideal). For a tighter weave, you would need to use more.
4. Take your first long strand at its center, sliding it underneath the jute at the neck of your bottle.
5. Pull the folded center down over the ring, making a loop. Tie a tight knot. You should end up with two, even-length strands. Repeat this process with all your strands.
6. Start your weaving from any two knots, getting a hold of the strand on the right (from one knot), and the strand on the left (from the second knot).
7. Just a couple of inches down, commence with your second row of knots, tying another knot. Continue the process, until you reach the bottom edge of your bottle.
8. For a detailed tutorial with pictures click here.
2. Turn a Wine Bottle into a Drinking Glass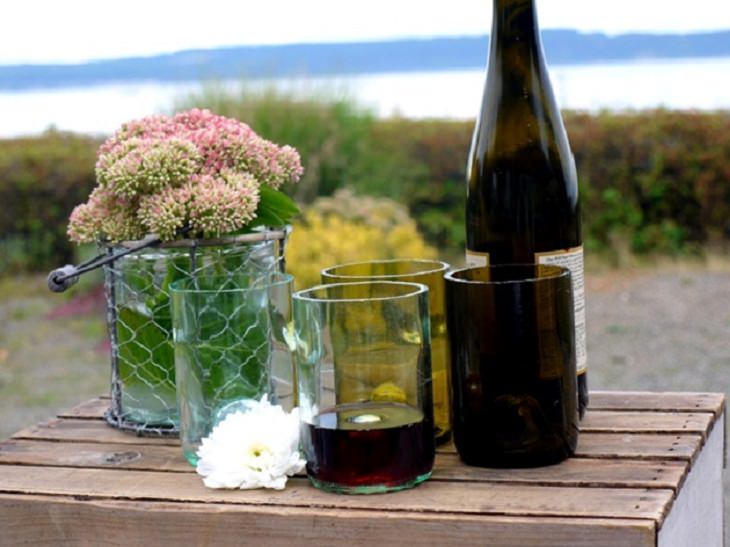 DIY Difficulty: Medium/Hard
Eco-friendly, dishwasher safe and inexpensive.
Here's How:
1. Before starting, make sure that your wine bottles are washed thoroughly, labels removed. To proceed with the following, you will need a glass cutting tool kit, some ice, Carbordum Grit #100 and a large candle.
2. Set your glass cutting tool at about 6 to 8 inches from the bottom of the wine bottle.
3. Cut a circle around the bottle slowly and STOP once the circle is complete. For the time being, do not score again.
4. Place the score over heat (you can use the flame of a candle) and slowly rotate the line around the flame until it heats up. The length depends on the glass, but about a minute of heat should be enough.
5. Remove from the flame, and immediately place an ice cube over the scoring, all the way around. Your bottle should be ready to separate, if not, rotate it for a couple more rounds on the flame.
6. Place about 1/2 a cup of Carborundum Grit on a large piece of glass. Fill the center with 3 tablespoons of water. This should enable you to make a slurry and paste.
7. Once you have a loose paste, take the rough edge of your glass and rub against the grit in a circular motion over and over until you've got a nice, sanded edge. It will take about 5 to 10 minutes to make a smooth edge. Once finished, rinse well.
8. For a picture tutorial, visit this link.
3. Create Beautiful and Colorful Wine Bottle Chandeliers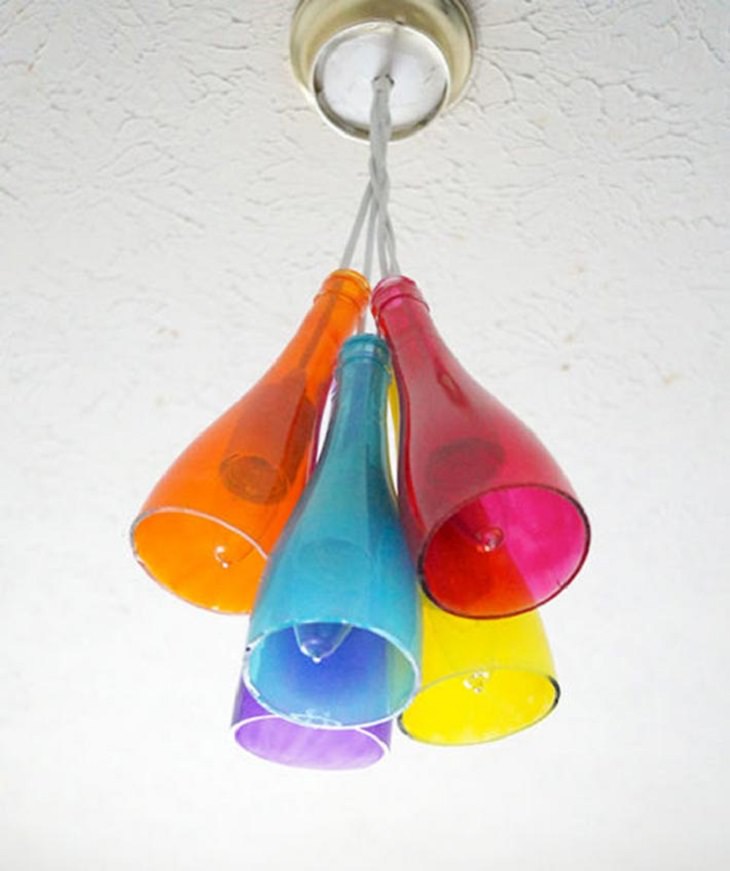 DIY difficulty: Hard
The upper halves of the bottles are used to create this cool look. Refer to instructions above on how to half a wine bottle.
Here's How:
1. Mod Podge Sheer Colors are used to color the cut wine bottles. Disperse the color all over the inside of the bottle by twirling it around. Place them mouth-side down, to dry.
2. Repeat this process with as many cut half bottles as you would like. I suggest using a maximum of five.
3. You may want to ask an experienced electrician to pass the wiring through for electricity. If you are experienced enough to do so yourself, this guide explains exactly what needs to be done, in a safe manner.
4. Make a Festive Light Display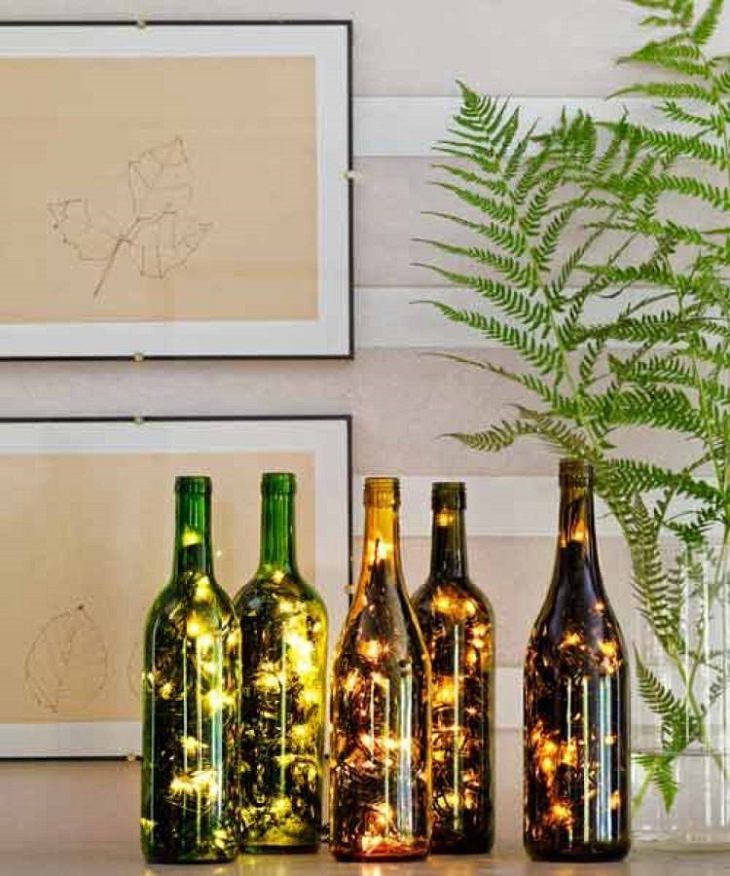 DIY Difficulty: Medium
This DIY wine bottle idea will make for an extraordinary decoration. They're relatively easy and inexpensive to make.
Here's How:
1. Wash the wine bottles and remove the labels.
2. For a neat finish, drill (if inexperienced, ask a professional) a hole in the bottle's side. For the ones pictured above, a 3/4-inch tile bit was used.
3. Enlarge and smooth the hole using a conical grinding stone. If you're unsure on how to safely do this, this video tutorial explains the process pretty well.
4. Acquire a 50-light string feed (get the kind with just one plug), and pass it through the holes in the bottles.
5. The process of drilling the hole should be done with patience. Take your time and do not rush or push too hard as this will cause the neck of the bottle to crack.
5. Create a Shelf Using Wine Bottles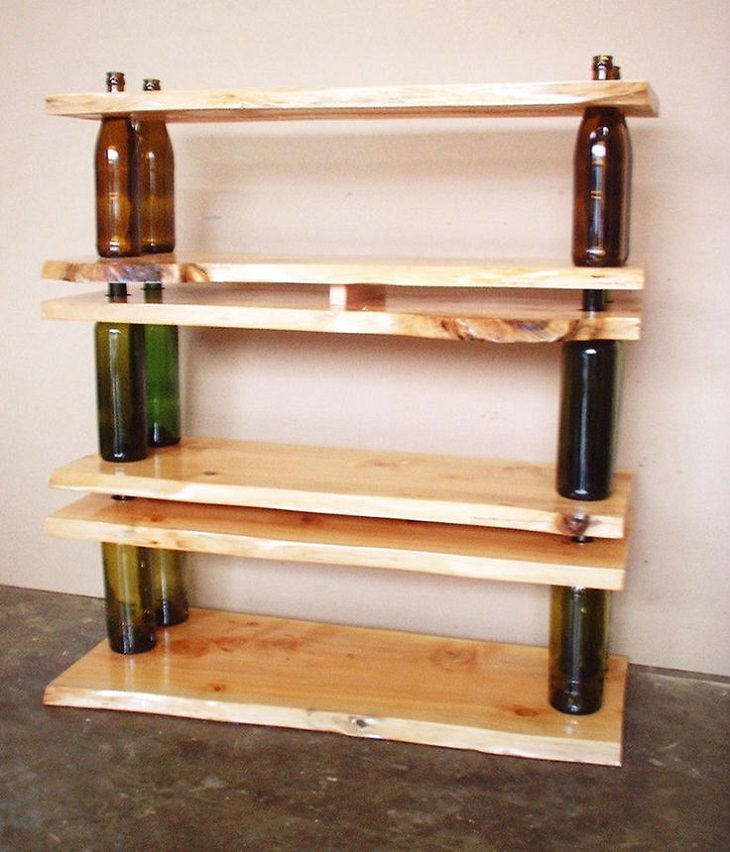 DIY Difficulty: Hard
This creative idea will make for a unique book shelf.
Here's How:
1. To create one module you will need: Four bottles (same brand, height and shape preferably), washed thoroughly, two hook and eye strainers or turnbuckles (about 14mm OD at the buckle and 5mm OD at the threads), and two planks of wood.
2. Drill the holes in the wood, safely and accurately.
3. Screw in the hooks halfway between the holes on either side.
4. Depending on the height of your bottles you may need some ess hooks to help the strainer reach the upper and lower hooks.
5. Place the bottles concentrically over the holes of the lower shelf and carefully lower the upper shelf on top, allowing the necks of the bottles to pass through the holes.
6. Attach the hook and eye strainers (and ess hooks if needed), between the opposing hooks. Tighten up thoroughly.
7. Make as many modules as you need, of whatever size you require.
8. For a picture tutorial, check out this link.
6. Create a Smart Bedside Table Lamp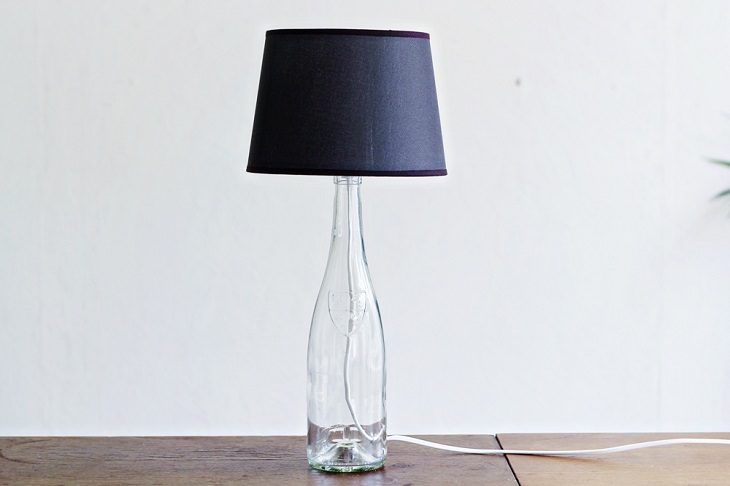 DIY Difficulty: Medium
Complete the look by adding a lamp shade - you can also use elements from an old lamp that needs a revamp.
Here's How:
1. Create a hole in the bottle (refer to the instructions and video tutorial as explained above in number 4). Once the hole has been drilled, wash the bottle well and remove the labels.
2. Pass the wiring through the bottle (you will need to buy that alongside any other extra pieces, that will be required for you to put the lampshade on).
3. Take the wire and pull it through the hole. When the wire is running through the bottle, install the wiring and place the lampshade on top.
4. If you're unfamiliar with this process, ask an experienced professional to do this for you.
7. Create a Soap Dispenser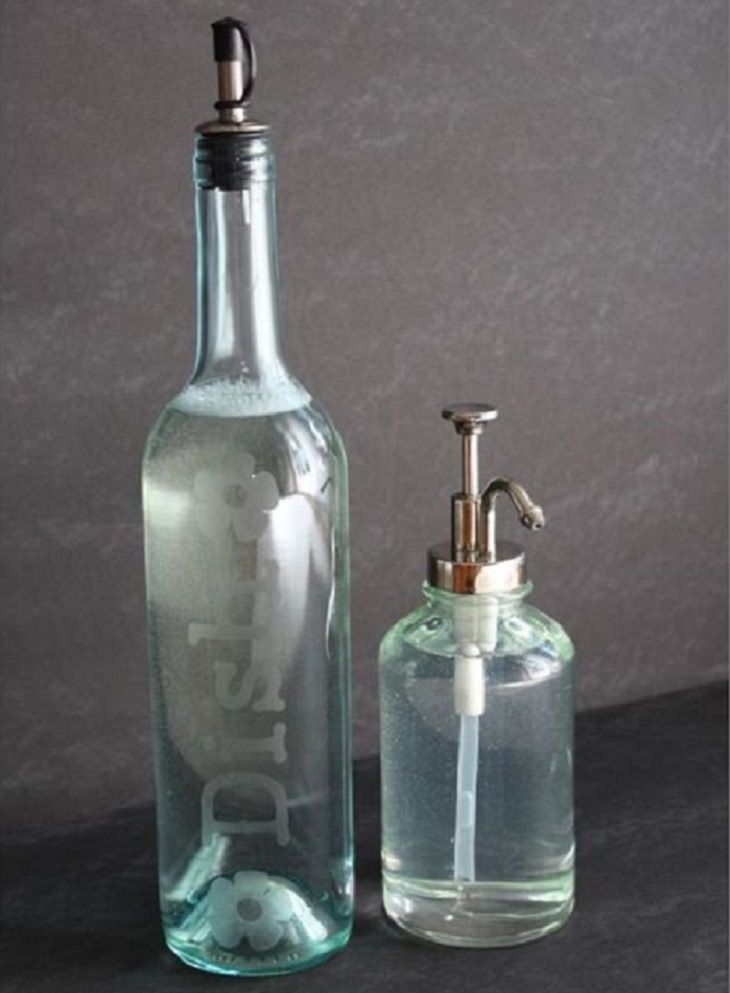 DIY Difficulty: Easy
Instead of using old plastic bottles, use this hand-painted wine bottle instead.
Here's How:
1. Start with an empty wine bottle. In the example above, a stencil was used on its front. You can do the same by following this link.
2. With the stencil on, pressed down and taped off, apply some glass etching cream.
3. Just slop it on to start with and then wait about 5 minutes before smoothing it out, making sure that it has covered all areas of your stencil.
4. Leave the cream on for about 30 minutes and then rinse it off gently with cool water.
5. Your wine bottle soap dispenser is now complete. Just fill it up with dish soap and add a pourer to your bottle.
8. Use Reclaimed Wood to Showcase a Flower Vase Wall Decor Piece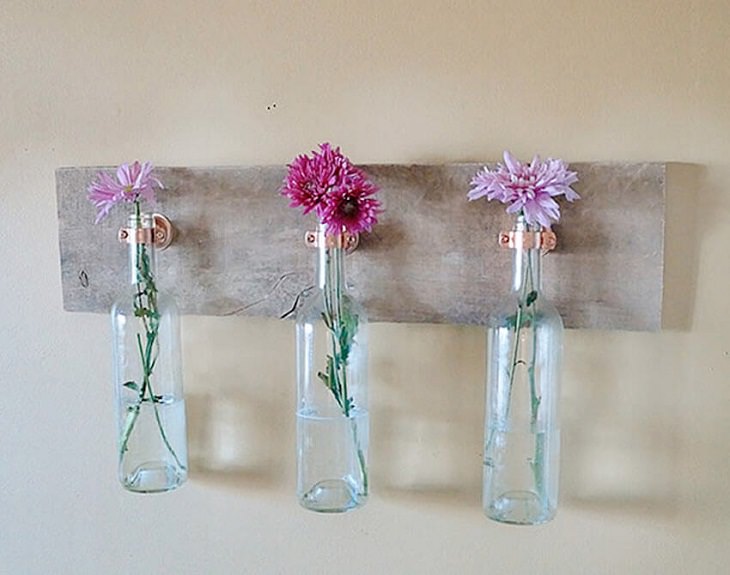 DIY Difficulty: Medium
This is a creative way to re-use wine bottles and showcase flowers in your household.
Here's How:
1. Using a scrap board as a base, cut it to the desired width. The board pictured above is 25 inches.
2. Paint, stain, or decoupage your wood as you like.
3. Any number of wine bottles (washed and labels removed) can be used, they may be left bare or may be painted over.
4. Measure and mark the placement of your bottles, leaving even spacing between each, and center them on the board.
5. Drill a pilot hole with a drill. Ensure that it is smaller in diameter than your screw. Attach a bell hanger using a screw screw-driver.
6. Attach a loop for hanging against the wall on each side. Once hung, you may add the wine bottles.
7. For a picture tutorial, check out this link.
9. Create Citronella Candles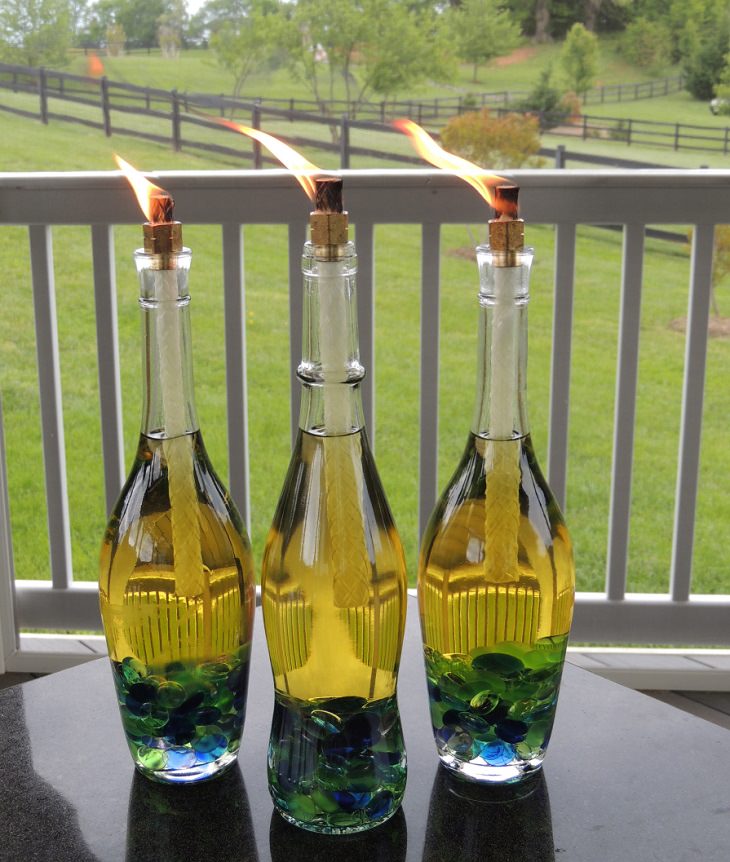 DIY Difficulty: Medium
These are both Stunningly beautiful and useful at the same time. If you make your own wine bottle citronella candles today, you'll scare bugs away and enjoy a striking sight.
Here's How:
1. Use colorful marbles to decorate the bottom of your wine bottle. Small rocks work well too. Just throw each in, one by one, filling up half of the bottle.
2. Wrap a 1/2 inch x 3/8 inch copper coupling with teflon tape so that it will fit snuggly into the mouth of the bottle. Set the coupling in the mouth of the wine bottle. Don't press it down into the bottle just yet.
3. Once the coupling appears to fit well at the mouth of the wine bottle, remove it and slide a 1/2 inch replacement wick torch through it. Leave about 1/2 an inch of the wick sticking out of the top to light.
4. Using a funnel at the mouth of the bottle, carefully add torch fluid inside.
5. Do not fill the bottle to the top. Be sure to leave some space for the wick, ensuring that the fluid will not overflow.
6. Add the wick to the wine bottle, pressing in on the teflon tape, so that the coupling fits tightly.
7. When the torch is not in use, keep the copper cap on, so that the wick stays dry.
8. For a picture tutorial, click here.
10. Prepare an Easy and Elegant Wine Bottle Centerpiece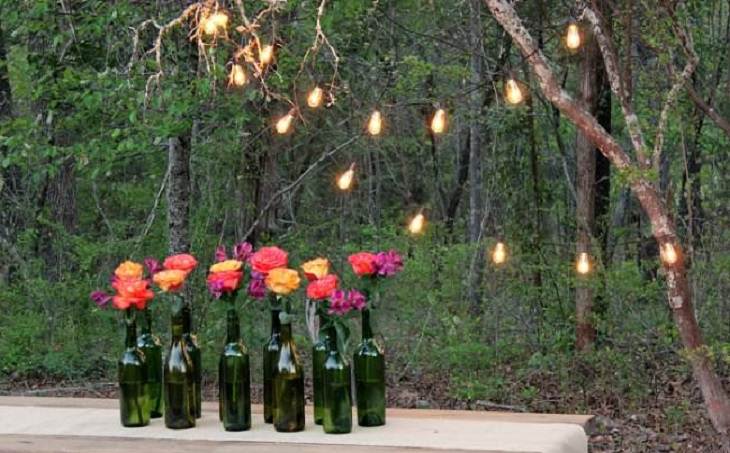 DIY Difficulty: Easy
Using 8 to 12 bottles of wine, this simple centerpiece could not be any easier to create.
Here's How:
1. The bottles do not need to match perfectly - they can vary in both height and color. Green ones are especially beautiful in the sunlight.
2. Wash them out and remove all the labels.
3. To finish up, fill the bottles to the same level with water and add flowers.
4. Be sure to keep the stems long so that they will remain tall in the bottles.

Source: homesthetics