When it comes to confectionery and cake art, it just doesn't get more luxurious and beautiful than the artisan "bespoke" cakes of Los Angeles based artist, Julie Simon. Inspired by the renowned still-lifes or classic Dutch masters and the vibrant color palette of artists like Marc Chagall and Gustav Klimt, Simon's cakes rather resemble opulent paintings than an ordinary birthday cake. The signature feature of the artist is a melange of edible fantastical flowers, leaves, and fruit combined carefully into exquisite bouquets made completely from sugar.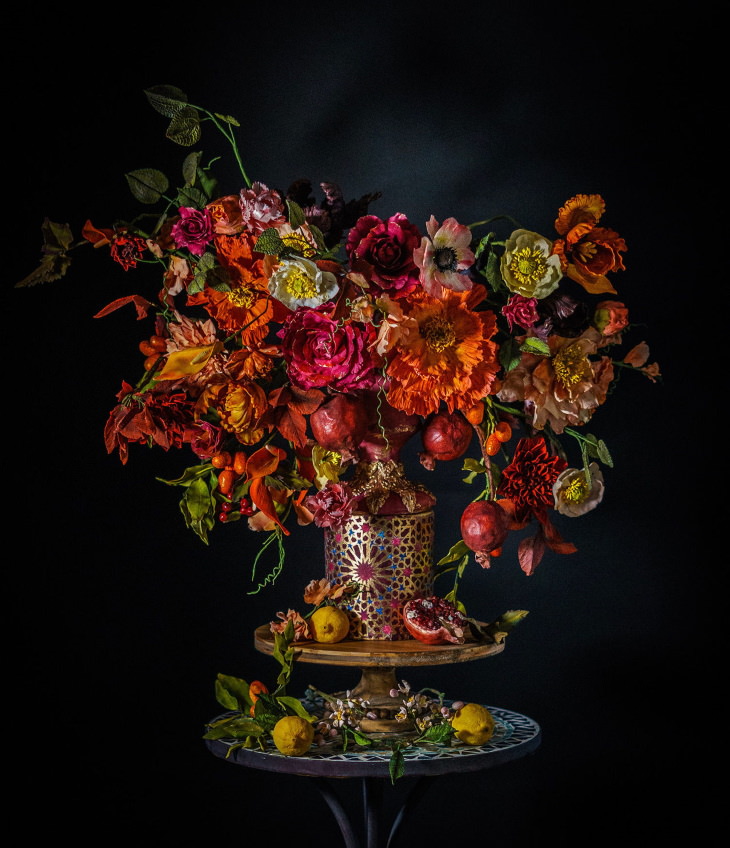 The largest of Simon's creations can take hundreds of hours to create, as each flower and leaf is carefully hand-crafted and painted from scratch. With so much time, attention, and vision imbued in each cake design, it's no surprise that each of these magnificent confections come with quite a hefty price tag ranging from 25-100$ USD per slice according to Atlas Obscura.
Over the years, Simon's works have been proudly featured on the tables of a number of celebrity clients. One of the most complex tiered cakes Simon ever created was a birthday cake for Kylie Jenner's daughter, Stormi, when she turned 1 year old. The pink and blue four-tiered cake was crowned by a gilded carousel (the last image on the list).
Each of these unique cakes has a unique theme, like Klimt's 'Portrait of Adele Bloch-Bauer I', Chagall's fantastic painting, or a zen garden complete with a Buddha statue and an active waterfall.
There's something special about knowing that each of these creations is ephemeral and unlike an expensive painting or sculpture, it will be literally shared and consumed bit by bit. As Simon beautifully pointed out in a statement with Atlas Obscura, "And then when you consume it, the art becomes part of you."
Share this article with those who have a sweet tooth and love classic art!