Glaciers are marvels of nature, bodies of crystallizing ice building layer after layer naturally over time, found in mountain ranges and polar regions all over the world. They are formed over centuries when snow accumulates on the land at a higher rate than its melting or sublimating.
Each glacier has its own unique appearance caused by the amalgamation of ice, snow, earth, and rock, and vary based on the climate and land shifting, which can create caves and crevasses to open. Glaciers can even give birth to icebergs. There are numerous natural phenomena, like the collection of air bubbles or the reflection of water on ice that can give these glaciers their own incredible identifying features.
These vast expanses of ice and dirt can be found on every continent and cover a stunning 10% of the land surface of Earth. Sheets of glacial ice found all across the planet constitute the largest freshwater reservoirs on Earth. Given the large number of glaciers found in the midst of most mountainous regions and cold climates, these bodies of ice are found most heavily in beautiful icy lands like Alaska, which has the ideal climate to sustain larger numbers of them.
These are just some of the wondrously breathtaking glaciers, each more beautiful than the last, that will have you dreaming of Alaska.
1. Agassiz Glacier, a valley glacier found in the Saint Elias Mountains of southern Alaska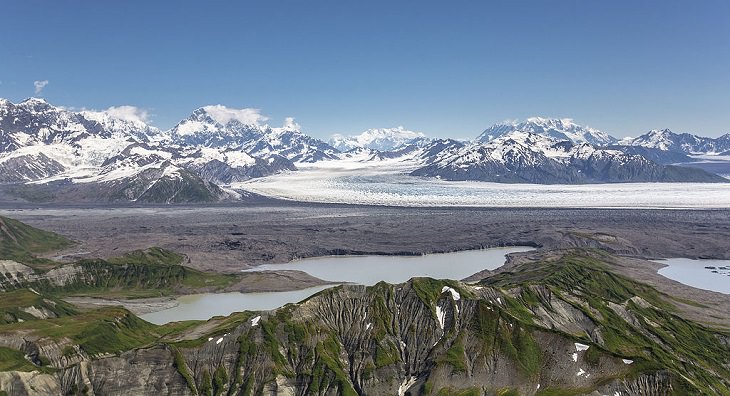 (By National Park Service, Alaska Region, Wikimedia Commons)
2. Malaspina Glacier, a Piedmont glacier in Southern Alaska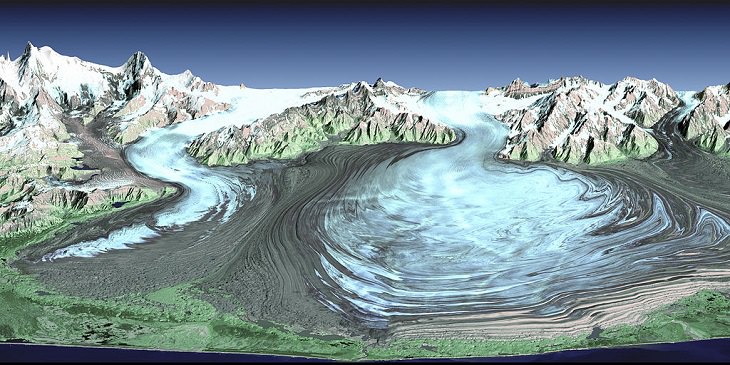 (By NASA, Wikimedia Commons)
3. Alsek Glacier, a long glacier found in Glacier Bay National Park of the Panhandle of Alaska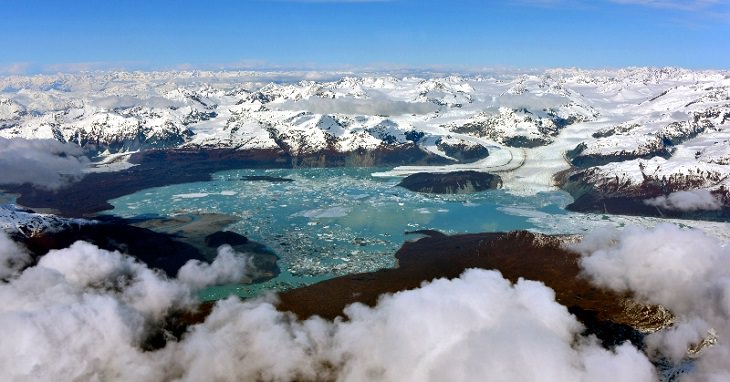 (By Long Bach Nguyen, Wikimedia Commons)
4. Bear Glacier, the largest and longest glacier in Kenai Fjords National Park in the Kenai Peninsula of south-central Alaska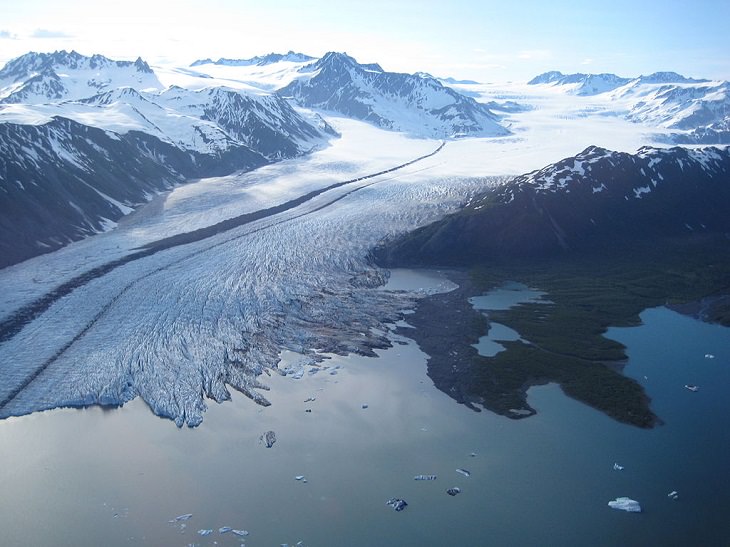 (By National Park Service, Alaska Region, Wikimedia Commons)
5. Chenega Glacier, a tidewater glacier in Prince William Sound in the Kenai Peninsula of south-central Alaska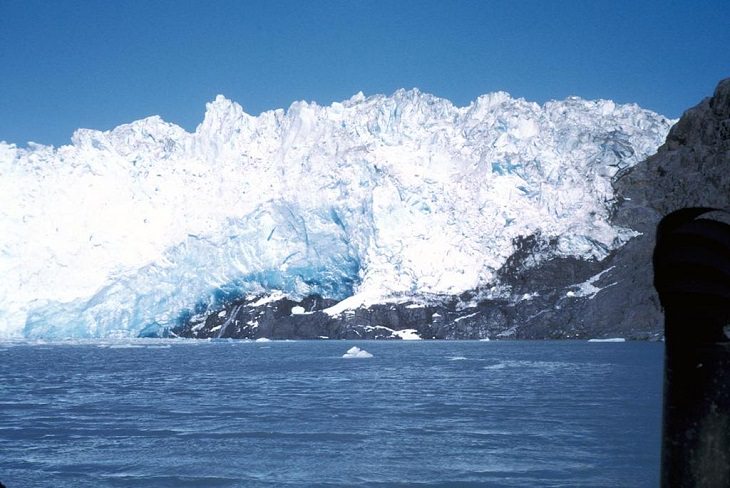 (By U.S. Fish and Wildlife Service, Wikimedia Commons)
6. Davidson Glacier, a large valley glacier in the Chilkat Range near Haines, Alaska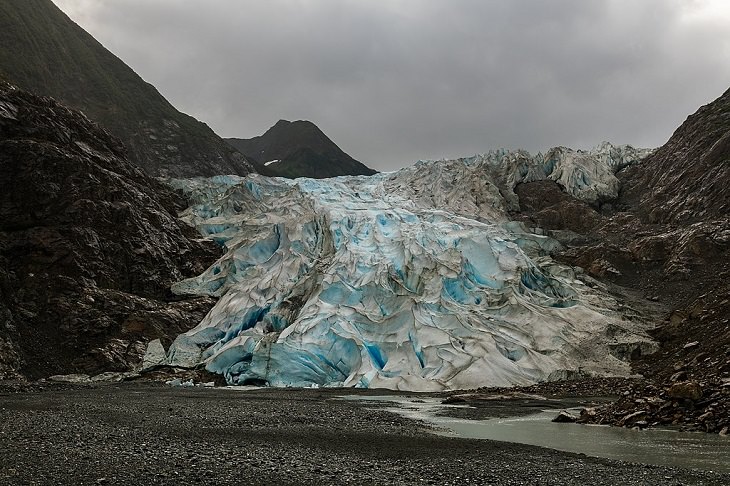 (By Diego Delso, Wikimedia Commons)
7. Exit Glacier, from the Harding Icefield in the Kenai Fjords National Park, Kenai Mountains, Alaska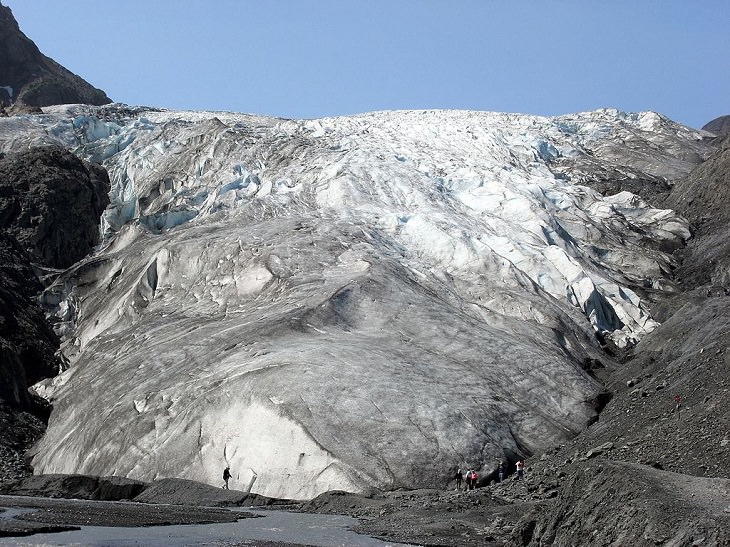 (By Reywas92, Wikimedia Commons)
8. Gulkana Glacier, a glacier that flows from ice fields in the south flank of, eastern Alaska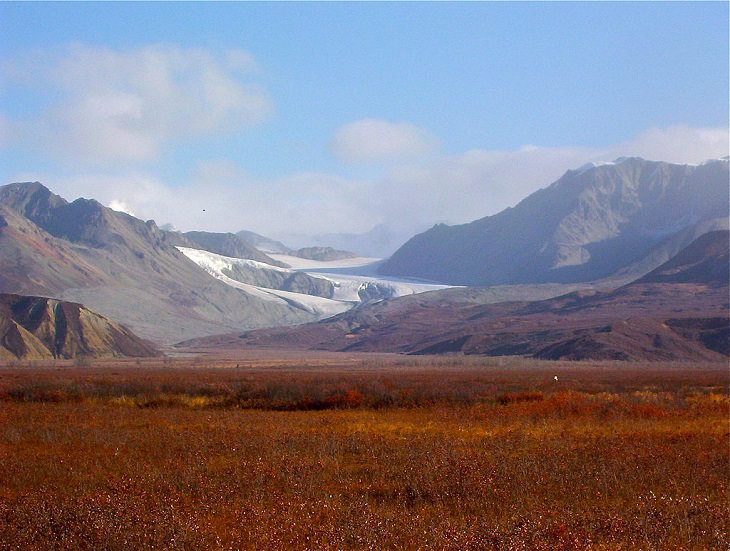 (By Beeblebrox, Wikimedia Commons)
9. Guyot Glacier, a glacier in the east end of the Robinson Mountains, Alaska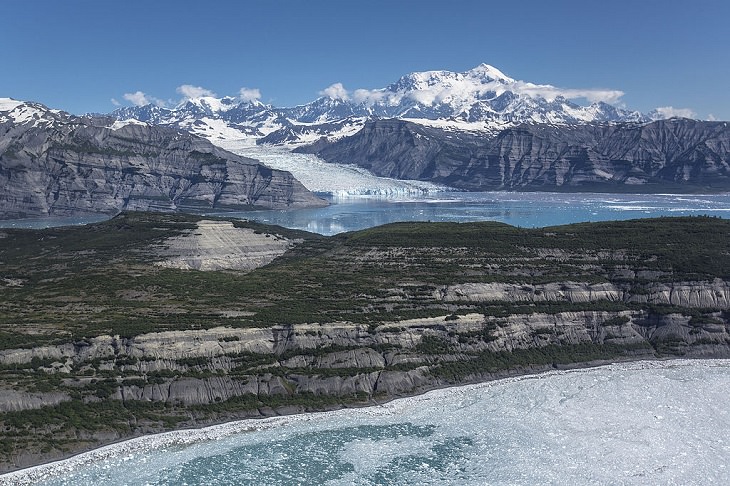 (By National Park Service, Alaska Region, Wikimedia Commons)
10. Harvard Glacier, a tidewater glacier in Prince William Sound in the Kenai Peninsula of south-central Alaska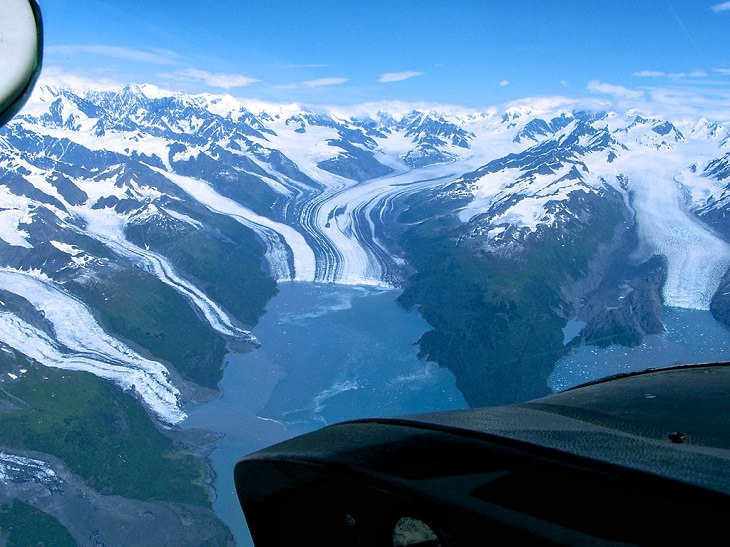 (By Erik Kohler, Wikimedia Commons)
11. Hawkins Glacier, a long glacier that runs southwest of Mount Bona, Alaska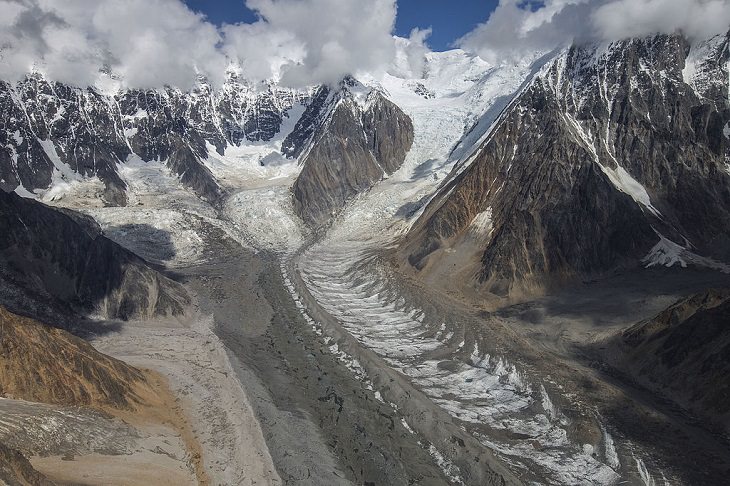 (By National Park Service, Alaska Region, Wikimedia Commons)
12. Holgate Glacier, a glacier in the Kenai Fjords National Park of Kenai Mountains, Alaska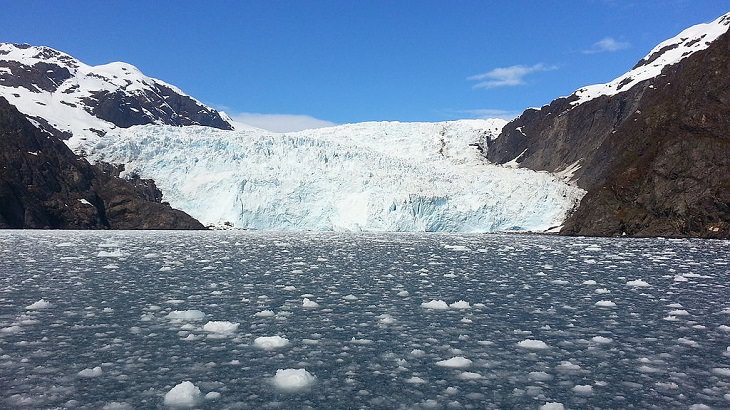 (By Andrewman327, Wikimedia Commons)
13. John Hopkins Glacier, a long glacier in the Glacier Bay National Park and Preserve in Alaska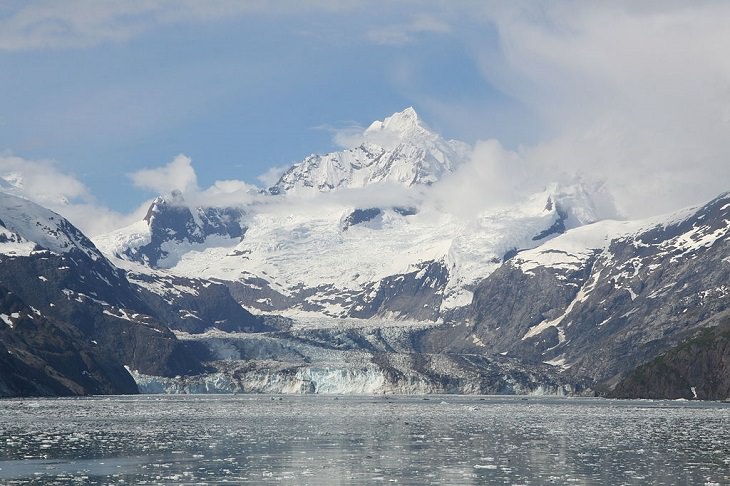 (By MusikAnimal, Wikimedia Commons)
14. Kennicott Glacier, a glacier found in Wrangell-St. Elias National Park in the town of McCarthy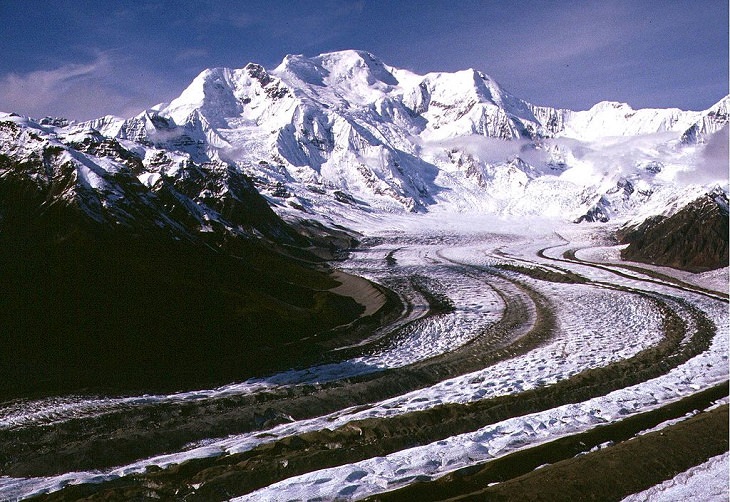 (By NPS, Wikimedia Commons)
15. Klutlan Glacier, a long glacier that shares a border with Canada in east Alaska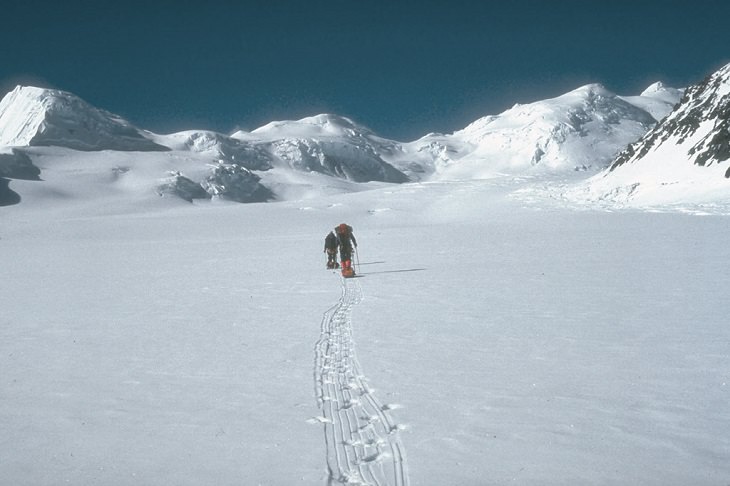 (By R. McGimsey, U.S. Geological Survey, Wikimedia Commons)
16. Lamplugh Glacier, a glacier located in Glacier Bay National Park and Preserve of Alaska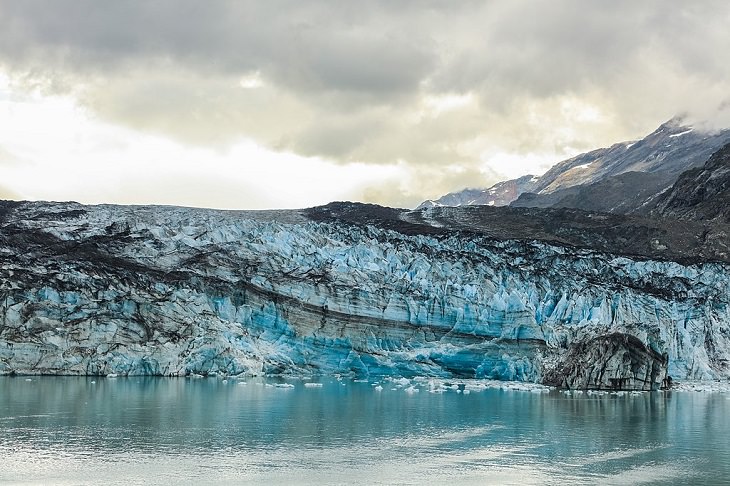 (By Diego Delso, Wikimedia Commons)
17. LeConte Glacier, a long glacier that flows southwest of LeConte Bay, Alaska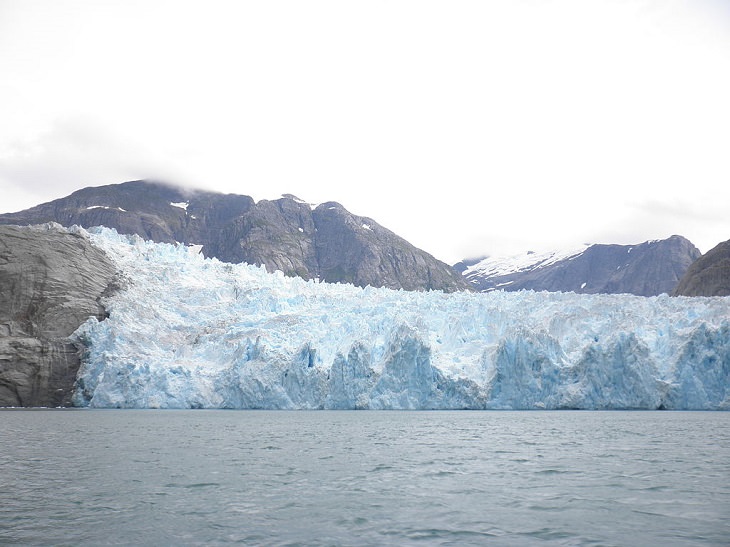 (By Gomada, Wikimedia Commons)
18. Lituya Glacier, a tidewater glacier sourced from Fairweather Range, in Glacier Bay National Park and Preserve, Alaska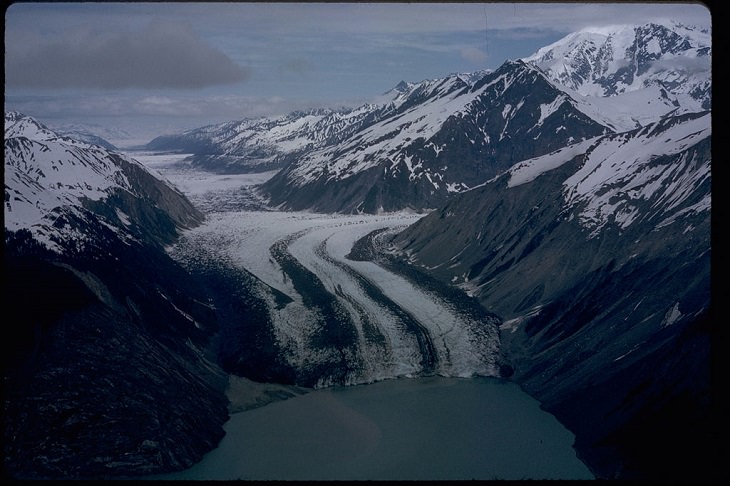 (By National Park Service Digital Image Archives, Wikimedia Commons)
19. Logan Glacier, an Alaskan glacier that lies close to Mount Logan in Yukon, Canada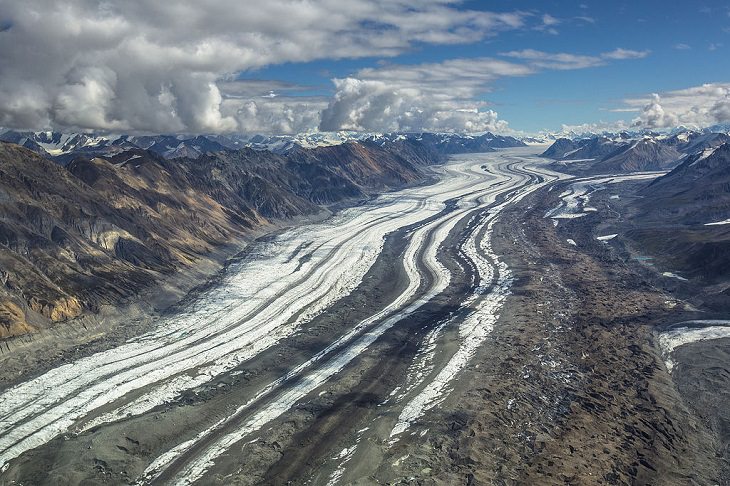 (By National Park Service, Alaska Region, Wikimedia Commons)
20. Margerie Glacier, a long tidewater glacier in Glacier Bay National Park and Preserve, Alaska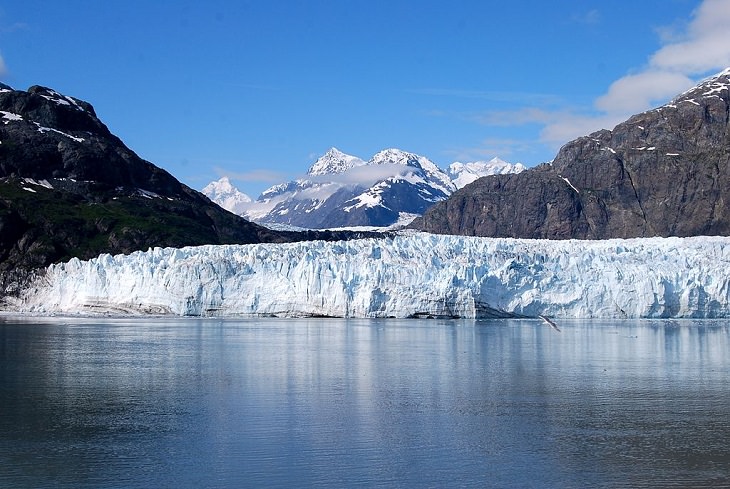 (By Eric E Castro, Wikimedia Commons)
21. Meares Glacier, near the Unakwik Inlet in the Chugach National Forest, Alaska

(By Eric.chase, Wikimedia Commons)
22. Matanuska Glacier, a valley glacier northeast of Anchorage in Glacier View, Alaska

(By Walter Siegmund, Wikimedia Commons)
23. Mendenhall Glacier (or Sitaantaagu), a glacier located in Mendelhall Valley in Southeast Alaska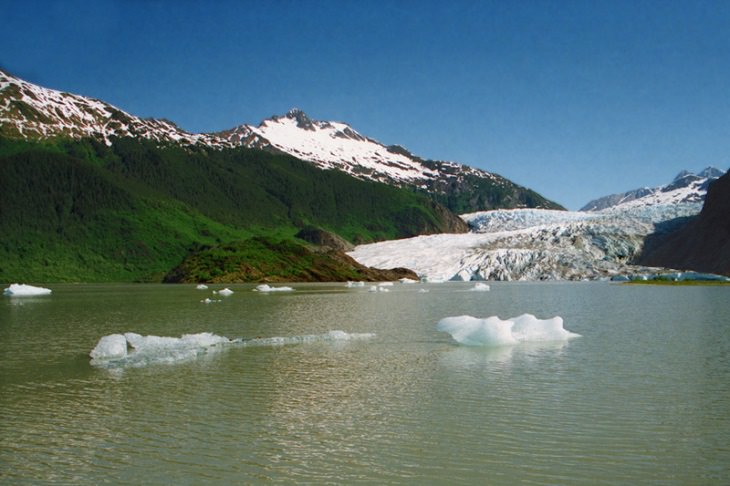 (By Brian W. Schaller, Wikimedia Commons)
24. Muir Glacier, a glacier in Glacier Bay National Park and Preserve, Alaska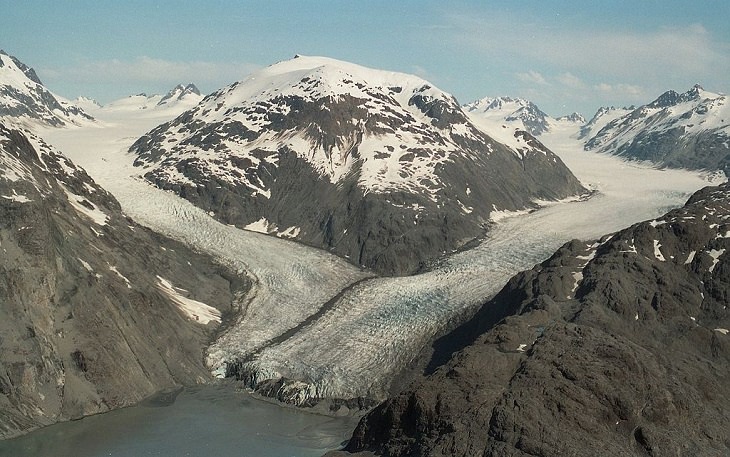 (By LCGS Russ, Wikimedia Commons)
25. Nabesna Glacier, one of the longest valley glaciers in the world, found in Wrangell Falls, Alaska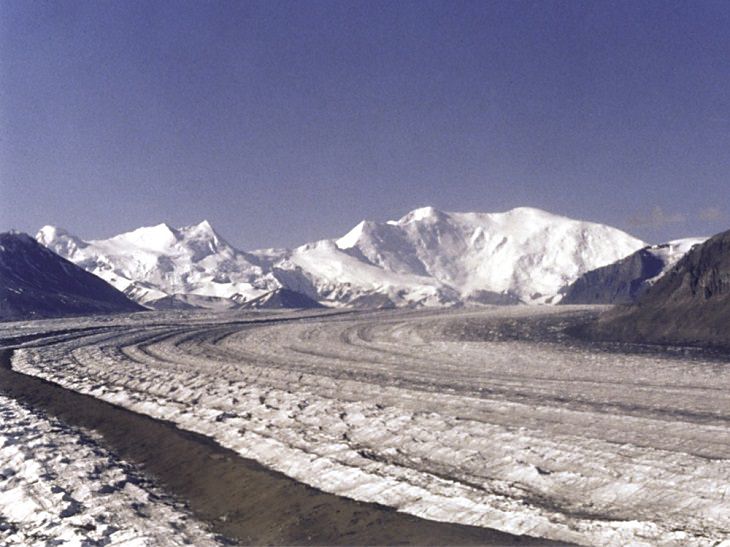 (By USGS, Wikimedia Commons)
26. Portage Glacier, a glacier in Chugach National Forest of the Kenai Peninsula, Alaska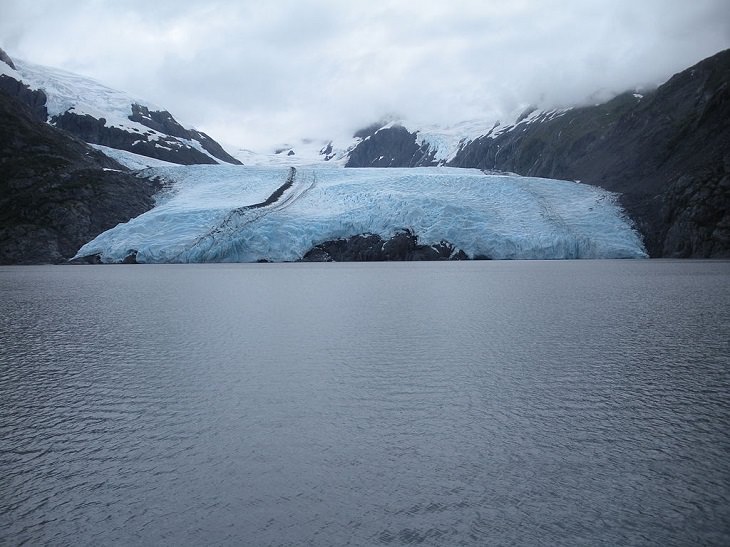 (By Josette, Wikimedia Commons)
27. Reid Glacier, a glacier in Glacier Bay National Park and Preserve, Alaska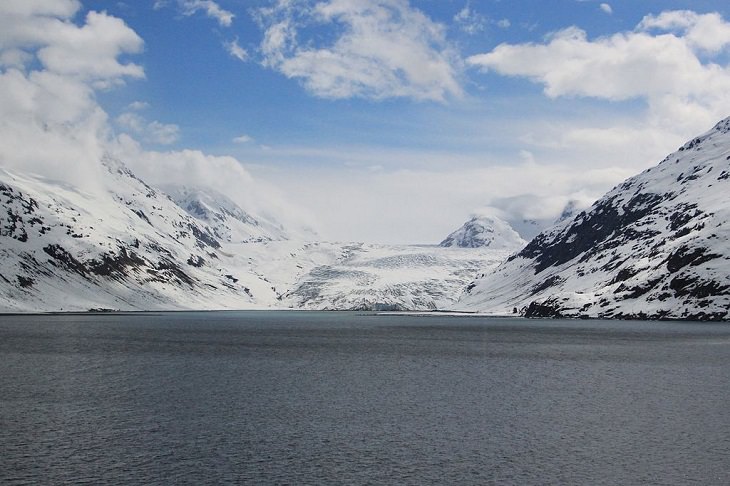 (By Thomson200, Wikimedia Commons)
28. Riggs Glacier, a glacier starting at the southern slopes of the Takhinsha Mountains, in Glacier Bay National Park and Preserve, Alaska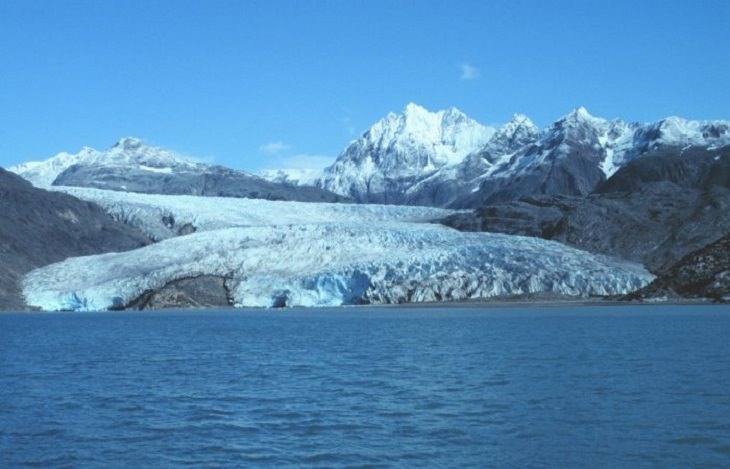 (By Commander John Bortniak, NOAA Corps, Wikimedia Commons)
29. Ruth Glacier, a glacier in Denali National Park and Preserve, Alaska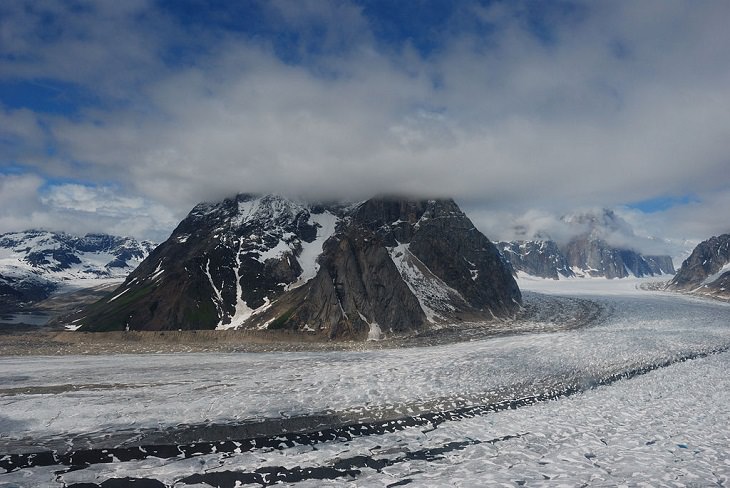 (By Andrei, Wikimedia Commons)
30. Spencer Glacier, in the Chugach Forest near Anchorage, Alaska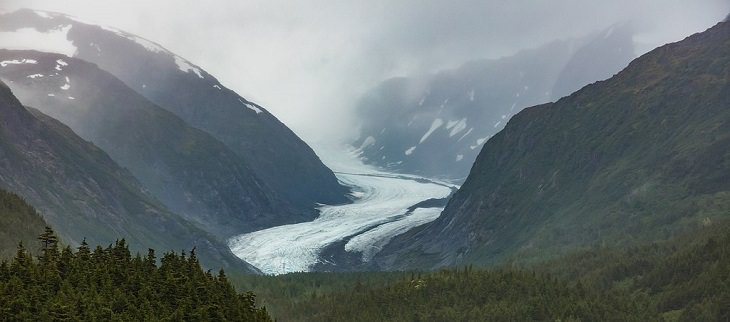 (By Diego Delso, Wikimedia Commons)
31. Taku Glacier, a tidewater glacier located in Taku Inlet, southeast of Juneau, Alaska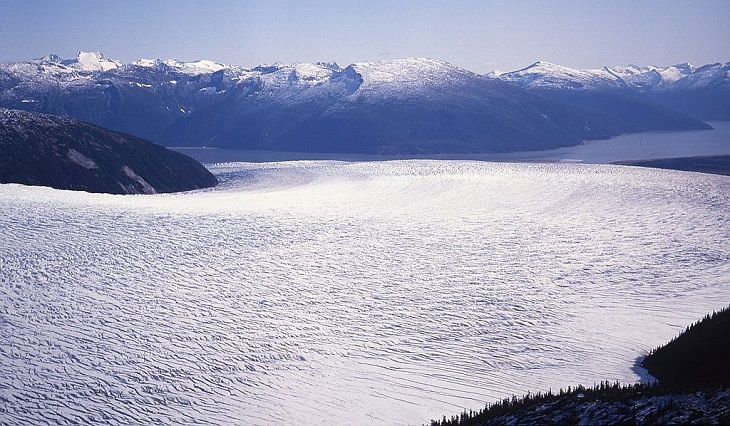 (By LCGS Russ, Wikimedia Commons)
32. Tana Glacier, a glacier in Bagley Icefield of Alaska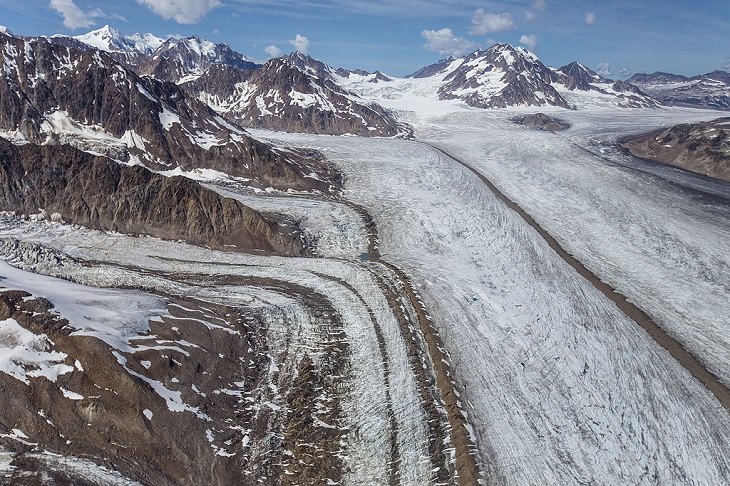 (By National Park Service, Alaska Region, Wikimedia Commons)
33. Traleika Glacier, a glacier in the Denali National Park and Preserve, Alaska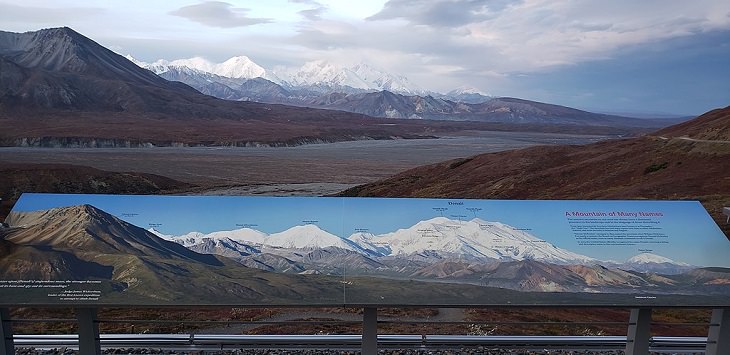 (By Pi3.124, Wikimedia Commons)
34. Yahtse Glacier, a glacier that runs northwest of the city of Yakutat, Alaska