The National Air and Space Museum, located in Washington DC is a center under the Smithsonian Institution and is one of the main museums located in the National Mall, alongside the Museum of Natural History, numerous Galleries of Art, the Lincoln Memorial and many other important monuments. This museum is the hub of research into the historical and scientific progress of spaceflight and aviation, and houses monuments to spacial discovery, including the command module of Apollo 11, the first spaceflight to put man on the moon. Here are 32 incredible exhibits that can only be found in this massive institution dedicated to discovering all that lies in the universe and beyond. And this is only a taste of all the beauty and information this museum has to offer!
1. Welcome to the National Air and Space Museum!

(By Postdlf, Wikimedia Commons)
2. Ad Astra ("to the stars"), the sculpture at the entrance of the museum and the museum itself were built by architect Gyo Obata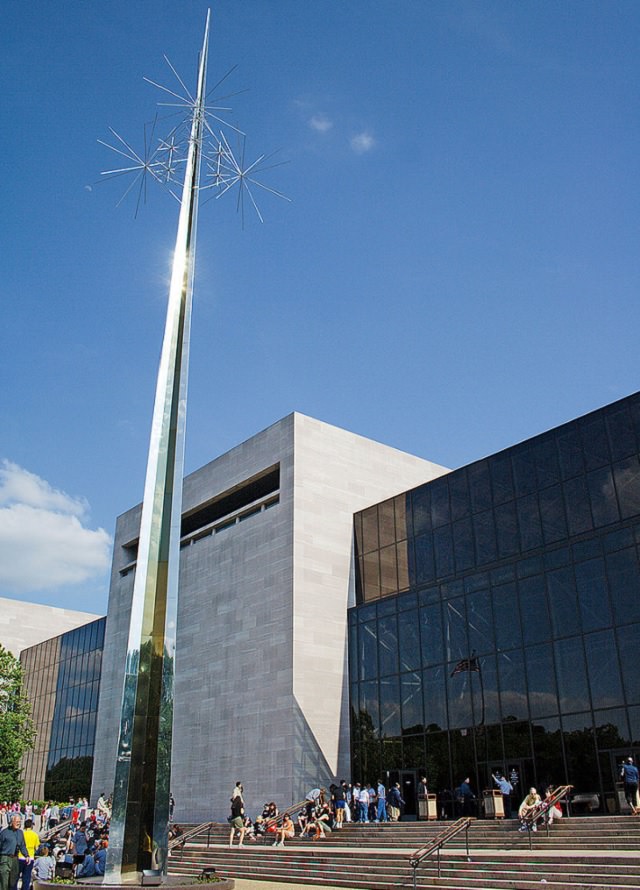 (By David Bjorgen, Wikimedia Commons)
3. This is the Milestones of Flight entrance hall of the National Air and Space Museum in Washington, DC. Among the visible aircraft are Spirit of St. Louis, the Apollo 11 command module, SpaceShipOne, the Bell X-1, and (far right) the Friendship 7 capsule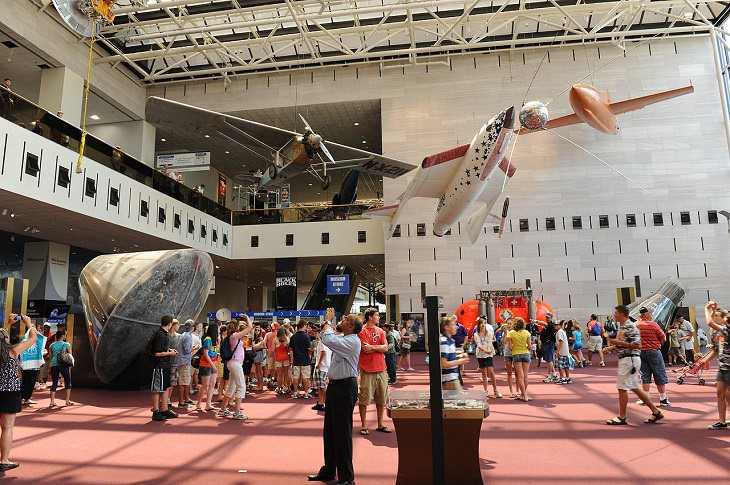 (By Jawed Karim, Wikimedia Commons)
4. Macchi C.202 (Top) and P-51D Mustang (Below), two fighter planes used during World War II on display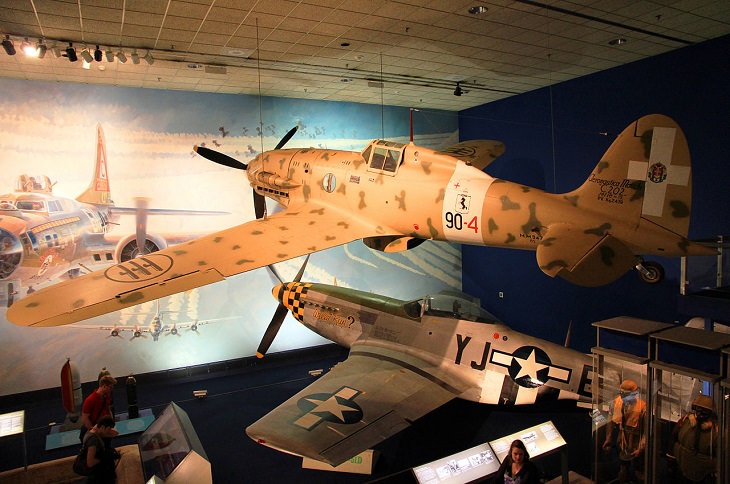 (By Ingfbruno, Wikimedia Commons)
5. It is also home to Paramount's filming model of the Star Trek starship Enterprise under restoration for NASM exhibition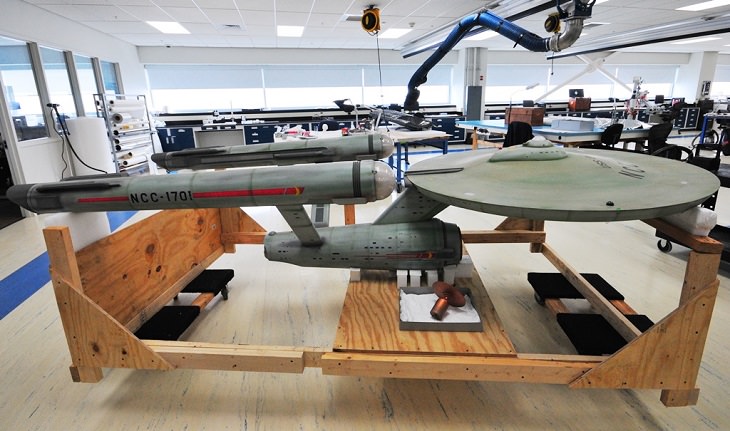 (By FlugKerl2, Wikimedia Commons)
6. Mercury Friendship 7 spacecraft, the first American orbital spaceflight, launched in 1962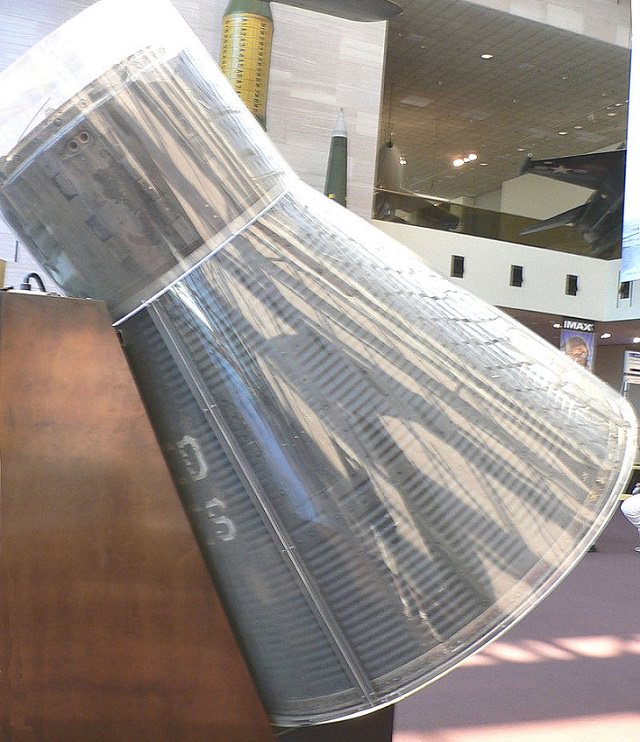 7. A close-up of the Apollo 11 spacecraft command module, the first spaceflight to safely transport human beings, namely Commander Neil Armstrong, lunar module pilot Buzz Aldrin and module pilot Michael Collins to the moon.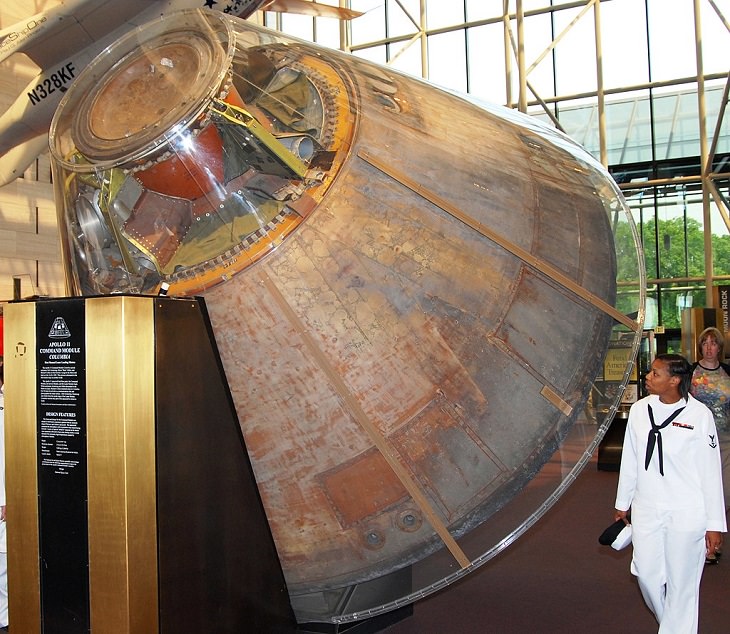 (By U.S. Navy photo by Chief Mass Communication Specialist Aaron Strickland, Wikimedia Commons)
8. The Soviet SS-20, an intermediate-range ballistic missile with a nuclear warhead, and the U.S. Pershing II missiles, a solid-fueled two-stage ballistic missile, both deployed between the 1970s and 1980s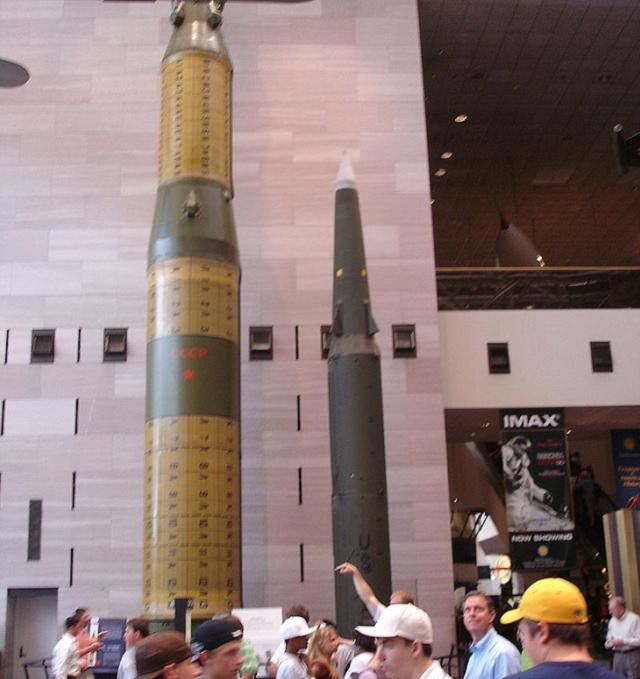 (By Jorfer, Wikimedia Commons)
9. SpaceShipOne was an experimental rocket-powered aircraft equipped with a unique hybrid rocket motor, that completed the first manned private spaceflight in 2004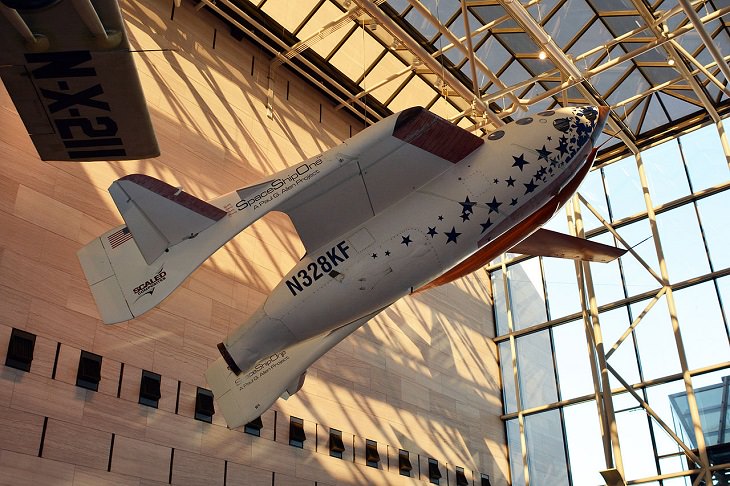 (By D Ramey Logan, Wikimedia Commons)
10. Bell X-1, a U.S. Air Force supersonic research project designed and built by Bell Aircraft in 1945 that achieved speeds of 1.000 mph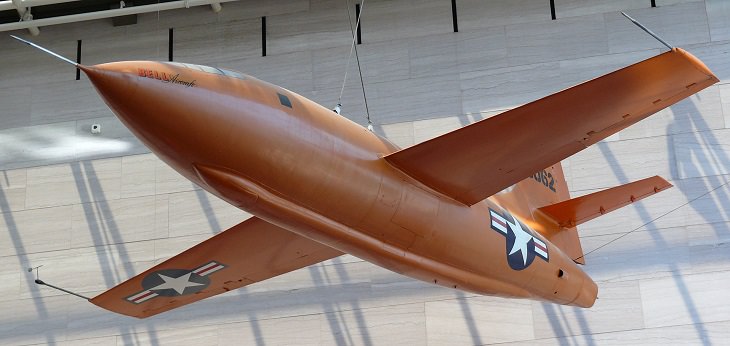 (By Ad Meskens, Wikimedia Commons)
11. The Spirit of St. Louis is the monoplane with a single engine and single seat that carried Charles Lindbergh on the very first solo nonstop transatlantic flight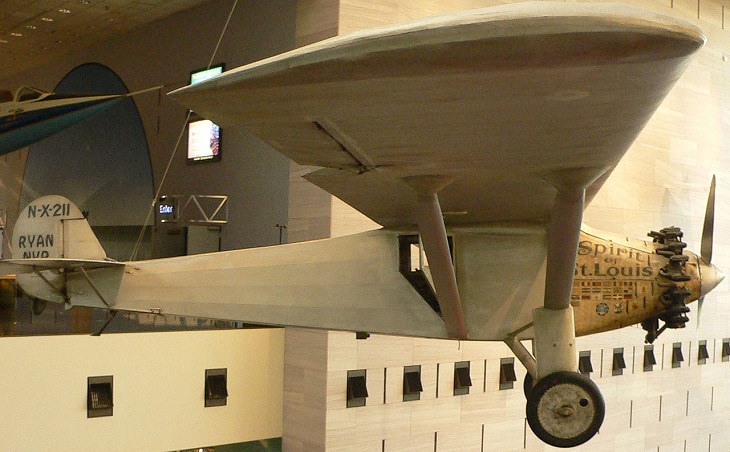 12. The Pioneer H is an unlaunched unmanned space mission that was part of the US Pioneer program but was finally not approved for launch by NASA at it's designated launch time in 1974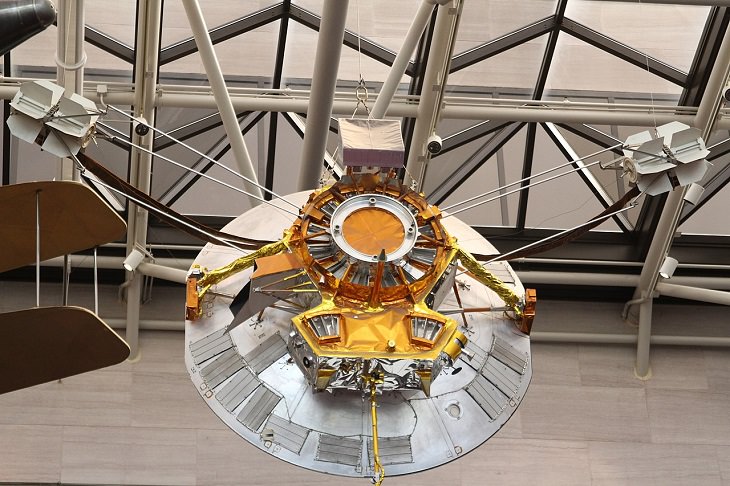 (By CamWow, Wikimedia Commons)
13. The North American X-15 is another treasure in the entrance hall and is a hypersonic rocket-powered aircraft, as part of an experimental series of aircraft called the X-Plane series, by the US Air Force and NASA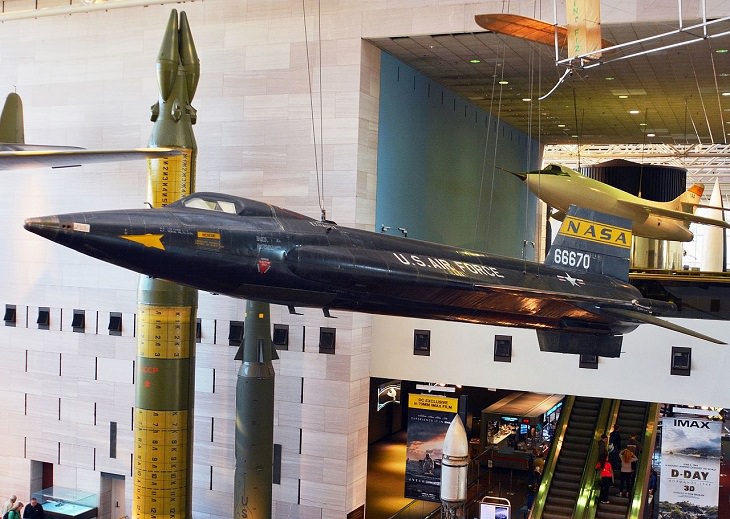 (By D Ramey Logan, Wikimedia Commons)
14. The Apollo–Soyuz Test Project (ASTP) was the first joint space mission between the US and the Soviet Union

(By Toytoy, Wikimedia Commons)
15. The museum also contains relics to remember the achievements of the many astronauts that risked their lives in search of discovery, such as the spacesuit worn by David Scott on Apollo 15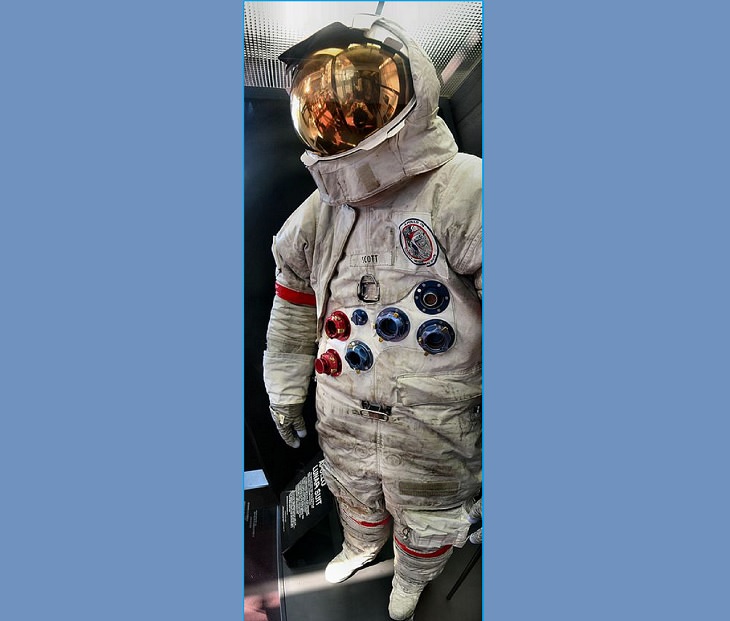 16. Here are a few more somewhat modern ballistic missiles, now defunct obviously, belonging to the US, currently housed in the museum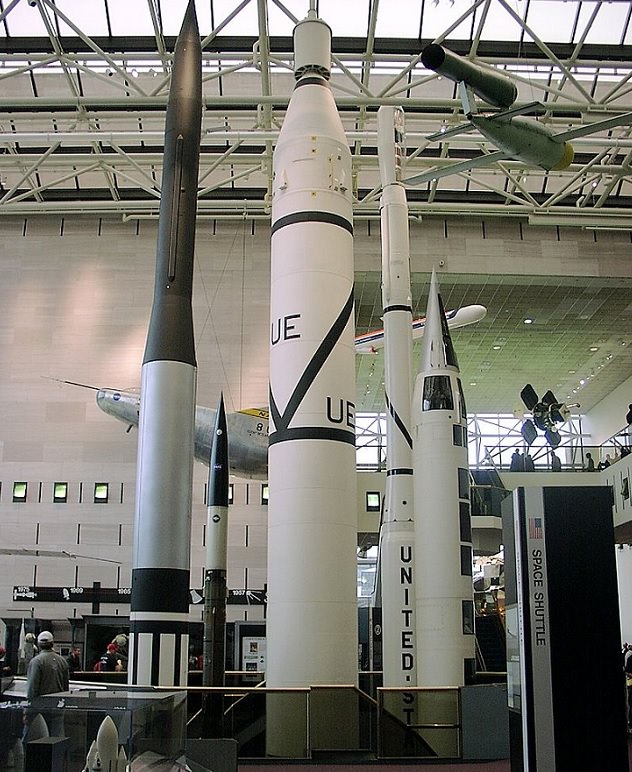 (By © Túrelio, Wikimedia Commons)
17. Then there's the stunning Apollo Lunar Module, the first crewed spacecraft to land anywhere beyond Earth and operate in the airless vacuum of space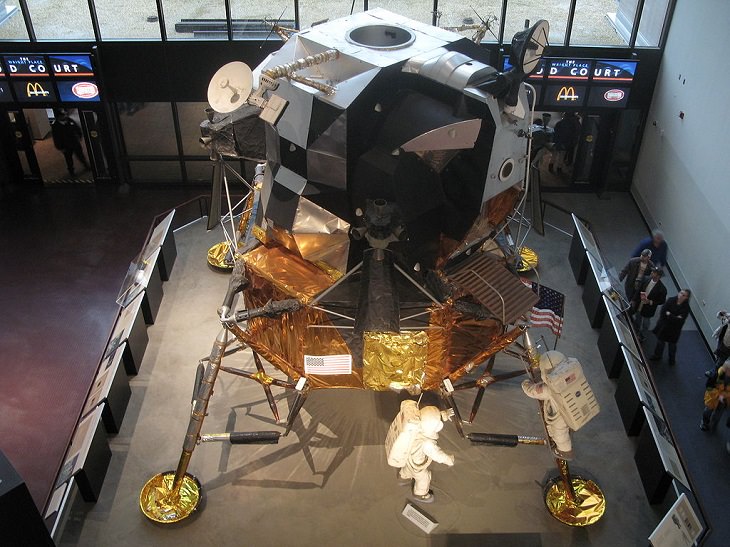 (By Moskey71, Wikimedia Commons)
18. The museum exhibits range from not only spacecraft but also other historic aircraft, like this Lockheed U-2, designed in the 1950s, seen hanging beside a spacecraft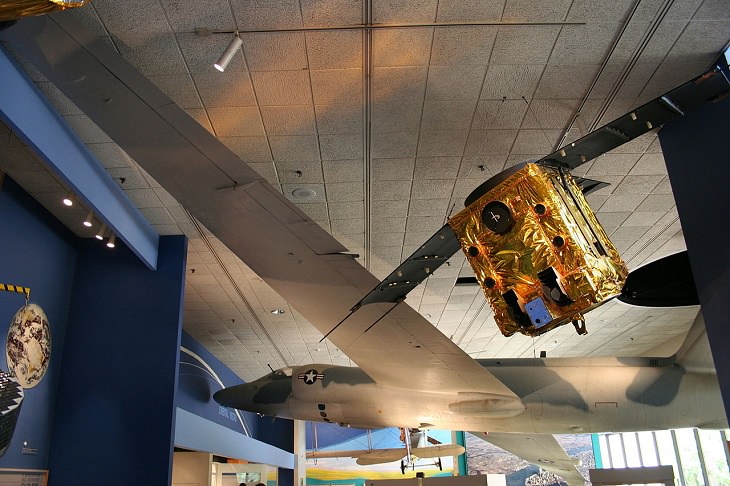 (By 350z33, Wikimedia Commons)
19. There's also this Eastern Douglas DC-3, created in the 1930s and used during World War II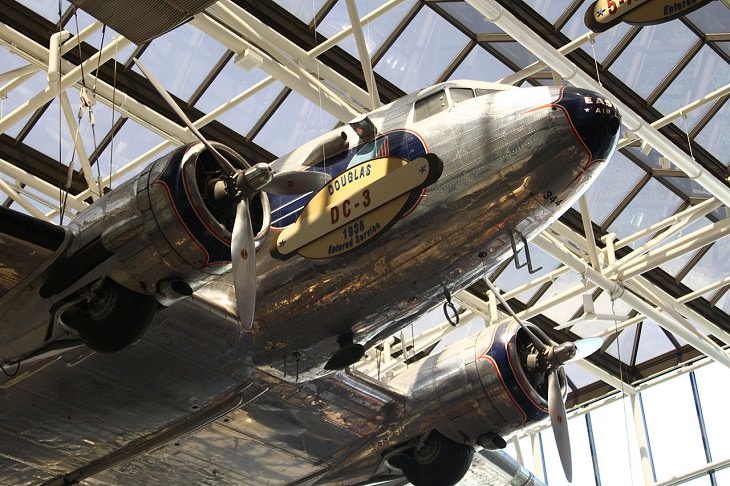 (By CamWow, Wikimedia Commons)
20. You can even see the first and foremost Jumbo Jet, first flown commercially in 1970, the Northwest Boeing 747-100B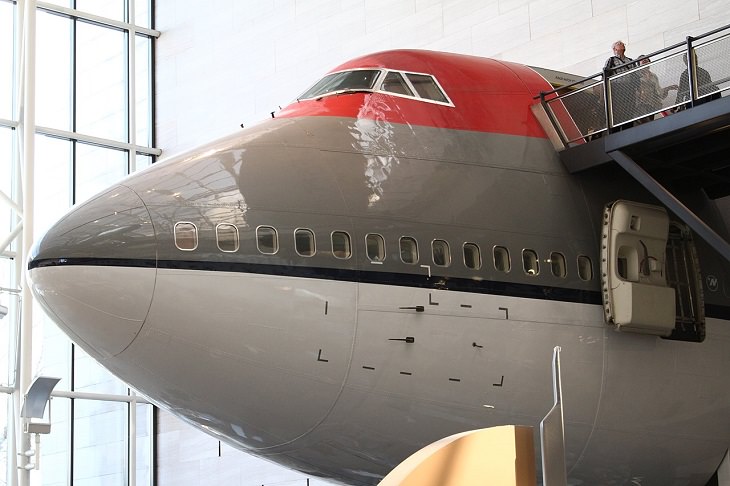 (By CamWow, Wikimedia Commons)
21. Here's another incredible (yet horrifying) call to history, the 25-foot long model of the LZ 129 Hindenburg used in the 1975 movie 'The Hindenburg'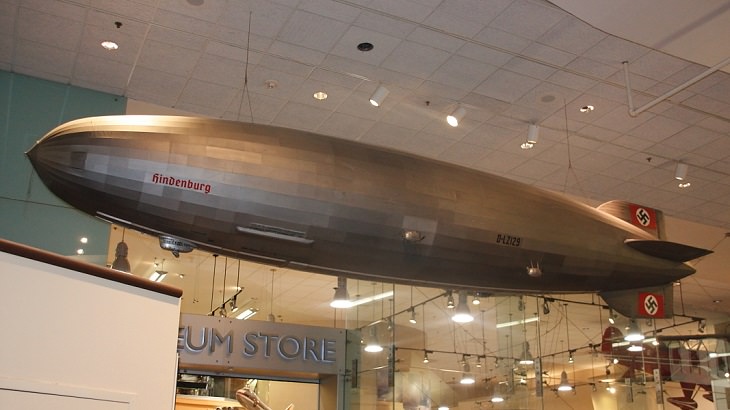 (By Frankyboy5, Wikimedia Commons)
22. The Chicago, the very first aircraft to fly around the world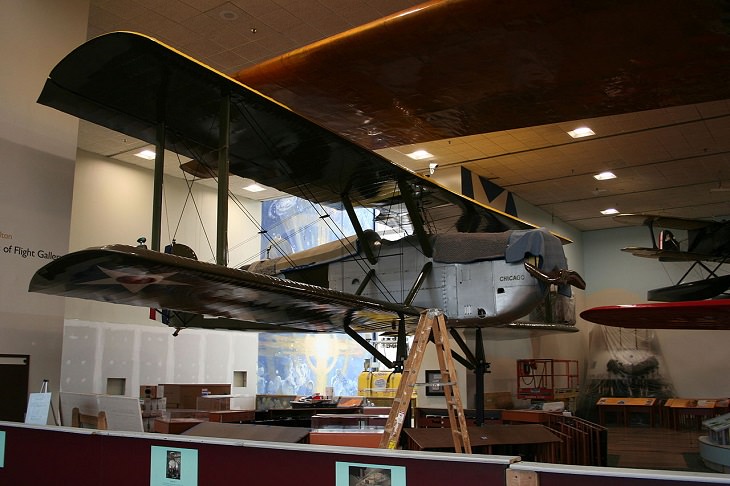 (By 350z33, Wikimedia Commons)
23. The Breitling Orbiter 3, in which Bertrand Piccard and Brian Jones achieved the first non-stop balloon circumnavigation of the world in 1999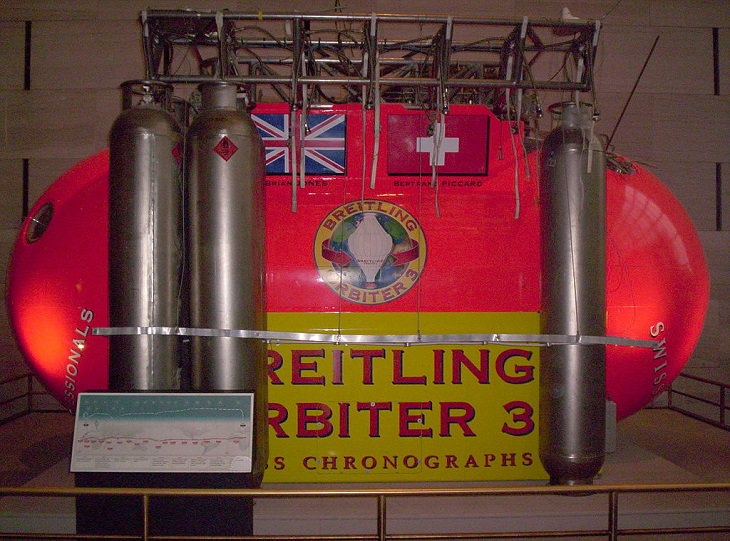 (By Alkivar, Wikimedia Commons)
24. This is the Pitcairn Mailwing family, a series of planes developed by Pitcairn for the US Postal Service to carry and transport airmail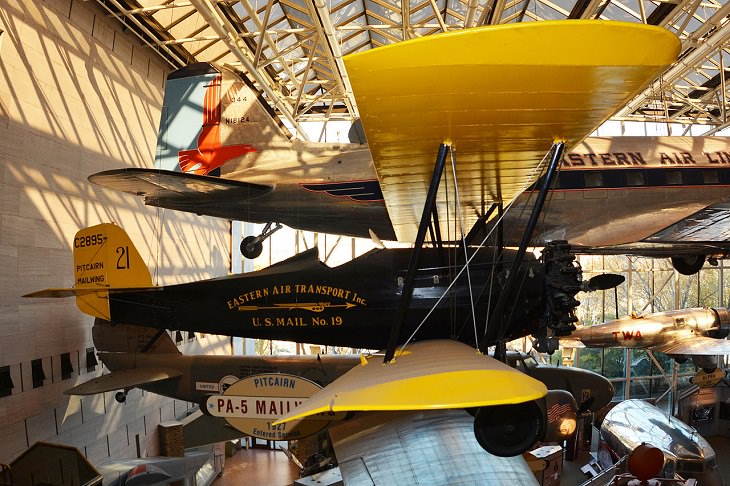 (By D Ramey Logan, Wikimedia Commons)
25. The Boeing X-45, seen on display here, is a more modern military aircraft, an unmanned combat vehicle that had its first flight in 2002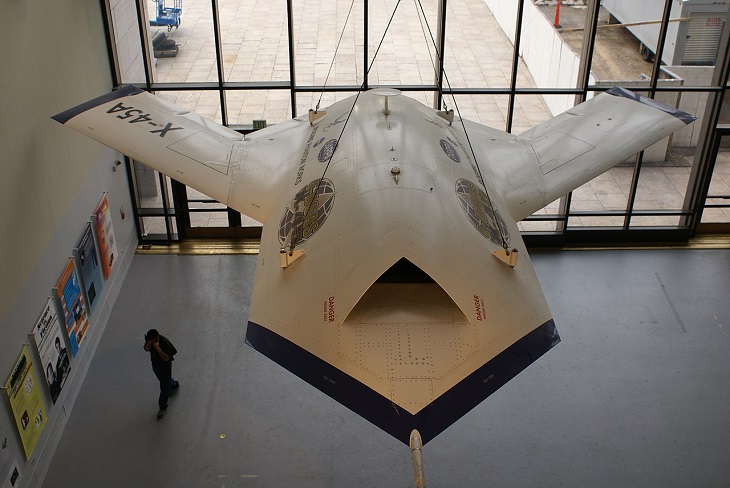 (By Matti Blume, Wikimedia Commons)
26. Here we have SOLRAD 2, which stands for SOLar RADiation, a surveillance and science satellite, equipped with ultraviolet and solar x-ray. It was intended to collect data, but its launch in 1960 was a failure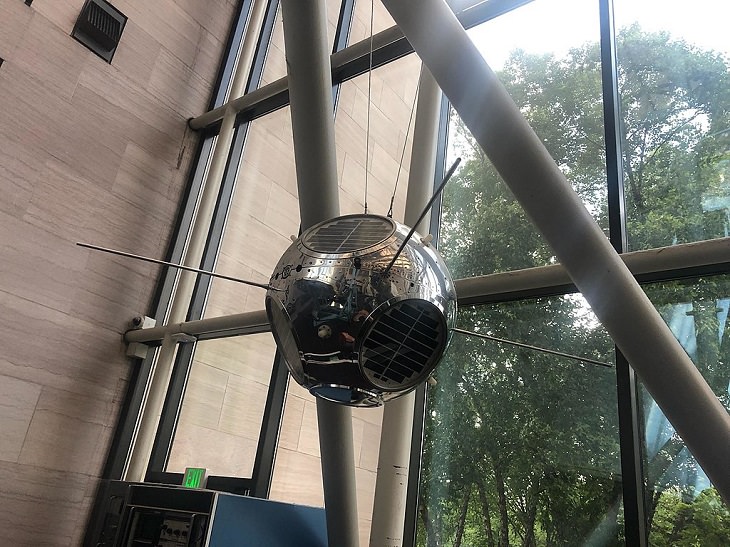 (By Neopeius, Wikimedia Commons)
27. Another exhibit is the return capsule from the Stardust space probe, which was launched in 1999 to collect samples from a specified comet, as well as samples of cosmic dust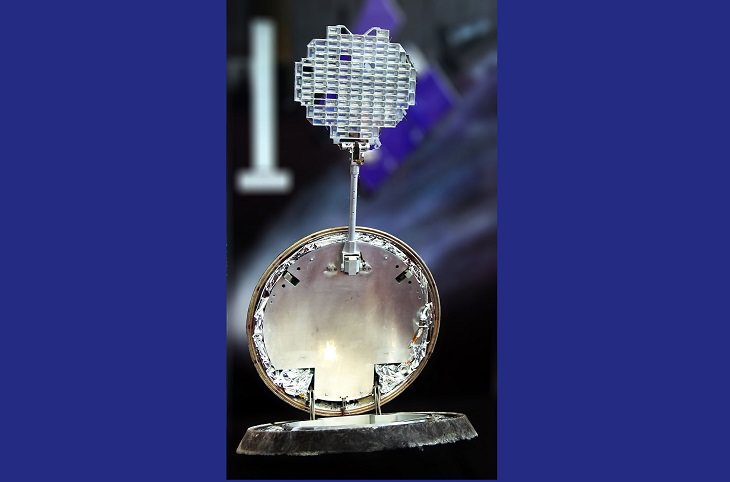 (By Tim Evanson, Wikimedia Commons)
28. The Hughes H-1, built by none other than the Aviator Howard Hughes, is the last aircraft the set the world speed record that was built by a private individual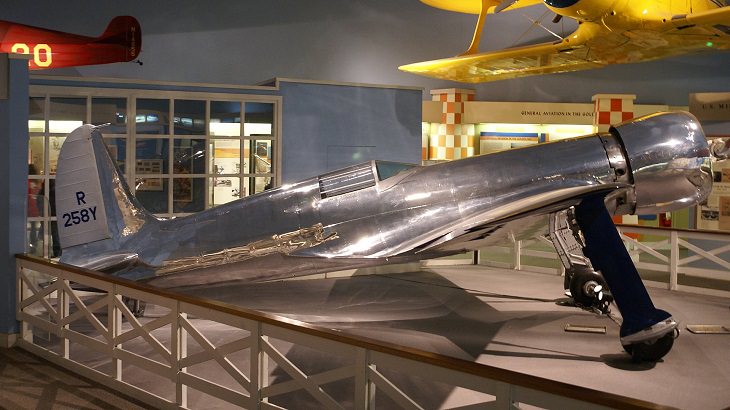 (By Matti Blume, Wikimedia Commons)
29. The museum also handles restorations, such as the restoration of this S-3 D Jupiter engine, an early rocket engine designed in 1956 for the Jupiter Missile which became operational only in 1960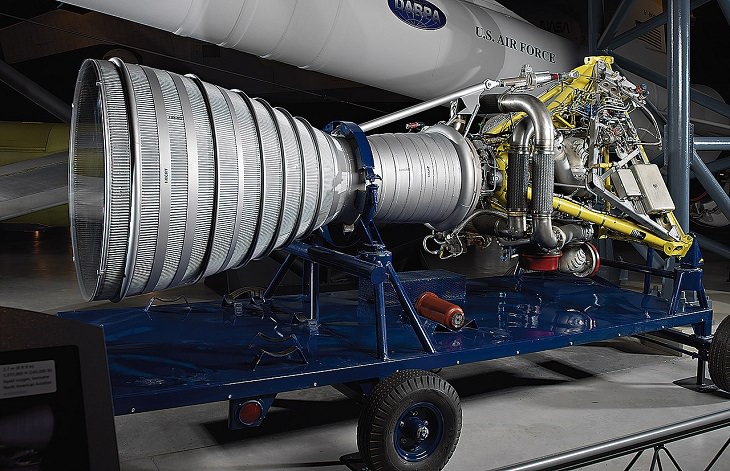 (By National Air and Space Museum, Wikimedia Commons)
30. We also have the Rockwell HiMAT (Highly Maneuverable Aircraft Technology), an experimental project for a remote piloted aircraft, designed for NASA, which completed its testing in 1983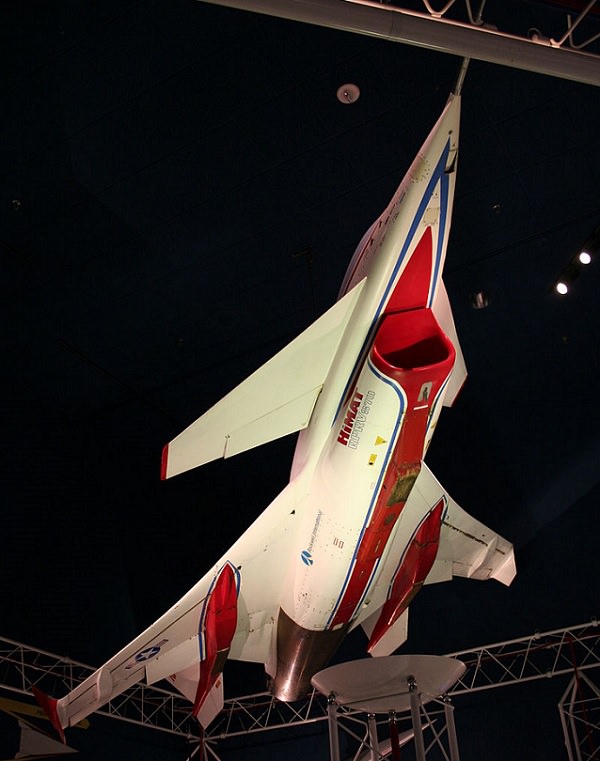 (By LWF, Wikimedia Commons)
31. The Wright Flyer, seen here on display at the museum, was the first powered aircraft designed and built by the Wright brothers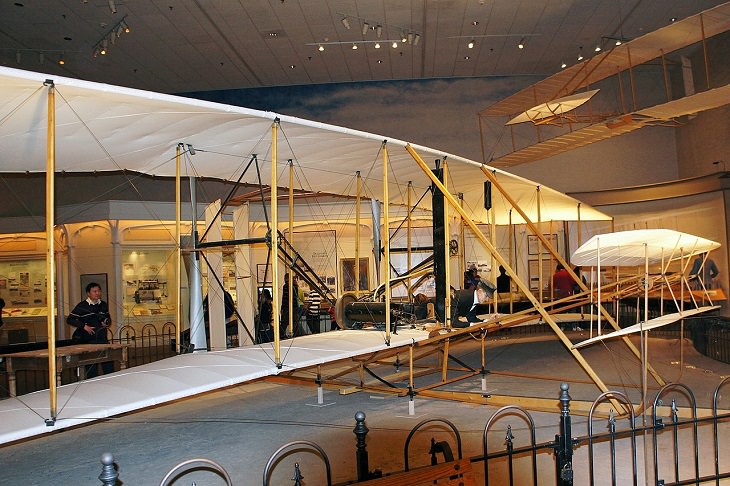 (By Mariordo, Wikimedia Commons)
32. Finally, we have a scale model of the Hubble Space Telescope and laboratory, which even today remains in orbit as a vital tool in the search for answers of what lies beyond Earth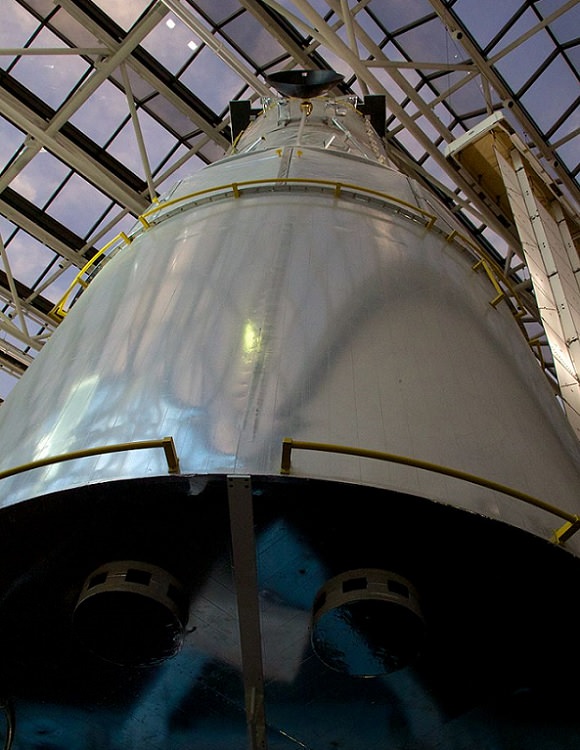 (By Mike Peel, Wikimedia Commons)
Related Articles:
22 Highlights From the Metropolitan Museum of Art
18 Museums We Should All Visit
15 of the World's Most-Visited Museums