Navaratri, also known as Durga Puja, Vijaya Dashami or Dussehra in different parts of India, is a Hindu festival celebrated to honor the Goddess Durga, also referred to as Devi, or Dharma, a representation of femininity and the triumph of good over evil. It is also celebrated to mark the anniversary of Lord Rama's victory against the powerful King Ravana, a story depicted in the epic tale, Ramayana.
Navaratri lasts approximately 8 to 10 days and typically dies down around the end of September and beginning of October. It is celebrated by Hindu communities all over the world - in the UK, Trinidad, Malaysia, Singapore, Thailand, Germany, and the Netherlands. The occasion is marked with lights strung up around every corner, the bursting of a variety of firecrackers, the lighting of candles, bright clothing, dances, displays of idols and, of course, endless supplies of food and traditional snacks and sweets.
These 15 photos will give you a taste of the festivities that Durga Puja has to offer.
1. The lighting of Candles during Sandhi Puja on the day of Ashtami in Kolkata, the 8th Day of celebration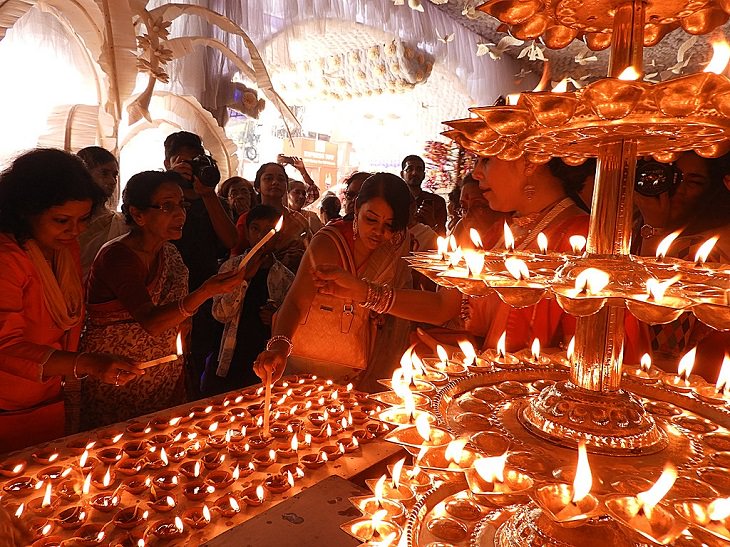 (By Sumita Roy Dutta, Wikimedia Commons)
2. Folk Dance Performances outside the Ambaji Temple of Gujarat, in celebration of Navaratri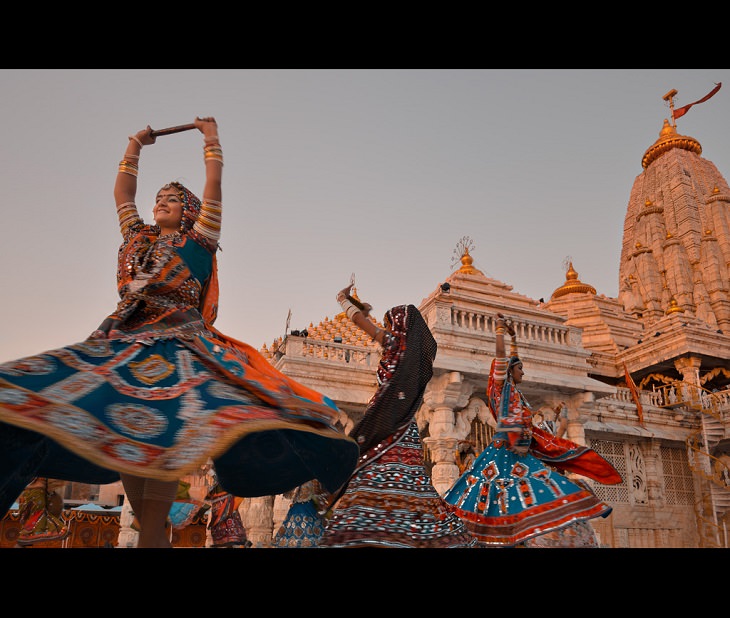 (By anurag agnihotri, Wikimedia Commons)
3. Two Pandals (fabricated structures for displaying idols and sculptures) set up in Kolkata (formerly Calcutta) for Durga Puja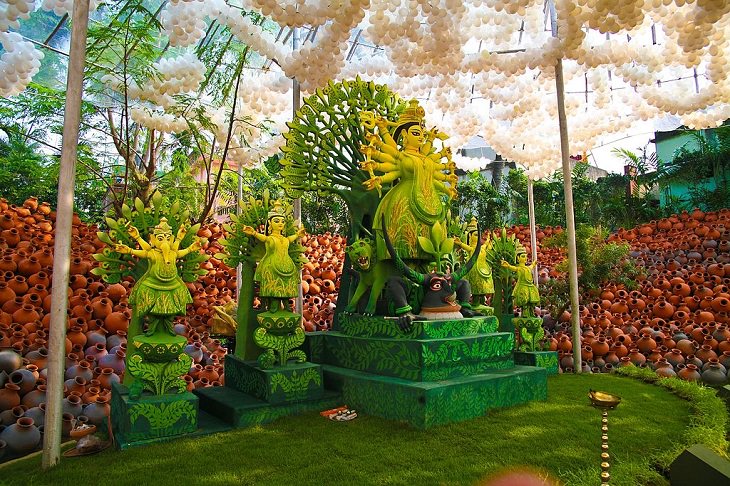 (By Ramakrishna Reddy Y, Wikimedia Commons)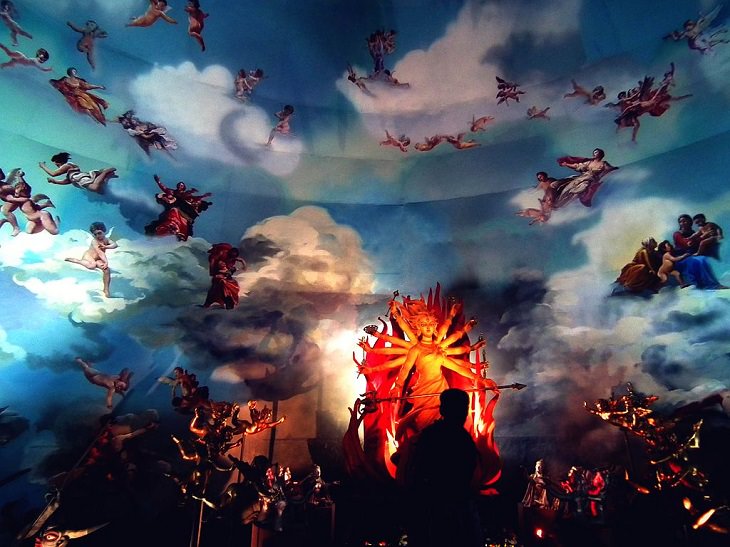 (By Saikat Sengupta, Wikimedia Commons)
4. Immersion of the sculpture-idol of Durga on the day of Vijaya Dashami.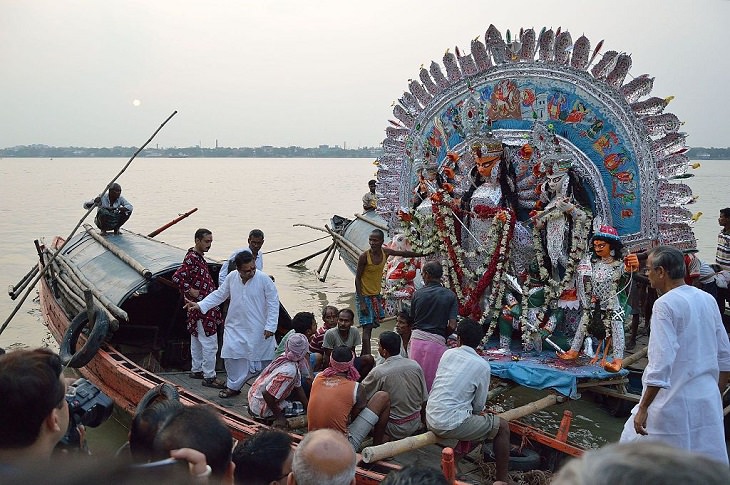 (By Biswarup Ganguly, Wikimedia Commons)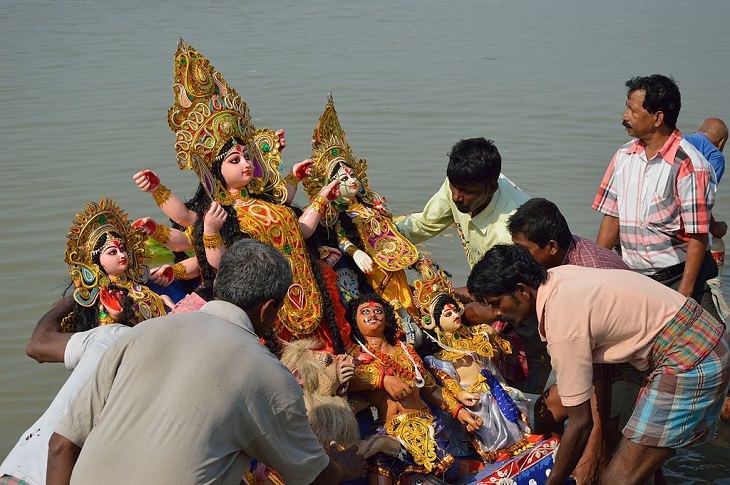 (By Biswarup Ganguly, Wikimedia Commons)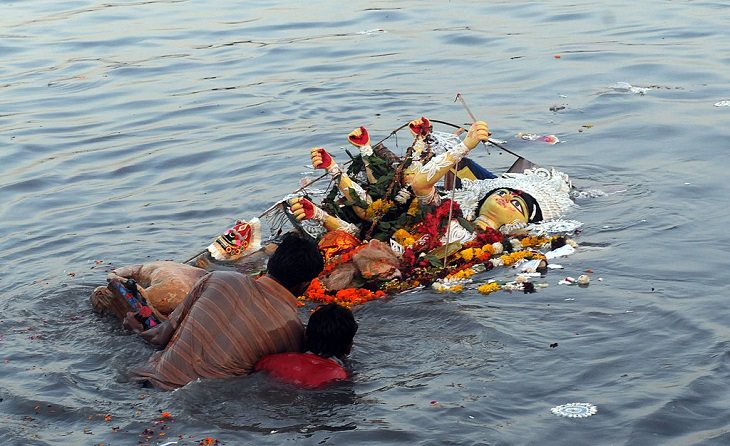 (By Ministry of Culture (GODL-India), Wikimedia Commons)
5. Garba Dancing, a Navaratri Tradition in Gujarat and neighboring states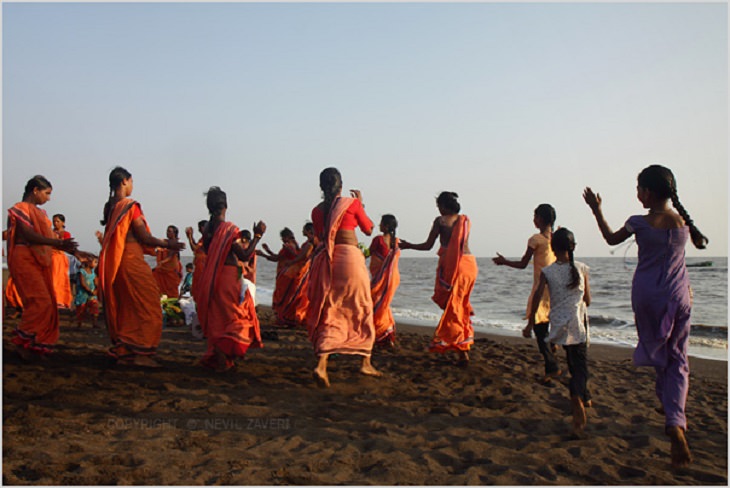 (By nevil zaveri, Wikimedia Commons)
6. Kudroli Hindu Temple in Karnataka, decorated with lights in honor of Navaratri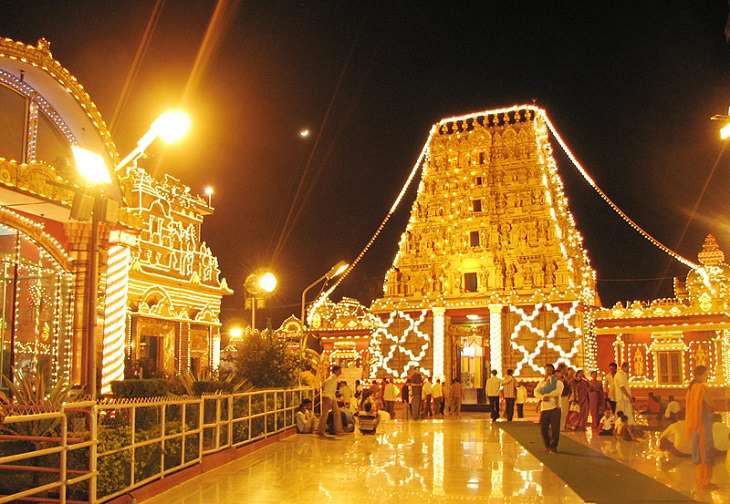 (By Karunakar Rayker, Wikimedia Commons)
7. A lit lamp set atop a Bathukamma flower arrangement, a Telegu Navaratri Tradition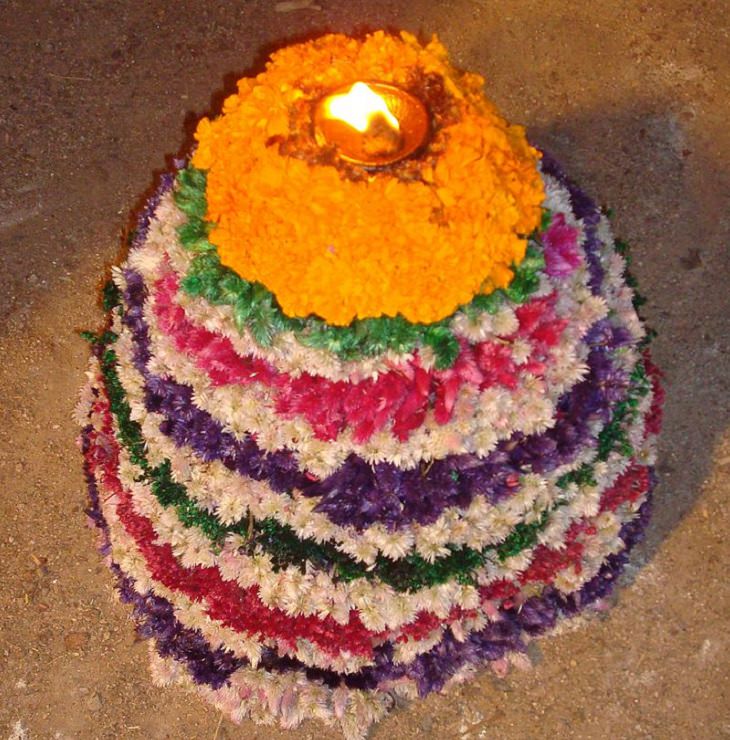 (By Randhirreddy, Wikimedia Commons)
8. Dhaks, an instrument played in processions and street performances during Durga Puja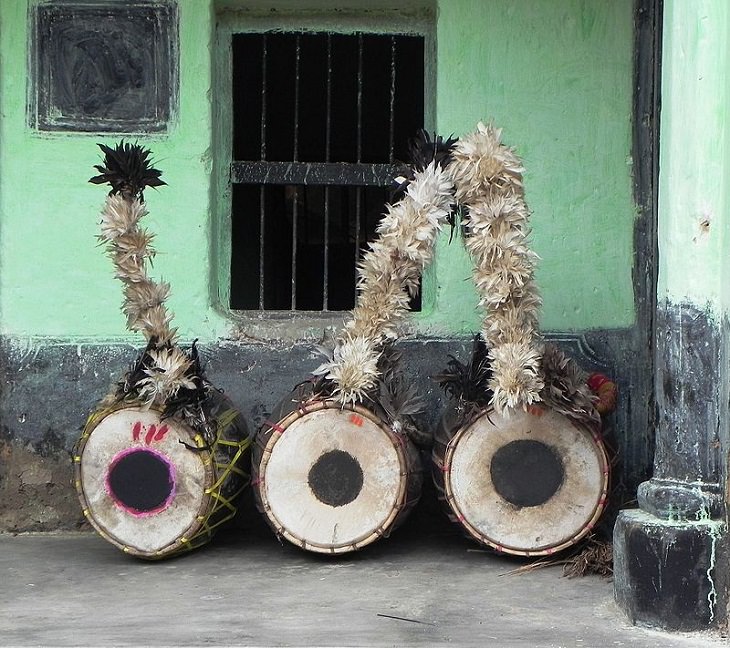 (By Mallikamandal25, Wikimedia Commons)
9. Dhunachi naach (Dhunuchi Dance) performed on Navami (the 9th day of Durga Puja), using the Dhunachi, a Bengali incense burner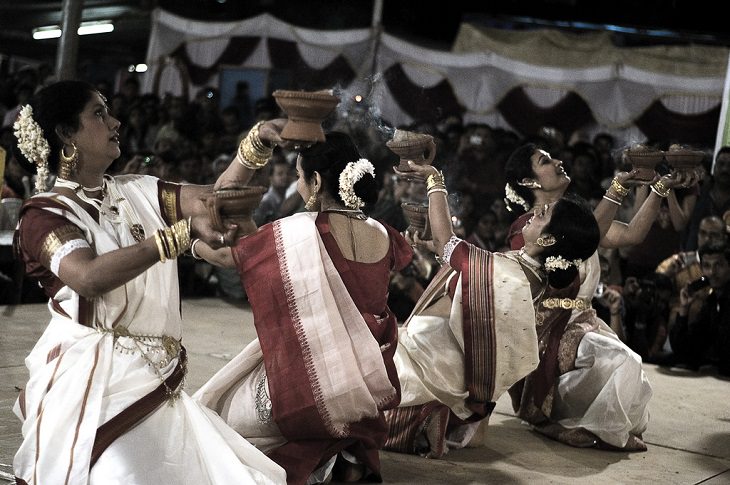 (By Amarnath, Wikimedia Commons)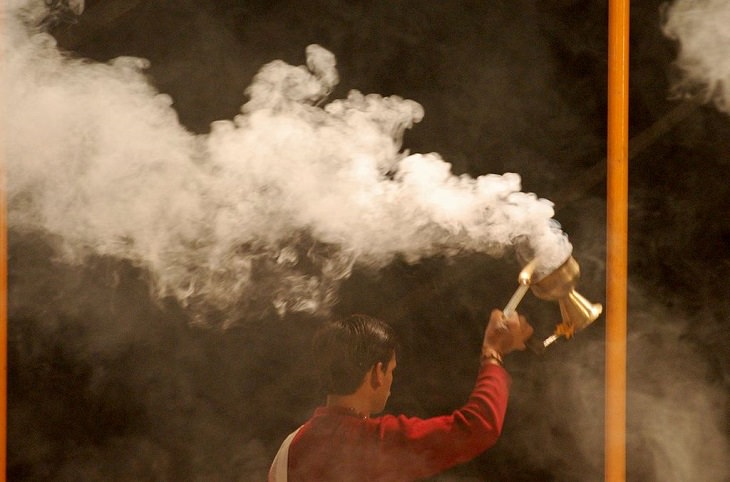 (By ampersandyslexia, Wikimedia Commons)
10. The burning of Ravana Effigies during Dussehra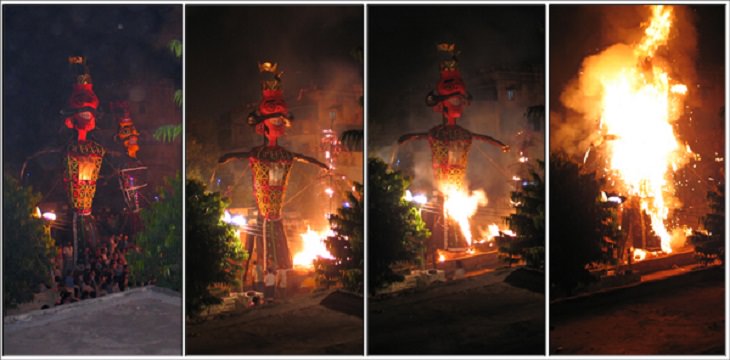 (By Shakti, Wikimedia Commons)
11. Dussehra Procession held in Mysore, Karnataka, as both a yearly tradition and now a major tourist attraction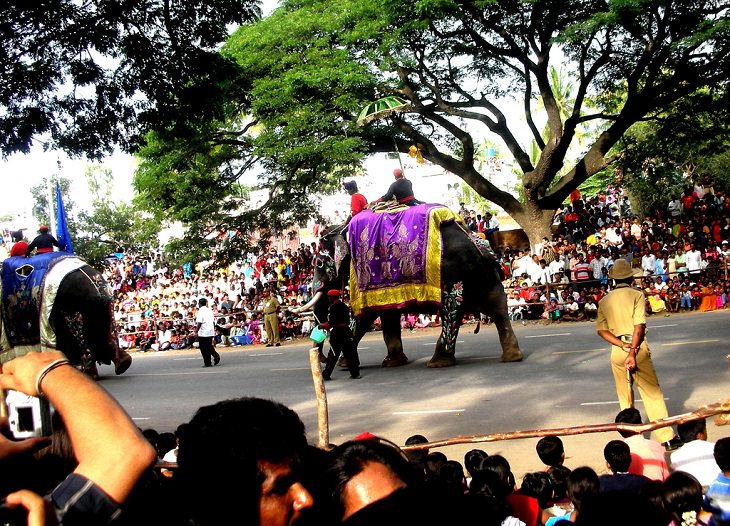 (By Kalyan Kumar, Wikimedia Commons)
12. Kolam or Rangoli (a form of drawing that makes use of colored rice flour, chalk or rock powder) patterns drawn on the floor to mark Navaratri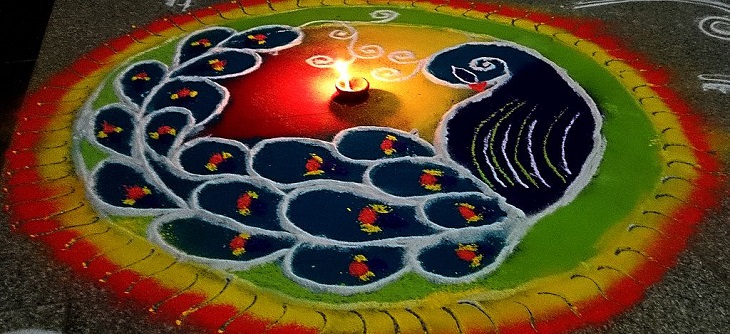 (By Ramesh NG, Wikimedia Commons)
13. Women playing sindoor khela (the "vermilion game"), on Vijaya Dashami, which involves the smearing of sindur, a vermilion red cosmetic powder traditionally worn by married women.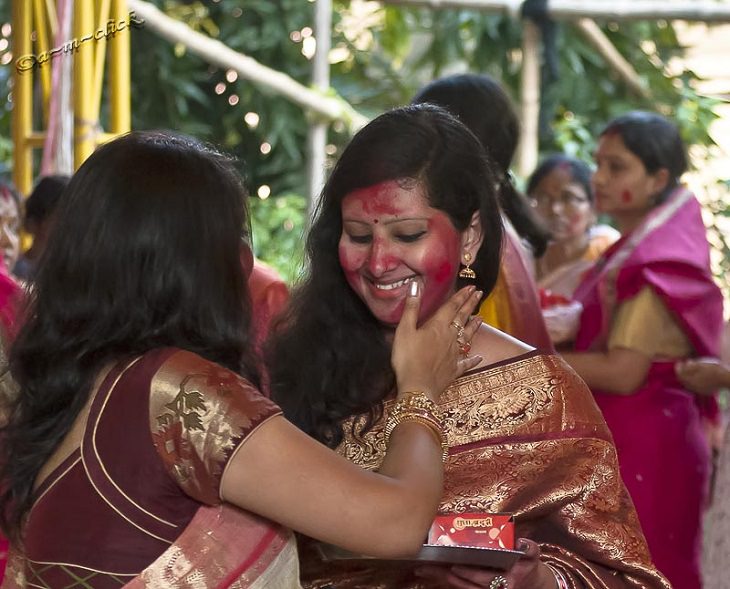 (By Arindam Mitra, Wikimedia Commons)
14. Lights designed and installed on numerous streets during the time of the Festival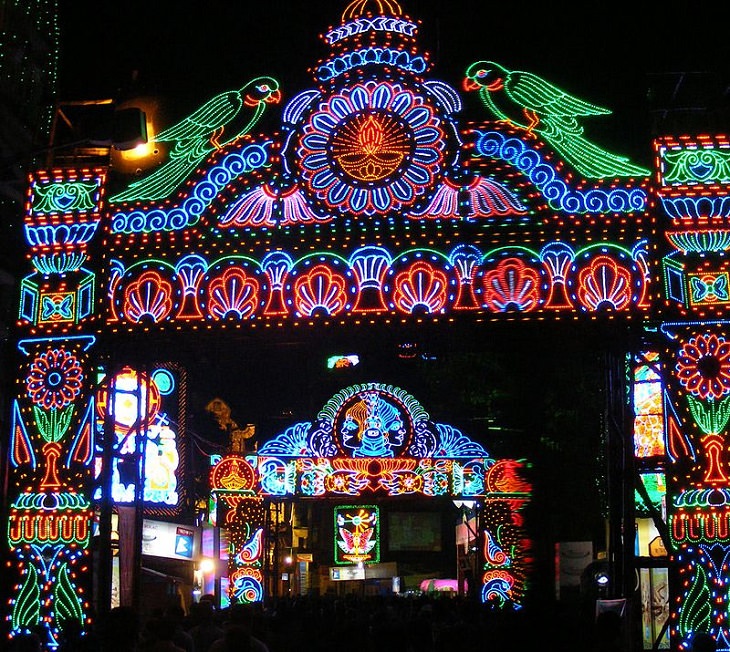 (By Kumar83, Wikimedia Commons)
15. A typical Navaratri feast, consisting of some rice or Indian bread, fried items (pakoda), assorted vegetables, curry, and gravy, with some cool refreshing buttermilk to drink with it.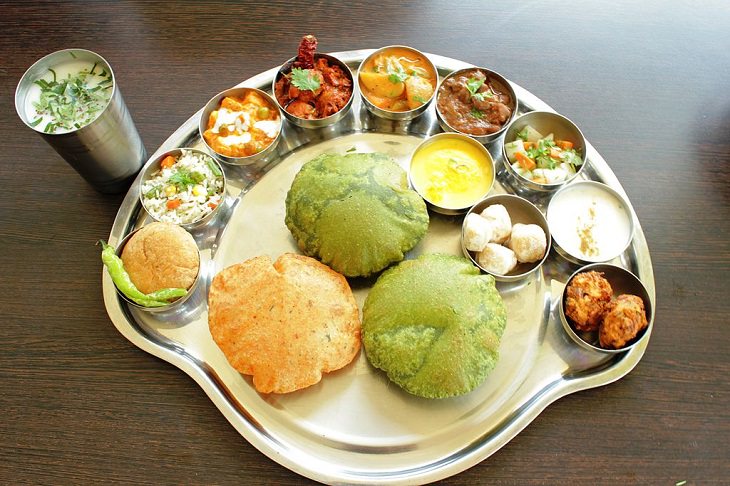 (By Vivek3dartist, Wikimedia Commons)