Much like how diamonds are a woman's best friend, many other minerals in this world have a lot to offer, and cost a whole heck of a lot to purchase! But my goodness, are these jewels stunning. Some gemstones and minerals are beautiful rarities that make the world sparkle, and wallets much lighter! These 16 rocks are the rarest in the world, and can only be purchased at prices starting at $2,000 and hitting as high as 6 figures!
1. Jeremejevite - $2,000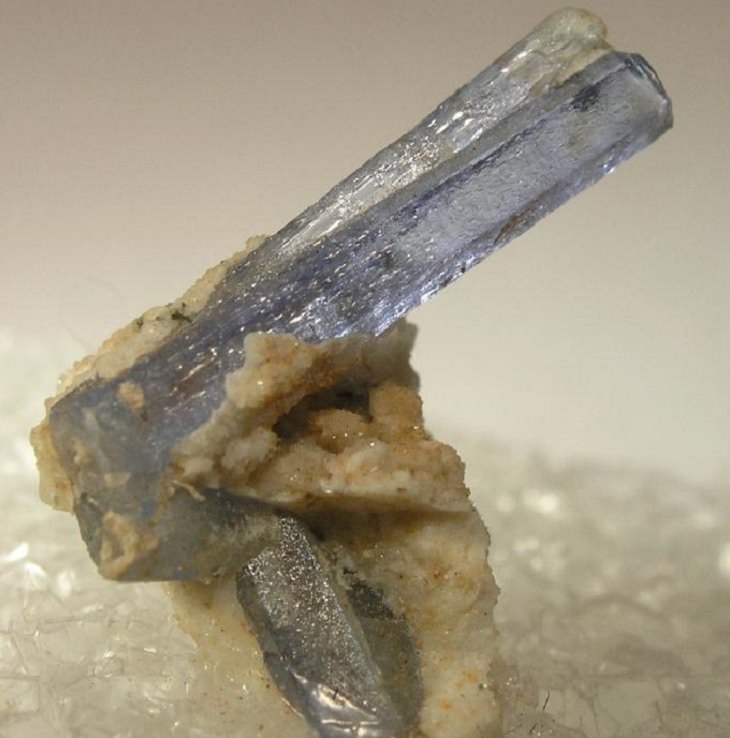 (By Rob Lavinsky, Wikimedia Commons)
This stunning gem was first found in 1883, on Mt. Soktui, Siberia.
It is a rare mineral, comprising of aluminum borate with smatterings of hydroxide and fluoride ions, making its chemical formula Al₆B₅O₁₅(F, OH).
Crystals of jeremejevite are used in treating grief and are believed to help in decision making. This incredible gem costs approximately $2,000 per carat.
2. Fire Opal – $2,300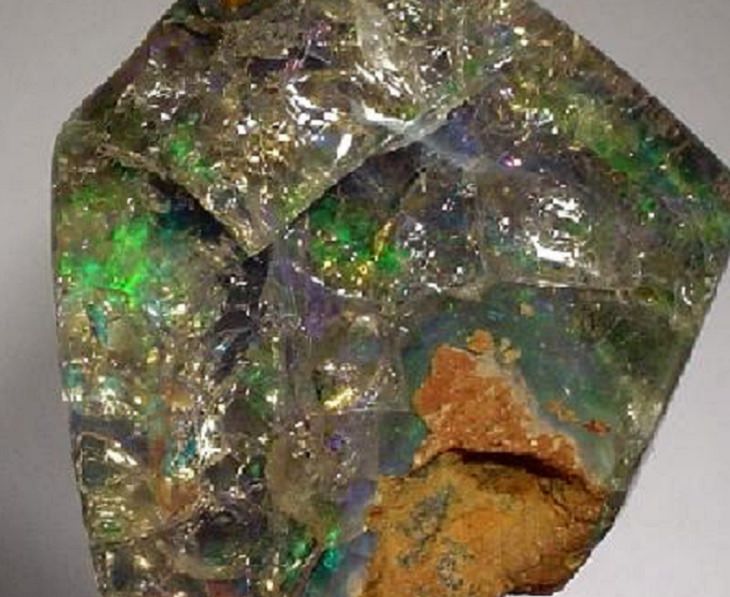 (By Rob Lavinsky, Wikimedia Commons)
This beautiful gemstone is a native of Ethiopia, which has been been a steady producer of this lovely fiery colored opalescent stone for the past 10 years. The chemical formula of this rarity is SiO2 & H2O, which is a combination of silicon dioxide (also known as silica, an element often found in sand and quartz) and water.
Fire opal is a healing crystal, believed to help with balancing erratic brain function, treating circulatory disorders, and even problems with kidney and liver function, only for the meager price of $2,300 per carat.
3. Poudretteite – $3,000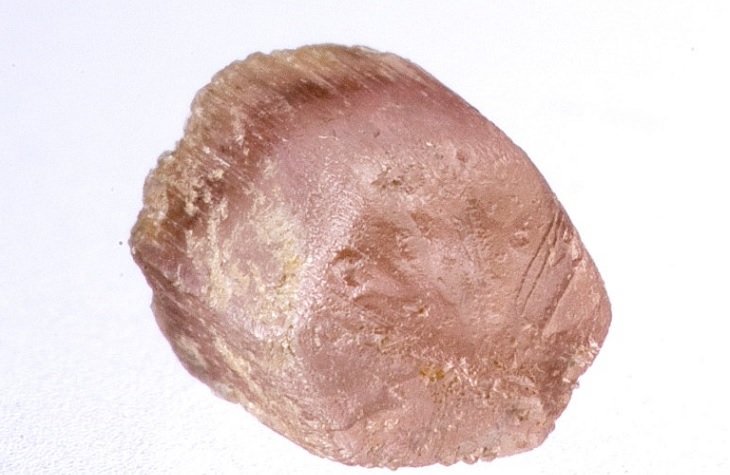 (By Rob Lavinsky, Wikimedia Commons)
Discovered first in the 1960s in Mont St. Hilaire, of Quebec, Canada, this rare mineral was named after the family in Mont St. Hilaire, that operated the quarry in which this mineral was originally found. The astounding chemical formula for this mineral is KNa2B3Si12O30, which, in words, is Potassium Sodium Boron Silicate.
This brittle mineral has a few lesser known uses and is most well known for its beauty. It is available for purchase at only $3,000 per carat.
4. Demantoid Garnet – $3,300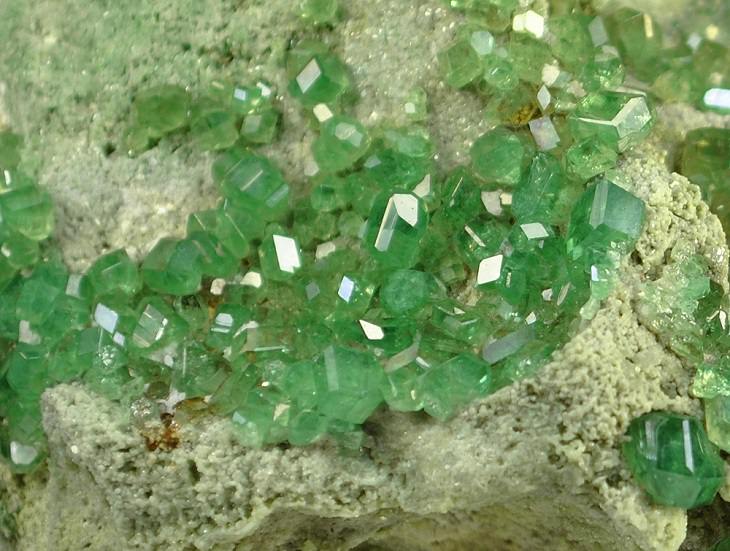 (By Rob Lavinsky, Wikimedia Commons)
Demantoid itself was discovered in Russia in the early 1800s, and in 1854, was identified as a variety of andradite garnet by mineralogist Nils Gustaf Nordenskiöld. This stunning green gem is an iron calcium silicate bearing the chemical formula Ca3Fe2(SiO4)3.
Demantoid Garnet is used to treat a number of respiratory illnesses, immune system issues, blocked arteries and finally eyesight. At $3,300 per carat, this gem costs quite a bit.
5. Black Opal – $3,500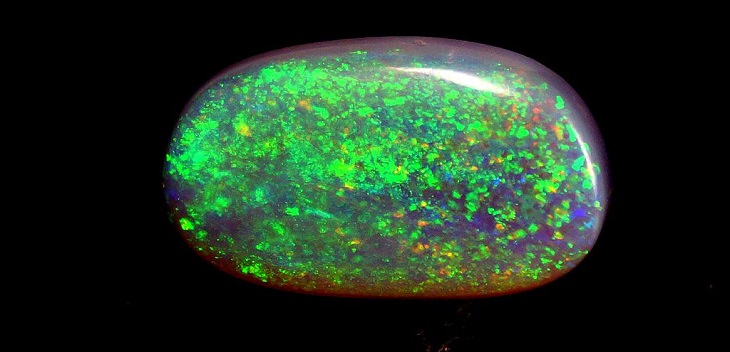 (By Danmekis, Wikimedia Commons)
Despite its name, this gem is actually rainbow colored and found almost exclusively in Australia, particularly in New South Wales. Its chemical formula is SiO2•n(H2O), also known as Hydrous Silica, without any defined crystalline shape. This stone is especially good for inspiring and promoting peace and calmness which makes it a great addition to any home, for only $3,500 dollars per carat!
6. Benitoite – $4,000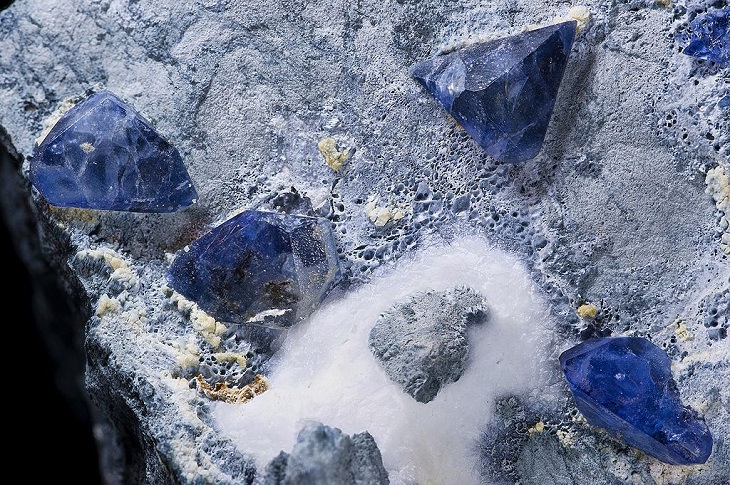 (By Didier Descouens, Wikimedia Commons)
This frosted blue crystal, heavily resembling sapphire, was first discovered in 1907, and this rare beauty has been the official gem of the state of California since 1985. It's mined almost exclusively in California.
This mineral is a barium titanium cyclosilicate, found mostly in places of low temperature and high pressure. The rarity of this gem makes it a highly sought after collectible, and costing $4,000 per carat, it makes for some expensive jewelry as well.
7. Musgravite – $6,000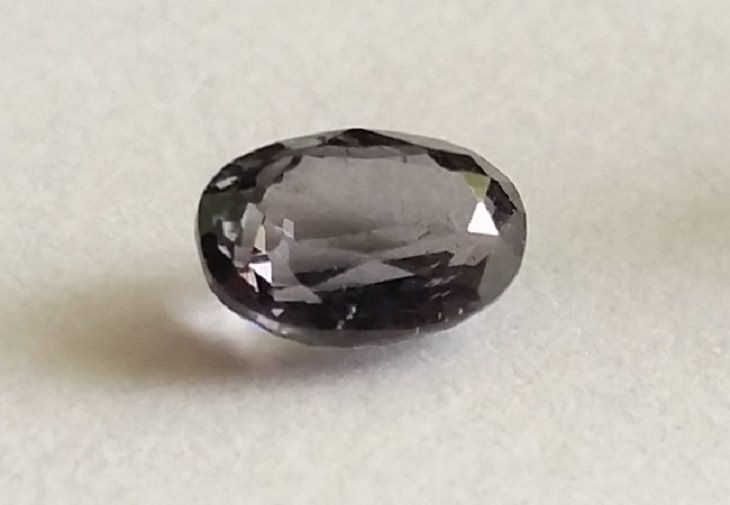 (By DonGuennie, Wikimedia Commons)
Here's yet another mineral from Australia, first discovered in 1967 in what is called the Musgrave Range in South Australia.
It is also known as magnesio taaffeite-6N'3S, and has the chemical formula Be(Mg, Fe, Zn)2Al6O12, and contains magnesium, iron, and zinc among many other chemicals.
This mineral has a bright color and a sheen. The stone is just hard enough to be ideal for carving and sculpting figures of all shapes and sizes, though usually on the smaller size, as this gem sells for $6,000 per carat.
8. Padparadscha Sapphire – $8,000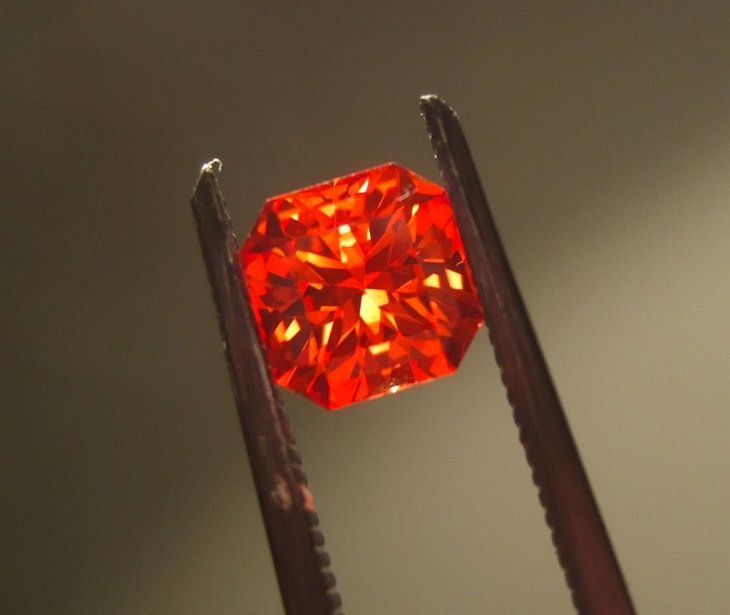 (By Alextryan, Wikimedia Commons)
While sapphires are usually considered to be blue, this particular sapphire is pink in color, and its name is derived from the Sinhalese word for salmon-colored lotus roots. The true gems are believed to be found only in Sri Lanka, though there are mines for this mineral in Tanzania and Madagascar.
As a mineral its largely made up of aluminum oxide, the chemical formula of this gemstone is Al2O3.
This gem has a lot of therapeutic value and can help bring joy to life and exudes positive energy. It costs about $8,000 per carat.
9. Red Beryl – $10,000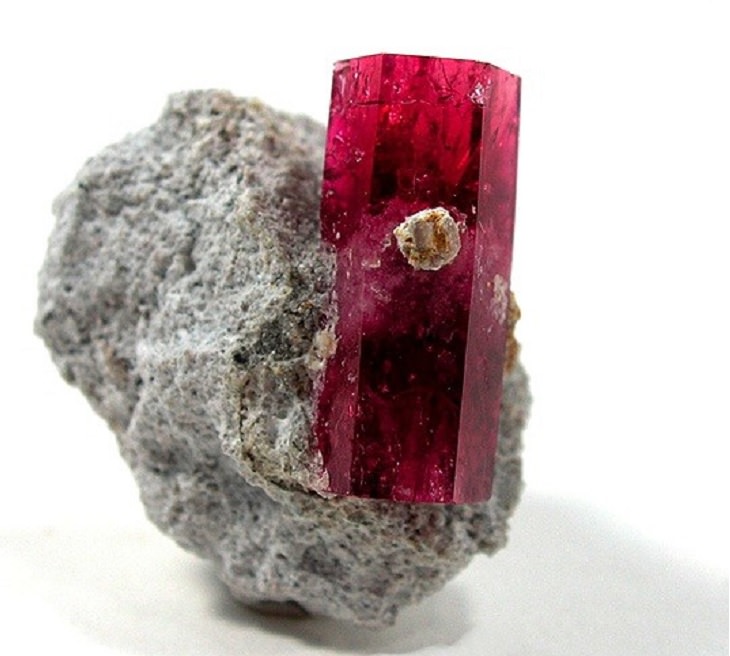 (By Rob Lavinsky, Wikimedia Commons)
This red and pink beauty is one of many beryls found in the Wah Wah Mountains of Beaver County, Utah. It gets its lovely color from the manganese it contains.
This stone is another aluminum oxide compound, most commonly occurring in white volcanic rhyolite, and has the chemical formula Be2Al2(SiO3)6.
This crystal is renowned for its use as an energizing and healing agent. Being one of the rarest gems in the world, it is sold for a whopping $10,000 per carat.
To see other beautiful minerals like this paired with other brightly-colored beauties of nature, click here!
10. Alexandrite – $12,000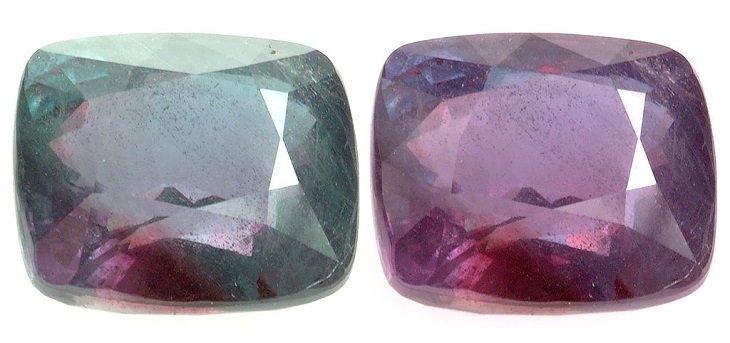 (By David Weinberg, Wikimedia Commons)
This gem comes in an interesting shade, blending between numerous colors. It is often referred to as an "emerald by day, and ruby by night" because the color of the gem changes depending on the light. This mineral is mostly found in the mines of the La Madera Mountains of New Mexico.
It is also called a chrysoberyl mineral and has the chemical composition Al2BeO4.
This gem is used in certain rituals and prayers to promote good energy and intuition, though it is also occasionally found in the more extravagant and expensive jewelry as well, with each carat being sold at $12,000.
11. Diamond – $15,000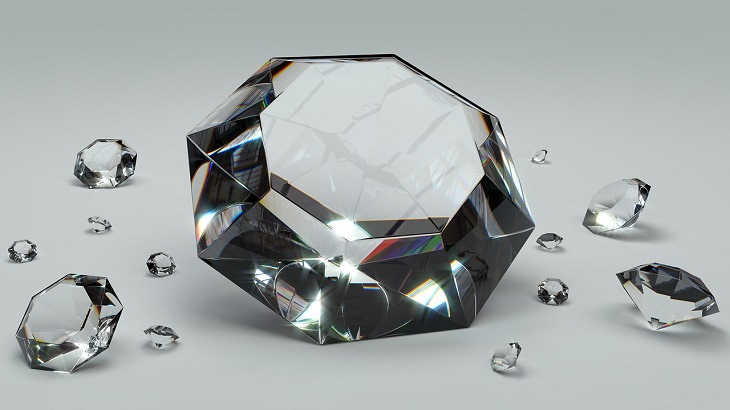 A woman's best and shiniest friend, diamonds are extracted from mines located all across the world, in numerous countries in Africa, Australia, China, and South America. The name of this gem is derived from Adamas, a Greek word meaning "unconquerable", alluding to the strength and hardness of the gem.
The chemical formula of this shiny beauty is simply C because diamond is actually a pure carbon compound with a different molecular structure.
The use of diamonds in jewelry is well known but this tough mineral also has industrial uses, as well as uses in medical equipment, like in lasers and x-ray machines. This rock goes for $15,000 per carat on the open market.
12. Serendibite – $18,000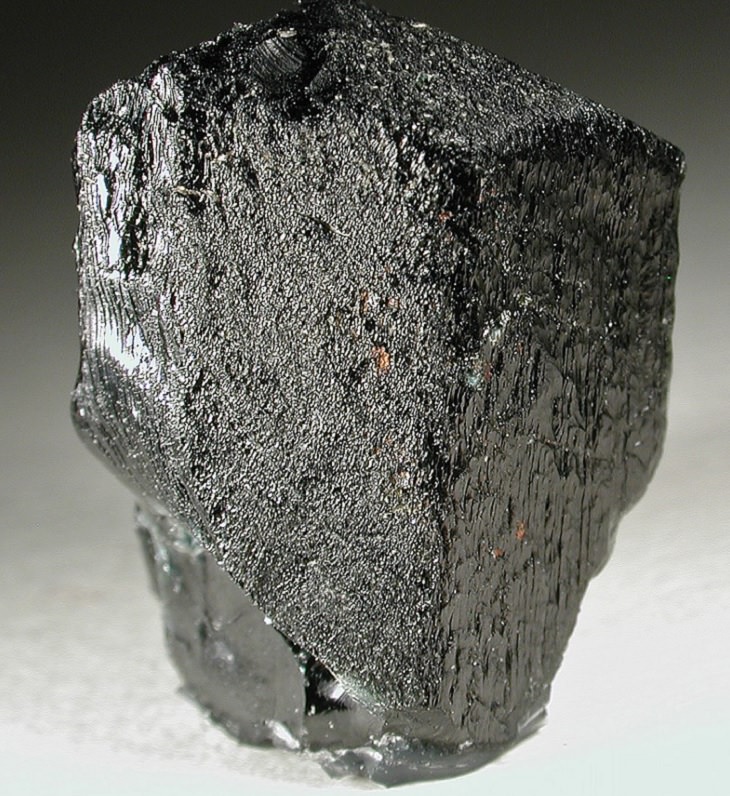 (By Kelly Nash, Wikimedia Commons)
This rare blue and green gemstone is a borosilicate mineral that is extremely rare and difficult to find in the crystalline form. It is named after Serendib, which is the old Arabic name for Sri Lanka, where this rock was first discovered in 1902.
Its never-ending chemical formula is Ca2(Mg, Al)6(Si, Al, B)6O20.
It has metaphysical properties, making it popular among celebrities and sportspersons as a lucky gem. No wonder it costs $18,000 per carat.
13. Jadeite – $20,000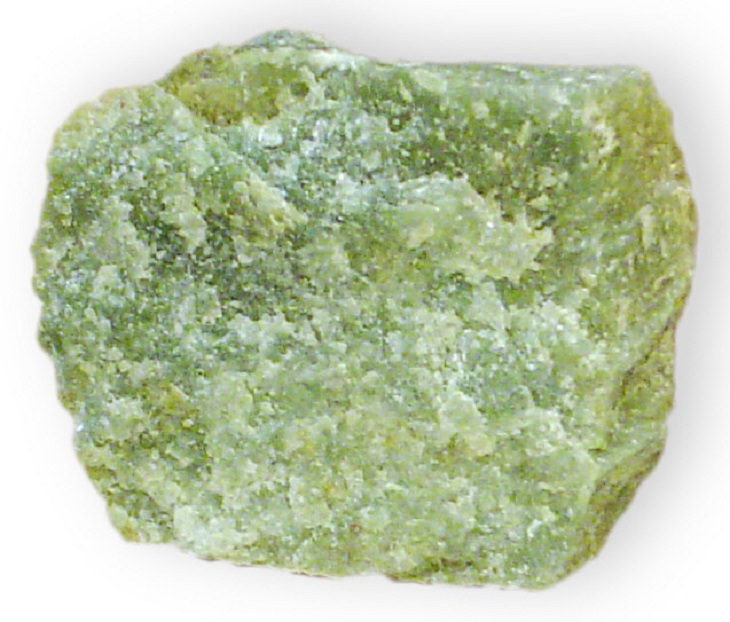 (By Dave Dyet, Wikimedia Commons)
Green and sparkly, Jadeite was originally found in Myanmar (Burma) and then exported to China in 1784. While Myanmar continues to be a leading source of Jadeite, this mineral can also be found in California, New Zealand, Kazakhstan, Russia, and many other countries.
It is named after jade, as it is a common component of most jade gems, and jadeite bears the chemical formula NaAlSi2O6.
It has a number of metaphysical uses, like promoting longevity in both pets and people, and even helping shy children open up. Because it's durable, it can also be used in jewelry, but for those with a heavy wallet because this beauty costs $20,000 per carat.
14. Grandidierite – $20,000 per carat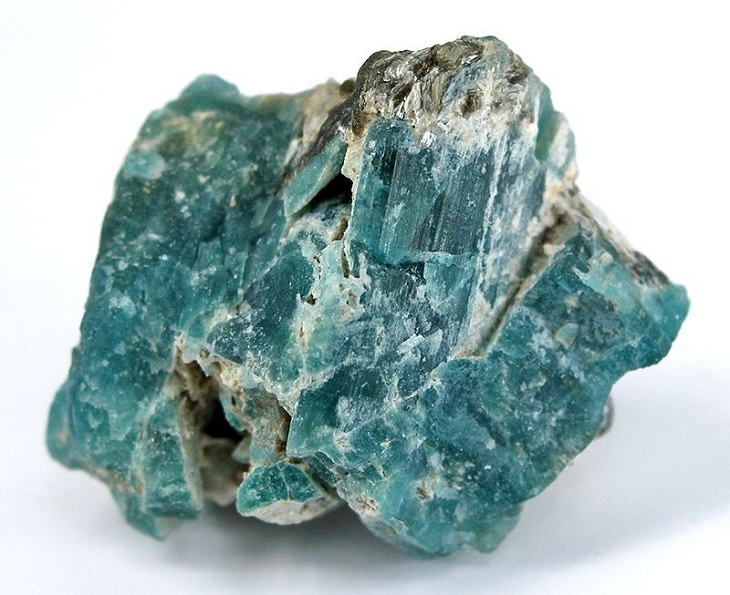 (By Rob Lavinsky, Wikimedia Commons)
Grandidierite is one of the rarest minerals in the world and was first discovered in 1902 in Madagascar. It was named after a French explorer, known for studying the natural layout of Madagascar, Alfred Grandidier.
As a magnesium-based mineral, its chemical formula is (Mg, Fe++)Al3(BO4)(SiO4)O.
Its major physical uses are in jewelry and rare gem-collections, though its metaphysical properties are believed to help the holder achieve their life's goals. Unfortunately, this gem could also be a hindrance if one of your goals is saving, because one carat of this gemstone costs an unbelievable $20,000.
15. Taaffeite – $35,000 per carat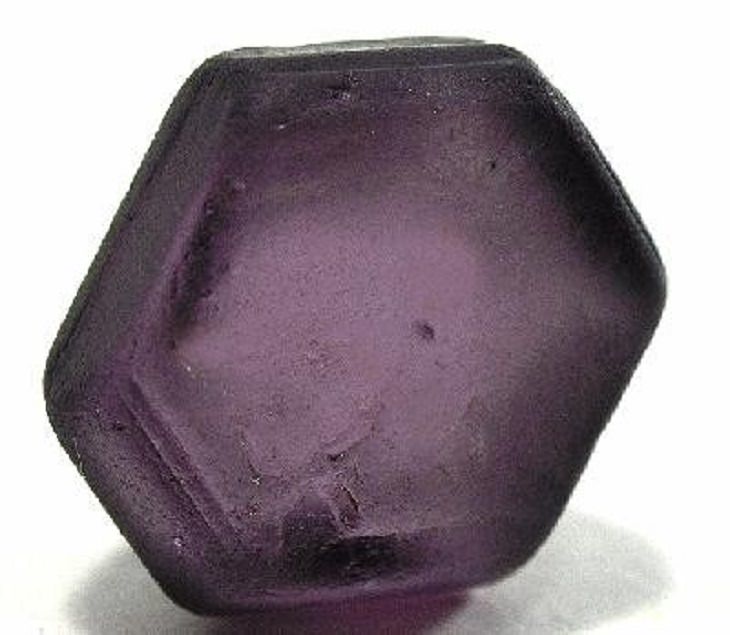 (By Rob Lavinsky, Wikimedia Commons)
The first cut and polished sample of this light lavender gem was found by a gemologist, one Richard Taaffe, in a jewelry shop in Dublin, Ireland.
This stunning gem is made up of aluminum, beryllium, magnesium, and oxygen, and has the chemical formula MgBeAl4O8.
Again, the major use of this mineral is as a collectible gemstone or in jewelry for the rich and famous, who can afford $35,000 for a single carat.
16. Red Diamond - $1,000,000 per carat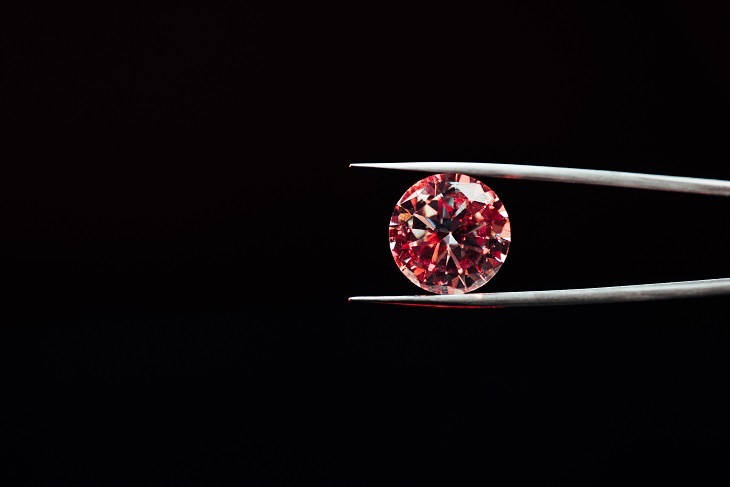 (By MBisanz, Wikimedia Commons)
Ah yes, a girl's best friend…in red! This shiny ruby-like beauty has all the same properties as its transparent counterpart, but unlike the typical diamond, red diamonds are extremely rare. Only approximately 30 red diamonds have been found to date, in Brazil, India, and Russia.
Much like a white diamond, its only element is Carbon.
With so few available, Red Diamond is a collector's item, rarely used for other purposes, as it sells for $1 million dollars for a single carat.
Related Articles:
24 Beautiful Gems and Minerals
Minerals Can Be Just as Beautiful as Gems