1. Still Life of Flowers (1614)
Painter: Ambrosius Bosschaert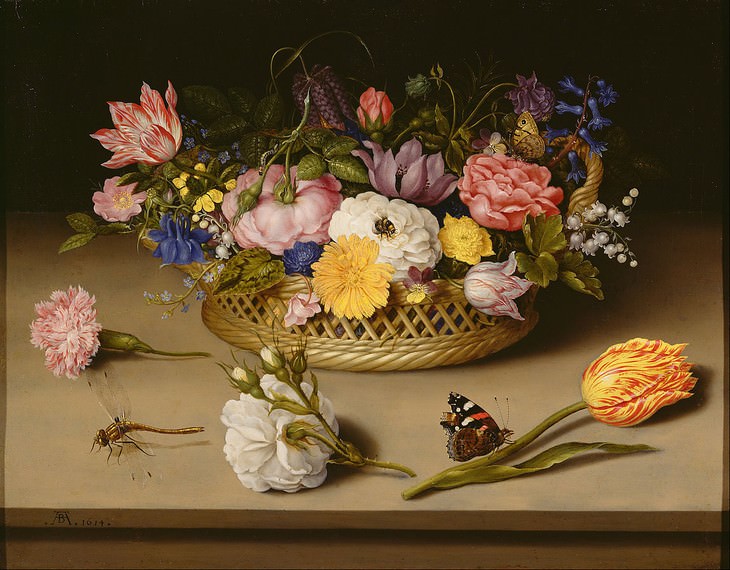 One of the pioneering artists specializing in flower artwork, Ambrosius Bosschaert painted exceptionally detailed realistic flower arrangements on copper. The compositions are usually very symmetrical with an almost mathematical precision.
This famous artwork features a white rose, a yellow tulip and a pink carnation and in front of a basket of colorful flowers. Like the freshly-picked flowers, a brief yet beautiful life awaits the the two insects curiously exploring the flowers.
2. Lilacs in a Window, (circa 1880-83)
Painter: Mary Cassatt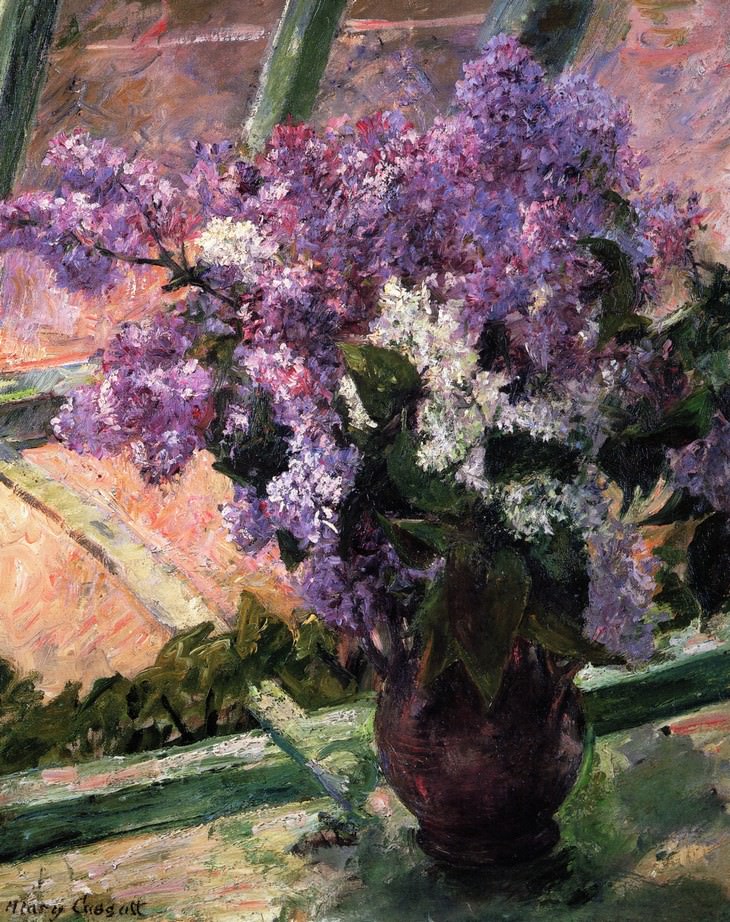 Mary Cassatt is considered to be one of the founders of American Impressionism. Though the painter's fluid and simultaneously angular brushstrokes were most often applied to make out the human figure, she sometimes painted the objects in her home as well.
This specific painting depicts a window in a greenhouse near her studio. A dark aubergine vase is overflowing with white and purple lilacs, cheerfully bathing in the afternoon sun.
3. Sunflower (1907)
Painter: Gustav Klimt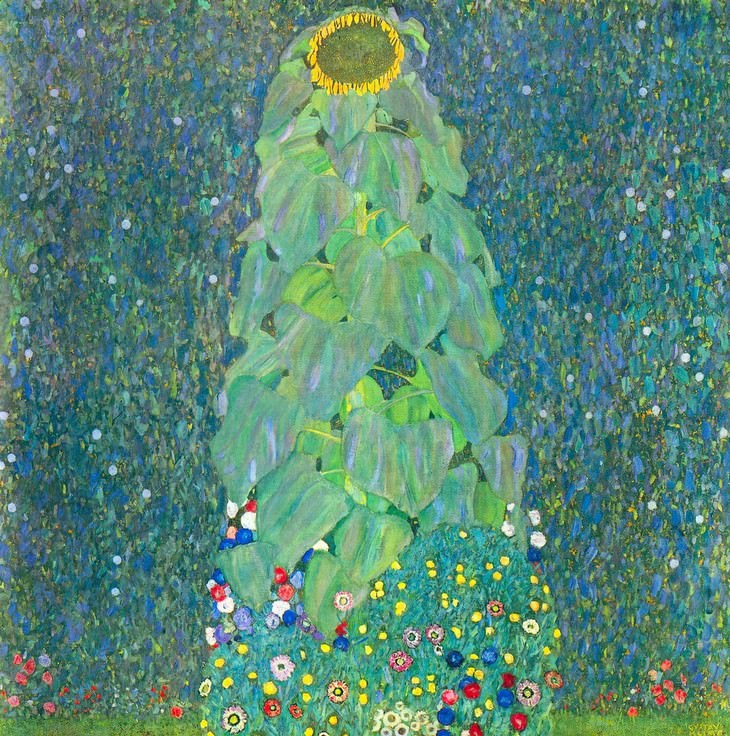 Despite the fact that the great Viennese painter was most known for his gorgeous portraits, plant elements, too, were a key feature of his artistic style, though they are usually in the background. This painting of a sunflower is part of his garden series, where he carefully studied Austrian gardens and landscapes.
Art critics have argued that this painting is a portrait in disguise, since the tall sunflower is given an almost anthropomorphic quality, being the lone tall centerpiece of the painting.
4. Bullfinch and Weeping Cherry Blossoms (1834)
Painter: Katsushika Hokusai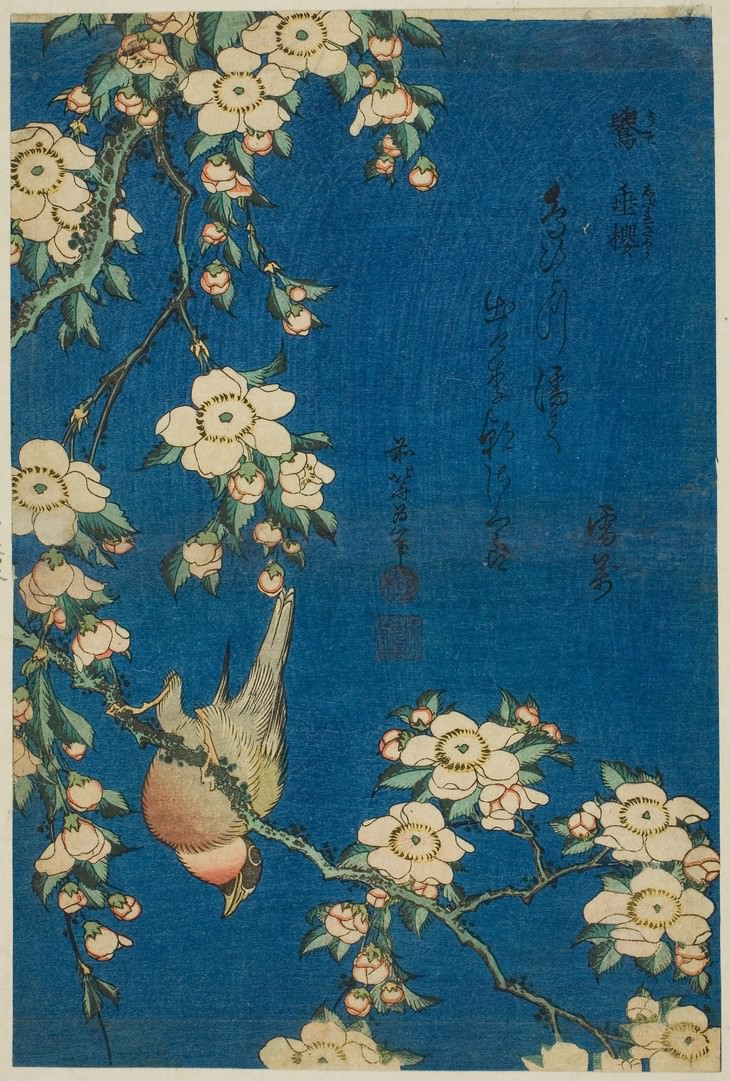 Katsushika Hokusai is rightfully believed to be one greatest Japanese artists. In fact, numerous western artists, particularly the European Impressionists, have been significantly influenced by his artworks. The artist is known for working in the style of Ukiyo-e, pioneering the depiction of everyday life in art.
Flowers and birds were some of the preferred subjects of Hokusai, and this specific painting illustrates a small bird on a tree native to Japan known as the Weeping Cherry Tree. The bird has a symbolic meaning in the Japanese new year celebrations: it is said to protect against misfortune in the coming year.
5. Flowers In a Crystal Vase (1882)
Painter: Edouard Manet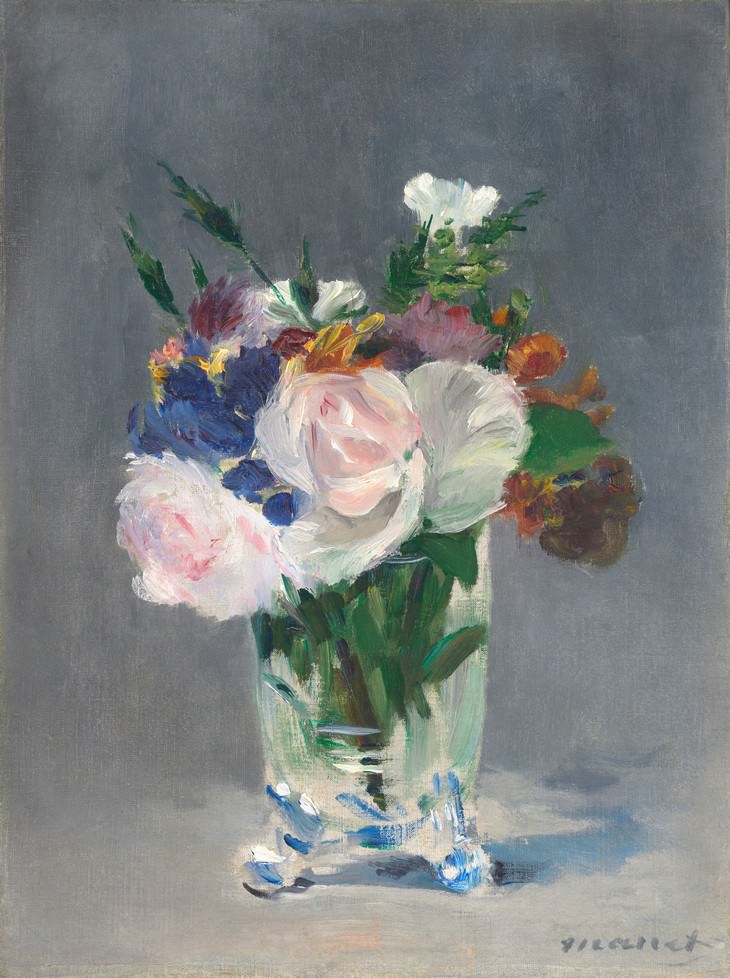 Manet was a visionary artist. He revolutionized western art, for which he is sometimes referred to as the Father of Modernism. Like many impressionists, he tackled a variety of subjects ranging from landscapes to portraits and scenes of everyday life. It wasn't until the the final six months of his life, however, that he became a flower painter.
At the age of 50, his health started to deteriorate and he could no longer walk very well, so he dedicated all his waking hours to painting flowers in glass vases. Flowers in a Crystal Vase is one of the most famous among these paintings, featuring an almost abstract, deconstructed and simplified style.
6. Irises (1889)
Painter: Vincent Van Gogh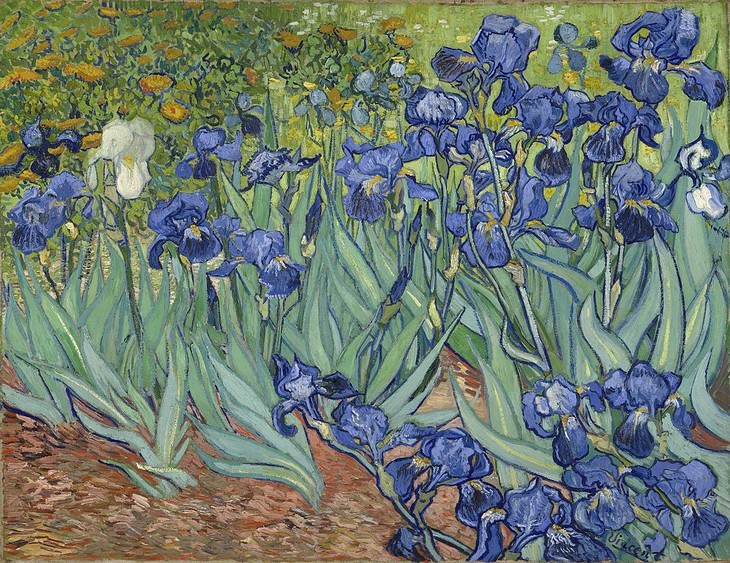 No flower painting collection is complete with at least a few pieces by Van Gogh, as he is one of the most renowned painters in history, and his floral paintings are just as genius and valuable as his landscapes. For many years of his life, the artist was suffering from epilepsy and mental illness, which ultimately took his life when he committed suicide at the age of 37.
The painter shared his thoughts in letters to his brother, from which we now know that art was his refuge against mental struggles. The iris series are among Van Gogh's most celebrated works, and this specific painting is the most famous one of them.
In September 1987, it was sold for $53.9 million, making it the most expensive painting at the time, and it managed to keep this record for over 2 years.
7. Still Life With Flowers On a Marble Slab (1716)
Painter: Rachel Ruysch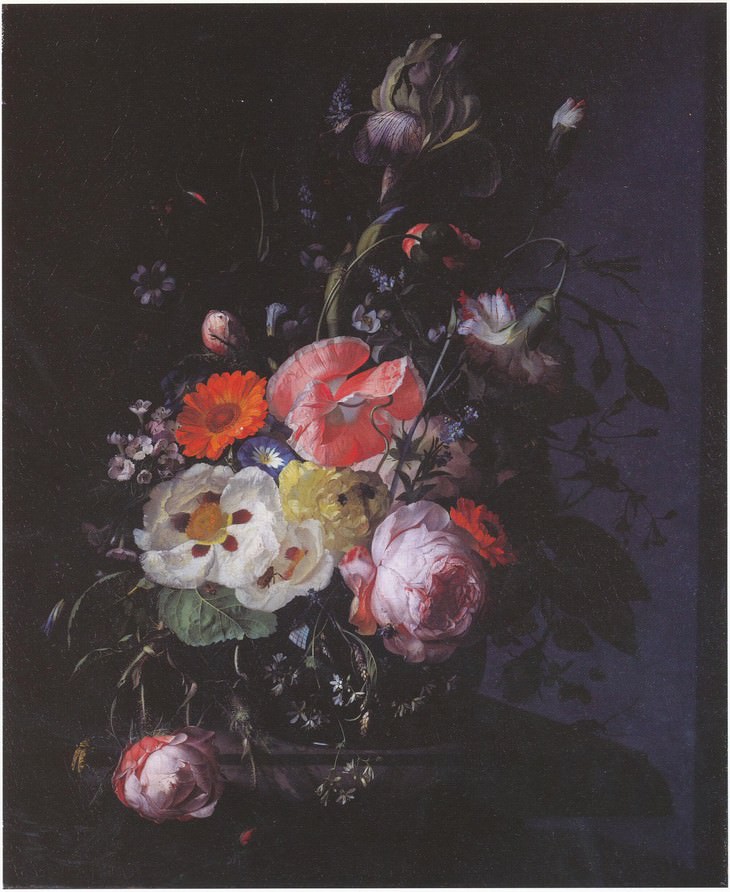 Rachel Ruysch was the best documented woman painter during the Dutch Golden Age, whose artistic talent was recognized internationally during her lifetime. Her artistic career spanned for over 60 years, and she managed to continue painting professionally even though she bore 10 children.
Rachel Ruysch drew still life flower paintings almost exclusively, and she is considered to be one of the most renowned floral still life painters in the world. The painting above is among her most famous work. It was executed at the peak of her fame when she held the position of court painter to Johann Wilhelm, Elector Palatine.
8. Amaryllis (1910)
Painter: Piet Mondrian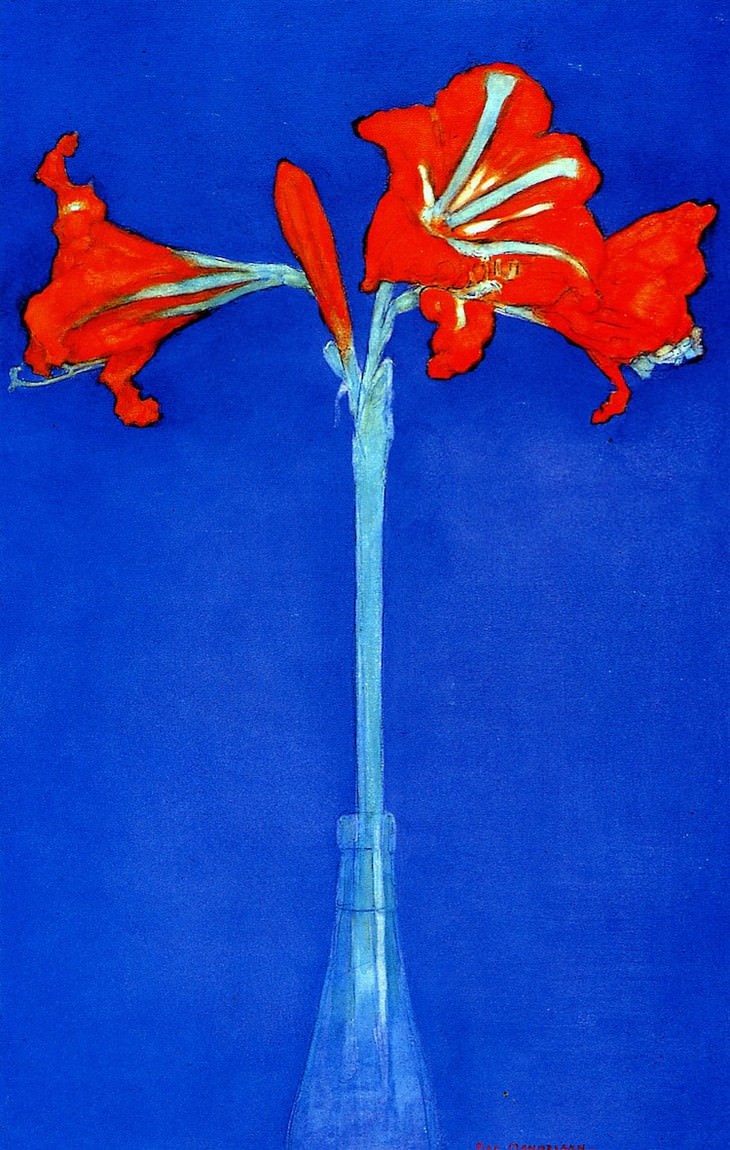 As we already established in this list, the Dutch school of painting has a long-standing tradition of flower art. Piet Mondrian is still more famous for his abstract paintings. Being Dutch, however, he started his career from floral still lifes.
Even though this painting is his early work, we can already see how he gave a contemporary twist to the genre: he breaks the composition of the artwork into bright color blocks and bold lines, which reduce the dainty red flowers to their elementary shapes.
9. White Vase with Flowers (1916)
Painter: Odilon Redon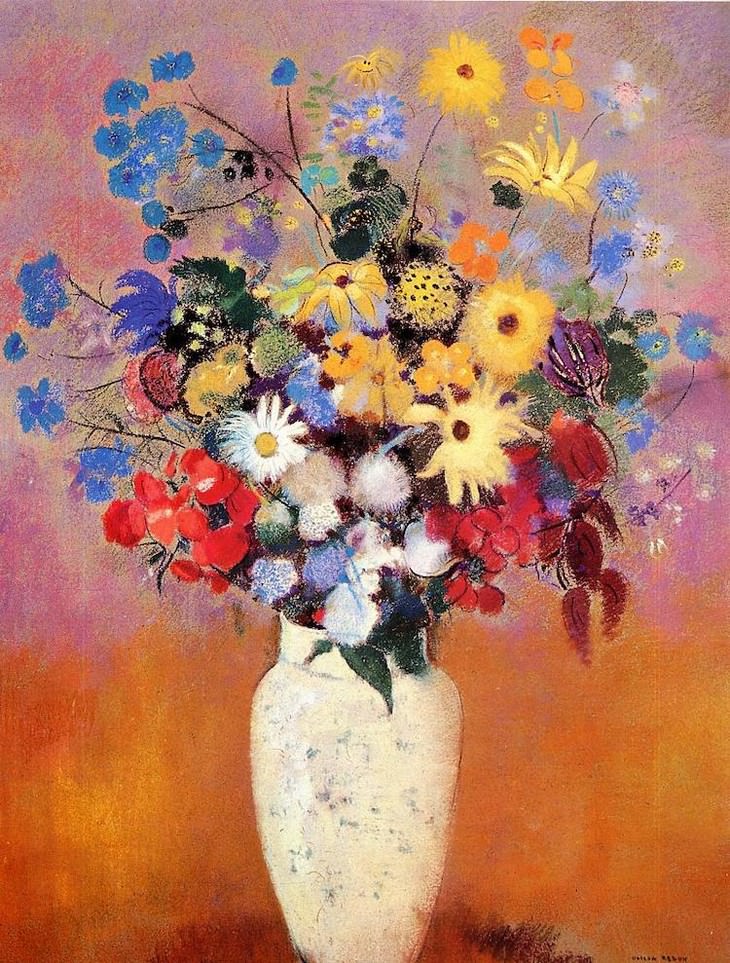 Odilon Redon was a French symbolist painter. This artwork is rendered in pastel, which enabled the creation of these intense, yet blurred and rich tones and shapes. Unlike the classic examples of flower painting we have seen above, Redon's flowers and background are partly blurred and indistinct, which gives a very dynamic 3D effect.
Interestingly, the painter did not turn to floral still lifes until he was 60 years old, but when he did, he dedicated all of his time painting them.
10. Vase Of Flowers (circa 1645)
Painter: Jan Davidsz de Heem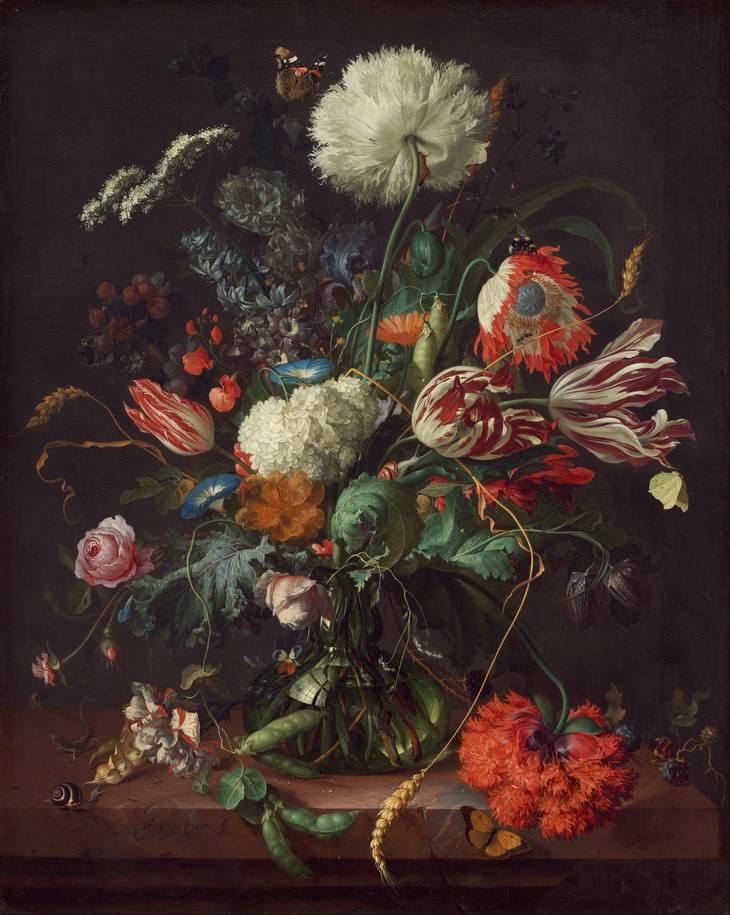 Considered to be of the most gifted and influential still-life artists of the era, Jan Davidsz de Heem is famous for creating versatile, dynamic, but simultaneously very precise artworks.
Vase of Flowers is one of his masterpieces, in which he creates a very well-balanced arrangement of 31 types of flowers, vegetables and grains. Despite the realistic portrayal of the plants, this varied bouquet couldn't have existed at the time, as these exotic plants bloom in different seasons.
11. Flowers in a Vase (1866)
Painter: Pierre-Auguste Renoir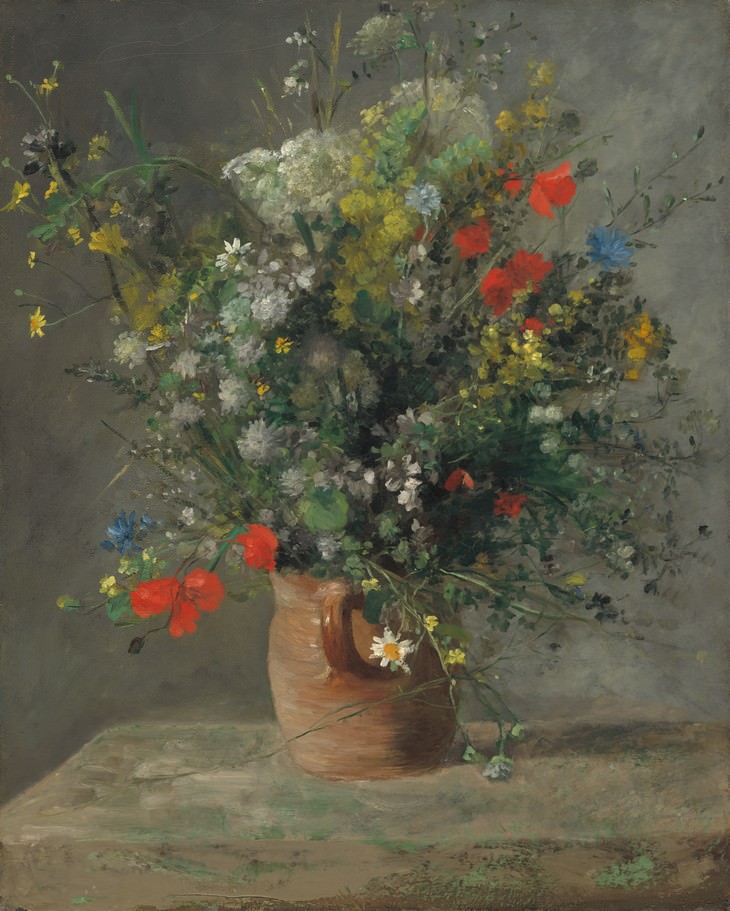 Like a lot of modern French painters, Pierre-Auguste Renoir is most famous not for his flower paintings, but, in our opinion, these paintings are quite underrated.
Renoir liked to paint flowers in different arrangements and used them to exercise his understanding of shapes and colors. Flowers in a Vase is, perhaps, the most flower still life he created.
12. Flowers (1964)
Painter: Andy Warhol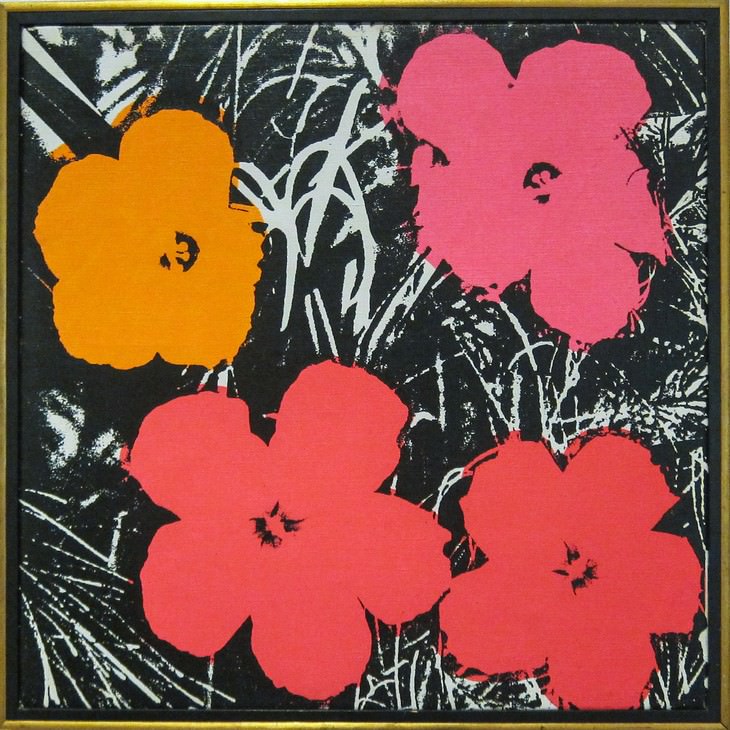 In 1964, Andy Warhol strayed away from his usual depictions of pop culture in a series of large-scale prints simply called Flowers. Warhol's flowers are nothing like the intricate and detailed depictions of classical painters. Rather, they are are simplistic, flat and almost crude, taking the simplification of the subject to maximum capacity.
An interesting fact about these prints is that Warhol was actually sued for using an image from a photographers magazine as the basis of these prints.
13. Sunflowers (1888)
Painter: Vincent Van Gogh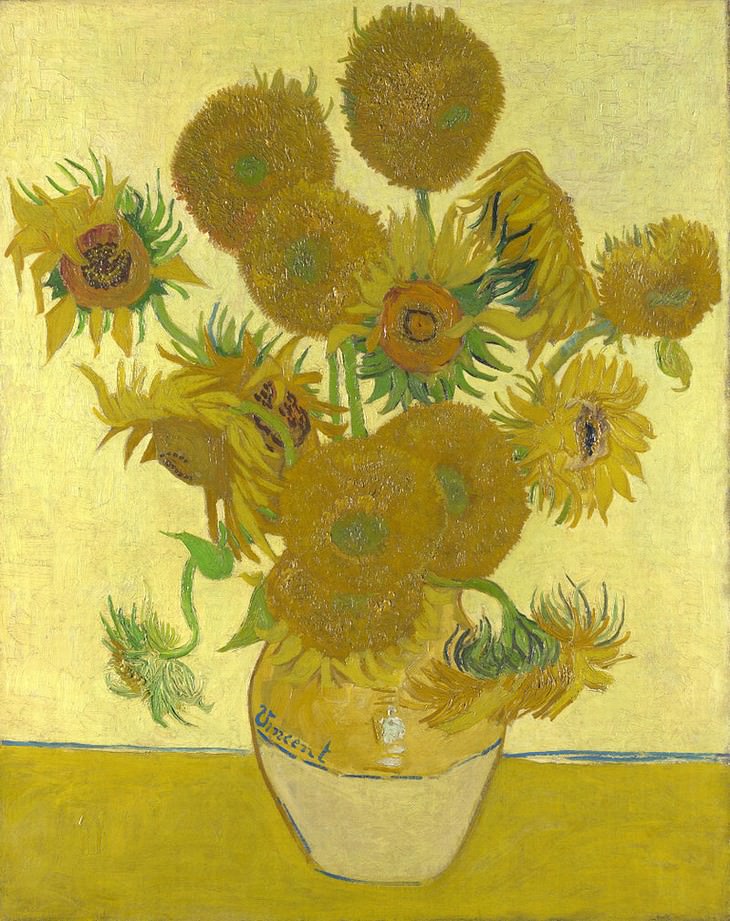 Like the Mona Lisa, Vincent Van Gogh's sunflower still life pictured above is an inseparable part of human culture and history. But did you know that the painting above is not the only sunflower still life the artist created?
In fact, it's a whole series, and these sunny artworks keep breaking records in sales on auctions. This particular painting shows sunflowers in all stages of their life: starting from full bloom to withering, on a bright yellow background, accentuating their vibrant colors.
14. Water Lilies (1919)
Painter: Claude Monet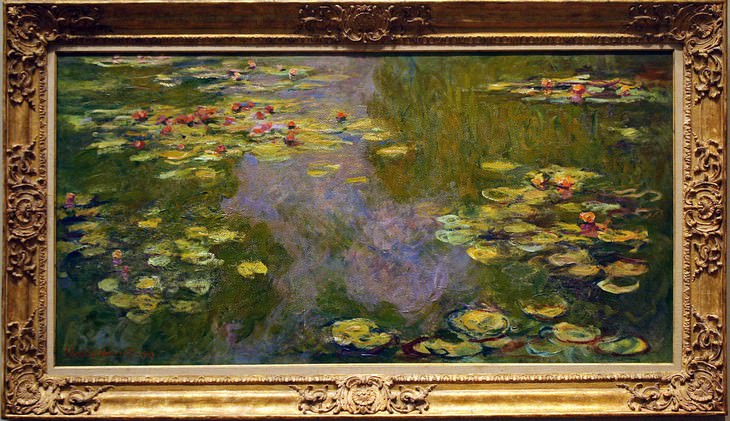 As is the case with Van Gogh, it simply wouldn't be a proper list of floral paintings without Claude Monet's Water Lily series. The painter spent over 30 years of his life and created over 205 paintings with water lilies. This series is truly iconic, with the variety of angles, compositions, lighting situations and color patterns he created being absolutely mind-boggling.
Monet was so devoted to flower painting that he created a personal garden near his home in Giverny, which he would always keep in top shape to have around-the-clock access to his subject matter.
Many art experts point out that the blurred and harsh shapes he creates border on abstraction. Whether of not this abstract effect depended on the artist's loss of eyesight is a question, but I think we can all agree that these paintings are true masterpieces.