1. Smithsonian National Museum of African American History and Culture.
Location: Washington DC
Created by: The Freelon Group, Adjaye Associates, Davis Brody Bond, and SmithGroup
Let's begin the list with my personal favorite. This enormous building is one of the most notable new museums in Washington, DC.
After ten years of construction, the capital can finally boast of having an exceptionally-beautiful long-awaited museum dedicated fully to African American History. Interestingly, more than half of the museum is situated underground.
We cannot possibly skip talking about the breathtakingly beautiful facade of this building. Though not visible on the picture below, the glass walls are complemented by extremely intricate bronze detailing, a reference to African American craftsmanship.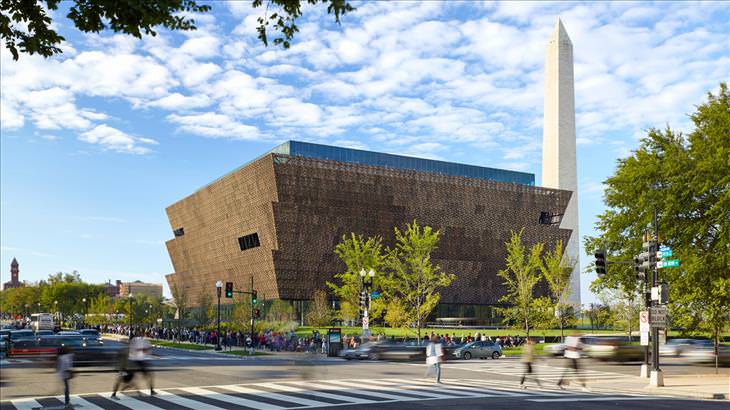 Photograph by Alan
Karchmer
2. Confluence Park

.
Location: San Antonio, Texas
Created by: Lake Flato Architects
This building is more than just a park, it is a living-working laboratory. The main structure of the park consists of 22 concrete petal-like formations that create giant archways seen in the picture below.
These petals do more than offer shade against the summer heat, they also funnel rainwater into a water-recycling system that is the park's main source of water.
The architects also point out that they designed the park to allow the visitors to gain an understanding of the ecotypes around the San Antonio River watershed so that visitors could learn about the environment as they visit the park.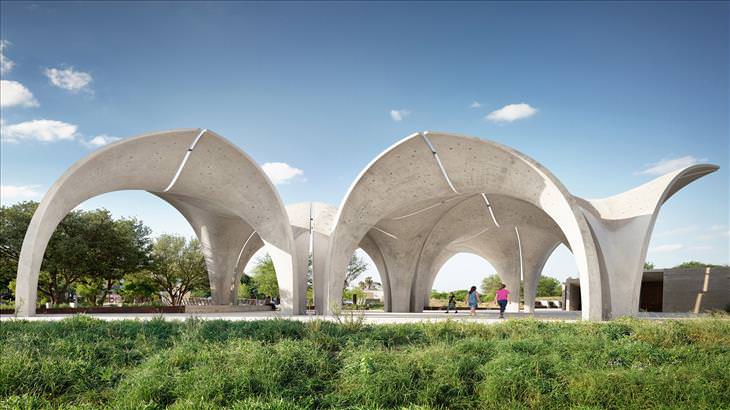 Photograph by Casey Dunn
3. Restoration of the Rotunda at the University of Virginia
Location: Charlottesville, Virginia
Created by: John G Waite Associates Architects PLLC
Did you think you're looking at a European landmark for a second? Situated at the heart of the University of Virginia, it is considered to be Thomas Jefferson's architectural achievement.
Restored meticulously and using the most high-tech equipment, the Rotunda was completely restored and the university can once again boast of being the temple of learning envisioned by the founding father.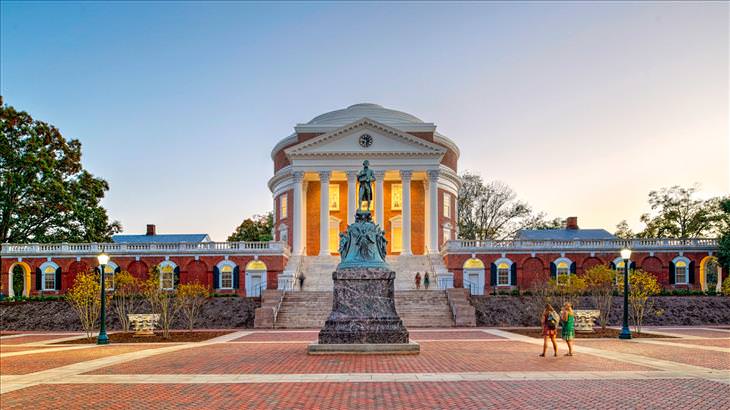 Photograph by Anna Wesolowska
4. Starter Home No. 4-15 Saint Thomas/Ninth
Location: New Orleans
Created by: OJT
These are no ordinary apartment complexes. The Starter Home initiative was created to provide affordable homes to historic city neighborhoods.
Built near an industrial area, these "recycled" warehouses transformed into multi-apartment complexes that are intended to bring neighbors together. Unlike most apartments, these are built vertically and have side-yards for each owner that function as a front porch.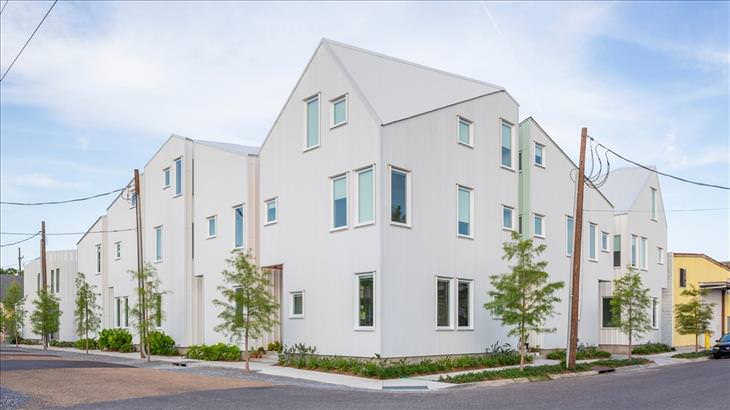 Photograph by Will Crocker
5. Crosstown Concourse
Location: Memphis, Tennessee
Created by: Looney Ricks Kiss
This $200 million project saved an old art-deco mall from destruction by turning it into a smart living space for hundreds of families.
Apart from being environmentally-friendly, the 10-story central building shown below also has a huge stage that serves as a location for social gatherings and cultural events for the inhabitants of the building and visitors alike.
Photograph by McGinn Photography
6. Smart Factory
Location: Hoffman Estates, Illinois
Created by: Barkow Leibinger
A factory is an unusual place to claim as an architectural wonder, and yet this building truly deserves the title. The Smart Factory contains a showroom with advanced machine tools that are used to fold and shape sheet metal available for the public.
An extra perk is that visitors have easy access to the space because it is situated right next to Chicago O'Hare International Airport.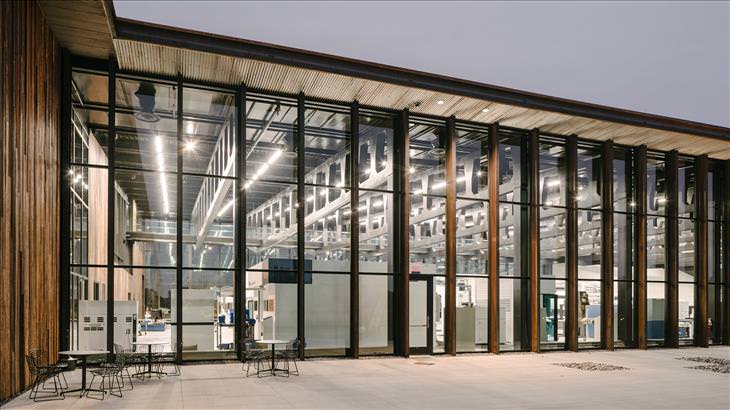 Photograph by Simon Menges
7. Arlington Elementary School
Location: Tacoma, Washington
Created by: Mahlum Architects
Arlington Elementary is a school of the future. It is also an example of what can happen when a community rethinks the concept of a school and strives to support students' inquisitiveness.
The novel design enables an easy transition between indoor and outdoor learning. A significant part of the yard is covered so that kids could explore the outdoors even in bad weather. There are no classrooms in Arlington elementary.
Instead, there are learning spaces with a variety of learning activities. The school also promotes adult education and offers community programs for adults. Teachers are provided with mobile teaching stations that enable them to move between the learning spaces.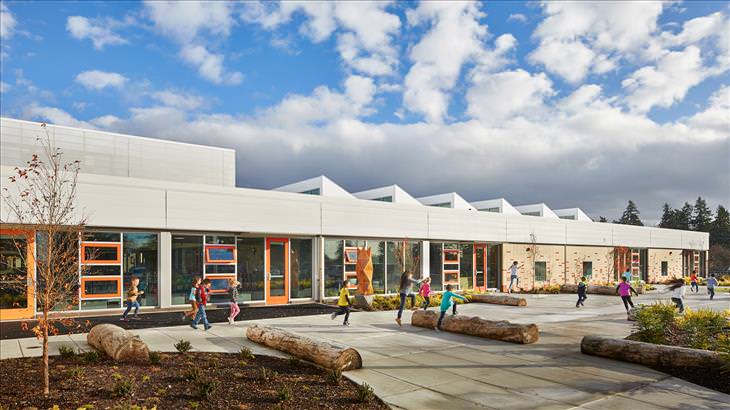 Photograph by Benjamin Benschneider
8. Casey House
Location: Toronto
Created by: Hariri Pontarini Architects
This cozy-looking house is actually a hospital for HIV/AIDS patients. It represents a new prototype for hospitals and took 10 years to create. The main goal of this medical facility is to be associated with home.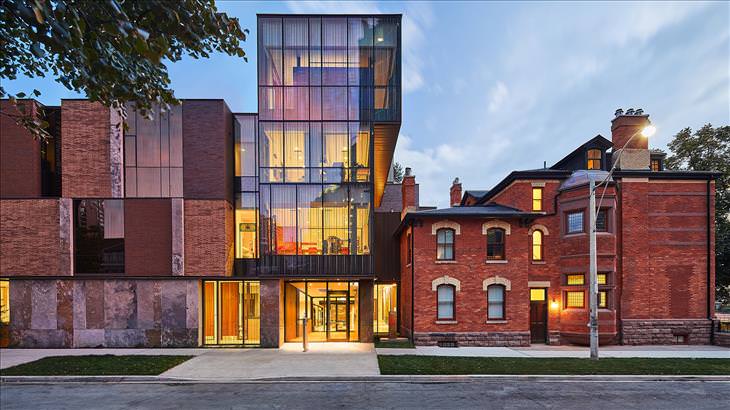 Photograph by Doublespace
9. Tirpitz Museum
Location: Blåvand, Denmark
Created by: Bjarke Ingels Group (BIG)
Last, but definitely not least, comes this year's winner of the competition. A Danish architectural firm called BIG built an almost invisible museum in Blåvand, Denmark.
The building is the augmentation of an unfinished German bunker built on the site during WWII. The concept of the museum was to create a space that would showcase the alarming history of the Second World War in a location built by its perpetrators, but without taking away from the landscape.
The architects achieved this by cutting out the delicate passageways right in the sand dune beside the bunker, which you can see in the picture below. The labyrinth of passageways is hardly visible from distance, but a whole park and several exhibition rooms are hidden underneath the surface.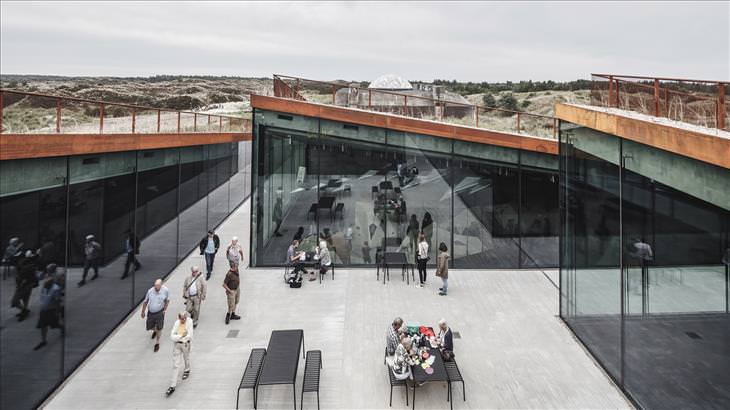 Photograph by Rasmus Hjortshoj