1. How many steps per day people from different countries make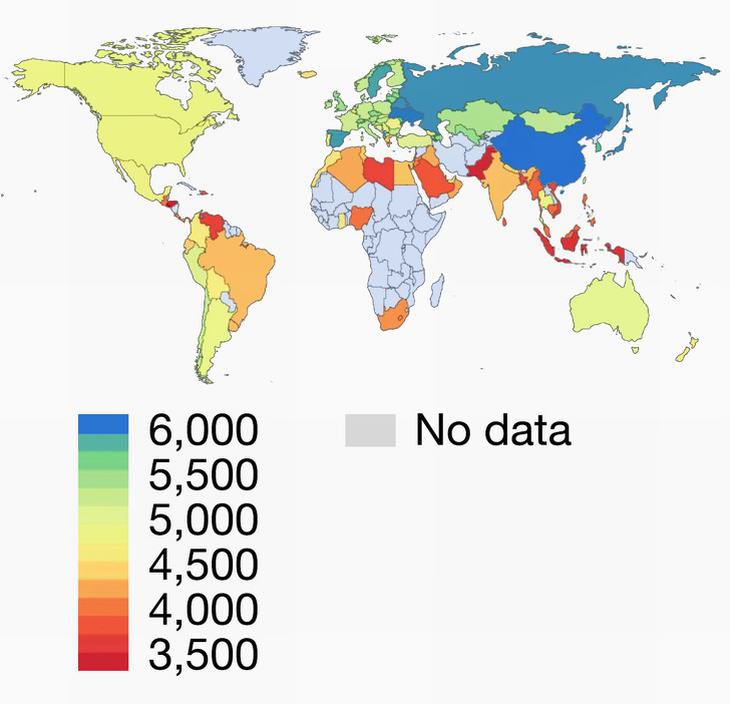 The data was collected using a special fitness app, in which more than 700,000 people took part. The most active people live in Hong Kong, taking 6,880 steps per day, while the least active people live in Indonesia, taking 3,513 steps.
2. The spots on giraffe's skin can tell you about its origin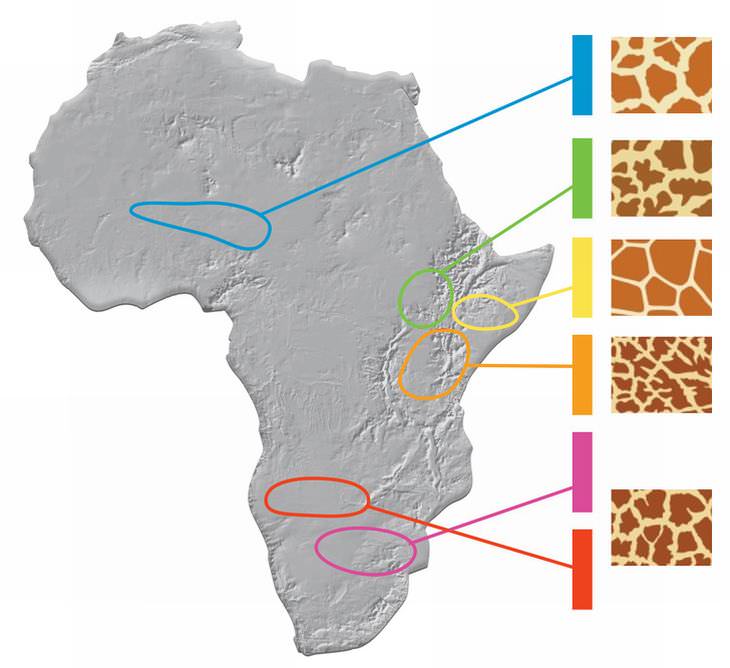 There are four types of giraffes, and each one of them has a specific color and pattern, determining where they have originated from.
3. How much 1 liter of petrol costs in different countries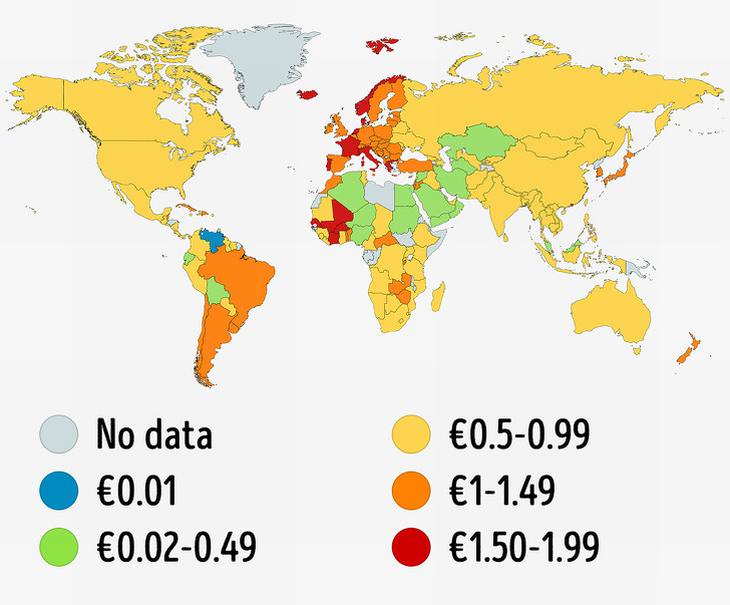 This data was collected from February 2018. The lowest petrol price is in Venezuela. In Russia, petrol costs less than in any other European country. The most expensive petrol can be found in Hong Kong, Iceland, Senegal, and Mali.
4. Average salary per month in different European countries in 2018 after taxes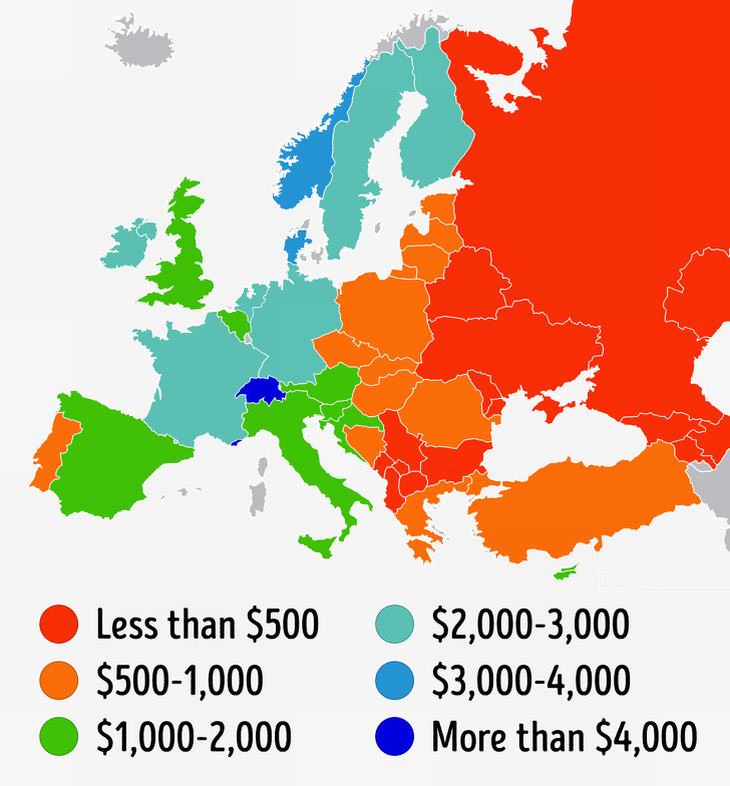 Azerbaijan and Ukraine earn the lowest salaries, less than $300. The highest salaries can be found in Denmark, Norway, Luxemburg, Iceland, and Switzerland, with more than $3000.
5. The number of billionaires for every 10 million people in different countries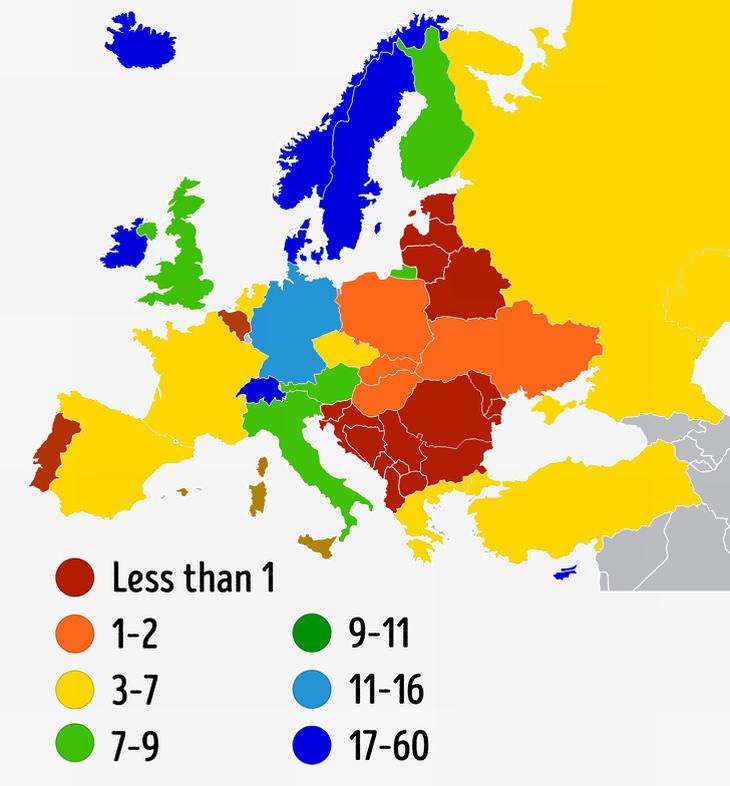 Forbes 2018 reports that there are no billionaires in countries like Lithuania, Latvia, Estonia, Belarus, Bosnia and Herzegovina, Slovenia, Croatia, Serbia, Montenegro, Albania, Macedonia, Bulgaria, and Moldavia. Yet you can easily find a billionaire Switzerland, Monaco, Ireland, Denmark, Norway, and Sweden.
6. The number of scientists per million inhabitants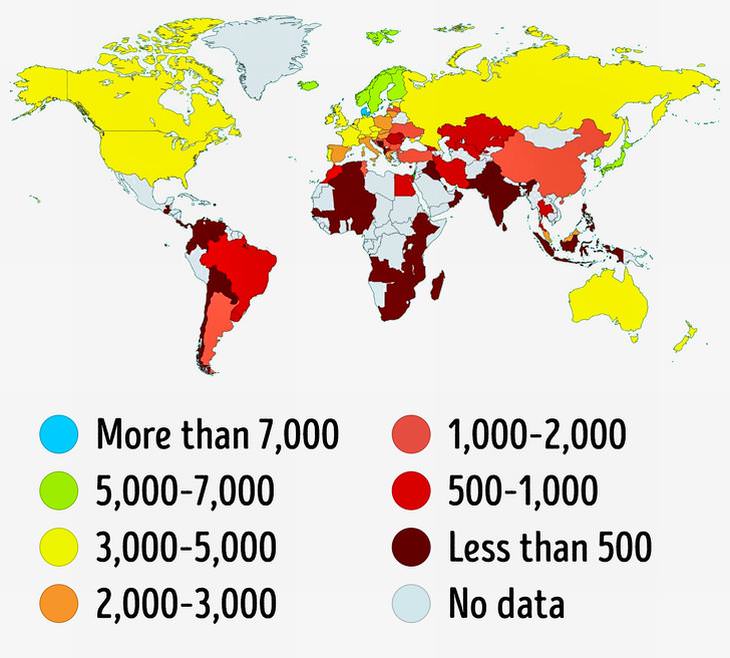 Denmark has the most scientists.
7. The number of prisoners for every 100,000 inhabitants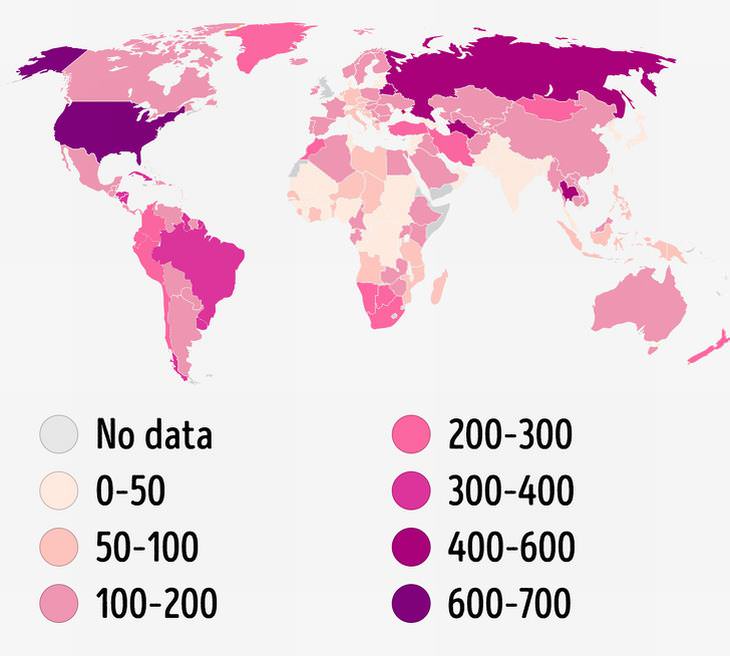 The United States takes the lead for most prisoners per 100,000 inhabitants.
8. The age of women when they had their first child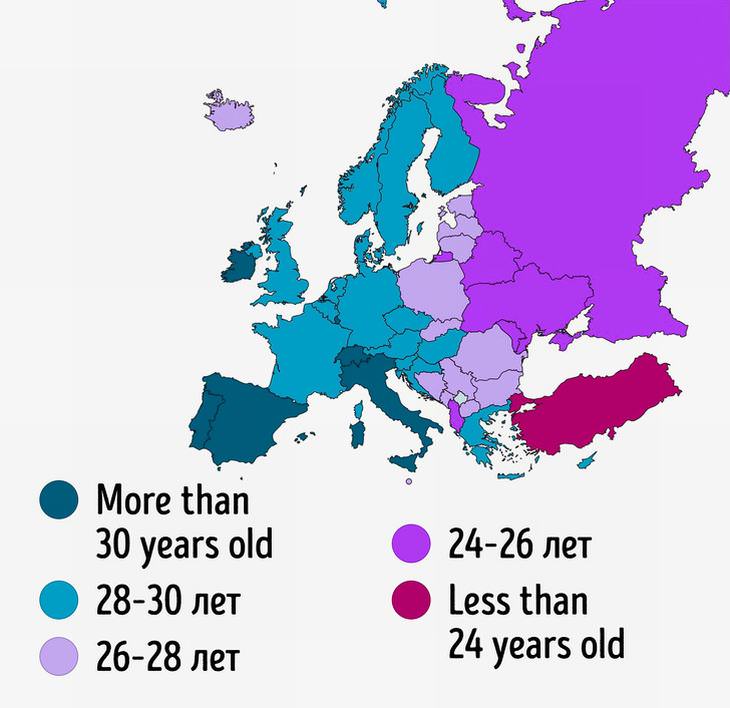 Western Europe takes the lead in women who birth their first child over the age of 30.
9. The increase in population in different continents from the year 2000 to 2018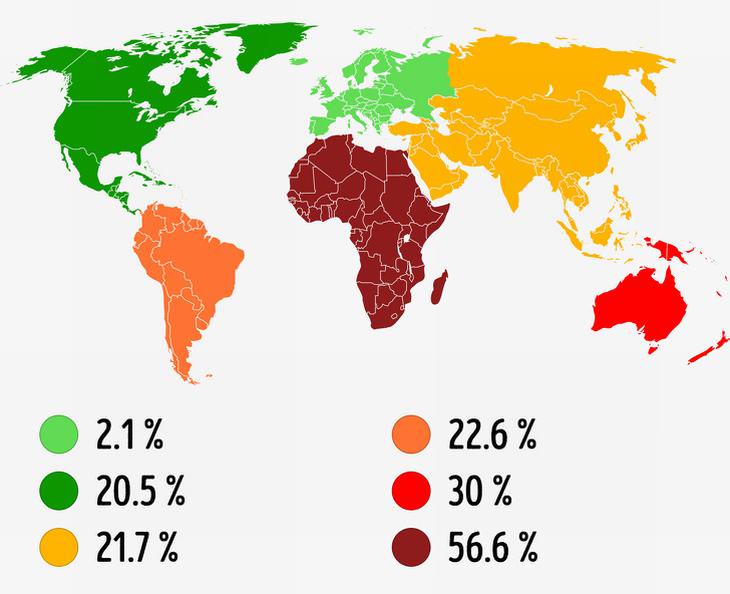 Since the year 2000, the population of our planet has grown about 1,4 billion people.
10. How many people are born in an hour in different countries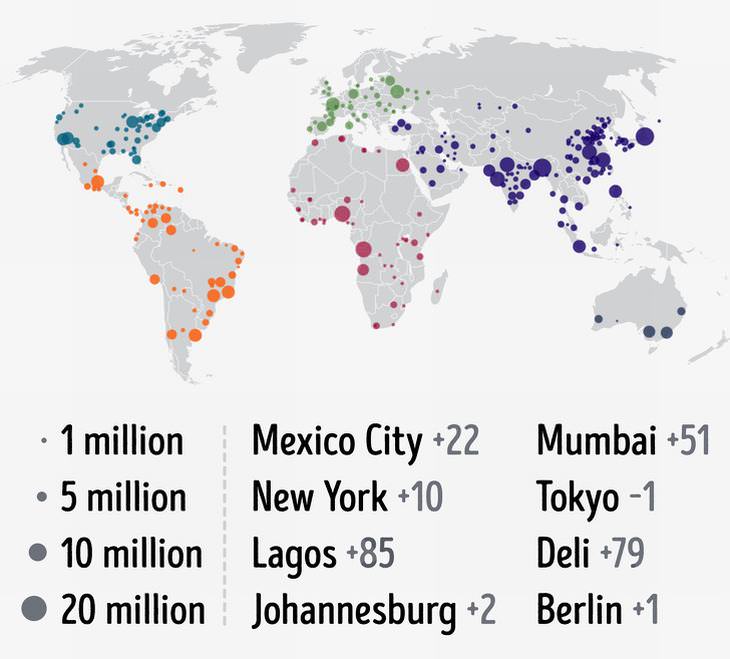 For several years, the population of Japan has been decreasing, because women have been choosing careers over family and have become less likely to marry and have kids. Since 1960, the population of Nigeria has grown four times.
11. The average age of inhabitants in different countries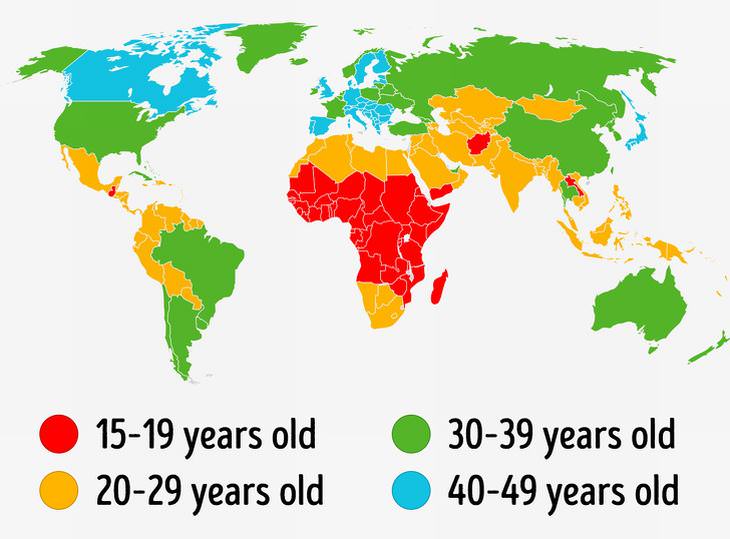 Western Europe and North America having the highest age group.
12. The average age children finish school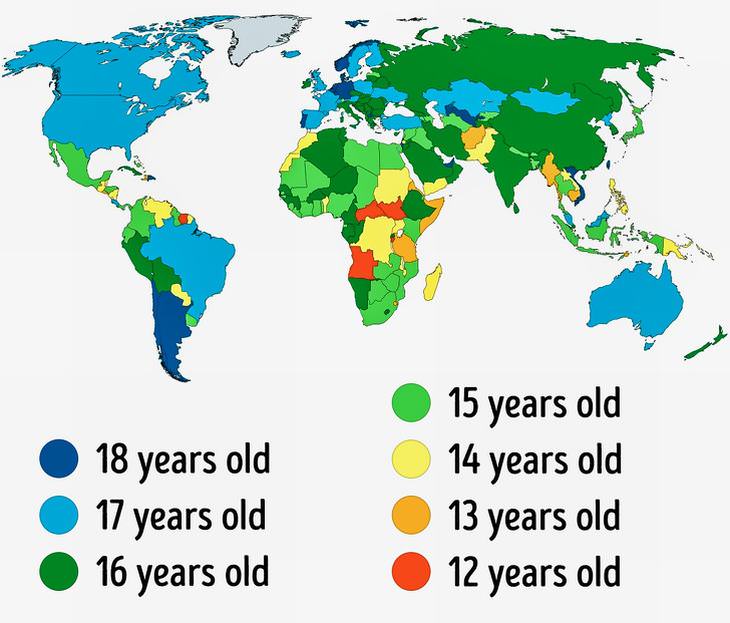 In North America, the average age is 17 years old.
13. Percentage of literate population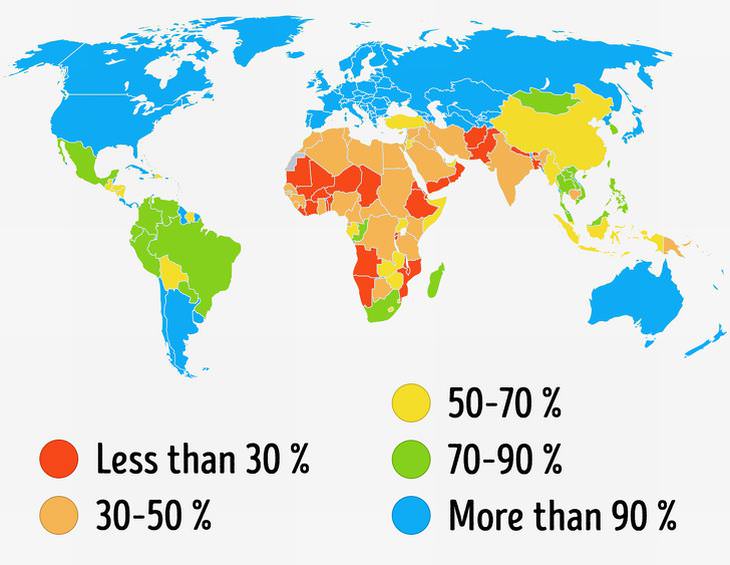 Statistics are based on teenagers aged 15 and older, and adults.
14. The lowest temperature in January in different countries in Europe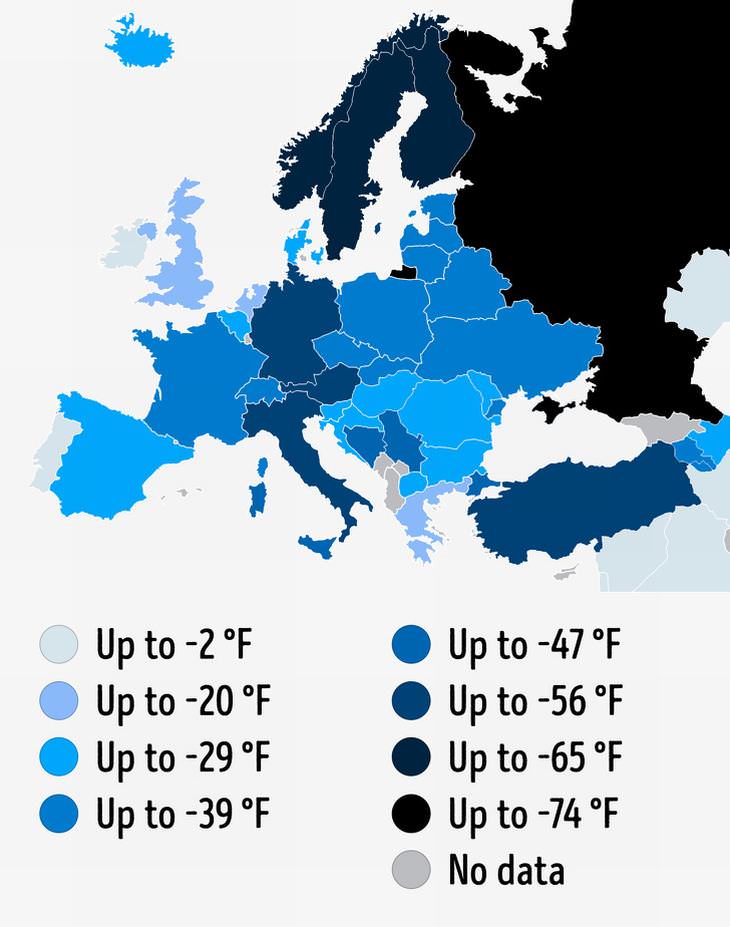 For the European part of Russia, lows reach −74° F. While the warmest Januaries were recorded in Portugal and Ireland.
15. The most polluted countries in the world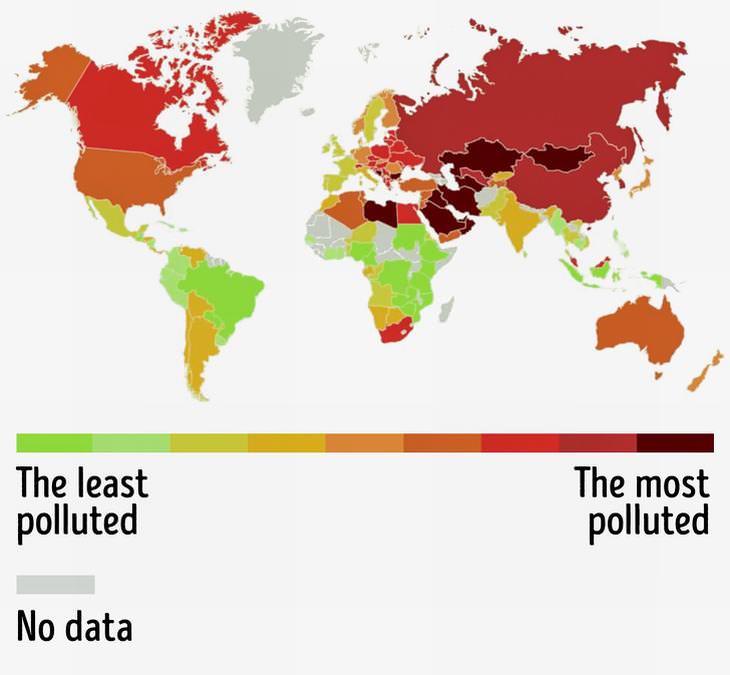 In Europe, the most toxic countries are Bulgaria, Luxemburg and Bosnia, and Herzegovina. In Asia, Mongolia, Kazakhstan, Turkmenistan, Iran, Oman, Qatar, and Saudi Arabia.